Report
Overview
The purpose of this workshop is to visit ateliers of designers and architects as a part of "Japanese design archive actual situation survey" project, and to tell the design philosophy while experiencing the space of design birth.
In the second round, Mr. Kawakami who started design activities from the 1960s and is still active in the front line.While constantly feeling the air of the times, I have taken skillfully into new materials and technologies and have proposed products that the times want.
Mr. Kawakami's workplace is a building co-designed with architect Akira Watanabe.The 2nd and 3rd floors above the ground are office buildings, the underground and the ground floor are about 5 meters high in the 2nd floor of the ceiling, light and wind are felt from the large opening, and a pleasant and dynamic space expands.
Mr. Kawakami used not only computers but also drafters in the design work, pasted drawings of the actual size on the walls of the large underground space, placing prototypes and models, actually touched and sitting, cherished the physical sensation I am doing design work.
The workshop was held in a large underground space with its architecturally attractive features.Chairs and their prototypes designed by Mr. Kawakami in the room line up, it seems like a museum of chairs.The first half is a lecture starting from the explanation of the workplace, looking back on the design, the second half a question-and-answer session from participants.There are about 30 participants.Participants had a valuable time to sit in a chair he likes and listen to the lecture.
We will report on its contents below.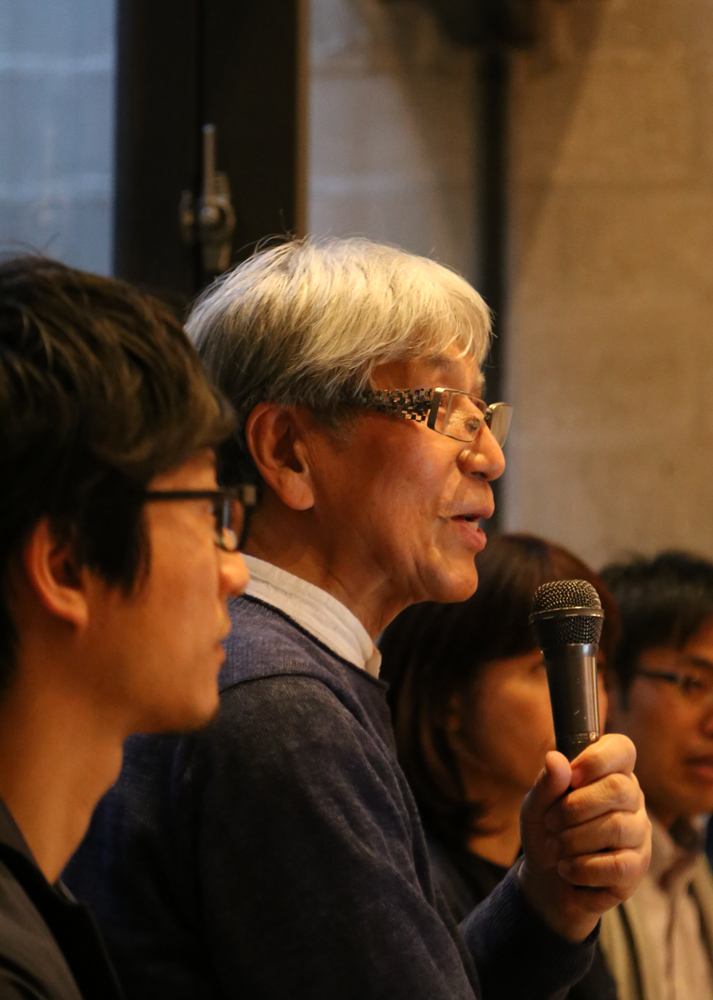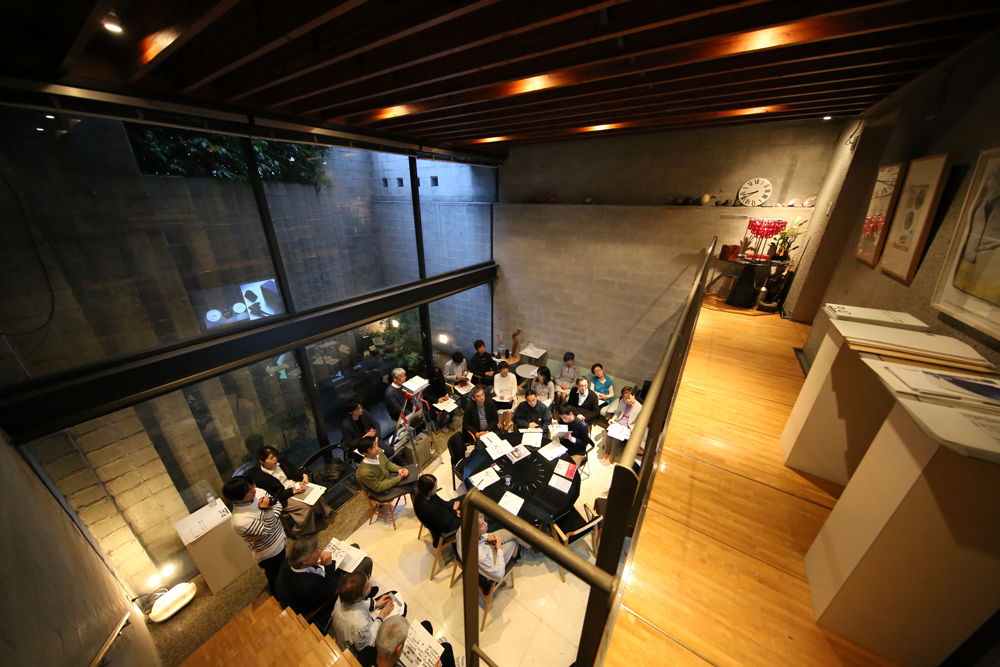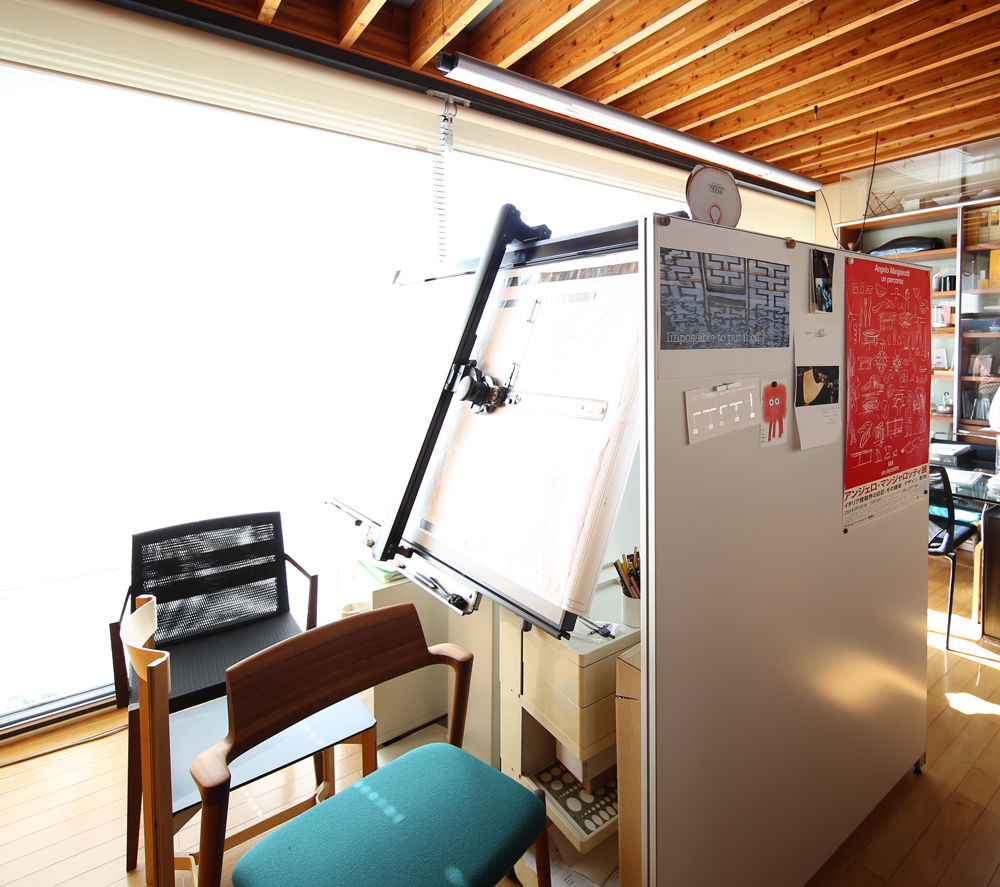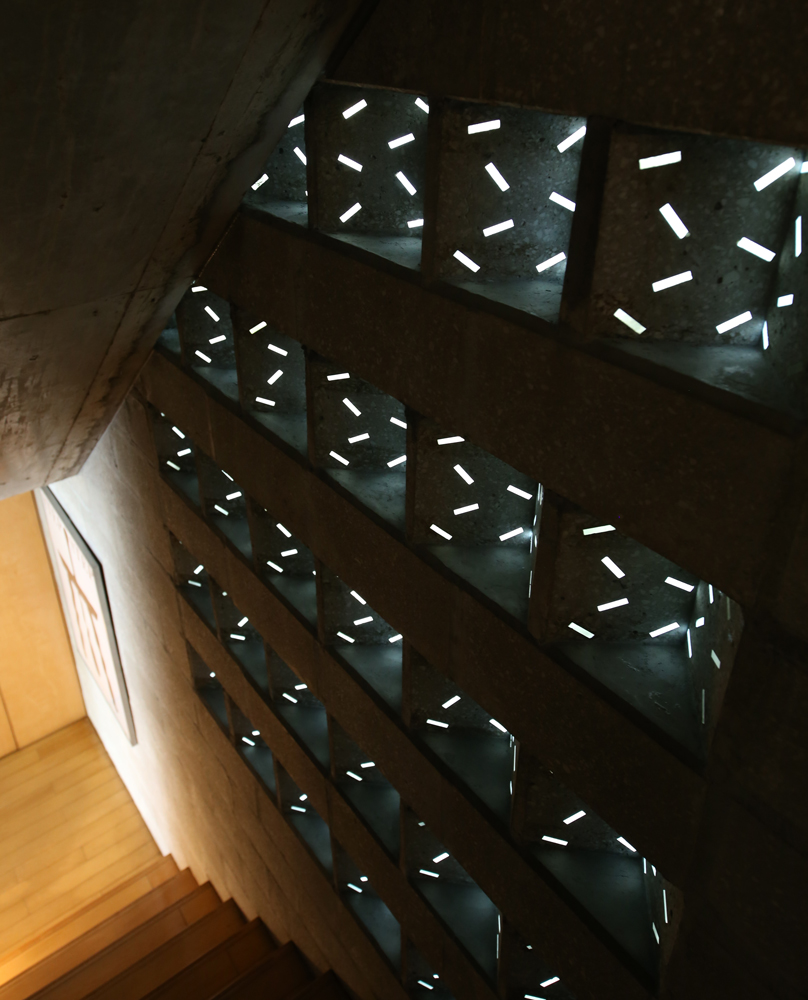 Landscape listening to lecture and photos of workplace (photo / NPO design archive photography)
During the 60's era
Mr. Kawakami entered the arts and crafts department of Tokyo National University of Fine Arts in 1960 when the security conflict had been developed.Mr. Makoto Matsunaga, Mr. Takahisa Kamijo and Mr. Fujio Ishimoto were also classmates.In the same year, the university has undertaken a large-scale curriculum reform, designs such as graphics and products, engravings and forging, casting, potting, ceramics, lacquer arts, dyeing and so on are integrated as an arts department, I learned a field.Looking back on my college days, Mr. Kawakami said, "Touching not only design but also crafts, directly taught to the professor of a national treasure, got an opportunity to touch real material is a great asset for me, the experience that builds on now It became it. "The bronze vase of forging and casting of the copper plate produced at that time, etc are still decorated in the office.
After that, I went to graduate school and experienced environmental design, carried out field survey (survey, survey, field survey), etc., and gained another experience to hone my eyes.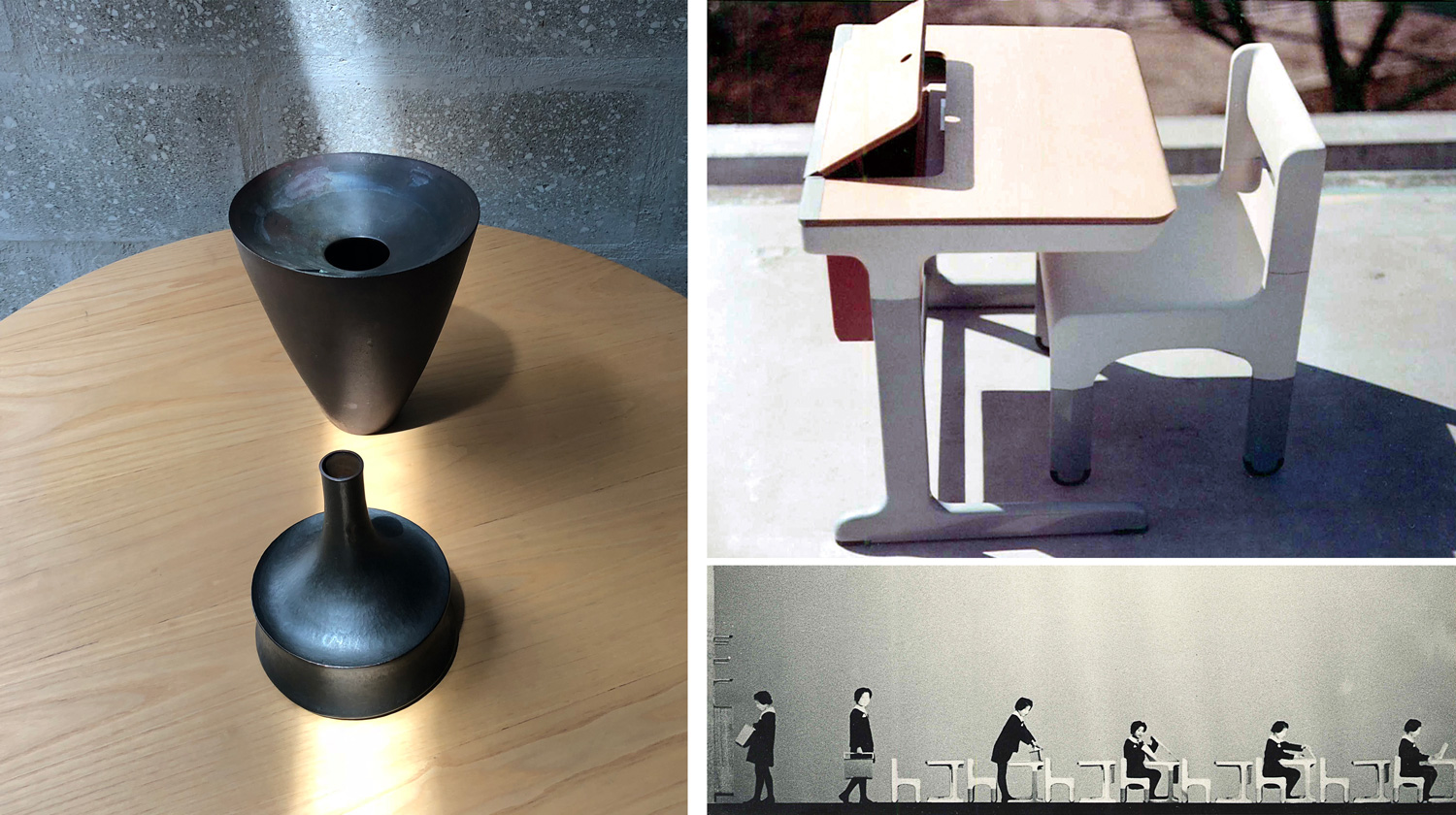 1) Casting and forging vase created at the time of the Majidai era 2) System furniture for schoolchild for "Tsutomu"



3) Members of Football Federation (front row right) 4) Extra appearance in Italian opera "Aida"
Encounter with Manja Lotti
The turning point was the opening of the book "Angelo Manzardotti-1955-1964" (Bronze Inc., 1965), which I met when I was a graduate student, "Is true design like this?" I was shocked.There was a view of the world where the rational and functionalist elements of the German Bauhaus and the human Italian design coexist.Mr. Kawakami learned by acquiring Italian in the second foreign language, in 1966 when he was 26 years old, he hit the gate of Mangiarotti office and engaged in design as a staff for three years later.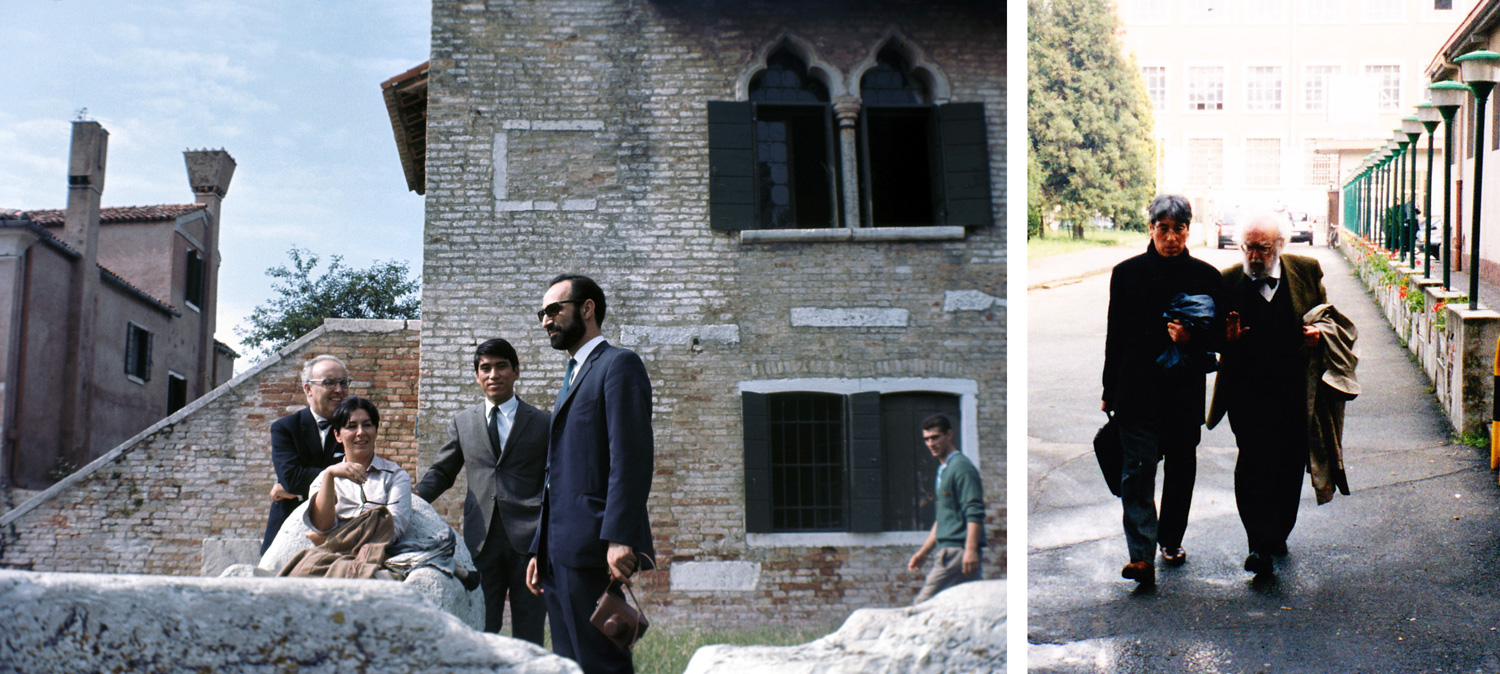 5) In 1967 (left) who worked at Mangiarotti office
6) 2001 with Mangiarotti at the Cappellini venue in Salone Milano Salone
Chair design
On behalf of Mr. Kawakami's design, I looked back at the slide design of the chair that I most often do.First I worked on the first competition work in 1968 during my stay in Italy, a chair of molded plywood "FIORENZA (Fiorentza)".A. At the time of commercialization from Bazzani, at that time, it was in the midst of a plastic material boom and it was produced by heat press molding of ABS because it was required to use around water (collected at the Victoria & Albert Museum).
After returning home, in 1971 just opened a Kawakami Design Room, announced "DOLMUSE (prototype)" at the "My seat" organized by Japan Design Committee.Based on a unit of 20 centimeter square, it is a concept that can develop variously and a unique material composition such as soft vinyl foam urethane and hard aluminum, adopted as reception chair of PARCO Theater (then Seibu Theater) in 1973 It was done.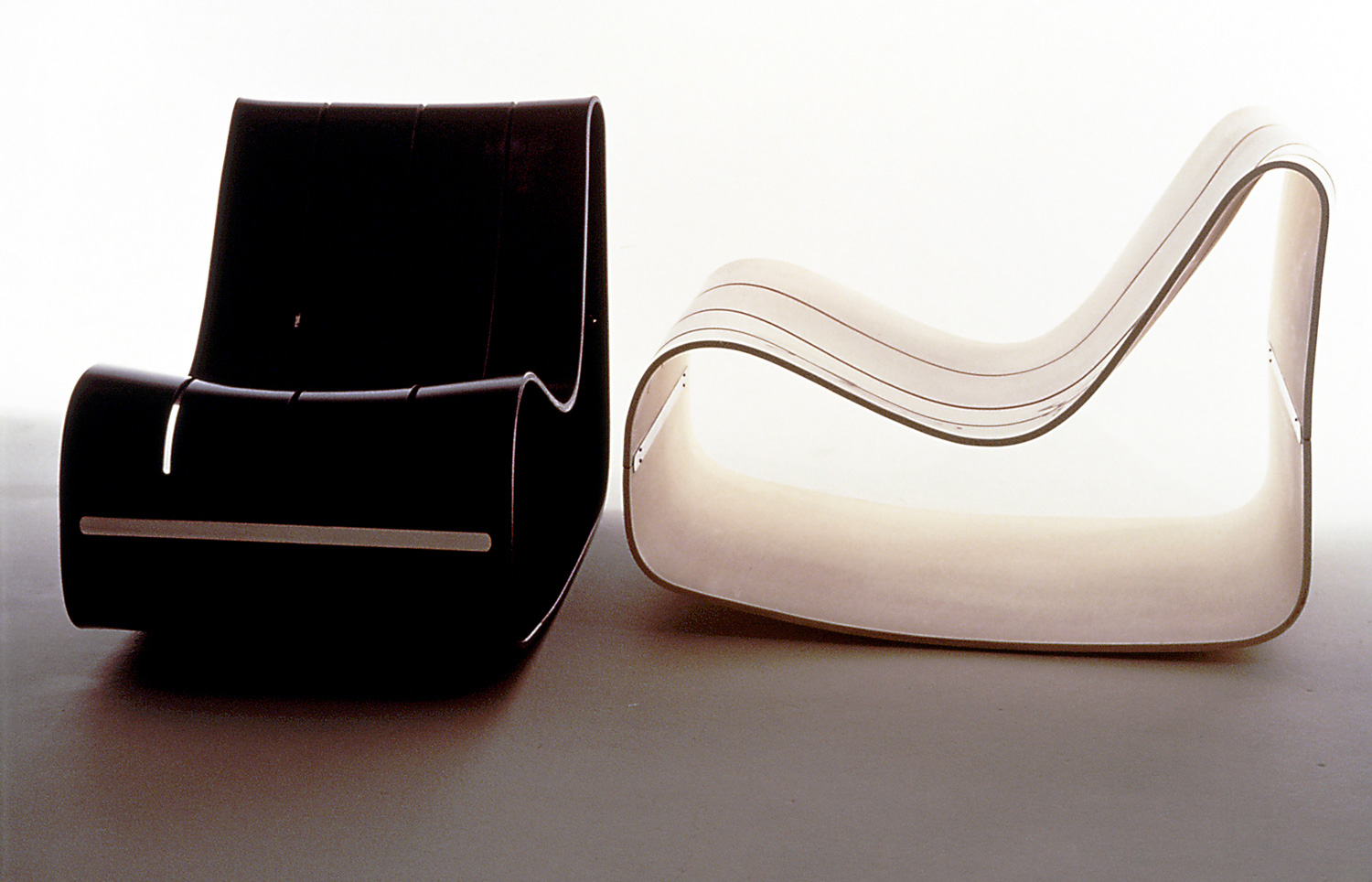 7) 1968 "FIORENZA"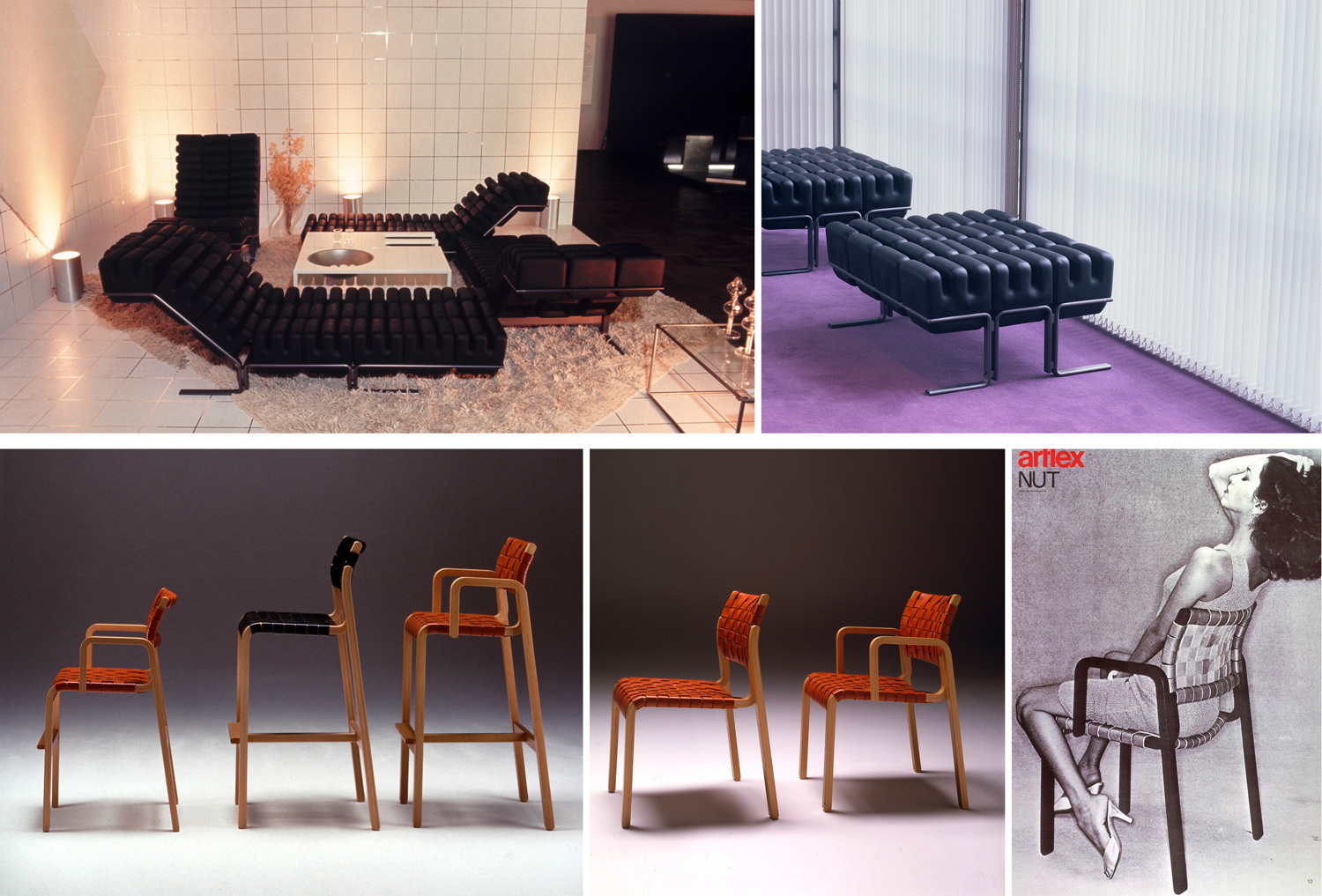 8) 1971 "Dolmi Youth" (upper left) 9) 1973 "Dolmi Youth" (Set up at Shibuya PARCO Theater) (upper right) 
10) 1976 "NT" (lower)
The folding chair "BLITZ (blitz)" is one of the masterpieces.It was slimmed by suppressing the amount of materials used due to the sharp rise in petroleum products due to the influence of oil shocks, designed with a comfortable design for the body.In 1977, he won one seat at the international chair competition organized by AIA (American Architects Association).Manufacturers changed several times during manufacturing, and it was difficult to produce them from Italy's Skipper Company in five years.Currently, the product "BRONX (bronx)" is manufactured and sold as Cassina Ixsey as its family.
In addition, since it was announced in 1976, he has worked extensively on Alflex Japan 's "NT (NT)" and office chair using molded plywood which has been long selling for more than 40 years, a lounge chair in hotel and airport lobby.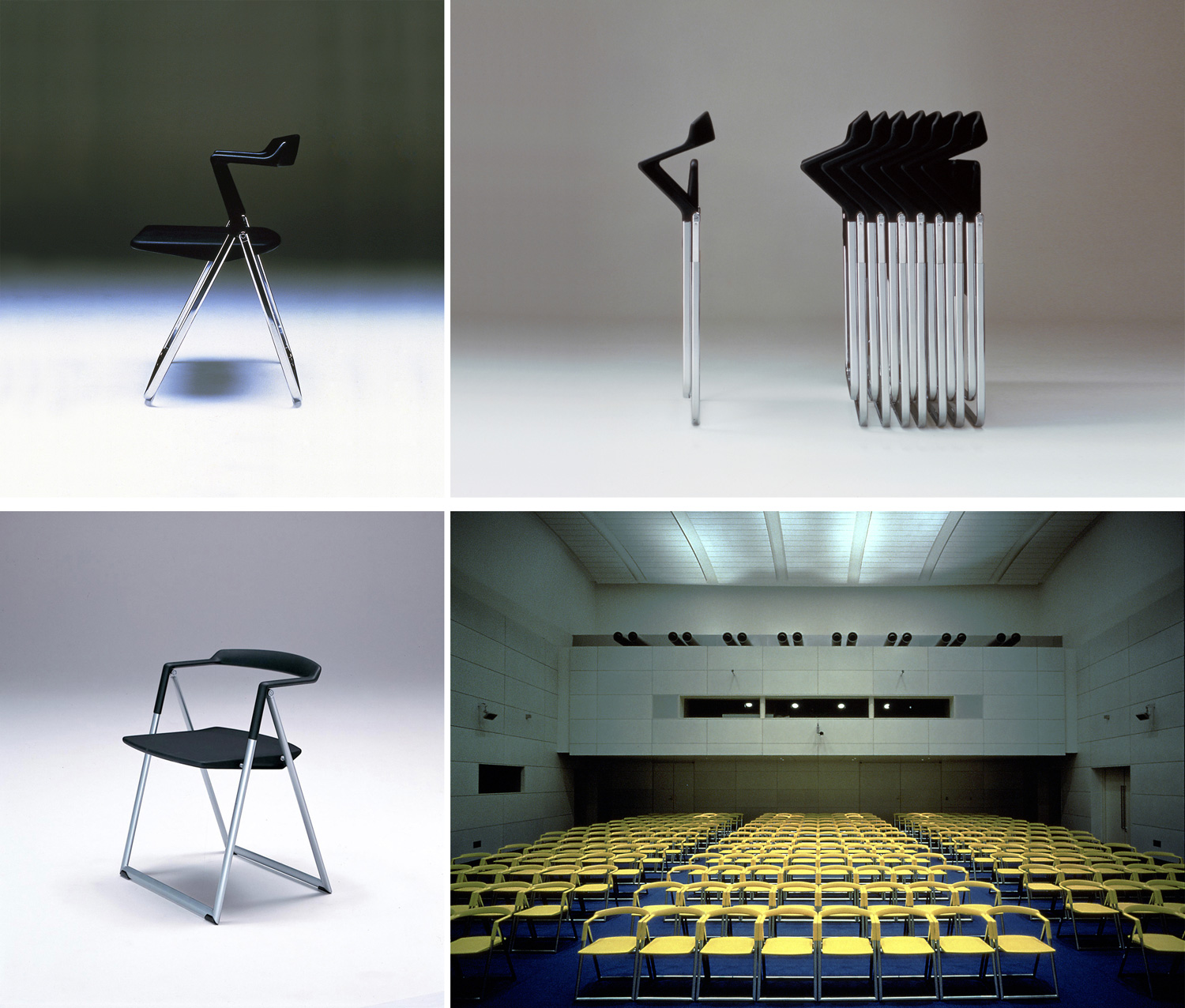 11) 1981 "BLITZ" (1995 - "TUNE") (upper row) 12) 1992 "BRONX 1010" (lower row)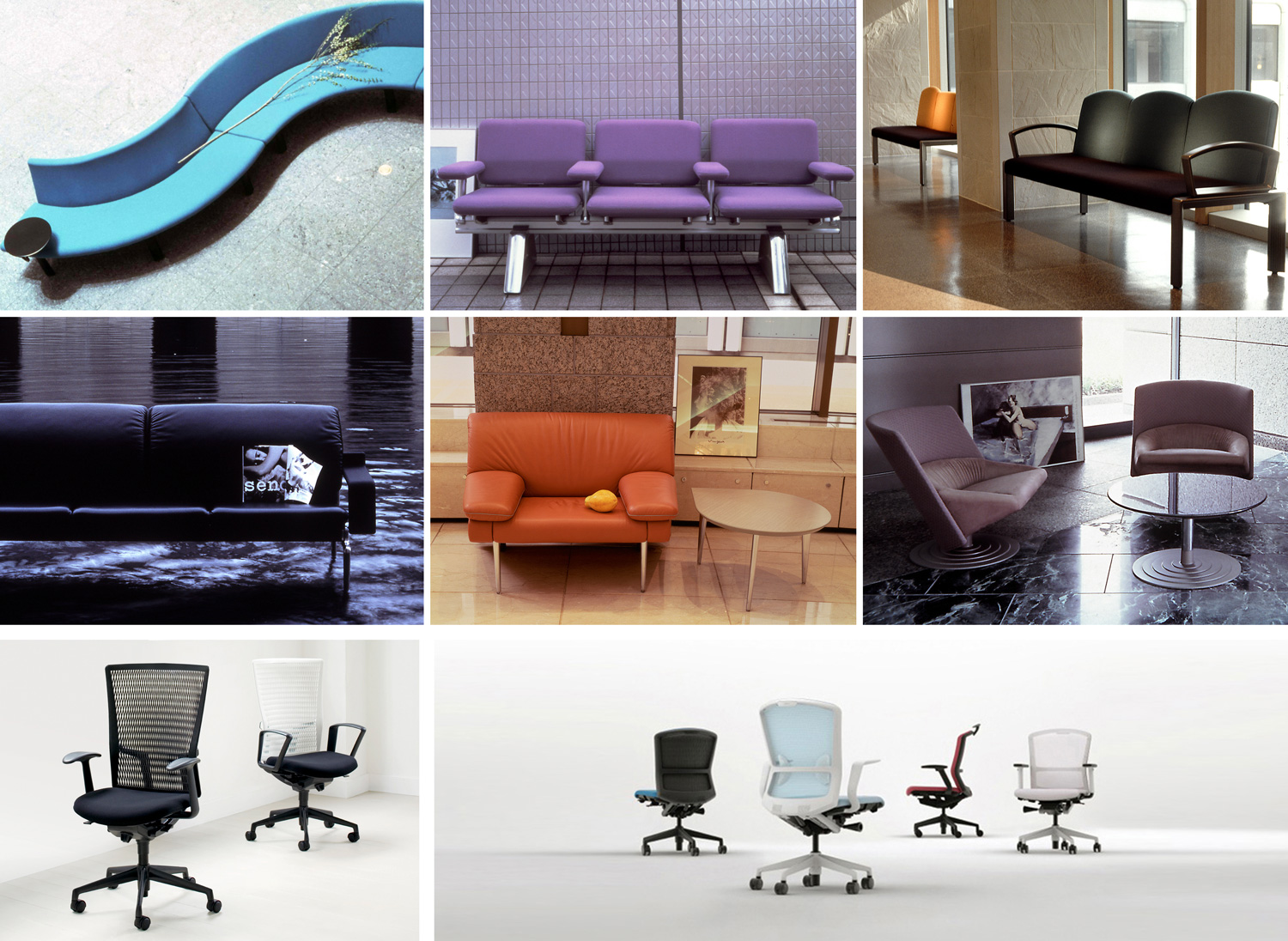 13) 1991 "SOPRA FIUME" Okamura (upper and middle) 14) 2008 "Actdia" Uchida Yoko (lower left) 
15) 2013 "Elfie" Uchida Yoko (lower right)
Industrial products of the 1970's
In the 1970s, the evolution of technology accelerated, small appliances for household use appeared from the large size so far, household appliances became smaller and more compact, the industrial design world came in transition.Mr. Kawakami also worked on numerous industrial product designs, including Sumitomo Electric's "Hand Scanner" and MS-DOS type personal computer at this time. "In the conversion period from analog to digital, a new technology was born even while developing one product, and we had to constantly think about ahead of that ", says a kind of imagination in the speed of evolution He sometimes felt tense.


(From the left) 16) 1976 "Hand Scanner" 17) 1977 "555 Series" Central Electron 
18) 1975 "DATA-BEE" Sumitomo Electric
Evolution of light source / video device
Speaking of the technological advances in nature, light sources of lighting are also cited.Mr. Kawakami is designing in "spontaneous harmony between light and shadow" in space.Along with the advent of small and efficient krypton balls, in 1978 Yamagiwa designed "RUACUL"."Spotlight - ISOPEC" using Haus, HID, Xenon lamp etc from Ushio Spex (now · Modulex) in 2004, Under the technology of Yamagata University which is the industrial base of organic EL in 2016, "TAKE - TOMBO "(prototype) announced.We consider that it will take some more time for the organic EL light emitter to be distributed in general.Likewise, NEC plasma TVs and interactive monitors designed in 1998 were also expensive at the time of sale, but with the liquid crystal rapidly cost down, replacing high resolution liquid crystal and organic ELTV.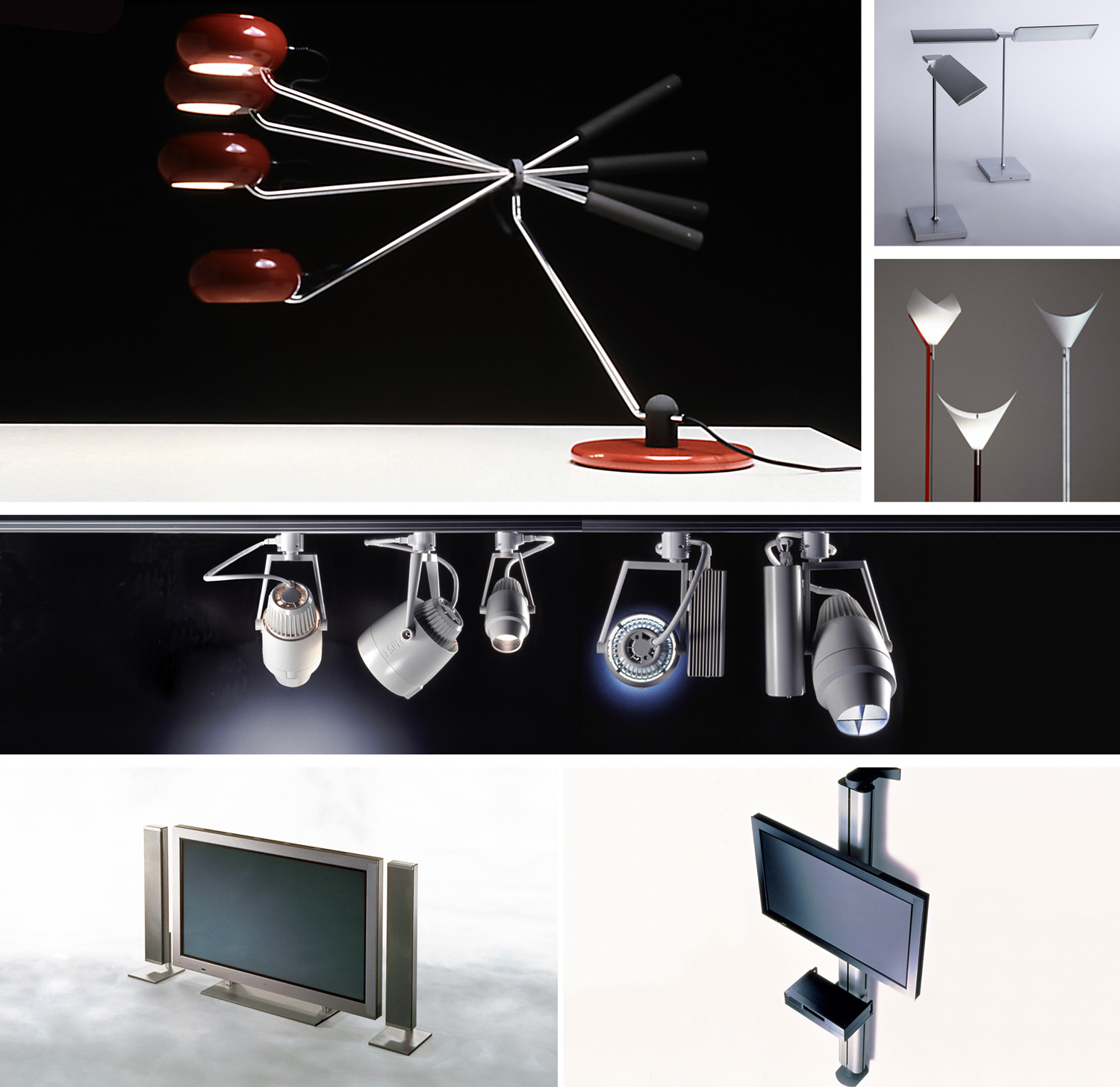 19) 1978 "Ruakuru" (upper left) 20) 2016 "Take-Tombo" (upper right) 21) 1983 "ARIAKE" (lower right)
22) 2004 "ISPEC Spotlights" (middle row) 23) 1998 "PLAZMA-TV" NEC (lower left) 
24) 1998 "PLAZMA-MONITOR" NEC (lower right)
Racket technology to chair
In the unique product, Yonex's tennis racket "R series, RQ series" is.Kawakami ran various kinds of sports including American football and skiing since university, and tennis was one of my hobby since childhood.In the mid 1980s when I worked on this, it was also the era when various materials such as carbon composite, graphite, Kevlar, boron, and silicon appeared.Until then, plywood and rigid aluminum were used in the racket body, a new type of racket that was molded inside of sleeve-like CFRP (Carbon Fiber Reinforced Plastic) just out of that time, was a professional tennis player who was active at the time It was also known for its use by Martina Navratilova and gained popularity.After that, I attempted to make "CARBON CHAIR (Carbon Chair)" with an Italian manufacturer but because the upfront investment was expensive, it ended with a mock-up model.However, I still think that it is "possibility" that it can be realized by industrial method, not hand lay-up (molding method by impregnating resin with a roller etc. and laminating it by hand).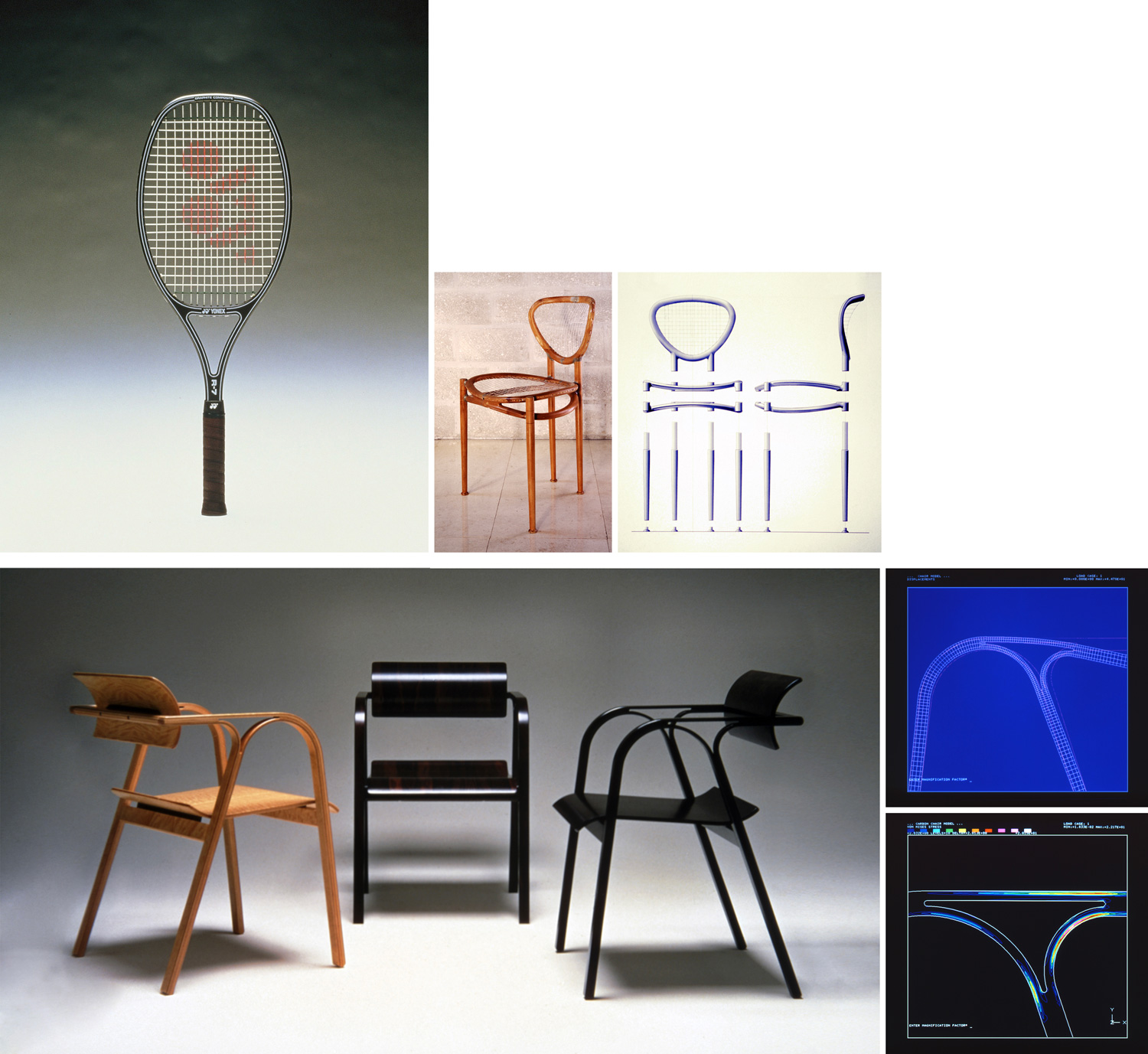 25) 1988 "R series" (upper left) 26) 1988 "CARBON CHAIR" (mock up) (upper right) 
27) 1985 "CCC" Yamaha (bottom)
Based on Japanese traditional crafts
He is also engaged in product development that explores new expressions by combining high-tech materials and techniques with the materials of the land and traditional crafts handed down.In this, "experience of the era of the Beauty Age is alive", says Mr. Kawakami.In the 1980s, he worked on a series of bushes and furniture that utilizes lacquer to develop products that fit modern life.I changed it from "Italian furniture manufacturer" to "industrial" method with offer from Italian furniture maker saw it and changed to "Flow coater from painting lacquer (painting method painting waterfall like paint on product)" "KINU (Kinu) "was born.
In the same 1980s, Yamaha produced furniture "Masaki" series using musical instrument production and piano painting techniques.Mr. Kawakami thinks that "Hare" and "Ke" exist in people's lives and behaviors, as well as "True", "Line" and "Grass" in the preparation of tools.The table placed in the large space of the work place gave a thick transparent clear paint on the white butterfly shell inlaids, then smoothly scraped off and polished up, resulting in a pattern embossing and a precise mirror effect.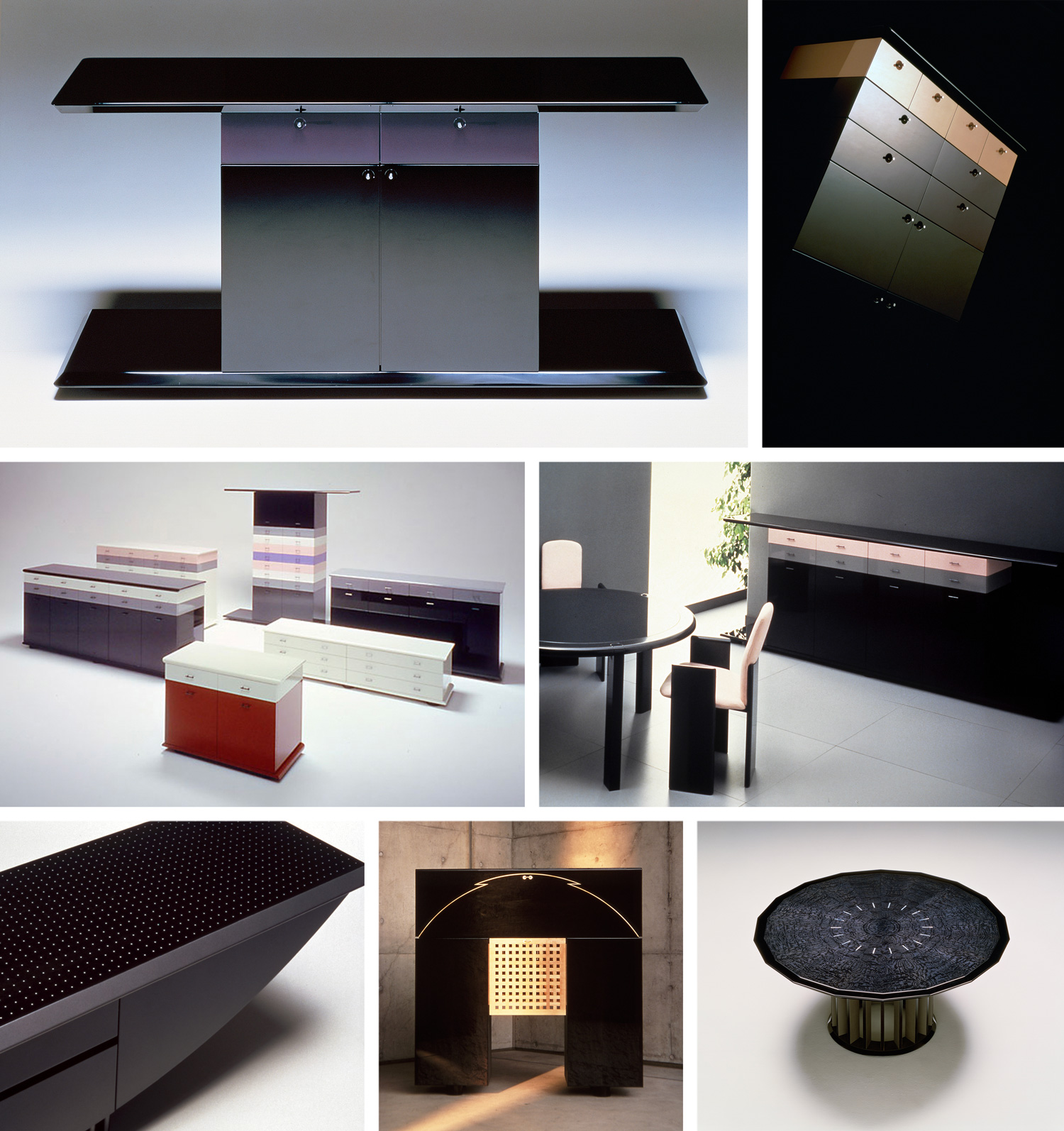 28) 1981 "CRESCENDO" bush (upper line) 29) 1982 "KINU" arflex spa (Middle) 30) 1985 - 1989 "Masatch Series" (lower row)
Bottle design
Following Kirin Seagram's whiskey bottle "NEWS (News)" in 1983 with a graphic designer Makoto Masashi who is a classmate of the University of the Arts, in 1986 Ajinomoto General Food 's instant coffee bottle "Blendy" Designed.Mr. Matsunaga handled the logo and package, Mr. Kawakami handled the design of the bottle, won the Grand Prize of the Package Design Award and the prize, respectively.In addition to the design, the concept that suggested the existence itself and the scene of a new life led to evaluation.The latter was designed to have a presence with a dining table and a versatile design considering to widen the area of the palate so that it can be stacked on the store shelf and to "reuse" it as a container.


31) 1983 "NEWS" (left) 32) 1986 "Blendy"
Environmental design
The largest scale public works that I have done are "Tsurumiba Tsubasa Bridge" of the main bridge of the high-speed coastal line connecting Haneda Airport and Yokohama Bay Bridge in 1994, one-side hanging 3 trans-continuous steel diagonal bridge.Different from architecture and civil engineering, he faced environmental design from the viewpoint of a designer.It took six years before completion.
For Miyoko Ohno who worked on the world of civil engineering as an environmental designer, Mr. Kawakami praised "For those who opened the windows in the industry", create a beautiful landscape and an easy-to-live environment, to create the next generation To tell it, "It is necessary for designers to be more involved in the field of such environmental design."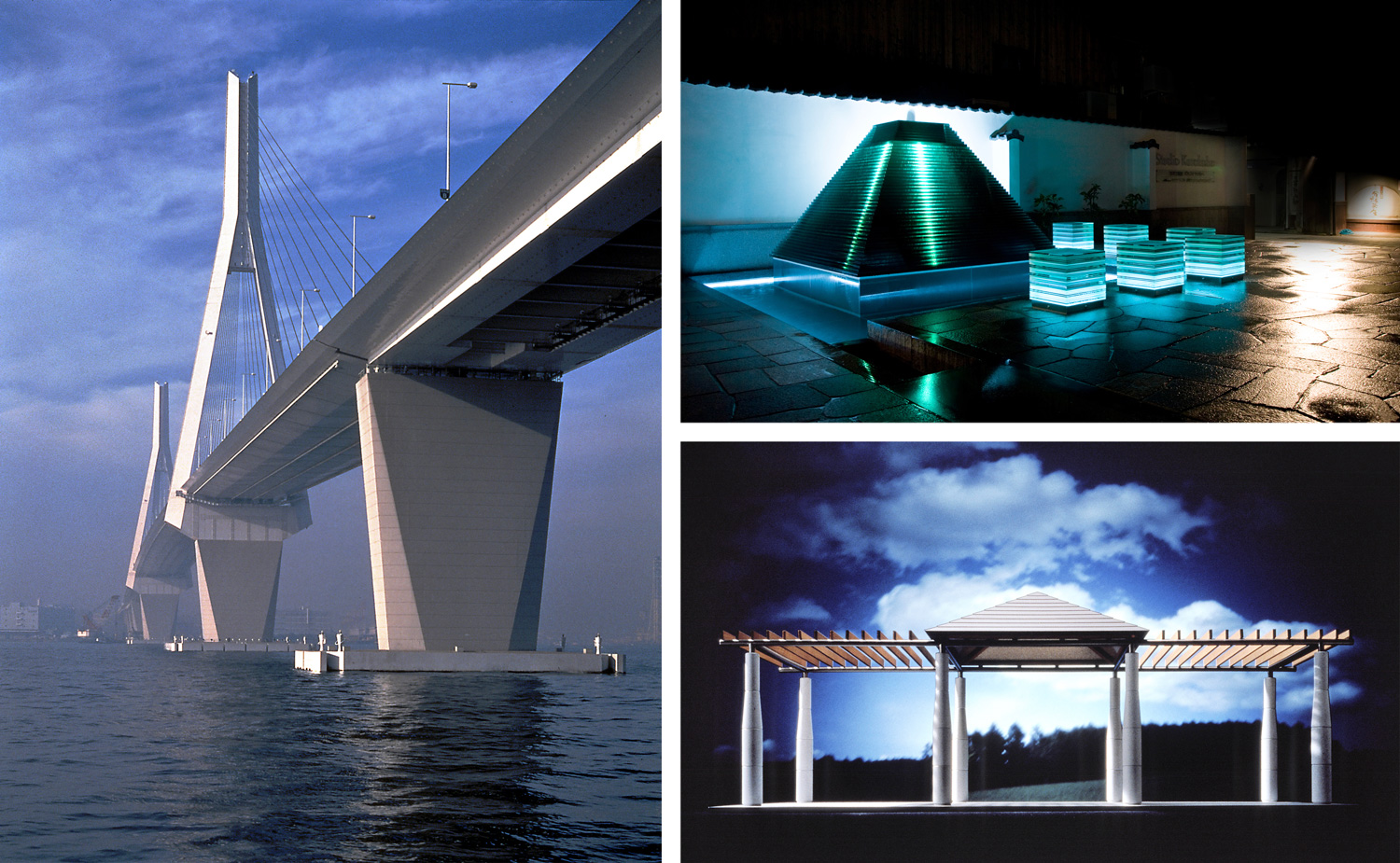 33) 1994 "Tsurumi Tsubasabashi" (left) 34) 2009 "TOPOSPOT" Nagahama (upper right) 
35) 1994 "Pergola shelter (KD series)" Hokusho (lower right)
Recent design
Even now, it continues to announce new works, and the design products which are handled according to the change of lifestyle are spreading further.In recent years, we have been developing from the viewpoint of universal design towards an aging society.From TOTO in 1993 toilet using touch sensor and toilet, design of the rest room, in 1996 announced two series of toilet paper holders that made one hand cut and easy to remove."INTIME (In Time) 7000/3200" announced from Paramount Bed in 2006 can be adjusted to a favorite attitude when reading and watching TV, devising to devise for enriching the time before and after going to bed There.It is developed based on know-how accumulated in the medical facilities of the company, it becomes a nursing bed when adding options.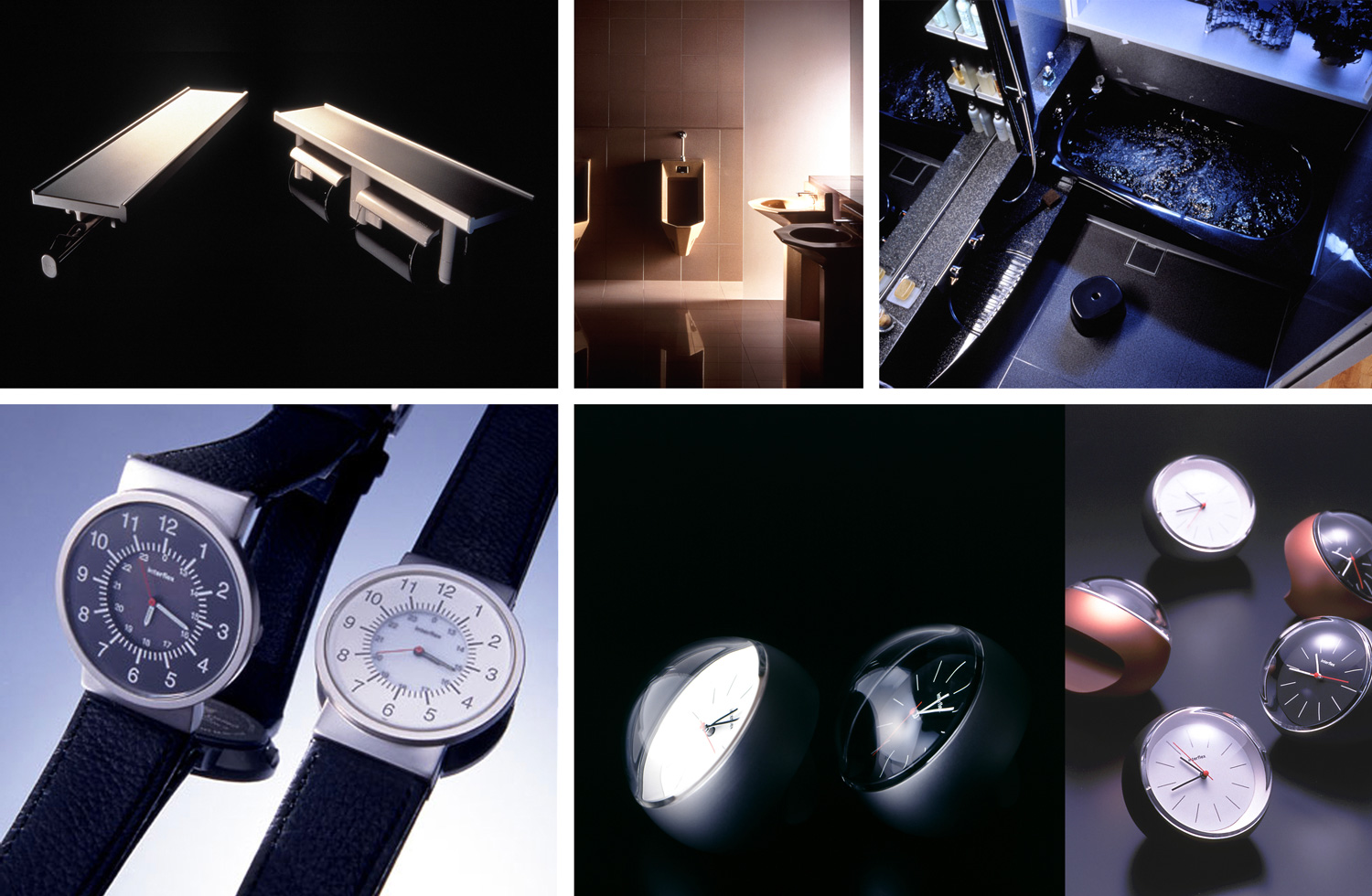 36) 1996 "MK series cigarette" (upper left) 37) 1993 "ZAZA" (upper middle row) 
38) 2001 "Furopia" TOTO (upper right) 39) 2000 "watch (eco-drive)" Interform (lower left) 
40) 2000 "desk-clock" Interform (lower right)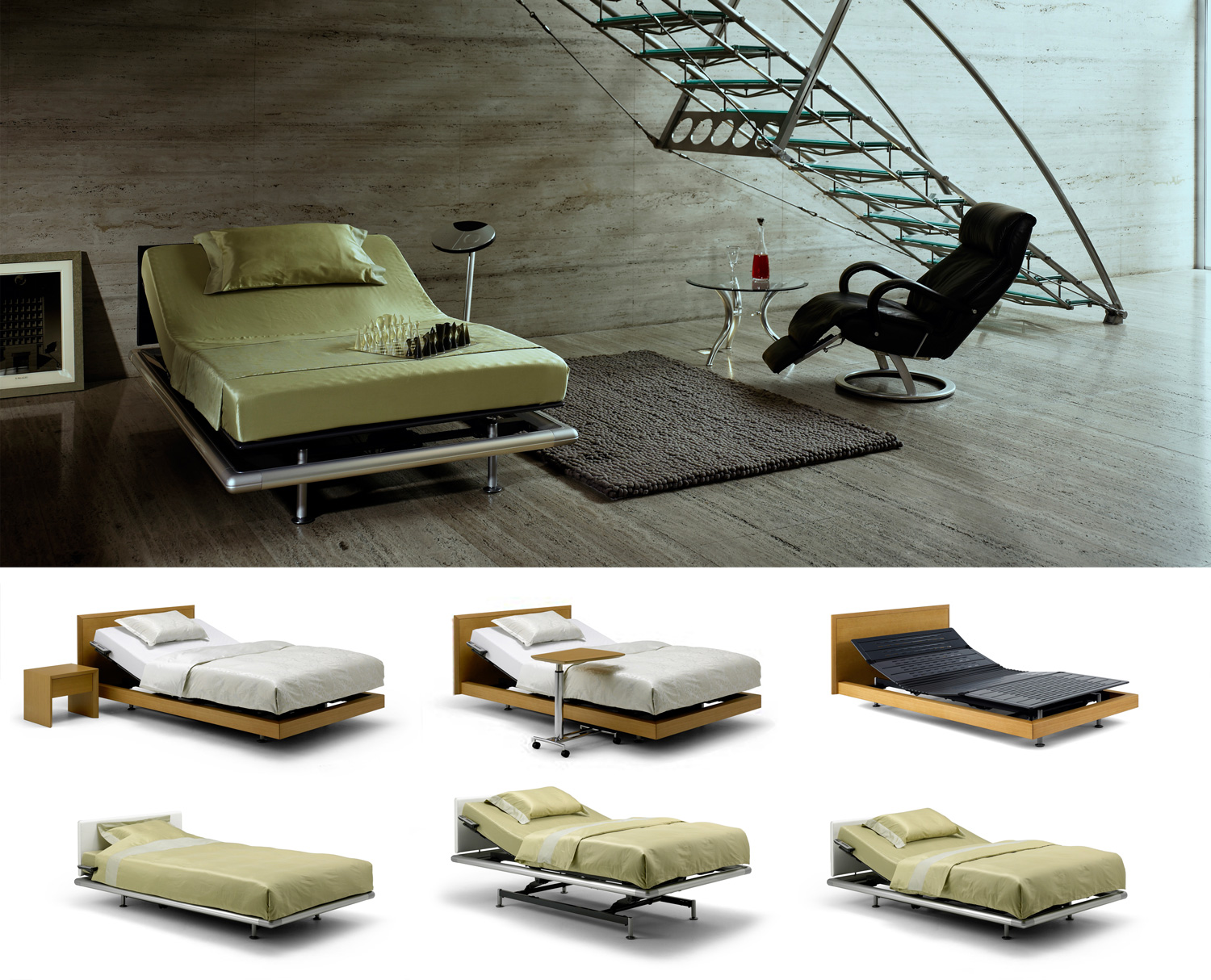 41) 2006 "INTIME 7000/3200"
"Pulse (pulsed)" developed in collaborative research in industry, academia and government in 2001 adopted the viewpoint of orphan products (welfare equipment for severely disabled people), ABS theory (theory to realize optimal pelvic support ).Okamura's active learning chair "Cradle (Cradle)" announced in 2017 adopts the spring structure for the mechanical part, uses the reaction force trying to return to the original while swinging, and by moving the body moderately, the brain It is a multi-stool that activates and expects active group work.
Through the lecture, Mr. Kawakami's design includes "a person sitting from a small hand sitting in his hands, a space sitting by a person, a space into which people enter, all are living tools, connected by various relationships in the environment, It is basically the idea that it is the same thing ", and it can understand that" a design that constitutes a beautiful environment "has been created incorporating new technologies, materials, and era.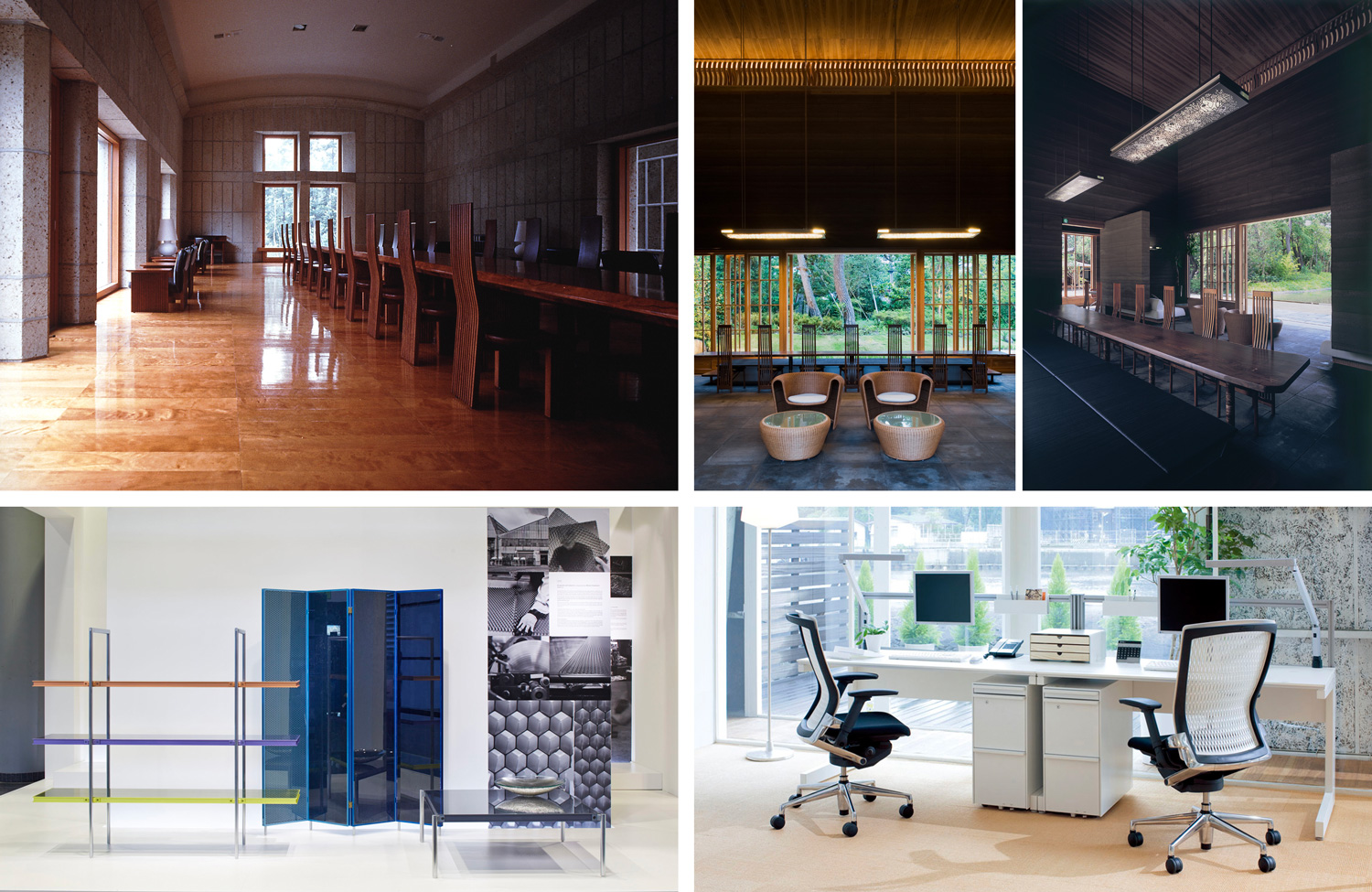 42) 1986 "Second stage club" (upper left) 43) 2008 "Numazu club" (upper right) 
44) 2014 "INSIDE OUT" Showa Airplane (lower left) 45) 2009 "Pulse" Uchida Yoko (lower right)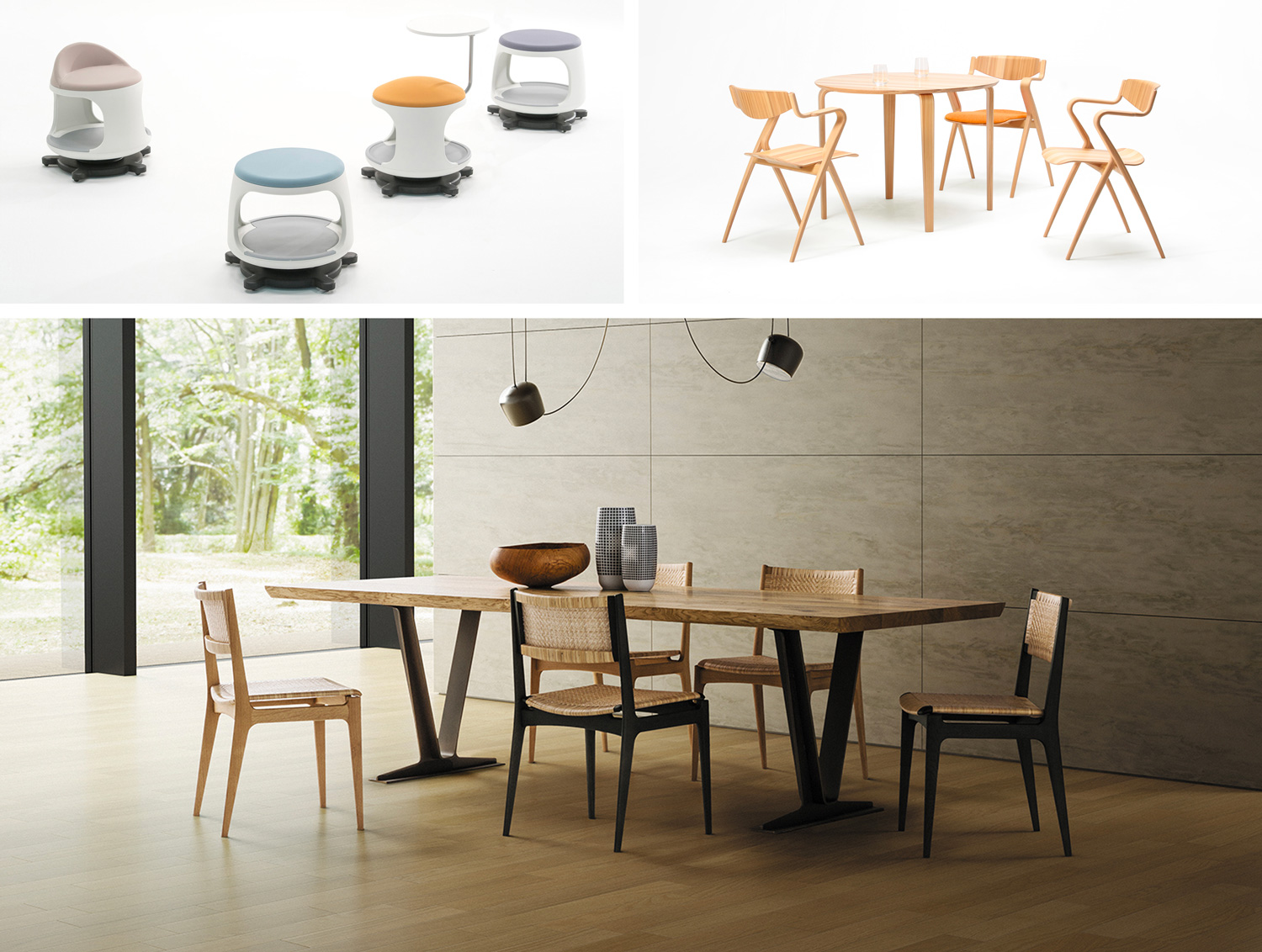 46) 2018 "Cradle" Okamura (upper left) 47) 2017 "STICK" Tendo woodworker (upper right) 
48) 2018 "MESA (table)" RIVA, "APERTO (chair)" arflex Japan LTD.under)
Japanese local industry and timber
We are working diligently to design with local industries in various parts of Japan that have various problems such as exhaustion of material and shortage of successors.In 2005, we cook dishes of "Arita HOUEN (Houen)" which is suitable for both Japanese and Western cuisines with Arita-yaki pottery in Arita-shi, Saga prefecture, in 2007 the city of knives, Kawashima Industry of Seki City and all-stainless knives "MOKA (Moka)", later produced the type of Damascus steel, utilizing the materials of the land and the traditional techniques passed down, we have designed a number of lifestyle tools that fit the modern lifestyle.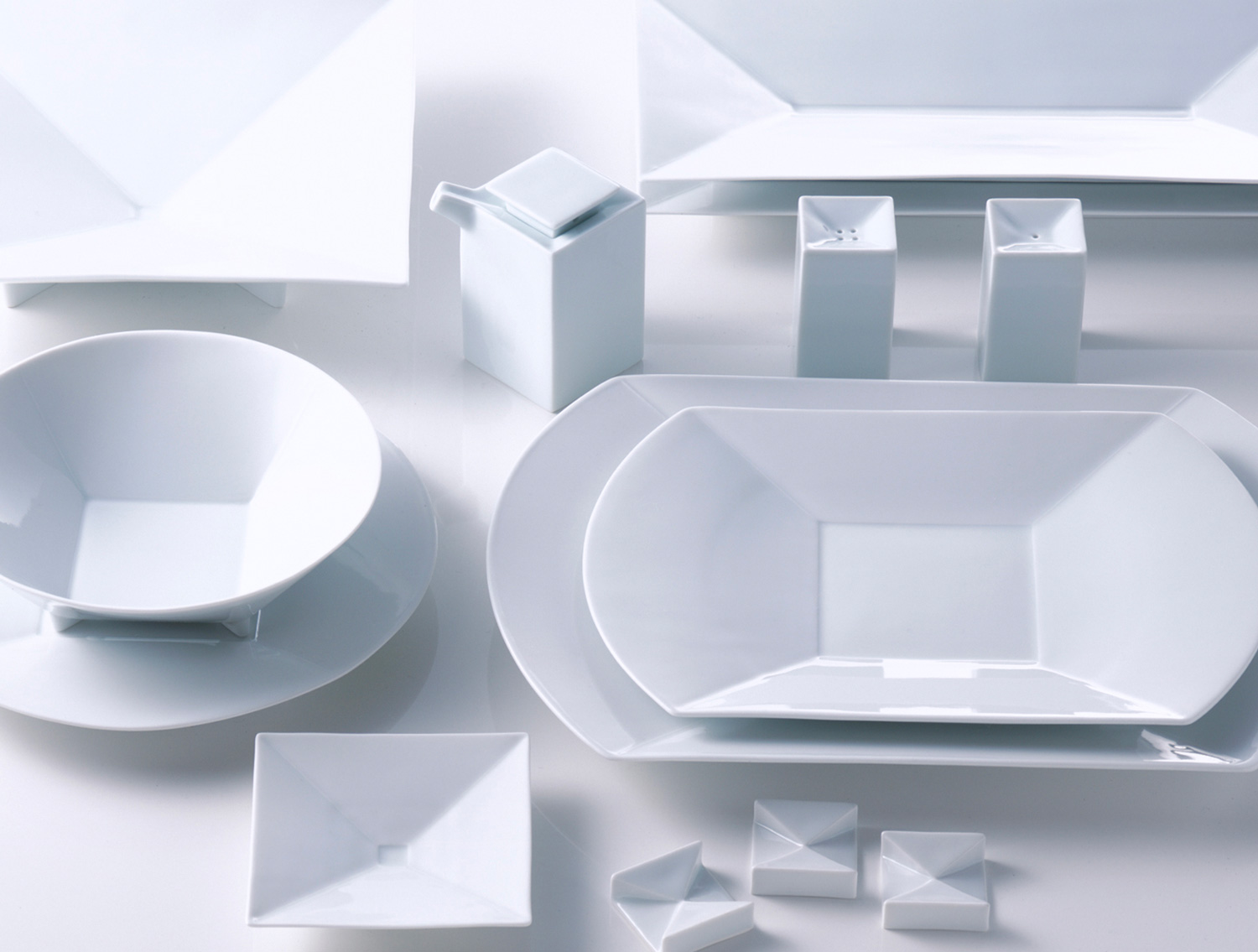 49) 2005 "Arita HOUEN"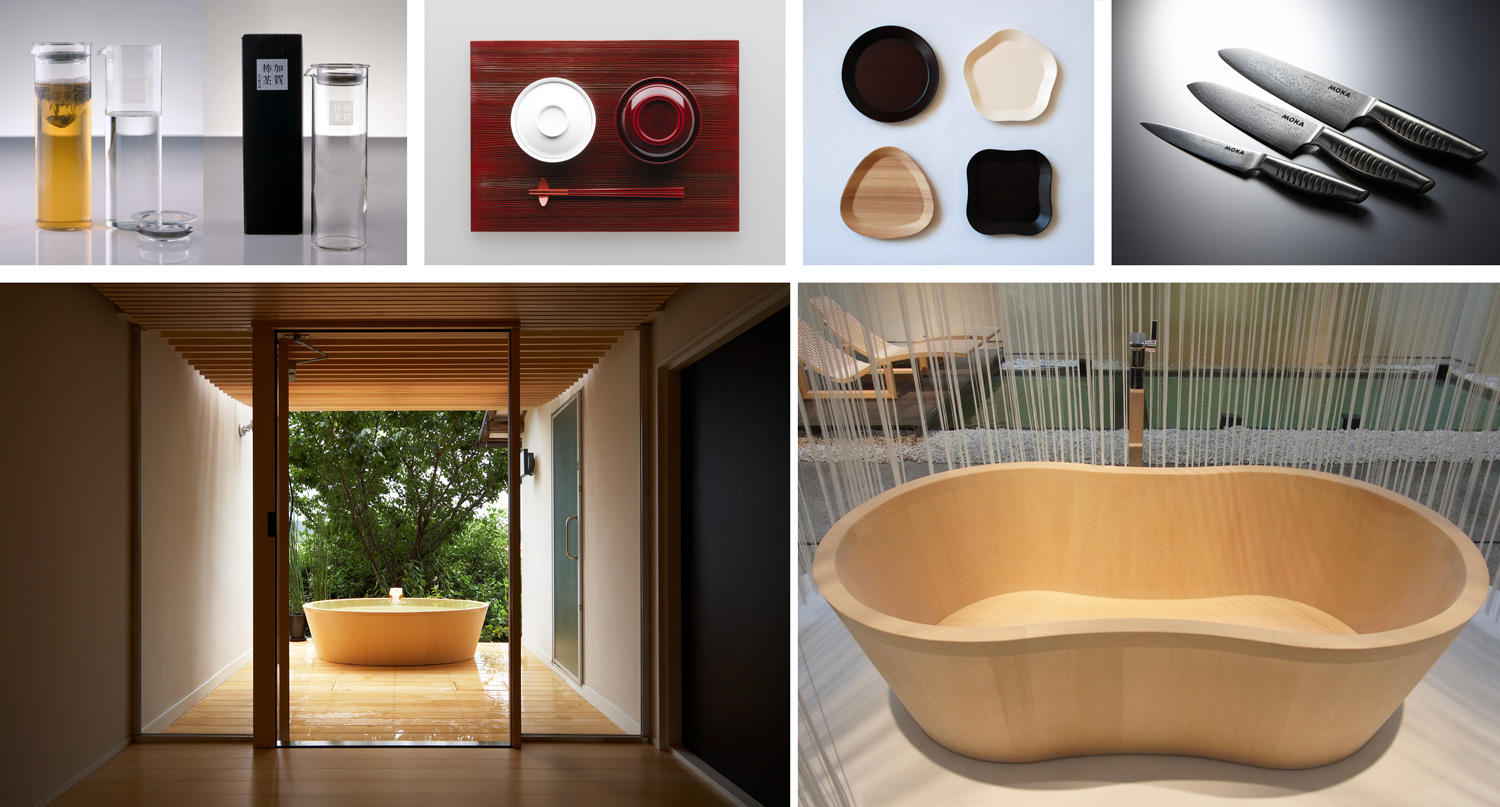 (From the upper left) 50) 2006 "Watering pot" Maruhachi tea plant 51) 2009 "Bowl set" Hida Shunkei 
51) 2009 "Cedar Compression Tray" Hida Sangyo 52) 2015 "MOKA DAMASCUS Series" 
53) 2010 "O-bath" Hinoki Shinko (both lower left and right)
It is considered unsuitable for furniture like a chair and we are also developing products using coniferous trees such as cedar, pine and cypress planted after the war, which is said to be utilized.The bath tub "O-bath (Ovus)" of Hinoki in Nakatsugawa, Gifu Prefecture, announced in 2010, joined cypress wood and glass fiber reinforced plastics to create a curve design that gently wraps around the body.In 2014, "KISARAGI (Kisaragi)" was announced from Takayama City's Hida Sangyo.Heat compressed cedar wood that is soft and easily scratched improves strength and realizes beautiful wood grain furniture of straight grain.In 2016 I participated in a shared office project called "perch project".It is also a place to promote exchange with locals such as using cedar and zelkova wood from Ibaraki prefecture for the purpose of local consumption and making use for business trip etc.
About 10 years ago, Hokkaido Asahikawa city participated in afforestation activities volunteered by people involved in the furniture industry.It is 100 years from now that you can use it as furniture in hardwood mizunara and yachidamo that are suitable for native furniture.It is a sustainable activity leading to the future of furniture design.
In 2018, I participated for the "Your Chair" project in Higashikawa Town Hokkaido for the first time.It entrusts "Your place of residence" of the birth life to the chair, and it is an activity to give to the children born each year.From the early childhood, it aims to have interest in local materials, furniture and lifestyle tools using it, eventually attaching attachment to the area.After the lecture, Q & A followed while enjoying wine.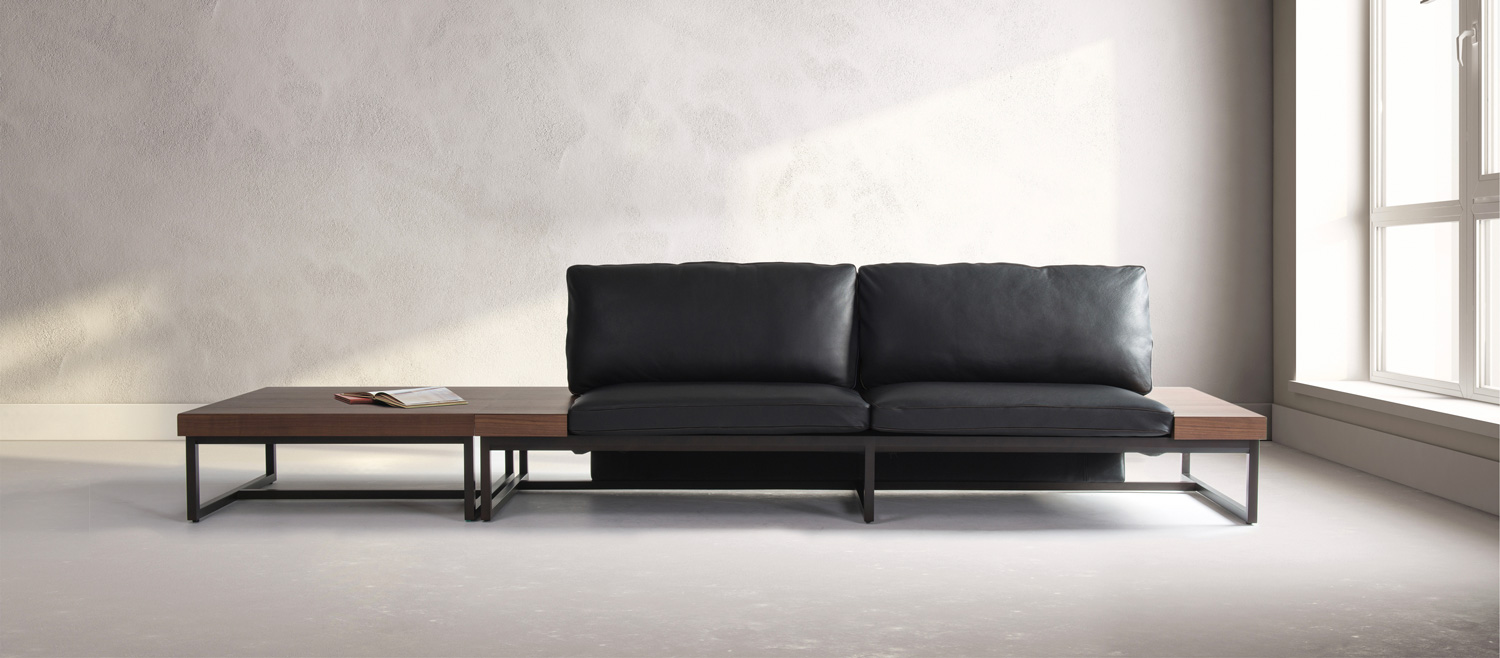 54) 2016 "SESTINA New" Candi House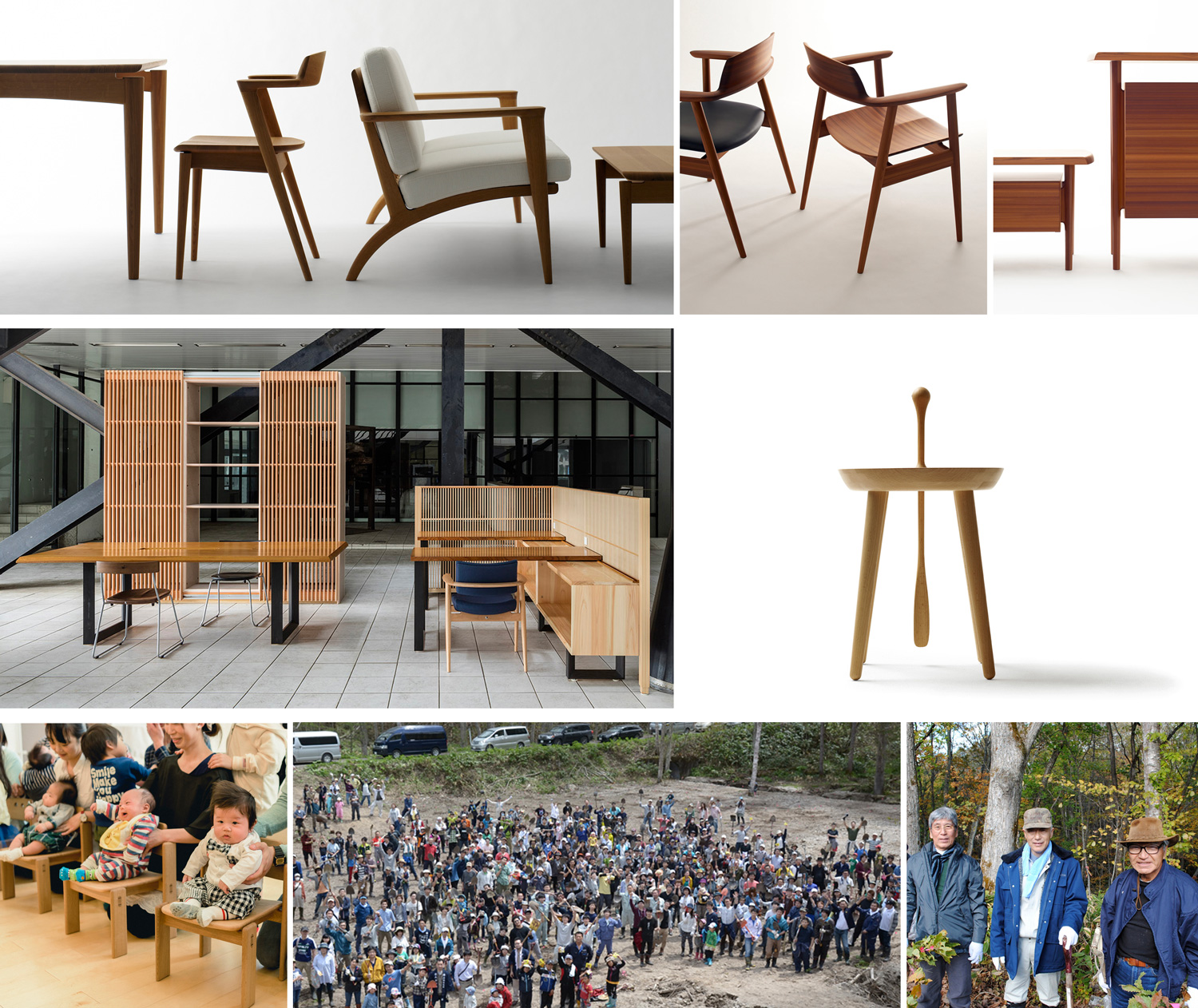 55) 2011 "SEOTO" (upper left) 56) 2014 "KISARAGI" Hida Sangyo (upper row right) 
57) 2016 "Togi project" (middle left) 58) 2008 "STEPSTEP" Nisshin Woodworker (middle right) 
59) 2018 "Your chair project" Higashikawa cho Hokkaido (lower left) 
60) Afforestation scenery of hardwood trees held every year in Asahikawa district (lower row right)
Question-and-answer session
General solution and special solution
- After seeing Mr. Kawakami's work from the beginning to the latest, it is only Yamaha's job that I clearly understood the era.I think that you are always designing while incorporating era, but is it said that other jobs are transcending time?How do you think Mr. Kawakami about that?
Kawakami What I always think is "general solution" and "special solution".General solutions refer to things like making things for people who handle ordinary goods, the latter being like that like monodzukuri or a unique piece (one piece) that aimed at that era and its special environment.In me, these two live together, but rather, there are many people who are making "general solution" manufacturing.
- Mr. Kawakami's awesome thing is that even with the design of "general solution" that tends to flow in trends and trends in general, it is transcending time.
Even if it is a Kawakami general solution, I originate from my personality, but I think that it will become universal in the process of advancing design.The design of general solutions is one that goes into various scenes as "goods" and expects to be standardized, so that the architect is a special specialist who creates for a certain space, to become the leading role in the space It is fundamentally different from design.Even so, design is coming out from the relationship with the society and the times, so I think that it is just how to get the best answer at that time .Certainly products like Japanese furniture are sometimes felt narrower in width than the country with a long history and its cultural depth is shallow.However, there is no need to divide the meaning in a certain way and ask for value in good things in everyday life in general solutions, or give a special surprise even if impression is given, that kind of feeling Snow
Dynamic design
- I have been working in a wide range of fields for a long time, but what is the driving force to pass on passion?
It is that I try to do what I can do because I want to do it with the feeling that I was doing it naturally even though I was planting an upstream river .Rather than increasing the size of our office, I would like to work on basic manufacturing.I also want to do a job I think that I like as well as a satisfying job.I am at the stance of doing what I wanted to do even if I make money.
Rise of fast furniture
- In recent years, inexpensive fast furniture is popular, many people tend to be satisfied with it.What do you think?
In the case of renting a room in Kawakami Europe, because there is nothing like a light bulb to buy one, fast food furniture was originally purchased to make a new married couple with no money or independent young people to live.However, it seems that there are also people who have purchased by a wide range of people now, only some of them are satisfied, but I feel lonesome only with necessary and sufficient conditions, I feel that it is boring.In fact, I am not satisfied from the bottom of my heart, but I think that people are looking for moisture not only for their convenience but also for their lives, what they are, what their subjects are, their lifestyle changes Although it is thought that it will do.
Typography for Mr. Kawakami
- Japanese furniture has narrow width and no depth, but I thought it was kind of typology, typology.In Italy there are more types than in Japan, and I feel that it is a difficult mission to create new typologies in it.Because Ms. Kawakami has experience in Italy, I am interested in how Japan captures typology in Japan and is working.
Kawakami When I announced a chair at the "My seat" exhibition sponsored by the Japan Design Committee around the time I was young, I thought that I was new and I got a rating from around, but generally it did not sell.It was a concept and a form that was evaluated, I realized that it is a different problem from grabbing people 's mind and using it in life.From that experience I think that there is a point of speculative design ahead of the constraints of the times, but than a sharp design, Gakken-like behavior, design conceptual approach, I try to design empathy in my daily life I will.The ceiling height of general collective dwelling in Japan is 2.2 m from 2.2 m, which is the result of typing as a result of the design seeking affinity in a relatively small space and goods targeting international markets and foreign countries I think that the approach is slightly different from collaboration with the manufacturer, or setting up in a specific space or one off.However, I myself do not think about thinking about typology in designing.
About Mangiarotti
- The design is consistent up to the furniture of the later years, and I feel spirituality and thought in it.
I think that Kawakami Manja Lotti was a person who really did not shake.Philosophy can also be seen from one of the glass members of residential lamps.Details such as how to make use of external characteristics, how to solve it in detail, etc. are carefully considered, and by taking advantage of the characteristics of the material, we strive to create new possibilities from the fusion of form and function I feel.There are only pillars and beams of the PC construction method, but there are enormous variations of space spread out there.It was exactly the "last modernist".
The Internet has changed its existence value
- I think that the existence value of things has changed greatly due to the appearance of the Internet and it has come to various difficult times that it is difficult to approach from the standpoint of industrial design alone.How do you think about it?
Kawakami Optimism can not be done, right?We must eliminate the traditional industrial design framework, as well as the design sectorism in education.Currently, the demand for more designers is increasing, and I think that it is a very severe time that the answer to that is also a very severe age where more advanced creativity is required.Among them, I think that it is intervention and collaboration from fields of different industries that are becoming keywords of the times now.For example, the University of Tokyo Institute of Technology, attached to the university, seems to be conducting research that transcends art, design and engineering in an environment dealing with advanced technology in almost all fields of engineering from micro to macro, so it is very enviable thought.At art universities, I can not go so far, but from now on I think that there is a source of innovation where cross-cutting is connected with nature, applied, social science, etc., design will be demanded there.

that's all
Photographing cooperation (honorific title omitted)
Koichi Inagoshi
Daisuke Oki
Ogawa Shigeo
Shiratori Mioo
Osamu Nagahama
Yoshikazu Nishiyama
Mitsunari Fujitsuka
Nacasa and Partners