Report
Overview
The purpose of this workshop is to visit ateliers of designers and architects as a part of "Japanese design archive actual situation survey" project, to experience the space of their design birth, to tell the times and ideas .
The 3rd visited the workplace of Mr. Masayuki Kurokawa who is active in a wide range of fields including architectural design, product design, interior design.To Mr. Kurokawa we are asking for 2 consecutive lectures combined with the 4th workshop to be held in October, this time is the first part of it.Participants were 46 designers including applicants from journalists and educators, mainly from designers, PLAT invitees and websites.A brief explanation of the workplace making and concept was held in the beginning.
Mr. Kurokawa's office is in the basement of K Plaza (Former · Paloma Plaza) designed by himself in Nishiazabu.Located on the west side of the building is the first basement level and the east side road is equivalent to the second basement floor.In the interior, the large space of the colonnade having the mezzanine (mezzanine) spreads out, and the middle is the low wall.On one side of the wall are books, which are important tools of creative activities, and on the other side are desks and computers essential for everyday work.Mr. Kurokawa says "With the brush on a piece of white paper to create a kind of interior that wrote one letter", by simply creating a single low wall without designing it, a large space capable of accommodating a maximum of 100 people It is said that the two different spaces were established, that is, a space for doing daily work.
The lighting consists only of the upper light from inside the wall, and the lighting stand "KAZE" which is the work of Mr. Kurokawa is placed as an accent.The mezzanine which was once used as Mr. Kurokawa's room, now the son who is also an architect has a design office.Also about this office, we will have you observe after Mr. Kurokawa's lecture is over.
Next, what kind of things were influenced, what kind of ideas were cultivated, and what led to the present creative activities while centering on Mr. Kurokawa 's condensed and condensed life chronology , Explained it while using slides.
The contents are reported below.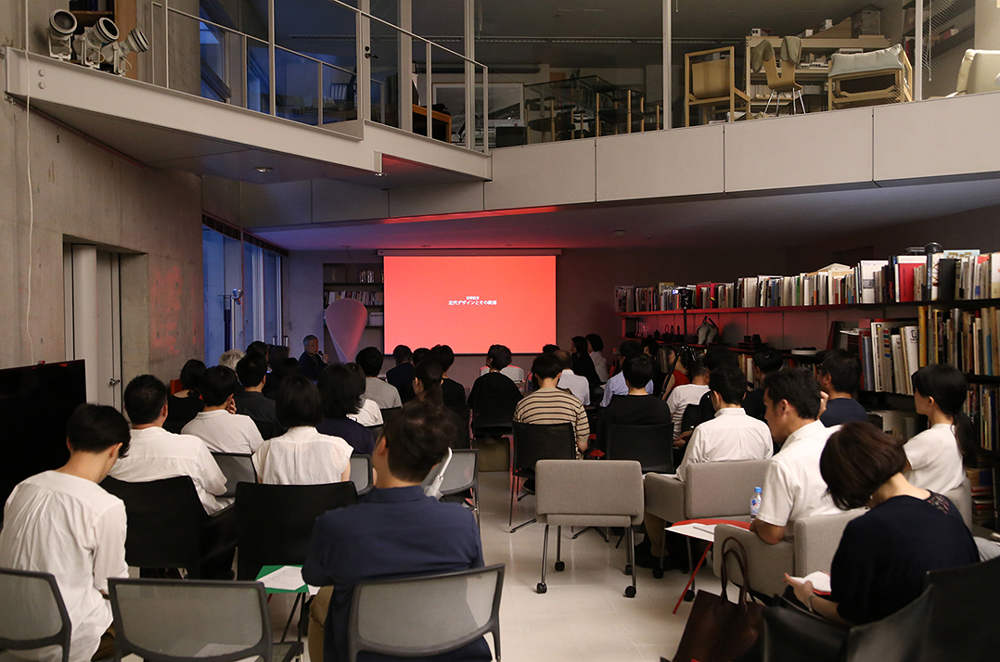 Lecture landscape and workplace pictures (photo / NPO design archive taken)
Modern Western and Modern Japan
Mr. Kurokawa was born in 1937, just before World War II began.It is the year when the Roh-do bridge incident occurred.In early childhood, she says she has experienced running the field hard so as to escape from the machine gun sweep of the aircraft.
At that time already in Europe there are a variety of different things such as Bruno Taut's "Monument of Iron" (1910), Helait Rietveld's "Schroder House" (1924), Le Corbusier's "Savoie Residence" (1931) Modern architecture appeared.On the other hand, Mr. Kurokawa's opinion is that the modern era of Japan began around 1950 after the war.Household appliances such as electric kettles and refrigerators and new construction materials such as plywood and gypsum board appear and it is after the 1950's that people realize the modernization in their lives, and at the same time Japan Design Committee And the Industrial Designers Association of Japan were founded, and other design activities will be activated at once.It is said that he realized that a major milestone in this trend was in 1950.
In the 1960s that influenced later creative activities
In the 1960s it was an era when exciting events occurred in various fields such as the 60-year security struggle, the Beatles' visit to Japan, the psychedelic movement, and so on.It is the same in the world of architecture and design, and in 1960 Japan's first international design conference "World Design Conference (WoDeCo)" will be held.There, "Metabolism group" formed by young Japanese architects released a proposal of changing city and architecture with metabolism, calling for great reaction.Mr. Kurokawa who was a college student at the time attended the meeting with her elder brother Kisho Kurokawa 's mouth as a founding member of Metabolism, and met Luis Kahn who was present there.And, in 1961, when the British avant-garde architect group "Argram" appeared, it received great stimulation from the impact work such as "Walking City" and "Plug-in City".
Also, the club "Space Capsule" which opened in Akasaka in 1968 (Design: Kisho Kurokawa, graphic design: Kiyoshi Awazu, Lighting design: Mikiko Ishii, composition / direction: Kei Ichiyanagi, cooperation: Shuji Terayama, Shintaro Ishihara, Shuntaro Tanikawa) Mr. Kurokawa who saw the performances of Butoh Takumi Hijikata on showed at the exhibition, "Now that Mr. Hijikata's world has come closer to the body in a realistic sense as if I think that reality is more fiction" I remember it.To be impressed with dance like crawling on the ground different from Western dance trying to jump upwards leads to the concept of Oriental beauty that Mr. Kurokawa pursues later.
After GK design era independence
In 1962, when I was a graduate student at Waseda University, I started working as a research student at the GK Industrial Design Institute (hereinafter referred to as GK) with the invitation of Ekuakuan Kenji.Proposals on the future architecture and cities that were handled at that time received the Kaufman International Design Award Research Award.As a remuneration, I got one million yen from Euguan and went on a journey around the world.
One of the aims was to write a declaration that "Corbusier's age has ended" in front of Corbusier's Unite Davitasion.However, the body trembled and was not able to write anything, being touched by the wonderful beauty of the architecture that I actually saw.
In 1967, he left GK and established Kurokawa Masayuki Architects Design Office.Sooner or later, I met Eiko Ishioka, Shiro Kuramata, Mr. Issei Miyake, and spread the network of people from there.About ten years since independence continued to be difficult in terms of management, but got the opportunity to learn more things while interacting with important people in the design world.
Among them, having met Tanaka Kazemitsu had a great influence on the subsequent design activities, such as building relationships with TOTO, participating in the activities of Tokyo Designers' Space, connecting with the Urasenke family.
Prophecy of "Industrialized Architecture" and "Furniture Residence"
Mr. Kurokawa predicted that "The future construction will change drastically according to the two concepts of urbanization and industrialization" in the fourth grade of the university.He said that he decided to move toward industrialization because his brother was handling urban planning.I decided to work as a researcher at GK to learn the relationship between industry and design. As predicted, the plastic capsule house "Pandora 99" developed after independence succeeds in commercialization.In addition, the prefabricated house "TILTED BOX" which folds and transports to the construction site and assembles it won the Grand Prix at mass production housing international competition design (1970).
"Furniture dwelling" which can change the planning of the room freely by moving furniture closes the box type furniture when going to bed and lives by releasing daytime.It is a work that when you visit you can create a large space by pushing closed furniture and moving to the back.In this case, the Biniss-shell method (a method of arranging in a flat molded rubber frame, sending air from the bottom after casting the concrete, making an inflatable shell, cutting the frontage after the concrete solidifies) It adopted.
The project which got the Kaufmann prize and this "furniture dwelling" became the starting point of Mr. Kurokawa's thought that furniture and tools are small architecture.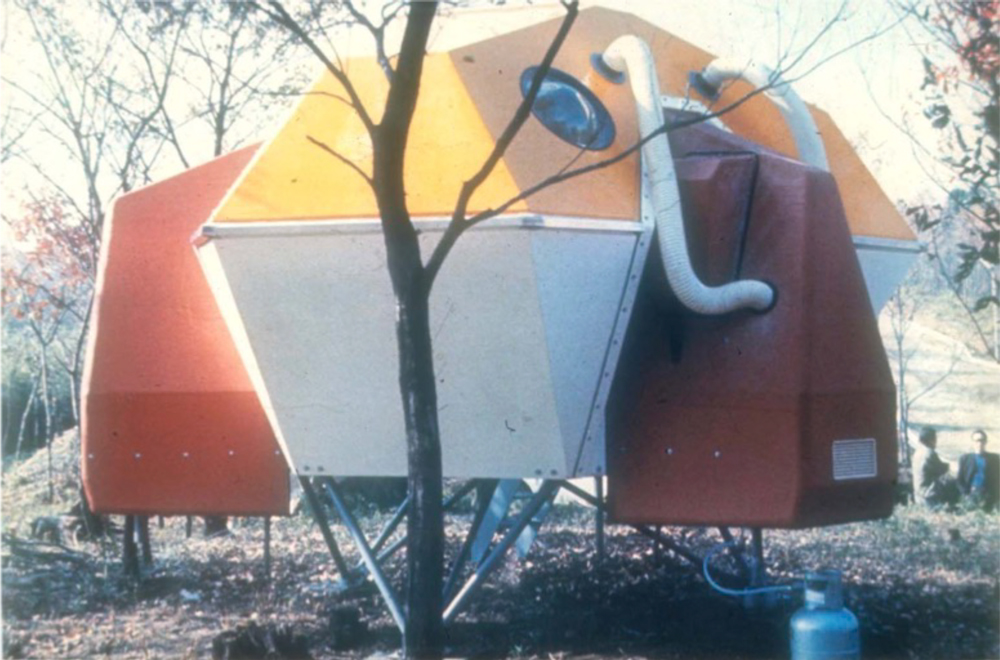 Capsule House "Pandora 99"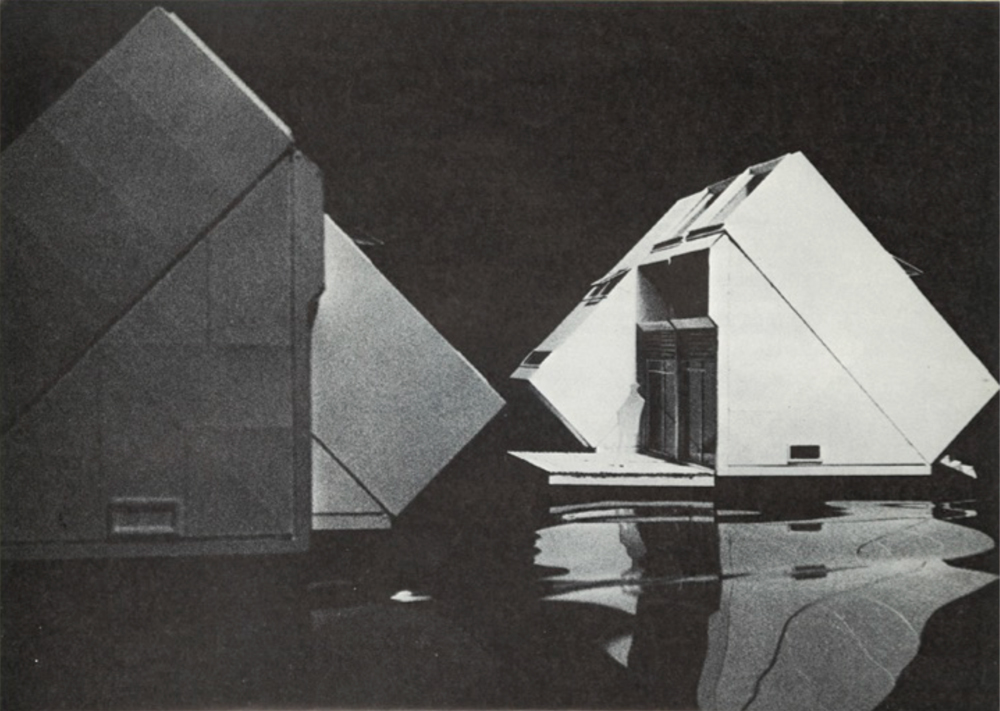 Prefabricated housing "TILTED BOX"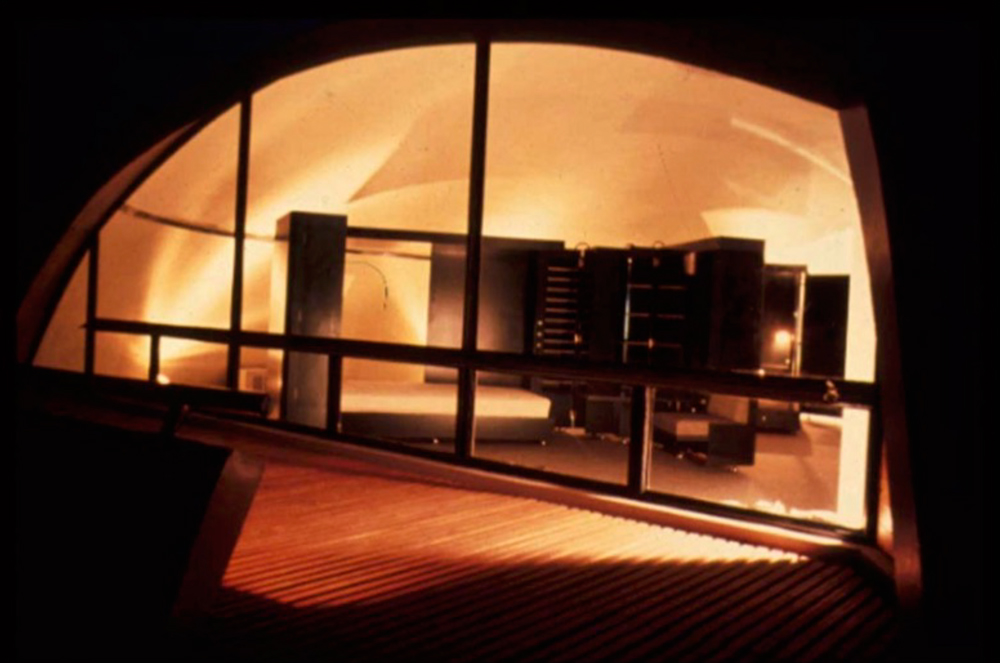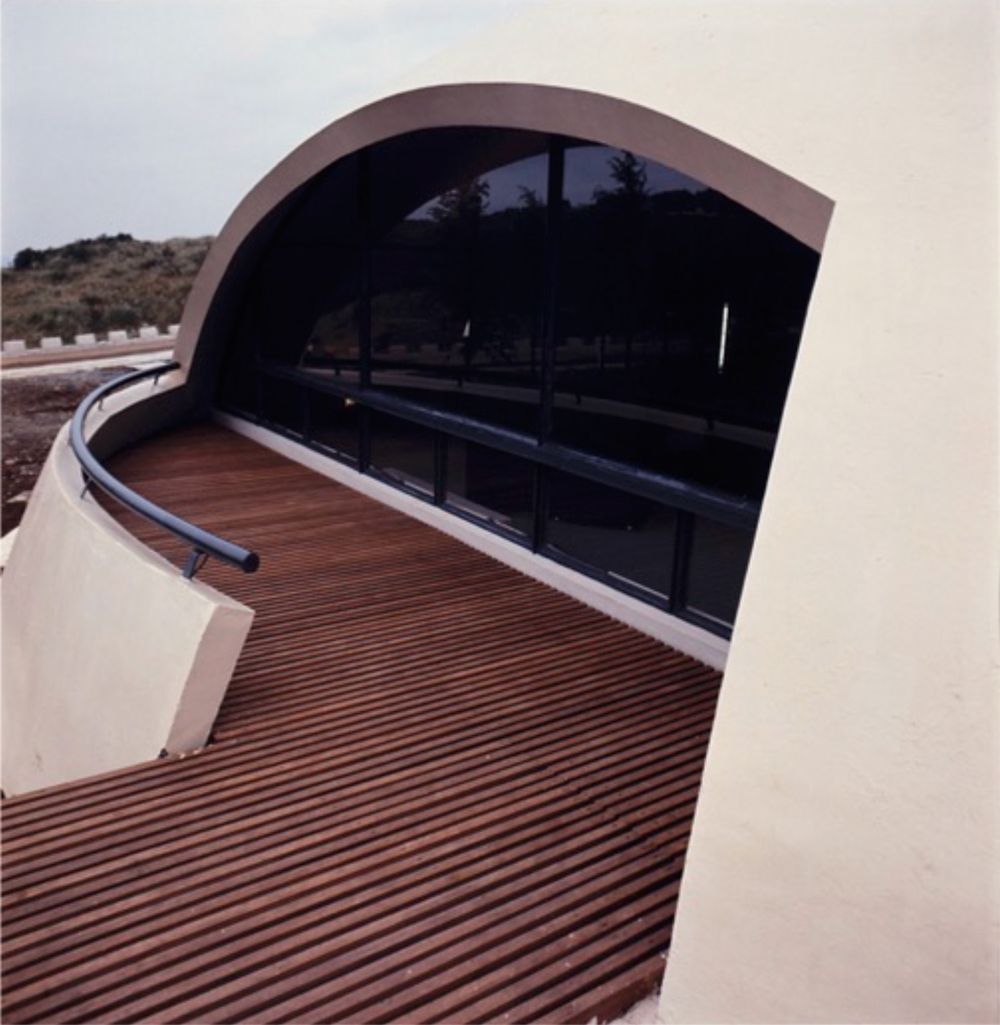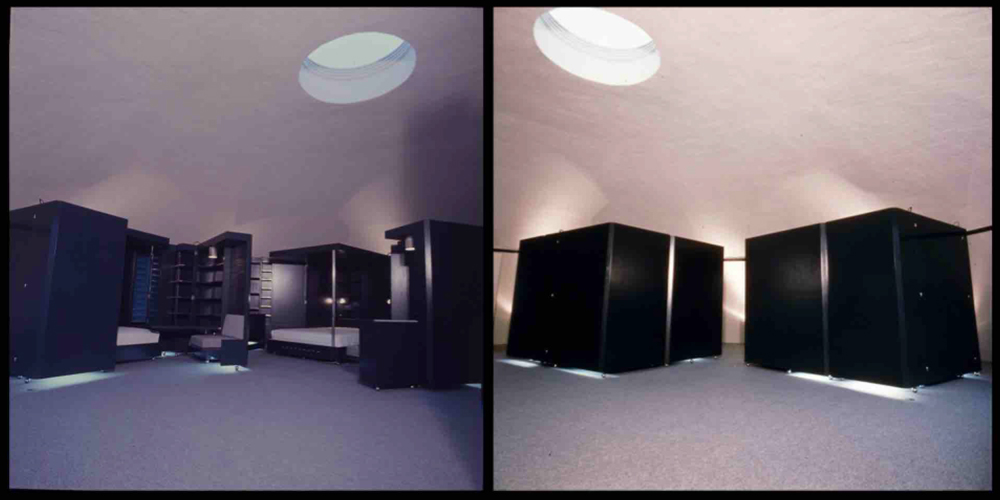 "Furniture dwelling"


Thought of anti-structural philosophy
Another thing that greatly influenced Mr. Kurokawa's creative activities was the antithesis against the structuralism view. "Structuralism which clearly divides "whole and part" feels that it was born out of the idea of Christian society how to position human and nature (part) in the world centered on God (whole picture) It is said.
Structuralism is a "tree-type structure" that is a concept of positioning society, cities, and architecture as something like tree trunks, branches, leaves.In the case of a tree type structure branching from A as shown in Fig. 1, changes do not occur only in the vicinity.On the other hand, when it comes to an anti-structure like a flock of birds, everything is organically changed and it is possible to create diversity as shown in Fig.Mr. Kurokawa who had the concept of "anti-structural" concept (network of musings) without such an overview, Mr. Kurokawa will think that the city is a collection of buildings and that the building is a collection of furniture .
It was a proposal of the Kaufman International Design Award that was created in the GK era.The intention is not that the housing is built by infrastructure but the housing itself creates the infrastructure. "Because it is a tool store GK, only product design gathers and can create a world that became a group It is said to have appealed.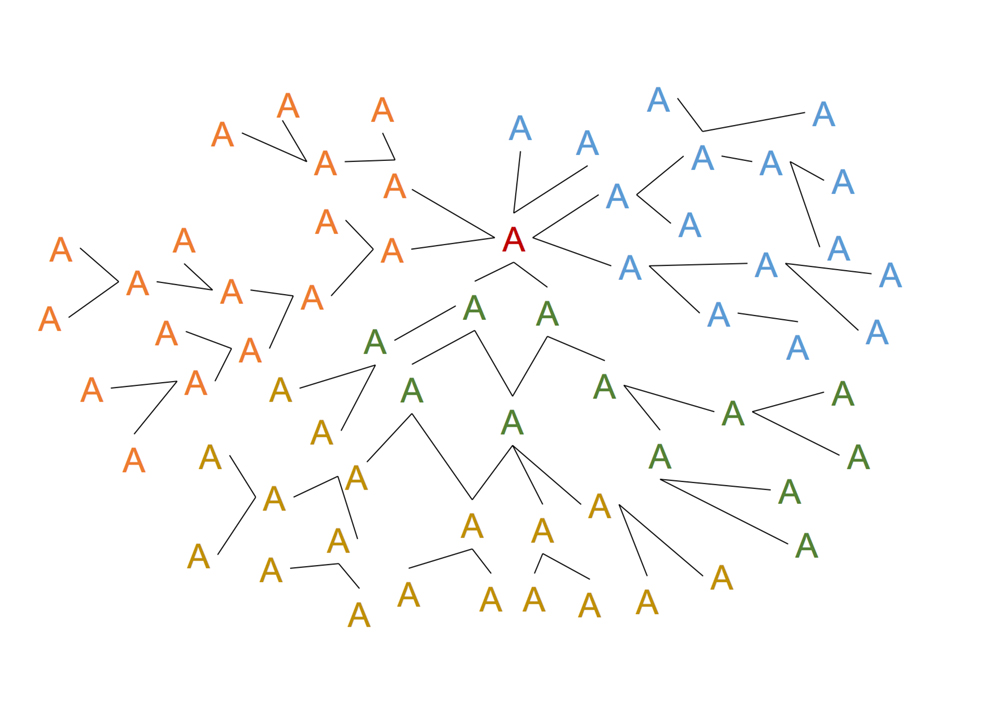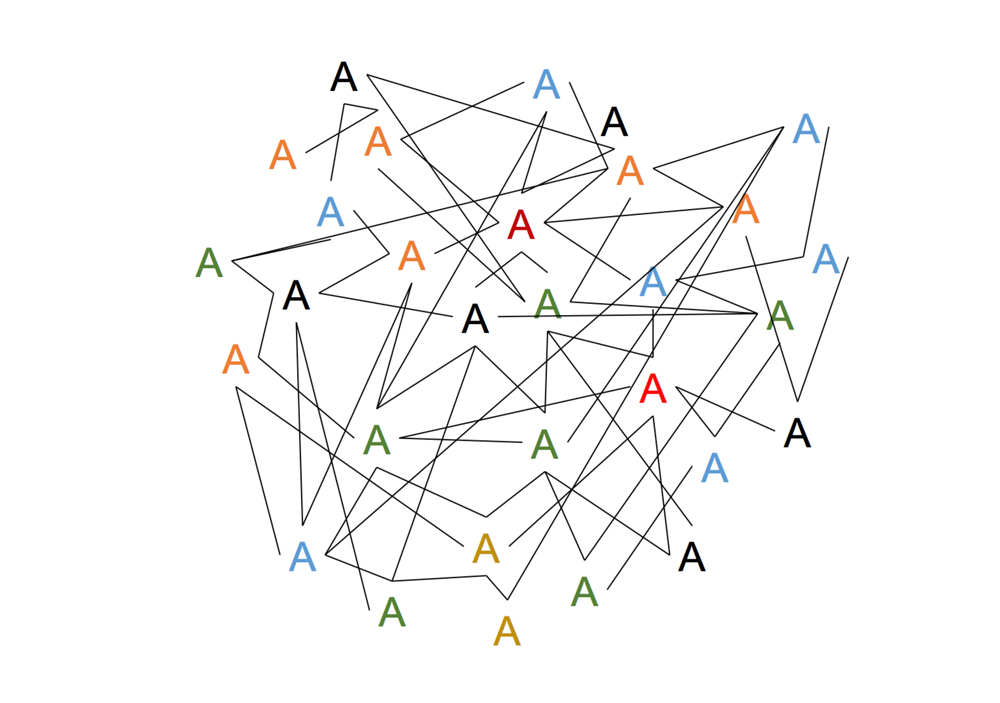 1 and FIG.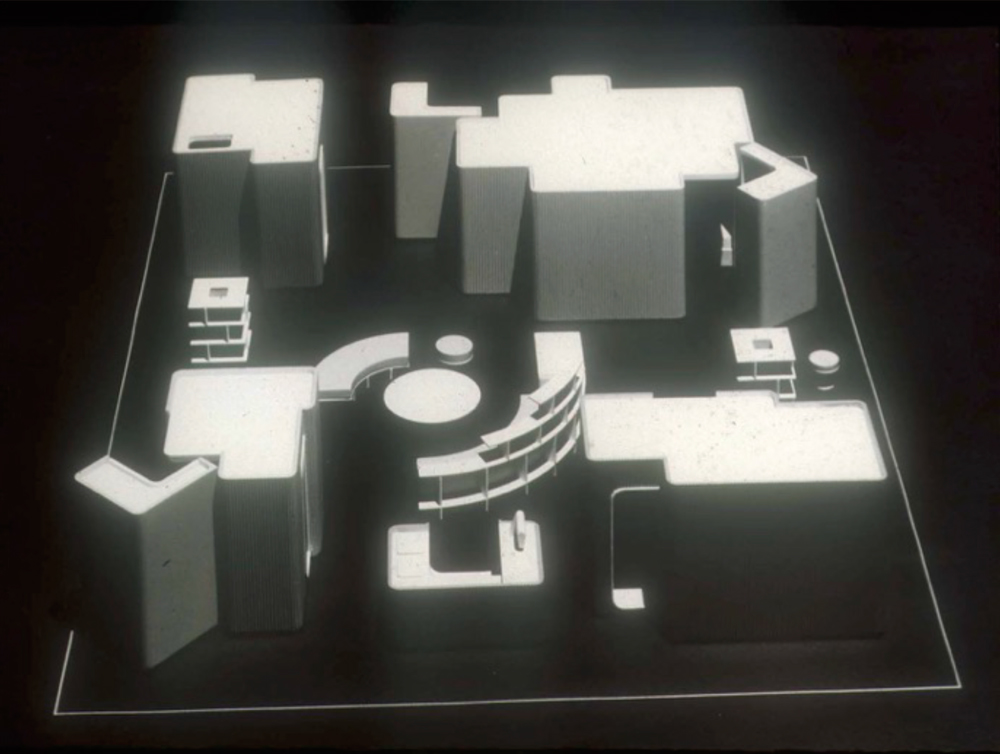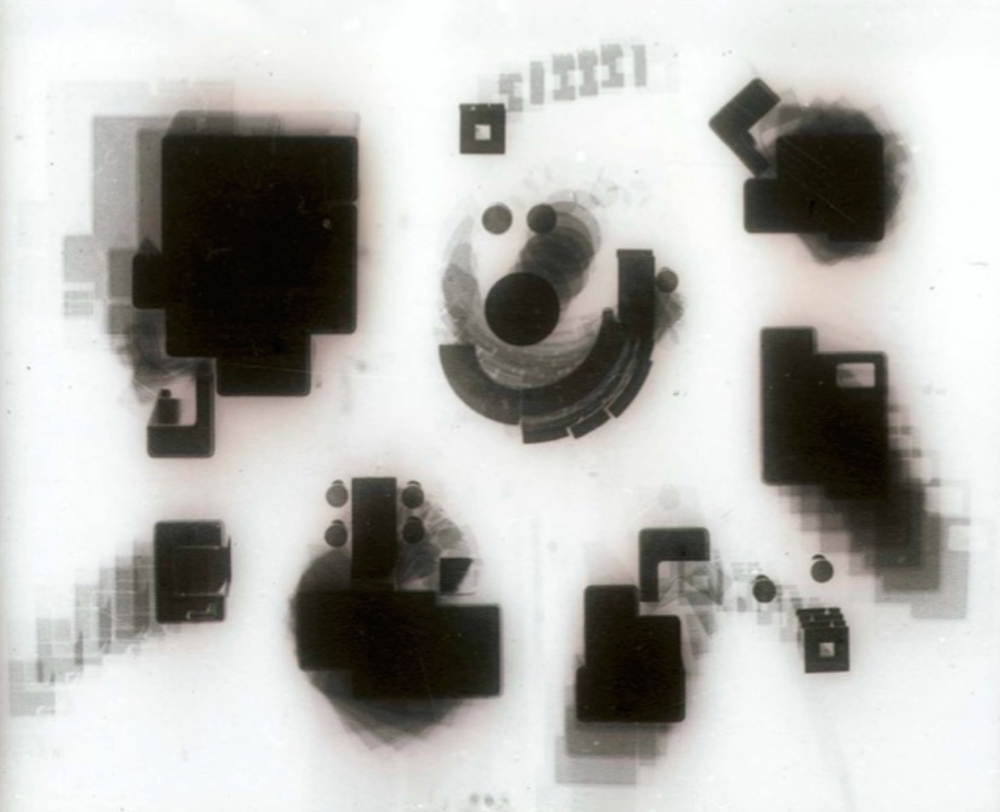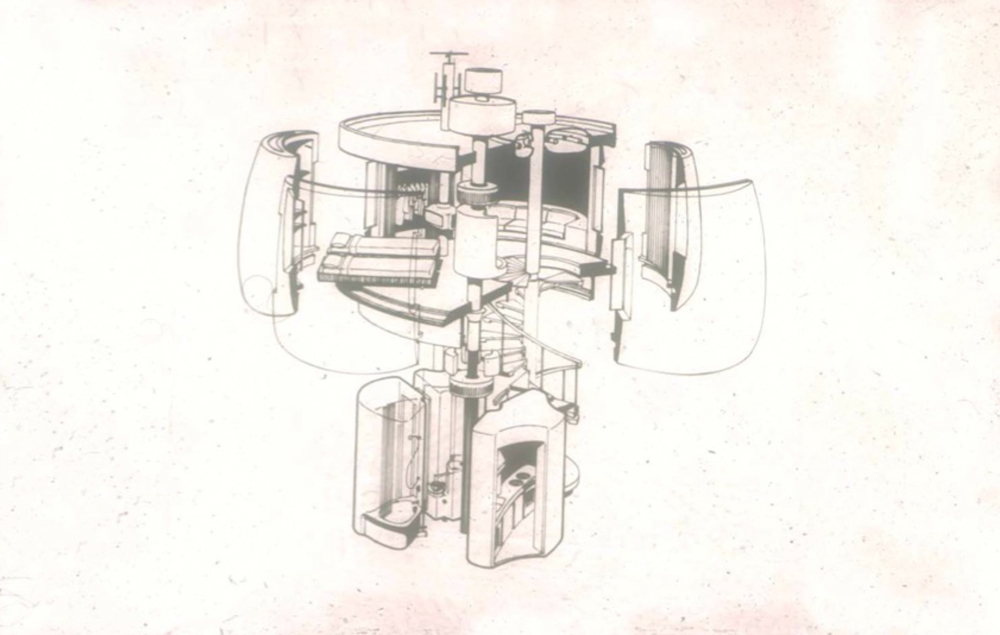 Proposal that won the Kaufman International Design Award


Proposal of private room group city
Is not "individuals making families, family members gathering to create a city", "Can individuals create cities directly"?Even if there is no leader, birds' swarms realize diverse movements without colliding with friends.Can humans create societies and cities where individuals can participate directly like birds?It is a proposal of "private room group city" that made from such idea.
There is a bed in a small space of 4 m 4 m, there is a bathtub under the bed, all the necessary things for people to live such as the toilet turning out from under the desk are made It is crowded.Each individual has such a small private room and when having a meal with his family, he has a room to eat or gathers in someone's family room.This is the idea that there is no concept of a house and only a flock of rooms exists.
The proposal of such a "flock" has also been realized in the architecture of the Latin American community building which was handled at the Osaka World Expo.Even though it is a community hall, we think that each pavilion should be independent one by one, and arrange glass boxes made of half mirror.Then, the lighting makes the neighbor transparently visible, reflects and becomes like a mirror and the neighboring interior reflects in.This created a group of people who can communicate with each other.
The modern digital society in which SNS has developed is a group of "PERSONAL & GLOBAL" having two sides that individuals are disjointed but connected with a vast scale of the world, and it is exactly the concept that Mr. Kurokawa proposed .In other words, it has predicted the advent of these societies.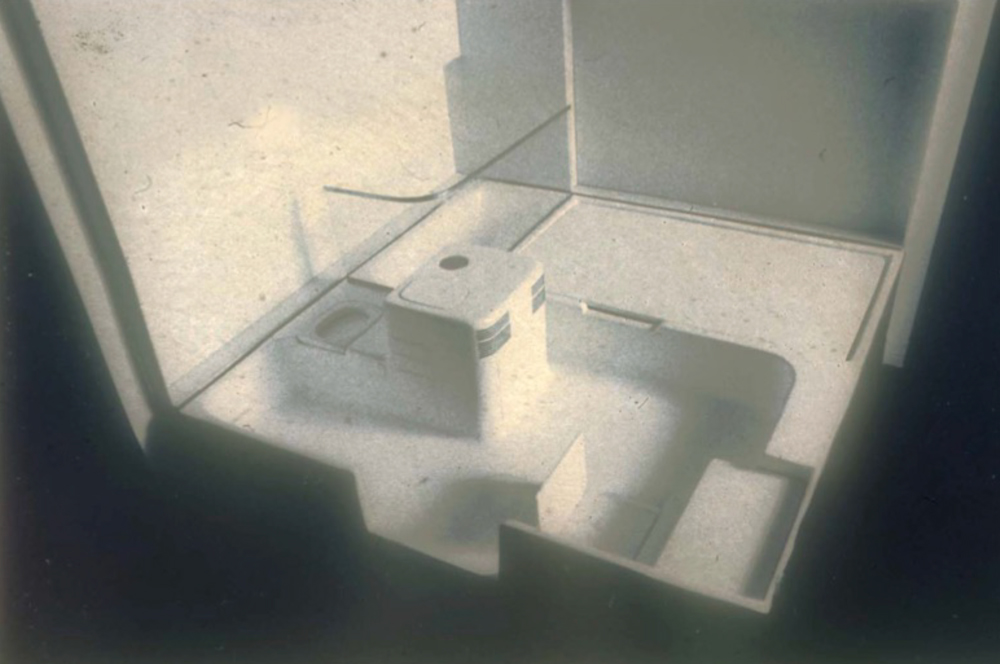 "Private room group city"


The arrival of anti-modernity, the bubble economy, and the collapse
Mr. Kurokawa said he pledged to become Leonardo da Vinci when he became independent in 1967.I feel a sense of crisis that the functions become division of labor after graduation from modernity, gradually feeling a sense of crisis from the loss of totality, I am an architect, an all-awounder who combines all designs like all modern da Vinci I thought it was fair.To that end, I decided that the size of the office is 10 people, I was not bound by the concept of management, I went to the worksite and worked on creative activities while discussing.
Then, in the latter half of the 1970s, when Charles Jenk's "Building Language of Post Modernism" was published, the times turned to anti-modern movement at once.In the 1980's, the design movement which is representative of postmodern "Memphis" centered on Ettore Sottsass started in the design world.And Japan has entered the era of the bubble economy.Kurokawa also worked vigorously while riding this wave.
In the 1990s, the bubble will be in a tough era where the collapse continues, even small jobs are robbed by major general contractors.However, the margin of time born there led to a new activity for the next era.One meeting with Megumi Iezumi, a brother of Urasenke family, who I met at Villa Tanaka, I will deepen the knowledge of Japanese traditional culture.Furthermore, in 1997, I got my PC at 60 years old.I got a number of books by gathering good-looking tools to organize my own thoughts and thought and language.Then, in the 2000s, we challenged new things one after another, while positively overcoming the era of suffering, such as developing design activities in China.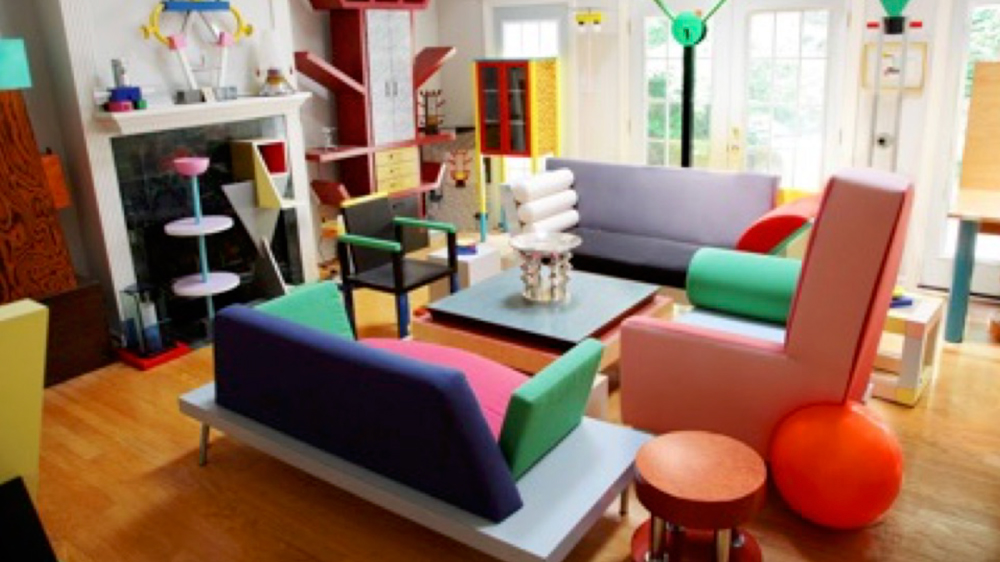 "Memphis" design furniture collection


Launch of the Institute of Physics
Mr. Kurokawa had the idea of "grouping" that "fine things" gathered from the time the metabolists were active.Then, in 1998, we arrived at the idea that "fine things release the space and resonate, so that both the architecture and the city become things", and in 1998, "the physical science" which captures all the environments such as tools, furniture, and architecture in one concept We set up a research group.You can manipulate things, and you can also turn it off and break if you are in the way.However, it can not be done in space.In other words, the concept of space is very awkward, and on the other hand it is the thing that creates the space of the city.While pursuing the essence of things based on that idea, we will explore the thought and method of manufacturing.That is the activity of the Institute of Physics Studies.Each year the association holds a new theme and holds a monthly study group.
What was modernity?
Mr. Kurokawa realized that modern thought is finishing from the beginning of the 1960s.And now that the structure has collapsed due to the arrival of the digital society, the age of things has come, said that the era of flocks has come to the rescue.In the era when everything connects with the Internet, people do not have to organize properly, and AI can easily locate and bring it anywhere no matter where it is.In other words, instead of the concept of organizing, the concept of search will dominate.It is said that there is a need to verify what the modern day is because of such age.
Mr. Kurokawa believes that modern-European thought was made up of four parts, "Christian world", "scientific thought", "human thought", and "capitalism".On the other hand, China is a culture that respects chaos and diversity, is not it Japan that we organized, suppressed and simplified such Chinese culture and built "the culture of beauty"?And these Oriental thoughts may be lurking in modern Western thought.And Mr. Kurokawa is deepening the thought of this buried Oriental thought, aesthetic sense recently.
"It was the science of digital that ended the modern era.Thereby the concept of the whole does not exist.Then you can be confident that only the concept "here" will be.So, Mr. Kurokawa, who has been thinking about what kind of thought now, says that Giedion's "spatio-temporal architecture" idea has to be thrown away and an era where a wild order like a flock of birds dominates instead. How do you predict the next generation?I would like to learn more about it at the next workshop.
Question-and-answer session
- Regarding the industrialization of buildings, we sometimes hear a negative way of saying that even houses have become treated as commodities.What do you think about Mr. Kurokawa about that?
Kurokawa I do not think anything in particular.Paintings by Leonardo da Vinci are also goods, and culture, industry and economy are integrated on the front and back, and they can not be peeled off.For example, although some people say that cultural activities are different from money making, although they want to be pleased with people, they want to provide a rich life, and as a result they earn money, but the idea of separating only there I think there is a big mistake.
- As I looked at the current story, industrial designers thought that we should also consider approaches to the economy.Mr. Kurokawa said that the management of the office went wrong for a while, but how do you think that you should balance the position that it is both a designer and a manager as well?
Kurokawa money and women will run away after chasing (laugh).Actually it is important not to push forces, but to attract.That is branding, and if you are living a wonderful life it will follow both.The keywords for that are "temptation" and "provocation."It is not dominated nationally.In this way, we have to propose what we think is good, not designs for business or what we find by marketing.So doing whatever you want is money, even if you keep silent, you will follow me.I think that I want to lie in such a way (laugh).
- In the past, there was a part where aesthetics passed the logic, such as things that are not beautiful are meaningless.However, in the world of today's design, the sense of value for beauty has come down, I feel a sense of crisis that it will switch to parts such as the design of the structure and the business model.Please tell Mr. Kurokawa's opinion on that.
Kirikawa Minoru is the theme of this year's Theory of Physics Studies is "from being useful to being beautiful."Let's think about how useful it is natural and how the designer thinks how beautiful it is.For me, beauty is a relationship of almost equal to the concept of decoration, I feel like a thing that leads to "prayer" and "worship".For example, why imprint a sword or give a beautiful decoration to a part of a handle?Or why sculpt the pistol.Perhaps because it is a tool to kill people, I think that it was necessary to pray.When you strike a sword, you purify yourself and wear a white clothes because you think that people will be killed by the sword you are about to make.Then of course we think that prayer will come out there.So, I feel that it is an important keyword of beauty, including decoration, which is irrelevant to prayer, worship, more speaking "play".
- Now, I was concerned with the word "play" that came up to the key word.Could you explain about that part a bit more, with beauty and decoration?
Kurokawa carpenters There is a thing called canna in the tool, but European canna has a round metal grip at the top of the tooth, hit it under the hands perfectly and push the goat and cut it.But in Japan, it draws with a rectangular corner of a tick.I guess that probably because Europe was the center of hard trees.
In the first place, the human body is bone as compression material and muscle as tension material.In other words, since bone only works in compression, it is a structure that you can not stand if you do not feel tensioned with the muscles of the tension material.In order to shave a hard tree with such an unstable body, it is better to match the human and the tool closely.However, when using soft cedars and Japanese cypresses like Japan, you need to use muscles rather than bones, as it requires highly precise and delicate "operations".That's why I think that Japanese canna has become a form of drawing rather than pressing.Moreover, "operation" is a thing that can only be done because of its different form.If the tool and the body are perfectly integrated, you can not operate the tool.Such a subtle relationship of the structure of the human body, hands and canna is said to be "play."
Likewise, the play of the car's handle is also provided to connect between the action and mechanism of human steering wheel operation.In other words, the ambiguous margin that connects the things of the rigorous, the thing like "Maka" is said to be "play".I feel that it is human society that such unreasonable, meaningless, various play is scattered.

that's all