Interview
Aiming to "change society" through design
Awazu Collection at the 21st Century Museum of Contemporary Art, Kanazawa
― At the 21st Century Museum of Contemporary Art, Kanazawa (hereinafter referred to as 21 Museum ), I saw the exhibition "Kiyoshi Awazu: What Can Design Do?" And was overwhelmed by the power of Awazu's work. First of all, I would like to ask you about the history of Awazu's collection of 3,000 works with 21 beauty.
Awazu In 2006 Kiyoshi Awazu was already affected by an incurable disease called Alzheimer's. I would like to give a comprehensive overview of the vast amount of works and materials that were stuck casually in the atelier warehouse in Ikuta (Kawasaki City) and abandoned in the middle, and to give back to society the worldview and message he expressed since the war. I felt strongly that I had to. In this regard, we worked with the museum to create a "* ex-pose'06 Kiyoshi Awazu Design Mandala" exhibition at the P & P Gallery in the Printing Museum, where Awazu was the director. During the exhibition, Mr. Yutaka Mino, who was the director of 21 Beauty at the time, came to the exhibition via an acquaintance, and he returned home silently on that day, but was informed that he would like to donate all the works the next day. It was. After that, Misato Fudo, who was the director of the arts and sciences, came and the story went on. I think that it is the result of resonating with the variety, sociality, uniqueness and modernity of Awazu's work. I strongly felt that the value of art was found because of the decisive "meeting" between the person with such sharp eyes and the work.
― When you donated, what was the classification and arrangement of nearly 3000 works?
Awazu Before being finely classified, from posters to solids and tableaus, art was transported four times on a 4-ton truck with a curator in attendance.
― Immediately thereafter, the exhibition "Graffism in the Wilderness: Kiyoshi Awazu" was held from 2007 to 2008.
Awazu It was a magnificent exhibition in which 1750 items were selected from the donated 2788 items and displayed without any explanation or commentary. Misato Fudo's plan, it was a great exhibition sense. It is a challenge to feel and think about the great theme of "What is the present?" It was a full statement. Therefore, the largest exhibition room became the event venue, and various things happened. Literary art critics Ichiro Haryu and Yusuke Nakahara, who have worked a lot with Kiyoshi Awazu, talk about Kiyoshi Awazu, and the musicians Toshi Ichiyanagi, Akiko Samukawa, Hikari Hayashi, Takehisa Kosugi ,Kazue Sawai ,Yosuke Yamashita, AYUO, and Gosuke Hamada of performances performed unique concerts continuously with myriad images drawn by Kiyoshi Awazu in the background. In addition, film directors Masahiro Shinoda and Toshio Matsumoto, designers Mitsuo Katsui, Kazumasa Nagai, Shigeo Fukuda, Katsuhiko Hibino, Shin Sobue in charge of book binding, Masayuki Nishie of cultural anthropologist and There were 28 events and 45 events such as performances, movie screenings, workshops, and lectures by art producers such as Furamu Kitagawa and others closely related to Kiyoshi Awazu.
In the absence of the person himself, Awazu World was the starting point for creating a place to create new art because of the artistic soul and practical skills of curator Fudo. However, there were not many sharp reactions from the contemporary art world and the media. It may be because there are many reputable people in Japan, as Ichiro Haruo says, but that's why some people say that it is a legendary exhibition. This personally wakes me up to art and allows me to return to the root of my aesthetic sense.
― What were your thoughts on the title "Graffism of the Wilderness"?
Awazu At the age of 16, Awazu was carrying his uncle from the Sumida River in the downtown area of Tokyo, where everything was destroyed during the Great War in Tokyo during the Pacific War. The wilderness that turned into scorched earth after the war was the original landscape. He began painting on his own, taking on various jobs after the war. As I mentioned in my essay, the city itself was an art museum, and my teacher was a replica of many such posters and magazines. It may have been a lifelong creativity for those who have never been illuminated by the light of rapid growth and for the people living in the city. "Street" was his starting point. However, most of Awazu's works are held in "museums," which he said he didn't like the high threshold, so I don't know what would happen in life.
― After the exhibition, the 21 Museum is still working on the Awazu collection, archives, and research.
Awazu Yes. There is also a full-time archivist, and the archive is steadily being developed. Regarding Awazu research, a project called "Kiyoshi Awazu, Makurihirogelu" was implemented from 2014 to 5 years. This was a show where 21 Museum curators excavated Awazu's creations and work from various angles and tailored it to an exhibition as part of a collection exhibition. The first is performance, the second is visual communication, the third is architecture, the fourth is photography, and the last is a picture book. A booklet is published at the same time as the exhibition.
― In 2019, a special exhibition "What Can Design Do?" was held. How was Ken involved?
Awazu Planning and supervision of the exhibition. I'm still not sure what the position of supervision is even now, but I was in charge of the graphic design of this exhibition, and I was in charge of the concept of the seventh exhibition room together with Yosuke Jikuhara, who I trust most. The concept of the exhibition, the selection of works, and the composition of the exhibition were advanced by a curator, Ritsuko Takahashi.
― This was your second major exhibition, what is the difference from "Graffism in the wilderness"?
Awazu "Graffism in the wilderness" exhibited an overwhelming number of 1750 works, with the primary focus on having the Awazu World just donated be fully experienced. There may be some parts of the exhibition that were lacking in explanation, but the aim was to get a touch on a lot of works and feel the overwhelming energy of the designer Kiyoshi Awazu.
This time, it was not just a retrospective, but I wanted to ask in real time what kind of person Awazu was and what his expression and activities were in 2019. This is an exhibition to imagine the future, and from the strong desire that young people who do not know Kiyoshi Awazu feel something, starting with Mr. Takahashi's suggestion, "What Can Design Do?" I decided the title. Ten years after the first exhibition, the environment surrounding Japan and 21 beauty has changed. Based on that, Mr. Takahashi re-edited a huge and chaotic work group, set a theme for each exhibition room, quoted words, etc., so that messages can be visually transmitted to visitors who first encounter Awazu's work Summarized in Thanks to that, you can feel the weight of each work.
― In a brochure, Ken said in a brochure, "In 2019, we cannot help renewing what we can do with design. Excellent expression reminds us of the sensibility and imagination lurking in the opponent. Kiyoshi Awazu's expression was also an attempt to convert the myriad of potential imaginations into the lives and social powers of people. The purpose of this exhibition is to "design" with the audience. "
Awazu Nowadays, it's not just about design, but about art and music. Awazu was not interested in the private design of the economy throughout his life. He is not a blatantly "dissident" writer, but as a servant of capitalist society, he says, "Design is to open and open doors that are not open one after another." He had a philosophy and a belief in freedom that could not be done.
This time, in order to talk about Awazu's uniqueness, I tried a collaboration with a contemporary artist who embodies part of his spirit. It's the first room of the 6th room to which I and Jikuhara were entrusted, "Sutetaro 1st Year * People's Icons, Chichibu Avantist, Korean Art Prints". Here, in addition to the important motifs of Awazu's works such as Abe Sada, Umigame, seals and fetus, which Ichiro Haryu called "People's Icon", "Chichibu Avantist" and "Korean Art Prints" are introduced.
"Sutetaro first year" is a counter naming for "Reiwa first year". The hero who is "Sutetaro" appearing in Awazu's drama and the boy "H2O EARTHMAN" who came out in his own dream because it is now Japan that is becoming insensitive to the totalitarian sense of hiding inconveniences I installed it. The former is a character based on an old Japanese folk tale that the baby killed by his mother is finally resurrected, and the latter is a kind of malformed child born from the sea, also a child of God, maybe Awazu himself May be an expression of The three-meter H2O EARTHMAN monument was produced for an exhibition and painted in the persimmon color of perishables in the Edo period. The color of the dried blood soaked in the white cloth is the identity of the Kawara-mono, and is one of the three colors on the curtain of Kabuki-za. In other words, this is design. It also means exposing invisible feelings, traces that are being erased and making them visible.

*"Sutetaro" is a gekiga with a baby motif that Kiyoshi Awazu only announced in his life
― Who are the Chichibu avant-garde and the Korean popular prints?
Awazu Shin Sasakubo of Chichibu Avantist is an extremely extraordinary guitarist and, in fact, a global musician. We have already released more than 30 music CDs. He stayed and mastered the music of the Peruvian Andes for four years. That experience became the cornerstone of my identity and creation. He field-works the destruction of the environment, deities and cultures of his hometown of Chichibu, and works on the themes he discovers in various ways, including photography, movies, prints, performances, and installations. At this time I consider him the most edgy artist. The theme in recent years is "Buko-mauntain" which is worshiped as the mountain of the god of Chichibu. Despite being a sacred place for the people of Chichibu, it has been demolished as a quarry under the influence of rapid growth and is no longer in its original form. He has turned it into a work and presented it at the Setouchi International Art Festival, Yamagata International Documentary Film Festival, and more. He also publishes a co-authored CD book with Awazu Kiyoshi's work, in which he composes and plays "Sutetaro Suite" *. Four years ago, I produced and participated as a guitarist at Kiyoshi Awazu Exhibition @ Makurihirogelu Havana held in Cuba. In addition to performances in the exhibition halls and outdoors, there were also solo concerts organized by the Cuban Agency for Cultural Affairs, which were praised in a genuine artistic country.
Korean Art Prints are "popular art" which was born along with the democratization movement of Korea in the 1970s and 1980s. He saw the woodcut as a direct and powerful line of expression, a "weapon of resistance," and resisted the oppression of the democratization movement through life-threatening creative activities. These prints were written by the second-generation Korean, the deceased Yang Mingi, who supported this popular movement from Japan. The exhibition was supervised by Ms. Mika Furukawa, a researcher of Korean art and culture, and Yang Soru, the daughter of Liang's daughter in Kyoto, who is the executive chairman of Higashi Kujo Madang. Selected works to be exhibited. Kiyoshi Awazu also designs posters and illustrations to support this movement, and I think that it is an important work that needs more light. What the two have in common is that they embody the spirit of Awazu's Makurihirogelu.

*Inspired by "Sutetaro", 15 suites composed by Shin Sasakubo and Daisuke Aoki of the Chichibu avant-garde school
― What is "Makurihirogelu"?
Awazu Awazu once said in a magazine "Design Criticism". "I decide not only to remove the boundaries of expression in all fields of expression, but also to exclude expressions of ascending and descending that appear in class, classification, disparity, and art. Makuri hirogelu! " Awazu thinks that such behavior is also design, which is why he thought that anyone could do it. Music, woodblock prints, and movies are also "reproductions", and there is something that can be linked to Kiyoshi Awazu, who has always stuck to reproduction art. The Chichibu avant-garde and the Korean popular prints are "fighting arts" that I have recently met and moved. By all means, I would like to introduce the answer to what can be done in design on the stage of Kiyoshi Awazu exhibition of 21 beauty.
By the way, Kiyoshi Awazu's friendship was really widespread, but I am very concerned about the connection and work between artists Masayoshi Nakamura and Kikuji Yamashita. These two are important in the history of modern art in Japan, and their work always emits a great deal of energy when confronted. Both of them are artists with the genuine rebellion needed now, but Awazu edits and binds their important works, and leaves interesting talks. Also, if there is such an opportunity, I would like to try a collaborative exhibition of three parties.
― Are there any related events this time?
Awazu Concerts by Shin Sasakubo, Koji Asano, Korean singer and writer Lee Lan and pianist essayist Choi Seung-ae (Ruby, Choi Sung-ae), Yuji Ueno's performance in Ikebana. Kiyoshi Awazu's children and grandchildren's artists will respond to his spirit and lead to the next generation. This is also Makurihirogelu.
Design for "changing society"
― By the way, Mr. Awazu joined the architect and participated in the metabolism movement, served as editor-in-chief of the magazine "Design Criticism", transmitted it to society through many books, and explored new expressions such as images with Hiroshi Teshigawara and others. Was there.
Awazu Awazu is a designer, an artist, an editor, an essayist, a photographer, a filmmaker, and an artist. He is a person who has freely come out of the system and genre, and there are various aspects that cannot be judged or understood in the existing context. It may be difficult to understand especially for those who have received regular art and design education. As Mr. Ichiro Haryu said, "Awazu was doing things that are not a servant of industrial society," as modernism progressed after the war and design became a tool for economic activity, Awazu wanted something that was not so. Was. Throughout my life, I was trying to go beyond the relationship between client and designer. Starting with drawing, I studied design on my own, read a lot of books, wrote many sentences, and worked with a variety of people. For him, living was design and art. That is definitely true.
Ten years after this writer died. As with art and music, the design world is also becoming more and more subdivided into genres and the division of work, and the range of expression seems to be narrowing further. That's boring. The institutionalized art world has killed potential. However, as in any age, the expression that rebounds from the adversity and jumps out of the existing framework opens up a new wilderness.
― What I feel about Awazu's work is that the source of the theme and idea is extremely wide and deep.
Awazu I think that I was free and flexible in thinking because I did not receive specialized education in design or art. Kazumasa Nagai talked to Mitsuo Katsui at the talk show of `` Graftism in the Wilderness, '' and Awazu woke up to a modern design because of the exchange between Kohei Sugiura and Mr. Katsui, but the style has changed since then. I'm asking questions. On the other hand, Mr. Katsui said, "It is common to return to the origin of things or to explore it, but in my case, I am very interested in the aspect of the protoplasm or the structure that forms the expression But in the case of Mr. Awazu, there is something like raw hunger for human beings, something like raw attachment, and it is different from me. "(" Awazu Kiyoshi, Makuri Hirogel Document Book " ). In other words, he wrote in his essay, "Illustration is nothing more than stepping into the darkness of reality, shining the eyes of human beings there, and making it stand out." However, I think that I wanted to make something like human emotions a reality.
― Also, there are many designs that use hands and express physicality, such as paintings, prints, and printing.
Awazu At first there seemed to be a time when Awazu drew illustrations and Mr. Gan Hosoya designed them, but he began to study and work as a graphic designer. Anyway, I liked to express with my own hands, and depending on the times, I used my favorite motifs such as turtles, maps, parrots, and fingerprints for various tasks. It would be a problem if I designed it with the same motif as it is now, but Awazu was a person who was not willing to do that. He was also very interested in printing technology, so he was absorbed in workshops such as the Adachi Printmaking Institute for woodcut printing and the Saito Process for silk printing, and was studying new expressions and techniques with craftsmen. He was an ad-library and he kept studying and training to stay that way. Recent graphic designers tend to be art directors and there are few people who draw with their own hands. It will be the times, though.
― Mr. Awazu's work is related to ideology and social movements, such as the Japan Council on the Atomic Bomb Prohibition, the struggle for democratization in Korea, and posters for new plays.
Awazu I agree. In fact, I think there were few job requests from advertising agencies. Although he didn't get stuck in the middle of a social movement, there may have been times when he was aiming to "change society" through design. That didn't mean I would sort out my job. For example, at the Osaka World Exposition in 1970, Mr. Ichiro Haryu, who was close, was an anti-expo, but Awazu said, `` I am an unfamiliar person with design skills '' and said that I would do the work I came to. He says that this is the way he did in the media he edited, such as "Design Criticism." In fact, it is quite active in the Expo, a national project. I also thought that it was important to finish the design because the design was based on collaborative work. In that sense, it was not a supreme work, and I did not repeat color proofing many times. Chance operations, respect for chance.
― He was an independent person.
Awazu Although he did not say anything about being called a "graphic designer", as Taro Okamoto, who had interacted with at the Expo, said that he was not an artist but Taro Okamoto, It's not Kiyoshi Awazu. " He wasn't a person who was particular about titles. Because I did a lot of things.
Awazu works other than 21 Museum
― Well, most of the works are collected in 21 Museum, but is there any other place where Awazu's works are stored?
Awazu There were quite a few posters at the DNP Foundation for Cultural Promotion, and at the Kawasaki City Museum, where he was involved in the founding, there were nearly 200 works, but they were submerged by the flood caused by Typhoon 19. Many movie posters were donated to the National Film Center, including works rubbed with silk from the Nikkatsu film of the 1950s. Some of the manuscripts are still filed in the Awazu Design Office. (Photo 1) Awazu had a lot of friends, so there are still some interesting cultural materials such as letters from Ichiyanagi, Shuji Terayama, and Shuntaro Tanigawa. Overseas, about 80 prints and posters have been collected by the Cuban Art Council, following an exhibition in Havana four years ago. Kiyoshi Awazu's copy of "Abe Sada" may become known in Cuba, a country of art, like Zatoichi and Hatsune Miku. One year ago, I had an exhibition at Eurasian University in Xi'an, China. The University's Design Museum also has more than 100 Awazu collections. Overseas, there are many poster works at the Los Angeles County Museum, including the Museum of Modern Art, New York. Again, a few years ago, a solo exhibition centered on the collection was held. By the way, almost all of these are donated works. It's almost never a "product" as far as I know. There seems to be a sense in the art world that what sells well is excellent art, but Kiyoshi Awazu is far from that context. Overseas, there are many poster works at the Los Angeles County Museum.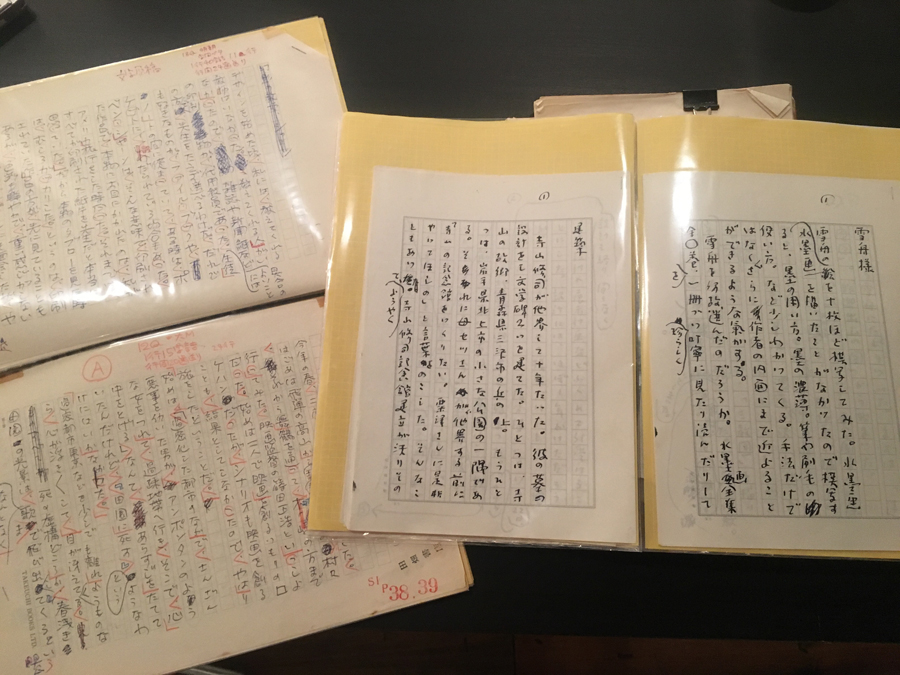 Photo 1-Raw manuscript of Kiyoshi Awazu
― Since many books have been published, was there a collection?
Awazu Yes. Speaking of design, of course Bauhaus, Russian avant-garde, Hokusai, but of course I was particularly interested in painters at the end of the Tokugawa period, Eisen and Hounen, so there were many books. I also read books if I fell in love with Gaudi suddenly, but I traveled to Barcelona several times, wrote books, made documentary films, and planned exhibitions and exhibitions. In his later years, under the influence of Shizuka Shirakawa, he drew more than 100 hieroglyphs with a brush every day. When I was young, I read a wide variety of books from Harvard Reed and Walter Benjamin, and in literature, from Rambo, Osamu Dazai, and Santouka, who were really broadly interested. Kiyoshi Awazu, not to mention Ben Shahn in the 1950s, steals the fascinated writer's work from a duplicate book and imitates it. The subject changed at a great speed. Many of the books that are currently on his bookshelf are in the facility called "Echigo-Tsumari Satoyama Museum of Contemporary Art Kinare" designed by Hiroshi Hara, and open to the public as "Awazu Kiyoshi Bunko" along with Fram Kitagawa's collection. It has been. Of course there are many books designed by Awazu and they are in the collection of 21 Museum.
― How about photos?
Awazu Especially during the 1950's and early 60's, there was a time when I was eager to take photos under the influence of Domon Ken and Teruaki Higashimatsu who were involved in the work of Genpatsu-kyou. They have lost the negatives, but the prints are in 21 Museum. There was a gallery called "Tokyo Designers Space" produced by Ikko Tanaka in the 1980s, and designers held solo exhibitions every week. A lot of people exhibit works such as posters and packaging, but Awazu seems to have exhibited the photos he had intentionally taken. The photos are the scenery and events he literally saw. There you can feel sympathy for his unknown people. Curator Ritsuko Takahashi investigated the photos, and compiled a booklet entitled "The Sea and Blankets: Photos of Kiyoshi Awazu."
― Kiyoshi Awazu is very blessed from the viewpoint of archiving. The work is housed in 21 Museum , and archiving is in progress. In addition, my son, Ken, supports the exhibition and connects Awazu ism through various activities. What do you think of the current design archives and museums from Ken's perspective?
Awazu I am really grateful for the Awazu Archive. This exhibition triggered Kiyoshi Awazu's work to be released as copyright-free open data. Anyone will be able to use his images freely in books and online. This is an attempt by Kiyoshi Awazu to live in a reproduction, and I feel that it is a groundbreaking action as a museum. This is because there was a person who discovered new artistic value in his work and his stance as a writer. That is important. Also, before the archive, the aesthetics of the chooser are important, and we need to be free from ritualism, authoritarianism, and the views and ideas of the supremacy of the West. It's a matter of imagination and education. I would also like to say that the ideal is to research and research collections and archives, find a theme that is contemporary, tailor it to an exhibition, and open it to the public. I can't say clearly because I'm an outsider, but I heard that many museums are understaffed, and one curator creates and manages exhibitions, organizes collections and archives, and organizes lectures and workshops. It seems that the burden is too large anyway, even doing the operation. In addition, there seems to be a systematic problem that the staff of the public art museum are surprisingly many people moving, so it is difficult to take over the work. In such a situation, it is unavoidable that the maintenance of the archive has not progressed. Is it possible to change the current situation in which art, design and culture bring economic supremacy? I know that the economic level and the cultural level are not roughly proportional. In other words, culture can not be bought with money, but in any sense, "what can be done to design" is definitely a question that is strongly asked in this era. The archive is a cultural asset for the people who will lead the future. Looking back, one of Awazu's accomplishments was to make the soul of anonymous people, or something like an overlooked passion, a form that we could see. The work left by famous authors is important, but I also want the archivers to have a good sense of what matters from their Awazu Kiyoshi perspective.