Report
An important role of the design museum is,
Creating a place to clit
The history of the establishment of the Japan Design Museum establishment research committee
In Japan without a comprehensive design museum, conservation and research of their own designs are lagging behind the world.In order to face these problems, the "Japan Design Museum Establishment Committee" was established in 2006.
The trigger for the establishment of the committee was "40 recommendations for strengthening competitiveness" that was compiled at "Strategic Design Utilization Study Group" established at the Ministry of Economy, Trade and Industry in 2003.The 39th of this recommendation states that "Enhancement of opportunities to come in contact with diverse and excellent designs through the establishment of a design museum".However, the move toward establishing the museum will not proceed slowly.Therefore, members of the Japan Design Group Association (hereinafter referred to as D-8), an aggregate of design groups affiliated with the Ministry of Economy, Trade and Industry joined hands and raised voice from the standpoint of designers to promote research on "Japan Design" It is said that it was.
"The biggest role of the design museum is to be a platform to connect various things such as people, goods, organizations," says Hong Tsuneo.We thought that various things could be started if the organization called D - 8 that encompasses various design areas was connected to one.
Vision and step toward realization of design museum
Despite the goal of realizing the design museum, it is not easy for eight different organizations with different fields to cooperate with each other. "Basically it is an activity of a lunchbox, so there is no clear flag, so there was a temperature difference at the beginning by the group.So, I decided to draw an image about the effect born by everyone gathering. "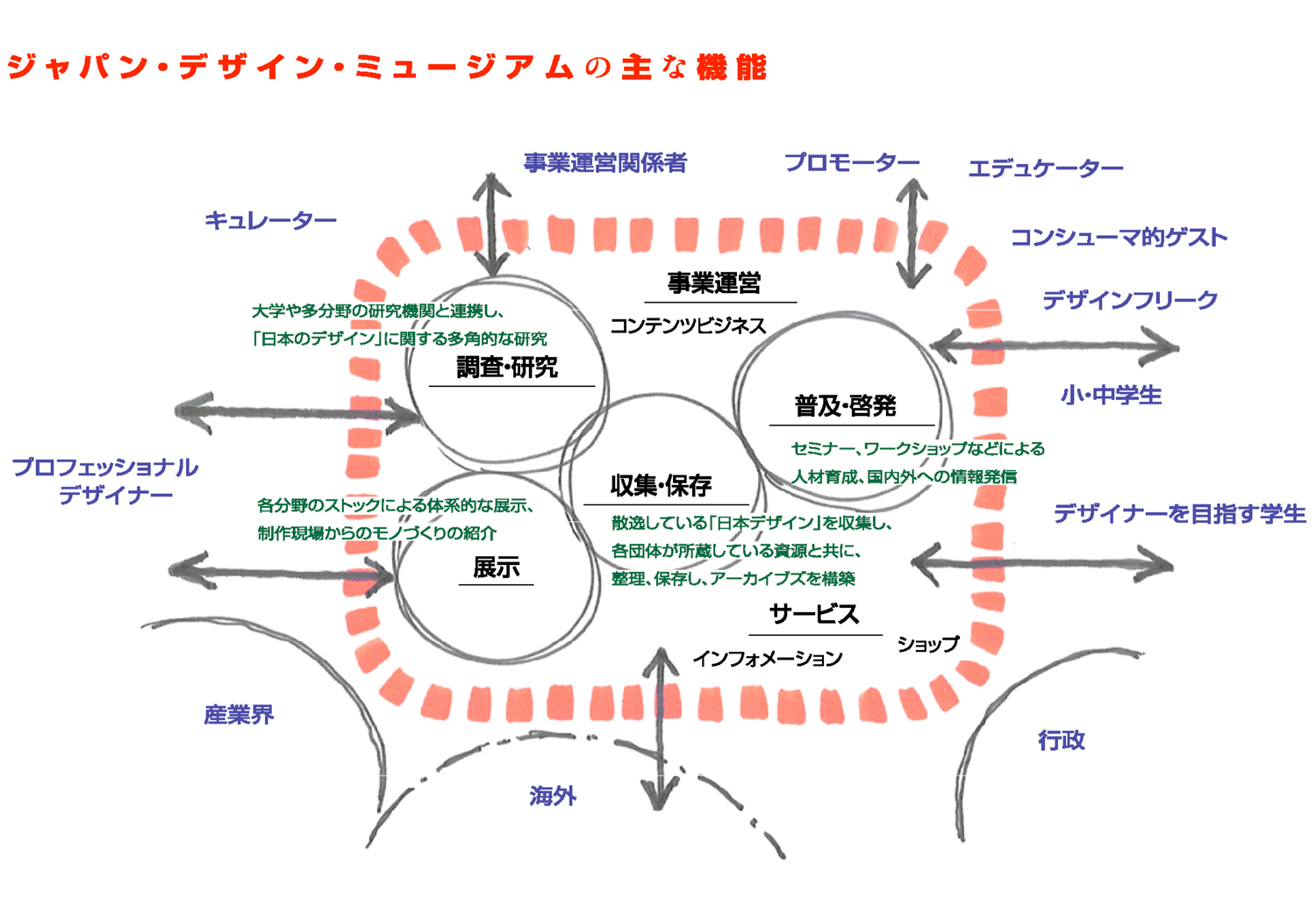 First, by applying the four functions "survey / research", "collection / preservation", "exhibition", "dissemination / enlightenment" which are the basis of the museum, to various design areas, it is possible to create facilities that are all rounded.If such a facility can be constructed, networks with various stakeholders will be connected and benefit from each other can be received.
"It is what I drew as the ideal in the ideal to the last, but in this case it was possible for members of 8 organizations to see the same direction as they thought that they were involved." (Ms. Hong).
And furthermore, we set up a four-step process to bring this ideal little by little to reality.The first stage is "research" which investigates the actual condition of contents while confirming the concept of the museum and the business policy.The second stage is the realization of "pilot museum" to build exhibitions / dissemination activities by pilot plan and digital archive.Furthermore, at the next stage, we will hold a "Small Museum" that will organize exhibitions with museums in mind, and will endeavor to enhance research and research functions.And finally it is to set up a museum which will be the creation base of Japanese design.
"Because I can not do it a step, I will try it step by step.If you start with the survey first and then try the pilot museum of the trial several times, it may be possible to create a small museum if not going to a full-scale museum.And at the end I try to bring it to what can be said to be a design museum by breastfeeding.I started while drawing such a process. "(Ms. Hong)


Research implementation and research presentation
In 2007, a forum entitled "Thinking Japanese Design Museum" was held.As a section of past activities, we created a promotion panfoot that summarizes the manifest of the committee, the image map and the steps for commercialization mentioned above, and presents the research on the "Japan Design Museum concept" that D - 8 considers went.
In addition, from 2007 to 2009, based on examples of design museums around the world, "Design · Museum · Cafe" which talks about the significance of creating a design museum in Japan, the aesthetic value of design and way of communicating information ( We held the "research" which is the first stage put in the process, such as holding 6 times in total), while accumulating knowledge.
"DESIGN Two Times 60s vs 00s" Exhibition
In 2010, as the first step of the pilot museum, "DESIGN two era 60s vs 00s" is held.It is planning to contrast characteristics of 'Japan design' through its contrast by contrasting the 1960's Tokyo Olympic Games and the 1970 Osaka World Expo, which brought big swells to the Japanese design world, and contemporary times. It is the purpose.
"Currently, design work is vertically divided, but the design of the 1960s was working together towards the Osaka Expo, including industrial design, graphics, architecture and fashion together.When it finished the World Expo, it began to differentiate into each specialized area.In that sense, I think that the 60s was a remarkable era "(Asaka).
Furthermore, in 2011, she publishes the book "DESIGN Two Era 60s VS VS 00 - Japan Design Museum Concept" (DNP Art Communications) linked with the exhibition.The designs of the 60 's and 2000' s are respectively arranged on the left and right sides of the spread page, and it is described together with commentary.For example, as an example of package design, comparison between Kikkoman's desktop soy sauce bottle and Japanese plastic tea of PET bottle is cited.The soy sauce bottle which can be used at the table as it is in the package for over-the-counter that hit in the 1960s has renewed the concept of soy sauce package which selling weight and sushi bottles were commonplace until then.Meanwhile, a green tea beverage containing small PET bottles that appeared in 1996 creates a new habit of carrying around easily and hydrating with ease, as well as a Japanese tea which has been brewed in teapot until then, "a sugar-free drink "In 2000, PET bottles corresponding to heating and refrigeration were developed.By displaying these two side by side, the relationship between lifestyle change and design is embossed.
Not only exhibited works but also other works and examples, discussions of postwar Japan's design history, etc. are additionally posted, and it has been posted to make it more valuable as a material.
Activities to realize the Small Museum
Thus, after completing the first round of the pilot museum, in 2012 the name of the committee was renamed "Japan Design Museum Establishment Research Committee".A study meeting for the realization of the next step "small museum" started.One of them is a concept assuming to utilize schools in elementary schools.Unlike ordinary exhibition spaces, schools can be deployed in classrooms, so eight groups can exhibit themselves with individual themes or joint exhibits can be held on a theme basis.However, since it is unknown whether we can hope for such a facility or not, we decided to continue the activity to dig down the content as a museum while keeping it as one pattern.
What is the design museum that D-8 thinks
The design museum considered by D - 8 is not supposed to have its own collection but it is supposed to cooperate with the archives of companies and organizations as necessary.
"As I mentioned at the beginning, we are" conceptualizing "as a concept.I think that a new design museum is required not to archive everything but to connect in a network.Also, there are some designs that are difficult to archive like real signs and displays, so I'd like to add also the reproducibility by virtualization technology such as VR, AR, MR "(Asaka).
It also refers to the opinion told at the talk event "Design and Museum Talked by D-8" as a related program of 21_21 DESIGN SIGHT "Exhibition towards Realization of Japanese Design Museum" (2013) . "Mr. Aka Asaka, who appeared at this event, also suggested that" Map of Japan's design "should be created.When designing Japanese design by map, it is important to design what kind of terrain, which direction it is headed for, how to go in that direction, and a place to criticize such design It is an important role of the museum.So I decided to create such things. "(Hong)
Japan design Chronicle and Anatomy
Currently the committee is working on "research on Japanese design chronicles (genealogy diagram)" and "Japan design anatomy (anatomical chart)".This is a research to realize "map of Japanese design", it is decided to hold a research presentation / workshop of "Japan Design Museum concept" on January 25, 2019.
"Chronicle" is a summary of the genealogy of design from the 1950s to the present, based on "DESIGN two era 60s vs 00s" exhibition released in 2010.In addition, "Anatomy" that deeply digged in addition to the social background of the age where the design was born, through these two contents, explore the trend of design for 60 years and explore what Japan design is It is a plan.
"Japan design is the design that influenced Japan's life, culture, and industry, or the design that was influenced by Japanese living, culture, and industry is Japan design, so that everyone is convinced It was done.So it was decided to compactly present the two pillars of the chronicle that arranged the flow of design like a picture scroll and the anatomy which deeply digs it by dissecting it, "he said.

First, each organization selects representative works and evaluates their characteristics.While announcing it at the whole meeting, we will conduct a detailed examination and at the same time we will select events that are necessary for anatomy, such as keywords of the times, social background, lifestyle changes.By superimposing them on the works, it becomes possible to understand how the design closely relates to society, life and design.
The whole meeting for the exhibition is 1 to 2 times a month.Several people from each group participate and lively debate over several hours from evening at 18 o'clock.Even if it says to dissect alone, extracting the keyword that finds a flow common to the eight organizations, such as different events to be selected by each organization, change in the flow of the time series, is more difficult than imagined and it takes a lot of time It cost me.
Once the keywords are decided, we next fit the design works around them and adjust their positional relationship.Furthermore, reviewing according to the actual display size and considering how to show more effective, putting in concrete ideas and consolidating work has been repeated, now it is in the final stage of adjustment .

The finished chronicle and the anatomy are supposed to be used as contents of the permanent collection when the museum is realized.
"If you can make the two contents of chronicles that oversee Japanese designs and anatomy that has deepened it to be confident as D-8, I think we can collaborate wherever a design museum can be made is.It is a treasure of D - 8 as we can do because it is 8 groups so we are planning to utilize this as a resource from now on, as nobody does overview the design of Japan with such a line of sight. "
Current problems and future developments
Activities of D - 8 are managed by annual membership fees from each organization, but most of the activities of the working group are carried out in a lunch box.Each group conducts the secretariat by circling every two years, but in the case of organizations that do not have conference rooms, it is necessary to borrow paid space.When holding an exhibition, we sponsor a sponsorship fee on each occasion and devote it to operating costs.All of these are done by designers.
"Originally D-8 was what we could do as a design group salon.However, in order to create a design museum, we have to face business things by themselves, so we have dilemmas.Everyone is a designer so it is not a business expert, and it is a miracle that I have been able to keep pace with this as a miracle. "
The Japan Design Museum established research committee has been steadily accumulating resources since 13 years since the commencement of the preparatory committee.Two research outcomes, Chronicle and Anatomy, are important contents which are greatly related to the future development, and after the research presentation meeting, it is also considered to carry out a traveling exhibition in collaboration with universities and others.
The design which is a product lacks impact by arranging only things like art pieces, but "It not only arranges the events but also gives entertainment that you feel interesting, just clicking on the design.Then, it will be a guide to where the design should go in the future, and I think that when someone thinks of national policy, it will become information like the foundation that Japan is such a country. " Mr.).
In the future, when there is new movement, I would like to add a report again.
D-8 latest event
(Japan Design Museum Concept Committee Research Presentation)
Information on
"Japan Design Museum Concept" Research Presentation · Workshop
Session Period: Friday, January 25, 2019 - Sunday, February 10, 10: 00-18: 00
Venue: JIDA Design Museum in AXIS entrance free
Theme: "The design of Japan after the war was established,
    Where are you going?~ Work shop to explore what Japan design is, talk show (plan) "
Organizer: Japan Design Group Association (D-8)
The archive of the Japan Design Group Association (D-8)
Contact address
Public interest Foundation Japan Sign Design Association Secretariat http://www.sign.or.jp