Report
The important role of the Design Museum is to create a place for people to critique.
Background of the Establishment of the Research Committee for the Japan Design Museum
Without a comprehensive design museum, Japan lags far behind the rest of the world in the preservation and study of its own design. To address this problem, the Preparatory Committee for the Establishment of the Japan Design Museum was established in 2006.
The inauguration of the committee was triggered by the "40 Recommendations for Strengthening Competitiveness" compiled by the "Strategic Design Utilization Study Group" established by the Ministry of Economy, Trade and Industry in 2003. The 39th recommendation was to "enhance opportunities to come into contact with diverse and excellent designs through the establishment of a design museum. However, movement toward the establishment of a museum has been slow. This is why the members of the Japan Design Organization Council (D-8), a group of design organisations under METI, decided to join forces and promote the study of "Japan design" by speaking out from the standpoint of designers.
"The most important role of the Design Museum is to be a platform for connecting people, things, and organisations", said Mr Tsuneo Ko. He thought that if D-8, an organisation that encompasses a variety of design fields, could be connected as one, it would be able to start many things.
Vision and Steps toward the Realisation of a Design Museum
Although the goal of realising a design museum was set, it was not an easy task for eight organisations from different fields to work together. "The activities are basically self-financed and we don't have a clear banner, so at first there were differences in temperature among the groups. That's why we decided to draw an image of the effects that would be created by everyone coming together", said Mr Ko.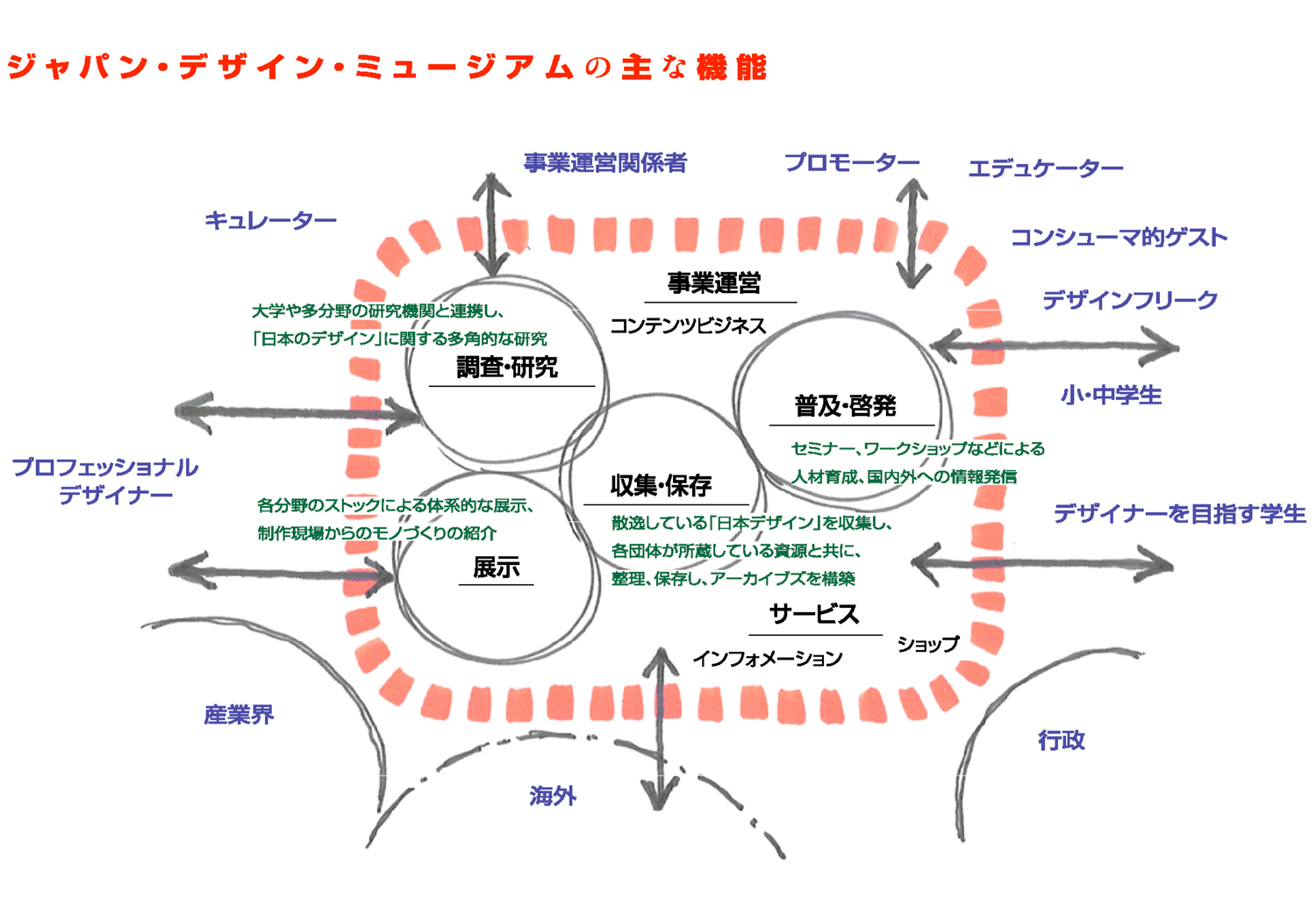 First, by applying the four basic functions of a museum - research and survey, collection and preservation, exhibition, and dissemination and awareness-raising - to a variety of design fields, we can create an all-round facility. If such a facility can be built, it will be able to connect to a network of various stakeholders and receive mutual benefits.
"It's just an ideal that I drew up, but now that people can see that they can be involved, the members of the eight organisations can look in the same direction", said Mr Ko.
In order to gradually bring this ideal closer to reality, a four-stage process was established. The first stage is "research", in which the museum's concept and business policy are finalized, and the actual contents are surveyed. The second stage is the realisation of a "pilot museum," which will include exhibition and dissemination activities based on a pilot plan and the construction of a digital archive. The next stage will be a "small museum" that will hold special exhibitions with a view to becoming a museum, and to enhance its research and survey functions. Ultimately, the idea is to establish a museum that will serve as a creative hub for Japanese design. "We couldn't do it all at once, so we decided to do it step by step. We started with a survey, and then did a couple of pilot museums, so we could make a small museum, but not a full-fledged museum. And then we would end up with something that we could proudly call a design museum. That's how we started the process", said Mr Ko.


Conducting research and presenting research
In 2007, a forum entitled "Thinking about a Design Museum in Japan" was held. To mark the end of our activities to date, we produced a promotional pamphlet containing the committee's manifesto and the aforementioned image map and steps towards commercialisation, and presented our research on D-8's concept of a Japan Design Museum.
In addition, from 2007 to 2009, based on case studies of design museums around the world, we held six "Design Museum Cafés" to discuss the significance of creating a design museum in Japan, the aesthetic value of design, and the way in which information should be communicated, while carrying out "research", the first step in the process, and accumulating knowledge.
"DESIGN Two Eras [60s vs 00s]" Exhibition
In 2010, the first of the pilot museums, "DESIGN Two Eras [60s vs 00s]" was held to contrast the 60s and the present day, when the 1964 Tokyo Olympics and the 1970 Japan World Exposition (Osaka Expo) brought about a major upheaval in the Japanese design world, and to reveal the characteristics of "Japanese design" through this contrast. This is the purpose of the project.
"Today, design work is divided vertically, but in the 1960s, industrial design, graphics, architecture, and fashion were all working together in preparation for the Osaka Expo. After the Expo was over, however, each of these disciplines began to diverge. In that sense, I think the 1960s was a noteworthy period", said Mr Asaka.
In 2011, D-8 published a book linked to the exhibition, "DESIGN Two Eras [60s vs 00s]: Japan Design Museum Project" (DNP Art Communications). In the book, designs from the 1960s and 2000s are placed on the left and right sides of facing pages, respectively, along with explanations. For example, the contrast between Kikkoman's tabletop soy sauce bottles and PET bottles of Japanese tea is cited as an example of package design: the soy sauce bottles that became a hit in the 1960s, which could be used at the table in their original store-bought packages, revolutionized the concept of soy sauce packaging, which until then had been sold by weight or in 1.8 Litre bottles. On the other hand, green tea beverages in small PET bottles, which were introduced in 1996, created a new habit of carrying them around with you and easily rehydrating yourself, and they became popular as sugar-free beverages that were different from the Japanese tea that had been brewed in a teapot. In 2000, PET bottles that could be heated and refrigerated were developed. By displaying these two products side by side, the relationship between lifestyle changes and design is highlighted. In addition to the works exhibited in the exhibition, other works, case studies, and a discussion of postwar Japanese design history have been added to the book to enhance its value as a resource.
Activities for the realisation of the Small Museum
After completing the first pilot museum in this way, the name of the committee was changed to the "Research Committee for the Establishment of the Japan Design Museum" in 2012. The committee started a study group for the next step, the realisation of a "small museum". One of the ideas was to use a closed elementary school. Unlike ordinary exhibition spaces, schools can be developed on a classroom-by-classroom basis, making it possible for the eight organisations to hold exhibitions on individual themes or to hold joint exhibitions on different themes. However, it is unclear whether we will be able to find such a facility, so we have decided to keep it as a pattern while continuing our activities to delve into its contents as a museum.
What does D-8 think of the Design Museum?
D-8's idea of a design museum is not to have its own collection, but to collaborate with the archives of companies and organisations as necessary.
"As I mentioned at the beginning, our concept is to connect. I think that the new Design Museum will not be an archive of everything, but rather a network of connections. Also, there are some designs, such as signs and displays, for which it is difficult to archive the actual objects, so we would like to take into account the possibility of reproducing them using virtualization technologies such as VR, AR and MR" (Mr Asaka).
Mr Asaka says that he is also referring to the opinions expressed at the talk event "D-8 Talks about Design and Museums", which was held as part of the related program of 21_21 DESIGN SIGHT's "Toward a Design Museum Japan" exhibition (2013). "Takashi Asaka, who also appeared at the event, suggested that we should create a 'map of Japanese design'. He said that the important role of the Design Museum is to create a place where we can critique the topography of design in Japan, where it is headed, and how to get there. That's how we came up with the idea of creating something like that" (Mr Ko's comment).
Chronicle and Anatomy of Japan Design
The committee is currently working on the research of "Chronicle of Japan Design (genealogical chart)" and "Anatomy of Japan Design (anatomy chart)". This research is aimed at realising a "Map of Japanese Design", and it has been decided that a research presentation and workshop on the "Japan Design Museum Concept" will be held on January 25, 2019.
"Chronicle" builds on the "DESIGN: Two Eras: 60s vs. 00s" exhibition presented in 2010 and summarises the genealogy of design from the 1950s to the present. Anatomy" delves deeper into the social background of the era in which the design was born. Through these two contents, the project aims to highlight the trends in design over the past 60 years and explore what Japan Design is.
"We were able to convince everyone that Japan Design is design that has influenced Japanese life, culture and industry, or design that has been influenced by Japanese life, culture and industry. So, we decided to present a compact presentation of the two pillars of chronicle, which lays out the flow of design like a picture scroll, and anatomy, which dissects and digs deeper into the flow of design" (Mr Ko). First, each organisation selects representative works and evaluates their characteristics. Then, it is presented at the general meeting for further review. At the same time, they selected key words of the times, social backgrounds, changes in lifestyles, and other events that would serve as the axis for Anatomy. By overlapping these with the works, it becomes possible to decipher how design is closely related to society, life, and design.
General meetings for the exhibition are held once or twice a month. Several people from each group participate, and lively discussions are held for several hours from 18:00 in the evening. Even if we say "dissecting" in one word, each group selects different events, and the flow of the time series changes. Identifying keywords to find a common flow among the eight organisations was more difficult than we had imagined and took a lot of time.
Once the keywords are decided, the corresponding design works are inserted around them and their positioning is adjusted. In addition, the process of reviewing the actual size of the exhibition and examining more effective ways of displaying the works, as well as coming up with and consolidating specific ideas, is repeated, and is currently in the final stage of adjustment.
The completed chronicles and anatomies are intended to be used as content for the permanent collection when the museum is realised in the future.
"If we can create two contents that D-8 is confident about, one is the chronicle that overviews Japanese design and the other is the anatomy that digs deeper into it, I think we will be able to collaborate with the design museum wherever it is established. No one else has done this kind of over-view of Japanese design, and it's something that only eight organisations can do, so I plan to use it as a treasure and resource for D-8 in the future" (Mr Ko).
Current Issues and Future Developments
The activities of D-8 are managed by the annual membership fee from each organisation, but most of the activities of the working groups are carried out by their own cost. Each group manages the secretariat on a biennial rotating basis, but if a group does not have a meeting room, it may be necessary to rent a space for a fee. Whenever an exhibition is held, sponsorship money is collected to cover the operating costs. All of this is done by the designers.
"D-8 was originally created as a salon for design groups. However, in order to create a design museum, we have to turn towards business, which is a dilemma for us. We are all designers, so we are not experts in business, and it is a miracle that we have been able to work together so well" (Mr Ko).
Thirteen years have passed since the establishment of the preparatory committee for the Japan Design Museum, and resources have been steadily accumulated. The results of the two research projects, Chronicle and Anatomy, are particularly important for the future development of the museum, and after the research presentations, a touring exhibition is being considered in collaboration with universities and other institutions. Design as a product lacks impact if it is displayed only as an object, like a work of art. However, Mr Ko says, "We should not only arrange events, but also critique design, while making it entertaining to look at. In this way, I think it will become a guideline for where design should go in the future, and when someone is thinking about national policy, it will also become a foundation of information about what Japan is like".
We'll keep you posted on any new developments as they happen.
Enquiry:
Japan Sign Design Association Secretariat