interview
Japan has to make the best products in the world
"I do not have a seat."
Activities based in Japan and Italy
- Mr. Kita is active as a pioneer of international designers since "WINK" chair announced in Cassina of prestigious furniture manufacturer in Italy.How did you go to Milan in the first place?
Kita I had a feeling that the future will go to Italy from childhood.The direct chance was to visit the fair that is held in Milan with opportunity when participating in the European design tour trip in 1967.About 2000 enterprises such as furniture, kitchen, lighting, etc. have announced new products, it was overwhelmed by the other world for the first time.In order to know more Italy and Europe, in the following year I took a small Italian pocket dictionary I had bought as a junior high school student and left for Milan on a three month schedule.I planned to use it in three months to see what I can as good as possible with the funds that can live in Milan for about a year.After that, I had friends who introduced me for about 8 months to take care of the design office in Milan, after that I came to the original design of furniture maker Bernini.
- What kind of design did you work on?
At Kitty Bernini Corp. I met a pipe chair and then a Japanese paper maker a little before I went to Italy and challenged the design using Japanese paper to restore Japanese traditional craft that declined.The lighting of the Japanese paper material "Tako" was announced in 1972 from Milan's lighting equipment maker, Bilmen, and it became a hot topic."SARUYAMA" (Photo 1) announced by Morozo in 1990 is the origin of the idea of Japan's lifestyle which freely spends on Tatami. "SARUYAMA = Saruyama "was accepted as a free and playful sofa as naming street, recently it was adopted also in the headquarters building of the Venetian Biennale and at the airport in New York.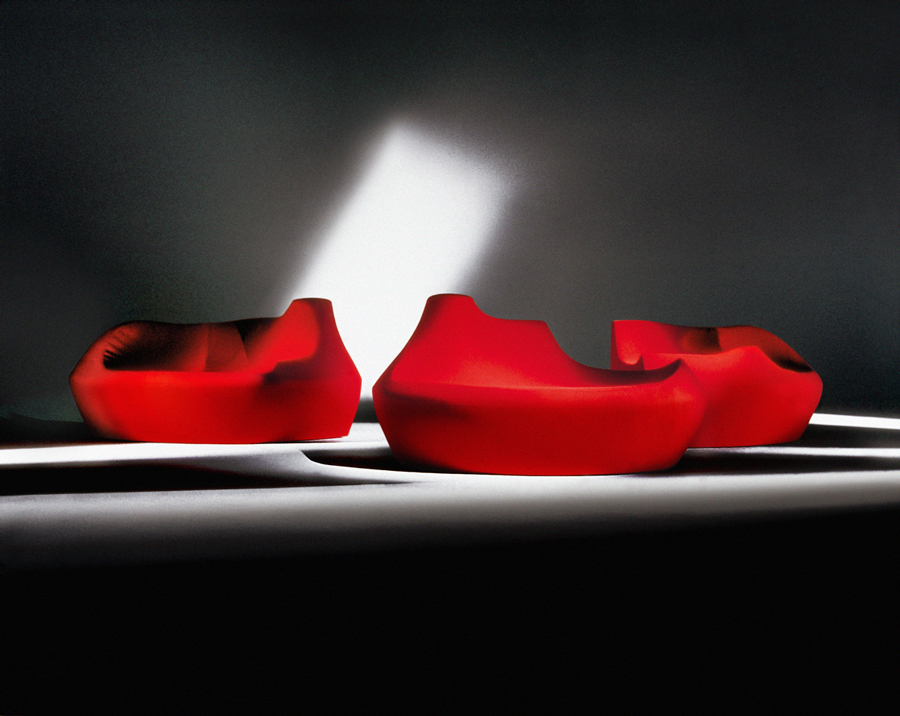 ■ Photo 1 Photo: Tom Vack
- And it is the "WINK" chair that I announced in 1980.
It was in 1976 that I received a request from Kita Cassina.Since I had already announced Bernini products and "TAKO", I received an order "a chair of a Japanese idea idea".In our childhood days chairs and tables were about schools and most of the families were living in tatami mat room.Therefore, I wanted to design a chair whose shape is changed depending on posture, high degree of freedom, I gathered ideas around 2 years.In 1980, a new concept chair "WINK" that made use of technology debuted with Salone and the following year, we announced a side table "KICK" (Picture 2) suitable for WINK.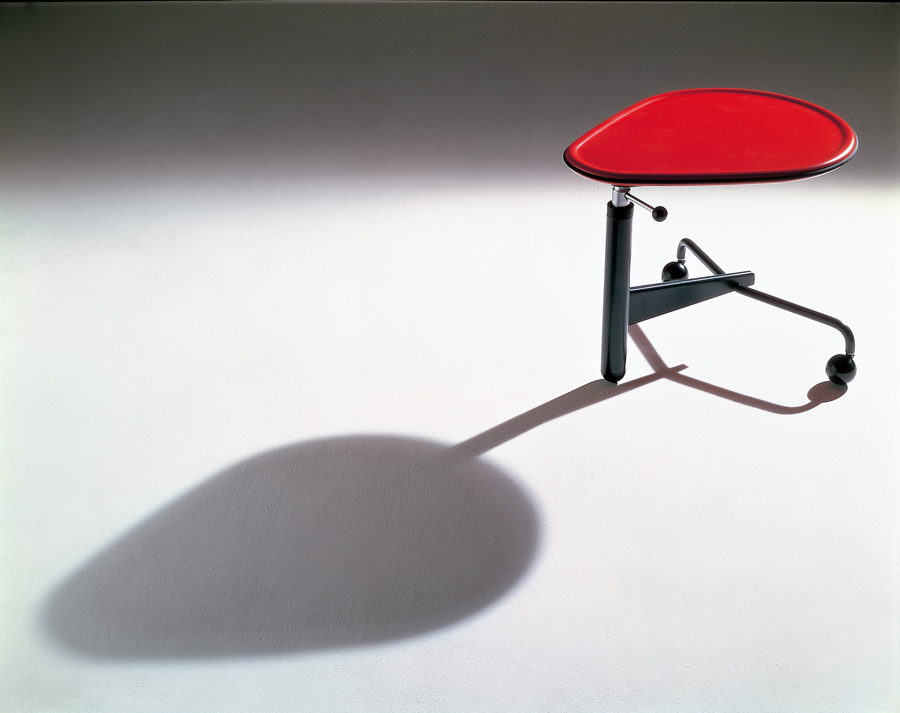 Photo 2
Local industry survives design
- Since the success of WINK, working on various product designs such as furniture as well as liquid crystal television and robot.Recently, what is Kita san's effort put in?
Kita I am working with the local industry that is working for many years.Design is not going forward unless it is consumed.Always innovation is necessary for design as we change science technology and needs.The design also changed from a cathode ray tube to a new technology such as a liquid crystal or an organic EL.Automobiles will be in a different shape if fuel changes from gasoline to electricity.The same is true for the local industry, it is good when the technology is excellent and worthy, but it will turn into a new one as more outstanding technology comes out.That's why it is important that designers involved always read a little bit of the times, and be aware of the lives of people and the balance between technology and craftsmanship.
- How is Kita san seeing the modern Japanese local industry?
Kita Japan economy has paid success in particular in export industries by taking serious work in the postwar period and high growth period, by incorporating the serious work and the good points of the West.From the 1980s onwards, we have gained worldwide recognition by adding originality such as innovation.However, now China and other Asian countries are changing more and more by adopting design as the market of their own country develops.Among them, Japan's local industry must be strongly aware of the world.
- Does Kita work also with the local industry in China?
Kita Recently, the pottery of the Song Dynasty was discovered in China and involved in a project to restore it to the contemporary style.It was announced as a Song "SONG" series at the Milan International Fair in January this year.We developed about 40 kinds of themes with four themes "Chinese flower", "flower", "tea", "gastronomic food" and "liquor".From the design point of view, it is the theme of connecting China's unique cultural culture to the future market, so glazes are using ecological products centered on minerals as they are in Song Dynasty.In recent years, traditional crafts such as lacquer and pottery, and local industries in various places have been restored in various parts of China.
- The local project in China suddenly begins to enter the world market on the stage called Milan.
Kita Currently many of the Chinese companies are mainly in their thirties and forties, and the project is very fast progressing. As soon as you send 3D drawings, you will finish mockups with 3D copies.When going to the site, everyone from the president to the person in charge of the site surrounds the mock-up and discusses the problem for productization and resolves it.Formerly it took about a year at the earliest from design to prototype completion, but it is often only a few months now.The rise of AI and IoT is further accelerating commercialization.
- What about the local industry in Japan?
Kita Recently, the project that I am involved in domestically was the integration of domestic materials such as "cedar" and "bamboo" with excellent craftsmanship technology.In Japan, 70% of the country is forest but wood self-sufficiency rate is around 30%, and many natural resources are not utilized.So I thought that I wanted to open up the possibility of new wood products by design, and worked on it for about three years.
One is "Sugi" in Akita Prefecture.Because Akita Cedar grows slowly in cold climates, it features light and beautiful wood grain clogged with annual rings.We had about 10 items such as chairs and tables developed by excellent craftworkers in the prefecture and wooden workshops and presented at the Milan International Fair as the "Akita Collection" following last year.Although processing technology is different, there is sense of unity as it uses the same material.A careful work that did not compromise making full use of the local nature received high praise.
Another is "Shikane" in Shimane Prefecture.We have developed a new material by processing technology into a flat plate while leaving bamboo surface skin nodes and fibers.Bamboo can be edible when it is in the soil, it has become an adult tree in 3 or 4 years after going out to the ground and has excellent characteristics of having 100 years.Besides that, bamboo forest is an ideal sustainable material that exists in Japan and grows fast.Now we have developed a technology that can be processed into a flat plate material with a width of 70 to 100 mm and a maximum of 2 meters, so we design and develop items such as chairs and tables using the flat plate and announce it with the brand "Flat Bamboo Shimane" did. "Akita Collection "and" Flat Bamboo Shimane "(Photo 3) will be deployed worldwide through the Milan International Fair.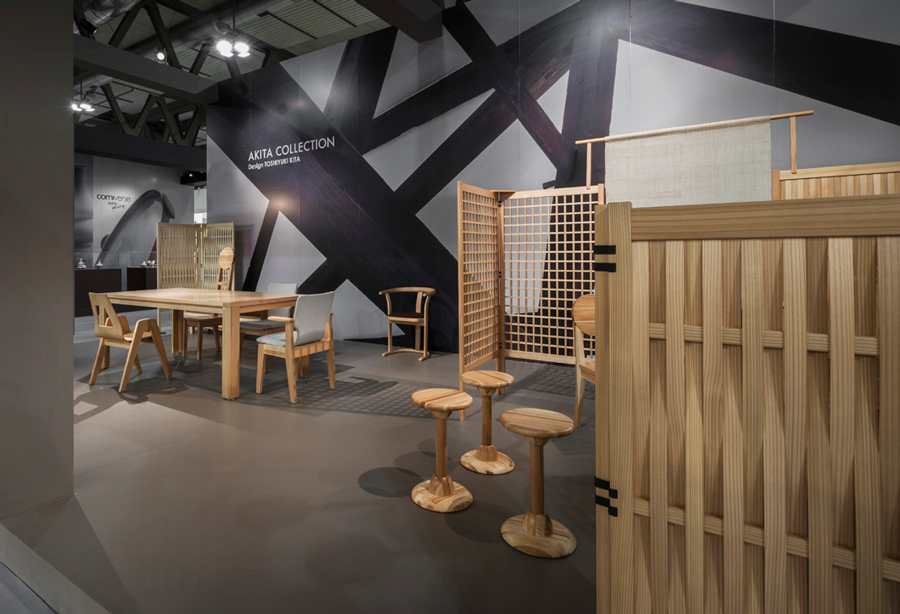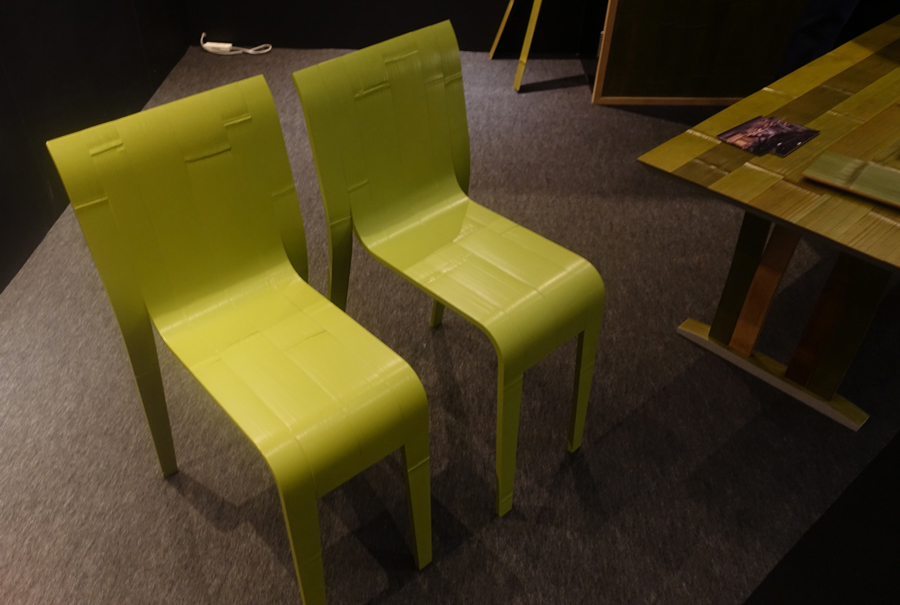 ■ Picture 3
- Even if you say local industries, there are various problems.
There is a variety of themes with the Kita local industry, but one of the purposes related to the local industry is "restoration of life culture".That boosts the market, which in turn leads to the development of the industrial economy.In the recently announced "Hotel Space Design Project" of Hokkaido · Asahikawa, we developed products under the theme of high quality hotel interior.Although I can not help being conscious of the West in the hotel furniture, this time it is a characteristic feature of having rich materials of the local, the living culture of Japan and the indigenous culture of Hokkaido theme.Members of the local furniture industry association tried making furniture and announced at Asahikawa Design Week held in June.We also showed up in Tokyo in the summer.
Design is born from life culture
- As I mentioned before, "Resurrection of life culture", please tell me more in detail.
Kita In the last 60 years, the design of Italy has developed with the motivation "Enhancement of living environment, communication of people".Italy's rich design culture is born out of the insatiable demands of comfort and practicality of living and workplaces and the practice of comfortable living.The origin of my design lies in having happened to live in Italy in the era of change since the end of the 1960s.
- In Japan, design is rather a viewpoint such as one of economic activities, a tool of industry promotion, is not it?Rather than enriching our lives, we are required to sell.
Kita I talked a little while ago, Asia's design has grown tremendously now.A few years ago, I worked as a design consultant for the Chinese government for about three years, and I witnessed the improvement of living and the progress of design contributed greatly to the development of living culture and industrial economy.In Shanghai and Guangzhou and other places, a trade fair twice the size of Milano Salone is held.I recently went to Shanghai's home appliance trade fair and marveled at its development.Living environment of the middle class in the urban area is enriched very much, around the kitchen · · · AI is utilized for open, range, refrigerator, for example.For example, employment of IoT such as cooking recipes and management of preservation status is also conspicuous because it is connected with a smartphone.The other day, when I went to the household appliance department in Harrods in the UK, the refrigerator was lined with a large number of large Chinese and Korean products.
- What is the background of the rapid growth of Chinese products?
Kita Since around 2007, China has been implementing design policy with a vigorous momentum with the aim of "designing country".One of them is housing policy.Average of about 130 square meters even in newly built general houses, state-of-the-art household electric appliances and furniture are put there, and 4K television is already spreading to ordinary households already.This momentum is not only limited to housing, but spreads throughout the city, and infrastructure development such as expressway and Shinkansen which are spread all over China is also acceleratingly expanding.
- So, how do you deal with Japan's "enhancement of living environment"?
Kita I am curious that the average life of Japanese people has not changed much compared to Asian countries.If everyday life and the quality of the space do not improve, I think that design and manufacturing will not develop either.I think that how to change the part here and how to thicken it is a future task.As Japan's housing policy that began after the war suffered too much damage from the war, it took time to develop the infrastructure and it seems that the enhancement of life culture has been postponed.Even though it has been 70 years since the war, supply of numbers is more important than quality, and in general it is not possible to draw "a wonderful life style".On the other hand, I am thinking that it is very important to utilize buildings that have already cleared existing earthquake-resistant structures, as they are entering a declining birthrate, population decrease and aging society.From such a viewpoint, we proposed the renovation project "Renovetta" of multi-family residence in 2012, and we are struggling with many people toward realization.
- What should we aim for in future manufacturing in Japan?
Kita Japan is a country that links "originality" and high-tech to innovation, mainly small and medium-sized enterprises, and "If there is no seat" unless the best product in the world is made.To that end, we must first create a "place" as a soil that lives nice even if it is somewhat narrow. "Enrichment of housing environment "is a key to the growth of Japanese design.
- It is regrettable that there is no design policy like China in Japan.
Kita Japan also recognizes the importance of design.Based on the "Research Group on Industrial Competitiveness and Design" planned by the Ministry of Economy, Trade and Industry and the Patent Office from 2017, the Declaration of "Design Management" was announced in May, 2018.The main purpose of the study group was to identify issues of design policy to strengthen the international competitiveness of Japanese companies and to study countermeasures.
Approach to archiving
- Well, I would like to ask Mr. Kita, who has a sense of crisis against Japanese design, about his own design archive.
Kita At last we have been working on organizing works and materials from a few years ago but I have not been going quite a bit because I'm just going out and I'm absent from my office.Specifically, data, photos, etc. from planning to design drawing for each project are converted into CD as well as output, and are filed.Other than that, we have filed enormous articles on domestic and overseas publications, records of lectures, etc for each fiscal year and theme, and we also keep catalogs of designed products.Three-dimensional objects such as works and models are not all, but we currently keep borrowed warehouses separately.
- When you see the file of a magazine article, there are a lot of foreign articles.
There are more overseas media such as France, Germany, and China, mainly in Kita Italy than Japan.People who stop by say that they came to Osaka are also quite satisfactory.I think that this office is a design salon in Osaka.Since we can accommodate about 50 people, we will have small lectures and parties when customers come from inside and outside.Local designers and executives also gather, and there may be other intimacy.
- Kita is holding individual exhibitions around the world such as Pompidou Center, Ozone of Shinjuku, Milan of Italy and Church of Piedmont State (Picture 4). How are these exhibits done? In graphic design, it seems that there are cases where donations are made to the local art museum as it is when posters etc are held.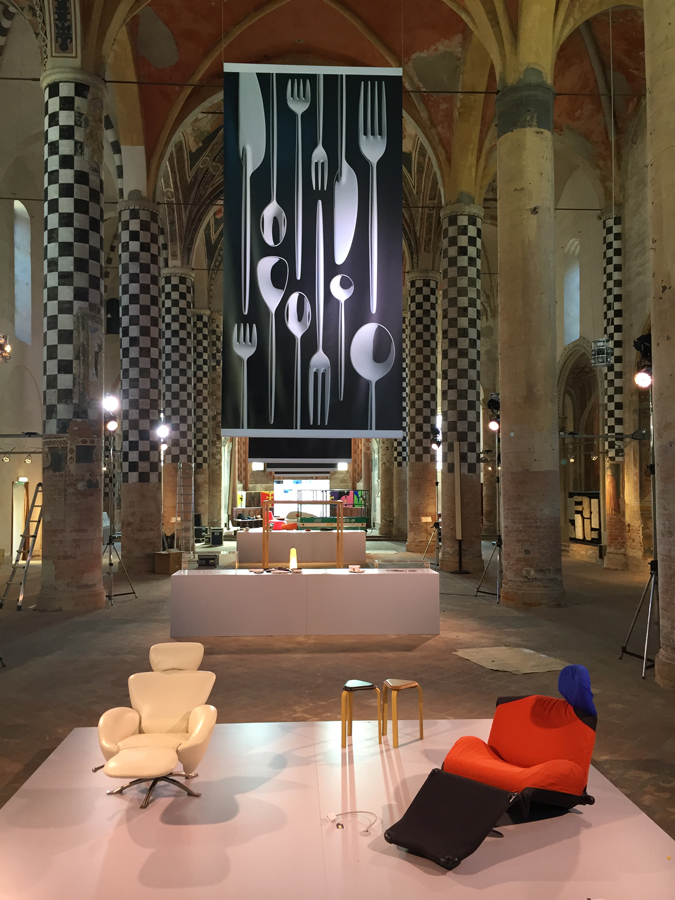 Photo 4
Kita works have few solid objects so it is rare to donate them as they are.Many will be kept in cooperation of manufacturers and in their own warehouse.I thought it was important and kept it, but it is very disappointing because there are lost things at the time of moving.Besides, in my case, many works are stored in museums around the world such as MoMA, Hamburg Arts and Crafts Museum, Pompidou Center in Paris, and so on.
- Why are there many requests from overseas?
Perhaps it is a big reason that Kita works are taken up overseas and sold in the global market.It is said to foreign journalists that "Kita's design is well incorporating foreign culture and culture such as Japanese culture and Italy".In designing products to become globalized, design is used everyday, so it is nice to be seen like that.
- Thank you very much for your time.
Censure: Yasuko Seki
Contact address
Toshiyuki Kita Design Institute http://www.toshiyukikita.com/jp/