interview
I think that it is important to archive as well as to inherit the designer 's thoughts as well as the product.
In the late 1980s who worked on the interior design of the hotel
- Mr. Yamamoto was previously enrolled in the office of Q designers, did not he?
After graduating from Yamamoto University, I decided to study abroad in Italy, but since I had about a half a year I was thinking about working part-time, I was introduced by Professor.I enrolled for about 9 months from February to October 1987.
Mr. Watanabe liked me for some reason since I first met, and Mr. Mizuno Nobunaga of the office headquarters said, "There is no one who likes Yamamoto any more."Perhaps it was because they knew that the university and the high school were the same and they felt familiar.At that time the teacher was 75 years old.There were about eight staff members in their 50s to 50s.Because I was busy since the office began, I was refused even if I received a request for work, and I also worked overtime or worked on a holiday.
- What kind of work did you do in Q designers at that time?
Yamamoto I mainly work of interior design.Among them, the big project is the Prince Hotel, which was built every year in the country and abroad.Kiyoshi Kiyoshi, an architect, designed the building and the Q designers were handling the interiors of guest rooms, restaurants and bars.In addition, he was involved in showrooms of Hitachi and INAX (now LIXIL), interiors of dental clinics and travel agencies, booths of exhibitions, and so on.
- Mr. Yamamoto did not have enough time to study abroad in Italy.
After 7 years in Yamamoto Italy, I worked at Turin Institute of Technology for 2 years, afterwards working at Turin Shigeaki Asahara and Raymonde Architecture and Design Office.During that time I came back to Japan about 3 times and each time I asked a greeting to the teacher, but I always welcomed you and invited me for a meal.While in Italy, I was exchanging letters with the offices, but after that I learned that the Q designers were disbanded and the office was also collapsed.
After returning home in 1994 and starting work in freelance in 1995, I had never met a teacher nor an office for a while, but in 1997 I went to the living design center in Tokyo / Shinjuku In OZONE, I decided to go to the opening after I learned that the teacher, Mr. Yoshinori Yanagi and Mr. Long Dae-san's three series exhibition will be held.A teacher came to the venue, so greetings, I am also very pleased.When you tell me your contact information, "I wonder if you will help me a little bit."Although the office broke up, the teacher said that even after that she was continuing to work alone.
Initially we designed Daichi's stainless tray designed in 1976 as "Unitray" by Sato Shoji, and then helped design Seiko watch.Especially the design of the wristwatch was also my first attempt for the teacher and it started from the point that I do not know what to become, but after the release it made a big hit.Takata Lemnos' hand clock designed afterwards was also well sold.Thanks to helping those hit products, I believe that the teacher gave me more trust, but I also supported my work until my death afterwards.
I did not want to leave things unless I wanted to see past works
- Do you know Mr. Yamamoto where the archive of drawings, mocks, materials, etc. are kept, including products of his later years?
There was a bit in home at what was kept in the storeroom of the Yamamoto office.After being passed away, the survivors will be held with some affection, the large-sized photographs used for drawing, furniture, exhibition, etc. are managed and kept by Yuji Shimotansu, the representative of Metrox Corporation It is.Mr. Shimotsubo is cooperating in various aspects.I got the Eames rocking chair used at home, Aero Saarinen's "Tulip Chair", USM Harer's system shelves, collections etc.
- It is about Metrox 's Mr. Shimotsubo says "Is not this necessary?" To say that it had been abandoned since the age of 90 years.I asked that I brought a variety of things, did Mr. Yamamoto also get something?
Yamamoto I told you that "I am starting to arrange my house" from that time, it was being disposed of little by little.I got Eames' books and toys, design magazines and posters etc.For Seiko, I gave up a thick big book that summarizes the traditional colors of Japan, "Please refer to the color of the clock."The traditional color of Japan is diverse, as seen in the kimono of kimonos that change according to the season, and the name of the color is emotional.Seiko was inspired by it, a project of a traditional color series was born, which was also very reputable.
- Was Mr. Takeshi talking about your own archive before you born?
Yamamoto I had never heard of you when I was enrolled in the office and when I was helping with my work in my later years.Rather, you said that you do not want to see your past works, and have not kept anything much.When I was watching past works, I was concerned that "I ought to have done it" or "I should have done this", which means that I feel depressed.So, there were lots of design products at home, but it was mostly of designers other than yourself.
A solo exhibition of the teacher was held at Metrox in 2005 and at the National Museum of Modern Art, Tokyo in 2006, but when I got that story for the first time, the teacher showed no interest at all. "I do not want to dig up old things. "" It is meaningless to do such a thing "," I will not exhibit ", I told you that it was exactly what the Tokyo National Museum of Modern Art and the Metrox Mr. Shimodairi I was conscientiously consulted with the teacher many times, "I will do it because I will help, so I will do it" persuading to hold it somehow.A lot of people visited the opening, asked for a signature, and the teacher was very pleased.In his later years, he was decorating his own designed clockwork at home, and wore a wristwatch.
- Have not you changed your thoughts on Mr. Kishi's archive after experiencing retrospective exhibitions?
Yamamoto There seemed to be no change in particular.
I sketched a lot and I did not make almost any model
- So then, you probably did not have something like a rough sketch before drawing.
Yamamoto When I was young you might have drawn a sketch painting, but it seems that it was not originally drawn much.Although Mr. Inada, who was supported furniture design at the office for a long time, said that he had a small sketch painted by the teacher.I saw the figure that I draw a teacher's drawing about twice, the movement of the hand was very fast, I stopped the line and the corners of the furniture had the momentum that the lines would intersect I remember.I was able to draw the front view suddenly using the T ruler.
At the Tokyo Advanced Arts and Crafts College (now Chiba University) where the teacher was attending, it seems that he was taught that it should not be a normal industrial drawing.It is important to add strength to the line and to communicate feelings.I think that there are also such things, but the line drawn by the teacher has a taste, so you can understand at a glance that the touch is completely different from the other explanatory lines.
- When you were designing a clock in the later years, did not you draw a sketch?
Yamamoto was not drawn.The drawing was drawn on my computer.In the watch project, I brought something that would be helpful for design at first and what I had designed before, "I'm thinking about something like this, Yamamoto-kun, for a moment think It is handed over.And when I draw a drawing based on that, I got a detailed instruction that "I will do this here" and have repeated it many times to fix it.So, we will make huge numbers of drawings.I was very concerned about the type, size and character of the letters, I arranged a lot of design drawings enlarged to actual size, I was doing that it was not oh, not even like this.The clock project, including the needle, was passionately devoted to the design of the dial anyway.
- Were prototypes and models made?
Yamamoto When I was working at the office, because interior work was mostly done, something like an interior model of the building was made a little, but I saw things like prototypes of the product There was not.The only one in the office was a small model of Hibiya's pole watch.
At one point, "Since I drew such a three-sided drawing for a moment, Yamamoto-kun, make something like a model", I made a model of a wine cooler that assumed a sawara material used in a wooden stand etc.I made a resin putty on foam material, but, "Well, I got stuck with a spatula!"And I told you with old craftsman words, I was impressed with how to make it.
- Although there are books, does the manuscript remain?
I do not think that there are Yamamoto Rika's manuscripts.I have a few letters from my teacher.I was a person who often write a letter. "Because I have something to do, please call me ", sometimes I got a letter.It is wierd, is not it?
The teacher was half of the activity was a design enlightenment, and was often posted to newspapers and magazines.I think that the article also remains.For example, because the tip of an L-shaped door handle of a car was installed facing in the direction of travel, there was a case where an accident occurred by hanging pedestrian clothes, and the responsibility of the designer who followed only the shape was quickly reported in the newspaper When it was changed without permission due to the circumstances of the manufacturer, the wood material of the furniture designed by oneself was insulated by the design magazine and insulated from the manufacturer as there is no room for negotiation.To install a memorial of the alma mater to the birthplace There was also a case where I filed an anonymous refutation of long sentence from Yoshinobu in a word processor with a word processor in response to a call for donation.Although it may be excessive or misunderstood if it sees now, I think that it was a direction which dared to say for improving cognitive awareness, and who had a tough side not to hesitate to correct things.
Searching for Watanabe's archive
- Do you have any cut-outs that were posted in magazines or newspapers?
Mr. Yamamoto did not seem interested but seems to have been recorded at the office.I have also seen the notes that I wrote quite clearly, from the history of the office to the entry and exit of staff.Although it was scattered after the dissolution of the office, Takanori Shinobara, who was a member of the company, kept a scrapbook that included articles clippings and interior photos.Three big books and two small books.Thanks to that, when holding a solo exhibition at the National Museum of Modern Art, we were able to investigate to some extent the age that the product was developed chronologically.Now I am using that scrapbook, I take pictures and record it.There are quite a lot going on, I have borrowed nearly a year.
- Did you think that Mr. Yamamoto was planning to organize any archives?
Yamamoto I think that I will record in the range that I understand.While recording it in the photograph, I examine the place where the work is located and summarize it as seen if you go there.I am looking into watches not only for archiving but also for my future teacher's series work.
After the teacher died, I found some new materials such as drawings and photographs, organizing the home and the storeroom in my office.Because the teacher was a person who did not leave things, I think that he might like it or perhaps to think again, I think that he had some intention and was left at hand.When archiving them, I guess the teacher 's thoughts and try to understand it at the same time, but sometimes the unknown facts are revealed.
For example, since the drawing of the clock of the National Noh theater has appeared, it was found that the same thing as the drawing was decorated when I explained the circumstances.
A lot of negatives came out from home, so they got baked at the photo laboratory where about 4 kinds of prototypes of public watches common in town parks were reflected.When I asked Seiko who knows old things, it was that it would be no doubt what the teacher designed. Also, from the story with my relatives, I understood that the teacher designed the large pendulum clock in the lobby of the Export-Import Bank of Japan (currently the Japan Bank for International Cooperation) which was not left in the record.
From the warehouse, the baking of the original size A 0 of "Himoisu" came out.Blue-gray fades when exposed to the sun, but thanks to being folded and kept in a dark place, it was relatively vivid and beautiful.I thought that I have to leave it properly, asking Epson to make it data by fine scan, create a high quality print, and keep it with the blue sky.
In addition to the work, journal articles and letters such as letters are gathered and organized little by little by Mr. Jiro Tsukada who is a son-in-law who has been deeply translated and published knowledgeable about archival studies.
- Do you decide the deadline for the archive survey?
I do not think about Yamamoto in particular.We do not conduct an archive survey everyday, but when we find something from drawings or negatives we go to the site and investigate and get records.Basically, I think that the data should be useful for future work of the teacher's series, but on the other hand I also feel that the mission that I should keep these records properly.
I think that it is important to archive not only to inherit the designer 's thoughts as well as the product.Rather, I think that the way of thinking, the newness of philosophy, and wonderfulness are more important than shapes in design.Unfortunately, for example, if a person with strong writer-like ability is active by almost one person, unless it is talked about after death, it will be forgotten more and more from the world.
- Ideally, there are people like Mr. Yamamoto who will utilize designers' archives in modern times while speaking their thoughts.
Late years passionate about watch design
- By the way, was there anything that Mr. Takeshi was collected personally?
Mr. Yamamoto liked Marine Clock, among other things.It is a waterproof watch attached to the ship.You said you wanted to do a collection and three of the marine clocks you got at an old store store were decorated at home.When I was enrolled in the office, the Marine clock designed by Seiko was piled up in the warehouse.Listening to production discontinuation, the teacher said that all the stock was bought and was given to those who are interested.I did not understand the goodness of the marine clock at that time, but now I regret very much.
I also liked the pocket watch that the railway driver had. "That was one of the origins of my design ".Now all the watches of the railroad are already digital.
- It is known that Mr. Koshi was designed with many watches, but it is a valuable story as I think that watches are not so much talked about in criticism etc so far.Was not it a great pleasure for Mr. Kusatsuna that his thoughts had led to work again in his later years?
I think that Yamamoto was designed variously in the public space such as parks, airports, and Noh theater, but it gradually disappeared from the work and it seems that it was the last time when I entered the office I think.
After that, without designing the product as a prerequisite, the design of the watch was continued little by little, it seems that it was issued to the exhibition etc. of Matsuya Ginza.And, around the end of the 1990's, "I want to challenge the watch again," "one of the life work" was written in some magazine.
In such circumstances, it is interesting that Seiko reviewed its own archive and started work on the wristwatch from "rediscovering" Dr. Watanabe.I think that I was very happy because I could do lots of work on watches in my later years and that I had a huge hit.
- You are also interested in children's playthings, and in 2006 Mr. Masaya supervised Mr. Koza, and the "Toy for Young Children" exhibition which was selected worldwide was held.
Yamamoto himself designed children's play equipment was "Rikystool", but when I was to design Seiko's children's watches I was very interested.When a child was born to me, I gave him a silver rattle that I selected for an exhibition of Matsuya Ginza himself.You were also interested in building blocks in Scandinavia.
My grandchild was touched frequently.An article that wrote the teacher's daily life was serialized in the newspaper, and most of the work was done, but it was also written when my daughter was returned home. "The ladies are not dependable at all, so I did everything from the baths ", or something like grandchildren staying at home and being lonely when they are back.That article is probably also in my house.
What is necessary for work is not the past but "now"
- Finally, I think that you can listen to Mr. Yamamoto's thoughts on your own design museum.Even from the point that you are actually doing an archive of Mr. Kiyoshi.
Yamamoto I have only been able to take pictures for the moment and check and record what is where.It may be because it is based on the thought that leads to future work as well.If it is not so, it may be quite difficult as a motivation.
After the teacher passed away, I talked with the bereaved families and the Seiko watch again and again, from the conclusion that the philosophy for the teacher's clock is universal and should succeed, I continue the RIKI series It has direction.Originally the watch was fashionable and fashionable, so the teacher boldly incorporated all the ideas and was enjoying it.I wish I could change my teacher's philosophy plus something that makes me remember the power of Watanabe while adapting to the times.On the other hand, the clock of Takata Lemnos sticks to reprinting quite strictly except arrangements that match modernity such as size and material.Recently I made some reprints such as the public clock which I mentioned earlier, and there are still ones under consideration.These two pillars may support the brand of watch called RIKI, and things like the existing archive as a product may have been realized.Well, as it is selling it can be said.
I am mainly looking into watches, but in reality I think that I have to take other records.
- Mr. Yamamoto Do you have an ideal museum image that you think you should have such a place? Even from such a perspective that if you have such a museum you want to go, it will be a reference in your work.
Yamamoto I am interested in sketches in the first stage than real drawings in architecture.I think that it is a place to leave anything in the archive, but it seems like it's better to collect the first inspirational part and final form.Just arranging only what you can do is like a museum, and if you are a design museum, you want another idea.
It is nice to be able to see the living space of what kinds of watches are used in general households around the world now rather than being past in terms of being useful for their work.Because it can not be examined on the net.It may be slightly different from the viewpoint of the design museum, but that is the information that interests me.
- Even so, it seems interesting that the investigation of the archives that Mr. Yamamoto is doing has been investigated, as there are discoveries that have not been known so far.
Yamamoto and other designers are more interested in finding and discovering because there are so many things that teachers do not understand.It is not only interesting, but I always keep in mind that I think this product and this company are about to connect.By doing so, I want to learn more about my teacher 's way of thinking and leave it to future generations.
I am currently investigating watches mainly, but I would like to widely communicate to those who did not know about my teacher until then and would like to be interested in other products that my teacher has handled .
There are a lot of good things already in the world, but now it is a time when things can not be sold easily.I think that it is important not to tell the idea but also the thing.The ingenuity of that way of handling is also important.
- I think that today's story that the archive continues to live in future generations will become a reference for many people in many cases that it will become deadly.Thank you for your precious story.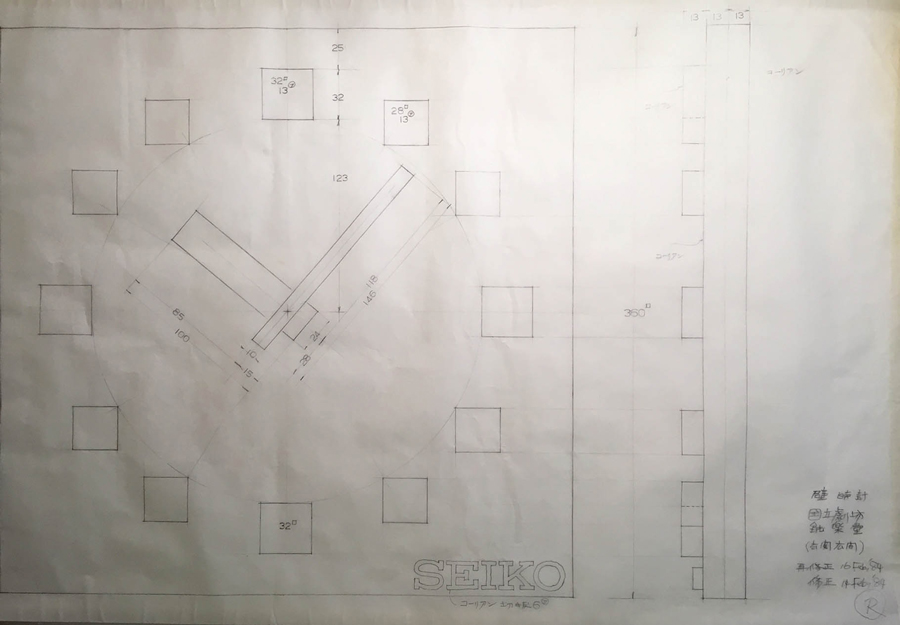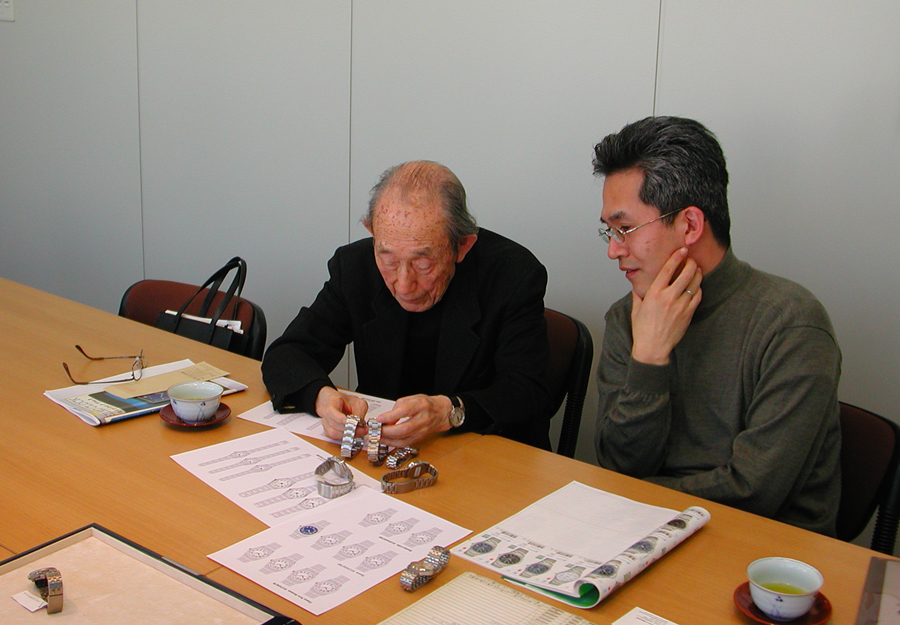 Mr. Watanabe and Ms. Yamamoto (2005) who will meet at the left / drawing of the clock of "National Noh theater" (1984) right / Seiko watch
Bunko: Urakawa Ai