interview
It takes time to organize thoroughly and regularly
I interviewed anyone involved anyway
Fall Recently, I listen to stories about archiving activities here and there, but it seems that it is increasing.Professor Ryozo Sawa of Tokyo Zokei University studied materials of Yuuko Kuwasawa (Tokyo Zokei University and founder of Kuwasawa Design Institute and clothing designer) and at the beginning of the year a book ("Yosuko Kuwasawa 's story of" "Art Publisher, 2018) was published, and at Keio University Art Center, collections of materials such as Tatsumi Hijikata and Shuzo Takiguchi are collected, and the arrangement has been done seriously.Just right now, is it time to think about all the archives?Does this NPO's organization have sort of guidelines for thinking about archiving?
- Anyway, let's listen to the story only as long as it was the origin of the beginning which started this activity.We also hear what kind of materials you have, how to store it and where you are, and opinions and thoughts on the lack of a design museum in Japan.I think that such a voice can be connected to something to a certain extent at the stage of being gathered.
It is wonderful if it falls .I also thought that hearing was important in investigating Yoshio Akioka, and I interviewed anyone who came involved following various kinds of players and interviewed anyway.
- I think that hearing will be one precious archive, too.Mr. Furanaga had been examining Mr. Akioka's material for quite some time, but what was the reason for that?
Mr. Furuki Akioka says that it was an industrial designer who had a close relationship with Meguro Ward and Meguro Museum of Art.The Meguro Museum of Art opened in 1987.We decided to operate as a foundation corporation and asked Mr. Akioka for its councilor and cooperated in producing the educational material collection "Material drawer museum - tree" for use in the educational activities planned before the opening It was.
This drawer museum is composed of four categories of painting materials, metal, paper, and wood, which are constructed in a system called withdrawing. In the course of supervising by experts for each material, Mr. Akioka I got advice.Mr. Akioka was particularly familiar with work related to wood in the 1980s, and he also began to introduce wooden lifestyle tools made by local people and started making Taketonbo.
- After that, why did you decide to maintain the archive of Mr. Akioka?
During the preparation of the Festival "Drawing Museum of Art and Materials" during the exhibition, I went to Dorma Studio in my house several times to ask Mr. Akioka about the material of the tree, I saw that it was decorated.As someone asked me, Mr. Akioka used to design a child painting and designing a resident's furniture after the war, a minorta camera and Mitsubishi Pencil's "uni" in the design group KAK I was involved in the design of the.It was a person who did not talk much about the past, so I was very interested in how the old days and the present time were connected and what kind of things happened in the meantime.In a sense, it is like a curator's intuition.
In the 1990s, an exhibition of Mr. Masayoshi Yanagi and Mr. Isamu Kenzori was held and the investigation was also proceeding, but no one was conducting a full-scale survey about Mr. Akioka.At the beginning, I did not know at all what I should ask, but I can not investigate from the first stage because it is quite a strange thing and I will follow the curator.
It gradually became clear as I investigated in the state of fumbling
- When did you start investigating the archives?
There was an opinion that it is too early to investigate the falling archive and it was impossible to start right away.Later, after years, did you say that the machine ripe, finally saying that it is better for some of you to start with, and in 2009 you can officially enter the Akioka family in 2009 It was.
- Were the materials consolidated in one place?Or was it dissipated to various places?
Falling At the beginning, I examined the materials in the houses that various people entered and exchanged and the materials in the library behind, but I do not know what is there but I know gradually as I'm trying to find out in a fumbling state It is like feeling.Later, Mr. Yoko's son was showing that several wear boxes that Mrs. Akioka's wife was cherished were found from behind the house, but in that the paper materials are crowded It was clogged.There were various kinds of things really valuable such as the childhood paintings in the early days and the furniture materials designed for the resident forces.Many people were entering and leaving the doma workshop, so it seems that the wife was kept properly so that people could not be touched.I was sorry that there were many things I thought would have been more various if my wife could have asked about the material while he was still alive.
- There were about 6,500 carpenters collected, but where were they kept?
Furanaga Although I think that it was originally placed in the doma workshop, Mr. Akioka wanted to create a "library of goods" before his life was proposed to the detached town of Hokkaido, to the "Oke craft center forest craft museum" He seems to have transferred the tool little by little.After the death in 1997, about 1,800 items such as the rest of the bereaved family, including the remaining tools, the Nima's vessels made by Taketonbo and the Ainu race method, writing articles and video materials were donated.In the same museum, we archive materials and publish books "Japanese handicraft tools - Yoshio Akiooka collection - (Okeke Craft Center Forestry Craft Center, 2007-2018)" series.Ms. Masuko Masuda who was an assistant of Mr. Akioka moved to Seto-machi and was able to arrange the materials as a researcher at the same building for about 11 years from 1998 to 2009.
- Well then is it that Mr. Akioka's article is currently in three places, Craft Center, Meguro Museum of Art and Home and Dorma Studio?
Mr. Furukawa As a related document of Mr. Akioka, it is also stored in Kumamoto Traditional Craft Center in Kumamoto Prefecture, which was born in 1982.Rather than Mr. Akioka's design, it is woodworking items and lifestyle tools that I picked from various places by my own eyes in the late 70's.This building was designed by Mr. Kiyotake Kikuchi, Mr. Akioka thought about the concept of exhibition plan such as exhibition method of software part and drawer storage which can actually touch objects.Mr. Akioka served as a judge at "Craft exhibition of living" which has been continuing since the opening year.This project will also celebrate 35 times this year.
- Is anything kept in the university that I was taught?
Fengfu To Tohoku Institute of Technology since 1978, Mr. Akioka develops craft activities in the area as Ohno-mura in Iwate Prefecture and Seto-cho in Hokkaido in the 1980s as a practical study of "handicraft craft" There are important prototypes at the time, but I do not know the current state.I was taught at Kyoritsu Women's University, but I do not currently know whether the materials are kept there.
We used the subsidy to organize the archives
- I heard that you received a research grant from the Pola Art Foundation Foundation, is it because you want to do an archive survey of Mr. Akioka?
I applied for the funds to arrange works and materials etc. found at Fuwa Akioka's house anyway and thinking of holding an exhibition at the Meguro Art Museum afterwards, but fortunately We were able to receive it twice in 2010 and 2011.From 2009, we gathered materials for three years and we held "DOMA Yoshio Akioka Exhibition - Design of Thought and Relationship to Mono" at the Meguro Art Museum in 2011.The subsidy was used for personnel expenses for decorating material shooting expenses and materials, arranging data to retrieve data and to take dimensions.Since there was a huge amount of materials, we gathered the staff, shuffled the numbers together, sorted them, put them in a file and put them in a bag.Mr. Masuko Masuda who arranged the materials of Seto-machi received much cooperation.Because I understood well about Mr. Akioka, it was very powerful.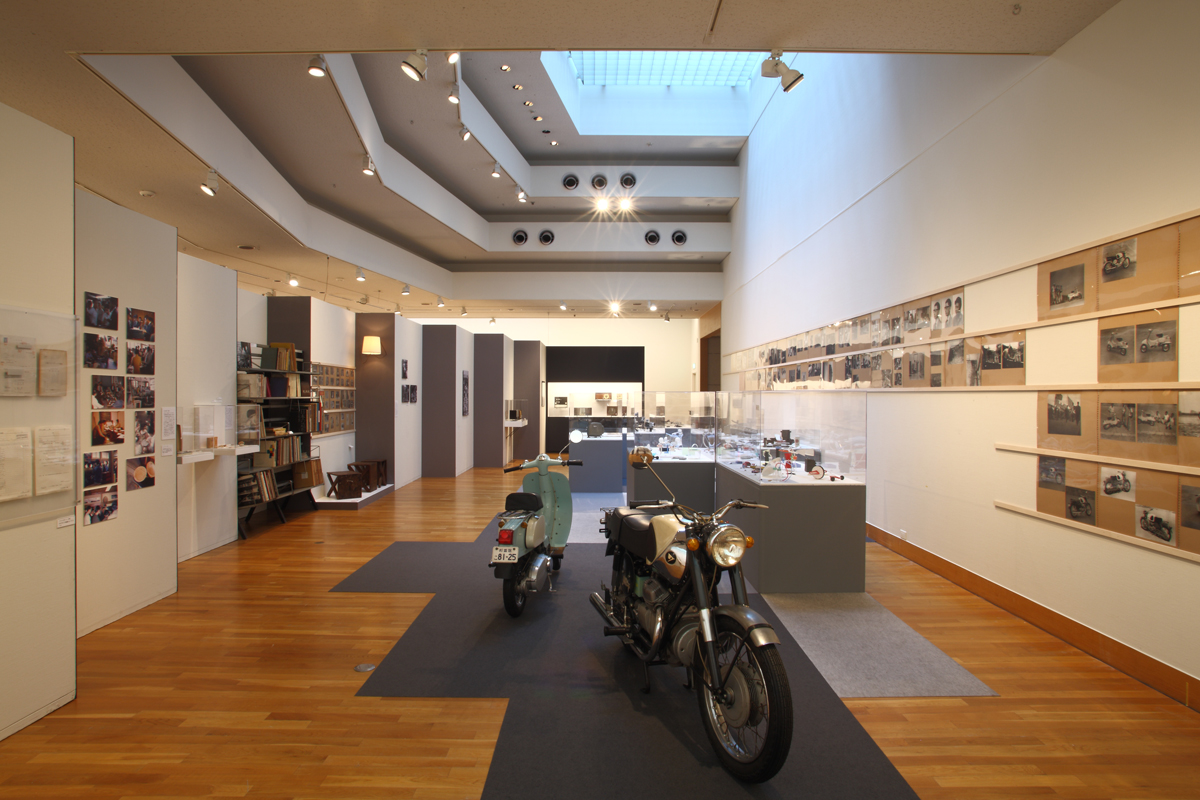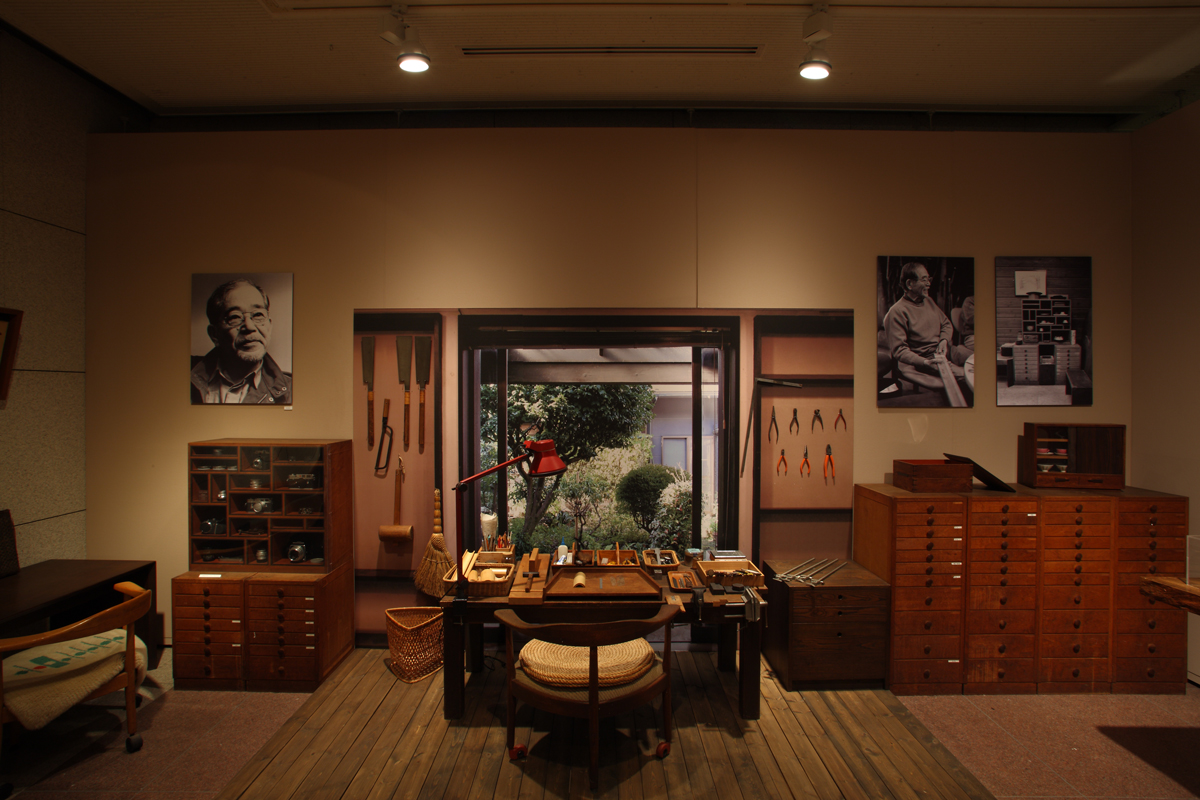 The scene of the venue of "DOMA Akioka Yoshio - The Thought and Relationship Design for Mono" exhibition held in the Meguro Art Museum in 2011.
Below is an exhibition that reproduces the workplace of Akioka which still remains at home. Photo courtesy: Meguro Museum of Art.Photo by Tadahisa Sakurai
- How was Akioka's data classified and archived?Do you have any guidelines in that case?
Democratic Especially, it has not yet reached a definite archive.While accepting it little by little in the hotel, I classified it into categories such as photographs, children's drawings, books, manuscripts and organized them and put them in a box, but I think it will take some time.
By the way, when arranging these materials, we also advised art librarians who set up the art library of the Tokyo Metropolitan Art Museum in Ueno.I am a pioneer in the librarian of a museum library in Japan.The building was renewed in 1975 by the design of Mr. Kunio Maekawa, and the art library was dealt with for the first time in Japan the art libraries dealing with postwar art with the aim of handling postwar art.Collections of secondary materials of artists such as catalogs of art museums and pamphlets of galleries, letters and books in the library, organized by art librarians.A young curator of the museum which opened in the latter half of the 1980s, including me, was truly indebted to the library.Afterwards, the function of this library has moved together when the planning and arts department of the Tokyo Metropolitan Art Museum shifts to the Museum of Contemporary Art Tokyo.
- What kind of things did you learn from the art librarian at the time?
Furuhata I was taken care of until now, Nakajima MakotoHisashi's, Ms. Tamiko Nozaki, is the people of Sachiko Kaji's three.We gratefully taught such things as how to collect materials data from how to handle art book materials.In the exhibition catalog of the Tokyo Metropolitan Art Museum in the 1980's, in particular the writers' year's notes and literature lists were prepared by the librarians, so they were accurate and fulfilling, and they are norms of the current exhibition catalog It can be said.I think that it is the first generation that made archives of materials of Japanese art museums, and we would like you to hear stories of those people.I think that it will be helpful for you to understand how to think about materials and how to inherit the methodology of how to transfer to future generations etc.
Determined by concentrating on time and keeping it habitually
- I'd love to hear from you.The activities of our design archive will celebrate the third year next year, but as a next step I would like to think about just how to organize the archives.It seems that you do not want to let your footprints dissipate after death in the course of hearing, and you are interested in archiving.However, although I am taking the materials for the time being, I do not know how to arrange it, and it seems that there are many cases that I often leave it in cardboard boxes, but after that people are in trouble.When donating materials to art museums and universities, there are voices that it would be nice if they are organized and summarized to the extent that they are those of the designer side.However, since there is no way to organize guidelines for archives in Japan, I hope to create a place to think about it in future.
Fallen Mr. Akioka When arranging the materials of Mr. Akioka, I gathered various advice, such as how to put materials and data in the art librarian and how to pick up what kind of information did.Perhaps there are limitations that designers can organize by themselves.
- That's right.I also think that we should open something like a study group taught to someone how to organize the archives.
Mr. Furukawa Akioka's father, Mr. Akioka, is a wonderful person who is an important person indispensable to talk about the history of Japanese libraries.This time, I think that it was a pioneer in the meaning of the archive you are talking about.Various proposals were made from elementary school to university library, public libraries, how to show and arrange the materials, how to use fee is free, from closed to open style.During the wartime, it was a central figure who was greatly involved in "Rare books evacuation project" that the students had to keep in order to defend the books in the library and evacuate to the country's warehouse.
There were many documents of Mr. 郎 in the Akioka family.Mr. Akira Matsuoka, who was studied by Mr. 郎 and was a secretary general of the former Japan Library Association who was published by his colleagues and books, and was involved for a long time in the library of Meguro Ward again, I found that it was a very important material and it was decided to be donated to the Japan Library Association.In talking about the history of Japanese libraries, I think that this is a very valuable resource.
- That material is also interesting.Who else's materials are archived at Meguro Museum of Art?
Before you organize your Furuhata Akioka's article, did you arrange the Usaburo's article Ihara of the painter.In 1925 he went abroad as an overseas training practicing trainee by the Ministry of Agriculture and Commerce, and during the period of his stay in Paris for about 4 and a half years, he did not throw away all the papers that passed in front of him, namely tickets, receipts, maps It was saved and it was saved by Mr. Akira Iahara.The Meguro Museum of Art accepted all the materials.In 1997, we organized an exhibition called "Grand Tour of the Artists", laying out the materials according to the categories in large sums, arranging them here as the main, drawing the works of the collection drawn in France as material I exhibited it on the wall.After the end of the exhibition, classified the paper into living, transportation, maps, entertainment, put it in a box, organized the number by shaking the number.
At that time it ended there, but in 2017 I was able to receive a grant from the Kao Arts and Science Foundation, so I hired a staff and continued to organize the materials in 20 years.I shot it one by one properly and reconfirmed how to write data.Mr. Ihara 's material was prepared, so it was possible to show it in the image if requested.
Since I was organizing the documents once 20 years ago, I think that we could do the second time based on that.Meanwhile, twenty years time passed, I could not do it all at once, so I thought that it was important to spend time and organize thoroughly into the steady state.It is better to concentrate on the work of such an archive by deciding the time, and it is also necessary to continue habitually.
What is the charm of Yoshio Akioka
- What do you think about the situation that the design museum is not in Japan and there is no place to accept archives?
Fragrance From where to how far you can accept it is not it?It will be tough if you accept everything.I think that it is impossible to afford any museum, but if it is an attractive material, will not we work on it?
- It 's like Mr. Akioka's material for Mr. Furanaga.How was Mr. Akioka attractive?
Fengfeng I organized the materials of Mr. Akioka, I felt that it was very close to Charles Eames and George Nelson's ideas and way of life that were active in mid-century in the United States when planning an exhibition and seeing the whole .Eames is a designer who creates movies and toys, is an exhibitor and composers, and is very particular about looking at things.George Nelson is a design director of a thinking group who works in both architecture and design, writing books and thinking about a design system, but neither of them feels similar in wide range of versatility .Mr. Akioka, if anything, seems to be close to the thoughtful George Nelson.
- You can see what Mr. Akioka's books that were published a lot were thought deeply.
Furuhata always think that those who had been grasp properly the era of that "now".Mr. Akioka experienced the war and saw the industrialization of the postwar Japan's rebuilding period to be unpleasant as well, and stopped industrial design when the Osaka World Expo (Japan World Exposition) booming in Japan was held .Japan seems to have felt the limits which designers can not do in the industrial design of that era of Japan in the period of high growth.At this time, I also wrote a book titled "From a Bulk to a Car (Kashiwagi Shrine, 1971)" with a titled "Stagnant Industrial Designer".As the number of in-house designers has increased rapidly, the world is leading to mass production mass consumption, the designers have become difficult to make suggestions that society should originally have.
- There seems to be a huge amount of photographs as well as books.
Falling There are many photos taken by the members of the industrial design office, KAK, which began in 1953.Although there is no mention of the photographer or the year, I gradually became aware that it would be about the time around this as I was investigating.I can also tell from that picture, but the way the work of the design office called KAK itself is funny is not it?Everyone is working while playing happily.I think I was very busy, but I am playing really well.One of the founder of KAK, Mr. Yunosuke Kawaruna, there are many pictures of sailing boats, but on the other hand there were plenty of precious design work.There is always interesting way to make new proposals to companies and think through communication.From these pictures, I think that it is a valuable photograph that shows the scene of industrial design in Japan after the war from the 50's to the 60's.
The exhibition will be a good opportunity to organize the materials
- Are there drawings of industrial products in the KAK era?
Falling It has not been found yet.There is a picture depicting the drawing, but if you are in somewhere you'd love to see it.By the way, Mr. Akioka is also interesting about how he sees folk art.
- That is also what I wanted to ask Mr. Furanaga.During the postwar period from the rebuilding period of Japan to the period of high economic growth, as mechanization advances instead of handicrafts, as the relationship between making hands and users and the living skills of people are lost, "Consumption is stopped, I will feel it overlaps with the thought of folk art as having been thinking carefully about manufacturing making born from hands.
Fallen Mr. Akioka-san said that it is a manufacturing that cherished handicrafts, but in reality it was important to keep balance between handicraft and industrialization.Rather than doing it all by handwork, I can industrialize where I can do, but I told you that it is important to have a hand in hand at the end.
Then I will think that Mr. Akioka would be alive now.I wonder how you think about this kind of Internet society and how to use it well for him.
- I'd like to ask you.Do you continue to investigate and organize Akioka's data?
Furuhata but I have passed eight years from the holding of the exhibition, we then do not get is hard to time, but we are little by little.
- How is Akioka's documents organized and how do you think about future archives?
Falling from now on I would like to continue to interview the related persons as well as organizing the data.In order to organize the materials, the exhibition will be a very good opportunity to concentrate and I believe that Mr. Akioka's exhibition will be held again in a few years.
- I hope to have another story again.Thank you for today.
Bunko: Urakawa Ai
Contact address
Meguro Museum of Art http://mmat.jp
2-4-36 Meguro Meguro-ku, Tokyo, 153-0063
Tel: 03-3711-9558
Oke Craft Center Forestry Craft Center http://okecraft.or.jp
〒 〒 099-1100 Hokkaido Tōko-gun, Seto-machi Subtitle 439-4
Tel: 0157-52-3170
Mono / mono https://monomono.jp
Maisonrilla 104 2-12-5 Nakano Nakano-ku, Tokyo 164-0001 104
Tel: 03-3384-2652
Kumamoto Traditional Crafts Hall http://kumamoto-kougeikan.jp
3-35 Chiba Castle Town Chuo-ku, Kumamoto-shi, Kumamoto Prefecture 860-0001
Tel: 096-324-4930