interview
I thought that I was doing my job for a long time, so I thought about organizing the archives.
I made original furniture for shooting magazines
The story of making a Fujie Design Museum has been coming into my ears a while ago, but it is hard to keep going further.
- That's right.Since we are interviewing and writing sentences are professionals, we are carrying out such an archive survey, thinking to do from what we can do.As a matter of course, the finished work, if you can ask what kind of state the drawings, sketches, prototypes etc. that are born in the process are now in and what you are planning to do in the future I think.First of all, I would like to hear from the story of Fujie's design as a designer, but originally it came to the office of Mr. Miyawaki Dan, an architect known for residential design.
During Fujie , Miyawaki's office has an interior section, where I learned everything about furniture and interior.
- How many people were in that section?
Mr. Fujie Miyawaki's wife is Mr. Teruyo and Mr. Mr. Tomoyo and I alone.Mr. Teruyo was from a university of architecture and had wide knowledge.My main job is to design not only the design now but also decorators, coordinators, stylists, by drawing furniture design and interior drawings for houses and commercial facilities designed in the architectural section led by Mr. Miyawaki. I also did a job.The bank has a quarterly magazine of the client, teaming up with writers and cameramen, everything from planning, designing and producing space and furniture to make a model room according to the theme everything, I was filming in the studio .
- The old magazines were luxurious.Furniture was not ready-made goods, so did they all have been made original?
Fujie Since then it was a time when there were no ready-made items of good design yet.Every time it was a magazine that enlightened modern living, deciding the theme and making living proposals by creating various spaces with kitchen, living room, dining room, master bedroom, and child room.
- What kind of office was the pea planning that was followed?
Mr. Seiichi Endo of Fujiang Endow Planning is an architect, who previously came to the office of Mr. Fumihiko Maki.It was a company that succeeded the family business, manufactures furniture and fittings, there was a factory.At one time I met Mr. Endo and after having finished my work at Mr. Miyawaki's office, I was supposed to help design there.After that, Mr. Endo launched a newly designed section, I decided to leave Miyawaki san and officially put it in.
- The point of contact with Mr. Maka has been around since that time.After that, he became independent, and made a workshop in Fujie atelier.In terms of furniture design, there are those who make furniture as a product like Mr. Motomi Kawakami and one who creates furniture in the space in collaboration with an architect like Ms. Fuji, but in himself So how are you thinking? There are also some furniture that has been commercialized at Tendochiko.
Fujie After I graduated from college, I joined Miyawaki-san's office and started from designing the furniture and interior in the architecture, so I felt that I went to such a way naturally.There is also a desire to really make furniture as a product, but it has not quite so happened that I have come to this date.
- Mr. Fuji collaborates with various architects, is there anything designed to be considered on the premise of mass production in such projects?
Depending on Fujie architecture, there may be cases where the same number of furniture is required, so there are times when we consider manufacturing methods without waste.However, we do not think about mass production from the beginning, but after completing it, there are times when we think that we can commercialize if we devise a little details.Many of the prototypes in this office are so.
Furniture is designed for those who visit the space
- Furniture of hundreds, thousands of legs, such as "Tama Art University Library" and "Taiwanese Home Entertainment Center" designed by Toyo Ito from items such as reception counters on building entrance and sofa There are times when it is made to collaborate with an architect, and there is a range, right?For example, how do you think of individual furniture in space?
Fujiang Every time, the architect, the location, the building itself is different, and the entrance reception counters are very different in purpose and meaning.In each case, I will explore from the site and the surrounding environment, understand the building, enter the inner space, grasp the building space from the beginning, start thinking while taking good care of the experience.
- For example, the table you put in the lobby will be completely different not only in terms of design but also whether you lay it sideways, vertically or just in front or back.
Fuji It is different.Furniture to be placed in the lobby also serves to encourage the flow of people who visit there.What we design for furniture is for people coming to that space.How big the furniture is and how it is shaped depends closely on how the building space is constructed, the materials used, how to enter the light, and so on, including all such things You have to think about it in total.
- When can you get Fujie from the stage with a project with an architect?
Depending on the Fujie project, the library of TamaMi was starting to beat concrete, and the library of Taiwan University where Mr. Ito was designed ("Taiwan University Social Sciences Institute Social Science Institute Memorial Library"), It was the stage when the basic design was over.
- Do you first give the concept from the architect?
Fujie It is also different from one architect to another, but there is not much to let you know the concept again, there are a lot of things that you read from yourself from there with the basic design drawing.Mr. Maki's drawing has been involved in the project for a long time and I've seen a lot of architecture, but there are expanded charts so it is easy to grasp the size of the space and what kind of feeling is in what area It's easy to make suggestions.
- Are you confirmed with the architect at the middle stage?
Fujie architects have various ways of working and communication methods.In the case of Mr. Ito, there are a lot of trends that first tell the rough idea of yourself, then show the model etc. when it becomes a little concrete shape, then adjust it.
- At the drawing stage, are the materials used for construction decided?
Fujie Roughly like a stone, it is not decided what type of stone it is.As you go through the meeting again, the details are decided gradually in the direction of the architecture, and as you listen to it, it is a feeling that we continue to solidify materials and designs specifically for furniture, at the same time.
Starting with TamaMi's library, collaboration with Ito Toyo begins
- Is it from recent years that it began to collaborate with Ito?
Working with Fujie Ito is from the library of TamaMi.As well as Ito, I was a guest professor at TamaMi, so I think that there was an idea that the teacher of the same university would participate.
- Did you think that the project with Ito was continued after that, did you spirit with this library project?
Fujie said that we were in a hurry, there was no time when we were at this library.When I joined the project, I was already beginning to hit concrete, so I thought that I could not make it in time.When I read the drawing, I thought it would be bad if I could not make something new in an attractive space that I experienced for the first time.As I put out a plan for arranging furniture that goes around the space in such a place, Ito was very surprised, I got a phone call to the director at once, and a GO sign came out in a week.
- That design proposal was very inspiring.
Fujie It seems that it was.I also made a simple model and explained and explained, but Akira Suzuki of the architecture and urban workshop that was involved in the project together also very pleased to see it.There was no time, but I was on the verge of inner pressure, no matter what I should do.
- I think that it took quite a long time at "Tai Chuan House Institute of Korea" which required thousands of legs of chair.How did you proceed?
In the case of Fujie Theater, furniture has a great influence on the building framework, so the number of seats and the space for that will be decided at an early stage such as basic design and implementation design.So, you will design furniture in the architectural terms.It seems that planning to arrange ready-made items at the beginning was planned for this "Taiwanese house opera house".However, as I thought that the space between the front and back and the left and right of the chair was very tight when I confirmed well well, I thought that it might not fit in this space designally, so I offered it to Mr. Ito It was.Although it was said that it was a strange theater space that I had never seen before, I thought quite what kind of furniture I should make here.There are 2,500 seats in the big theater and 800 in the middle theater.
Because there is a problem of cost, considering making the making method simple, Shell matches the molded urethane of the 3rd order surface to the plywood of the secondary curved surface, while thinning the back cushion into a smart form, the body We pursued a gentle seating comfort.The big theater is a sheet with a red curved shape with a red fabric, the middle theater is a back with a square shape and the basic silhouette shape is the same and 2 kinds were made.I got the fabric to design with textile designer Ando Yoko sending an image.
- It seems that this was also a serious project, but how long did it take for the production period?
Fujiang Since the construction started in 2009 and the open is 2016 years, did the construction took about 10 years in the building?Foyer's furniture was designed at the same time as the building design, but the design of the theater chair was about 8 years since I started building the building.The project has stopped for a moment on the way.
A large bench to provide rich time
- How was Gifu's "Minna no Mori Gifu Media Cosmos"? I think that the proportion of furniture is large in the library, so I think that designing the space by furniture has become a big point of view.
Fujie This project has participated since the competition.For the gloves (umbrellas) that are symbolic in the building, we were thinking about how big it is and where to put it, from the time of competition together.Regarding furniture as well, considering various people like the glove, from the early stage a pretty image was made in me, and although it is not 100% in the end, I think that it was almost realizable.For example, regarding the design of a bookshelf, the concept of a "large house and a small house" is a form where a circular small glove draws a semi-circular curve.At the beginning, I thought that concentric circle arrangement would be nice, but if that is not so, I can not make much variation, it will be difficult to adjust the cost problem, increase / decrease adjustment, systematization.So we set up a linear rectangular bookshelf as an angled connection, shifting little by little and leaning.In the connecting part between the furniture gaps, we made the function space to contain lighting and wiring.With this unit formula, you can easily increase and decrease, and you can freely arrange various curvatures.This bookshelf is arranged like a whirlpool in the space, but I thought with an image like a way to make a way for people to walk.
- This bench is also nice.
Fujie In fact, I wanted to use natural wisteria, but recently it has been made using artificial wisteria commonly used for furniture due to being a rare material and from the problem of fire prevention.This building is a floor radiation system that air comes up from the floor, passes through this furniture, comes out of the mesh, reaches the body, and is going to rise.
- In this library, it was the concept to circulate air.You have been designed with various projects for these big bench sitting bench.Does the bench furniture have some special feelings?
Fujiang is mostly a public space, but I design every time, thinking that it would be nice if there was a place like this where you could stay alone because it is public.In the library bench of TamaMi, I thought that it would be nice to have a place where you could spend a rich time of openness while enthusiastically thinking about connecting with the surrounding natural environment.
- By the way, how can you proceed when designing the interior?
Fujie It also depends on the project, but at "Futako Tamagawa Rise Tower & Residence", at the stage before the design is completed and it goes to the interior, there are three high-rise residential buildings and two low-rise floor and wall materials We were involved in the review and implementation design of all the interior spaces such as.
- There is a fine atmosphere.
Fujie Minami does not cost so much.Rather, it was a direction to cut costs.Overall design concept was supervised by Conran & Partners, but the theme was how to incorporate the rich nature of the surrounding environment into the interior space, how to integrate inside and outside .In many high-end condominiums, there are many examples of heavy use of expensive marble and high grade wood grain, but although real genuine rich nature spreads around, there is suddenly a sense of incongruity that there are Greek stones etc. in the inner space I thought that there was a possibility, I dared to make it a simple finish and proposed to adopt glass everywhere.Based on the natural green to look beautiful, with white as the basis, external light reflected beautifully, it reached everywhere in the residence, and chose the material to bring a rich look.
I started organizing the archives as a result of the publication of the work collection
- It is a very interesting story that I would like to ask more, but I'd like to move on to the story of the archive soon.How was Mr. Fujie organized and stored your own idea sketches, drawings, materials, mock-ups, works etc?
To be honest, Fumihiko Fujie is in the process of organizing the archives for half a year.Since I thought that it was impossible for the next step unless I reduced a casa a bit to make it easy to understand, I abandoned drawings and sketches that existed like mountains considerably.
- Now, it was just organizing the archive.You say that you can only do what you leave and which one to throw away.
Fujie maybe so.Drawings are hand-drawn and freehand ones, outputted white-grilled, recent data and so on.Architects often draw sketches on notes, but those of such scale are less for me.There are plenty of scales close to the original size, there are many things like 1/20 and A1 sizes.Such large drawings are costly to search for places to do the scan, which is a major concern at the moment.
- Do you draw such sketches for each project?
Fujie sketches and drawings are summarized in a file by writing the project name respectively.It is from the beginning of about 1973 when I started work.Although I threw it away considerably, still there are only 20 boxes, 2 thousand sheets by sketch alone.Until it was organized, it was twice that.This is a sketch of "Everyone's Forest Gifu Media Cosmos" at Competition.I hope these books and sketches can be put together in a book.
- As you say, I think that making a book recently becomes one of important archives.
Fujie I think so.I think that it is more interesting for those who gather these processes of thought than to summarize the finished ones as a work collection.
- For students studying design, I think that such studies will be studying.Recently, you probably do not draw drawings by hand.Looking at these hand-drawn drawings, you can see the situation at the meeting.Are there any other pictures taken after going to the scene?
Fujie photo is also enormous, so I am having students come to work part-time and are organizing.There are also many positive films.It is also a matter of how difficult it is to make it into data and its cost will become enormous.
- What was the reason for thinking to start organizing such archives in the first place? As everyone is busy with their daily work, many people say that they do not turn around.
Fujie Recently, the work of furniture and interior works is less likely to be posted on media such as magazines.Even on the Web, if we do not transmit from us, it will be hard to communicate.There is no place to announce work.I thought about making a call from myself, I thought that I wanted to overview what I came up first, rather than a work collection, I created "Fujie Kazuko Works 1997-2015" (2015 · Kazuko Fujie atelier) though it is a collection.It is self-published publication of this atelier.Actually, I summarized the work before that, it is a book that I published when I held an exhibition between TOTO Gallery · ("Fujie Kazuko's illustration - landscape gaze" 1997 · Gallery · Zhu Shi).In retrospect, I thought that myself was working for quite a long time as a trigger, and thought about organizing the archives.
- Was that so?Were not the archives pretty organized when they were created?
Fujie Of course it is not perfect, though.However, this work collection contains only works until 2015, but since the project continues after this.
Create time to organize, concentrate on working
- I think that I am also busy with my daily work, but how do you keep the archives organized?
Fujie Especially sketches are not known by themselves, so for the time being, for the time being, with the staff "Two hours from now!"Sometimes, I concentrate on time by organizing my time.
- Is the model here a TamaMi library? You are making it in close detail so far.
It is different from the model made by Fujie architects, we will make it for presentation with grasping space and necessary information for furniture.Taiwan University 's library model was created to present to donors not only for presentation but also for the purpose of acquiring the construction budget for furniture.The Tamimi library here and the Taiwan University library model are the biggest ones in the office.Most of the models are discarded at the end of the project, but these two are also hopeless and are not discarded as they are the most obvious materials to show the relationship between architecture and furniture design.
- Are you depositing materials and prototypes in warehouses anywhere else?
Fujie There is not such an economic margin in our place, so what is here is everything.There are also things that could not be realized at that time, and prototypes that stopped with ideas.I thought that the machine ripens someday and I think that I can come up with opportunities to visit and I am wearing dust on the shelf, but I put it in an area that I can notice.
- How is the prototype of furniture made?
Fujie All the furniture around here in this office is a prototype.Most of the time, partial prototypes etc. will be discarded after the project is over.Because I will overflow with things if I do everything.If you need to make hundreds, thousands of furniture, many numbers, we will consider one after trial production.These are recently the first prototype of the chair for the library of Kyoto Women's University just completed, which is the one that checked the strength.There is paper on it, but with a sign like that you want to cut this side a little more, the green seal is an instruction to take a little bit of a face.
- You also have to think about how to make use of these archives, right?In the case of Mr. Fuji, many people are entering public facilities, so it's breathing longer than commercial building furniture.For example, there seems to be little work of Shiro Kuramata who has worked many furniture in commercial facilities.
Fujie In that sense, although breath may be a little breath, furniture as a product will live longer longer, right?Even people who use it can change the place where they are placed.
- Do you have no intention of intending to focus on making furniture as such a product?
Fujie Rather, I'd like to do a lot, but if there is no maker who will make it together, it is unavoidable even if I think only of myself.Design is pleased, though
Activities to connect furniture design to the future
- Is furniture cram school sponsored by Mr. Fuji being aimed at nurturing backwards as well?
Fujie There is such a meaning.However, the primary objective is not to do a good job unless the three, building, designer and creator are properly tripled, so the three goal is to gather together and think about furniture every time.The organizer is rather than me, Mr. Shigeki Miyamoto of Minerva.He is also 80 years old this year, he seems to have created his chronology now.
- Ando Tadao also said that although there are many people who design architecture recently, there are no people making it.
Mr. Fujie Miyamoto is also a person who is making furniture as a modeler, but he is a very knowledgeable expert.Furniture exhibition was held well before, but I think that it would not have been realized if Mr. Miyamoto did not come.This furniture cram school is said to be told to many people what he has been experienced so far, I was told hotly when I got technical guidance at the Taiwan University library work, I myself also furniture I also wanted to talk about design, and I started by helping.
- Now it's getting less of an architect and a furniture designer to do projects together.Fujie's down, it is not about Yasushi Fujimori, when there is a young generation beneath it, there is almost nothing.
Fujie That's right.Mr. Fujimori is still young, so the number of projects may still be less than I, but he has a stance both in collaboration with architects and furniture design as a product.
- In higher generations, furniture designers such as Mr. Isao Kendo and Mr. Watanabe collaborated with the architect, and masterpieces were born from there.
Fujie There are quite a few people in the architect who are interested in furniture.A lot of young architects also participate in furniture cram school.Rather, there are many architects, there are few furniture designers, and the fact is that there are fewer hand making hands.
- You are doing wonderful activities to think about the current problem of furniture design and the future.
Fujie I do whatever I can do.I can only do that.Activities of this furniture cram school are already starting in the summer of 2013, the first time in the spring of 2014, finishing the 15th in this fall.I also think that if you really want to publish books in bulk, etc., it is difficult to disseminate widely, is not it?
- I think that there is something we can cooperate with even by ourselves.Thank you for today.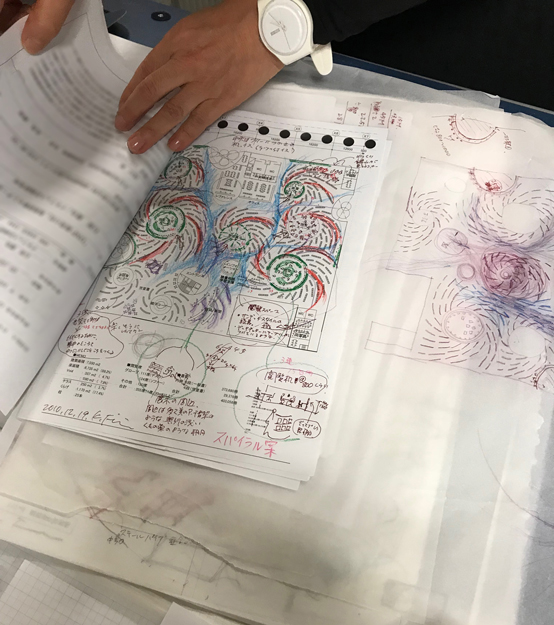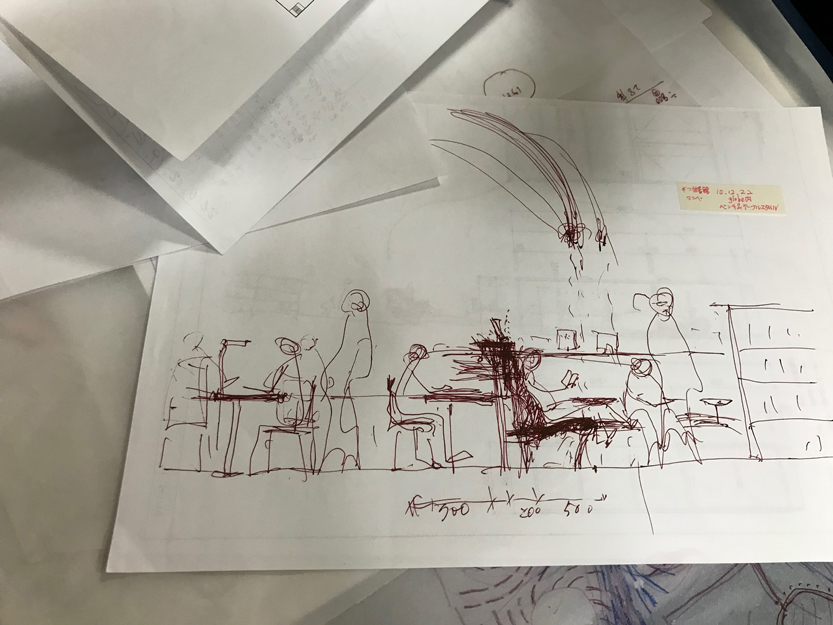 Left / Sketch of "Minna no Mori Gifu Media Cosmos"
Right / Sketch of Furniture of "Everyone's Forest Gifu Media Cosmos"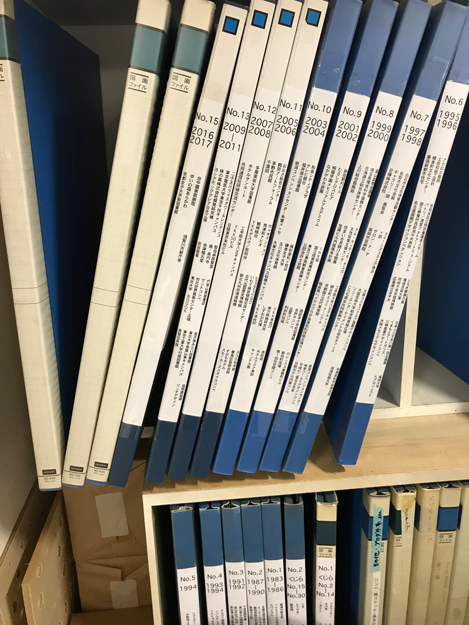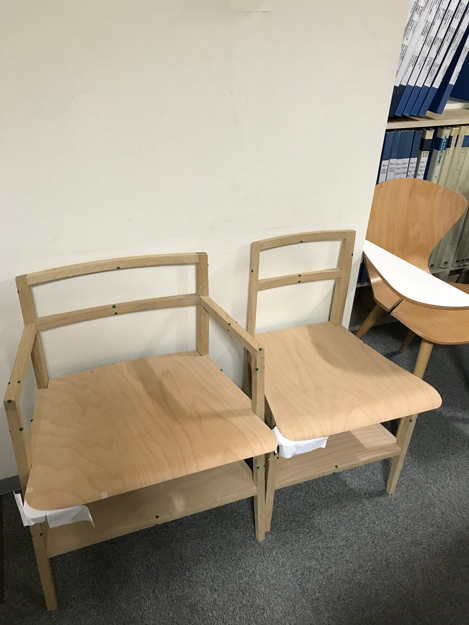 Left / Files summarizing drawings and sketches
Right / Furniture trial of Kyoto Women's University New Library (2017 · Sato comprehensive plan + Yasuda atelier design)
Bunko: Urakawa Ai