Interview
I thought I've been working for a long time and that's when I decided to organise my archive
Original furniture was made for a magazine shoot
Fujie I've heard talk of building a design museum quite a lot in the past, but it's hard to see where it would go from here.
— Yes, that's right. Our job is to do interviews and write texts, so we are doing what we can to help, which is why we are carrying out this kind of archival research. Of course we are interested in the completed works, but we would also like to hear about the drawings, sketches and prototypes that are created during the process, what kind of state they are in now, and what you are thinking of doing with them in the future. First, I would like to start by asking you about your activities as a designer. You were originally in the office of Mr. Mayumi Miyawaki, a well-known architect who designs houses.
Fujie At the time, Mr. Miyawaki had an interior design section in his office, where I learnt everything I could about furniture and interior design.
— How many people were in that section?
Fujie There were just two of us, Mr. Miyawaki's wife, producer Ms.Teruyo, and myself. Ms. Teruyo came from a university of architecture and had a wide range of knowledge. My main job was to design furniture and draw interior plans for residential and commercial buildings designed by the architecture section headed by Mr. Miyawaki, and I worked as a decorator, coordinator and stylist, as well as designing what we would now call a design. There was a quarterly magazine whose clients were banks, and I teamed up with writers and photographers to plan, design and produce the space and furniture for each issue as if we were creating a model room according to a theme, and then we shot the photos in the studio.
— Magazines used to be extravagant. Was the furniture not ready-made, but all original for that purpose?
Fujie In those days, there were still no ready-made products of good design. It was a magazine that enlightened people about modern living, with each issue having a specific theme and making various spaces - kitchen, living room, dining room, master bedroom, children's room - and making lifestyle proposals.
— What kind of office was ENDO PLANNING, which you went to after that?
Fujie Mr. Seiichi Endo of ENDO PLANNING is an architect who used to work in the office of Mr. Fumihiko Maki. He took over the family business and had a factory in the company manufacturing furniture and fittings. One day, I met Mr. Endo and after I finished my work at Mr. Miyawaki's office, I decided to help him with the design work there. Later, Mr. Endo decided to set up a new design section, so I left Mr. Miyawaki's office and was officially accepted.
— So your contact with Mr. Maki began at that time? After that, you became independent and created the Kazuko Fujie Atelier. When it comes to furniture design, there are those like Mr. Motomi Kawakami who create furniture as a product, and those like Ms. Fujie who work with architects to create furniture in a space. What are your own opinions on the matter? Some furniture is commercialised by TENDO, isn't it?
Fujie After I graduated from university, I joined Mr. Miyawaki's office and started by designing furniture and interiors in architecture, so it was a natural progression for me. I really wanted to make more furniture as a product, but I didn't have the opportunity to do so until today.
— You collaborate with various architects. Do you ever design with mass production in mind in such projects?
Fujie In some architectural projects, a significant number of identical pieces of furniture may be required, so I sometimes take into account waste-free manufacturing methods. However, I don't think about mass production from the start, but after the furniture is finished, I sometimes think about whether it could be made into a product if I worked out a few more details. This is the case with many of the prototypes I have in this office.
Furniture is designed for the people who visit the space
— There is a wide range of collaborations with architects, from single items such as reception counters and sofas for building entrances, to hundreds or thousands of pieces of furniture, such as the Tama Art University Library and the Taichung Metropolitan Operahouse, designed by Mr. Toyo Ito. For example, how do you think about single pieces of furniture in a space?
Fujie Each time, the architect, location and building itself are different, and the use and meaning of even a single reception counter at the entrance differs from one to another. Each time, I start our thinking by exploring the site and the surrounding environment to understand the architecture, and then go into the interior space to grasp the architectural space from scratch, valuing the experience.
— For example, a table in a lobby can be completely different depending on whether it is placed horizontally, vertically, in the front or in the back, as well as the design.
Fujie That makes a difference. Furniture in a lobby, for example, also has the role of encouraging the safe flow of visitors. What the furniture is designed for is for the visitors to the space. The size and shape of the furniture is closely related to the structure of the architectural space, the materials used and the way light enters the space, so it is important to consider all of these factors in a holistic manner.
— When do you start working with an architect on a project?
Fujie It varies from project to project, but the Tama Art University Library, for example, was in the process of being concretised, while the Taiwan University Library ("Koo Chen-Fu Memorial Library, College of Social Sciences, National Taiwan University"), also designed by Mr. Ito, was at the stage where the basic architectural design had been completed.
— Do the architects first inform you of their concept?
Fujie It also depends on the architect, but I don't often ask them to tell me about their concept again, and I often receive a basic blueprint and read it from there myself. I've worked with Mr. Maki on projects for a long time and have seen a lot of architecture, but his drawings also include development plans, so it's easy for me to grasp the size of the space and to make suggestions about where and what kind of things I want.
— Do you check with the architects during the process?
Fujie Different architects have different ways of working and communicating with each other. In the case of Mr. Ito, I often start by giving him a rough idea of what I have in mind, and then when I have a more concrete idea, I show him a model or something and we make adjustments.
— When you are in the drawing stage, have you decided on the materials to be used in the construction?
Fujie For example, I often have no definite idea of the type of stone, just that it might be roughly stone. As we have more and more meetings, the details are gradually decided on by the architects, and while listening to them, the materials and design of the furniture are also decided on at the same time.
Collaboration with Toyo Ito begins with the Tama Art University Library
— Did you start collaborating with Mr. Ito in recent years?
Fujie My work with Mr. Ito started in the Tama Art University Library. Like Mr. Ito, I was also a visiting professor at Tama Art University, so I think they had the idea that teachers from the same university would participate.
— Did you and Mr. Ito continue working together on the project, or did you hit it off during this library project?
Fujie I would say we hit it off, but at the time of this library, we didn't have much time anyway. When I joined the project, they had already started pouring concrete, so I thought we wouldn't make it in time. When I read the drawings, it was a fascinating space that I was experiencing for the first time, and I thought it would be bad if I couldn't propose something new... When I proposed a plan for arranging the furniture around the space, Mr. Ito was so surprised that he immediately called the museum director, who gave me the go-ahead a week later.
— The design proposal was very impressive, wasn't it?
Fujie I think he was. I also made a simple model and brought it with me to explain the project, and Mr. Akira Suzuki of the Workshop for Architecture and Urbanism, who was working on the project with me, was very pleased when he saw it. But we didn't have much time, and I was inwardly impatient, wondering what to do.
— I think it took quite a long time for the "National Taichung Theater", which needed thousands of chairs. How did you proceed?
Fujie In the case of a theatre, the number of seats and the space for them are decided at an early stage, such as in the basic design and implementation design, because the furniture has a large influence on the architectural frame. Therefore, the furniture is designed within the given architectural conditions. In the case of the "National Taichung Theater", the initial plan was to arrange and insert ready-made furniture. However, when I checked carefully, I found that the distance between the chairs was very tight, and I also thought that the design would not suit this space, so I asked Mr. Ito if I would like to design a new piece of furniture. However, it was a unique theatre space that I had never seen before, so I thought a lot about what kind of furniture I should make for this space. The large theatre seats 2,500 and the medium theatre 800.
Cost is also an issue, so I thought about simplifying the way it is made. The shell is made of second-order curved plywood combined with third-order curved moulded urethane, and the back cushion is thin to give it a smart form while pursuing a comfortable, body-friendly sitting position. Two types were made with the same basic silhouette shape: the large theatre has a curved back and a red fabric seat, while the medium theatre has a rectangular back and a blue seat. The fabrics were designed by textile designer Ms. Yoko Ando, who was given the image of the fabric.
— I hear that this was also a very difficult project, how long did it take to produce?
Fujie Construction work started in 2009 and the opening was in 2016, so construction took about 10 years on the building side. The foyer furniture was designed at the same time as the architectural design, but I started designing the theatre chairs when the frame was being built, so it took about eight years. The project has come to a bit of a halt along the way.
Large benches, providing enrichment
— How was the "'Minna no Mori' Gifu Media Cosmos" in Gifu? I think that furniture accounts for a large proportion of the library, so designing the space through furniture was a major showcase.
Fujie I participated in this project from the time of the competition. We were thinking together from the time of the competition about how big and where to place the grove (umbrella), which is a symbolic presence in the building. I thought a lot about the people under the grove in terms of furniture, and from an early stage I had a pretty good idea of what I wanted to do, and in the end, although I am not 100% sure, I think I almost achieved it. For example, the design of the bookshelves was based on the concept of a "big house and a small house", with the circular small house grove having a semi-circular curved form. I initially thought that a concentric circular arrangement would be good to match this, but that would not allow for much variation, and would also make it difficult to adjust the cost, increase or decrease, and systemise the design. So I arranged the straight rectangular bookcases as an angled connection, shifting them slightly and arranging them in a swirling pattern. The gaps between the furniture are used as function spaces for lighting and wiring. This unitary system can be easily increased or decreased, and various curvatures can be created at will. The bookshelves are arranged in such a way that they seem to swirl around in the space, and I thought of them as creating a path for people to walk on, or a pathway.
— I also like the bench in this photo.
Fujie I really wanted to use natural rattan, but it has become a scarce material in recent years and there are fire safety issues, so I used artificial rattan, which is often used for furniture these days. The building has a floor radiation system that allows air to rise up from the floor, through this furniture, through the mesh and reach the body and rise.
— The concept of this library was to circulate the air. You have designed these large benches for everyone to sit on in various projects. Do you have any special feelings about benches as furniture?
Fujie Most of the spaces are public spaces, but because they are public, I design them every time with the idea that it would be nice to have a place where one could be alone, where one could be here like this. For the benches in the Tama Art University Library, I thought about the connection with the surrounding natural environment and designed it to be a place where people can spend an open and rich time while surrendering themselves thoughtfully.
— By the way, how do you go about designing interiors?
Fujie This also varies from project to project, but for the "FUTAKOTAMAGAWA RISE TOWER & RESIDENCE", I was involved in the review and implementation design of all interior spaces, including floor and wall materials, for the three high-rise residential buildings and the two low-rise buildings, before the design was completed and the interior work started.
— It has a high quality atmosphere.
Fujie Actually, I didn't spend that much money. Rather, the direction was to reduce costs. The overall design concept was supervised by Conran and Partners, and the theme was how to bring the rich nature of the surrounding environment into the interior space and how to harmonise the inside with the outside. Many luxury flats make extensive use of expensive marble and high-grade wood grain, but I thought it would be incongruous to suddenly have Greek stone and the like in the interior spaces when there is genuine, rich nature all around, so I dared to suggest simple finishes and the use of glass throughout. The white colour scheme was chosen to catch the natural greenery and make it look beautiful, and materials were chosen to reflect the outside light beautifully, reaching all parts of the dwelling and bringing a richness of expression.
The publication of the collection of works was the catalyst for the organisation of the archive
— It's a very interesting story and I'd like to hear more about it, but I'd like to move on to the archive now. How do you organise and store your own idea sketches, drawings, materials, mock-ups and artworks?
Fujie I have actually been organising my archive for the past six months because I felt I had to do something about it. I thought I couldn't move on to the next step unless I reduced the bulk and made things a little easier to understand, so I threw away a lot of the drawings and sketches that were piling up.
— So you were just now organising the archive. Everyone says that only you can decide which to keep and which to throw away.
Fujie That may be so. There are various types of drawings: hand-drawn ones from the past, freehand ones, output white prints and recent data ones. Architects often draw sketches in their notebooks, but I don't have many sketches of that scale. There are quite a few drawings that are close to full scale, and many of them are about one-twentieth or A1 size. It's expensive to find a place to scan such large drawings, so that's a big problem for me at the moment.
— Do you keep these sketches together for each project?
Fujie Sketches and drawings are kept in a file with the project name on each. They date from around 1973, when I first started working. I have thrown away a lot of them, but there are still 20 boxes of sketches alone, about 2,000 sheets. There were about twice that many before I sorted them out. These are the sketches from the competition for the "'Minna no Mori' Gifu Media Cosmos". It would be nice if these drawings and sketches could also be compiled in a book.
— As you say, recently we have been thinking that making books is one way of archiving.
Fujie  I think so. Rather than compiling the finished product as a collection of works, I think it would be more interesting to collect these thought processes.
—  I think such a collection would also be a better learning experience for students of design. Because these days they probably don't do much hand-drawing either. When I look at these hand-drawn drawings, I can picture what it was like during the meetings. Do you also have any photographs taken on site?
Fujie  I also have a huge amount of photos, so I am in the process of having a part-time student worker come and organise them. I also have a lot of positive film. I am struggling with how to convert that into data too, because the cost of doing so is enormous.
— What made you decide to start organising the archive in the first place? Many people say they are too busy with their daily work to get around to it.
Fujie These days, there is less and less furniture and interior design work being published in magazines and other media, isn't there? Even on the web, if we don't send out information, it doesn't get through. There is no place to present our work. So I thought I would like to send out information from myself, and first of all, I wanted to make a comprehensive overview of what I have done, so I made "Fujie Kazuko Works 1997-2015", which is more a collection of records than a collection of works. It is a self-publication of this atelier. In fact, I published a book of my earlier work when I held an exhibition at TOTO GALLERY·MA ("Kazuko Fujie Eyes for Scenery"). Looking back over the years, I thought that I had been working for quite a long time, and that's when I decided to organise the archive.
— I see. When you made that collection of works, you must have organised the archive quite a bit, didn't you?
Fujie Of course, it is not perfect. But this collection only shows works up to 2015, but the project has continued after that.
Making time to organise and concentrate on the project
— How do you make time to organise your archive, given your busy daily work schedule?
Fujie Especially the sketches, because I don't know if it's not me, so for the time being I'm with my staff, "Two hours from now!" and sometimes I make time to concentrate and sort it out.
— Is the model here the Tama Art University Library? You create them in such detail, don't you?
Fujie These are different from the models made by architects, which are made for presentation purposes, both to grasp the space and to include the necessary information for the furniture. The model of the library at Taiwan University was made not only for presentation purposes, but also to present to donors with the aim of obtaining a budget for the construction of the furniture. The models of the Tama Art University Library and the Taiwan University Library shown here are the largest in the office. Most of the models are discarded when a project is finished, but these two are the easiest materials to show the relationship between architecture and furniture design, so I don't throw them away.
— Do you store other materials and prototypes in a warehouse somewhere?
Fujie We don't have the financial means to do so, so what I have here is all I have. There are also prototypes that were not realised successfully at the time, or that are still just ideas. I hope to realise it one day when the time is right and the opportunity presents itself, so I keep it on a shelf, dusty but in plain sight.
— What are the prototypes of the furniture like?
Fujie All the furniture in this office and around here is prototype. Most of them, such as partial prototypes, are still discarded when the project is finished. If I kept everything, I would be overflowing with stuff. If I have to make hundreds or thousands of pieces of furniture, I make a prototype of each piece and then study it over and over. This is the first prototype of a chair for the recently completed library at Kyoto Women's University, which we checked for strength. The green sticker is an instruction to remove a little bit of the surface.
— How to make use of these archives is also something that needs to be considered. Many of Ms. Fujie's pieces are in public facilities, so they have a longer life span than furniture in commercial buildings. For example, there are very few works by Mr. Shiro Kuramata, who worked on a lot of furniture for commercial buildings, left.
Fujie In that sense, it may have a slightly longer life, but furniture as a product has a longer life. The people who use it and the place where it is placed can change.
— Do you have any plans to focus on making furniture as a product in the future?
Fujie I'd like to do a lot more, but without manufacturers to make things with me, it's no use just thinking about it on my own. I am happy to do the design work.
Activities to connect furniture design to the future
— Does the "Kagujuku" organised by Ms. Fujie also aim to nurture younger generations?
Fujie That is one of the implications. However, the main purpose is to get the three parties - architect, designer and maker - to get together and think about furniture, because good work cannot be done unless the three of them are properly integrated. The organiser is Mr. Shigeki Miyamoto of MINERVA, rather than myself. He is 80 years old this year and is now making his own timeline.
— Mr. Tadao Ando also said that these days there are many people who design architecture, but no one who creates it.
Fujie Mr. Miyamoto is also a modeller who makes furniture, but he has a very broad range of knowledge. In the past, furniture exhibitions were often held, but I don't think they would have been possible without him. When I was giving technical guidance for a library project at Taiwan University, he spoke passionately about wanting to share his experiences with many people, and I also wanted to tell people about furniture design, so I started this furniture school to help out.
— Nowadays, architects and furniture designers are working together on projects less and less often, aren't they? The only person below you is Mr. Taiji Fujimori, and below that, in the younger generation, there are probably very few.
Fujie That's right. Mr. Fujimori is still young, so he may have fewer projects than me, but he has a stance on both collaboration with architects and furniture design as a product.
— In the older generation, furniture designers such as Mr. Isamu Kenmochi and Mr. Riki Watanabe collaborated with architects, and some masterpieces were born from this collaboration.
Fujie But there are quite a few architects who are interested in furniture. Many young architects participate in the Kagujuku. The current situation is that there are more architects, fewer furniture designers and even fewer makers.
— You are doing a wonderful job of thinking about the current problems and future of furniture design.
Fujie I do whatever I can. That's all I can do. We started this Kagujuku in the summer of 2013, held the first meeting in the spring of 2014 and completed the 15th meeting this autumn. We would like to publish a book or something to disseminate this information more widely, but it's not easy.
— We hope that we can help in any way we can. Thank you very much for your time today.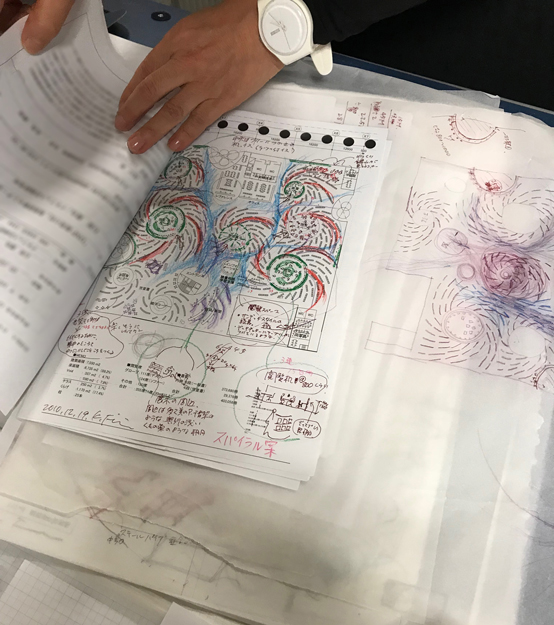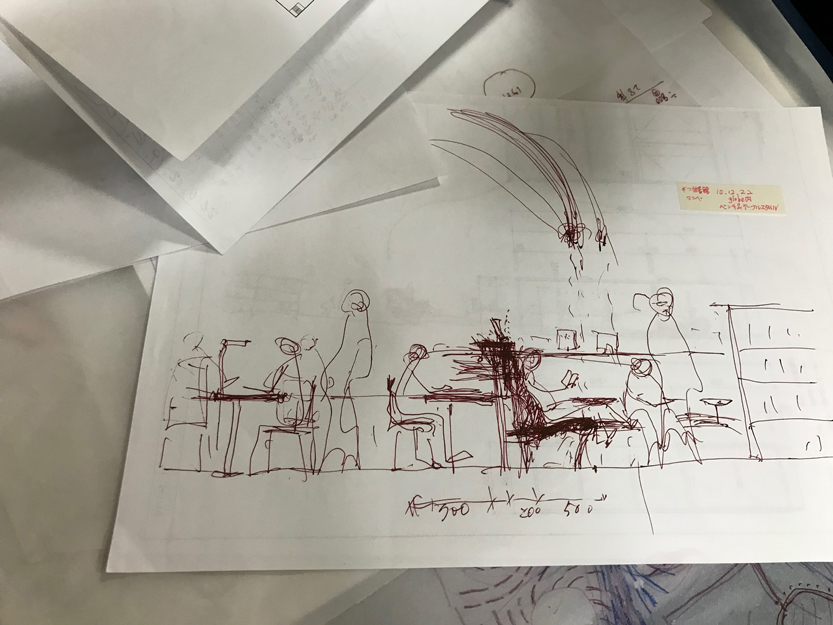 left/Sketch of the "'Minna no Mori' Gifu Media Cosmos"
right/Sketch of the furniture at "'Minna no Mori' Gifu Media Cosmos"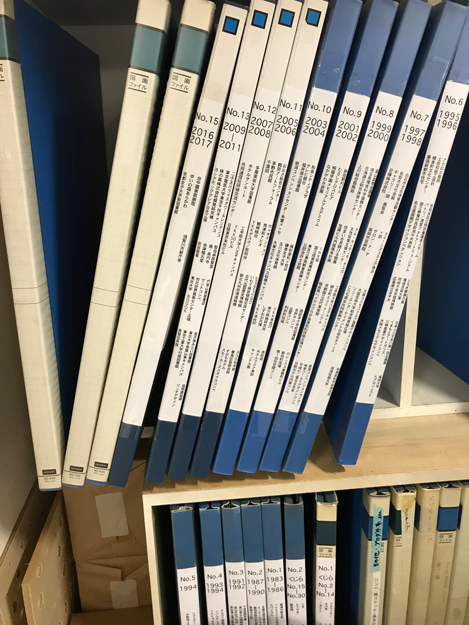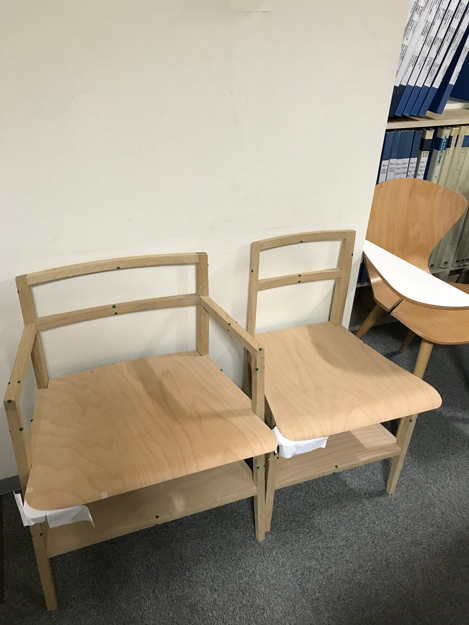 left/ File of drawings and sketches
right/ Prototype furniture for the new Kyoto Women's University Library (designed by AXS SATOW + YASUDA ATELIER, 2017)
Enquiry:
Fujie Kazuko Atelier
https://www.fujie-kazuko-atelier.com/