Interview
Interior design is not positioned as a genre. The problem is that there are too few tools to communicate.
Two trends and revolutions in interior design
— Until now, we have been conducting interviews on archives, but unfortunately, interior design archives are weaker than graphics and products. I came here to ask about the situation.
Iijima I have seen the reports of your archive surveys, and I am very happy that these reports have been made. Everyone knows the need for archiving in interior design, but it's not something that can be done by individuals, and the fact is that everyone has come this far without any effort.
— Mr. Iijima was chairman of the JDC (Japan Commercial Environmental Design Association) and also taught at Kogakuin University. What are some of the activities related to archiving at schools and design organizations?
Iijima First, it is difficult to define the concept of interior design. It is a part of architecture and "interior decoration", but in Japan it became conscious as a design after the 1960s. The history itself has not been studied much. It is not properly positioned as a genre. The public acceptance of the interior design is ambiguous and not unified. There are many related organizations in the interior design, including JCD, Japan Interior Designers Association (JID), Japan Spatial Design Association (DSA), Japan Interior Planners Association (JIPA), Japan Interior Coordinators Association, etc. There are about 100 such as miscellaneous. Since 2019, DSA and JCD have integrated the awards to create the "Spatial Design Award", but once again recognized that they are completely different. They live in different places.
The same was true of the university. I studied at Musashino Art University, but there was only Mr. Katsuhei Toyoguchi who learned about the flow of the Bauhaus. However, we have come to feel the danger that this is not the case, and in recent years, we have begun to investigate such history, summarize it, and disseminate it in detail.
Recently, there was an exhibition that triggered that. This is an "Impossible Architecture" exhibition that has been traveling around the Saitama Museum of Modern Art in February of this year. It focuses on the unbuilt architecture that could not be realized, such as Vladimir Tatlin's "3rd International Monument", Mies' glass skyscrapers, and models of Zaha Hadid's new national stadium plan, etc. He was telling the spirit of the house. There, Rekichiro Kawakita's "Ukraine Theater Design Competition Proposal" (1930) was on display. This is the first time that a Japanese has won a prize in an international competition around the world, and is ranked 4th. Eighth place was Walter Gropius and the first place was Russia's Vesnin brothers. Kawakita is little known in architectural fields, but he was the first chairman of JCD, founded in 1961, and I barely knew his name. Mr. Taro Igarashi, who supervised the exhibition, described it as "a proof that Japanese architects who studied modern architecture had already reached world standards at the time." The internal structure of this theater is amazing. There is a built-in bowl that makes you feel the influence of Kabuki, and it is unique.
JCD is a group of people, such as Kawakita, who are free to go on their own. Kazuo Watanabe, the early chairman of the board, and Mizumaru Anzai's older brother, worked on a restaurant / club "Serina", but it felt like a different field from the official position.
On the other hand, JID is the mother of the crafts guidance center established in Sendai by the Ministry of Commerce and Industry (now the Ministry of Economy, Trade and Industry) to spread western modern styles in Japan (the Tokyo headquarters was established in 1940). Bruno Taut led and produced Isamu Kenmochi, Katsuhei Toyoguchi and Riki Watanabe. First, there is such a big flow.
— Based on JID, which follows the government's flow, and JCD, which is active in individuals, interior design has expanded its field of activity, further supported by high economic growth.
Iijima But from a completely different point, the interior design revolution began in the late 1960s. It started with Shiro Kuramata, followed by Shigeru Uchida and Takashi Sugimoto. The background is influenced by Italian design, and many designers yearn for Joe Colombo, who died young, and Sugimoto went to see him.
From the late 1960's to the 1970's, American minimal art, counterculture, hippie movement, "Whole Earth Catalog", etc., came out in dumplings and entered Japan. There was the All-Kyoto (University-Kyoto Kyokai), and in the 1970s Treasure Island (1973) and POPEYE (1976) were launched. We were under such influence. The intense stimulus of the 60's and 70's was a mixture of various things, and the design came out of it. Mr. Sugimoto's "Bar Radio" (*) was born under such influence.
This is far from the flow of JID and JCD. It can only be said to be the influence of the times. That's why we didn't look at these organizations at first. But in the early 1990's when the bubble burst, Hideya Takamura, then-president, said, "It's not good if interior design remains fragmented. You should think about the industry," says Uchida and Sugimoto. About designers joined JCD all at once.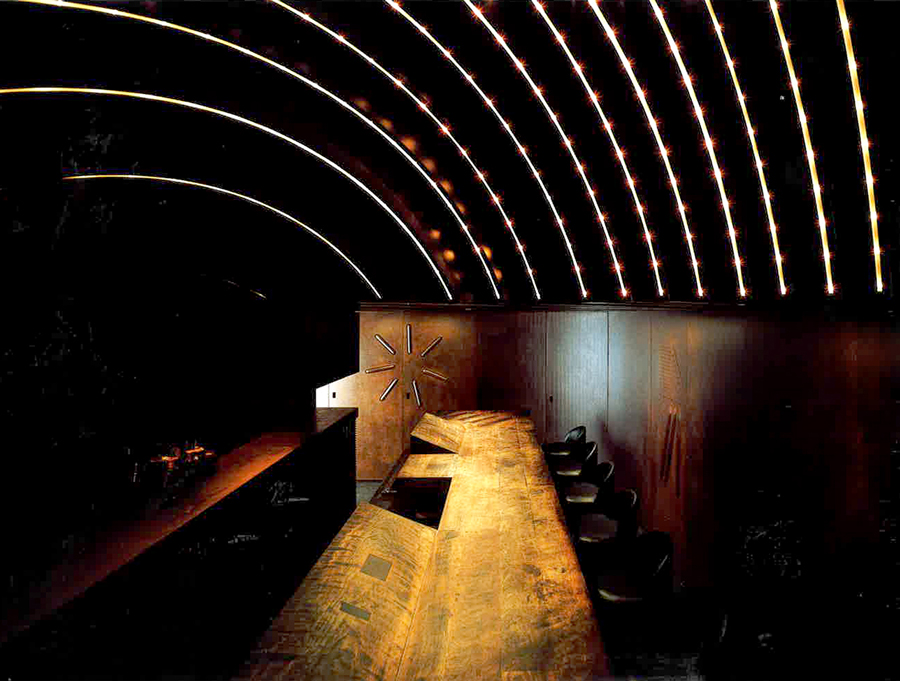 * "Bar Radio" designed by Takashi Sugimoto.
It was a legendary bar with a high threshold and crowded with designers and cultural figures.
Photo by Yoshio Shiratori
Few textbooks and weak academicism
— The interiors of commercial facilities are not permanent in the first place, and the fact that they have no trace after they have completed their role makes it difficult to archive.
Iijima There is also weakness in academicism. Although there is the Interior Design Society, it is hard to say that it has created a scene that exudes power in the design world. Many designers are from the University of the Arts, and they create works at universities and do not write dissertations. Lectures only describe the general history, and there are no stories of the lively scenes that we talk about today. The style of design and theoretical analysis are so small that it is completely insignificant compared to architecture. First, there is no textbook literature. Noriyoshi Suzuki and Sohei Imamura wrote "History of Japanese Interior Design" Ohmsha (2013), but the book that became a textbook has only been out in the last five years. In the movement of academism, there are architectures such as Kogakuin University and Waseda University School of Art that are trying to absorb interior design. The interior is popular.
— So there is demand in that sense.
Iijima There is demand, but the saucer and the way to extrude become ambiguous, so it's dangling. For example, at Musashimi, interior design is taught in three departments: architecture, industrial design, and space design. There was a plan to merge as long as they were falling apart, but they disappeared. The problem is that there are too few tools to communicate. There are no books. You can archive it on the Internet, but nobody will do it because it takes time and money.
— The interior books have beautiful photos, but they have little story.
Iijima There is no place to announce and tell the story. In the case of graphics, exhibitions are based on archives, and there are many spaces, but it is difficult for interiors. The lack of a critic that can be said is also fatal. Critiques and announcements stimulate creative activity. The JDC has also been giving lectures with little opportunity, but it has not been realized. There are critics who write for the author and it is important to keep a record. Tokyo Design Center has launched an archive called "Space Design Concierge" on the Internet to promote inbound tourism (https://space-design.jp/about/). I was asked by Mr. Kobune Funabiki, the representative, and I wrote a review of 30 properties on the site as a JCD charge. He also wrote a review on "The Design Practices of Zero People in the Zero Age", Rikuyosha (2012).
What I learned from Takashi Sugimoto is "Be conceptual."
— By the way, after graduating from college, why did you decide to join Mr. Sugimoto's super potato?
Iijima After graduating, I worked for the furniture and decoration department of the Seibu department store for about a year and a half, but at that time I was immersed in a bar designed by Mr. Sugimoto and became a big brother. Mr. Sugimoto did various things without employment after graduating from Tokyo University of the Arts. In 1972, when he made Bar Radio, Kazumitsu Tanaka came and Seiji Tsutsumi of Seibu Distribution Group came. The following year, Sugimoto founded Super Potato, and the work was coming in like a funnel. Everything was born from Bar Radio.
Mr. Ikko has been the creative director of Seibu, and Seibu was about to change from Ichisuke's department store to a special department store. I joined the company in 1976 and was responsible for a lot of Seibu's work. It was fun to design that won't complain even if it was crushed in six months.
I have been with the company for 10 years. Experimental designs were allowed, such as formal formalism techniques that did not run off the grid, and louvers and stripes were introduced. A louver is a seemingly non-existent value and sign that creates something between spaces. I think this was handed over to Kengo Kuma. Mr. Ikko found that Sugimoto's concept was inspired by Russian formalism born in the 1920s and 1930s. I have been told.
The renovation of "Bar Radio" was in 1982, and around that time Mr. Sugimoto pursued materials, sensuality, and eroticism of things. In 1983, I was in charge of MUJI's first directly managed store (Aoyama), but the space was rebuilt with old materials and the flow of materials became conscious.
— What kind of work did you do with Mr. Sugimoto?
Iijima I was in the position of the leader, so I was lucky enough to do what I wanted to do. I've heard that after I left the company, I started giving instructions in detail. What I learned from Sugimoto was "Be conceptual."
There is a genre in interior design that can be called unique in the world. In Europe and the United States, most interior decorators are gay, but aesthetic trends are supported by celebrities and have a certain demand. Sugimoto rejected such a world and said, "I'm not designing a ring. I'm designing a concept." Eventually, we will replace it with a beautiful shape, but the idea is that the concept in front of it should be replaced.
— After that, when did the tide of interior design change?
Iijima 90's. A new generation has emerged from Osaka. They are Yasumichi Morita, Akihito Fumita and Yoshihiko Mamiya. There is Masamichi Katayama in Tokyo. They contain a rather aesthetic touch and are over-decorated. This aesthetic touch occasionally emerges in Japan. Sugimoto denied, but I also find it interesting to overlay the theory of architecture with the world of mysterious aesthetics.
In the 2000s, the trend changed again, with awakening designs where young architects cast the concept of affordance. Most of the architects learned from Jungo Aoki and Kengo Kuma and Kazuyo Takashima, and for many years the award winners were monopolized by architects rather than interior designers.
Now the flow has changed and we are entering an aesthetic era that can be called a new materialist. At the same time, organized offices are creating new trends. nendo created a space design company called onndo with Nomura Kogei in 2016. The industry map is also changing. Leading companies such as Nikken Space and Iria are also exploring ways to work with independent designers to increase their competitiveness with Western design firms.
What is an ideal archive?
— How is Japanese interior design appreciated around the world?
Iijima In Asia, Japanese interior design is still a model and a guide. Designers in Seoul, Taipei and Hong Kong are also studying, influenced by Japanese interior design. However, looking at the design level only, it has changed a lot from 10 years ago, and the number of basic styles with international style and high sensitivity is rapidly increasing. There is no doubt that it will be overtaken in due course because the level is considerably higher.
— What is the connection with Europe and the United States?
Iijima Until the 1990s, there were magazines covering Japan, but now the connection is broken. On the other hand, young Japanese people are aiming for Western awards, not Japanese awards. The lineup is jerky, and the situation is a few hits. If you award an overseas award, your priority will be higher when you return to Japan.
— Mr. Iijima designs a learning commons facility at Kogakuin University, and also works at a working commons facility (a creative environment that provokes an ambitious workplace). The category of interior design seems to be expanding.
Iijima I'm interested in public spaces. Office buildings, university common spaces, and showrooms are on the rise. Japan's public spaces are still being eaten away from the world, and I hope everyone will be happy if they can clean them. By changing the mechanism a little, you can change the attitude and state of humans.
So is the office. In the past, most of the time, you ordered an office maker and just arranged the chairs and tables. That has changed drastically and is now being designed. It is becoming common sense in office design to shuffle company relationships and create new relationships. In addition to offices, it is expected to be introduced in schools, hospitals, nursing homes, etc.
Last year we had an exhibition called Dolls. We exhibited a model of an office building that changes like a dress-up doll and explored the working commons. It is an office like a tool to create a network of people, things and things.
Since I'm getting older, I don't know how long I'll stay in the design office. That's why this year I started out of my old office and started working in a new location that shared space with my colleagues. Here, there are young people from Hong Kong who have colleagues from the Seibu era and have launched a new "SKY DESIGN AWARD" that matches designers and businesses. There is also a playroom, where we work together to explore new things.
— This is the next generation of work style. Well, Mr. Iijima, please tell me how you archive.
Iijima I don't leave any drawings because the super potato tradition was so loose. There are no "Bar Radio" drawings left. According to that tradition, I still have digitized things, but I have almost abandoned hand-drawn drawings and models. There is only one hand-drawn drawing and a sketch in New York. I guess most interior designers do so. But I take pictures. Based on the photographs, he published a book "Naoki Iijima's Design Kazuichika Clinical Record 1985-2010" Heibonsha (2010).
At the moment, I'm writing things that fit my experience. Some people in the aesthetic world before the 70's are completely unknown, and I think it would be interesting if I could write in parallel what I experienced and what was next to it.
While teaching at Kogakuin, students made a magnificent hand-drawn chronology, including cultural and social events. The interior is connected to society and culture. We are proceeding with reference to the chronology.
Ms. Kazuhiko Moriyama, the editor-in-chief of JAPAN INTERIOR DESIGN, showed Italian designs to everyone and took the revolution. Even now, after Moriyama's death, the grounds and backgrounds where new things were born have become invisible. If you don't listen to the story of Yu Kawadoko who worked at least, you will not understand.
— Just as Michelangelo's disciple Giorgio Vasari left behind the artist's biography, it has become a great source of information for future generations. I look forward to Mr. Iijima's future archive activities. Thank you very much.
Where is the archive of Naoki Iijima
Contact information
Naoki Iijima Design Room http://www.iijima-design.com/index.html