interview
"Language of design" is indispensable for design archive
The way to the designer
- In parallel with design activities, Mr. Kawasaki has been working on innovation in medical and health fields as a professor at Osaka University graduate school until March 2018.First of all, please tell us how you aimed at designers.
Kawasaki I was originally aiming to go to medical school.When I was doing a ronin for medical examination examination, my heart was shaken greatly when I met Tadao Yokoo's work.When I was wondering what to do as a medical university, my mother said, "You are better suited for seeing red paints than you spend watching red blood."For me who liked monozukuri such as rocket and robot from the small time, and liked manufacturing such as work, this mother's word went to art college and inspired designer.
- After that, you went to Kanazawa College of Art and Design?
Kawasaki It was good that I managed to enroll, but unlike other students I did not do enough sketch training etc., so my performance in the practical skills was the worst.From the professor at the first summer vacation it was enough to say "to draw 40 pictures anyway."I regretted 43 I drew 43 pictures and remembered that I submitted too much and worked hard at the place of sketches and collapsed.
- From that time, it was demonstrating Kawasaki-san's inexpressive disposition.How was the lesson?
The characteristic of Kawasaki Kanazawa Univ.'S education is to make everything with your own hands.Kanazawa is a city where excellent traditional crafts are inherited, and values that create with hands were emphasized.However, when I was in college for about 3 years, I noticed that I was doing something different from other students.While everyone was hand making the work, I ordered craftsmen considering sketches and design drawings.Of course I did not have any money, so I helped the craftsman and cleaned up the workplace and I had them made instead.From now on I liked to move hands, but I did not like being able to decide something.
- After graduating, I joined Toshiba and took the first step as an industrial designer.
Kawasaki After all, I think that I chose a job "drawing imagination" that I liked since childhood.I entered Toshiba since I was a student at Mogue's synthesizer and domestic and overseas amp, so I was inspired by the chief professor.After joining the company, I became involved with general research laboratories (current and central research laboratories) dedicated to acoustic equipment, listened only to classical music, and was thorough enough to make Mozart's piano concertos study to the score.This is the source of knowledge about sound for me.
At that time, there was an electronic organ called "Orchestron" as a product of Toshiba, but since it was defeated by Yamaha's "Electone" on a market basis, I turned to a product for maniacs.So the designer who pulled out from the outside became my boss and he taught me circuit diagrams.Logotype is my design.Meanwhile, at Toshiba EMI, I learned from recording to record production.I was thinking 45th turn LP number, but it is good memories that the artists of those days scolded me for "sound is too good".
- Although Kawasaki-san could not remove the computer, was the encounter was the Toshiba era?
Since I knew a computer named TOSBAC right after joining Kawasaki , I was interested in the relationship between computer and design, such as how to install a 4-bit CPU microprocessor in audio equipment.In the 1980s, PCs exploded, but since I was already active in freelance, in the United States, cutting edge 3D graphics such as Sinclair, Alias and Silicon Graphics in the UK and CAD / Self-taught software of CAM, I stepped into the computer world steadily and steadily.I attended a computer conference held in New York in 1988, but only three Japanese participants.I thought that Japan will not lose in the future, and after my return from the United States I made a "computer research group".
- Design proposal to Apple has become a hot topic.
Kawasaki "Mind Top" is a concept model of a notebook computer? That was designed and presented in 1991 as the next generation model of the Mac.At that time, Apple was the founder Steve Jobs was fired and John Scully was the CEO.I was the first consultant to him, but the proposal was never released as a product from internal bargaining.Thereafter, Jobs returned to the rest and there were people saying "How about seeing him?" Some people said that, due to their personality, they may have broken up in the end after all.
- Mr. Kawasaki also handles numerous designs such as locally produced projects of local industries such as Takefu's cutlery in Fukui Prefecture, Sabae glasses, wheelchair, watch and video equipment, etc. In 1990, he won the Design Award every day He has won the prize and has been a chairman of the Good Design Award for three years from 2001.What was the reason that Mr. Kawasaki once again got interested in the medical world?
Designer and medical doctor
Kawasaki 28 years old will be forced to live a wheelchair according to a traffic accident.After that, heart disease has also developed due to aftereffects of traffic accidents, even now ICD (embedded type defibrillator) is put in and batteries are exchanged every few years.We must embed the third generation soon.I was interested in artificial organs because of my body aspiring to medicine again.From the president of Nagoya City University, which was invited at that time, it was advised that "Study from physiology and take a degree and take a doctor's degree" and get a new activity environment by taking office as Professor of School of Arts and Technology in the same school It was possible.
At university, we introduced 3D cutting-edge 3D model printer, which is the cutting-edge optical shaping system equipment, and worked on developing the shape of artificial heart.It was a very expensive machine at that time, so it was possible to realize because it got the university environment.I came up with application of concepts related to kline bottle and topology to morphological design of artificial heart in research process and got a doctorate in medical doctor's degree by collecting papers entitled "basic morphological design of total replacement type artificial heart by optical shaping system" , The network with researchers in the domestic medical world has expanded very much.
- After that, what kind of research did you do after taking office from Nagoya City University as professor at Osaka University graduate school in 2006?
Kawasaki Osaka University has a wealth of unique talents such as professor Hiroshi Ishiguro known for robotics engineering, and I got a lot of good stimulus.Therefore, in addition to the artificial heart, research and development of "MAI" · "ODORI" which is an embodied model of robot basic science, research of "Smart Atomic Engine" aiming at micro miniaturization of nuclear power generation, batteries using radioactivity We also developed a specific model along with a wide range of research including development of formal models.The chance to be interested in nuclear power and radiation is the experiment of total displacement artificial heart with the University of Tokyo.I was also involved in "regenerative medicine" etc. which is drawing attention in other today.
- Going to Osaka University, the theme spread all at once.
Kawasaki That's right.At Osaka University, we conducted research on artificial organs, robotics, energy, photonics, disaster safety, security, preventive medicine and so on.At first glance, it seems like a theme with no context whatsoever, but for me it is connected by denominator of "design of life".
- Although Mr. Kawasaki's theory is difficult, I felt the spirit as a designer who draws "imaginary figure" and draws on "realization", not only the theory of desk but also the place where not only the thesis but also the specific model are being produced I will.
Because I think that Kawasaki design is problem solving, value creation, future creation.
- From 2015 he was appointed Professor of the Graduate School of Medicine Graduate School of Continuity Design Nursing Engineering Donation Course. "What is Concerning Design?
Kawasaki Conciliation is a coined word originating from the context of "Silience (wisdom <ancient word>) → Consilience (integration of scientific intelligence and cognitive intelligence) → Resilience (resilience).It is a comprehensive activity that aims to integrate the literary system + science system, academic system + art system with full mobilization of knowledge and experience gained as my designer and researcher.I thought that I wanted to message that the design is the most suitable area for academic + art, literary + science.
From 2015 he served as leader by launching several projects as a donation course at Osaka University graduate school · medical science department.We also invited teachers from various fields as members from inside and outside the university.Space engineer Hideo Hasegawa, the forerunner of crisis resolution, supported my cousin in building safety and reliability, and the project is doing well.
- What kind of activities specifically?
Kawasaki There are some.In wheelchairs that have been working for many years, we have developed an "ultralight electric wheelchair" that can be folded into a small suitcase size by innovation such as body holding function, installation of lithium light battery and seating engineering.I hope to be commercialized with the goal of 2020.
In addition, we have developed a paper powder using cellulose material which can expect clotting effect of soil in "decomposable new material proposal" inspired by the sediment disaster of Hiroshima in 2014.The soils in Hiroshima prefecture are fragile sandy soils formed by exposing granite to wind and rain, so landslides are likely to occur.Therefore, I was aware of the necessity of new materials that can eliminate soil contamination at the time of disasters and also expect the coagulation effect of the soil.We actually went to Hiroshima City Ansei South Ward and Fukushima Prefecture Iitate Village (Photo 1) and confirmed that it is effective not only for soil pollution but also for the removal of radioactive substances such as cesium.In addition, we have also developed "Disinfection Equipment with Deep Ultraviolet Ray" based on a new idea.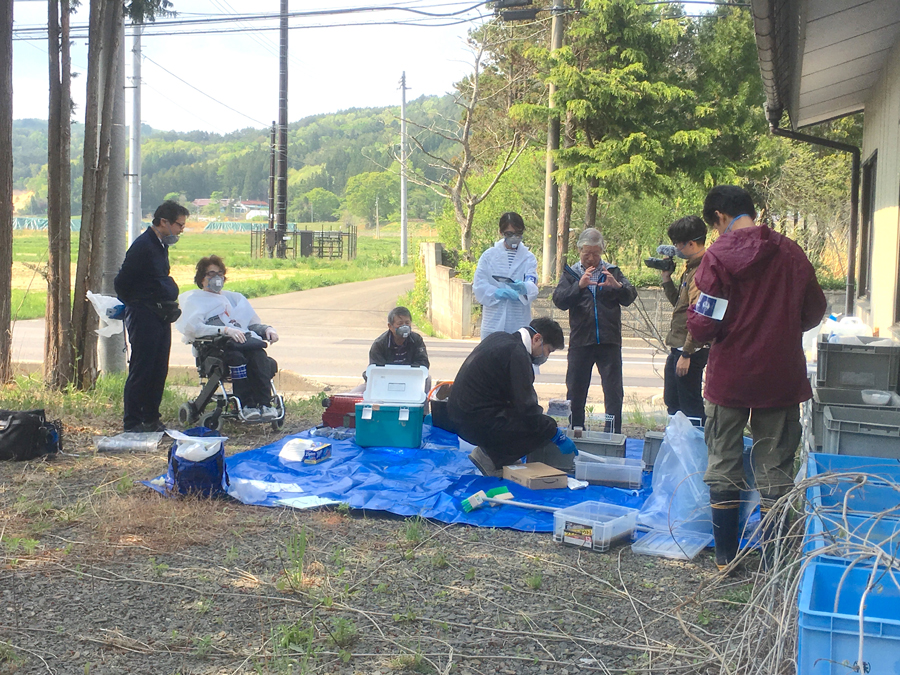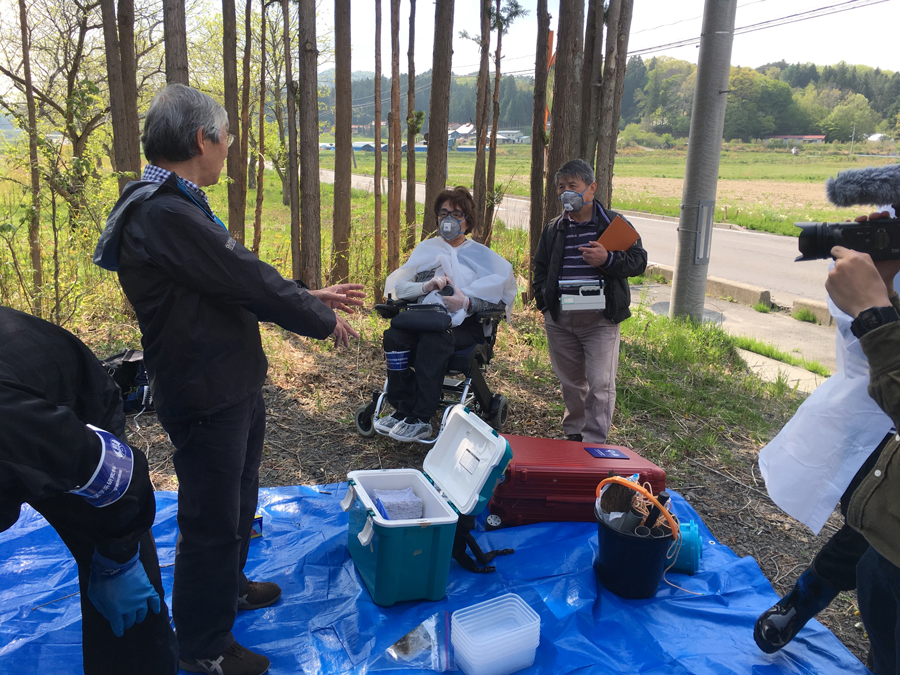 Photo 1 Experiment of Iidate village
- Are activities in fields other than research also being done?
For the purpose of exploring further possibilities of Kawasaki Concise Design, I started the "KK Juku" with an initial letter of my name from 2014.
- What kind of private school?
Kawasaki Japan is a resource-rich trading nation and has many disasters such as earthquakes and typhoons.Among them, Japanese have been able to come so far by realizing excellent "manufacturing".However, we can not find the future in the cutting edge areas such as IoT, big data, AI in recent years. In KK Juku, I would like to propose shapes and policies of the core industry of the future of Japan by participating in talented people who are not only the design world and Osaka University, but also science + science, academic + artistic I thought.Mr. Hiroshi Ishiguro of robot researcher, Mr. Hideyoshi Hamaguchi of innovator who develops flash memory, Professor of Osaka University Medical School and writer Hisaka Kusaka etc. lecture.
- From 2015 the name has changed as "KK Gakko", why?
Kawasaki "Cram School" is the name of the cram school opened by Ogata Konan at the end of the Tokugawa Shogunate, Hashimoto left from Fukui, Yukichi Fukuzawa and many other talents are produced, and it also leads to the creation of Osaka University.Hashimoto is beheaded at the age of 26, but he is excelled in academic studies since his childhood, and his ideas have many policy tips at the present age.So in modern times "Ansei no prison" and "Ansei earthquake", "the spirit of suitable cram school!"I changed it with my wishes.
Crossroad design
- From here I would like to ask about design.What is design for Mr. Kawasaki?
Kawasaki In the first place, design is something that can not be separated from beauty.But "beauty" is subjective, "design" is objective.From another point of view it is problem solving, value creation, future creation.However, the basic is problem solving.
- Specifically?
There are three answers to the Kawasaki problem: topic + response, task + answer, problem + answer.What is important as a designer is not only to solve the problems at hand, but also to try to plan somewhere in the answer.However, recent designs are not problem solving or planning, they seem to be becoming mere "decoration", so I am concerned.
- For example, what is it?
Kawasaki This spring I was hospitalized for about three months.I was forced to fracture during a regular medical examination at a hospital, and it was a long-term hospitalization for rehabilitation.The rehabilitation hospital was a facility like a hotel singing "Rehabilitation Resort", being a creative direction by a famous art director.Certainly the interior and space are very tiring and like a resort hotel, but left behind the spirit aimed at by the original resort "to want to visit repeatedly".Moreover, the main staircase which patients also use for rehabilitation has little landings from the first floor to the third floor, and it is a dangerous design that will fall to the bottom if it falls by any chance.Is there such a design at the hospital?I was surprised with.First of all, I think that it should be watched whether the design is optimal for patient safety and security, rehabilitation treatment of preventive medicine.If it's just a look it's just a decoration, it's not a real design.Design of such a facility can not be done without a viewpoint of a person with "disability".I felt creative director, designers and textile designers misdirected.
- Mr. Kawasaki said in an interview with a magazine, "Design is a thing that deeply pursues the meaning of" form "for marking the human" life "and" kimochi "and marks it in the mind." I will.
Kawasaki When I ride a wheelchair 41 years, I am sending daily life when I do not know when a heart attack will occur.Therefore, my design will inevitably start with "life".
- If you feel a sense of crisis against the design ...
Kawasaki While I expect digital technology, I also feel the problem.One is that the design idea itself is conceived from digital.As a result, is not it that the design is far away from the human feelings and the body?Another is the popularization of SNS like Instagram and Twitter.Although there are many useful things in many cases, on the other hand, it is the point that people and people confront each other and fighting is gone, it can only be accepted virtually against accidents and disasters.According to this trend the essence of design is being lost.I am worried that now, I think about the world as my own, I think a lot, write a lot of texts, designers who draw sketches a lot, few people who can think things by moving their hands.
About the design archive
- I would like to talk about Kawasaki's design archive.First of all, what is the current state of research results and models produced at university?
Kawasaki Although academic researches are still continuing, these will be archived by publishing them in a paper as a summary.We also keep the model we created for research in Kyoto 's home and Osaka' s trunk room.The same thing is done with the model etc created in the process of design development.
- How about collections such as public museums?
At the Kawasaki public institution, for example, New York Museum of Modern Art, Cooper-Hewitt National Design Museum, Smithsonian National Museum, Montreal Museum of Decorative Arts, Montreal Science Center, Stuttgart Design Center, Lubblana Architectural Museum, Seoul Design Center, Philadelphia Art Museum, San Diego Children's Art Museum, etc. It is collected at museums abroad.In Japan, I donated some of my work to the 21st Century Museum of Contemporary Art in Kanazawa where I had an exhibition, the Fukui Prefectural Children's History and Culture Center etc.
- It is "artificial heart: Kazuo Kawasaki Exhibition - Life, Kimochi · Katachi" (Picture 2) held in 2006.That was an exhibition that summarizes Mr. Kawasaki's 35 years of work, is that all the exhibits are stored?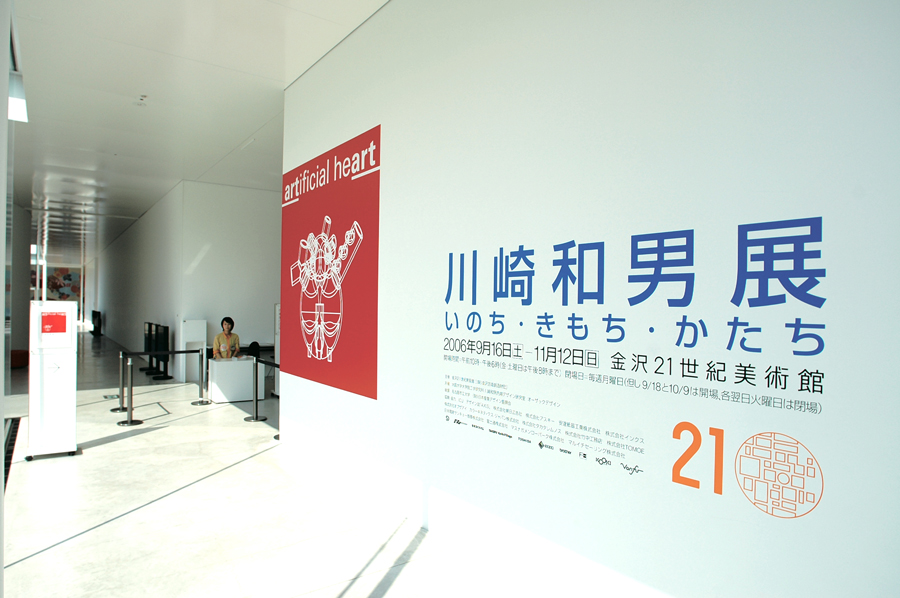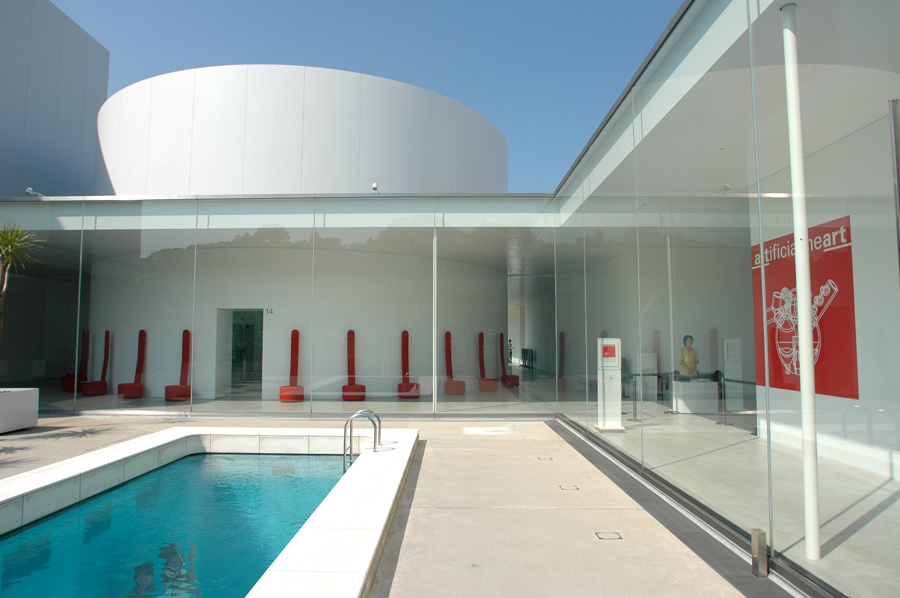 Photo 2 Exhibition at 21st Century Museum of Contemporary Art, Kanazawa
It is not part of Kawasaki , but part of the exhibition "Platon's Orgel".This was made for a solo exhibition in Tokyo "Gallery · between" in Tokyo, and it is an installation with a three-dimensional music box designed as a homage to 12 philosophers and artists I chose.Since not only exhibits but also paper models and sketches were preserved, we arranged this and also exhibited it at the 21st Century Museum of Contemporary Art Kanazawa and donated it as it was.
- How about sketches, photos and other materials?
Kawasaki : While deepening my thought deeply while drawing a lot of sketches, I threw it away when commercialized.I thought that it was not necessary to leave the process of trial and error of ideas.However, as I became to be enrolled in university, I realized that such acts were not the idea of the "academic world" that records and archives everything in summary.Actually, I was asked for a handwritten sketch as an exhibit from the 21st Century Museum of Art, but almost no remained, he was scolded by the curator.
- When I interviewed Kisho Kurokawa interview before, I thought more than architectural works, because Greek architecture is no longer ruined, but Greek philosophy reminded me that Greek philosophy is still living in modern times .Mr. Kawasaki has published not only papers but also literary works.When it is called design archive, it tends to emphasize "things" such as works and sketches, but what do you think about Mr. Kawasaki?
I think the Kawasaki designer neglects the task of making my work and works language, and leaving it as thought.On the other hand, the architect has quite a language explanation and expression.I wrote like this in "Shurin Kuramata Shiro's Design Dream Memory". "As a designer, the fact that I still feel shortage and dissatisfaction in design is the fact that there is too little work to "relativate" in form and words.Abbreviated designs have been frustrated by ignorant escape that if you look at the shape, touch it and use it, it is useless. "The lack of relative design power of the designer and the language is the background that design journalism does not grow up and I believe that design and designers are one of the reasons why it is shallowly seen.I already have a work, but I'm increasing the archive more by "words" and "sketches".
- The verbalization of design is certainly difficult.
It is regrettable that Kawasaki design can not write papers.Because it is worthy of incorporation in the design though it is in the thesis that there is a writing style of Introduction · method · result · discussion · conclusion · development.Especially when design has the final form, "words" were rather received as excuses, so we can not deny that the explanation by words is lacking.That makes it impossible to establish logicality as academic, and it is a factor not acknowledged by the Japan Society for the Promotion of Science.The artificial heart project was also able to receive grant from the academic society by paper.I am thinking from the university days that "words + shapes" are absolutely necessary for design.
- Mr. Kawasaki is deeply related to the local industry in the local Fukui prefecture such as Takefu's cutlery, Sabae city glasses, but what do you think about the local or public museums and archives?
Activities of Kawasaki Takefu knife village began with me and ten craftsmen, unfortunately one died, but even now there are more than 20 people with tradition and innovation continues.In the autumn, the facilities are expanded, in addition to the cutlery exhibition and factory tour, we hold a workshop from children to the general public, and aim to establish a knife school for professionals.As local creation is said recently, even in Fukui prefecture and the city the museum concept for local industries and traditional crafts was raised and consultation was received, but I think that it will be difficult to realize.In industrial design, the Japan Industrial Designers Association is working hard to create the "JIDA Design Museum", but I think that it is still a matter that must be tackled properly by public institutions.
- This time, I got a viewpoint of verbalization and design archive.Thank you for a long time.
Censure: Yasuko Seki
Contact address
Kazuo Kawasaki http://www.kazuokawasaki.jp/
Ozark Design
http://www.ouzak.co.jp/