interview
As for the archive, I think that it is best for me to think about the problem in my next generation, the next generation.
The 50's was not interior design, it was called "interior decoration"
- Now, as the generation alternation of Japanese architects and designers is proceeding, as the first generation people become older and died, we are working as one of the NPO's projects and materials I am doing activities to ask you what kind of preservation and maintenance is going on, document it and leave it behind.Today, the story of the design museum has been raised in various places, but before that, the aim is to explore the current situation.
Today I would like to visit with two themes.The first is how we handed over after the death of Mr. Kenzo Matsuri who was pioneered after Japan's postwar design and the current state of drawing and then after his death in the office of the name of the individual.I think that there were various possibilities, but I think that you are able to ask questions and consciousness of problems and methods etc during your decision and being actually managed.
The story about Matsumoto Design Museum has been said here and there, everyone is saying a lot of things.When the economy of the world improves, it will disappear once such a story comes up and the economy gets worse.Recently, these books ("Architect's Spreading Unnamed Public Design" Architecture Journal · 2017) were published and summarized me.
- There is also a chronology, and data quality is also high.That is one precious archive, is not it?How long was the interview period?
Matsumoto It is about 4 days.I was surprised that the editor looked quite a lot of things in advance in advance.The chronology was made by our staff.It took quite a while, it took quite a while, and it seems to have been hard.
This book is introduced from my childhood.I really wanted to be an architect.In 1949 I entered as a first year student of the department of architecture at Chiba University and studied architecture.But I did not take it anywhere.At that time Japan was still under occupation and the Japanese architectural office was doing the design of the house for Americans and there were many jobs, but when we graduated from college, that kind of work is almost gone I got it.
- Mr. Kenzoro was also from Tokyo High School of Arts and Sciences, the predecessor of Chiba University.
Matsumoto Kenzer graduated in 1932 when I was 3 years old.I was pretty familiar with woodworking technology as it was a wood crafts department.Many of those who wanted to do design and design at that time though they joined the department store department store, but the swordsman entered the industrial arts instruction center of the Ministry of Commerce and Industry to become an industrial craft test laboratory later.It seems that he really wanted to be a painter, but the father of the major retired army did not forgive me.It seems that we entered it to the Tokyo Advanced Arts and Crafts College if it was to learn the technology.
- I'd like to ask about the archive at once, what kind of conditions are there about the drawing and sketch of Mr. Kenzori?
Matsumoto Kenzoro Isamu Design Laboratory All the drawings of the products handled by Tendo Kiko in the era have been digitized.The work of the interior at the time of the postwar era of 50 's was quite different from now and it was a so - called "decoration" like picking wallpaper and curtains in a white space.Furniture was made by furniture makers such as Tendo and Woodworkers and Kotobuki, and thereafter, there were things that were commercialized.That's why there are a lot of such furniture makers' works of swordsmen.
- How did you work when you digitized the drawings of Tendochiko?
Matsumoto We organized the drawing by ourselves and gave it to Tendochiko and digitized it.It is almost all large sizes close to the original size figure.The sword carry had the idea that the original size drawing of 1/1 was the design drawing.I also drew a one-tenth or one-fifth drawing, but in the end I was told that "design has not ended unless I draw figures up to 1/1 of the original size drawing."At that time, most offices did not draw original size drawings.It ends with a tenth of a drawing, after which the manufacturers and factories draw. "National Kyoto International Conference Hall ", my office has drawn up to the original size figure and handed it to the maker, I was very surprised. "I am sorry to have drawn everything we draw. "
"Design with no technology backing is not a design"
- What is the reason for sticking to the original size figure, what is it?
Matsumoto It is to grasp the scale feeling.It is also necessary to convey details to manufacturers and factories.The chair where I am sitting now is the development of what I designed when "Totsuka Country Club".Rather than just sticking vinyl fabrics, we first stretch the fabric to the inner plywood, fix it with nails, and cover it further to hide it.In order to convey the structure to the manufacturer and the factory, I will draw the details on such drawings as well.In the case of architecture it may not be necessary to do so, but furniture does not convey unless you draw all the details.There seem to be some designers who do not draw drawings either. "Making it like this, "the manufacturer side draws the drawing and makes it.Kenkari never did that kind of thing.Kenzori often said, "Do not know how to make it, do not design furniture anything", "design that is not backed by technology is not a design".At our office, I still draw original size drawings.
- Technical research and experiments to realize such furniture were also done, did not it?
I think that Matsumoto Kenzoru really wanted to make even a mockup creation.There was a workshop at the office of Charles Eames, and the work was done by the company.In order to do that, I have to draw the original size drawings properly.I had created a mechanism that a furniture maker would buy it.In Japan, I think it is quite difficult to have a workshop in the office as well as space.There are no such space as this building has only 3 tiers totaling 90 tsubo.On the first floor, we put the work in the showroom as the showroom first, but gradually the number of staff increased, so we started to use all floors as office.The swordy room was on the second floor, I was on the third floor.
- In the case of a chair, was the mockup made by the manufacturer?
Matsumoto That's right.I made it by the manufacturer, checked it along with the drawing and adjusted it while adjusting it.For the mock-up, we make another original size drawing at the factory.
- What is different?
Matsumoto It is a drawing containing information necessary for manufacturing, it depends on the machine to be used.Approximately we know that we can do such things if we use that machine.Now I am making it with a computer and the drawing is now digitized, so the speed of production has become much faster.
It is also possible to leave fabrication technology, one of the archives
- Isao Kenzoro Design Institute In the era, I think that it was common to collaborate with architects such as Mr. Kenzo Tange.I think that interior design and furniture were designed according to the space, but how was communication with the architects?
Matsumoto Surprisingly, an architect says nothing concrete, right?In between Mr. Tange and Mr. Tange, I often decided rather than talking about having a firm image from the beginning.For example, we chose the chapel of the chapel of "Tokyo Cathedral Basilica of St Mary" by making a partial size model, making various proposals based on that and deciding while considering it.
- Is the original furniture made at the time of such a project firstly remain in Tendo, etc?
I do not think that Matsumoto Tendo Woodworker has remained.Some of the original furniture is on the third floor of my home.Some have ended with trial production and have not actually been commercialized.Now the tax system is changing slightly, but if you can sell, if you can sit, all the taxes will be charged in both trial production and mockup.It is regarded as one of the stocks.So, manufacturers and factories like Tendochiki will discard prototypes and mockups as completed as products.But since I thought that I was trying hard to think about design and I thought that it was not a joke to burn stuff made by struggle, I asked the Tendochigoku to get in touch so as not to discard it and keep it at my home It came to be like.There are not so many, but some are put on the 3rd floor of this building.The furniture which became a product is still good, but the building is suddenly broken and furniture is also disposed of together.
- In Japan, there are museums and universities that have collections of posters, and Toyama prefectural art museum that has collections of chairs, too.Is there a chair of Mr. Kenzo held in that place?
Matsumoto Although there may be an art museum that collects merchandise sold.Since products such as furniture are three-dimensional objects, unlike posters, they take space.Leaving furniture is really hard work.I think that it is being struggled in other offices.
- In furniture, "Lounge chair" of "Hotel New Japan" etc. is also widely known.
Matsumoto That rattan furniture has a three dimensional shape, so it is a difficult task to draw and knit.I am knitting by myself, but it is a mesh of length and breadth, and the longitudinal eyes are connected by 1 piece from the top to the bottom.There used to be three craftsmen who could make this in Japan, but now I am alone.I am talking about how to leave that technology now.
My own residence is a small design museum
- That is an archive you have to leave to the future.I would like to ask about the interior, was that a decorative work at the time, are those drawings still left?
The drawing of Matsumoto interior is also on the first floor of my house.It has not been digitized yet.The first floor is almost in a state of storage.I live on the 2nd floor, the 3rd floor is a large hall that can hold a workshop, and I have original chairs etc on that.
- Will the drawing be rounded in the state of paper?
Matsumoto: No, I'm folded down, but since it is a tracing paper, it is getting dreadful.It is in such a state that it will split apart with just a touch.
- How will it be done in the future?
Matsumoto There is nothing like that.In order to digitize it, I have to take a fairly large machine and I think it will cost a lot of money.
In the interior at the time, for example, when the Kasumigaseki Building, which became a topic in Japan in 1968, became the top tall building, I designed the interior of the Tokyo District on that 36th floor.In the event that a fire occurred, an iron plate was used for the pillar of the building, and painting was applied from above.I thought about soil and muddy so much that the walls of the interior must use burnable material, but I finally thought about etching on the bronze plate and putting on the texture.Bronze was cheap when first got a quote, but as the Vietnam war began in the meantime, he rushedly called the manufacturer to hold down all ingredients.Sure enough, the price quickly rose.As a joke, I remember the manager of the Tokyo Council, saying, "If sales fall short and you can not pay for everyone, you should peel this panel one by one and pay it."
- What kind of state is the Tokyo Council, now?
Matsumoto Right now I do not know, but when I went to a memorial party celebrating the 20th anniversary of the building building, the bronze walls were about half missing.In that space, there was also a work of a big screen using sculptor Mr. Aiko Miyawaki's bronze horn at that time.The scenery of the opposite building was reflected in the work and it was beautiful.
- I will return to the archive story, but are there other sketches and idea notes in the archive of Mr. Ken.
Matsumoto O - san went somewhere, but there are some books.I think that it is in the archive, but what is the project is not properly organized.
- Is there anything like work contract or memo exchange?
Matsumoto Kenzoru Design Institute After binding books we have bound books, I think that there is no previous one.
- Do you have photographs of the site or photographs for recording when mock-ups are possible?
Matsumoto I also put photos on the first floor of my house.I am not organizing it.Because the room is semi-underground and humidity is high, I really do not want to put it too much there.
After Kenzaru passed away, it was decided to give me a picture of the interior etc photographed by Mr. Yasuhiro Ishimoto so far, I will give all of the original and negative and positive as well.I thought such an important thing, but if I try it, I just shot with the edge with swordsmith, maybe I do not think of my work.Otherwise, I think that I can not trust such an important thing to me.
After that, most of the buildings were still existed when we created the heritage collection ("The world of the swordsman" (Kawarashobo Shinsha) · 1975 all 1 volume 5 volumes limited 1000 parts), so most of the building still existed, so I took this to Ishimoto I got it down, but I got that picture for me.I put it at home, but I am worrying what to do.Both he and his wife passed away, there is Ishimoto's art museum ("Yasuhiro Ishimoto Photo Center") in Kochi.I would like to give it if that is what I want there.
There was strong attention to color, material, texture
- Mr. Matsumoto's house is a design museum, is not it?I would like to move on to another question.Mr. Kenzori suddenly died, then Mr. Matsumoto was handed over to the institute and it was operated.That being inherited by the name of Kenjiri is still that Mr. Matsumoto is inheriting the way of thinking and thinking of Mr. Kenzoro's design?
Matsumoto That is a difficult question.At one time, I was told by a long-talking owner, but while doing the interior work, "Mr. Matsumoto is slightly different in color usage from the previous generation," he said.I asked him "Do you prefer swordsmanship?"I asked, "No, no, Mr. Matsumoto asked Mr. Matsumoto how to use the color of the flow" I was told.
There was a unique color usage for swordsmanship.I think that I would not choose it, but I did not dislike it.For example, if you use yellow, you say "bitter yellow".Just a little, but there is green.In red, I chose a color that contains a little blue, not red vermilion.As the swordsman's choice gradually got to know, cut the paper to the appropriate size, paint it with poster color, make a color sample, also distribute it to the manufacturer, if you are told "bitter yellow", put it out I was deciding.
- At the "National Kyoto International Conference Hall", the color of the carpet is also unique, and the combination of the color of the fabric of the furniture is also interesting.
Matsumoto This "National Kyoto International Conference Hall" uses three kinds of greens, but it is not the color of the grass but the color of the moss as a motif.Kenbetsu says, "The color of moss will change according to the four seasons."It is really four seasons, so we need four kinds, but in winter it got withered color so we did not use it, chose three colors of spring, rainy season, summer moss.I asked Kawashima Kimi to raise the carpet, I made the coloring many times.As this sword holding unique color is good, after designing Kasahira Sugiura san to put its color swatch, I sold it.At that time, it seemed that it was sold out.
- Bitter yellow, the color of the transition of the four seasons of moss etc, did Mr. Kenzori incorporate a sensory element in design ideas and expressions?
Matsumoto I think so.There was always an image for that color in his head.It was also noisy with texture and texture.Beyond interior, I think it was natural.
- The interior has a role to connect buildings and people.
Matsumoto That's right.In the case of architectural buildings that have the same inner and outer materials, for example, in the case of inorganic and cool concrete spaces, we have created a chair that is surrounded by a soft fabric for what people sit.
- Back then, were there many material samples in the office?
There were many Matsumoto .Since I knew mostly what the swordsmith always uses from a certain time, I organized it like a color sample. "There are also, there is also this, which one do you do? "Instead of saying "when you say" that ", I decided to issue" yes ".
- In the product, the design of "container of Yakult" is world famous.Looking at the shape of that container, it is recognized to be understood as a Yakult, but is there any reasonable form that only the similar products are left remaining?
Matsumoto We initially aimed for something like a milk bottle.I do not know who designed the milk bottle, but it is very functional.That is why I did not know who designed it, but I thought that I would like to design things that are widely integrated into my life.Kikkoman's soy sauce bottle designed by Kenji Egakuan of GK is also so.No matter who sees it, I can tell from that shape and design that it is Kikkoman's soy sauce bottle.
The difficulty with Yakult was that the content volume was decided.I decided to change the material from glass to plastic, but if made into plastic it will be as thin as 1 / 10th of the thickness of the glass.Since the production line was supposed to use the past production line, as we designed it according to the height and width of the filling machine, that shape was inevitably born.After that, we decided to collect containers and recycle, we thought that we wanted to think whether there was something usable in things that melted plastic, but I designed various racks to arrange containers.As for the design anonymous one will remain for a long time.
The first encounter with Kenko Isamu
- When was Mr. Matsumoto's first meeting with Mr. Kenzoro?
Matsumoto The first time I met was when I entered the industrial craftworks laboratory.I wanted to leave the university and work at the architectural office, but the department chief's department manager Shizui Tsujii who was not quite able to find a job and was worried about it had lots of design books and magazines and pays salary It was the industrial craftworks laboratory that introduced me.When I go to the tour, that day is called an examination, "If I just went to see it," he said, "I just went to see it," he said, "Since I have an interview in the afternoon, please accept it."As I understood later, in reality, at the time, the swordship who was the design director was looking for a person from the Department of Architecture, and he seemed to have ordered my drawings and resume in advance.In other words, it was decided to adopt it from the beginning.
When I first met my swordsman, I thought that I do not want to work with such a fellow bastard, but swordship seems to have liked me quite well.I just went to visit the United States for the first time and came back, I was tightening a bow tie to a shirred nylon shirt, it was a type that was not in Japan at the time.Actually, both Eames and George Nelson were bow ties, but since then they said that from the swordsman "Since drawing does not hang down like a tie when drawing drawings" It was.
- What kind of work did Mr. Matsumoto work at the industrial craft laboratory?
Making Matsumoto knockdown furniture was my main work.Works such as exhibitions and overseas trade fair booth designs came in one after another.The biggest work is the international exposition of design held in Sweden in 1955.The request came in the dusk of December of 1954, a certain dusk.There are only seven months to hold.Moreover, I told Mr. Tange "I will meet the next day, so please make it so far", I thought and drawed the drawing overnight.Taking this work as a opportunity, swordship has come to incorporate my opinion and thinking variously.
I have been in industrial craftworks laboratory for four years, but in the second year, swordship retired in June 1955 and opened my own office. "I will call you when I can pay my salary, "and until then I was asked to" just help me at night. "Since I go only at night, it was told from another staff "chief of the night".The amount of work was quite there, and it was the last train every night.
Emotions and preparation at the time of taking over the laboratory
- You were expected as a partner.After that, I think that there was also a way to continue the Kendo Isamu Design Laboratory and Michio Matsumoto Design Laboratory when the swordsman died.Why did you choose the former?
Matsumoto Kenzer has been depressed from a certain period of time and I thought that it was something I never wanted to know for anyone, so my swordsmate 's wife and Mr. Kami who worked with me at the office Correspondingly, I did not want to worry about the staff, so I kept silent.As far as I was watching as not to let it alone, I died on the day of the opening party of "Keio Plaza Hotel" in July 1971.
At the age of 33 at the time the oldest son was born from the architect Shoya Uchida laboratory, he also had his own design office.However, the following year when Kenbetsu passed away, he died of a traffic accident while he was doing a tour trip in Austria.Regarding the future of the laboratory, I think that he thought. I thought that it would be better to fold the laboratory.However, Kono Maekawa and Mr. Shoji Uchida who are related from Kenbara Isamu Design Laboratory also received a lot of voices from various architects saying "I am in trouble if this laboratory is gone", "I want you to continue" It was said that "Matsumoto only has to do".Although I thought about various problems, I can not say "I can not do it" to that extent.I decided to keep thinking it was my mission.However, as the name of Kenbara Isamu Design Research Institute, it is not good that there is no himself, so I took courage and made it to the swordship design laboratory.
- It was decided to continue with that.Have you had anything like a strategy as you changed your direction significantly from the individual laboratory called Yuzuri Yuzuri?
Matsumoto I tried desperately to try to move it from where I could move.Everyone has to eat.That was full of heads.
- After that, work, such as vehicle design, has expanded diversely.I knew that the designer Kazuo Kimura was designing for Shinkansen, but I thought again that the Kenba Design Institute really did a lot of things.
The reason I came to be involved in Matsumoto Shinkansen and vehicle design was that I got complain about "SD" (Kajima publishing association) "I am ergonomically themed, but the 0 series Shinkansen is not comfortable to sit" That was what I wrote.At one point, Professor Jiro Ohara of Chiba University who read the article visited the laboratory.At the time of the former national railway, Mr. Ohara was the chairman of the committee of the Japan Railway Vehicle Manufacturers Association.While talking about various things, it became a mechanism and it was invited by the research committee to join the members.Also, there is a vehicle design office, Kazuo Kimura, a designer of Nissan Motor Co., who was there, was also from the design department of Nissan Motor Company, and three people Tomo Masamichi of Tokai University emeritus "TDO Port Design Organization) ", he joined the team on the project of vehicle design of the National Railways.
Archive since becoming Kenbetsu Design Institute
- What is the state of the materials, drawings, models etc since becoming such a sword design design research institute now?
Matsumoto That person has a problem, right?Drawings and photographs in recent years have been digitized, so everything remains, but it is not well organized.Model and prototype etc are not organized, too, the plaster model which I gave when presenting at Yakult also went somewhere and I can not find it.
- What kind of thoughts do you have about archiving as Japanese designers and architects are changing generations now? I think architecture is still good, but the problem is in the field of industrial and products.
Matsumoto I think it is a very difficult problem.Especially product design, for example, in the case of work with a maker, the design office will not be able to have it.
- If you ask Mr. Matsumoto now, I think that you can see what kind of drawing or sketch is in what era, but if Mr. Matsumoto is gone, the staff will not be in trouble.How many people are there now?
Matsumoto About 16 people are excluding me and the chief.There are times when there were close to 20 at one time.Although it was rare in the age of sword-holding, after my era, people growing up to a certain extent say "I want to quit" and people who stand independent will come out.In that case, we will teach only the techniques of living, such as know-how and royalties when contracting with the company, and we support as much as possible.That way I think I'm worried about various things until I die.
But since everyone is doing well, I do not have much to worry about now, so I'm saying "I will quit now", but everyone says, "The director must be Matsumoto if not," .Even though I quit when I actually quit, I think I can do without me.
- Drawing materials and so on are at your home, is not it worried everyone?
Mr. Matsumoto I know all the staff are at my home.Everybody is busy so I think that it is useless even if I say now, I think that the next generation will think about that problem next generation.I think that is the best.
- It may be so.Perhaps it is better to organize generations that have never experienced those days by actually looking at it and studying.Thank you for today.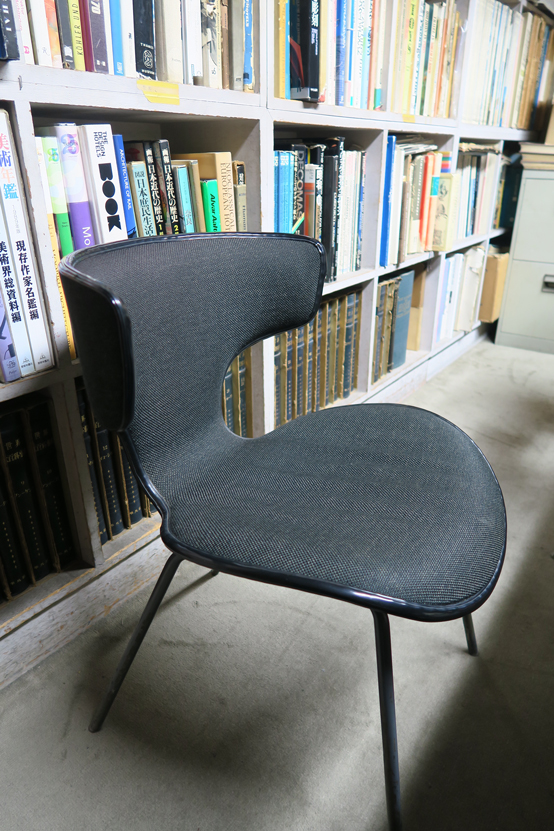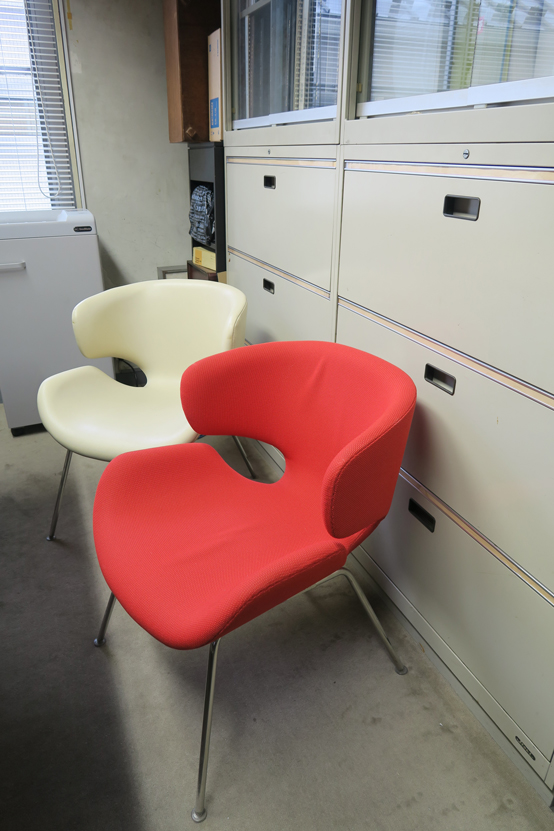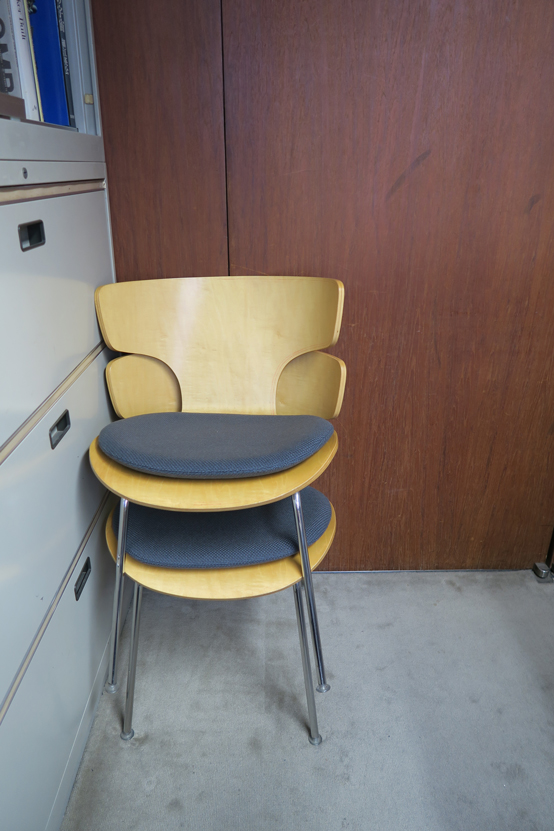 A chair that developed what was designed at "Totsuka Country Club".It was commercialized at Tendochiki. (Photographed at Kenba Design Institute).
Bunko: Urakawa Ai