Interview
We scoop up what someone else has worked hard to leave behind and leave it behind.
That's why we try to keep it going for as long and as thin as possible.
Managing large volumes of material requires a step-by-step approach to organization.
―  During our visit in January last year, we heard a talk from Mr. Chiku Kakugyo about the overall approach of the Research Institute, for Architectural Archives. This time, we would like to hear about specific ways of organising the archives and future challenges.
Yamazaki I took over the role of Director of the Institute of Architectural Archives in 2007, ten years after its foundation. Chiku is still involved as an advisor. As for the organisation of the archives, our full-time researcher Sato is involved in this on a day-to-day basis, so he will talk about the specifics and I will try to supplement him.
Sato The general flow of my day-to-day work is shown here (the following diagram). The first thing we do as a temporary arrangement is to create a register of incoming materials. At this stage, we write the box number of each cardboard box that arrives, and create a file with the storage location, the name of the donor, the number of cardboard boxes and the date of receipt. We then send this ledger, together with photographs of the cardboard boxes, to the donors to report that we have received them correctly. Whenever possible, we do this on the day of receipt.
The next stage is to open the cardboard boxes we have accepted. The cardboard boxes contain drawing files, tubes, etc. Each of them is given a box number and the information on the contents of each box is recorded and listed. Up to this point, this is the work we do on a daily basis.
Yamazaki At this stage, we do not check the contents of the boxes against the actual contents, as this list will ensure that we can respond to any external enquiries about the availability of the material. Beyond that, when our students use the materials for research, or when outside researchers come to look at them, we ask them to sort them out as well. This means that items that are in demand will be sorted out, while those that are not will remain in the same condition. II also ask students in my seminar and in other research seminars to organise the material for me.
Sato At that time, we check the contents of the file or tube and extract the name of the work, the date, the name of the person in charge and the type of drawing on the drawing to make a list. Furthermore, they are classified and listed by work and transferred from cardboard boxes to neutral paper storage boxes. At this point, a new serial number, prefixed by the size of the neutral paper storage box, is added to the inventory. At the end of the process, an inventory (a list of each item of material) is drawn up.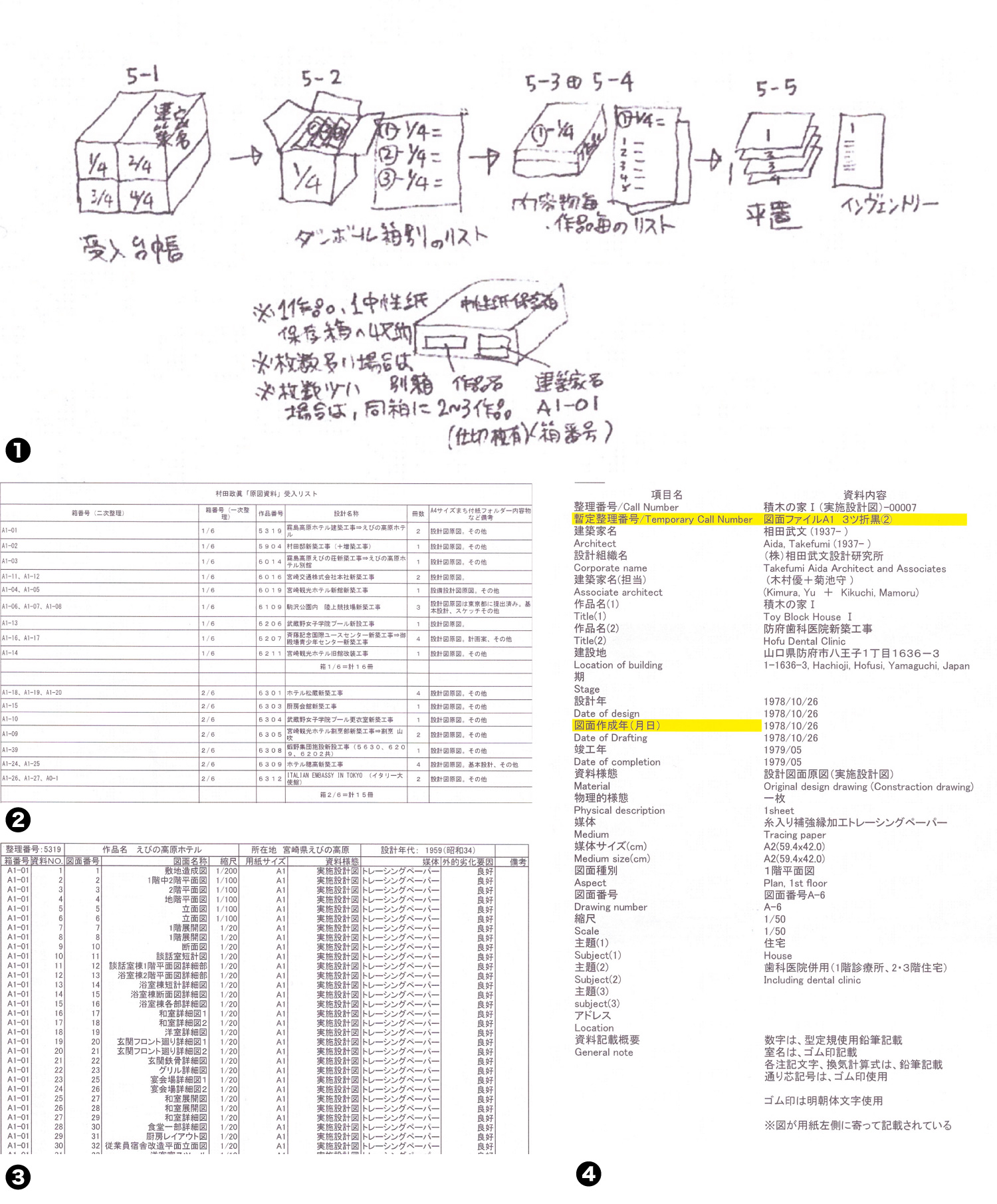 1. A diagram showing the stages from receipt of materials to sorting them into individual items.
2. List of materials classified according to their contents after secondary sorting (corresponds to 5-3 in the figure).
3. In addition, a list of materials classified by work (corresponding to 5-4 in the diagram).
4. Inventory created at the end of the consolidation process.
 
― You must have had a lot of work to do to develop this method of organisation. Did Mr. Sato study archiving before?
Sato No, I don't. I used to work in a architectural design office. So I was brought in because I knew the flow of design and construction, and I could draw by hand and in CAD, so I was the right person for the job. Initially, it was a case of opening one box at a time and sorting through one item at a time, but I have found through practice that I need to have a complete picture of the material before I can get to the final sorting. This is because no single piece of work is organised in a single cardboard box, and we can only find out by opening them all. For example, there is a list of drawing numbers from 1 to 50 for a single work. It is only when all the cardboard boxes are opened and sorted that we finally find out that there are 50 drawings for that work. If we had received donations of specific works, we could have sorted them one by one from the beginning, because the total number of works was not so large. However, this was not possible, because we sometimes received dozens of boxes, and sometimes as many as 100 boxes, without sorting.
― Sometimes the name of the work and the name of the project are different, aren't they? Is it possible to tell them apart from the beginning?
Sato At the stage of making the first list, we do not check the contents against each other, so we cannot identify them. When we create the inventory, we use the name of the work as it was published, work 1, and the name of the project as work 2.
Yamazaki Even if it's a famous building, the name of the project alone doesn't tell us anything. That's why we have a separate list of project and work names, which we have to analyse. So, when I make the first list, I record the names as they appear on the drawings or on the bags outside.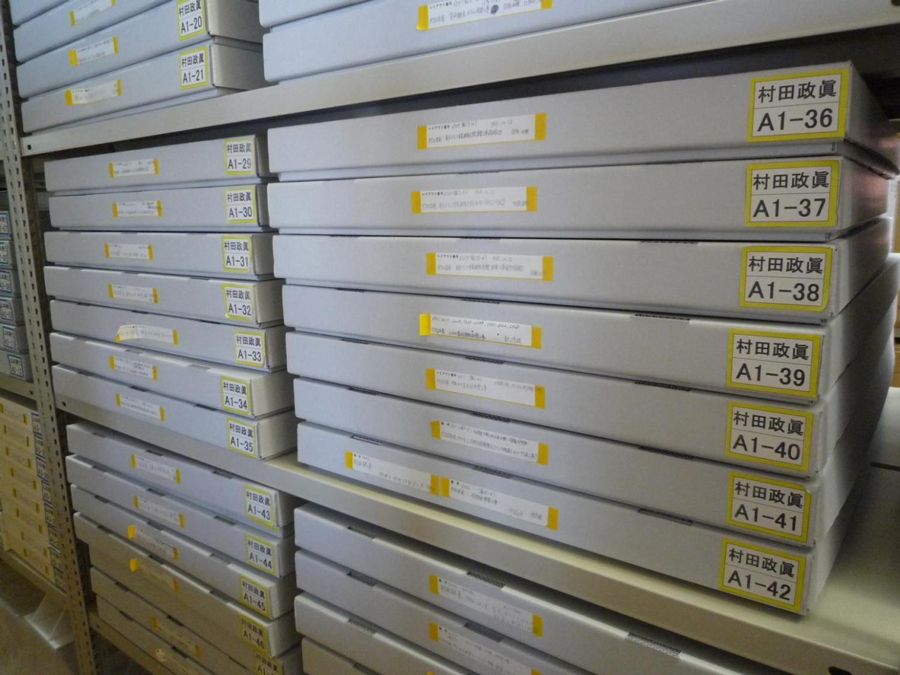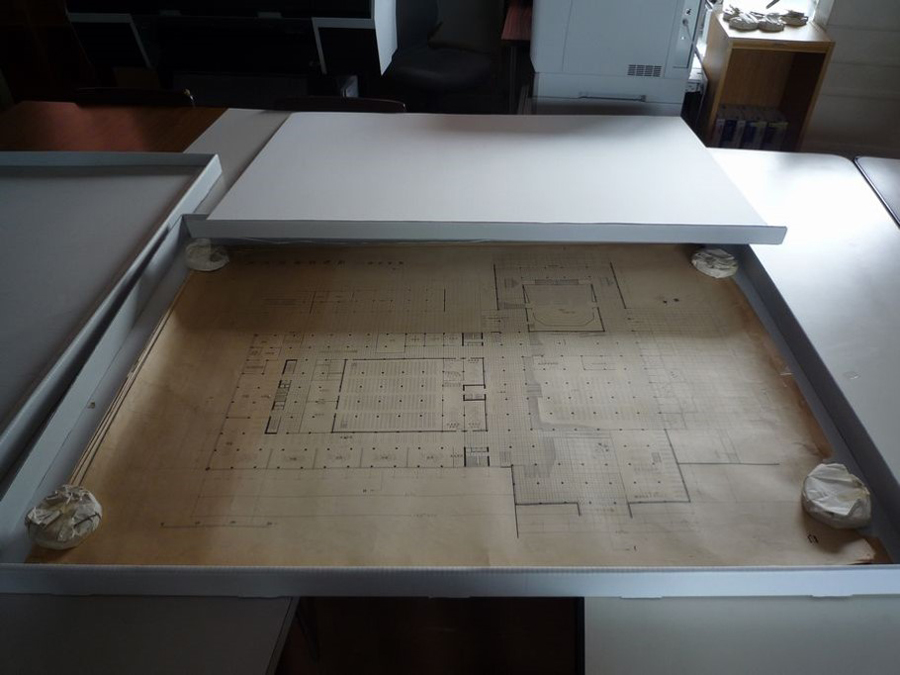 5. Drawings stored in a neutral paper storage box.
Pre-acceptance field checks to ascertain the actual situation
― How do you check what and how much material is available before you accept it?
Sato We try to visit the site as much as possible to see how much of the material is stored and in what condition. We respect the will of the donor and try to accept as much as we can, so if the architect himself chooses what he wants to donate, that is very helpful. However, when the person has died, it is not uncommon for the family and the pupil to have no idea what to leave. Sometimes they send us the items they have found, but sometimes they send us everything, so it is very difficult to find storage space for them. So we go to the site and see what they have, and ask them to donate only what they want to keep.
If it is not possible to carry out a site visit, we will also ask you to check if there is a list of documents available beforehand, or to send us photographs of the documents.
Yamazaki There was an architect who kept a collection of drawings, books and hobbies in the basement of his house and architectural design office. He once showed me around the storeroom and told me directly that he wanted to keep this and that drawing. We were able to get a rough idea of the volume on the spot and were able to move quickly to the stage of getting a quote from the transport company.
In the case of the deceased person, the architectural design office that also served as his home was left as it was before his death, and neither the family nor his apprentice could grasp the extent of the donation. At that time, we had a list of materials that had been made by a former member of staff, but the drawings were still on the shelf, so we couldn't check them against the real thing, and we couldn't predict the actual volume. So we had to go back and forth for a long time until we got the package ready.
Recently, after his death, his wife and a former member of staff from his office, who had kept and organised the material in his home, came to us for advice on the donation. Since spring last year, we have been exchanging information with them, asking them to visit our Institute to see the state of conservation in person, and us to visit the site to check the actual items.
―  How long do such exchanges take per case?
Sato It's about one or two years.
― That's a long time. On the other hand, in which cases is it not possible to check the site?
Yamazaki This is when there is no time to spare. If you are in a hurry, we may ask you to take photographs of the material and send them to us to see if we can accept the volume. For example, he was about to move out of his office and if he didn't make it by then, everything would be destroyed. As we could not come to the office at short notice, we asked them to send us the items as an emergency evacuation.
― When you do that, you get all kinds of stuff, so it can be quite a lot. How many cardboard boxes do you receive at the most?
Sato We once received about 100 boxes.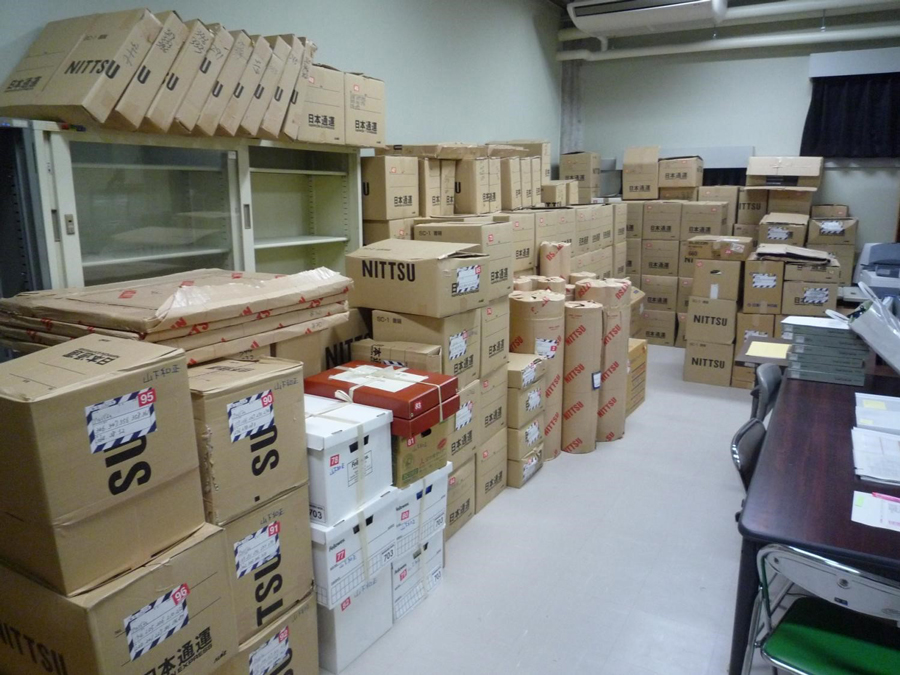 6. Storage room with donated materials.
Sorting out what to keep and what to get rid of
― You say that you try to follow the donor's wishes as much as possible, but are there any items that you do not accept?
Yamazaki Basically, we do not accept books. The books that are not in our university library are kept in the library, and those that are necessary for the archive, such as design works and collections of works, are kept, but the others are disposed of. Rather than not accepting them, we often ask people to send us their books together with materials, with the prior consent of the library that they will be disposed of.
Sato The most common are the magazines in which his work has been published.
Yamazaki We do not accept digital data. The aim of the Institute is to preserve hand-drawn drawings in the face of their loss, so we basically focus on sketches and other hand-drawn drawings and related materials. We sometimes keep post-digital items together with hand-painted ones, but there are a number of problems that arise when we try this, so for now our policy is not to include them.
― What about architectural photography?
Yamazaki We've kept some construction photos in our archives. But we do not collect architectural photographs, because the copyright of the photographs is very difficult. When we need architectural photographs, for example to display drawings at exhibitions, we work with a digital archives organisation called DAAS.
― Are there many cases where you accept more than just drawings?
Yamazaki We often receive not only drawings but also private things. If the person has died and we don't know their intentions and we receive all the material, we will generally accept it if we can see a portrait of the person, and we may display it with the drawings at an exhibition. On the other hand, if the person wishes to leave only this and that, we will keep them within the scope of the donation, and will not ask the person to donate anything else.
―  Will hand-drawn drawings be digitised?
Sato We do not convert them into digital data from the outset, although our students may copy or photograph them for use in their theses, for exhibitions, or in response to requests from external visitors. As I told you earlier, we can only make an inventory after a stage, so if we make digital data before that, we don't know where it is and what it is.
Yamazaki When we set up the institute, our first priority was to create a digital database and make it available to the public at any time, so that donating to the regions would not be a disadvantage, but when we started, we realized that we could not do it all at once.
What donors need to do before they donate
― It's difficult to find the budget, human resources and space for the project, so I think it's important for the donor to prepare in advance in order to reduce the burden on the recipient. What are some of the things that donors could do to help?
Sato Firstly, it would be helpful if the donors themselves could make a selection of what they would like to keep and what they would not. If the person dies without communicating his or her wishes, both the bereaved family and the pupil are emotionally inclined to leave everything behind. But we can't take it all in ourselves, because we need so much space, and if the bereaved don't know anything about architecture, we don't know what's important to them. It would be a pain for everyone who is left behind.
Yamazaki Some of the things that are thrown away may be of value to another person, so it's best to leave everything behind, but if there are too many, even the most important things can get buried. So it would be very helpful if you could sort out what you definitely want to keep and what you want to keep if you can.
Also, at the end of a project in any architectural design office, only the important things are left and the unnecessary things are disposed of, and the next job is started. This is how we have been organising the material day by day, and this is what remains at the end of the day, and this is how we end up keeping it. The work flow itself is archiving, so we would be most grateful if you could bring the items to us in the same condition in which you have organised them at work, rather than having to repack them in new boxes.
Sato It is also useful for archiving if there is a good record of the work. The blistering work ledger contains all the clues to who did what, when and where, including the project name, location, design period, construction period, person in charge who designed the project, general contractor who constructed the project, design control amount and construction contract amount.
― What is the minimum you would like us to do when we send you things?
Sato It would be helpful if you could make it clear what is in each cardboard box. If it is possible, a list of the contents of each box would be greatly appreciated, so that we can quickly create an inventory.
Space availability and cost effectiveness issues
― Twelve years on from the launch of the Institute, what are the biggest problems you have found so far?
Yamazaki It's still a question of space. The more we organise, the more capacity we have, and the more space we have to make each time. If we were to open the contents and replace them in a neutral paper storage box, it would triple the amount of cardboard.
At the time of setting up, we expected that there would be a certain amount of headway, because some important architects had already died, some things had already been thrown away, and the move to CAD would mean that new hand-drawn drawings would never be produced again. In fact, the volume has not exploded in the last 12 years and we have not run out of space, but we still have to negotiate with universities all the time. Naturally, we are expected to deliver results commensurate with the space we provide, but archives do not directly generate money. We have managed to find space for it, because if we can build up a certain volume and make it more valuable, it will be a good advertisement for the university.
― Is there any funding from the JIA?
Yamazaki All the costs of organising the materials are borne by the university. So we have to do everything we can to make it as inexpensive as possible. That's why we don't sort them all out, our first priority is to evacuate them so that they can't be thrown away. I think that the things that are left that we haven't been able to get rid of are either by luck or because someone else has worked hard to leave them behind, so I'm trying to think of a way to keep them going for a long, long time so that we can at least scoop them up and leave them behind.
― Have you had any problems in the past?
Yamazaki At the moment we don't have any. We have a donation contract first and then we start organising, so there is no need to get into trouble. However, if the donation is made as a deposit, the scope of the donation will be decided and contracted after the arrangement is made, so a deadline must be set before the arrangement is made. Then we cannot accept anything that is too much. That's why we have a donation contract and leave it to us to sort out the rest, which is why we are able to do what we do now.
Sato In the end, I think this is due to the fact that we have built up a relationship of trust by having people come and see the storage area and check the site beforehand, so that we can both go back and forth.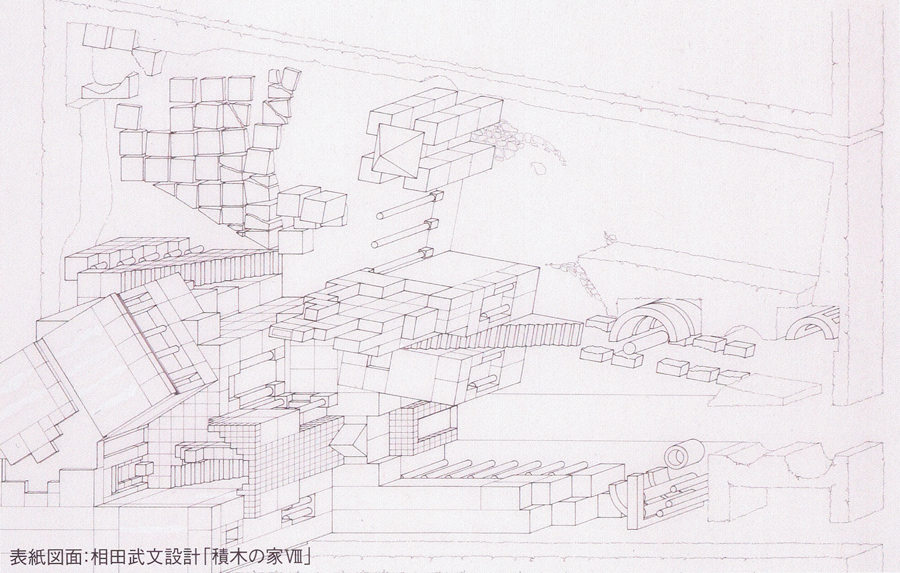 7. Drawings of Takefumi Aida's 'Toy Block House VIII', which have already been sorted out.
How archives are used and what the future holds
― We were told that these archives are used not only for papers but also for exhibitions and teaching materials. I think that is one of the outcomes that universities are looking for, but what is the current situation?
Yamazaki We don't do a lot of exhibitions, so we don't have that much PR yet. As a teaching aid, we use it for practical work making drawings and models. Some students also suggest that design drawings can be traced and used as a reference for drafting. However, since it is the work of an architect from a long time ago, students today can learn how to draw, but the design is not the same as today's trends. So I don't think that we have been able to use them directly as teaching materials yet. However, I believe that by continuing to have the archives, they will eventually be of value. This is because the "Kōgaku no Akebono", a collection of rare books that my advisor, Mr. Chiku, has been collecting for many years, has finally become known throughout the country after more than 30 years of touring exhibitions.
― What is the main aim of the university's archiving initiative?
Yamazaki Some universities are research-orientated and some are education-orientated, but as we are an education-oriented university, our main aim is to use the materials entrusted to us for educational as well as research purposes. For the students, just to actually see the drawings and documents that they will have to deal with in the future is a living teaching tool, so we give back to them as an education, including making models.
Sato A picture is worth a thousand words, and if students make a careful list of all the documents they need to organize, it will help them when they write their graduation thesis, and when they get a job, they will know that they need so many documents, which is a great learning experience. So even when we get enquiries from outside, we tell them to come and have a look here first.
Yamazaki It is very important to have one resident person in the institute. Research can be carried out concurrently with teaching, but there must always be a point of contact who can respond immediately to enquiries, and who can also be trusted by donors. As a depositor, their biggest worry is that if they donate it, they will never be able to get it out again.
― Did any of the students who were helping to organise want to study archiving?
Yamazaki In the past, we've had students who go on to postgraduate study help with archiving, but now the economy is good and there are no job opportunities, so no one wants to make a living doing this. As an archivist in a large organisation, this might be different if the work of organising the company's materials on a daily basis were to be done in a conducive environment. However, it is difficult for universities to do so, so that is something we would expect from the private sector.
Sato In major companies such as general contractors, there are people in the administration department who make company histories and in the field, and there is a manual that defines what should be kept as a minimum. Private architectural design firms don't have that luxury because they have to move on as soon as one job is finished, and different people have different ways of organising things.
Yamazaki I hope that the students who study with us, although he doesn't have to be an expert, will see the importance of this kind of behind-the-scenes work, and when they start working in architectural design offices, they will take the initiative to organize the archives and donate them to the university in the future, and become a link between the company and the university.
―  I think you are right. Thank you very much for sharing your valuable stories about the field of archiving with us today. It was clear to me that it is very important for people to be clear about their intentions for the archives and to be able to see what they have packed in the cardboard boxes when they send the material so that it does not get buried.
Enquiry:
Research Institute, for Architectural Archives, Kanazawa Institute of Technology
https://wwwr.kanazawa-it.ac.jp/archi