Interview
Now that companies are losing interest in culture,
The achievements of talented people should be conveyed as a legacy
Special structure of interior design
— Mr. Kitahara has been at the forefront of Japanese interior design since the 1960s. From Shiro Kuramata, who is three years older than the collection of works published in 2018, "Modernism of Susumu Kitahara 1960-2000s / Interior Design Half a Century Trajectory" (parade), from a macro perspective rather than a micro perspective, urban planning "Kitahara Shiro" that is trying to capture the interior from the viewpoint is posted. In the next generation, Shigeru Uchida and Takashi Sugimoto are there. Among them, Mr. Kitahara has worked on hotels and offices, and I think he has taken his own path.
Kitahara In Japan, due to the activities of Mr. Kuramata, Mr. Uchida, and Mr. Sugimoto, the work of atelier interior designers like them is often seen as the main work, but most of them are places to play, such as restaurants and boutiques. The focus is on, and the target is also limited. The stars have expanded the world of interior design. But interior design isn't just about playing around the environment. I think it is important to create a comfortable environment with a good balance of the three elements of working, living, and playing. And in fact, the majority of spatial projects, such as offices, hotels, and public spaces, are large, complex, and often not ordered by atelier designers.
In my case, I belonged to an office with many Americans from early on, and I was left to do such a big project in the world when I was 30 years old. That's why I'm the only sub-stream, but in the original flow of work called interior design, this may be the mainstream.
When the bubble boomed, those who worked as writers had jobs that suit their character, and they moved further away from the conservative jobs of the core industry. Only I am left alone. Structurally, Japanese interior design is special.
These projects were designed in the anonymous style of the organizational office.
— Certainly, the media and other media have not covered much about interior design, which is a key industry that started in the postwar reconstruction period.
Kitahara After the war, as Japan revived and its economic power increased, American companies landed in Japan one after another, trying to establish Japanese corporations and expand their bases. Large companies such as AIU Corporation (currently AIG Property Casualty), NCR, and IBM. NCR brought an American-style supermarket to Japan to develop a cash register, and IBM introduced office automation and large computers to Japan. Bringing in the American lifestyle and form as it is, the lifestyle of American civilization and culture has been introduced more and more.
Foreign-affiliated companies have entered the Marunouchi office district one after another. Such large companies also had accounting firms and law firms, which became a civilized community. Of course, you will need an apartment where the family lives. I had been asked by the president of AIU to design a ski lodge in Yuzawa, but at that time there was no one in Japan who could build the modern and stylish condominiums and hotels they wanted. Although our leader was an American, we had a design that only people who were inspired by Western design and culture could do, so the requests from such foreign-affiliated companies continued unabated. It is. One of our strengths was that we had sales staff who were fluent in languages for communication.
— After graduating from Tokyo University of the Arts, you worked in the Tokyu Nihonbashi Design Office, and then you moved to Pacific House, an interior design company where Americans work.
Kitahara Since the Tokyu Nihonbashi store is a department store, there were many interior products. You have to think about the space from the perspective of how to sell chairs and carpets. It's not about design, it's about becoming a coordinator. Instead, I entered the Pacific House because I wanted to work on the spatial composition for total living.
— Pacific House was founded in 1956 as Japan's first design center to provide total interiors and goods.
Kitahara The government's intention was behind the establishment of the interior company by Pacific House. This is because the United States is providing a huge amount of financial assistance worth 12 trillion yen to revive the devastated and poor Japan after the war. Of course, it was also a give-and-take that expected the benefits of Japan's development later, but anyway, there was no five-star hotel in Japan to accept VIPs who came to Japan as their envoy. At that time, the Ministry of International Trade and Industry (currently the Ministry of Economy, Trade and Industry) had a strong sense of crisis, saying that it would not be possible to talk about financial assistance but not accepting it. In that case, it was decided that we could quickly create a five-star hotel and such interiors, and create an organization that meets those needs, and this company was able to do so with the support of the Mitsui Group.
At one point, the organization consisted of about 15 young Americans and Japanese, with an American architect named Dale Keller from the University of Washington who was also at the Tange Lab at the University of Tokyo as the chief. There, Americans lived and designed the place to work. IBM had already developed an office design that included modern new American-style management, but no one could apply it to design in Japan, so Pacific House was in charge of it. In addition, we have worked on most of the offices of foreign-affiliated companies such as Mobile, NCR, and Citibank, as well as hotels such as Marunouchi, Okura, Palace, and Hilton. I felt like studying abroad in the United States, where English was spoken in the office while I was in Japan. As the Ministry of International Trade and Industry aimed, we realized one after another offices and condominiums for VIPs visiting Japan to meet the demand of Japan from the United States.
— You joined the company and learned about cutting-edge American modern.
Kitahara When I first joined the company, I was young, so the interior of American modernism was bright, refreshing, and refreshing. Not only the design, but also a little comment and presentation to persuade the other person, all the Japanese are unknown, and I learned a lot from Mr. Keller. However, since the management is also American style, it was harsh that a colleague who was supposed to be next to me when I came to work was dismissed on the same day. I quit there in two years, and started an organization called Form International (hereinafter referred to as Form) with five people, led by Hiroshi Yabuki of Pacific House, who was a project manager who understands architecture and English. I have been there for three years and became independent when I finished working at Tokyo Kaikan and the Imperial Hotel.
Design requires magic tricks
— Mr. Kitahara often works in collaboration with architects and designers such as Yoshinobu Ashihara, Shoji Hayashi, and Isamu Kenmochi.
Kitahara In 1968, Form received a joint project to create a crystal lounge in Tokyo Kaikan on the 36th floor of the Kasumigaseki Building, and I participated as the chief in charge. This is a request from Professor Yoshinobu Ashihara. At that time, Professor Ashihara was a professor at the University of Tokyo, and when he gave a lecture on architecture at the Rotary Club in Marunouchi, it happened that President Masatomo Yoshihara of Tokyo Kaikan was present. Mr. Ashihara said that Kasumigaseki was directly consulted by Chairman Yoshihara about moving into the Seki Building and consented to the design supervision, but he seemed to feel a great responsibility.
As for the design composition, the main dining of the main business of Prunier cuisine was the Kenmochi office, and we were in charge of the casual tea lounge, but the design team suffered considerably from the interior restrictions of the first skyscraper. After the completion, Chairman Yoshihara was overjoyed and Professor Ashihara seemed to be off the shoulders. All the staff were really tired.
In this way, as a revolutionary movement, the skyscrapers stretched toward the sky, and at the same time, a new city was born underground like an underground mall, and our living space extended upwards and downwards, a future-oriented dynamic city. The era of high economic growth has begun.
After the end of this project, Dr. Kenmochi asked me to participate in the interior of Keio Plaza Hotel, and I was grateful to receive it. Since the coffee house of the Imperial Hotel was just completed, I left Form and my own. I set up an office. At Keio Plaza Hotel, I was in charge of "Young Bar" and "Nan-En" in China.
— Kenmochi died before he was 60 years old. If I had been active for a longer time, the genealogy of design history after that might have changed. Did you work with Mr. Shoji Hayashi of Nikken Sekkei at the IBM Japan Headquarters Building in 1972?
Kitahara I will be in charge of the lobby furniture, audio room and employee cafeteria at the IBM headquarters. The cafeteria needs about 1,000 seats, but after the basic design was completed, the building manager from New York came to Japan and strongly suggested that the elevator hall could be reduced in congestion by making the cafeteria two-story. Since the basic design approved by IBM Japan had already been completed, I opposed this proposal and dropped out of charge of the cafeteria area.
Mr. Hayashi of Nikken advised, "Mr. Kitahara is young. You should act more carefully in your long life." According to him, the entire process and construction cost have already been decided between the head office and the top management in Japan, so there will be absolutely no change. As Mr. Hayashi said, after that, I returned to the current plan and was in charge of other designers, and I lost tens of millions of design fees and a year or so of design time. Since then, I've always told my heart that emotional impatience is bad.
As for Mr. Hayashi, one of his masterpieces, the Palace Side Building, did not hide the gutter through which rainwater passes in the curtain wall, but exposed it as a design and visualized it, making the world predominant. He is a very talented person. It is difficult for the number one person in a conservative Nikken Sekkei organization to be design conscious. I've had a lot of relationships since IBM, but Mr. Hayashi often advised me, "Mr. Kitahara, you have to have magic tricks in your design."
— Is it a magic trick?
Kitahara I interpret it as the esprit and wit that I have in the design. When I worked on the Fujie Textile showroom in 1972, Mr. Hayashi came to see me and said, "There is a little magic trick, a little." Magic tricks require you to make your own seeds. In this showroom, we applied a pulley balancer that hangs and moves from above to carry luggage at the factory, and used it for the exhibition of movable textiles that can be pulled freely. There is also a change in vertical movement in space. Mr. Hayashi said, "(The balancer itself) is not what you thought of, but there is a little magic trick in how to use it" (laughs).
However, there was no reaction from the interior design world. Only two magazines, "Art Life" and "Art Shincho", evaluated the design as Anonymous, but it was not evaluated by the journalism of interior design. It may be because it was Anonymous that only used the power of the balancer.
On the contrary, the bowling alley of Ginza 7-chome, "Lapin Ball" was a big hit. The architectural design was Takenaka Corporation, but the president came to the completion ceremony and told his subordinates, "It's interesting, you guys should go see it," so Takenaka's employees came in line. It was evaluated as a revolutionary design in the interior design world. It aimed at the illusion effect of light by hanging the garter line on the floor on the same ceiling surface and using the others as mirrors.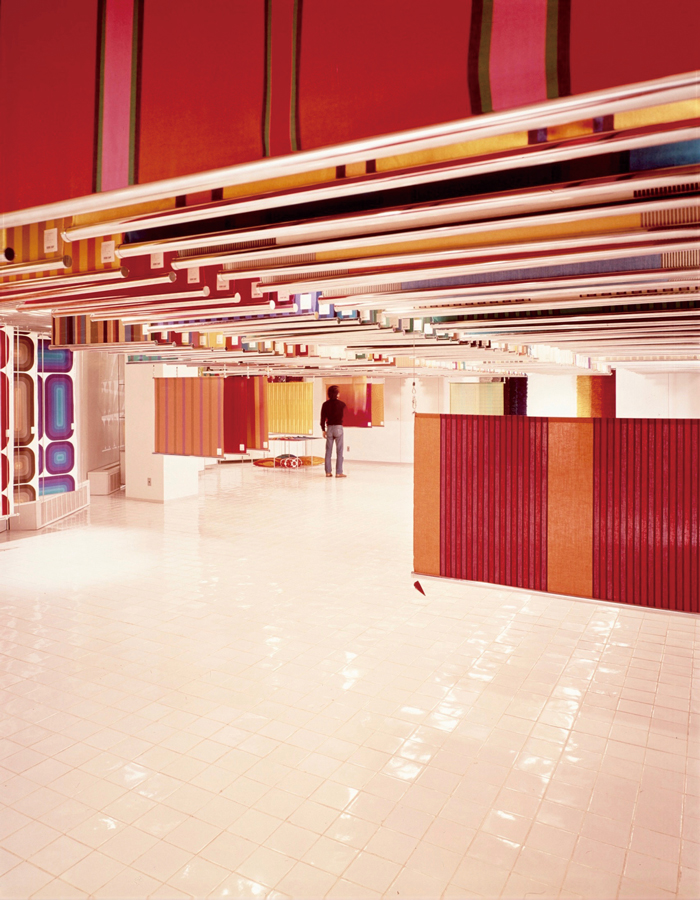 Fujie Textile Showroom (1972)
Photo by Yoshio Shiratori
— The reaction was contrasting. But in a sense, Fujie Textile has become a prototype of textile exhibitions. Later, in "Shopping Architecture", Shigeru Uchida mentioned Fujie Textile's showroom as a shocking interior design in a dialogue with Mr. Sugimoto. In addition, Mr. Kuramata floated the cloth with a magnet at the showroom of the four seasons fabric in 1974, but it seems that he was conscious of Mr. Kitahara's work. I think Mr. Kuramata was disappointed when he saw this.
Kitahara How about. Mr. Kuramata and his colleagues created their own world, which is different from the work done in a large organization as a design business like myself. Not only the followers like Mr. Uchida, but also small but dreamy clients were raised, but in a couple of years, the design life was exhausted and the life became shorter and shorter. Mr. Kuramata only does work that lets him do what he likes, so he refused, saying, "I don't want to do big work." I don't think I have that kind of ingenuity. The monument has historically and still shines in interior design. It was short-lived and unfortunate, but the legacy of great design still remains.
Not alive as a writer
— Takashi Sugimoto and Motomi Kawakami are juniors at Tokyo University of the Arts, but at the time when Mr. Kitahara was enrolled, were there few human resources aiming for interior design?
Kitahara At that time, we were trying to export Japanese industrial products to the world, such as Sony's transistor radio and Honda's Cub. However, from the world, it was ridiculed that the Japanese-made product had good performance but the design was dull. In response to this, the government created an industrial craft laboratory developed from the craft guidance center and focused on fostering industrial design. Even in the 1960s, the professor at Tokyo University of the Arts was actively trying to get students into industrial production jobs in response to the strong demands of the industry. This developing country cannot become powerful with its power dispersed unless it raises a flag and urges it to turn. That's why everyone went there, but unlike me, I thought that the design orientation would be space from now on. There was no word for interior yet, and it was said to be a dull interior decoration.
Hatanaka What was the reason why only Mr. Kitahara focused on the space while there was a trend in the product?
Kitahara I don't remember clearly, but industrial designs, such as TVs, washing machines, and refrigerators, are just square box packaging designs. You probably didn't find it attractive. One of my classmates was a designer named Atsushi Ishiyama. He was very good, and the president of GK Dynamics designed a Yamaha motorcycle and showed me a future-oriented prototype, but I thought the motorcycle was interesting. Even if you don't start the engine, you have to have a form that seems to run, and there is a dream of speed.
Ishiyama was asked by the professor to stay at school and follow his path, but refused to be interested at all.
When Japan was the poorest, it developed by supplementing what it did not have, and the United States, which supported it, also benefited from Japan's economic growth. Since then, Japan has become completely dependent on the United States, but now, like the United States in the past, Japan is sending a new wave of cultural civilization to Asian countries. The economy develops in the midst of interdependence. In order to enrich our lives, people seek not only rugged machines but also tools and things with warm dreams. There is a need for a variety of designs. Warm, human-like design will be closely linked to the economy and will continue to develop while being interdependent.
— I was entrusted with a big job in my thirties, and I have been in charge of the work of the core industry without interruption.
Kitahara I think it was lucky. When the economy slowed down, Mr. Uchida and Mr. Sugimoto once said, "When we are tough, Mr. Kitahara is good." But they opened up their talents because they faced "what a shit". Our work doesn't require a big writer's name, and I'm not a writer.
In addition, at present, large organizations, whether in hotels or shopping centers, have absorbed large jobs, and Nomura Kogyosha and Tanseisha are taking over all of them. Unfortunately, it doesn't seem to exist in a design environment where the big name of a lone wolf remains as an atelier. It is becoming more and more conservative, and large companies tend to prioritize relationships between large organizations. It would be nice if there were sponsors who could let fast-growing young people do what they liked like guerrillas, as they did a long time ago, but it's more about protecting the company than being creative. I'm not interested in culture and I'm not spending money on it. Also, IT chiefs only care about Michelin. In that sense, it can be said that Japanese architectural design culture may die in the future.
That is why I think that the achievements of people up to now must be preserved as a heritage, and their importance will increase. It is important to be able to properly archive the necessary information on their achievements. It takes a lot of energy.
One book is archived
— Now, I would like to ask about the status of Mr. Kitahara's archive. You recently relocated your office, but what is the state of materials such as drawings and sketches?
Kitahara I brought the CAD data to my new address, but I donated all the drawings of the tracing paper that was not CAD to the Architectural Archives Research Institute of Kanazawa Institute of Technology. When I moved, I had to dispose of everything, but architect Kazumasa Yamashita told me that it was a waste, and when I asked Kanazawa Institute of Technology with his help, he said that I would accept as much as I wanted. I sent a set of drawings of Trepe for hundreds of projects for 30 to 40 years.
— We have been interviewed twice so far. Since I am in charge of it alone, it seems that it will take a long time to organize it, but it is stored properly.
Kitahara For example, if the items were classified by item, such as hotels, offices, and Sony Plaza, the other party might have been saved, but even that is handed over as it is, in a state where it cannot be finished every day. I haven't found much cultural value in my past work, and I'm not motivated to leave it to posterity. So I didn't feel like keeping it. I have stopped designing and my social mission as a designer is over. I was so busy moving, so I threw away all the bricks, tiles, carpets, etc. that I had stored in the warehouse. The processing cost was quite high. But there were some things that were a bit disappointing to dispose of, such as the color scheme used in the project process.
Hatanaka I was a chief at K.I.D.Associates for 13 years until 1992, but at that time I had about 10 staff members and was always busy with about 10 projects. The projects were in progress at the same time, and there were many. The project name was written for each file, but I couldn't afford to organize it by field later.
— Mr. Kitahara's work is covered in this collection of works, isn't it?
Kitahara This was directed by Takahisa Kamijou, a graphic designer who is also a junior at Tokyo University of the Arts. This book contains all the main interior design that has been my lifework for nearly 50 years. All the photos are taken by Ms. Mio Shiratori. In addition to photos and pictures, I was particular about putting sentences as much as possible. You can read and understand how the interior evolved and how it came from interacting with clients. It is also written by third parties, including Mr. Kuramata. We are also re-recording what was published in "Japan Interior" magazine, which was the momentum of Henon at that time.
— In 1986, "Susumu Kitahara's Modernism" was published.
Kitahara I made an English version of it, but it seems that the English version sold 4,000 copies to the east coast centered on New York in the United States. In Japan, it was about 1,000 copies. It was a time when Japan was gaining momentum due to the bubble, so I think the United States was also interested in Japan and Tokyo.
— It conveys the boom of interiors in the mid-1980s.
Kitahara At that time, let's talk about the design of a liberal city. Our interior design activities fulfill the mission of the facility by each space, are demolished, and after that, continue to live in photographs showing the current situation at that time. Among the stores I designed, there are stores that have been doing economic activities for more than 30 years without any changes to the interior. It's been 35 years since the yakiniku restaurant "Hanajuban" in Azabujuban opened in 1985. The lifespan of fashionable stores in the city center area is generally about 10 years on average, and at that time the business format changes, but this store has continued to this day without any slight movement. It's the only longevity design in my 50+ years of design life, and it's a rare and casual industry for me. By all means, I would appreciate it if you could check the design while eating yakiniku, so I introduced it. I think this is an archive of survival preservation.
It's true that Takashi Sugimoto's "Bar Radio" was refurbished 10 years after it opened, and I think it lasted more than 20 years, but it was a good bar. There are really few such stores. The City Hotel's coffee house is heavy-duty, said to be all-day dining in the morning, noon, and evening, and is guaranteed to be refurbished for 10 years. Literally, 10 years is the lifespan of interior design software and hardware.
— Earlier, you mentioned the importance of the archives of atelier artists such as Mr. Kuramata, but as one of the people responsible for Japanese interior design, do you have a desire to take over that culture next time?
Kitahara Once upon a time, Mr. Kuramata was surrounded by a cheering party of youthful businessmen such as apparel who took advantage of the tailwind of the high economic miracle period. "Kuramata, do what you want to do, and let us do what you want!" Taking advantage of that era, I was blessed with a huge project in the 1960s and 1970s. "It's your time now," said industry veterans who gave up their seats and pushed us back. It was a good time.
At present, it is a miscellaneous feeling about the future, but of course there is a lot of excellent cultural information in the past centered on the 1960s and 1970s of Design Genesis, and it is necessary to preserve them more and more in the future. I'm worried about this time today. The modern creative culture is not very energetic, and even if there is such information, specialized paper information media such as "Japan Interior", "Architectural Culture" and "SD" have been discontinued and remain. Magazines are losing momentum as they once were. Now, even if we create cultural information, we have lost the media that delivers it.
The Internet society is a medium that is good at communicating causes and effects speedily, but it tends to be flimsy information. In the current state of devastated culture since the 2000s, we are in a loose and insensitive process of the boiling frog phenomenon, and we are worried about the future in which our sensibilities and intellects will deteriorate.
— I think that is also a frank opinion. I was able to hear various frank stories. I think that the valuable history of interior design was being talked about. Thank you very much.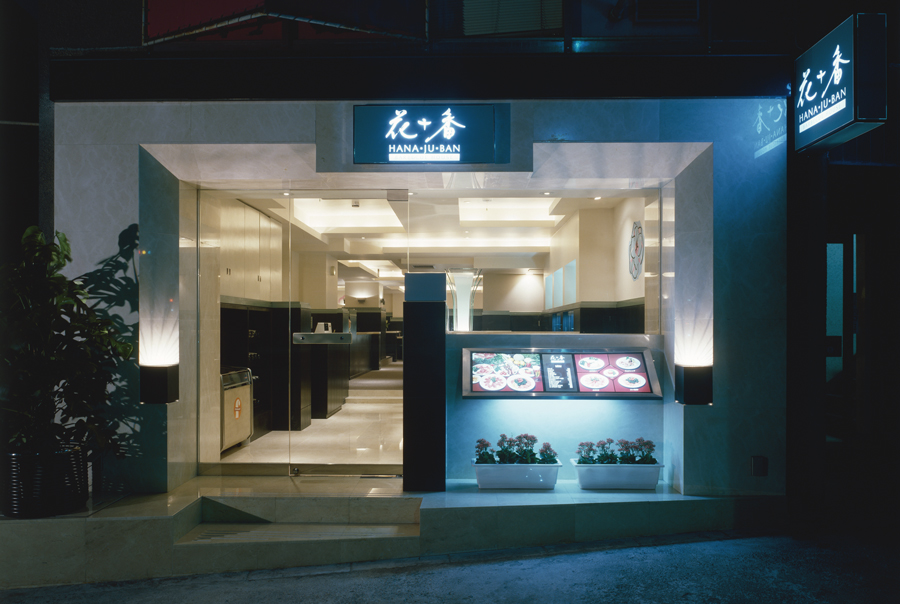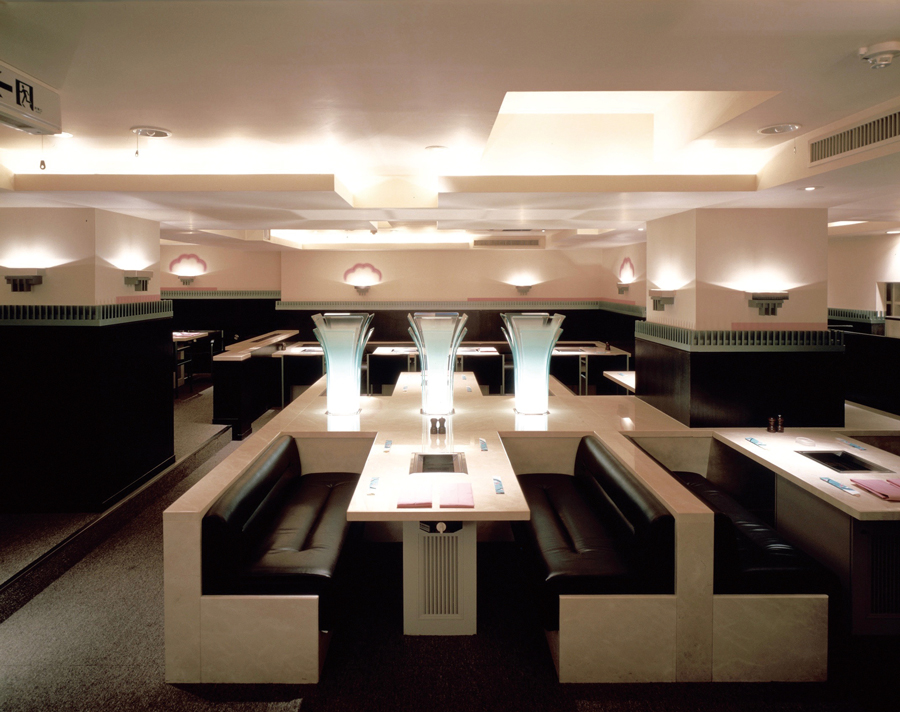 Hanajuban Azabu store (1984)
Photo by Yoshio Shiratori
Location of Susumu Kitahara's archive
Contact
Kanazawa Institute of Technology Architectural Archives Research Institute 
http://wwwr.kanazawa-it.ac.jp/archi/
Maru Kitahara / Informal Co., Ltd. marukita@informal.jp