Interview
Ultimately, I want to make the data publicly available for everyone to use
Archive enriched with a series of exhibitions
ー  It's been a while since we last met. We have been covering Mr Mitooka in AXIS magazine since the early 1980s. You were an illustrator who drew architectural perspectives, and it all started when AXIS asked you to create a cross-sectional view of the AXIS building for our brochure.
Mitooka I was 33 years old at the time. I saw Yasuhiro Hamano produced AXIS, and at the opening of the building he ran a 15-page newspaper advertisement with the tagline 'Tolerant White Box' I presented my illustrations in front of Hiroshi Ishibashi and Eizi Hayashi at AXIS, and this experience was truly life-changing. I can still clearly remember going to the building every day to measure all the lighting fixtures, fittings and buildings on display for the brochure and drawing them up one by one. When I finished that work, Mr Hayashi asked me if I would like to have an exhibition at the AXIS Gallery. It was my dream to have an exhibition there, as it is a hall of fame for cutting-edge design in Japan. But I felt that I was not worthy, and I didn't have the funds, so I told him I wanted to decline, but Mr Ishibashi offered to pay for the venue as a gift. So I decided to go ahead and hold the exhibition. I was nervous and the preparation was hard, but many people visited me during the two-week exhibition, and from there I started to gain a little recognition as a designer.

Cross-sectional illustration of the AXIS building, drawn after detailed actual measurements.
ー You have had exhibitions at AXIS since then, such as the Railway Exhibition and the Textile Exhibition.
Mitooka With the intention of returning the favour for the opportunity I received, I have been exhibiting at the AXIS Gallery when I have a new project. I enjoy being at the venue and talking to visitors. I don't just display my work in an exhibition, I run trains around the venue, prepare benches, create new things and create the space from scratch, so it takes a lot of money, energy and effort. After each exhibition, we organise the materials, look back and plan a new project, but when the exhibition is over, we have to rent a large warehouse to store more materials, such as the items we created.
Mitooka Museum opens in Kokura, Japan.
ー You had an exhibition in Bangkok in 2013.
Mitooka  It all started when Prime Minister Yingluck visited JR Kyushu as a reference for railway development in Thailand. At that time, it became a big project to send the exhibits by sea and assemble them over there. I founded Don Design Associates in 1972 at the age of 25, but actually we decided to dissolve the company after 50 years, and we have been downsizing the office for the past 10 years. The Corona disaster prevented a quick dissolution this year, but we have been making progress on where our human resources are going, by sending younger people abroad or to other companies, or encouraging them to become independent. We have also started to clear out the materials we had rented a warehouse to store, and we have disposed of most of them, as many of them were large. When I was about one third of the way through the clean-up, JR Kyushu's Kokura plant expressed a desire to organise a project to revive the plant over a ten-year period to coincide with this year's 150th anniversary of the railway's opening, so I offered all the materials to them in a light hearted manner. I provided everything from furniture and structures for the exhibition to original drawings, sketches, plans and design books.
ー The Kokura Factory Railway Land of JR Kyushu, which had its grand opening in October 2022. Within it, you have the Mitooka Illustration Perspective Museum, where original illustrations are on permanent display, and the Don Design Associates, where we can experience your railway designs. It is truly the "Mitooka Railway Archive".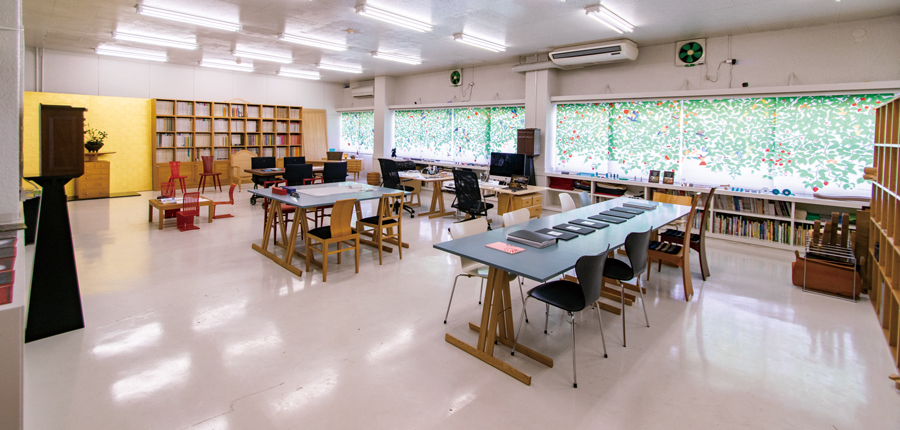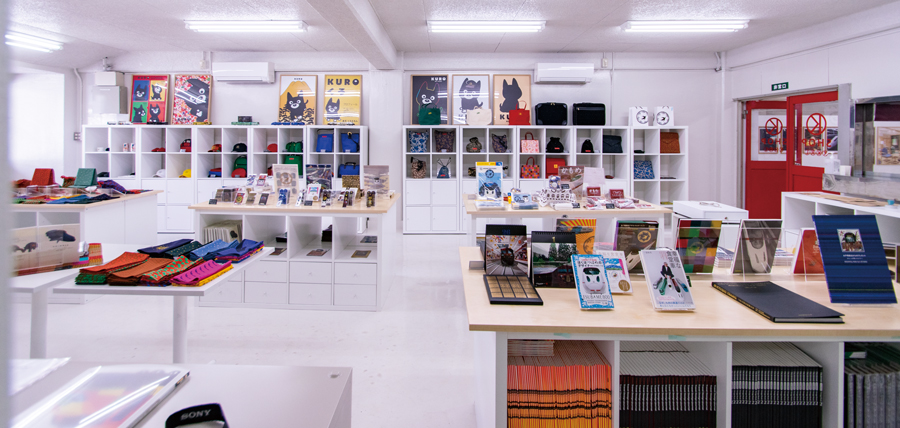 Don Design Associates (left)and the Railway Shop KK (right), which opened in the Kokura Factory Railway Land.
Mitooka It includes work outside of the railway, but I think it is close to that. We have brought furniture from the Don Design Associates in Tokyo, including desks and books, to recreate the office. It has become a kind of salon where children can play and learn. First of all, I would like to visit Kokura once a month to organise things. I can't run the shop unless I make money from it, so I'm thinking that sometimes I can get people to consign and sell their paintings at auctions to fund the operation. No one else will earn money for me (laughs). Ultimately, I think it would be better to sell the original paintings, but at the moment, it's the same with photocopies, isn't it? Some people say that photocopies are easier to display in the house than large originals because the size of the photocopies can be adjusted. I don't make a profit, but I would like to continue to get people to buy my paintings. I am determined to make it my life's work from now on, otherwise I wouldn't be able to do it.
ー You have always followed the method of scanning hand-drawn illustrations and developing them into designs. The method of centralised data management overlaps with the process of archiving.
Mitooka I can't use a mobile phone or computer myself, but I have always worked hard and systematically to keep data. I have staff and experts doing it for me. Young people today don't draw by hand, but I still do. Sometimes I cut things and put them on paper with tweezers and add lines with Rotring. I then convert it into data, add colour and develop it. Hand work gives a richness (originality) to the picture, so scanning does not lighten it. If you only use a computer, the picture becomes flat. The original drawings are all mine, and the staff share them and develop them in various ways. Then there are no more original drawings. The drawings of the chairs and everything is converted into data. I didn't think about whether it was an archive or not, but I did it because I thought it would be good if everyone could use it freely. In the end, I would be happy if the data is open to the public and can be used and developed freely by anyone. The best example of this is my original patterns. My patterns have been in stock for many years and can be inkjet printed on a variety of materials. For example, "Seven Stars in Kyushu" is all developed using original patterns, including wall patterns, chair upholstery, carpets and glass etchings.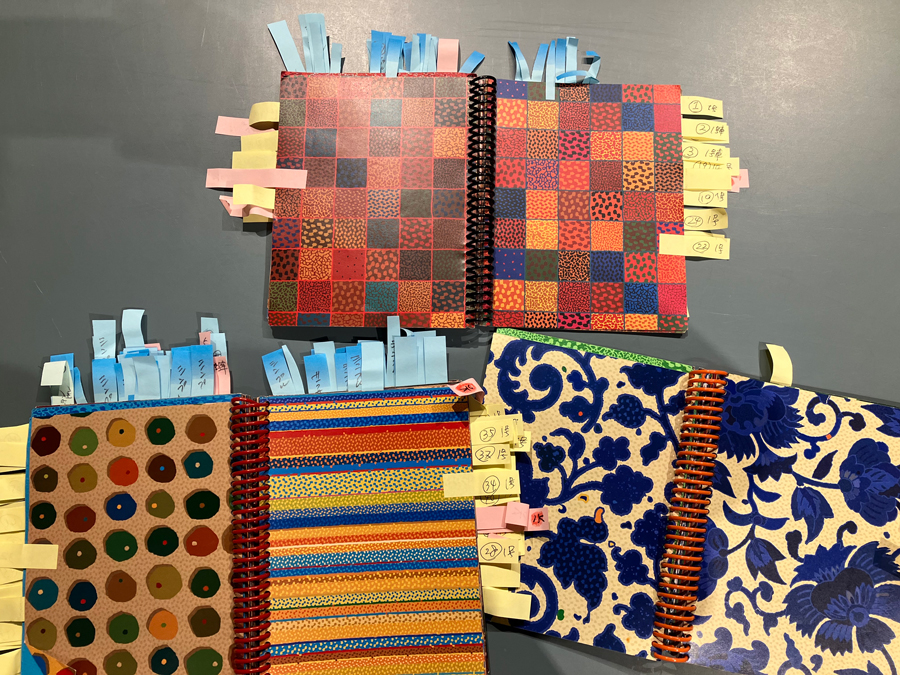 The patterns that have been drawn up over the years are still the source of designs today.
ー Do you try to offer your designs for free?
Mitooka How can we make our designer patterns free of charge, and eventually we want to make them freely available to people around the world. As an experiment, we have now tried to provide free patterns for fair trade in Bangladesh.
There are many designers in the world who have drawn wonderful patterns, including William Morris. We too have learnt from and imitated such predecessors. I don't believe I have any original ideas. There are so many things in the world that have already been archived. There is a lot of material, not only artworks, but also books, videos and films. If you look at them and redesign them into a form you like, the originality and quality will naturally increase. In a broader sense, they are just re-drawings based on what their seniors have drawn. If it's just copied and twisted, then there is no copyright. That's what we have been doing, otherwise the overall design level would not improve. The idea is that it doesn't matter who uses it.
Trying new things means getting muddy
ー You began working on the railways in 1988, and your encounter with JR Kyushu marked a shift from a job that had previously been mainly two-dimensional to a three-dimensional world.
Mitooka I am the eldest son of a furniture maker and I have been doing furniture drawing part-time since high school. What I want to make is not cool furniture, but new, nostalgic furniture that gets better the more you use it and fits in with any space. After I set up my own business in Tokyo, all I did was draw illustrations. When the Tomamu Resort was built in Hokkaido, I drew an image illustration for its brochure, which Kenichi Toh, who later produced Canal City Hakata, saw and asked me to help him build Hotel Umino-Nakamichi in Fukuoka and to draw an illustration. That's when he asked me, "What do you really want?" He asked. When I replied, "I want to do design", he said, "You should do it at this hotel", and I was plunged into the three-dimensional world. At the opening party of the hotel, I met Yoshitaka Ishii, who was the president of JR Kyushu, and my work for JR Kyushu began.
ー It seems like a coincidence, but the meeting between Mr Mitooka and JR Kyushu opened up a new world of railways.
Mitooka I don't know if I have opened up the way, but at the time when JR Kyushu was privatised, there was a strong feeling that if things continued as they were, the company would lose money and that it would not be possible to continue as before, and that something had to be done, and I just got on board with that. It was 1987 when JNR became JR and was divided into six regional private companies, including the three major companies of East Japan, Tokai and West Japan. The three major JR companies didn't need to create anything new because they had plenty of room, whereas JR Kyushu, one of the 'three island companies', was really backed into a corner. So Mr Ishii joined forces with the trade union and encouraged the employees to work hard together. When designing, it is not only about the design itself, but also about all the labour, economic and environmental issues that lie behind it. I think the enthusiasm of JR Kyushu employees at the time was amazing. After the company's performance improved and it was listed on the stock exchange, talented employees from top universities started coming in, and although they were smart, I feel that the enthusiasm to challenge new things has waned. Trying new things means getting muddy. It's hard to work with cool people and not get into big arguments when you exchange opinions with other people, or drink and argue all night long. But you can still manage to put it all together as a job if you use computer software. But will the same software be used by everyone in the future to create one-of-a-kind products? I'm worried.
ー In design, too, we are no longer creating things from scratch. More and more work is being done to assemble what already exists in the editorial work of assemblies and put it together, seemingly, as a new thing.
Mitooka Increasingly, the items are semi-custom rather than custom-made, and are made by adding something to an existing item, coordinating assemble and decorating it. So they all start to look alike. What is an archive? An archive is an intellectual property, and the software (the way of thinking) is important. If the content is not in your own style, it is useless. Is there an archive in Japan that can be sold to the world? Can something that is just assembled and created become an archive? If it is not something that you have worked out with your own hands, feet and body, it cannot be an archive that goes out into the world. We used to exchange opinions with people and get into big arguments, or fight all night long, but now that the working day is eight hours long, we can no longer work unreasonable overtime. We will enter an era where nothing will work unless the leaders are outstandingly good.
Archives need guidelines
ー So not all works and processes can be archives.
Mitooka It is difficult to define an archive. First of all, the main question is who decides what is worth being an archive, and through PLAT's activities, you all have to create those guidelines. Without that, none of this will have to be left behind. The same goes for the old streets of Japan. It is essential to decide that this one thing is valuable, that it has a story to tell as history, that it was designed and has product value, and that it should be left as an archive. This will be research and development to create a guideline dictionary, as all guidelines will be involved, including economic, cultural, functional, environmental and natural guidelines.
ー It presented us with a major challenge. By the way, JR Kyushu initially started by renovating old rolling stock. Renovation is now a common genre, but it is also a visionary task.
Mitooka At the time, we had no budget, no timetable and no quality development targets for design, so that was all we could do. We tried to do what we could with the limited framework and moved first to colour, then to shape and then to material. We let old vehicles be commercialised with just the colour design. We started with pure white first. White is a taboo colour in the railway industry because it gets dirty, but Mr Ishii, the president, agreed. Next, we painted them red, the corporate colour of JR Kyushu. This, too, was met with great opposition, but we let the train run on its own and it became popular with the children, who thought it was cute. In this way, we established the facts one by one.
ー You has worked with craftsmen from all over Japan in 'Team Mitooka' to achieve a number of hits. What is the secret behind this?
Mitooka Television is absolutely essential for a hit. To be featured on national television. Not in newspapers or magazines. If you don't get every detail right when you appear on TV, the quality of your work will be revealed in the images. "The TV is coming to interview us!" makes the craftspeople tense and puts them under comfortable pressure, and they work very hard. This is because their families, children and friends watch the broadcast. They take the time and effort to create a one-of-a-kind product.
The "Seven Stars in Kyushu" project started when the president, Koji Karaike, said to me, "Let's build the best train in the world". He told us that we needed a train that was functional, universal, diverse, nostalgic and new, with a mandala of styles from the past, present and future. But it will cost a lot to make it happen. Mr Karaike says, "Mr Mitooka's skill is to manage that". So the craftsmen started running towards their dream of becoming the best in the world, even though they had neither the money nor the time to do so.
There is an archive in Europe called the Orient Express, so we looked at that and challenged ourselves to see how far we could go with the redesign. In terms of facilities, we worked with TOTO, which has its headquarters in Kitakyushu, to develop a new, safe, dream technology for the water system: when you turn on the tap for a hot shower, hot water of over 35°C flows instead of cold water.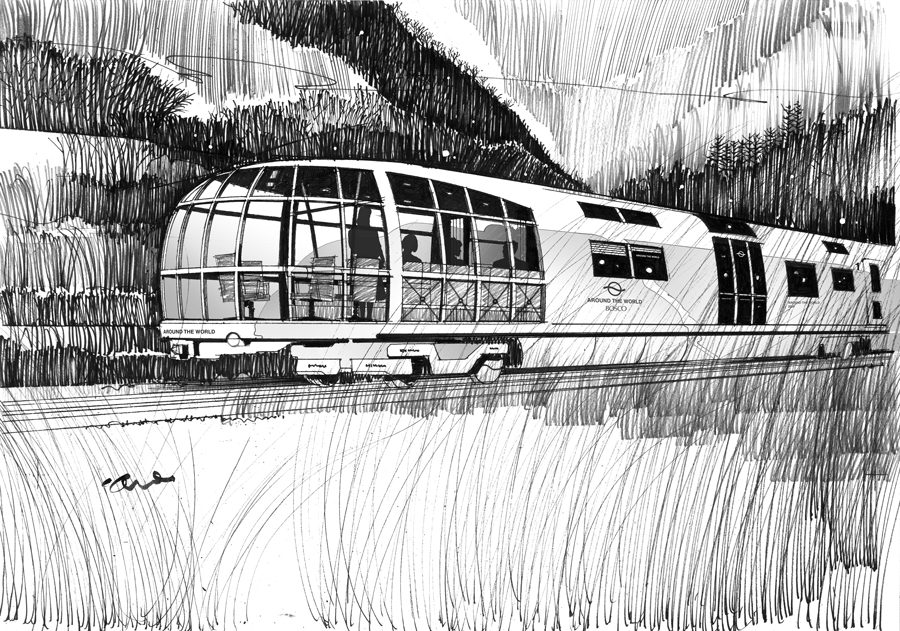 Early idea sketches for "Seven Stars in Kyushu".
Emotional experiences help ideas and senses to flourish
ー You make the craftsmen take it seriously.
Mitooka We realised what they were thinking in their subconscious. Just as I was hypnotised by Mr Karaike, I hypnotised my staff and ran with it. That's how people are. If I'm going to do something, I want to do something extraordinary. If I give you reasons why I can't do it, there are many. If even one person pursues only convenience or economy, the project will come to a halt. It is better to ignore such things and just go for what has never been done before, what is difficult.
My designs should be one-of-a-kind, full of excitement and fun. I use wood for its warmth, glass for its openness, and a lot of colours, shapes and materials that are taboo in vehicles, and combine them with styles and designs from the East and West, arranged like a mandala. A space studded with the highest common sense becomes a stage on which people are moved and on which everyone begins to act. By trying to be an actor worthy of the stage, one naturally develops oneself. What kind of stage should be designed to meet the emotional experience? I believe that the quantity and quality of the emotional experience people have is proportional to their ideas and sense of style. That's why I want to create many things that children and the next generation can share their emotions with. Children's sensitivity, intelligence and passion will not blossom without emotional experiences, not just in design. It is the job of adults to provide as many moving experiences as possible. It is in this kind of talk that we carry out our work.
ー We heard from the archive that all the original drawings and other materials have been converted into data. What about models?
Mitooka We don't make models, or rather we can't make models, because it would be very expensive for JR Kyushu to make a 1/1 mock-up, so we don't make models. We draw image planes and perspective drawings as much as possible. We draw the image planes and perspective drawings as much as possible, until everyone can understand them a little. If you put the dimensions in there, you get a perspective drawing, so there is no need to make a model. However, I don't think there is a train designer who hasn't made a model before. That's why people are always surprised. But models are dangerous. It makes you feel like you've done it. We draw and draw again and again, and then nobody really sees it until it's finished. We don't know how it will turn out until the very end, so we constantly check the model in our own minds to complete it. In the past, all craftsmen were like that, and carpenters used to cut out the work with a saw, and they could do complicated shapes. Nowadays, the computer has taken over the difficult tasks and the brain has degenerated. The brain has become increasingly spoilt and less capable. It is important to be able to create new things, and to do so you have to train your intellect, energy and physical strength, but now we live in an age where it is impossible to do so. It is a finished product, but it is not a product. It feels like it has been done.
ー The immediate visualisation by computer also has an impact.
Mitooka Similarly, we don't do video presentations. We lay out the output illustrations on a table, and the president and I walk around in front of them, look at them and choose a picture. Images are hard to remember because they disappear. It is clearer and less wasteful to select the paper ones with your own eyes and hands. Of course, preparing the illustrations is hard work. The time and effort, as well as the passion, goes a long way towards gaining trust. The ability to produce a good design depends neither on the amount of budget nor the timetable, but on the depth of trust. When you are trusted, you can work boldly. If you don't trust, your heart and brain can't work, so you can only produce ordinary things. The important thing is not money or time, but having a leader who trusts you and organises things so that you can run boldly. Even on the "Seven Stars in Kyushu", when highly skilled craftsmen feel they can demonstrate the skills they have developed, they work overtime themselves, or work twice as fast as they normally would in the same amount of time. Quality is not something that is created by calculation; a person's passion is directly translated into quality. For a craftsman, the most rewarding thing is to "make it yourself" and "exert your own strength to the fullest". For example, a craftsman might say, "This drawing is only up to 60% complete; the remaining 40% is yours to make. It is this feeling of trusting and working alongside the craftsmen that makes them one-of-a-kind and number one.
ー The design by Mitooka, which was created in this way, is reminiscent of the old generation of vehicles. That's why I find it interesting.
Mitooka Many of our customers want things that are more labour intensive than ever before. It takes a lot of budget, time and quality to produce such items. For the "Seven Stars in Kyushu", everything was original, from the Aritayaki washbasin by Kakiemon Sakaida XIV to the star-shaped screws and special screwdrivers, and nearly 10,000 sketches and drawings were made. On the other hand, modern design is rational, economical and simple, and only about 1/10th of the sketches and drawings we made in our office. I believe that no matter how many times you see a vehicle born from a vast number of drawings, you will never get tired of it, you will discover something new, and you will be moved in proportion to the energy you put into it. The "Seven Stars in Kyushu" is an archive of the Orient Express, but the difficult design challenge was how to capture the fundamental difference between a train for some aristocrats and a train for the common people of Japan, who have no class.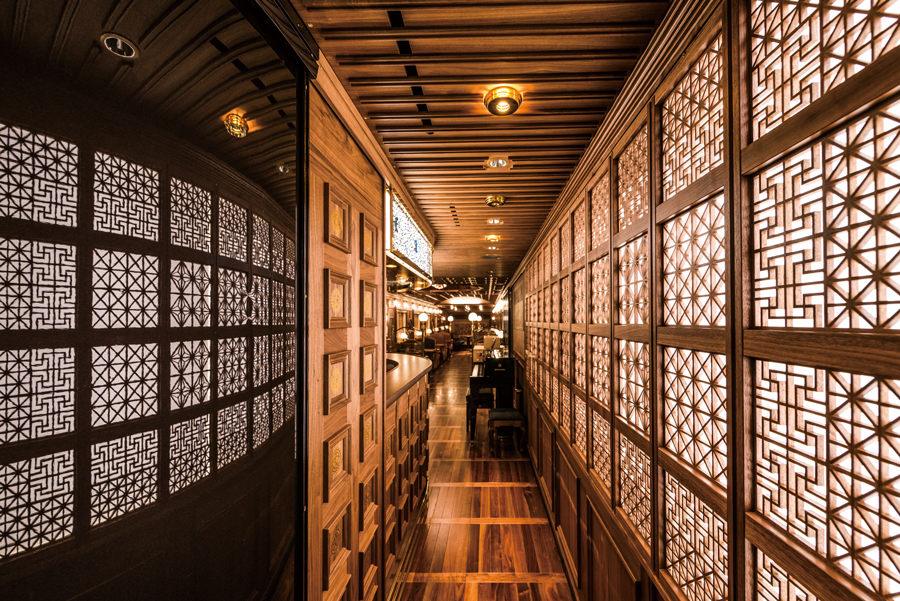 The Okawa Kumiko of Fukuoka, Japan, which decorates the "Seven Stars in Kyushu". The wood in the interior is made of aluminium alloy with natural wood veneer, which ensures strength and fire resistance.
ー By the way, has your copyright been claimed against JR Kyushu?
Mitooka If they had insisted on it, it would have cost an awful lot of money and the companies would have gone bankrupt. Design fees would have become so high that vehicle manufacturers would be designing the vehicles instead of individual designers. The remuneration should be just enough to allow for day-to-day living and a little research and development. It doesn't have to be a special profit-making mechanism, because as long as you work diligently and slowly and produce a hit, it will naturally stabilise. If you make a hit, you will get another request. The most important thing is to think about how to make a hit. It is important not to do work at the behest of the client. If we had done exactly what the client told us to do, we would have failed. It is important to be able to say, "Wait a minute, we can't take a hit with this". It's important to build a team for that, and sometimes we interrupt personnel. You might think that I would never interfere with HR. But design has no domain. As Mr Hayashi says, design is about comprehensive information, creative design, planned production and sustainable maintenance. There is no division in my mind between graphics, products and architecture. Da Vinci, Michelangelo, Furuta Oribe, Hokusai and Sori Yanagi would be the same. I have to educate myself about all of them together with design. To build a Japanese-made train like the Orient Express, of course you need to be able to design, select and decorate all the products and services used on board, otherwise you won't make it. To be able to understand such things, it is important to have actual experience of using them. To do this, you have to earn and learn. Earn correctly and beautifully. It is important to be able to burst the economic abacus and the cultural abacus at the same time, and there is a limit to surviving only by selling or not selling.
ー Finally, what are your future plans?
Mitooka The office has reached a break with the 50th anniversary, and from now on I would like to do work that supports and assists people in their work rather than earning work. One of the things I would like to do is to visit the Kokura Factory Railway Land and communicate with the people who visit us. The materials we have used for original drawings, design exhibitions and previous lectures have been converted into data, so it would not be difficult for us to take them not only to the museum in Kokura, but also to other places for people to look at them.
From time to time, I receive letters from primary school children asking, for example, "I want to become a designer, what should I do?" In reply, I tell them that they should become someone who can walk around the world even if they live in Japan, and that they will understand themselves if they know a lot. At my age, I think about how much I can give to others. For this, I think it is necessary nowadays to develop physical, mental and intellectual strength.
ー Thank you for your wonderful progress as a designer and for your input that has caused a stir in our archiving activities. Thank you very much for your time today.
Enquiry:
Kokura Factory Railway Land
https://www.jrkyushu.co.jp/train/kokurakojo/