Interview
I have no desire to bequeath anything to future generations
Timeline of events written down with historical background
― Furniture designer Ms. Kazuko Fujie, who we spoke to last year in this NPO Japanese Design Archive Survey, told us that you keep your own timeline.
Miyamoto I have kept a diary or a kind of memo almost every day since I was a child, and I compile it into a chronological table. I write not only about my work, but also about my private life, and I also add events that happened in Japan and abroad so that I can understand the historical background.
― You start from the time of the Industrial Revolution. "I declare my ambition to become a world-class craftsman", "Apprenticeship at Saito Chair Mfg.", the parts written in red are Mr. Miyamoto's personal history. Did you participate in the "Gagarin Farewell Party as a representative of working students"? The book is also a very comprehensive history of the social issues of the time, such as "sick building syndrome". What inspired you to create this kind of chronology?
Miyamoto What was the trigger? I wasn't particularly conscious of archiving it, nor did I have any ambition to do so. If I had to say, it would be because I am forgetful. For example, when I write New Year's cards at the end of the year, it's useful to look back on the work I did this year. In addition, together with Ms. Fujie, we organise the "Kagujuku", a design study group where architects, designers and makers think together, and this October we held it at my studio in Obihiro, Hokkaido. It was very useful when I gave a lecture on the chairs I have worked on. It is easy to grasp major trends, such as the mainstream of chairs made of this type of material in this period. Rather than tracing the history of design in the past by reading literature, I think it is easier to feel a real sense of reality if you look at your own life and times in this way.
― I think this timeline is also a valuable archive. There are many other things, such as prototypes and material samples, but the biggest problem people seem to have is the preservation of positive and negative films. Do you also have photographs?
Miyamoto I have a huge amount of paper-burned photographs of the development process in albums. There was a time when I spent more than half of each year developing interiors for Nissan Motor's luxury cars. There are about 160 albums in total from when I repaired the chairs of cultural assets at the Museum Meiji-mura in Aichi Prefecture. Some of these are professionally taken photographs.
― There are no explanations given for the photographs in these albums, but I would say that Mr. Miyamoto is the only one who can talk about this. Moreover, the photographs keep fading, don't they?
Miyamoto It is true that they are fading.
― Some of the serial articles in the magazine "The magazine of interior design : Shitsunai" (kousakusha), which ran for three years from 1993, were published in the book "Isuzukuri Hyakunen Monogatari". The commentaries and reviews on furniture and materials by domestic and foreign architects and designers that Mr. Miyamoto worked on, as well as the illustrations depicting cross-sectional views of the furniture, are also valuable archive material. Do you still have the raw manuscripts from those days?
Miyamoto I don't think there are any left. My handwriting is not very good, so my wife would proofread and clean up what I had written, and then I would hand it over to the editorial department. At the time I was extremely busy with work, and I can only remember how hard it was to keep up with deadlines, but now I am grateful that the manuscripts have survived in book form.
― Where do you keep the original illustrations?
Miyamoto They are stored in the warehouse at MINERVA's head office, and there are quite a few of them. I'm not good at using rulers to draw detailed things, so I would make rough sketches and have the design university students I teach do the clean-up work. I'm not a very good speaker, so it's also a tool for me to follow up on that weakness. When I communicate with outsiders, if they are professionals, they understand me at a glance. I often show this illustration to furniture manufacturers and tell them that it is important to further develop the chairs they have. However, when the economy is bad, especially the materials inside, which are not visible on the surface, become more and more inferior, like counterfeit products. I also use it as a guideline to know the materials and structure when I first developed it, so that I don't lose track of it later.
About prototypes and material samples
― As material samples for the seat cushions, straw, horsehair, yak hair and synthetic fibres are each packed in transparent plastic bags in layers, just like the real thing, but in an easy-to-understand way.
Miyamoto It was in the mid-1950s that petrochemical products began to replace natural materials as cushioning material for chairs. This accelerated around the time of the TOKYO 1964 Olympic Games, when various foreign brands of furniture arrived in Japan. It takes about five years of training to be able to make a chair from natural materials, but in the extreme case of urethane, even an amateur can make a chair, as it is simply cut by a machine and covered with fabric. At the time, it was considered not a job for craftsmen, but I found it interesting and was happy to take on the task. If you build up a job like that over a number of years, you reach a point of excellence in that field.
Later, after I founded Gotanda Seisakusho in 1966, work started pouring in from various manufacturers of imported furniture. The amount of work increased so quickly that I decided to have a dedicated production plant for each manufacturer: the Gotanda Seisakusho was called Arflex, the MINERVA factory was called Cassina, the Matsubushi factory in Saitama Prefecture was called Wilkhahn and the factory in Denenchofu was called B&B, as I also had a factory there at the time. I was also involved in the development of furniture for Overman, ASKO, Airborne and innovator. Today, none of these factories have the function of being exclusive to the manufacturer. I am 81 years old this year, so MINERVA is run by my son, who is the head of the company. I work at Gotanda Seisakusho, mainly developing prototypes and repairing cultural assets.
― Did the workshop in Obihiro also function as a production factory?
Miyamoto No, it does not have that function. The factory in Denenchofu was actually located in a residential area, so after a while I had to sell the land because we didn't want it to make too much noise. I had the funds for this, and I had just received an offer from the Tokachi Branch Office in Hokkaido to offer me a plot of land in Obihiro, so I bought the land with the idea that it would be a good place to retire when I got older. In the workshop in Obihiro, there are chairs and prototypes that I developed, as well as the "Red and Blue Chair" by Gerrit Thomas Rietveld and the "The Ox Chair" by Hans J. Wegner, which I bought because I liked them, and there are about 100 chairs in total. There are older pieces there, and in recent years there are about 300 prototypes and "Bosco", a series of wooden chairs I made experimentally from various woods, at a factory in Matsubushi, Saitama Prefecture. There is also a stock of rare solid wood boards. The warehouse in Obihiro stores wood from the south, including South-East Asia, and Matsubushi stores wood from the north. As for the prototypes, someone tried to list them before, but it is on its way.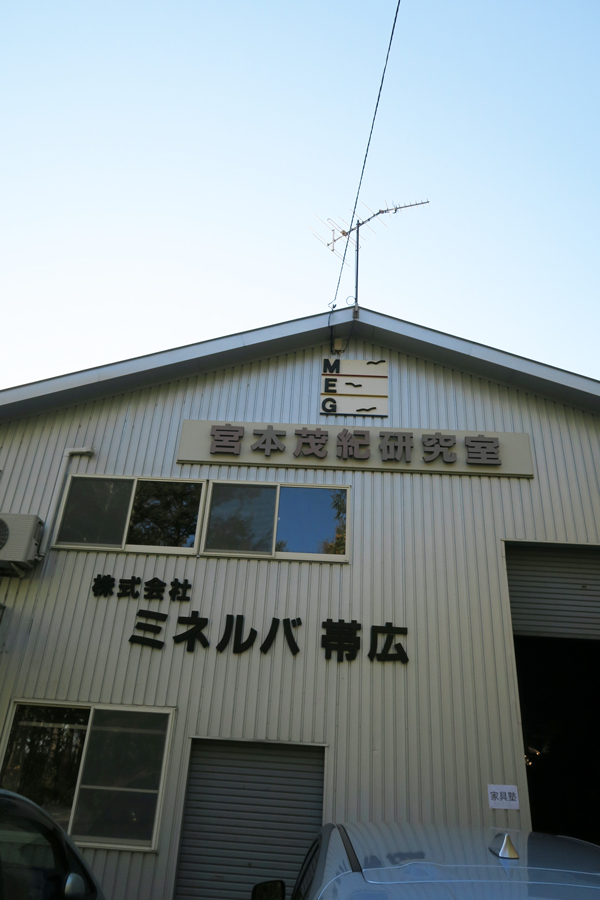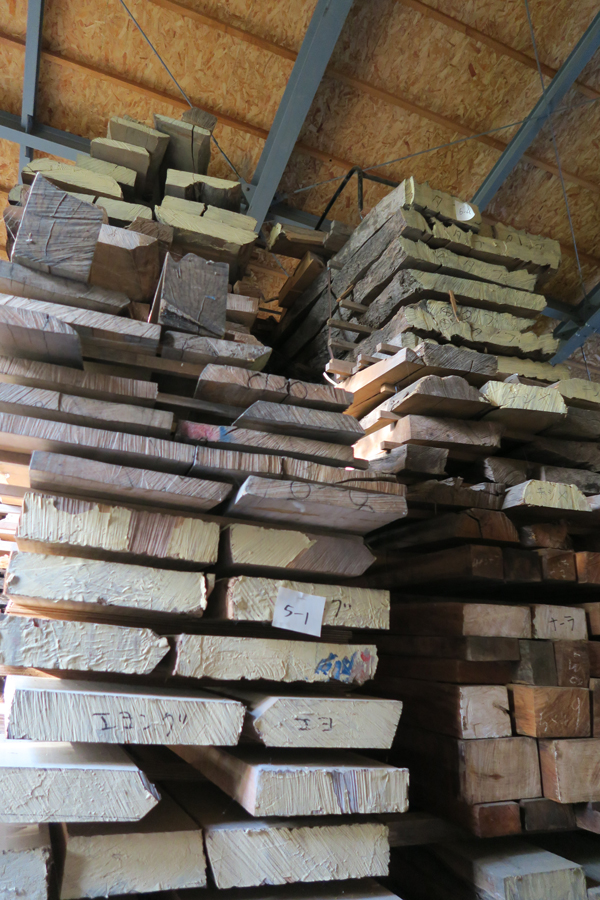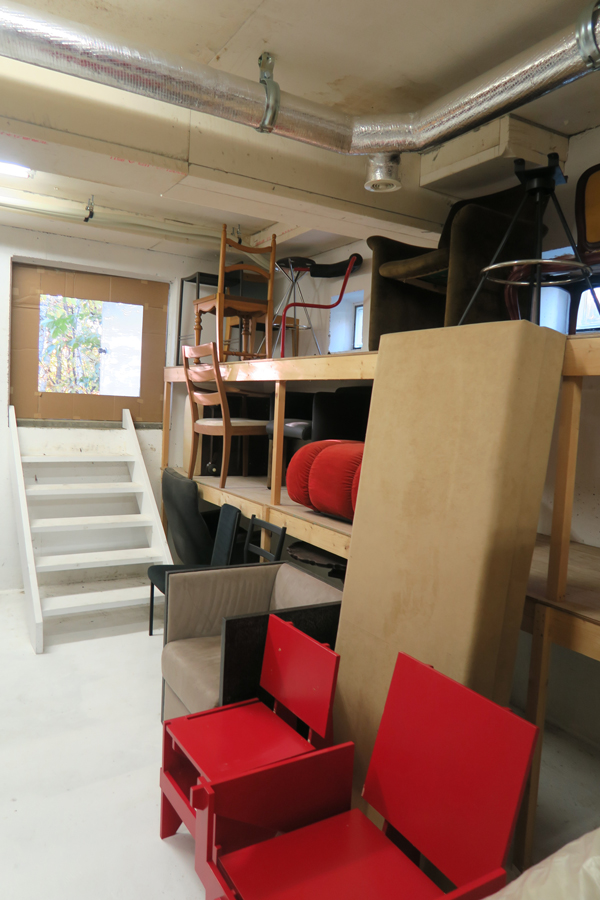 Wood stocks and prototypes stored in the workshop in Obihiro, Hokkaido, Japan.
― I heard that there are around 200 legs in the "BOSCO" series. In your previous book, you mentioned that you wanted to pursue the appeal of wooden chairs further.
Miyamoto I've done a lot of things with wood, but I feel like I've lost my way. Trees are not difficult and easy to understand, but if you get stuck in the depths, like a muddy bog, you can't get out. For example, I have repeatedly challenged the material's potential with regard to Aodamo, but even the same species of tree changes its properties depending on the environment in which it grows. I wondered what would happen if I pursued this endlessly. And if you don't have a social aspect, making things isn't interesting. I was attracted to bamboo and tried various things with it, but I don't know how much time and money I spent on it.
― In the Obihiro workshop, there is Mr. Toshimitsu Sasaki's metal and bamboo chair "Origin", as well as a chair that you redesigned in bamboo based on the "Barcelona Chair" designed by Mies van der Rohe.
Miyamoto In my childhood I lived in Izu, Shizuoka Prefecture, where bamboo was often used in daily life. We used it to make fishing equipment to make floats and nets for set nets along the coast, and children made rafts and bird cages. One time, I picked up a short bamboo cut down in a bamboo grove, brought it home and put it under my pillow, only to find the next morning that my pillow was soaked. That's how much water it contains. And like palm trees, the surface is hard, but the inside is soft. It also attracts insects easily. Bamboo itself is inexpensive, but it is difficult to market it as furniture because it takes a lot of time and effort to produce, making production inefficient and costly. It seems like something could be done, but it's not going very well. I'm still working on it with a designer.
Some unfinished prototypes under development
― Some of the prototypes in storage are still under development that could be advanced in the future. Have you ever been approached by designers to re-create previous products or prototypes?
Miyamoto Yes, that's exactly what happened with Mr. Masayuki Kurokawa's chair "ZO", which was designed in the 1980s, but we started producing it again 20 years later. Some of the prototypes were started by the designer in his final years, and some of them were unfinished because he died in the middle of their development. I've kept those as well because I don't want to throw them away, and I have to do something about the continuation of them.
― That is exactly the kind of archive that should be preserved for future generations. The furniture that Mr. Shigeru Uchida developed in collaboration with Hong Kong entrepreneur Mr. Adrian Cheng at the end of his career was also very wonderful. When I spoke to him during the design archive survey, he continued to have a passion for making things, and I was overwhelmed by his spirit.
Miyamoto It's important to have the guts to want to make things until the very end. The other day, I met with a designer who wanted to make a new piece. The designer's sense of colour and way of expression is unique in this industry, so I would definitely like to do my best to commercialise it.
― I look forward to the completion of that furniture. Are prototypes stored outside Obihiro and Matsubushi?
Miyamoto There are a few at MINERVA and Gotanda Seisakusho, and there is also a gallery called "GUU" in the hotel " HOKUTEN NO OKA Lake Abashiri Tsuruga Resort" in Abashiri, Hokkaido, which has a collection of more than 20 chairs that I developed. It includes Mr. Philippe Starck's three-legged "Manin", which he put in, and a near-finished prototype, all of which you can sit on and experience. Among foreign designers, Italians in particular are good at getting the creator to think, they are producers. I think it is easy to nurture craftspeople in such a society. In Japan, especially when I was an apprentice, a skilled craftsman was defined as someone who faithfully followed the drawings drawn by the teacher.
― Are the drawings kept?
Miyamoto I feel like there may be some left. There were a lot of interesting ones, and in hindsight I wish I had kept them all. There are many drawings related to custom-made furniture, and a considerable amount of Mr. Motomi Kawakami was the type of person who drew precise and detailed drawings, down to the length of the wood screws. However, he had the flexibility to accept my suggestions without denying them, and I thought he was from a new generation. In Hironen's case, when developing the "Utsurigutsuri" chair, the first thing I had was a sketch drawing. It had a very strange shape, like a wizard's hat, and it was important to give it a softness, so it was extremely difficult to bring it to reality without destroying its structure. But it was fun because it inspired me to challenge myself as a craftsman.
― Most architects and designers have probably consulted with Mr. Miyamoto at least once when developing furniture. You have worked with many different designers, both domestic and international, but is there anyone you would have liked to work with in contrast?
Miyamoto I would have liked to work with Mr. Teruaki Ohashi. The "Hannan Chair" is interesting, isn't it? Like Hironen, I like to get in touch with people who have values I don't understand, and why they think the way they do. It's like looking into a dangerous place.
I want to absorb different values from them
― You teach at various universities, including Musashino Art University, Tama Art University, Joshibi University of Art and Design and Komazawa Women's University. What kind of lectures do you give?
Miyamoto I recently made a chair called "BOBO", which is a lump of urethane by Chini Boeri, launched by Arflex in 1967. I gave the students three days to work on the project, from taking the moulds to sewing the fabric to completion. I once had them make a half-size version of "Schroeder 1", a side table designed by Rietveld in 1923, by cutting and painting a piece of veneer. I had hoped that the actual construction of the table would trace the footsteps of Rietveld's thinking, and that it would elicit a variety of ideas and new discoveries, but when I asked them to write essays after completion, they all wrote almost the same thing. Because they were pulled from the internet, the sentences were identical. I was surprised by that.
― That was disappointing.
Miyamoto I was once involved in the judging of a university graduation project. At that university, the emphasis at the time was on "strength" as a design education policy. For example, if the legs of a chair were wobbly and there was a problem with the strength of the chair, it was excluded from the scoring. I found one student's chair interesting the year I judged it. Although I had some concerns about the strength of the chair, I appreciated the various possibilities it offered. However, it was not even selected because of the strength problems. I thought it was strange that the world of creativity was narrowed down because of that. I don't care about strength or shape. I thought it was important to have wings that could still flap and fly. There was a time when I was so passionate about it that I had serious arguments with the teachers.
― The off-campus workshop "M Project" that you led from the 1990s to 2000 was also an interesting activity. It was a programme in which outstanding students from various art universities were selected to learn from the re-design of chairs from the past, and a number of designers have since been active, including Mr. Keisuke Fujiwara, Mr. Hiroshi Yoneya, Mr. Rikiya Uekusa and Mr. Kaichiro Yamada.
Miyamoto Nowadays we are the best of the mid-career designers - about 50 students were involved in the project over the 13 years. I had the prototypes made at that time, but I thought it would be better to keep them for ourselves, so I returned them to those who wanted to use them about two years ago.
― You often teach the younger generation at the "Kagujuku", the "M Project" and at universities. Do you have a desire to share your experience and knowledge with them?
Miyamoto Rather than passing on my experience and knowledge to them, I want to absorb different values from them. It's fun when something completely different comes out of it, and sometimes I have to revise my own ideas. You mentioned archives at the beginning, but I might say that I have no desire to pass on anything of mine to future generations or to bequeath it to them.
― However, I think you have a huge amount of material. Are you thinking of passing them on to your son in the future?
Miyamoto I don't know. My son has a different set of values. As for the materials and prototypes, I'm not sure what I should do with them. By the way, I recently contributed to a booklet like this. It is the 60th anniversary magazine of the All Japan Isubari Trade Union Federation, of which I am the honorary chairman, and in a small column in it I wrote various industry terms and trivia about furniture.
― You referred to chair upholsterers as bunko-ya. "You used to call an easy chair a large banco, an armchair a medium banco, a small chair a small banco and an upholsterer a banco-ya. Spain, Portuguese and Dutch. It means a porch or a seat" (from the 60th anniversary magazine of the All Japan Isubari Trade Union Federation). This is another interesting piece of archival material on the history of furniture.
Miyamoto Lately, I have been looking back to the past. People don't ask me much about the future.
― Please tell us about your ambitions for the future. You have many more things you would like to do.
Miyamoto  I've done a lot of sofas in what I've worked on, so I'd like to finish off the field with a focus on fabrics. In the act of sitting, the design of a chair does not change that much anymore. So I'm wondering if it's possible to change the sofa into something completely different by dressing it up, or wearing it as a cloak, or changing its clothes, and I'd like to work with people who are known as fashion designers to explore new ways of expressing the sofa. I think there are many ways of expression.
― That sounds interesting. Do you have any designers in mind?
Miyamoto I think young people would be more interesting. I'm also interested in expressions like ethnic costumes and materials such as silk and denim.
― I look forward to realising this. Thank you very much for your time today.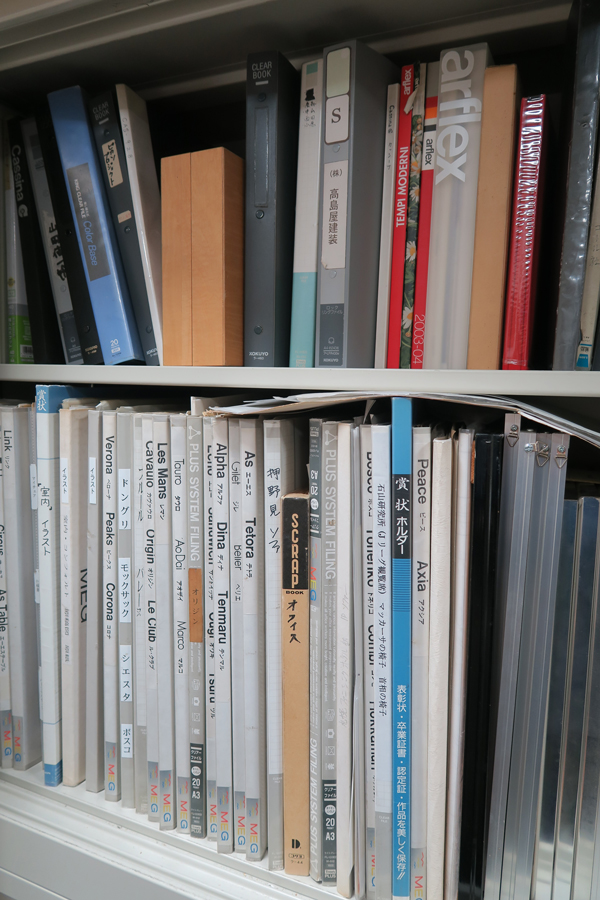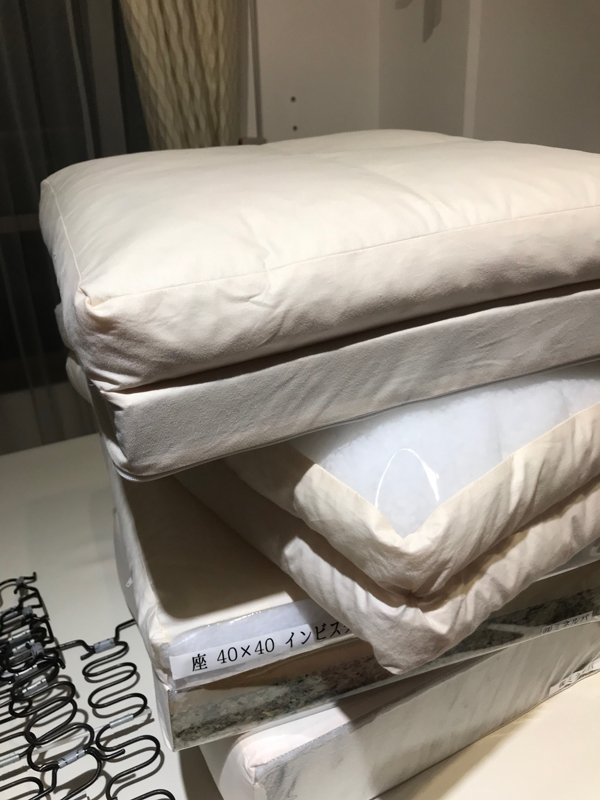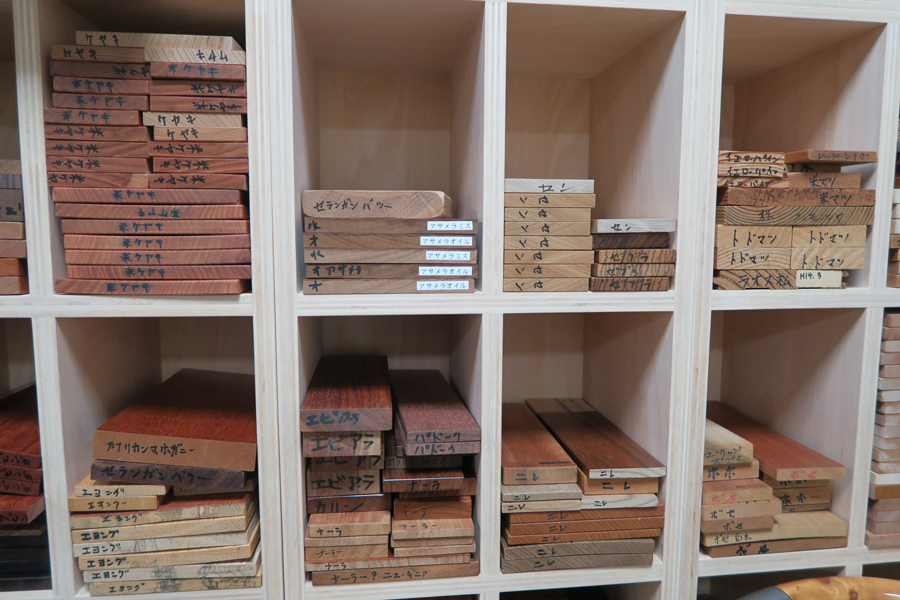 Materials, wood stocks and material samples stored at MINERVA headquarters.
Enquiry:
Gotanda Seisakusho
https://www.gotanda.co.jp