interview
There is a feeling that it will not become a leading role.
It is a supporting role.That kind of position is comfortable.
Culmination of preparations under preparation
- It seems that we are making a collection of works that will be compilations of Nakajo Design. What was the reason for that?
Nakojyo I am indifferent to making book collections and I will not keep work for future living care, but Keiko Kubota gave me an invitation to make it by all means.Have you been five or six years already since then?
Kubota That's right.I asked you to persuade Mr. Nakajo who dislikes it.Just around that time (2013), at the gallery @ btf operated by Mr. Katsunori Aoki of butterfly stroke, we were able to organize the work roughly by "Mr. Masayoshi Nakajo / first half of Masayoshi Nakajo" exhibition So, when I consulted about making a collection of works on this occasion, I finally acknowledged it at the venue on the opening day.
- Mr. Nakajo himself, do not you classify or organize your work yourself?
Nakojo's finished is that it was already long ago ....
As Kubota Nakajo says that he should not be ashamed of people all the time, I think that I can not bear it with my own hands, and I participate as graphic designer Kaorishi Kasai and Mr. Hattori as an editorial member in the creation of the work collection I have them.First of all, we reviewed all including works other than the exhibition, photographed one by one at a printing company in Hokkaido and asked Mr. Kazunari Hattori for book design by Mr. Nakojo.Mr. Nakajo himself said that he did not see any content at all, and he did not see it at all until today.
- What is the composition of the work collection? By genre or chronological order.
Kubota 10 years is chronological chronological order.Mr. Nakajo's work can not be separated by genre, it is cross-cutting.You say that Hattori can not be divided by genre or theme, and summarizes 10 years as a loose chronicle in one unit.Strangely, however, it is not at all old even if you see the earlier works.I think that there is an amazing place of Mr. Nakajo.
Nakojo Long time ago, Mr. Shuhei Hashimoto from Rokuyo who was also a senior in Kubota's senior citizen also received a consultation of the work collection, but I said "If I make a book that I do not know whether or not I can sell and the company crashes What will happen? "Saying it and saying it, I did not get serious.However, when we organized this time we had amazing work and am surprised even by ourselves. (Note) Shuhei Hashimoto: a special publisher of design · art · architecture · founder of Rokuyosha
Mr. Aoki Kubota used to work part-time in Mr. Nakajo's office before, so I had my own gallery so it seems that he wanted me to do a personal exhibition by all means.However, as this exhibition was held, Mr. Nakajo also said that the story of the work collection has proceeded with a bad idea.
Nakojyo For me, even if past works are put together in one place, that is not good, and this is not good either ... It is painful to be honest.Being able to see the previous work by the people is embarrassing because they seem to be shameing a long time ago.
- But, as I mentioned earlier, Mr. Kubota's work does not feel a bit old even if thirty years ago, I think that it is still great to be fresh.Does the work collection also include works commentaries and criticisms?
Nakajo good, you can just put a piece of work.Graphic design is visual and background etc is not particularly necessary.
- As a reader, I'd like to know the background behind Mr. Nakajo's design.
Habit of design
In Kubota himself, it is said that it is not designed in accordance with theory and law, but it is said that it is expressed by sense and instinct at that time, but from my point of view it is a unique thought, theory behind the work And I think that there is a methodology.
- Certainly, there is a characteristic that it is a feeling that you know that Mr. Nakadjo's job is at a glance no matter who sees it.Even in Shiseido, the graphic kingdom, Mr. Nakajo's design has a unique light.
I am grateful to Nakojyo Shiseido for long lasting direction of "Hanatsubaki".
- Speaking of magazines, the front cover of "Life's Handbook" is also working for a long time.
Nakojyo "The book of living" is the policy to change the author every 100 th, so I am until the middle of next year.
- It is rare for a single designer to continue doing the same work for many years or decades in this rapidly changing era.What do you think about yourself?
The work of Nakajo advertisement changes rapidly along with the business style and products of the company, but in my case there may be many designs in areas that are not required to change so much, such as logos and corporate culture magazines, graphics related to museums Right.
- The work of Shiseido parlor has been renewed several times, but I consistently leave design to Mr. Nakajo.I wonder what it is.Do you say Mr. Nakajo is committed to a consistent theme?
Nakojyo Because my design still has "habits".Perhaps the habit is fitted, it might be that you think that clients will be able to take advantage of that policy, or make good use of it.Habit may lead to expression of brand and corporate culture.
- As I mentioned, what is the habit of Mr. Nakajo's design?
Nakajo There was an opportunity to speak with Taku Sato or some young people before this, but Mr. Sato or something designs with emphasis on the theme of the company or product rather than extruding his / her personality to the front I have the impression that.So, I think that any job will properly fulfill client's request.Me, on the other hand, I am with a popular singer, when it is good, if it gets tired, that is it.But I am dividing it as nice.
- But, I wonder if Mr. Nakajo is different from the popular singer and is passing through time and fashion.
I think that I am presenting a new design that anticipated the Kubota period.
- Certainly people who are currently active in the front lines may be thinking about designing by asking clients' requests rather than self-assertion that they respond 120%.
Nakojyo I guess that is now or now, that kind of approach is still required.
- Nonetheless, Mr. Nakajo is also handling product logos and packaging etc.What kind of things are you thinking while designing it?
Nakajo I've never designed mass-produced items like large companies.Although it is about Shiseido in a large company, it is not advertisement or product design. "Although it was originally free paper even when it was set to Hanatsubaki, even if it is a Shiseido parlor, it is a small scale compared with the main body's business.Besides that, as I said earlier, the design with a slightly habit is suitable.I feel that I am often assigned to a certain number of designs for selected customers rather than the general public.
- That's right.For products that line up with supermarkets and convenience stores and for sweets from Shiseido parlor, customers and sales types targeted by the same package are quite different.In other words, is it a design that can be accepted by people who love Mr. Nakajo's habit?What is such a source of graphic design by Mr. Nakado?
Until a unique design is born
Mr. Nakajo was born in a downtown Shenzhen, his father was a half-farmer half-chimed house near Choshi in Chiba and came out to Tokyo as a carpenter.I was born in Shenzhen, moved to the middle of Shinjuku and Nakano during early childhood and grew there.It was a time when the current Setagaya, Nakano, Suginami and Nerima, the southern Tokyo suburbs were reclaimed and expanding as a new residential area, and my father, who was a carpenter, moved to the neighborhood in search of work.I think that my life is influenced by my father who was a carpenter.
I was born in 1980 and painted well since I was a child, but I lived in Chiba when I was fifth grader and lived a year until I came to the end of the war in my 6th graders.Although I continued to paint the picture there, "I do not become a picture with the scenery that made Chiba leisurely" What a cheeky thing is saying.It is easy for children to draw landscapes in the city ... / /.
- The urban sense of Edo child of Mr. Nakajo was already raised as a child, did not he?
Nakojo After coming back to Tokyo after the war, I always liked painting and continued to draw.My high school art teacher is from Marugame in Kagawa Prefecture. When there is an exhibition of Picasso and Matisse in Tokyo, we take us to the exhibition and buy art magazines such as "Mizueru" "Atelier" It was a wonderful teacher to be able to read and read it with everyone.Besides, gypsum was placed in the art room, and I pulled out of class and sat in the art room, and I was drawing sketches and paintings.
Kubota I think that he was a good guy, but the work at that time is not left.I wanted to see you.
Nakojo The teacher from Marugame and the master of Inogama Seiichiro Inokuma are acquainted with each other, so I brought some paintings to my teacher and bothered in the home of Mr. Inokuma.
Have you said that Mr. Inokuma Kujida had a picture? Do you remember what you said?
Nakoji "Look at things well".
Kubota It is a word with implications.
- Mr. Nakajo is seriously drawing oil paintings. Why is it designed?
Although I like Nakajo oil painting, there are only a handful of independent artists as a painter even after graduating from a foreign painting department, many are art teachers.Just as I entered university, Japan also recovered from the end of the war and graphics like posters were getting noticed.Mr. Inokuma's home also posted the poster of Bauhaus' Harvard · buyer and said "Please let me say" Nakojo, hey, this is OK ", I answered" Yes, "do not you think so?I knew somehow that there is a world of graphic design.Also, in the case of Tokyo National University of Fine Arts and Sciences, the magnification was lower for the design department than for the movie department, and I chose the design department with such a thing.
It was around that time (1951) the establishment of Kubota Sun Emi (Nippon Promotional Art Association).
Nakajo That's right.Some people from Shigeo Fukuda or Mr. Taizo Arts applied for secretly and received a prize, it was fun.Synchronization was about 20 people, but about one third died.Even a designer has a retirement age if you work for a company, you will not be able to design if you take a position.In the case of myself, it is free, and whatever comes There I think that I can continue even now because I did not refuse.
The essence of Nakajo's design
- Taku Sato who has been active recently, people like Yuya Jakken and Masaru Sato are doing a lot of job titles as art directors based on graphic design.After all, are you feeling that the qualities required of graphic designers are different from the era of Mr. Nakajo?
Nakojo It will be completely different.Now it is directly connected with the product, it is now time to consider products and services.For example, in the past, it was "consultation with the graphic designer" to ask "Package design as this biscuits are commercialized".Right now I think that "Because it is more popular than cookies rather than biscuits, I'm expecting a response like this on such a plan," I think that it is becoming a work of so-called art director.
- When I heard about Mr. Hiroshi Mizuki who used to be Yumasa Kamekura's former staff, Mr. Kamekura also worked as an editor or art director, but I was stuck with the title "graphic designer" to the last And that.In that sense, is it that the person who changed the job function of the graphic designer is Mr. Kazumitsu Tanaka who was dealt with "MUJI good product"?
I think that Mr. Nakamichi Nakajo also stuck to being an individual designer.Actually, MUJI was facing a team with a producer like Koike Kazuko.
Kubota I am impressed that the young designers of recent days are gentle or well-designed, lacking impact compared to Mr. Nakajo and unsatisfactory.It seems that Nakajo's design always has the strength to deny the prettiness of the small step, which would destroy common sense with breakthrough of the current situation.Intuitively looking forward to the future rather than in the near future, saying that you are instinctively anticipating.
Nakojyo "Hanatsubaki" has done for 40 years, but it was a really fun job.I like fashion and photography, so I could use both to express it as much as I wanted.I liked the job of the media like a magazine, it was fun, I might be good at it.It may have been boiled down when only posters, packages or just one item were done.In accordance with the changes of the times, new media such as fashion and art grew more and more, and there was encounter that it gets excited when I go to Paris and New York for the coverage.It was a really interesting job because I could express graphics as I felt and thought there.
- "Hanatsubaki" was not just a two-dimensional medium for Mr. Nakajo, it was "Expression space" that can demonstrate creativity to the utmost.
Kubota When listening to the story, Mr. Nakajo was "Hanatsubaki" and he was struggling to live to do what he wanted to do as much as possible.
- Magazines may be something like that.The editor who is passionate about editors and producers shines most.
Nakojyo Now the media has broken down not only in paper but also on the web and digital signage, too much information, too much to grasp.On the other hand, the number of magazines that are paper media will decrease.
- That's right. "Hanamaki "lasted more than 40 years, is that the compatibility between Mr. Nakajo and Shiseido was good, is not it?
Nakojyo, but that is not necessarily the case.Shiseido's graphics at the time he joined the company was mainly typography and illustrations of delicate lines of Yamana Fumio and photographers like Mr. Kokoro Yokosuka appearing later in the era of Makoto Nakamura, Main graphics became mainstream.In my opinion, my style of striking the whole shape and quantity feeling would have been singular.I myself believe that "density" in graphics is important no matter how time and media change.The reason that the poster still continues to live is because you can express the density of graphic design.That is why I think that it remains like a small brook.
- Why do you feel that the density of contemporary graphic design is diminishing, while the density of the design of Mr. Nakajo's generation is high and the personality is clear?
I wonder if it is during the Nakojo period ....But at first glance it looks like the density is thin, there are designs that are actually very expensive.It seems like I'm losing people ... somehow.It seems like Mr. Kazunari Hattori's design.
- But, if you say that it is lazy, you are Mr. Nakajo.
Kubota Feeling that everyone is not supposed to think.
Nakojyo: That's right.There is a feeling that it will not become a leading role.It is a supporting role.That kind of position is comfortable.After all, I think that it will be difficult for many to become mainstream.I also have to compete.
Kubota Nakajo's design is too habitable so no one can imitate it and no one competes.
- Nakajo style designer is one of Mr. Nakajo afterwards as well.Color usage is also unique.For example, there is a surprise that the package design of Shiseido parlor is that color for sweets · · ·.
Nakajo It is a slightly ambiguous answer, but in my case there is no chance of winning the competition.To put it the other way, I can only do my job of asking you, and I will not have it.
Kubota University Although the company's work always requires designs that can be accepted by anyone, Mr. Nakajo is not so.
- But, as the design that everyone can accept is disappointing, the world is getting less interesting.Recent designs place importance on "commonplace" "ordinary" "everyday", and there is a tendency to push individuality and habit into the front.But ordinary and commonplace have gone too far.
Kubota On the contrary when Nakajo's design becomes mainstream I think it is too hard, but at present it's a bit lonely.Mr. Nakajo is a heavyweight of the graphic design world, but he says it is not so-called major existence.The person himself does not want it.But many of the current young people are aiming for major, so it may not be possible to take Nakajo's approach.
If you approach like Nakojyo I think the office will not grow big.I have been working for a small number of people and now I am alone.
- But when I talk with Mr. Nakado, I can see that it was good.The work still remains, and even after passing the age of 80, I still work vividly on the front line.Those things, though the person himself thinks that it is not interested in the archive.
About the design archive
- First of all, I've heard that you are not interested in the past, but I will ask you about persistent archives.Mr. Nakajo's work has many graphic works and there are many designs born from manual work, how are you doing the original picture etc?
It seems that Nakojyo had kept it.But it is not sorted out neatly.Although depending on the theme, although it depends on the theme but when it is a letter or a constitutive design, I draw a shape on a grid paper, I will think about the color image while drawing repeatedly as it is not so.Writing instruments have a lot of ordinary water magic, especially if you need this pen, sticking to tools is not strong.
Kubota As far as I can see, I am well acquainted with various methods and painting materials whether to say mix media.For example, it is fun to exchange the original design of the design with a fax, and the accidental deviation or casual feeling occurred there!Incorporating it into the design and repeating it over and over, time is over, it is completed!And you said yourself.
Nakojyo: That's right.Instead of pursuing systematically from the beginning, we take something like a mutation that is unexpected from accident or failure.Otherwise it is lively, the things that protrude are hardly born.
- I think that there is a part which is being uninteresting because the emphasis that it is too easy to understand, such as ease of understanding, is now, but the design of Mr. Nakajo transcends it.You can not understand!The refreshing refreshment is fresh.
Kubota Nakajo is also product design.It is one point for taking pictures of exhibitions and "Hanatsubaki".Shiseido parlor's chair, lighting equipment, and cat chests there are such as Mr. Nakajo's design.
- Are there any differences between 2D and 3D designs?
My father is a carpenter, and my daughter is doing architecture, so I am interested in space and furniture, and I like it because I like it, so it's fun.However, sculpting is difficult even in three dimensions.Indeed, I also designed the lighting and chair for The Ginza (Photo 1).There are only one chair in the workplace.There are other lights (Picture 2) and objects designed for "Hanatsubaki".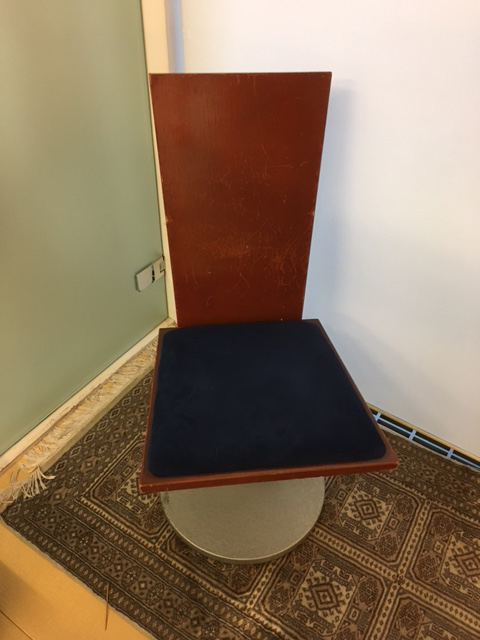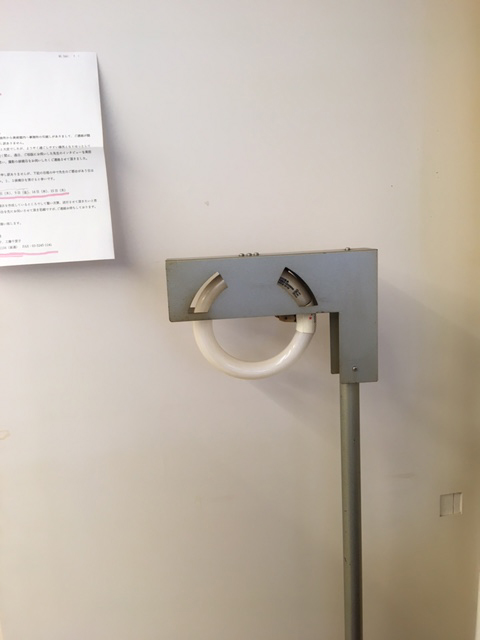 Photo 1 Photo 2
- Finally, could you tell us about the design archive?
Nakojyo Mr. Kubota is more detailed than I, please.
As I organized my works as much as I can for the Kubota collection of works, there are plans to get archived in a coordinated form.If it is a work related to Shiseido, we had Shiseido enterprise museum that is adjacent to Shiseido Art House in Shizuoka / Kakegawa.Other than that, the main poster works are in the archive of DNP Culture Promotion Foundation of Dai Nippon Printing, and it works as long as it can be pushed somewhere else.
- How is Nijo University where Mr. Nakajo graduated?
Kubota National University of Fine Arts is not related to design.It seems that art works are being collected.
- In that sense, now the work collection being advanced by Mr. Nakajo, Mr. Kasai, Mr. Hattori, Mr. Kubota is a precious archive.I heard that it will be a masterpiece of 600 pages.However, sketches etc are the only ones, so I'm hoping that they will be stored somewhere as a neat archive.Thank you for today.
Censure: Yasuko Seki