Interview
I'm not going to be the star, I feel.
It's a supporting role. I'm comfortable in that position.
A book of work in preparation is the culmination
― You're working on a book that will be the culmination of your design work.
Nakajo I've never been one to make a book of my work, and I don't save my work for posterity, but Keiko Kubota invited me to make one. It's been five or six years since then, hasn't it?
Kubota That's right. I persuaded Mr. Nakajo not to do it and asked you to do it. Around that time (2013), You were going to have an exhibition called "Masayoshi Nakajo: The First Half of Nakajo at @btf", a gallery run by Katsunori Aoki of Butterfly Stroke. On the day of the opening, you finally agreed to do so.
― Nakajo, do you ever categorise or organise your work yourself?
Nakajo No, I don't. What's done is done.
Kubota Nakajo always tells me not to expose his shame, so I thought it would be too much for me to do on my own, so I asked Kaoru Kasai and Kazunari Hattori, both graphic designers, to join me on the editorial board for the book. The book was designed by Kazunari Hattori at Nakajo's request, after reviewing all the works including those not shown in the exhibition and photographing them one by one at a printing company "i word" in Hokkaido. You said he would never look at the contents of the book, and indeed to this day he has not looked at it at all.
― Is it organized by genre or chronologically?
Kubota It's in chronological order, spanning ten years. Nakajo's work can't be divided into genres, it's cross-disciplinary. Mr. Hattori also says that he can't divide your work by genre or theme, and he puts together a loose chronicle of a decade as a unit. But strangely enough, even if we look at Nakajo's early work, it doesn't look old at all. I think that's one of the great things about you, Nakajo.
Nakajo Many years ago, Shuhei Hashimoto*of Rikuyosha, who was also Kubota's boss, approached me about doing a collection of his work, but I brushed it off by saying, "What happens when a company goes under by making a book that may or may not sell?" But when I sorted it out this time, I found out that I had been asked to write a book. But when I sorted it out this time, I was surprised to find that I had a huge amount of work.
*Shuhei Hashimoto: Founder of Rikuyosha, a publishing company specialising in design, art and architecture
Kubota Mr. Aoki used to work part-time at Mr. Nakajo's office, and now that he has his own gallery, he'd like you to have a solo exhibition. But because of this exhibition, Nakajo gave up on the idea of having a solo exhibition and started talking about a book of his works.
Nakajo To be honest, it's hard for me to see all my past works in one place, because some of them are not good and some of them are not good. I feel embarrassed when people see my previous works, as if I'm exposing my old shame.
― But as Ms.Kubota said, I think it's amazing that your work doesn't feel a bit old, even if it's 30 years old, it's still fresh. Do you include any commentary or criticism in your books?
Nakajo No, I just put a bunch of our work in there. Graphic design is a visual thing and there's no need for background.
― As a reader, though, I'd like to know the background of your designs.
Design habits
Kubota You say that you don't follow any theories or rules in your designs, but I think that you express yourself through your senses and intuition at the time.
― It's true that there is a certain sensibility or characteristic that makes your work instantly recognisable to anyone who sees it. Even at Shiseido, Nakajo's design have a unique glow to them.
Nakajo I'm grateful to Shiseido for allowing me to direct "Hanatsubaki" for so long.
― Speaking of magazines, you have also been working on the cover of "Kurashi no Techo"(the Meaning of a Living Notebook) for a long time.
Nakajo The magazine has a policy of changing the artist for every 100 issues, so I will be working on the cover until the middle of next year.
― In such a fast-changing age, it's rare for a single designer to continue working on the same project for decades and decades. What are your thoughts on this?
Nakajo Advertising work changes rapidly along with the company's business model and products, but I tend to work in fields that don't require much change, such as logos, corporate culture magazines and museum graphics.
― Your works for Shiseido Parlour has been renewed several times, but Shiseido Parlour always asked you to new design. I wonder what it is about that. Is there a consistent theme that you are entrusted with?
Nakajo My designs have my own habit. When that habit fits perfectly, I think the client will take on board that policy, or maybe they will think about making good use of it. Maybe it's a way of expressing a brand or a corporate culture.
― What are your design habits?
Nakajo I had a chance to talk with Taku Satoh and some other young designers the other day, and I got the impression that Satoh focus on the theme of the company or product rather than pushing his own personality to the fore. I think that's why he is able to fulfil the client's requirements in every job. On the other hand, I'm just like a popular singer: when it's good, but when people get bored, it's over. But I'm okay with that.
― But you're not like the trendy singers at all, you've transcended the times and the trends.
Kubota I think you're presenting a new design that's ahead of its time.
―  It's true that the people who are at the forefront of design today are probably thinking in terms of an approach that responds 120% to the client's needs rather than asserting themselves.
Nakajo That's the way it is now, and I think that's the approach required nowadays.
― However, you also work on product logos and packaging. What do you think about when you design?
Nakajo I've never designed for a large company or a mass-products. The only big company I've worked for is Shiseido, but they weren't for advertising or mass-products design. Even "Hanatsubaki" was a free paper when it first came out, and Shiseido Parlour is a small business compared to the main company. Rather than that, as I said before, I'm more suited to designs that are a bit quirky. I feel that I'm often entrusted with designs that are aimed at a certain, select group of customers, rather than the general public.
― Yes, that's true. I think the target customers and sales patterns are completely different between products that are sold in supermarkets and Shiseido Parlour's sweets, even if they have the same packaging. In other words, it's a design that will be accepted by people who love your habits. What is the source of your graphic design?
How the unique design was born
Nakajo My mother was born in Fukagawa in the downtown area in Tokyo. My father was born in Chiba near Choshi in a half-farming and half-fishing family and came to Tokyo as a carpenter. I was born in Fukagawa, and when I was a child we moved to a place between Shinjuku and Nakano, and I grew up there. At that time, the suburbs of Tokyo, such as Setagaya, Nakano, Suginami and Nerima, were being reclaimed and expanded as new residential areas, and my father, a carpenter, must have moved there to find work. I think my father, a carpenter, influenced my personality.
I was born in 1933 and had been drawing a lot since I was a child, but when I was in the 5th grade I was evacuated to Chiba, where I lived for a year until the war ended in the 6th grade. I continued to draw, but I used to say cheekily, "I can't make a picture of the relaxing scenery of Chiba." Even as a child, I found it easier to draw urban landscapes than country side.
― So your Edo sense of urbanity was already nurtured when you were a child.
Nakajo After the war, I came back to Tokyo and continued to paint because I loved it. My high school art teacher was from Marugame in Kagawa Prefecture. Whenever there was an exhibition of Picasso or Matisse in Tokyo, he would take us to the exhibition and buy art magazines such as "Mizue" and "Atelier" and we would read them together. There were plaster casts in the art room, and I used to skip class and go into the art room to sketch and draw.
Kubota I'm sure you were very good at it, but I don't think any of your work from that time has survived. I wish I could have seen them.
Nakajo The teacher and the father of the artist Genichiro Inokuma were acquainted, and he once took me to Mr. Inokuma's house with some of my paintings.
Kubota So you had Mr. Inokuma look at your paintings? Do you remember what he said?
Nakajo He just said "Take a good look at things"
Kubota That's a profound statement.
― You seriously did oil painter, didn't you? How did that lead you to design?
Nakajo I love oil painting, but only a handful of Western-style painting graduates make it on their own as painters, and most of them become art teachers. At the time when I started university, Japan was recovering from the end of the war and graphics such as posters were attracting a lot of attention. In Inokuma's house, there was a poster by Herbert Bayer of the Bauhaus, and he showed it to me and said, "Nakajo, isn't this nice?" I said "Yes", and that's how I somehow learned about the world of graphic design. And at Tokyo University of the Arts, the percentage of applicants in the design course was lower than in the Western-style painting course, so that's why I chose the design course.
Kubota It was around that time that the Japan Advertising Artists Club was founded in 1951, wasn't it?
Nakajo Yes, that's right. Shigeo Fukuda and some other students from Tokyo University of the Arts secretly entered the contest and were selected. There were about 20 people of us at the same time, but about a third of us have passed away. If they work for a company, they have to retire, and if they get ahead, they can't design anymore. In my case, I'm freelance and I don't mind anything that comes my way, so I think that's why I'm still able to continue.
The Essence of Nakajo's Design
― Recently, Taku Satoh, Kenya Hara and Kashiwa Sato have been active in the field of graphic design, and they also work as art directors. Do you feel that the qualities required of a graphic designer have changed since your time?
Nakajo I think it's completely different. Nowadays, graphic design is directly connected to the product, and we have to think about the product or service first. For example, in the past,when a client was going to make new biscuit, a graphic designer would be asked to design the package of it. Nowadays, graphic designers are expected to answer "cookies are more popular than biscuits these days. So why don't we go ahead with this kind of plan", which is just the work of an art director.
― When I talked to Mr. Hiroshi Mizukami, a former staff member of Mr. Yusaku Kamekura, he told me that Mr. Kamekura also did editing and art director work, but he stuck to the title of "graphic designer". In that sense, was it Ikko Tanaka, who created MUJI and other products, who changed the job function of graphic designers?
Nakajo I think Mr. Tanaka was also very particular about being an individual designer. In fact, for MUJI, he worked as a team with a producer like Kazuko Koike.
Kubota I've always had the impression that young designers these days are too gentle or well-organized, and lacking in impact compared to you. Nakajo's designs always seem to break the status quo, to break the rules, and to have a strength that denies any kind of cleverness. You intuitively see not only the immediate future, but also the future, and instinctively anticipate it...
Nakajo I worked on "Hanatsubaki" for more than 40 years, and it was a very enjoyable job. I love fashion and photography, so I was able to use both to express myself as much as I wanted. I liked and enjoyed working for magazines and other media, and I think I was good at it. If I had only done posters or packaging or one item at a time, I might have been stuck. In the media, as time goes on, new things come out, like fashion and art, and when I went to Paris and New York to do interviews, I had exciting encounters. It was a really interesting job because I was able to express what I felt and thought there in the form of graphics.
― For you, "Hanatsubaki" was not just a two-dimensional medium, but a "space of expression" where you could express your creativity to the fullest.
Kubota Listening to your story, I can see that you were working tirelessly to do whatever you wanted to do at "Hanatsubaki".
― I think that's what magazines are supposed to be about. The editorial work that the editors and the production team are passionate about shines the brightest.
Nakajo Nowadays, media is not just paper, it's been subdivided into websites and digital signage, and ther's too much information to grasp. On the other hand, the number of paper-based magazines is decreasing.
― That's right. The fact that "Hanatsubaki" lasted for over 40 years must mean that you and Shiseido were a good match.
Nakajo But that wasn't always the case. At the time I joined Shiseido, our graphics were mainly based on the delicate lines of Ayao Yamana's typography and illustrations. Later, in the era of Makoto Nakamura, photographers such as Noriaki Yokosuka appeared, and graphics based mainly on photographs became the mainstream. In that sense, my style, which focuses on the overall shape and the sense of volume, was probably unique. I myself believe that no matter how much the times and media change, "density" in graphics is still important. I think the reason why the poster medium is still alive is because it can express the density of graphic design. I think that's why it's still around like a small stream.
― Why do I feel that the density of contemporary graphic design is diminishing, while the designs of your generation have a high density and a clear individuality?
Nakajo Maybe it's the times.... But there are contemporary designs that at first glance appear to be less dense, but are actually very dense. It's like they're trying to deceive you. This is the case with Kazunari Hattori's design, isn't it?
― But when it comes to deception, it's Mr. Nakajo.
Kubota It's like he's saying, "I'm not going to do what everyone else is thinking."
Nakajo That's right. I feel like I'm not going to be the leader. It's a supporting role. It's easy to be in that position. If it becomes mainstream, I think it will be very difficult. I'd have to compete.
Kubota Mr. Nakajo's designs are so unique that no one can copy them, and there's no one to compete with.
― You're the only designer who's ever done anything in the Nakajo style, aren't you? Your use of colour is also unique. For example, Shiseido Parlour's package design is a surprise - that colour for sweets?
Nakajo This is a bit of a dodge, but in my case, I've never won a competition. To put it another way, I can only do work that only you can do, and there's nothing left.
Kubota Large corporations require designs that can be accepted by everyone, but that's not the case for you, is it?
― But the world is becoming less interesting because there's no longer any design that can be accepted by just about anyone. There's a tendency in design these days to focus on the "natural", the "normal" and the "everyday", and to shy away from pushing individuality and quirkiness to the fore. But normalcy and normality have gone too popular.
Kubota I think it'd be tough if Nakajo's style of design became mainstream, but as it stands, it's a bit sad. Mr. Nakajo is a major figure in the graphic design world, but you say he's not a major player. He doesn't want to be. But many of the young designers today are aiming for the big leagues, so they may not be able to take your approach.
Nakajo If you take my approach, your agency won't grow. I've always had a small group and now I'm on my own.
― But talking to you, I can see that it was a good thing. Your works are still there, and you are still working at the forefront of your field, even though you are over 80. So I don't think you are interested in archiving.
About the Design Archive
― We know that you are not interested in the past, but we would like to ask you about your archive. Your work is mostly graphic, and many of your designs are created by hand, what do you do with your original drawings?
Nakajo Although I still have the original drawings, they are not well organised. Depending on the theme, if I'm working on a letter or compositional design, I'll draw a shape on a piece of graph paper, and while I'm repeating this and that, I'll think of a colour image. I use ordinary water-based magic pens for most of my work, and I'm not particularly particular about which pens I use or what tools I use.
Kubota From what I've seen of your work, you're a mixed-media artist, using a variety of techniques and materials. For example, you send the original design back and forth by fax, and then you accidentally find a discrepancy or a scrap that's interesting. And then you do it again and again until you run out of time, and then it's done!
Nakajo That's right. Rather than planning from the beginning, we take in the unexpected, the mutations from chance and failure. Otherwise, it's hard to create something lively and out of the ordinary.
― I think that today's design is over-emphasising the need to be easy to understand and to make things understandable, and that's making it less interesting, but your design transcends that. It's refreshing to see you open up and say, "It's okay if you don't understand! That's refreshing."
Kubota You also do product design. One-of-a-kind pieces for exhibitions and "Hanatsubaki" photo shoots, though. The chairs and light fittings in the Shiseido Parlour and the cat chests there are all designed by Nakajo.
― Is there a difference between two-dimensional and three-dimensional design?
Nakajo My father is a carpenter and my daughter is an architect, so I am interested in space and furniture and I like it, so I enjoy designing. But even in three dimensions, sculpture must be difficult. In fact, I designed the lighting and chairs for The Ginza (Photo 1). I have only one chair in my office. I also designed the lighting for "Hanatsubaki" (Photo 2) and some other objects.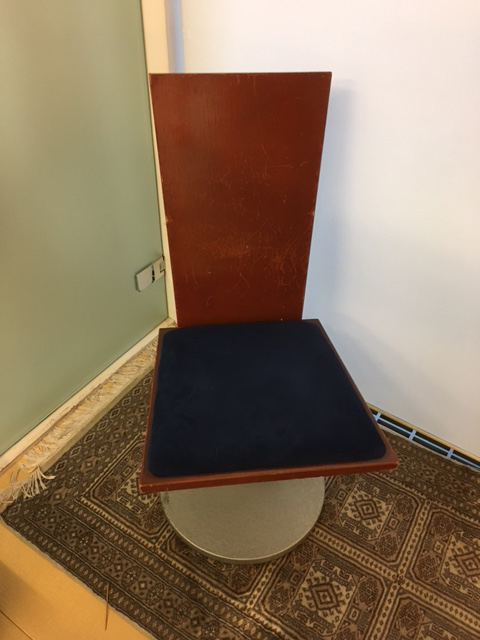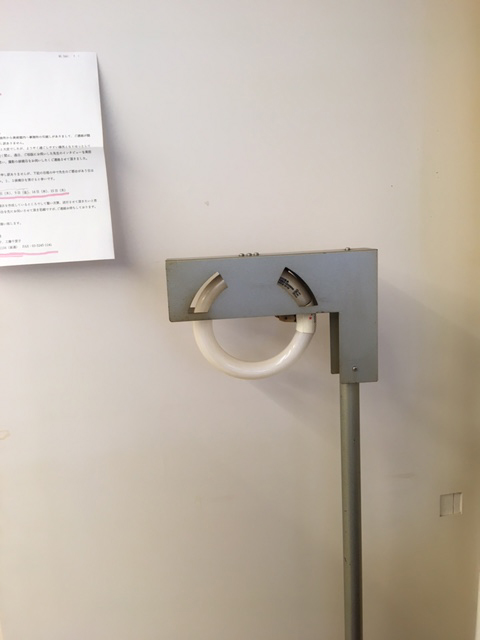 Left/Photo 1 The chairs for The Ginza
Right/Photo 2 The Lighting for "Hanatsubaki"
― Finally, could you tell us about your design archive?
Nakajo Ms. Kubota knows more about it than I do, so please do.
Kubota I have organized Nakajo's works for his collection book, so I have a plan to have it archived in a coherent form. The works relating to Shiseido were collected at the Shiseido Corporate Museum, which is adjacent to the Shiseido Art House in Kakegawa, Shizuoka Prefecture. Other than that, the main posters are in the archives of the DNP Cultural Foundation of Dai Nippon Printing, and I'm working on getting the other works together somewhere.
― What about the Tokyo University of the Arts , where you graduated?
Kubota The University of the Arts doesn't have a design collections. They do have a collection of artworks though.
― In that sense, the book that Nakajo, Kasai, Hattori and Kubota are working on now is a valuable archive. I understand that it will be a huge book, 640 pages. However, the handwritten sketches are unique and we hope that they will be kept somewhere in a proper archive. Thank you very much for your time today.
Mr. Nakajo passed away in October 2021. We wish him all the best.
For further information, please contact
If you have any questions about Masayoshi Nakajo's design archive, please contact us through the website of Architectural Thinking Platform (http://npo-plat.org).