Interview
Isn't it necessary to have a memorial service for the deceased before archiving?
Current status of design archives
―― I hear that Mr. Eto and Mr. Muramatsu have organized their works and materials since Koichi Sato died in 2016. So today, I would like to ask you about the current state of Mr. Sato's design archive.
Eto Mr. Muramatsu and I took the lead in organizing it while consulting with the bereaved family. First, the posters were donated to the CCGA Contemporary Graphic Art Center of Dai Nippon Printing, the Printing Museum of Toppan Printing, the Toyama Prefectural Museum of Art, and the Takasaki Museum of Art in their hometown. It was difficult to find an underwriter for works and materials other than posters, but in the end, they were stored at the Tama Art University Art Archive Center (AAC), where I was teaching.
―― What did you have other than the poster?
Muramatsu Original drawings used for posters, block copy, hanging shaft works, small graphics such as pamphlets and leaflets, editorials, hand-drawn sketches and memos, photographs and letters, tools such as airbrushes and pens. The photos and letters were confirmed by the family.
―― Do you have a list of them?
Muramatsu There is a list of major posters, but nothing else, and many of the materials donated to AAC are unknown in detail. The reality is that there are no clues about the work when he was young without an assistant.
―― Did Mr. Sato's work mainly focus on posters?
Eto The posters will be the main focus, and I think the next one will be editorial. Most of the magazines are Kobunsha's work, such as fashion magazines such as "JJ" and "CLASSY.", Other works and photo collections, exhibition catalogs, corporate PR magazines, such as Shiseido's "Beauty Research", Imperial Hotel. I was doing "Imperial" at the hotel and "Quarterly Sogetsu" at the Sogetsukai Publishing Department. He is also involved in theater, and has worked on posters for Seibu Theater's public relations magazine "Theatre," Seinen-za, and Music Theater.
―― How was it when it was donated to AAC?
Muramatsu I spent another two years organizing what was roughly classified before I was alive, and paid two sets of posters and one set of others in 2018. Currently, there is no official data on the works and materials, so at AAC, the professors, staff, and students will take the lead in digitally photographing the collection and creating data based on it.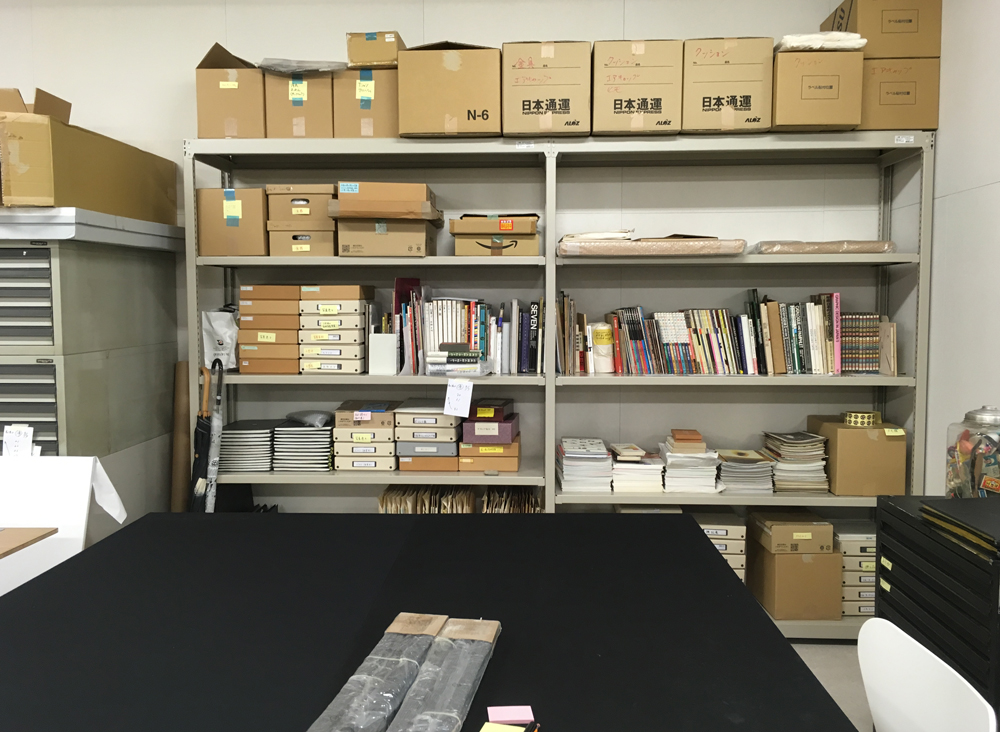 Archives stored in AAC
―― What is the total number of archives?
Muramatsu I don't know the number, but in terms of chunks, I think the warehouse in the office occupied about 5 x 3 x 7 meters. It seems that the collection of books was gradually reduced by selling it, giving it to people, disposing of it, etc. every time the office moved. Not all the books I designed are left.
―― Did you include collections or luxury items?
Muramatsu I didn't have a collection in particular, but I wondered if I had collected printed matter from around the world and postcards as samples. I also had some soy sauce bottles from Kiyoken, but I'm not the type of person who is a so-called collector.
Eto We are teachers' late disciples, but I would like to record not only the works and materials, but also the stories of the staff and related parties before us.
Muramatsu After the teacher died, in organizing the work, we had the staff of the past gather and talked about the episode and watched the work together. Eventually, I would like to collect such testimony and convert it into text.
―― Please make it happen.
Eto I think that design archives are meaningless unless we not only store and organize works and materials, but also read something from it and make use of it in the future. Mr. Muramatsu and I talked about his work from each perspective at various opportunities such as the retrospective exhibition event at the Takasaki Museum of Art in 2018, and each time a new figure of Mr. Sato stood up. It was a lonely but very happy time to come. By reading the remaining archives, I felt that I could revive the writer as many times as I wanted.
Muramatsu I consider archiving and organizing works to be part of the process of memorial service for the deceased. In reality, we have to clean up a lot of invisible things through our works and materials. Personally, the word archive gives me a very dry impression, and I feel that it is far from what I have done.
―― Objectivity is important when it comes to "archive," and in that sense, you may have a dry feeling. However, I think that the archive is also an important thing to convey the works and ideas of the deceased to posterity.
Eto At the request of the teacher, after putting them in a series of museums, the remaining posters were distributed to Tama Art University's students. I gave priority to international students, but I am glad that I was able to spread the teacher's message around the world through posters.
Muramatsu It may have been a desire not only to store the works in one place as an archive, but also to see the future of design on the part of the students.
―― It's an episode that seems to be Koichi Sato. The "book to write for students" that I bought at the Takasaki Museum of Art shop also had a wonderful message to the younger generations of the design, which made me excited.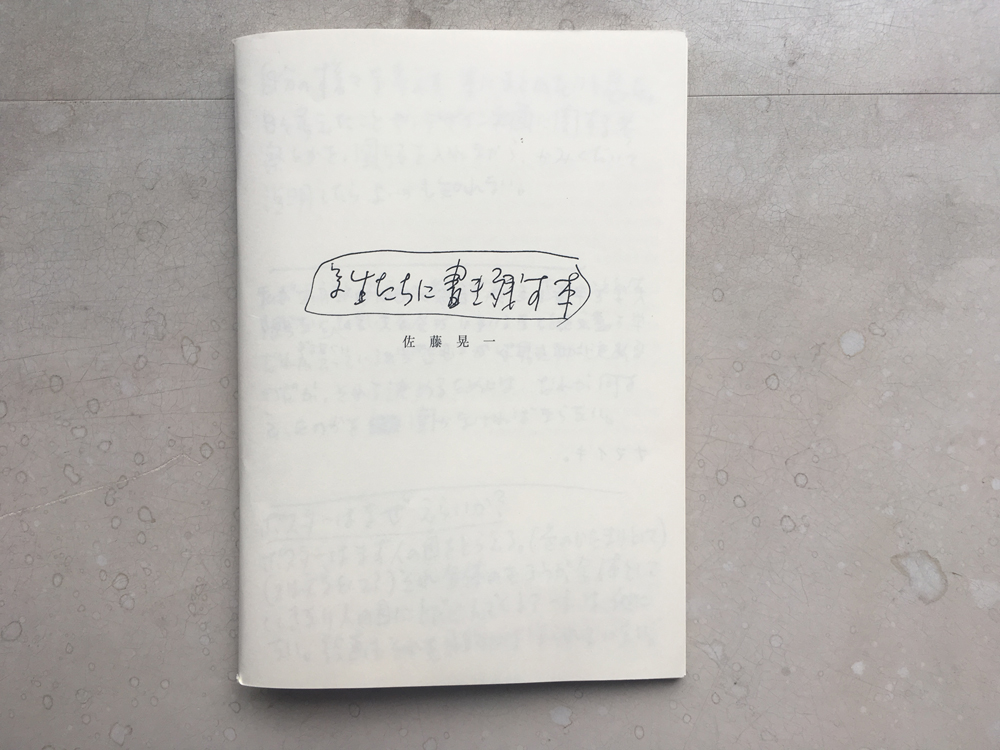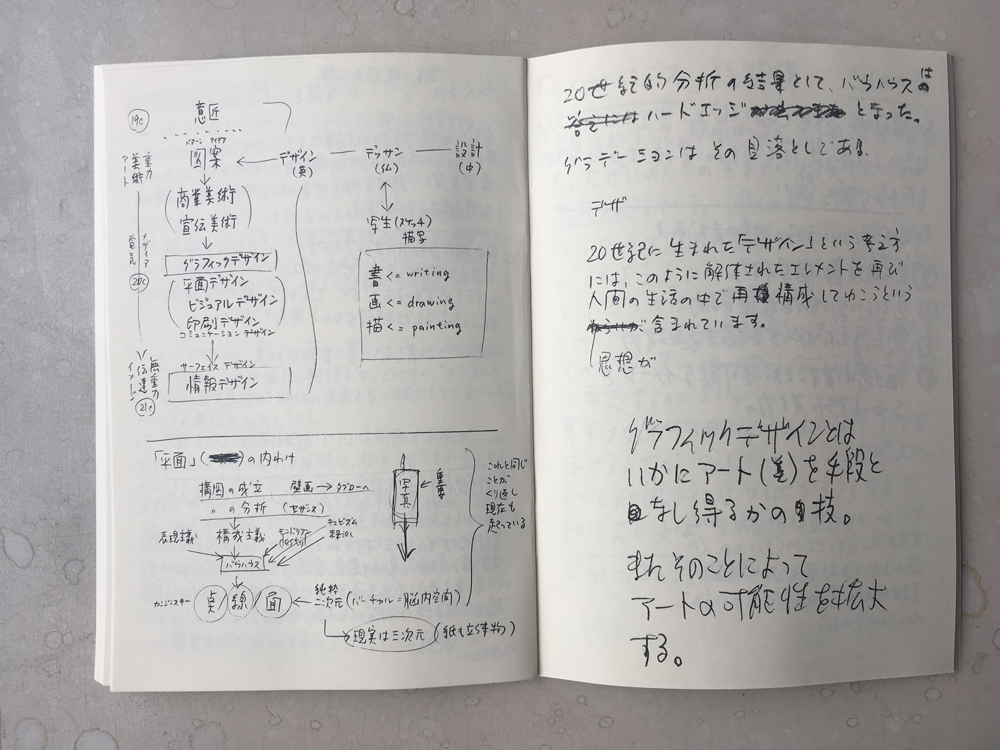 From "Books to write to students"
What is the designer Koichi Sato?
―― Now, I would like to ask about Koichi Sato, the designer for the two of you. First of all, how did you meet Mr. Sato?
Eto I entered Tama Art University in 2001, took classes with Professor Sato from the third grade, and worked as an assistant for four years from 2006 to 2010, so I have been with him for about 10 years. During that time, I think I was dealing with them as a student rather than as an office staff member.
The encounter was shocking. At Tama Art University, there is an orientation from the professor in charge about the content of the 3rd year class at the end of the 2nd year, but Professor Sato suddenly said, "Please do not choose my class. Only those who aim to be world-class designers should take it." I made a statement. The point is that students are screened first, but on the contrary, I was fascinated.
The class will take 15 weeks in the first semester to produce posters. In the first week, there was an explanation of the task of making an announcement poster assuming my own exhibition, and in the second week I completed all the B posters, and brought them to full size and output triumphantly. Naturally, I was expecting the word "Wow!", But the result was a 40-minute sermon that theoretically analyzed what was wrong. At that time, I couldn't understand anything that the teacher said, and I got stuck as if it was an accident. However, I didn't feel sad or regretful, and I was delighted to meet someone who was serious about something I didn't know. It's a kind of baptism.
―― Did you know Mr. Sato from before?
Eto Yes, I've known it since I was a prep school. However, from the narrow understanding of the preparatory school students, I could only recognize that the teacher's style was difficult to utilize in the plane composition. Moreover, many of the teacher's posters make use of the printing principle, but unfortunately they are not reproduced in the work collections and yearbooks. I came to teach them directly, and when I saw the actual poster, I really experienced the greatness of the work.
―― What kind of work do you like?
Eto "100 years of Japanese emigration to Mexico" and "IdcN" are works that look smooth and finished. These works are not transcendental techniques such as gradation expression, and anyone can reproduce them by breaking them down into individual elements, which is why I feel it is amazing. By combining what anyone can do, or by composing general motifs and modeling elements, we create fresh images and deep communication that we have never seen. In other words, even if it is simple, the idea has a depth as a picture. For example, anyone can think of a combination of the Hinomaru and cactus. However, the depth of the idea is that the thorns of the cactus also grow from the Hinomaru, which makes this poster extraordinary. I heard that this thorn was adopted when the thorn happened to fall on the Hinomaru while making a rough sketch.
Not limited to this work, when I was an assistant, I often encountered the moment when I scooped up more ideas while making pictures. That is the driving force that makes a leap from an idea that everyone can think of to a one-off work by Koichi Sato.
I also like the poster of the fan, which is a work of my later years. Katsumi Asaba, Yukimasa Okumura, Kaoru Kasai, Mitsuo Katsui, Koichi Sato, Kazumasa Nagai, Masayoshi Nakajo, Kazunari Hattori, Kenya Hara, Shin Matsunaga and others will exhibit at the 21st Century Rin School Poster to commemorate the 400th anniversary of the Rin School. was doing. The design was made by repeatedly arranging fans, and I heard from Mr. Muramatsu that it was completed in just 40 minutes. It's kitsch and at the same time dignified, and it feels laid back and precise. It is not limited to this work, but it is a rare finish that simultaneously establishes conflicting properties.
Muramatsu I was taught at Tama Art University under Mr. Eto in the third and fourth years of college. After graduating, I got a job once, then worked as a staff member again under Professor Sato from 2010 to 2016, and remained in the office for a while after he died. When I was in the second year, I was shocked to hear the teacher's story for the first time in a public commentary on the open campus. "It looks scary, but I still want to take it," and I struggled to fall asleep. In the class explanation, I talked about "how to make you guys bloom" by entwining the nose, the edge, and the Korean word "Hana" with the flowers. The students applauded me, so it's quite different from when I was Mr. Eto.
In the class, when I showed a picture of dentures drawn in fluorescent color, he responded with a slapstick. Professor Sato also had a lot of drawers for kitsch things, overturning the image of a designer who draws quiet Japanese paintings that he had held until then. I have almost no memory of being scolded in the third year, and I feel that I was taught all the tricks that this would make me feel even worse.
I worked when I was young, but I like the cover of the magazine "Record Collectors". It is made roughly like the "Haigura" of later years, but it is more powerful than the "Haigura", or it has a tight shoulder and elbow, and I am attracted to that part. It may be. Also, compared to the posters of the same period, it seems that they are making it with a bad feeling. As for "Sogetsu", when I saw the cover of "Sogetsu", which was just a piece of seaweed, at a second-hand bookstore, I thought it would make me feel relaxed. Such nonsense works are not taken up as representative works, but they make me feel like Mr. Sato.
Is it "Tama Art University Doctoral Program Exhibition 2006"? I remember seeing it on the premises on the day of the graduation ceremony of the university and standing up. Interesting things will start at this school, and I have to leave this place even though it is floating from the poster. That regret may be the motivation for becoming an assistant to Professor Sato.
In each case, I am impressed by the fact that there is an image in front of me that I have never seen, the free mind that creates it, and the way I really enjoy designing.
―― What did you like about Mr. Eto's poster compared to Mr. Muramatsu?
Eto The posters that were preached were designed by arranging their drawings when they had a workshop with their children. From now on, don't play with your own loincloth, take out a picture of your child, isn't it? I wonder if the spirit was bad. In addition to that, I think that there was no basic idea, information could not be communicated, typography was handled, and everything from the center to the edges was useless.
―― How did you feel at work?
Muramatsu I still remember that I could drink beer in the evening, but it was served not only to me but also to me. I've heard that there used to be a bottle under the desk. He said he couldn't drink at all when he was younger. We have seen the last 10 years of our long career. It is only a small part that I can talk about the work and work of the teacher, not just alcohol.
Eto The teacher at the university was strict and I was nervous, but I was impressed that the office was very relaxed and always in a good mood. By the way, when I and Mr. Muramatsu had no full-time staff, I was working as a staff with a business card, but I went to the office two or three times a week.
―― How was your work going?
Eto When I went to the office around 11 o'clock, there were sketches and instructions of the teacher on the desk, and I was working on my PC. Then, in the afternoon, the teacher will come and start working back to back with each other. After a while, the teacher sits on my right side and designs on the monitor, but since the teacher touches the monitor, prepare a tortillon (a tool used when drawing with pastel or charcoal) and use it. I received it. At the time of Mr. Muramatsu, he used to use chopsticks.
―― Mr. Sato himself never handled a PC, didn't he?
Eto Yes. However, when I was using Photoshop, I was familiar with the principles of brush tools and tone curves, and gave me accurate instructions. It feels like we were taught by the teacher how to use it and the possibilities of expression.
―― When I was working with Mr. Sato, I was impressed by the fact that the print proofing was instructed numerically to "increase cyan" and "decrease magenta". I still remember being surprised at the accuracy of Mr. Sato's instructions, while most designers make vague expressions such as increasing them a little or making them feel strong.
Eto The proofreading paper was in red, so I didn't write it in an ambiguous way. I knew what I could do with printing, and I had some experience, so I think I was able to give specific instructions.
―― The exact instructions to the two people also apply to those of the printing company.
Eto Considering that Photoshop is a digital version of the darkroom work and plate making work of photography, I think that the basic experience was that the teacher used an airbrush and worked in the darkroom when he was young. .. It is only with the knowledge gained from the experience that it gives us accurate instructions rather than imposing a difficult task on us, and if it is different from the prediction, it immediately shows another possibility. I didn't feel any burden or dissatisfaction with my work.
Muramatsu I learned the principle of tone curve from my teacher. The tone curve adjusts the color tone by shifting the gradation curve of colors such as cyan and magenta, but the mechanism was properly understood by applying the principle of gradation. I think that the teacher was able to draw the finish in mind by accumulating rational and concrete understanding.
―― Because the people of the Sato generation are based on the wisdom they learned and learned through their bodies, design tools could be applied to design even if they replaced PCs with pens and airbrushes. The PC generation suddenly designs using the tone curve of Photoshop. Do you think there are differences in works and ideas between the two?
Eto There will be. The teacher had predicted that this would happen to some extent before designing, but in many cases, our generation, including myself, decides on the design while moving the shape on the PC. You can say that you can proceed without elaboration, planning, or aim ... In a sense, you may be able to say that your intentions are behind you. I'm kneading it, but it's hard to fix it, and sometimes I get into the maze.
―― As for the former staff of Yusaku Kamekura, Mr. Kamekura pondered until he decided on the design, but once he decided on it, he didn't modify or change it many times.
Muramatsu I think Professor Sato was also working on a clear idea.
―― What do you do after the day's work?
Muramatsu 一段落した時点でプリントアウトをします。先生は僕らがいない間にそのプリントを切ったり貼ったり修正を書き添えたりして改良案をつくる。それをまた僕らが加工するというアナログとデジタル作業を何度か繰り返して、最終的に完成させるという感じでした。
―― It will be printed out when it has settled down. The teacher makes improvements by cutting and pasting the prints and adding corrections while we are away. It was a feeling that we would repeat the analog and digital work of processing it several times and finally complete it.
Eto Thanks to that, my thoughts were always clear, and our staff did not feel any strange stress.
―― Was your home separate from your workplace?
Eto Yes. Apart from my home, my workplace was in Hongo. I have moved several times, but I remember that I was always in the Hongo area.
―― According to the story, the work was at a relatively relaxed pace.
Eto surely. However, "JAPAN SHOP" and "Architecture / Building Materials Exhibition" held at Tokyo Big Sight There were regular jobs such as visual design of trade fairs such as, packaging of Japanese sweets Kanoshojuan, bulletins such as "Quarterly Sogetsu" and "Imperial", and posters of ADC, JAGDA, and Tama Art University. Until 2015, he also taught at Tama Art University. Also, when I was there, I was working on a project called "Haigura" with Mizumaru Anzai and Shinichiro Wakao, who added graphics to their own words and haiku to make them into hanging scrolls, and created a playful graphic work. I created about 14 or 5 works and held an exhibition, which was very fulfilling.
Muramatsu When I was there, I had finished regular work such as magazines, and I was often asked to do poster work on a one-off basis. In addition, there are several exhibitions that look back on my career, such as "Koichi Sato Poster Exhibition" and "Tama Art University Retirement Memorial Koichi Sato Exhibition" at Ginza Graphic Gallery, and I organize posters for the exhibition. I was putting together a collection of works.
―― You have already been working on archiving. Did they do their jobs on days when they didn't go to the office?
Eto Since I was a student, I was doing my own research and creation.
Muramatsu I was freelance and did my job.
Questions without answers
―― When you hear the story, did Mr. Sato at the office naturally convey the process while sharing the process rather than teaching as a professor about design?
Muramatsu Was there such a consciousness in the first place, or was it not?
Eto Occasionally, he taught me concretely. In my case, it was tough at university, but at the office I was kind and a little out of tune. What about Muramatsu-san?
Muramatsu There was a time lag between graduation and becoming a staff member, and when I was a staff member, I sometimes saw freelance work, and when I was a student, I was very nervous. Most of the time, they praise me during the day, but when I started drinking beer at night, I was often sharply criticized. When I think about it now, I wonder if the night was the real thing ...
―― What are you talking about?
Muramatsu There were more fundamental things, like thoughts and attitudes towards design, than concrete things that could be resolved quickly, such as color and shape. I still have homework from my teacher.
Eto That's right. Professor Sato's point is not a concrete one, but many fundamental questions. It feels like asking us an eternal question and leaving. However, thanks to that, I think that the motivation to continue designing is maintained.
―― Was Mr. Sato himself a person like "design = living = playing"?
Eto I think so in a sense. Not to mention work like artwork such as "Box Series" and "Haigra", but rather I feel that I was playing seriously in the actual work. I was always looking forward to the series of posters for Tama Art University's doctoral program exhibition, as the tags seemed to come off with each passing year. Surprisingly, he liked TV. I often watched natural science documentaries and talked to me at the office, perhaps because my father worked for NHK.
Muramatsu Even when I was working, the topic of television was raised during work. I remember it was a documentary or not very sticky.
―― How was it for designs that send out social messages such as environmental issues, nature, children and peace?
Eto I did not make a loud statement or actively work on such a theme. Of course, I also designed posters with such content, but I think I aimed to design not only to convey the message uniquely, but also to shake the sensibility of the viewer and encourage thinking.
―― How about sentences such as essays and critiques?
Eto I don't remember that I was willing to write it, but I was writing sentences for my own books and catalogs.
Muramatsu When I was young, I had a serialization in "Music Magazine". He was enthusiastic about haiku for a long time, and he seems to have written poetry when he was a student.
―― How was the photo?
Eto In my later years, I made a handmade collection of works by pasting my own photographs on a sketchbook. I was always amazed at how poetic something came up in the simple operation of combining two photos. I think I made nearly 20 books.
Muramatsu When I was a student, I was in the photography club, and I wanted to make a photo of my graduation work at Tokyo University of the Arts, but he wasn't allowed. At that time, I was working in a darkroom, so I think I had some knowledge of Photoshop and applied photography and development mechanisms such as solarization to posters.
―― Recently, there are few opportunities to design by hand, but did Mr. Sato stick to manual work?
Eto I think that's the case, but I think I didn't put more emphasis on manual work than necessary or valued wasteful labor. The teacher made everything by himself, but it was difficult for the work itself to become a purpose.
Muramatsu However, when I was young, I seemed to stay up all night when I was using an airbrush. The reason why I don't stay up all night and don't get muddy may be because I was in my later years.
―― From what you've heard so far, did you mean that Koichi Sato was a genius and could have imagined the finish from the beginning?
Eto I'm afraid not. I wasn't aiming for it to be finished as planned, but I was predicting it to some extent, but rather I enjoyed the design leap in the process.
Muramatsu Is it a feeling close to invention?
Eto It's certainly an invention. If you can predict it from the beginning, don't do it.
―― Is there anything else you remember about your work?
Eto I like the design of Mr. Sato's logo and symbol mark, and I was impressed that he also has such a drawer. The poster is also a symbol in a sense, so it's naturally good, but I'm attracted to the design that is even more powerful and wild than the poster.
Muramatsu From the point of view of archiving, the teacher also kept the gradations and block copy manuscripts made with the airbrush clean. For example, it seems that a new block copy of work C was created by combining the block copy of work A and work B, so it was necessary to keep the block copy of the past work. It's a remix method, but since airbrushes are time-consuming, I think they prepared a simplified second production process. I didn't use an airbrush when I was there, so I used to pull out old work and block copy, scan it, and reuse it.
―― Finally, I would like to ask you a special story that will be memorable for both of you.
Eto My last name is originally "Eto", but the reason for using "ゑ" was Mr. Sato. It was just before the teacher had a major surgery. When I visited him, he said, "I thought Eto-kun's name wasn't good from the time I met you. Especially Mamoru wasn't good. I thought about it ...". I thought it was a joke at that time, but that was the last time I met my teacher. When I thought about its true intentions, I remembered that it was pointed out before that "you have a Yayoi sensibility." It can be sophisticated and beautiful, but at the same time it can be pale and boring. It was a time when I became independent, and I thought that the teacher was pushing me to "break the shell", so I took the swirling letter "ゑ" like a flame-type pottery and said "Eto". I decided to call myself.
―― Did you change your real name?
Eto It's a pen name only when I'm at work. Then, when I called after the surgery, he advised me to wear an interesting hat or have a flashy hairstyle. It feels superficial for "breaking the shell", and the true meaning of this is still unknown.
―― Certainly, flashy needs power to look good, and in a sense it may be the basis for breaking the shell. You probably wanted to say that. I feel that many of Mr. Sato himself and his portraits in his later years are strange.
Muramatsu When I showed my work, I said, "I think it's well done, but I don't like it." "With this design, of course, the client will be very happy. But it's not. The real job of the designer is to present beauty beyond the client's imagination. How long will you continue this kind of work? "When. It's like a curse, but I still keep that word in mind when I work.
Eto Certainly a curse.
―― But it's a thankful curse. I'm afraid that the designer will propose a design that is beyond my imagination, but at the same time it's exciting and the finish is fun. Mr. Sato probably encouraged them, "I should be able to do more."
Eto Because of the teacher's personality, I don't dare to say anything if it doesn't matter. It means that human beings must change before technology.
―― The design is personality. You can't do it with a small hand.
Eto It's hard to say what you think with just your head, but you can't help but be convinced when someone like your teacher tells you that your head and hands are top-notch.
―― I would like to continue to ask Tama Art University's AAC, which is currently in the possession, for the rest of Mr. Sato's archive. Thank you for today.
Location of Koichi Sato's archive
Tama Art University Art Archive Center https://aac.tamabi.ac.jp