Interview
The finished space is everything, the value.
Accumulation in Italy and Perspectives on Space
— It's been a while since I've seen you. I had the pleasure of interviewing Mr. Ueki several times in 1981 when you designed the interior of the AXIS "LIVING MOTIF". Although the Living Motif has since been renovated and the original space no longer exists, it was a space filled with ideas that only Mr. Ueki, who had returned from Italy, could have created, such as the pyramid-shaped showcase in the centre. Since then, you have been active as a leading young designer, and have been involved in a wide range of interior design projects, including interior design for restaurants, shops, hotels, and members-only clubs, furniture design, and residential design. Your background is also unique. At university, you studied commerce instead of design, and then you went to Rome to study design.
Ueki At the time, Rome was in the heyday of film directors like Pasolini, and at first, I dreamed of being a film director. But I ran out of money, so I worked part-time at a cleaning station and as an extra in a movie. At that time, I met a professor at the Faculty of Architecture of the University of Rome, and through his kindness I was able to study design.
— You then moved from Rome to Milan, where you worked for the department store Rinascente before joining Aldo Jacobell Architects. There you designed houses and boutiques for Valentino, Sonia Rykiel and others.
Ueki In Milan at that time, Motomi Kawakami, Masanori Umeda, Toshiyuki Kita, Makio Hasuike, and Isao Hosoe were studying design.
— You once said in an interview, "I was initially able to do my work just by accumulating experience in Italy, a leading design country".
Ueki My eight years in Italy were a great experience. The design was mature and vibrant. Even for a single chair, the Japanese idea of a chair was completely different from that of the Italians. In the case of Japanese chairs, they are not designed in such a way that people want to sit on them. I think there is a difference in ideas and experience.
— On the other hand, when you worked with Yoshio Taniguchi, you were informed that your experience in Italy was not enough, so you said, "I had to aim higher. I had to aim for perfection and a thorough awareness that a space is a vessel for people and things". This experience also goes hand in hand with the fact that, looking at your work, it seems to me that you are a "space first" kind of person.
Ueki In Japan, we can see spaces where parts are built up, but not for me. For example, the Apple Store is one example, I think it's important to first consider the perspective of a breakthrough for the whole. This may be something I learned from Italy. Then, I participate in the project from as early a stage as possible, and while making many sketches, I envision the structure of the space, such as building a staircase here or raising the ceiling.
— It's more like designing architecture than interior design.
Ueki That's right. We also make furniture in order to realise the space we imagine.
— In other words, you are left in charge of everything by your clients?
Ueki My clients tell me to "do whatever you want", so I do whatever I want. When I look at the area of the property and the various conditions, and further discuss it with the client, an image will naturally come to me.
Point to Jobs.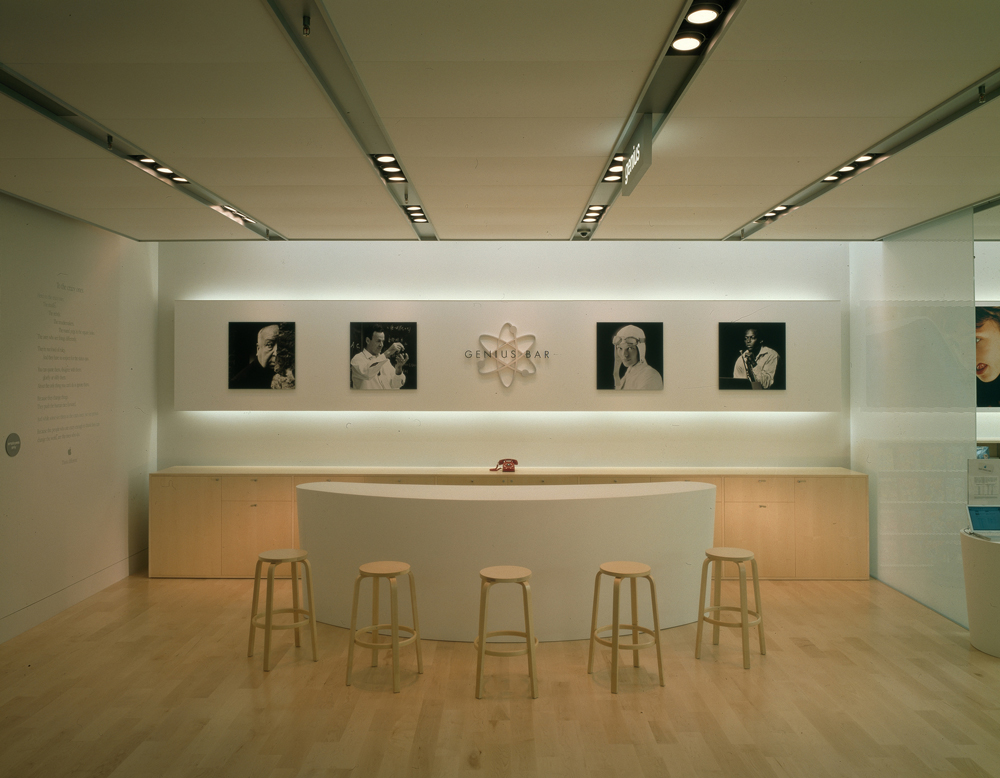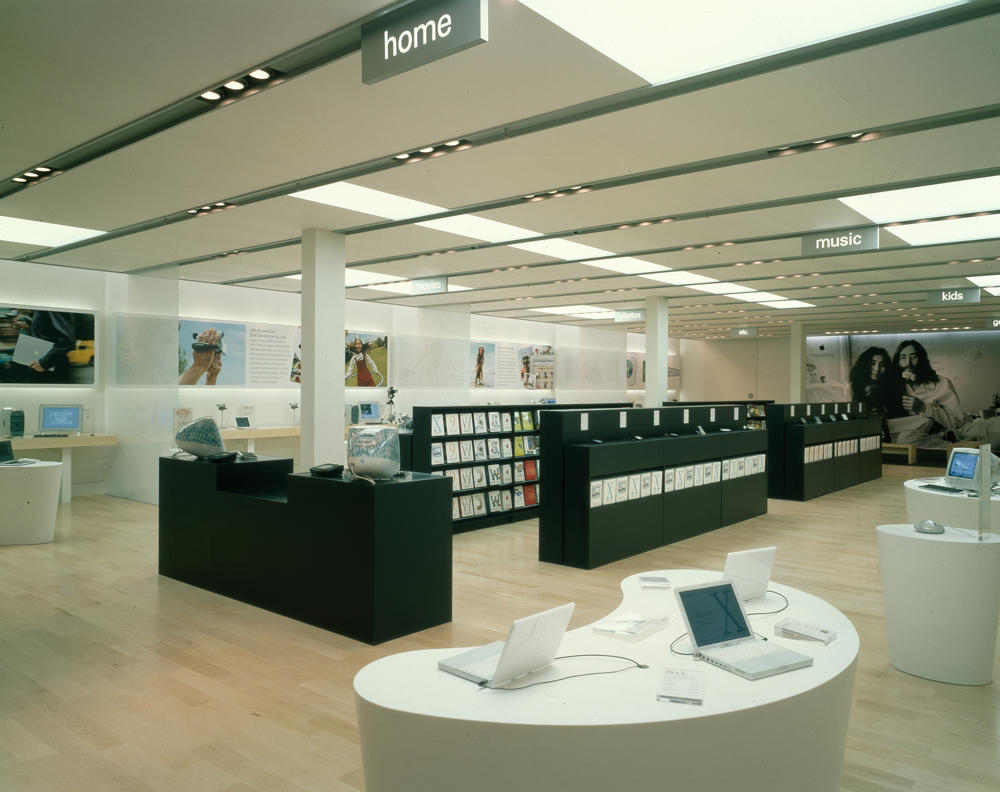 Photo "Apple Store" Washington DC (2001)
— which you told me about when I interviewed you earlier. I was impressed by the story of how you were entrusted with the concept design of the Apple Store.
Ueki I got a call from Tamotsu Yagi, a graphic designer based in San Francisco, who was going to meet Steve Jobs in a week. When I got there, they had a mock-up of the shop design in front of us and asked for my opinion on it. I pointed out that it would be good for a single shop, but not for a multi-store operation, and he said, "Well, I'd like you to do it".This is the story.
— Yes. A month later, you came to the United States with drawings and models, and the design for the world's first Apple Store was finalised. It was a concept unlike any other, a proposal for a common space ahead of its time. Jobs has since passed away, and this exchange is now a precious memory. What happened to the documents?
Ueki We got the OK on a single drawing, perspective, and model, but those were given to Apple, and we don't have any of them. I'm sure they're keeping them as well.
— Well, what has been your most memorable job so far?
Ueki This is the 1889 "OPAQUE" Ginza. The facade was designed by Kazuyo Sejima.
— It was a pioneer of select shops and the first place in Ginza to use translucent (opaque) glass. The way it connected small spaces with short staircases and presented a world view by mixing various categories such as clothing, food, housing, and entertainment was also groundbreaking at the time. Was this kind of "placemaking" also led by you?
Ueki That's right.
— Why was it so impressive?
Ueki Because I could do whatever I wanted (laughs).
— Free, yet lean and with a great sense of perspective. Mr. Ueki fell ill a few years ago and returned to work after undergoing a very difficult rehabilitation. Your insatiable passion for design is mind-boggling.
You have to make your own records to make them good.
— We ask Mr. Ueki what you think about design archives. How do you store and organise your sketches, models, drawings, and other materials? I think that your interior designs are one of the most valuable records of Japanese design history.
Ueki It's gratifying to hear you say that, but I've thrown it all away. It's because we see the commercialised product, the finished space, as everything, and that's the value. So once the work is completed, there is basically no need to keep any materials. I've thrown away most of my sketches, and I don't keep any of my notes or models. However, I do keep drawings. I have a responsibility as a designer.
— You send me your work collection regularly, but we could also see it as an archive.
Ueki Every six to ten years I compile a collection of photographs documenting all of my work since 1989, and so far I have published four volumes. I do everything myself, from selecting the photographs to writing the text, without leaving it to others. The descriptions of each work are in English, but I write them myself.
— When I look at the booklet, it has a very realistic photo composition. For example, we can enter through the entrance and have a simulated experience of the space. I understand that you also directed the placement and selection of these photographs.
Ueki I always have a specific photographer shoot for me, but I keep all the drawings, so I spread out the drawings and decide where and how to shoot, taking into account how people experience the space and how their line of sight changes.
— I'm asking just to be clear, what about Isome and Axome?
Ueki The public wouldn't know that even if they saw it (laughs). We didn't leave any of that behind. I think you can get a simulated experience with a movie, but a still photo gives a tighter picture, so we only take pictures.
— It's true that the concept may be better conveyed in a photograph. I feel that this gracefulness is unique to Mr. Ueki. Nevertheless, if someone wants to study Mr. Ueki in later years, it may be difficult to do so if there are few primary sources.
Ueki That has nothing to do with me (laughs). To be honest, I don't harbor any desire for future generations to understand it. Of course, if someone wants to see the drawings because they want to study them or learn about them, I am willing to show them to them. The drawings have been scanned and converted into data, so if you come here, you can see them.
— Why did you decide to put it in a booklet?
Ueki In Japan, magazines do not play a role as a recording medium, and I believe that it is more accurate and satisfying to have the designer himself summarise the content rather than have it compiled from someone else's perspective. It is for the same reason that I did not ask critics or journalists to write the text. In any case, for me, the finished product is all that matters, and the trial and error and the process that led up to it are incomplete, so I decided that it would be better to discard them.
— Since magazines and the like are commercially based, they can sometimes be lumped together with a point of view that is far removed from the artist's own intentions. Even though it is ideal to put together a magazine on your own, it is a big burden to take all the photos and publish them at your own expense. It's not an easy thing to do. I think it's an amazing thing.
Ueki We've printed 1,000 copies, but it's not really that great (laughs). Many of the Italian designers also put it together themselves. I think the first sentence of the book says it all. To create or to design is to express yourself, and in interior design it is to give a space your own meaning. In a space that is given meaning, there is a meaning of place.
— Your spaces are of high quality and give the impression that they will not age over the years. The secret to this can be found in the text that follows. "The beauty of a place is to be found in the complexity of its architecture and interior, and to project oneself into it. I like to see the gradual completion of a sense of beauty in a long process of harmony. The beauty of the resulting place is my desire and is composed of all of my thoughts, intentions, and current life. The pursuit of beauty of place is the passion of my work, and it is eternal". Lastly, please tell us about your ongoing work.
Ueki We are building a hotel in Hakone, which will be completed in about three years. The architecture is by Shigeru Ban. It will be a comfortable space.
— Thank you very much. I'm looking forwards to the completion.
Contact information for the location of Kanji Ueki's archive
Cazappo & Associates
http://www.casappo.com