interview
Yanagi Sori Memorial Design Laboratory
Interview: Tuesday, January 24, 2017
Interview location: Yanagi Sori Memorial Design Laboratory
Mr. Hitoshi Mori, Ms. Yuriko Minami
Interviewer: Yasuko Seki, Aiko Wakui
Writing: Yuko Wakui


introduction
Yanagi Sori Memorial Design Laboratory is an attached facility of Kanazawa College of Art and Design (hereinafter referred to as Kanazawa Univ.) Established in 2014.The location is part of the area where numerous cultural facilities gather, such as Izumi Kaga Memorial Hall, Kanazawa Gymnastic Gallery, Kanazawa Bunka Kan, and the first floor and the second floor of the building which was once the head office of a long-established Japanese confectionary shop "Mori Hachi" We are using.The laboratory has two exhibition spaces for permanent and exhibition exhibitions as well as a lecture room for holding hundreds of works owned by Kanazawa Odaiba, a storage cabinet, research library, open lecture, etc. ing.The permanent exhibition room has published about 200 pieces of Yanagi's work in the space assumed for living such as dining and kitchen, but these works do not have captions nor explanations at all .The reason is because it focuses on touching the work directly without giving prejudice and focusing on having Yanagi's designs felt through dialogue with objects.
Relations between Yanagi Sori and Kanazawa Miyajima began when Yanagi took office as a temporary professor at the university in 1956.After that, Yanagi who kept teaching for about 50 years had a great influence on many students.The institute was founded to convey such accomplishments.About the opening of the institute, in 2012 about 7000 design related materials were deposited from the Yanagi industrial design research association, which is a design office of Mr. Yori Sawako.Taking this as an opportunity, we are working on arranging and researching Yanagi's archive while conducting academic cooperation between them.
This time, as a second step of Mr. Yoshinori 's archive survey, we talked about the roles each of the two research institutes play and how to utilize the archives in school education.
History of the establishment of the research institute and exhibition contents
- Regarding Mr. Masayo Yanagi's design archive, I heard that this Yui Memorial Design Research Institute and Willow Industry Design Study Group are managed by two pillars.First of all, could you tell me the circumstances?
Mori Sori Yanagi-san, Kanazawa College of Art for about 50 years (or less, Kanazawa art school) had been taught at.There was such a boundary, and hopes that people who retired were wanting to make a memorial hall were received, but it was hard to realize.In such circumstances, about 7000 design related materials of Yoshinori Yanagi, owned by Yotsuya Industrial Design Study Group in Yotsuya, were deposited at Kanazawa Miyako, and it was decided to utilize this building acquired by Kanazawa City.
Originally, it was planned to be a museum, but unfortunately the building is old, it can not be used as a facility to visit by unspecified people, due to problems such as earthquake resistance, and it operates in the form of a research institute of Kanazawa Univ. I decided to do it.Therefore, it is open to the public in a form to have you see the work which is put in the classroom of the university.
- What kind of works are exhibited here?
There are two exhibition rooms on the first floor of the forest .The exhibition room 1 is a permanent exhibition room for Mr. Yoshinori's work and space to let him know the way of thinking about his design.Currently all the exhibits are deposited, and from the selection of works to assembly, layout, the Yanagi industrial design study group is doing.The exhibition room 2 is a space to be used at the exhibition and the event, we conduct exhibitions organized by our laboratory once a year and exhibitions to show the results of the students' education to the general public several times a year .For the remainder of the time, we are displaying image programs and panels to get to know the relationship between Sori Yanagi and Kanazawa Miyoshi.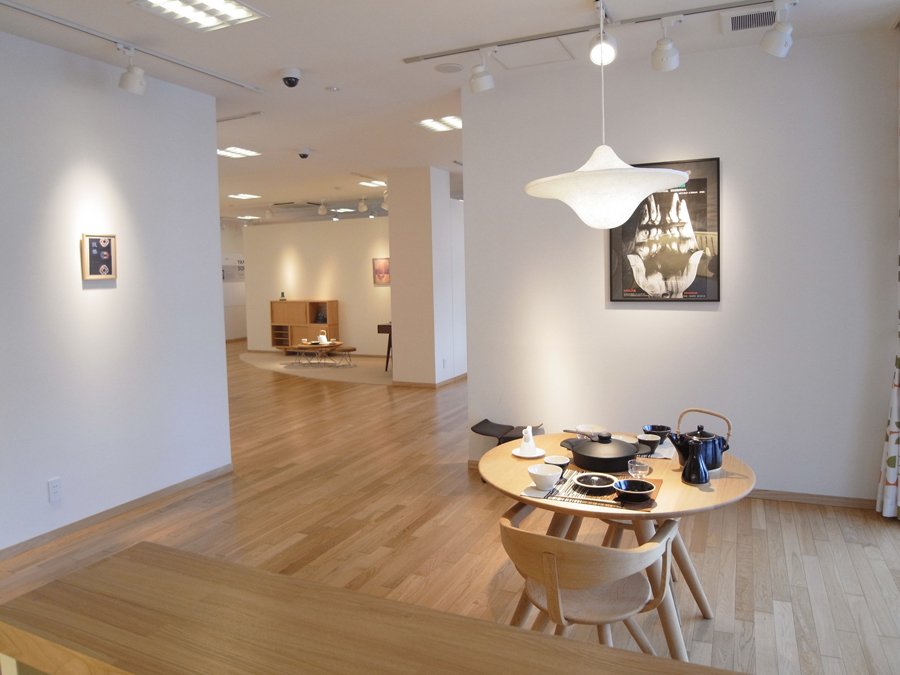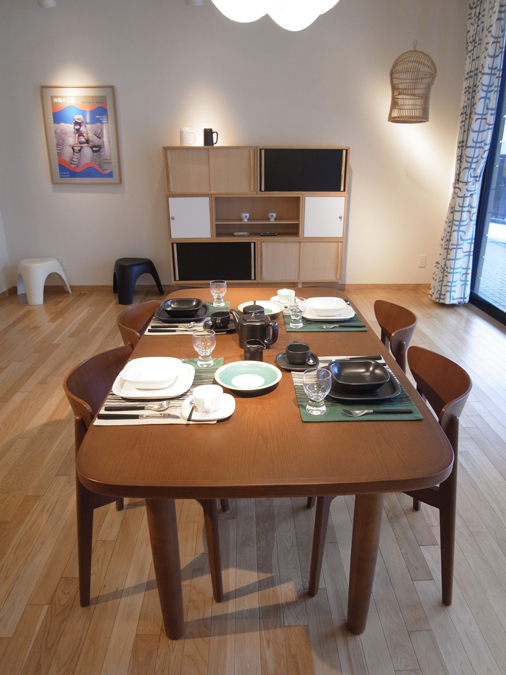 Yanagi's work is permanently displayed in the space assumed for life Exhibition room 1.
I do not attach explanations so that I can face designs without prejudice.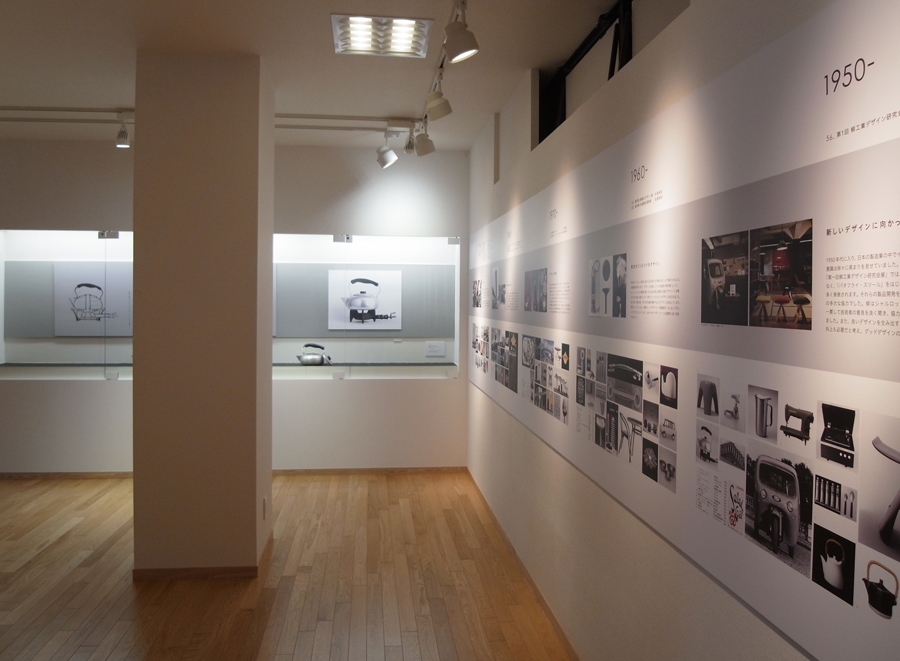 Approximate yearly notes of willow in the back of exhibition room 1.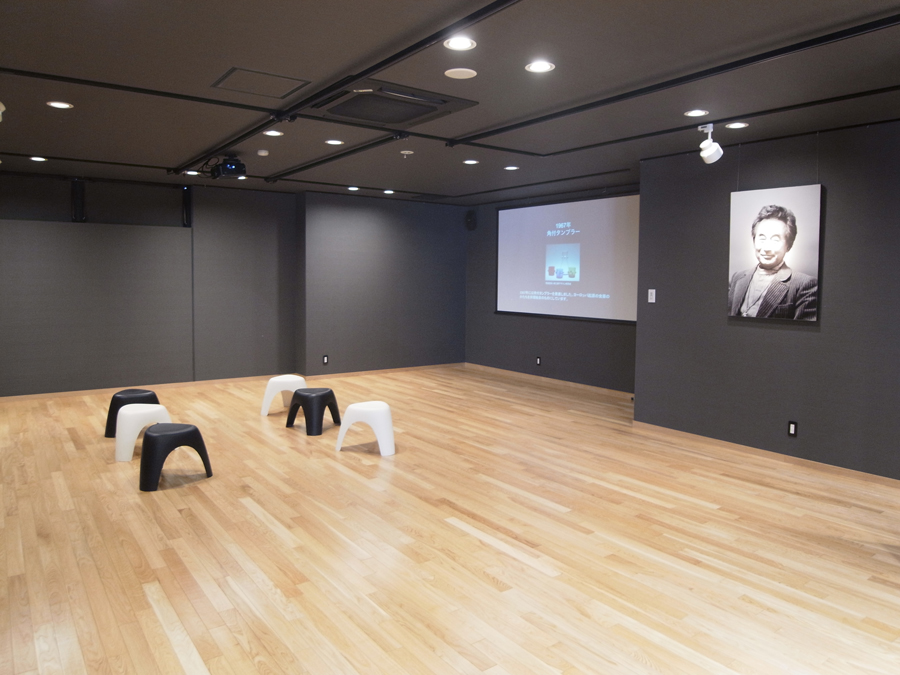 Exhibition room room where the exhibition will be held 2.
- Sori Yanagi's permanently displayed works are centered on products rather than historical archives.What kind of concrete materials are deposited?
Forest Basically it is a product, and a part is a prototype.Drawings were only a little, so I think that there is still more in the Yanagi industrial design study group.Apart from that, there are hundreds of pieces owned by Kanazawa Miyuji.
As for the design related materials that were soon deposited, it is kept in a private warehouse with air conditioning facilities.The works owned by Kanazawa Miyajima are managed by the cabinet on the second floor.Regarding the cabinet, we can not disclose it at all times, but I will show it to those who have made a reservation.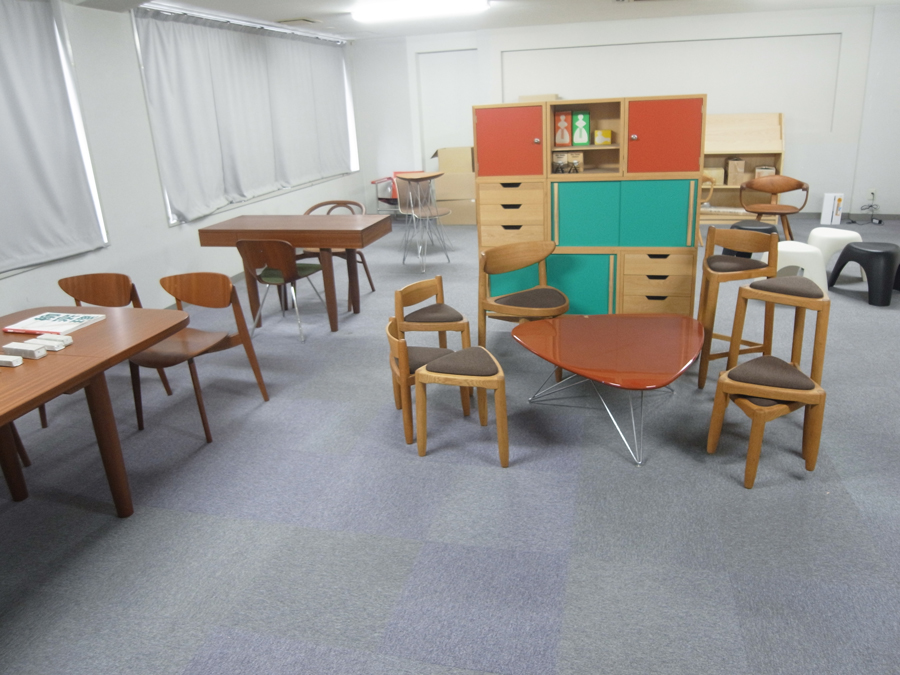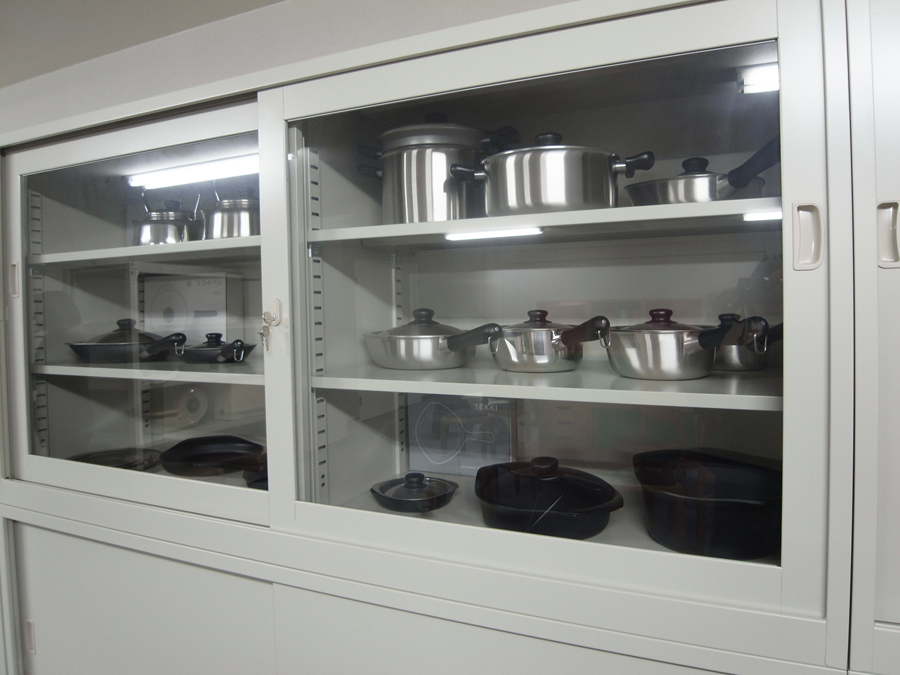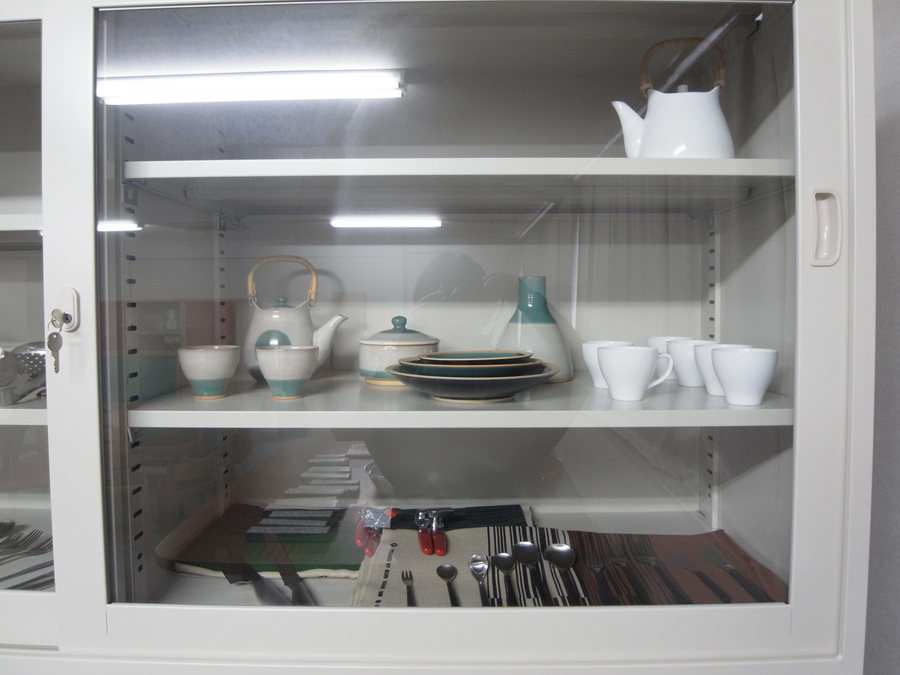 Works owned by Kanazawa Univ. Are kept in the safe on the second floor.
- How many people in the year can visit here?
It is about 20,000 forests .Because it is located in the Omi-machi market and Higashiyama in this tourist attraction, tourists passing by are often stopped by.On the other hand, foreign tourists think that there are many people who bother watching Yoshinori Yanagi's works.
How to utilize archives for school education
- Do you do activities in collaboration with universities, such as lessons using Sori Yanagi's archive?
Mori The next exhibition "1955 · Industrial Art · Starting - Design Education at Kanazawa College of Art -" held in March to May, I would like to collaborate as a guidance for new students in the design department .In 1955, when Kanazawa Miho got to be a four-year college from art college vocational school through a junior college, inviting as a lecturer of the newly established industrial art department was active in the front line at that time Designers, Mr. Yoshinori Yanagi and Mr. Ohmi Hiroshi.I am planning an exhibition to show how Japanese art education has been working on design in the beginning year as this beautiful girl.
Since it is an attached institution of the university, it is a major premise to cooperate with school education, so I would like to continue these efforts from now on.
- It is very important to be able to use the archive in a living form, right?For current students of Kanazawa Miyuzo, what is Sori Yanagi?
Forest From the current student, it is no longer a familiar existence already.When Sori Yanagi was a temporary professor, it was a form that intensively lectures two to three days a year.There is no recording of the lecture, but when inferring from the memorized memo etc., it seems that there were many talks about the attitude as a designer, not a plastic design method.I think that it became a big stimulation for those who go on the road of industrial design.However, since the time to contact students has decreased since a certain age, the difference in density will be big.
Southern graduates will be able to see this laboratory, but the story of the generation who received lectures directly from Sori Yanagi is hot and it takes a glimpse of the magnitude of its influence.It seems that there is a difference in the way that Sori Yanagi captures and its density when it becomes a current student or a graduate after a certain age.Therefore, I hope that it will be possible to bridge the generations through school education.In that sense, such as oral history is also important.
I heard that students from forest alumni are progressing in the order of generation by Yuzu Industrial Design Study Group.
Correction of yearly notes and inventories by steady surveys
- I think that various investigations will be necessary to hold Sori Yanagi's planned exhibition, but does that mean that it also leads to research activities at the same time?
Mori That's right.The deposit agreement with the Yanagi industrial design study group that I mentioned earlier is the content that we are going to do academic cooperation with the deposited data as the core.Working as one of them is the correction work of the year's score.For example, the year of graduation of Sori Yanagi's Tokyo Art School was supposed to be 1939, but in fact it was found to be 1940 years.Although the vocational school of the past was a five-year system, after the war I became a new university and changed to a four-year system, so I think that the person himself was misunderstood.
In addition, he went to the Philippines during the war, but although there are records that he returned to the year 1946 the year after the end of the war, it is written in most books until what month it was. It was.It was only recently when preparing for the exhibition, it turned out to be May.
- Were you going to the Philippines as a soldier?
Mori At that time, he was a researcher at the Sakakura quasi three architectural office and thinking that Itakura had designed the houses of the assembly type used by the Japanese locally, so I think that it went as an aid to its construction.The reason why the returning moon is important is that it influences how long the production period was until 1947 when the first white pottery series was announced.If returning home is May 1946, it means that there was about a year's time before the announcement.This was a huge harvest.In addition, I review the sentences he announced and supplement the data, making a catalog of works.
We have been conducting revision surveys of such basic data continuously since the establishment of the research institute, and we share this information with the Yanagi industrial design study group.
- That is also a valuable archive.Is not Sori Yanagi one of the most advanced designers?
Forest willow Industrial Design Research Association is to continue I think that it is large become a source of information.However, since over there is also design supervision and product development of Sori Yanagi, it is difficult to do research that unravels each article one by one.Therefore, I think whether such a thing should be accepted as our role.
Necessity of national design museum
- How do you think you should archive the design heritage of Masters such as Sori Yanagi?
Mori I think that it is impossible unless you can do the national design museum.Because there are more items than art objects, a huge volume is needed to keep them.I think that it is not a job that one local government can do.
- Yesterday, I was watching the Kanazawa Institute of Architecture Institute for Architecture, but again the material was huge, it seemed to be very hard to secure space and management method.
The Mori National Museum of Modern Architecture has only been three or four years yet, but it is already full.I think that the problem of volume is still great.Another is manpower.Since data processing is often done digitally, we do not take a place, but we need to read data before that.Moreover, since the paper is deteriorated in the old drawing, things with bad state can not be spread many times.Then, when you spread it for the first time, you must do everything at the same time, such as reading and care.In other words, depending on whether or not you can input a lot of human resources, what you can and can not do is divided.
- Musashino Art University conducts archive promotion project, but is it possible to create an archive mainly from the universities and vocational schools of the designers from now on?
Mori University also has limited space, so there is a limit to the storage space.Therefore, I think that it is difficult to gather all the designers' relationships with universities.
- Sori Yanagi's products are living goods which can not be withdrawn even after the times, but industrial design, which is constantly updated due to the evolution of technology, has a huge number of products as well.
Forest Originally, I think that manufacturers should archive properly.Several manufacturers, such as Panasonic and Sony are doing it, but the total investment is not enough.Toyota also has a big museum as a Japanese maker, but Ford has no mistake in Toyota's sales in terms of sales, it has an extraordinarily large museum.
As a curator, I have worked on exhibitions that gathered various products, but even if I asked the manufacturer, things will not be collected easily and sometimes I purchased it with the collector's market and supplemented it.As it is currently difficult to rely on manufacturers, I think that it is necessary for the national art museum to spend time and money again to collect things in order to show the design comprehensively.
- Thank you very much for your precious opinion.Regarding Sori Yanagi's archive, it seems that the two research institutes will cooperate mutually, so that it will be further enhanced in the future.If there is progress, please tell us a story.
Contact address
Yanagi Sori Memorial Design Research Institute http://www.kanazawa-bidai.ac.jp/yanagi/