Interview
Yanagi Sori Design Memorial
Interview: 24 January 2017, 10:30 - 12:00
Location: Yanagi Sori Design Memorial
Interviewees: Hitoshi Mori, Yuriko Minami
Interviewers: Yasuko Seki, Akiko Wakui
Author: Akiko Wakui
Description
The Yanagi Sori Design Memorial is an affiliate of Kanazawa College of Art, which opened in 2014. It is located in an area where a number of cultural facilities are concentrated, including the Izumi Kyoka Kinenkan Museum, the Kanazawa Phonograph Museum and the Kanazawa Literary Hall, and reuses the first and second floors of a building that was once the main shop of the long-established Japanese sweets shop Morihachi. The Yanagi Sori Design Memorial has two exhibition spaces for permanent and temporary exhibitions, as well as a storage room for several hundred works owned by Kanazawa College of Art, a research library and a lecture room for public lectures. In the permanent exhibition room, approximately 200 works by Yanagi are arranged in spaces that simulate everyday life, such as dining rooms and kitchens, and are open to the public, but these works are not captioned or described in any way. The reason for this is that the main focus is on giving visitors a sense of Yanagi's design through direct contact and dialogue with the objects, without giving them any preconceptions. The relationship between Sori Yanagi and Kanazawa College of Art began in 1956, when Yanagi was appointed as a commissioned professor at the college. In the 50 years since then, Yanagi has taught at the university, he has had a profound influence on many students. The Yanagi Sori Design Memorial was established to commemorate these achievements. In 2012, the YANAGI DESIGN INSTITUTE, Sori Yanagi's design office, deposited approximately 7,000 design-related materials for the establishment of the Yanagi Sori Design Memorial. This was an opportunity for academic cooperation between the two parties to organise and research Yanagi's archives. In this second part of our research into the Yanagi Sori archive, we spoke to the two research institutes about their respective roles and how the archive can be used in school education.
In order to showcase design in a comprehensive manner, it is necessary to national museums need to spend time and money to collect things
History of the establishment of the Yanagi Sori Design Memorial and contents of the exhibition
― I understand that the design archive of Mr. Sori Yanagi is managed by the Yanagi Sori Design Memorial and the YANAGI DESIGN INSTITUTE, which have two pillars. First of all, could you tell us how it all started?
Mori Mr. Sori Yanagi taught at Kanazawa College of Art for about 50 years. Because of this connection, we have received requests from retired teachers to build a memorial museum, but we have been unable to do so. In the meantime, approximately 7,000 items of Yanagi Sori's design-related materials owned by the YANAGI DESIGN INSTITUTE in Yotsuya were deposited at Kanazawa College of Art, and it was decided to make use of the building acquired by Kanazawa City.
The original plan was to turn the building into a museum, but unfortunately, due to the building's age and problems with earthquake resistance, it could not be used as a facility that could be visited by an indefinite number of people, so it was decided to operate it in the form of an institute of the Kanazawa College of Art. Therefore, we open the exhibition to the public in the form of artworks that are placed in university classrooms for people to see.
― What kind of works are on display here?
Mori There are two exhibition rooms on the first floor. Exhibition room 1 is a permanent exhibition room where visitors can learn about Sori Yanagi's approach to design through his works and spaces. All of the works currently on display have been deposited, and the YANAGI DESIGN INSTITUTE is responsible for the selection, assembly and layout of the works. Exhibition and reference room 2 is a space used for special exhibitions and events, where we organise one special exhibition a year and several exhibitions a year to show the results of our students' education to the general public. During the rest of the year, video programmes and panels are displayed to inform the public about the relationship between Mr. Yanagi and Kanazawa College of Art.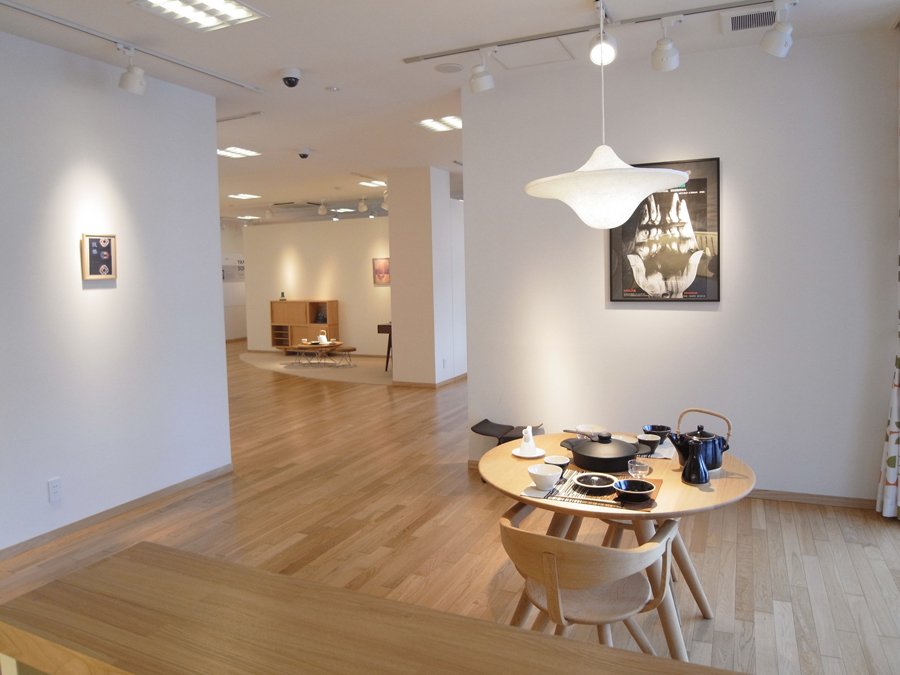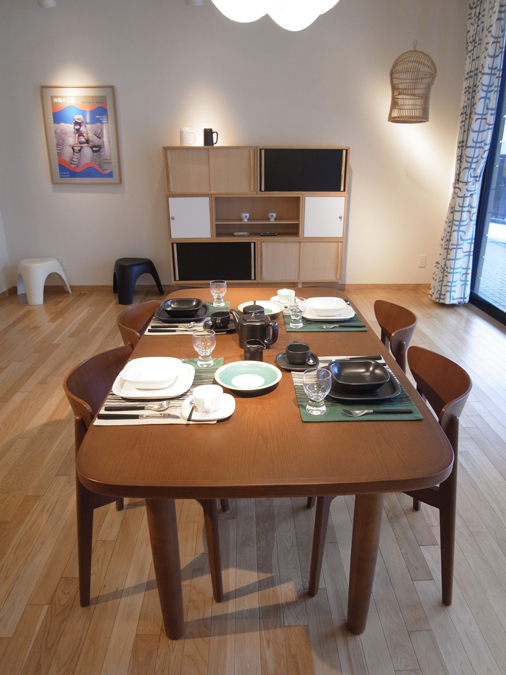 Exhibition Resource Room 1, where Yanagi's work is permanently displayed in a space designed for daily life. No explanatory notes are attached so that visitors can face the designs without preconceptions.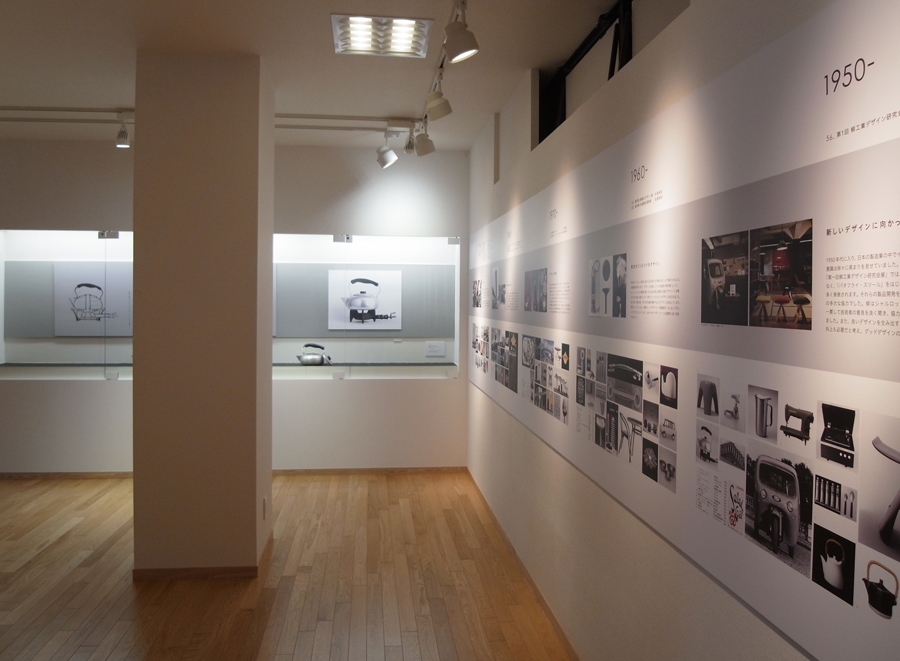 Brief chronology of Mr. Yanagi at the back of Exhibition and Reference Room 1.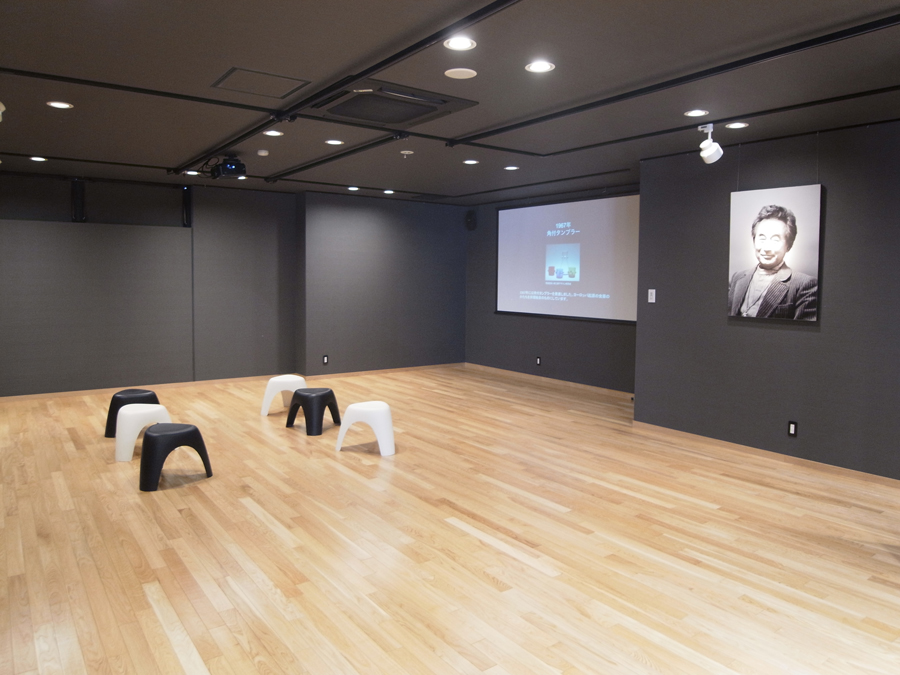 Exhibition and documentation room where special exhibitions are held 2.
― So the permanent exhibition of Mr. Yanagi's work is mainly products rather than a historical archive? What exactly are the deposited materials?
Mori Basically, they are products, and some are prototypes. There were only a few drawings and other materials, so I think they are still at the YANAGI DESIGN INSTITUTE. Apart from that, there are several hundred works owned by Kanazawa College of Art.
Minami Design-related materials that have been deposited are stored in a private warehouse with air-conditioning. The works owned by Kanazawa College of Art are managed in a storage room on the second floor. The vaults are not always open to the public, but can be shown to those who have made an appointment.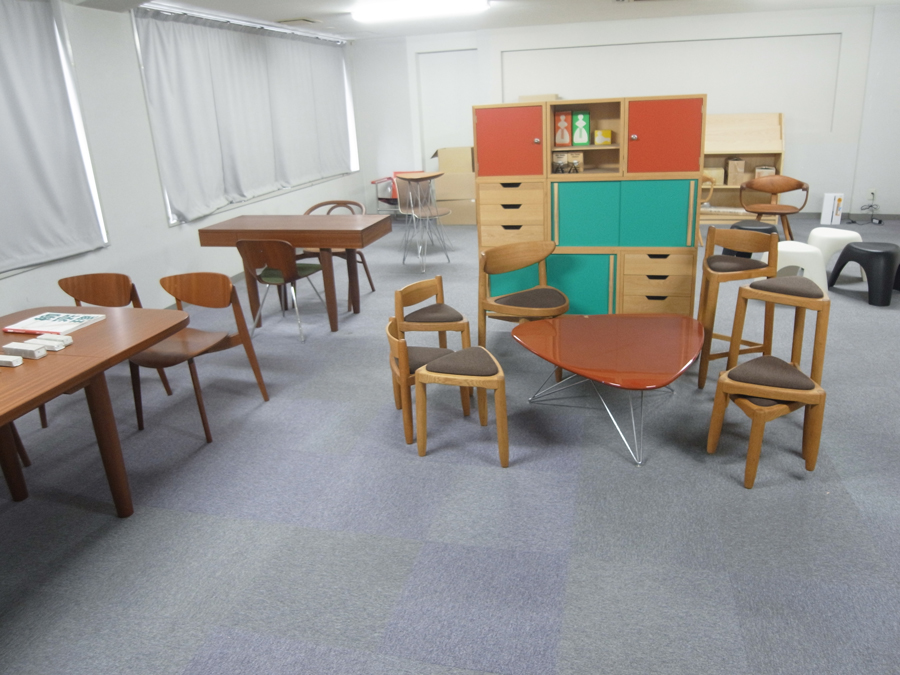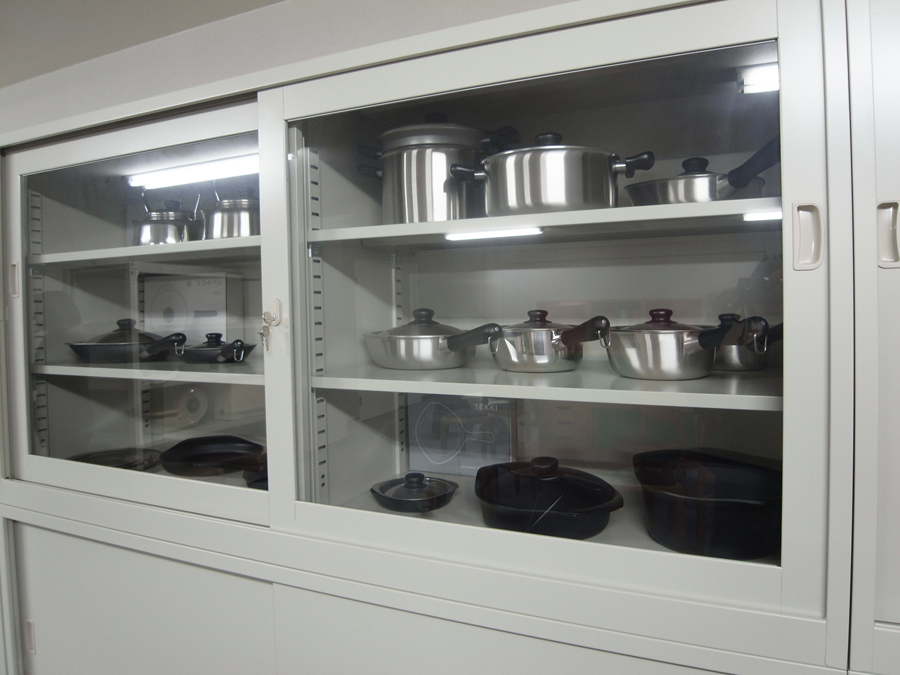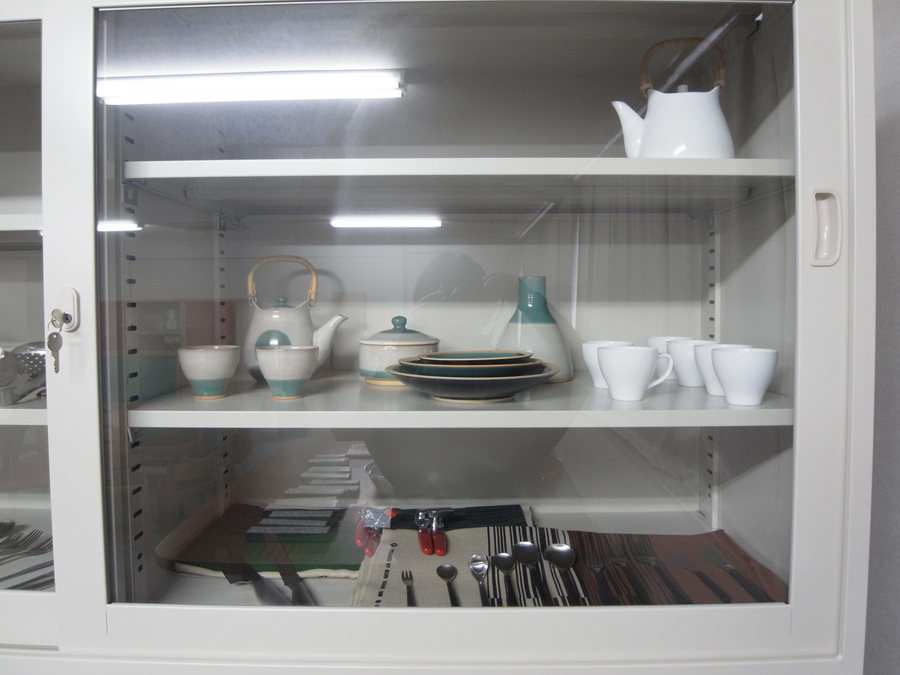 The vaults on the second floor house artworks owned by Kanazawa College of Art.
― How many visitors do you receive here each year?
Mori About 20,000 people. As this is located in the middle of the famous sightseeing spots Ohmicho Ichiba and Higashiyama, many tourists passing by stop by. On the other hand, many foreign tourists seem to go out of their way to see the works of Yanagi Sori.
How the archive can be used for school education
― Are you involved in any initiatives in collaboration with universities, such as classes using Mr. Yanagi's archive?
Mori At the next exhibition, "1955, Industrial Art, Launching - Design Education at Kanazawa College of Art", which will be held from March to May, I would like to do a collaboration with guidance for new students in the design department. 1955 was the year that Kanazawa College of Art was the year that the College of Arts and Crafts became a junior college and then a four-year university, the newly established Department of Industrial Arts invited the leading designers of the time, Mr. Sori Yanagi and Mr. Hiroshi Ohchi, as lecturers. In this beginning year as an art college, we are planning an exhibition to introduce how art education in Japan has tackled design.
As an institution affiliated with a university, our basic premise is to collaborate with school education, so we would like to continue such initiatives in the future.
― It is very important to have a place where the archive can be used in a living form. What kind of presence does Mr. Yanagi have among the current Kanazawa College of Art students?
Mori For today's students, he is no longer a familiar presence. When Mr. Yanagi was a commissioned professor, he used to give two or three-day intensive lectures several times a year. There are no recordings of his lectures, but from the notes he left behind, it seems that he talked a lot about the mindset of a designer, rather than practical design methods. I think this was a great stimulus for those who were going into industrial design. However, from a certain age, the time spent in contact with students became less and less, so there must be a big difference in such density.
Minami We have alumni visiting our institute as well, and the stories of the generation who received lectures directly from Mr. Yanagi are still passionate, and we get a glimpse of how influential he was. However, when it comes to today's students and graduates from a certain age, there seems to be a difference in the way they perceive Mr. Yanagi and the density of his lectures. So I hope that we can bridge the gap between generations through school education. In that sense, things like oral history are also important.
Mori I have heard that the YANAGI DESIGN INSTITUTE is interviewing graduates in generational order.
Revision of chronology and catalogue through steady research
― I understand that a lot of research is required to organise an exhibition by Mr. Yanagi, but is this at the same time linked to your research activities?
Mori Yes, it is. The deposition agreement with the YANAGI DESIGN INSTITUTE, which I mentioned earlier, is about academic cooperation using the deposited materials as the core. One of the things we are working on is the revision of the chronological records. For example, until now it was assumed that Mr. Yanagi's graduation year from the Tokyo Fine Arts School was 1939, but we found out that it was actually 1940. In the past, technical schools had a five-year system, but after the war, with the new university system, the system was changed to a four-year system, so I think he himself was mistaken.
He also went to the Philippines during the war, and although there are records that he returned to Japan in 1946, the year after the war ended, most books do not say what month it was. It was only recently, when we were preparing for the exhibition, that we discovered that it was in May.
― Did you go to the Philippines as a soldier?
Mori At the time, he was a researcher at the Junzo Sakakura architects and engineers (now Sakakura Associates), and I think he went there to assist in the construction of assembly houses and other structures designed by Mr. Sakakura for use by the Japanese in the area. The reason why the month of return is important is that it affects the length of time between the first white ceramic series and 1947. If he returned to Japan in May 1946, he had about a year to present his work. This was a very big gain. I have also been working on a catalogue of his works, supplementing the data with reexamination of his published writings.
This kind of research to correct basic data has been ongoing since the institute was founded, and we share this information with the YANAGI DESIGN INSTITUTE.
― That is also a valuable archive. Mr. Sori Yanagi is probably one of the most studied designers.
Mori I think the YANAGI DESIGN INSTITUTE has been a continuous source of information. However, since they also supervise Mr. Yanagi's design and develop products, it must be difficult to conduct research that unravels the literature one by one. So I think we should take on that kind of thing as our role.
The need for a national design museum
― How do you think the design legacy of Mr. Yanagi and other masters should be archived?
Mori I still think it is impossible without a national design museum. There are more objects than works of art, so it would take a huge volume to store them. I don't think that is a task that can be done by one local authority.
― Yesterday, I visited the Research Institute, for Architectural Archives, Kanazawa Institute of Technology, which has a huge amount of material, and they seem to be having a lot of trouble securing space and managing it.
Mori The National Archives of Modern Architecture, Agency for Cultural Affairs is only three or four years old, but it is already full. I think the problem of space is a big one. Another is manpower. Data processing is often done digitally, so it doesn't take up much space, but before that you need to read the data. Moreover, the paper used for old drawings has deteriorated, so drawings in poor condition cannot be opened many times. Then when they are unfolded the first time, all kinds of things have to be done at the same time, such as loading work and care. In other words, there are different things that can and cannot be done, depending on whether or not a lot of human resources can be invested.
― Musashino Art University is running a project to promote archiving, but is it possible for designers' universities and colleges to take the initiative in creating their own archives in the future?
Mori Universities also have limited premises, so there is a limit to the amount of storage space they can have. Therefore, I think it would be difficult to collect the works of all the designers associated with the university.
― Mr. Yanagi's products are household items that do not become obsolete over time, but on the other hand, industrial design, which is constantly being updated through the evolution of technology, has an even greater number of products, doesn't it?
Mori Essentially, I think manufacturers should archive their products properly. Some manufacturers, such as Panasonic and Sony, are doing this, but overall they are not investing enough. Toyota Motor Corporation also has a large museum as a Japanese manufacturer, but Ford Motor Company, which is not even close to Toyota in terms of sales, has a much larger museum.
As a curator, I have been involved in exhibitions of various products, but it has been difficult to collect things from manufacturers, so I have had to compensate by buying things from the collector's market. The current situation is that it is difficult to rely on manufacturers, so in order to present design in a comprehensive way, I think it is necessary for national museums to spend time and money to collect objects.
― Thank you very much for your valuable opinions. As for the archive of Mr. Yanagi, it seems that it will be further enriched in the future through mutual cooperation between the two research institutions. Please let us know if you make any further progress.
Enquiry:
Yanagi Sori Design Memorial https://www.kanazawa-bidai.ac.jp/yanagi/