Interview
In universities, human resources will continue.
Even if the archive activity is temporarily suspended.
If we save it, someone will eventually start researching it.
Archive Accessioning Policy and Contracts
― When we recently interviewed former staff members of Koichi Sato's office about his archive, we heard that Tama Art University established an archive organisation called AAC in 2018 and that he donated materials to it. In this interview, we would like to ask you about the management of AAC, your approach to digital archiving, and your vision for the future. First of all, how do you select the materials to be accepted here?
Tagawa The current process is for the Management Committee to measure the collection, and then for the Board of Directors to make a final decision. We have been discussing the collection policy with the Management Committee since 2018, when the AAC was established. We have a system in place for storing materials that will be studied at Tama Art University over a long period of time under a donation agreement, but we have not yet decided on a detailed policy on whether to store all materials as they are once we have finished creating and cataloguing them, or what to do when there is no one left to take over the research.
―  Are the materials you collect limited to people who are associated with Tama Art University?
Tagawa Most of them are related to Tama Art Unicersity, but in the past there have been some materials, such as those of Katue Kitasono, that were purchased because they were related to research conducted at the time the collection was acquired, so it's difficult to say for sure.
Yoneyama There is also the issue of storage space, so we cannot accept an inexhaustible supply of materials even if they are directly related to Tama Art University. It's difficult to do so unless there is a clear idea of how the materials will be used for the benefit of students and how they relate to the research of the professors.
― Will we be in charge of lending materials to domestic and international customers?
Tagawa The AAC acts as the point of contact, and the study group can do all the work, or the office can take care of all the paperwork and inspection of the works.
Kato In the case of Koichi Sato's archive, it is not open to the public because it has not yet been organised. We have already received requests from his students in China and elsewhere who want to hold exhibitions, so I think we need to think about our lending policy properly.
― What is the agreement regarding the acceptance of the archive?
Tagawa It depends on the material. In some cases, the owner or copyright holder asks us to make a contract after the donation catalog is completed, while in other cases they say that a catalog is unnecessary. Of course, the accuracy required of the catalog varies, so the contract may not be completed even if the materials have been at Tama Art University for 20 years.
Since the AAC was set up, we have basically been talking about having a contract. The current contract is a standard one, similar to a donation contract for a museum, but since this year we have been discussing with the steering committee and lawyers what kind of contract would be best for the AAC.
Establishment of research groups for each material body
― There are many other people's archives here besides Koichi Sato's. Do you have research groups for each of them?
Tagawa It is a prerequisite that there is a research organisation. However, some materials, such as those by Takiguchi Shuzo and Kitasono Katsue purchased more than 20 years ago, were donated before the current organisation's policy, or when the professor in charge has retired, do not have a research organisation attached and are temporarily kept in the custody of AAC.
― It's wonderful that there is a department called AAC, which is responsible for management, and that each research group voluntarily creates its own archive.
Kato I think one of the good things about Tama Art University is that we work on our own initiative. However, it's vertically divided, and the AAC is the hub from which each independent unit operates, so we don't know much about other research.
Yoneyama At AAC, there are some areas where we are not able to share information with each project, so we are trying to make improvements while holding hearings.
Tagawa In the hearings we conducted in fiscal 2019, we learned that some material bodies place a heavy burden on teachers, so we hope to collaborate with AAC on advance preparations for contracts and administrative work. We also hold a symposium once a year as a place to report the latest status of the research groups that are currently working, and produce a bulletin called "KISEKI" that summarises the lectures. In the future, we are hoping to publish a little more information each year on what kind of activities each research group or resource body has been involved in before the AAC.
― When is the next symposium scheduled to be held?
Yoneyama December 5, 2020, and we are preparing for December 4, 2021, which will be held online.
― We would very much like to participate in this project. Do you plan to collaborate with other university archive organisations in the future?
Tagawa At the moment we don't have a full-fledged collaboration, but we do have Dr. Yohko Watanabe of the Keio University Art Center as one of the advisory board members of AAC, and she has commented on our operations. Also, in March 2022, we are planning to hold an exhibition of Takiguchi Shuzo's collection at Art-Theque Gallery in collaboration with Hitoshi Kubo of the same center.
Activities of Koichi Sato Research Group
The collection consists mainly of posters, but also books and intermediate materials.
― Please tell us about how Koichi Sato's archive was donated to this museum, and about the contents of the collection.
Kato Professor Sato was originally a teacher at Tama Art University, and he passed away about a year after he retired, but there was talk of donating his work before he died.
Muramatsu I heard that they hadn't made any concrete moves, but they had talked about it on the stand.
Kato After it was decided that the work would actually be donated, Mr. Muramatsu took the lead in organising the work under his wife's direction. At the same time, we established the Koichi Sato Collaborative Research Group as one of the school's joint research projects, and we began to study the works in detail. We haven't started full-scale research yet, but we are working on organising materials and creating a digital archive of the works.
― What kind of items are in the collection?
Kato Mainly posters, but there are also some book-related works, slides used in lectures for students, and a few goods such as plates and umbrellas. There are also some original drawings, prints, notes, photographs, and posters by other artists.
Muramatsu We also included posters and landscapes that Mr. Sato drew when he was a child. I think his mother may have left them to him, but there are also hand-drawn posters and other items that seem to have been influenced by Mr. Yusaku Kamekura, even though he was in junior high school.
― How does the research group work?
Kato This is the second year that the research group has been active, with Professor Kazunari Hattori at the helm and me in charge of the practical management. Mr. Muramatsu is in charge of the specific maintenance of the digital archive, and we are asking graduates of the Department of Graphic Design, who were students of Professor Sato, to take photographs and input the list. That's why we haven't been able to move to the point where we can research each work and return those materials to the students. Also, I was going to compile a report on the results of the first year, but it has been stopped due to the new coronavirus infection.
Digital Archiving and the Concept for the Exhibition
― How is the digital archiving process proceeding?
Kato We have a simple photography kit in the storeroom, and we're working on re-photographing all the works and making a list of them. We had already finished taking photographs and were making a simple list, but when we were about to compile it into a catalogue, we had a COVID-19 disaster, so we had to stop. As for the future, I would like to complete the digital archiving and consolidate the data into AAC, and I would like to hold exhibitions in the galleries on the first and second floors. Initially, we were planning to hold an exhibition at the end of the third year and then move on to the next step, but considering that the COVID-19 disaster has put a damper on our schedule, I've been talking with Mr. Muramatsu about taking a longer-term view and holding an exhibition from a perspective that is unique to this research group.
―  At this stage, what kind of approach do you have in mind?
Kato  It's still a vague idea, but I'm thinking of putting together a text with a multifaceted approach, including aspects such as artist theory and technology. Before he became a full-time professor at Tama Art University, Professor Sato also taught at Tokyo University of the Arts, so I thought it would be interesting to discuss the flow of design education based on him. Research at universities tends to be a closed activity, but by taking an outward-facing approach as AAC, such as holding regular exhibitions and publishing on the website, I hope to make it accessible to a wider audience. It will be a long-term project, but since the works have been donated to us, we don't want them to remain in a safe.
― How do you prepare a list of the collection?
Kato We refer databases from some museums, but there are some items that don't fit in the list as is, so we had to create a new list with Mr. Muramatsu's help in terms of structure and design. There are also different versions of a single work, with or without a corporate logo, so the number is quite large if you include those.
Muramatsu At this stage, the list consists of the title of the work, the year it was created, the size, the edition, and so on, as well as a few remarks fields to respond to the name of the client, the venue, and any collaborators.
― Is there a standard format for AAC when converting to digital data?
Tagawa With regard to posters, rather than the AAC format, there is a format that was created for research on the Takeo Poster Collection*. The Takeo Poster Collection was deposited by Takeo, a trading company specializing in paper, in 1998, and since then joint research has been ongoing between Takeo and Tama Art University. Since then, joint research has been carried out between Tama Art University and Tama Art University, and one of the results of that research was the creation of a digital archive in a format created by Professor Ichiro Saga of the Department of Graphic Design. However, the tendency of the materials is different, so we are planning to make a manual for the general framework.
*Takeo Poster Collection
A collection of approximately 3,200 posters from the Reinhold Brown Gallery in New York, purchased by Takeo in 1997 and deposited with Tama Art University in 1998, where they are being jointly studied. A portion of the collection is regularly shown in exhibitions.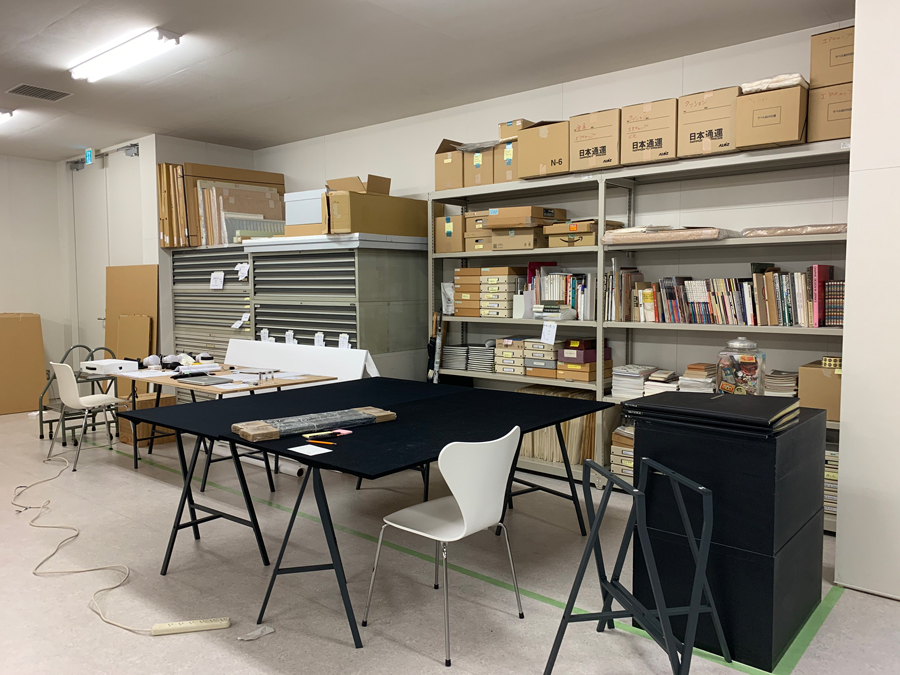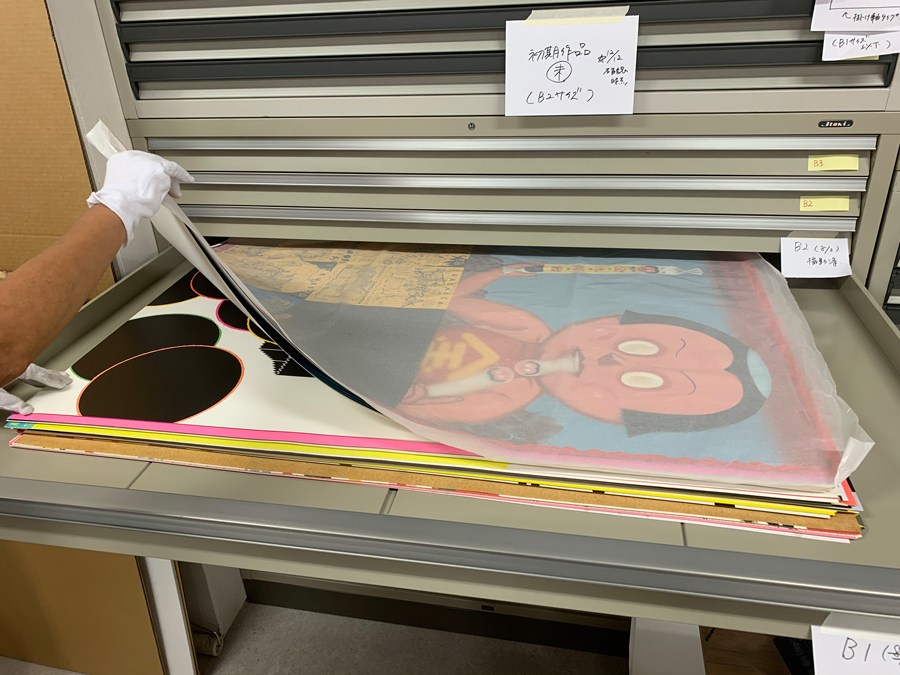 The collection of the Koichi Sato Archive and the work space where photography is performed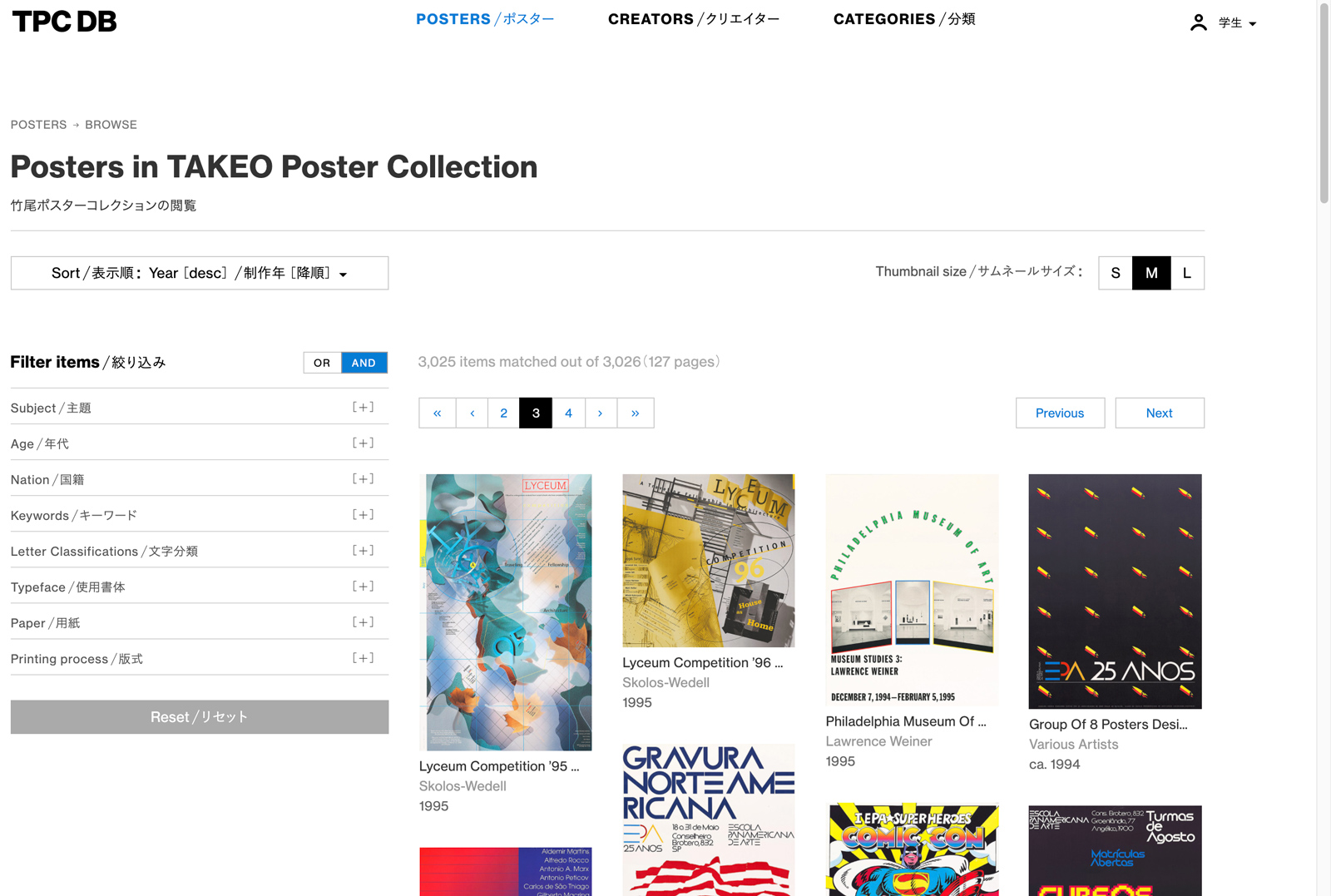 The Takeo Poster Collection Database, a digital archive created as a result of joint research between Tama Art University and Takeo.
What kind of organisation is required of the donor?
―  How do you think the donor of the archive should organise the archive in advance to make it more acceptable?
Tagawa It would be very helpful if we knew, even roughly, what kinds of items are stored, how many items are stored, from what year to what year, and whether the rights are consolidated by offices or individuals or not.
Yoneyama At the very least, we need to have a list that shows what items were moved and how many items were moved so that there is no misunderstanding in the interpretation of the items when they are moved here.
Kato In Mr. Sato's case, we couldn't have done it without Mr. Muramatsu, and it would be nice if the AAC had more members and more experts.
― Do you train archivists at Tama Art University?
Tagawa At AAC, we believe that it is necessary to train archivists who can respond to a variety of media, and training archivists in graduate school is one of our medium-term goals.
About the future digital archive
― I often hear that digital archives have problems of difficulty in management, such as data corruption and cases where old media cannot be read. Also, with the increasing number of installation works and web designs that are different from paper works, how do you think digital works will be preserved in the future?
Kato I think a lot of people archive web design in the form of video. In reality, it's difficult to preserve a working environment because you have to preserve the hardware and software.
Tagawa We have in our collection the archive of Professor Seiko Mikami (Professor of the Media Arts Course), who passed away suddenly in 2015, and collaborative research is underway on the restoration and re-display of media art works using digital media from her lifetime. Professor Mikami and others in the field of interactive media art use a wide variety of software and devices to make their works possible. Based on the premise that it is difficult to preserve the entire environment in which the work was developed, as is the case with web design, research is being conducted on how to extract the core of the work and how to reproduce it after the death of the artist. In the Mikami research, by thoroughly studying the subject and clarifying one by one how and why the collaborators with Professor Mikami were willing to adapt the work and how they made changes to it, the work was able to start moving once again.
Preserving the work in video is one solution, isn't it? Both design and art are created in the same development environment in some areas, and I hope that AAC can be a bridge between the results of mutual archiving.
― What about graphics? Since the data is overwritten, won't it be harder to keep intermediate materials than when it was paper-based?
Kato As far as printed materials go, the goal is the same now as it was in the past, so I think that the production process is still being considered for digital in order to make it more persuasive. It's true that today's young people have a strong image of digital, so I feel that they are not interested in material sensations such as printing technology and the texture of paper. However, they also notice things that they couldn't understand from data alone by comparing it with analog, and recently there has been an increase in the trend of creating works that successfully fuse analog and digital, so I think that what needs to be preserved will be preserved.
Archives add value to the university
― What do you think are the advantages of having an archival institution at a university?
Kato I think the advantage of a university is that people continue to work there, so even if there is a break in activity due to the retirement of a researcher, as long as it is properly stored, someone will eventually start research.
Tagawa Dr. Masaru Katzumie's materials have also become more active over the past few years, including Wang Xiaofeng's exposition in 2019.
― What kind of materials does Masaru Katzumie include in your collection?
Tagawa The largest number of items are books, mainly Western books. The rest is mainly paper items, such as maps, posters, paper documents, photographs taken on trips, and direct mail. The three-dimensional items are furniture from his study.
Yoneyama The establishment of the AAC has in part stimulated the movement. Being archived at a university is not only a record of the individual artists, but it also reveals various connections, such as the influence of their students on society, the history of the university, and the history of art education. This will also help to raise the value of Tama Art University. In order to do this, I thought it would be necessary to conduct a variety of interviews, so the PLAT website was very helpful.
― I am glad to hear you say so. I'm looking forward to the symposium in December. Thank you very much for your time today.
Attending the 3rd Tama Art University Art Archives Symposium "Art Archives as Medium
On December 5, 2020, the third symposium organised by AAC was held online, and reports and discussions were made on the educational use of online archives at Corona Damascene and the design and operation of the integrated database being developed by AAC, with the theme of how art archives should be used at art universities. PLAT was interested in the report on Makoto Wada's archive, which was newly donated to AAC. Wada, an illustrator, essayist, bookbinder, film director, and many other extraordinary talents, has a huge archive, not only in terms of material quantity but also in terms of breadth. A contract was signed in March 2020, and the work is currently being organised, but we hope to hear more about it once the full picture is known.
Another thing that made a deep impression on me was the comment made by several commentators about the word "archive" being interpreted in multiple senses. In fact, in PLAT's archival research, there was a time when the archival definition of the word "archive" as "a group of materials from a specific artist or organisation that are preserved in their original structure and made available to the public" and the database of artworks (digital archive) were interpreted ambiguously. Therefore, lumping the two together and calling it an "archive" may hinder the construction of a database. In our research, we are seeking a good data management method that can be used by designers to make their works more acceptable to donors. In contrast to art, which is a one-of-a-kind work, a design work is a reproduction. I realised once again that I had to be aware of this.
We also heard other interesting reports with a great sense of realism, which made us keenly aware of the depth of the archive. The details will be compiled in the bulletin "KISEKI" to be published at the end of the fiscal year, so I would like to take a closer look again.
The 3rd Tama Art University Art Archives Symposium "Art Archives as Medium" Outline
Date and time: Saturday, December 5, 2020, 10:00~17:00 (online)
Organised by: Tama Art University Art Archives Center
Cooperation: Tama Art University Media Network Promotion Committee
【Program】
Part 1: The Current State of Art Archives Toshimi Koizumi + Yuri Mitsuda Man Ray and His Surroundings Akihiro Kubota Analysis of Interaction Ichiro Saga + Yutaka Tsukada: Report on the Donation of the Makoto Wada Archive and Its Possibilities
Moderator: Reiji Ando
Part 2: Art Archives and Distance Education Seara Ishiyama: Lecture materials rising from the Seiko Mikami Archive/ Yuko Fukatsu: MONYO Archives and Art & Design Education Commentators: Kenji Kajiya, Atsuhito Sekiguchi, Yuji Akatsuka
Moderator: Akihiro Kubota
Part 3: Databases for Archives/Collections Junshi Horiguchi, Takeshi Fuchida, Kyoko Kinoshita: Towards the Construction of Databases across Tama Art Museum and Archives Center
Takashi Hiraide: Final lecture = the exhibition "Air Language program" Commentator: Masako Kawaguchi, Eri Taniguchi, Yohko Watanabe
Moderator: Ichiro Saga Closing Summary of the Symposium and the Future of the Art Archives Center Akihiro Kubota, Tatehata Akira, Yasuhito Nagahara, Takashi Hiraide
Tama Art University Art Archives Center
contact information: aac@tamabi.ac.jp
2-1723 Yarimizu, Hachioji-shi, Tokyo 192-0394
Tama Art University Art-Theque 4F (reception desk) Tuesday, Thursday 13:00 ~ 16:00