Intervew
I want a consultant who can give me advice on the whole picture
Current status of the archive
― Today, I would like to talk about Mr. Aoba's design archive with his wife, Takako, and daughter, Maeda. First of all, please tell us about the current situation.
Maeda My father was a man who never threw anything away, so I have an enormous amount of artwork and materials stored here (in his home and office) in an almost untouched state. Specifically, there are posters and other artworks, prints and proofs, negatives and positives, photographs, objects that he made personally, notepads and sketchbooks, samples for design reference, and tools.
In fact, in 2017, on the occasion of the seventh anniversary of my father's death, I was invited to hold the "Masuteru Aoba in the 7th years" exhibitionat at the Mitsumura Graphic Gallery. In preparation for the exhibition, with the help of former staff members, I was able to sort through the posters and get a rough idea of the whole picture, but I haven't been able to make a list. However, I haven't been able to make a list of them yet. I feel that I need to organise other things as well, but I don't know where to start, and time is just passing.
― Where is it stored in this building?
Maeda He asked interior designer Shigeru Uchida to design this place, and the first floor and basement were used as offices, and the second floor and above were used as our home. Now the basement is used as a storage room, and the first floor has been left almost as it was as an office.
― What is the state of your vast collection of works and materials? For example, are they in boxes for each project, or are they filed away?
Maeda No, it's not sorted chronologically or by project. I just keep all the work I've done. It was left behind. After my father's death, whenever I received an invitation to hold an exhibition, I would search for the necessary items and somehow manage to make it in time. As for posters, I decided to keep at least 10 sets of posters from my father's life's work and representative works that won international awards, and I have already converted them into data. The posters are also stored at major institutions in Japan that have poster collections, including the Musashino Art University Museum, the CCGA Center for Contemporary Graphic Arts at Dai Nippon Printing, and the Toyama Prefectural Museum of Art.
― He have won many prizes at overseas biennales, so are his works in museums overseas?
Maeda Yes, they are in the collections of the Museum of Modern Art in New York and the Villa Nuf Poster Museum in Warsaw.
― In organising the archives, it is important to have criteria for selecting what to preserve and in what form.
Maeda That's right. I think I understand the importance of my father's work, but it is difficult for me to judge him calmly because I am his family member. I think it is important to have an objective and impartial point of view in order to proceed with this kind of work, so I think it would be helpful to have a consultant who can give me advice from a bird's eye view.
― That's really true. If it's Mr. Aoba, then it's Mr. Shuzo Osako from JAGDA. Isn't he the right person for the job? He was very close to Mr. Aoba before he died, and he has a wealth of knowledge about graphic design.
Maeda It is true that we have consulted with Mr. Osako on several occasions. But that doesn't mean he can't say to us, "Can't we get rid of this?" I think it's hard to say. In that sense, I think we, as a family, have to make the final decision and choose what to do with them. By the way, when my father was healthy, he used to jokingly say, "When I die, you guys will probably throw everything away". I remember he was saying that. When he said something like that, I definitely can't throw it away.
― Didn't you yourself indicate your wishes and direction for the archive?
Maeda Anyway, he was a person who wanted to leave everything behind. ...... When he became ill, he didn't seem to have thought that far ahead.
Mrs. Aoba In truth, I think how much easier it would be if I left it in someone else's hands. I think it would be difficult in practice.
Maeda If there is an unavoidable circumstance such as moving, I have no choice but to do it, but the fact that it is now somehow stored in the basement is also an excuse. However, I am concerned because "things" are deteriorating and the storage conditions are not perfect.
Mrs. Aoba I think it is impossible to leave everything behind, so I think it is best to leave the environmental and peace posters, which were his life's work. Advertisements and other works are unique to their time, and they are designed on commission.
― As you mentioned earlier, you have a large collection of prints, sketches, photographs and books.
Maeda The walls of the stairwells leading from the basement to the third floor are all covered with books. As you can see, the four walls of the shelves are filled to the brim with books. As you can see, the four walls are filled with books. It would be easy to get rid of them, but I'm sure that some of them contain valuable books on art and design, and I hope that I can give them to people who understand their value, or donate them to libraries and archives. I remember that a large number of photographs, including postcards, negative sheets, and paper prints, were on the shelves on the first floor, and I remember seeing prints and proofs in the basement.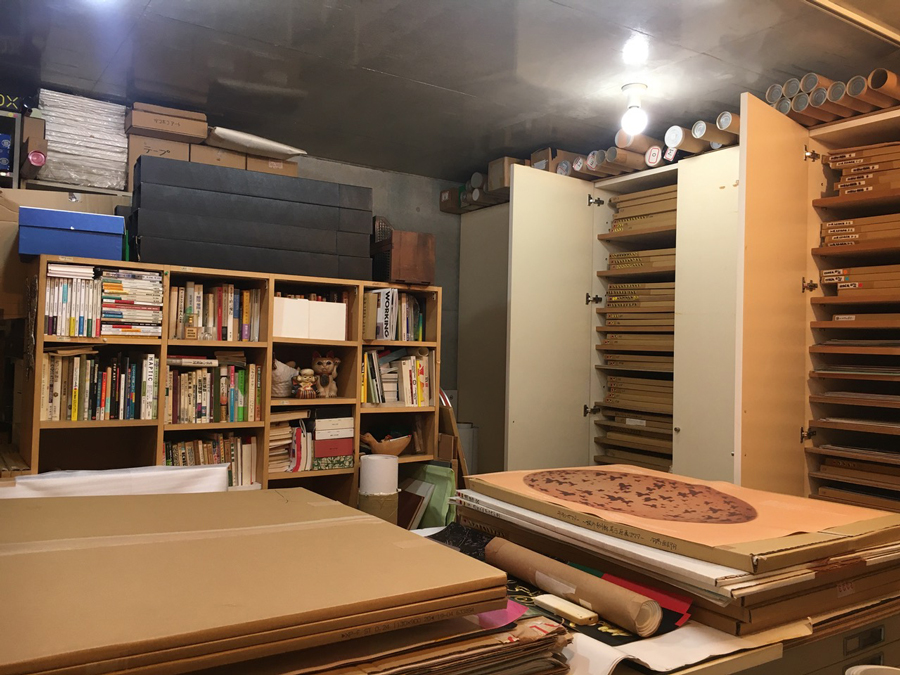 Aoba's works and materials fill the basement.
― As you both say, posters are easy to organise as an archive.
Maeda Actually, when I was asked to do this interview, I only had posters in mind, and I didn't think that sketches and books would be part of the archive. Now that I know that more than just posters are important, I am at a loss as to where to start.
― The other day I interviewed Ryohei Kojima about his design archive. Whenever he moved, he and his wife and son Ryota would sort through the collection, selecting, reducing and categorising it according to their own judgment as graphic designers.
What I inherited from designer Masuteru Aoba
― Now, I'd like to talk about the graphic designer, Mr. Masuteru Aoba. Please tell us about his work to the best of your knowledge. His office was in Ginza before he moved here, wasn't it?
Maeda Yes, that's right. When he was at Ginza, he had a staff of four or five, and I think they were very busy. He was involved in CI and brand design, such as logos, for clients such as Tokai Bank, the Tokyo Metropolitan Government, and KOSÉ, and he was also involved in editorial and package design. After that, he found a plot of land in Daikanyama and asked Shigeru Uchida to design it, and we moved into this building. At that time, I think there were only one or two staff members.
― What does Ms. Maeda know about Mr. Aoba's work?
Maeda My father didn't like to be controlled by an agency, and he chose work where he could talk directly with the people who had the authority to make design decisions. I think he believed that such communication would lead to satisfactory work. On the other hand, I don't think he was unreasonable to his staff, and he tried not to work too late. He did, however, drink in Ginza almost every day after work and would come home late in the morning. ......
― Did he use a computer?
Maeda In his later years, I think he used it for design, but he asked his assistants to do the work. But I think he was interested in the possibilities of digital technology.
― When I think of him, I think of his work on the Nagano Olympics.
Maeda As I recall, that poster was chosen in a competition. However, my mother told me that Yusaku Kamekura's poster for the Tokyo Olympics was so amazing that it would be difficult to surpass it. He was a very serious person, so I think she must have been very nervous.
― Ms. Maeda, you are in the same line of work as Mr. Aoba, but as a designer, how do you view your father?
Maeda I respect my father's approach to his work, even more than I respect his work. He always carried a notebook with him and wrote things down, and he was particularly fond of MUJI notebooks, where he would write down whatever came to mind. He took notes so that he wouldn't miss anything or forget anything, and I think it was admirable that he kept that attitude and was eager to learn until his later years.
When I open that notebook now, I see that you've written down dozens of patterns for all kinds of design ideas, including logo marks and poster concepts. Unlike today, where we can create any number of variations by using a computer, he had written down the process of squeezing each idea out of his head by hand. When you see this process, you realize that this was a time when copying or appropriation of ideas was unthinkable.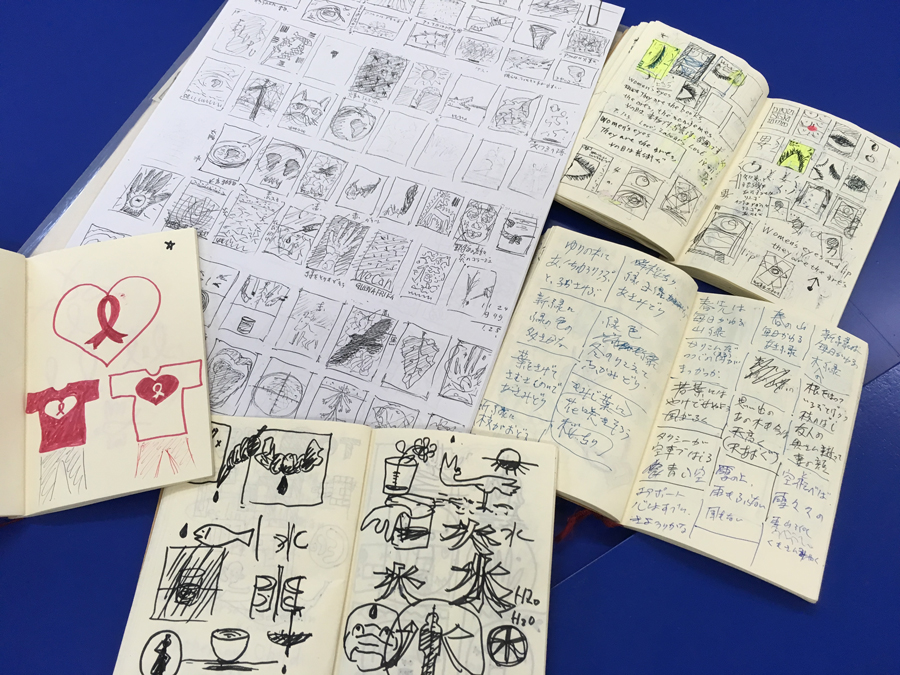 A large number of idea sketches recorded in notes
― Was it Aoba's influence that made you become a designer?
Maeda When I was a child, I didn't really understand my father's work, and I didn't like art classes at school. However, I was of the "Olive" magazine generation, so I was interested in making things around me pretty and cute. I used to make collages of my favorite photos and illustrations between the transparent sheets of paper used at school, and I would make covers and letterheads for notebooks myself. My father saw this and said, "That's what a graphic designer does." He took me to his friends' exhibitions and events every weekend, and eventually I realised that design was fun and decided to apply to art school. When I was in college, he also took me to New York, where I went to MoMA and other museums and galleries. Now, I am filled with gratitude for the invaluable experience I had.
― What did you do after graduation?
Maeda Neither father nor I had the option of joining my father's office. When I was a student, it was the last days of the bubble economy, and the advertising industry was very interesting. Graphic designers such as Makoto Saito and Tsuguya Inoue were active, and I admired designers of that generation. In particular, I wanted to see the work of Kaoru Kasai, whom I had admired since I was a student, up close, so I joined Sun-Ad. Sun-Ad did not recruit designers every year, so I entered the company after wasting time looking for a job.
― What was Aoba's reaction to seeing his daughter like this?
Maeda When I was talking about designers of that generation and their works, he seemed complicated. He didn't show it in his attitude, but I think he was frustrated somewhere. However, when I joined Sun-Ad, I came to understand the good qualities of my father. Rather than being a designer with a good sense of style, my father was a designer who was thorough in how to express what he wanted to convey in a simple way, and I think that is important in everything. I think I learned a lot from his sincere attitude by being around him.
― Can you be more specific, what part?
Maeda I think it's fair to say that he continued throughout his life to foolishly come up with all kinds of ideas, and then to aim for clear expressions that could be understood by children who couldn't read or people overseas.
― Speaking of Mr. Aoba, he had produced many works on the themes of the environment and peace. What inspired him to work on works with a strong social message?
Mrs. Aoba Immediately after graduating from Kuwasawa Design School, Aoba worked for an advertising production company called Orikomi on the recommendation of Ikko Tanaka. At the time, preparations for the Tokyo Olympics were proceeding at a rapid pace, and the Tokyo Metropolitan Government had a campaign called "Let's Clean Tokyo," for which Orikomi was asked to design. 1960s was the height of Japan's rapid economic growth, and the advertising industry was full of energetic, bright, and glamorous jobs. At a time like that, no one wanted to work on the "garbage problem", but Aoba took the initiative. Thanks to this, he must have become interested in social themes such as garbage and the environment that lie behind the remarkable development of the industry.
Maeda It is typical of my father that he works on it continuously, and I think it has become a lifelong theme for him.
― Mr. Aoba, after graduating from Kuwasawa, did he join Orikomi directly without studying under anyone?
Mrs. Aoba That's right. However, I really respected Mr. Ikko Tanaka, who was teaching at Kuwasawa at the time, and looked up to him as my lifelong teacher, and I heard that I joined Orikomi on Mr. Tanaka's recommendation.
― Did you consult with Mr. Aoba about the design?
Maeda I don't remember asking him about design itself, such as colour and shape, but he did tell me about the importance of creating my own work outside of university assignments, such as by entering competitions and participating in group exhibitions. I think that my father himself realized the importance of entering poster competitions around the world to send out his message and have it seen by many people. He also told me to listen to many excellent people in various fields, and to be willing to see not only graphics but also architecture, theater, art, and other good things.
― — Mr. Aoba has held positions at JAGDA and the Japan Industrial Design Promotion Organization, and he and Mr. Katsumi Asaba and Mr. Keisuke Nagatomo have been involved in the "

" project. He had a high awareness of the need to promote the design world and to train future generations. I have the impression that he is fair, neutral, and has his own strong axis, and is like a boss who is easy to consult.
Maeda People of my father's generation had the shining stars of Yusaku Kamekura and Ikko Tanaka above them, and they respected them from the bottom of their hearts. Both Katsumi Asaba and my father were of the generation that was taught by Ikko Tanaka at Kuwasawa Design School, and I think they had a very strong sense of the need to pass on the achievements and history of their predecessors to future generations.
Mrs. Aoba When Ikko Tanaka called him on the phone, he would stand up straight and bow to him. I had that much respect for him. I think he also had a sense of mission to nurture young people.
― At that time, Kuwasawa Design School produced many great designers such as Katsumi Asaba, Susumu Endo, Shiro Kuramata, and Shigeru Uchida in addition to Mr. Aoba, and I would like to see them work on their design archives as an educational institution. Now, there are many unique objects on the shelves, what are they?
Maeda These are objects that my father created outside of work. When I was a university student, my father owned a small house in Hayama in addition to his home, and I used to go there on weekends to paint and make objects.
Mrs. Aoba He said it was image training. Looking back, I think I was trying to release his daily stress and refresh himself through free creative activities without being bound by anything.
Maeda His style changed rapidly. In the beginning, he made some kind of slimy and unpleasant objects (laughs), and when Mr. Asaba saw them, he said, "That's disgusting". They were quite different from my father's design style, and our family felt as if we had glimpsed an unknown side of him. After that, his style gradually changed, and he started to make geometric modern objects using paper.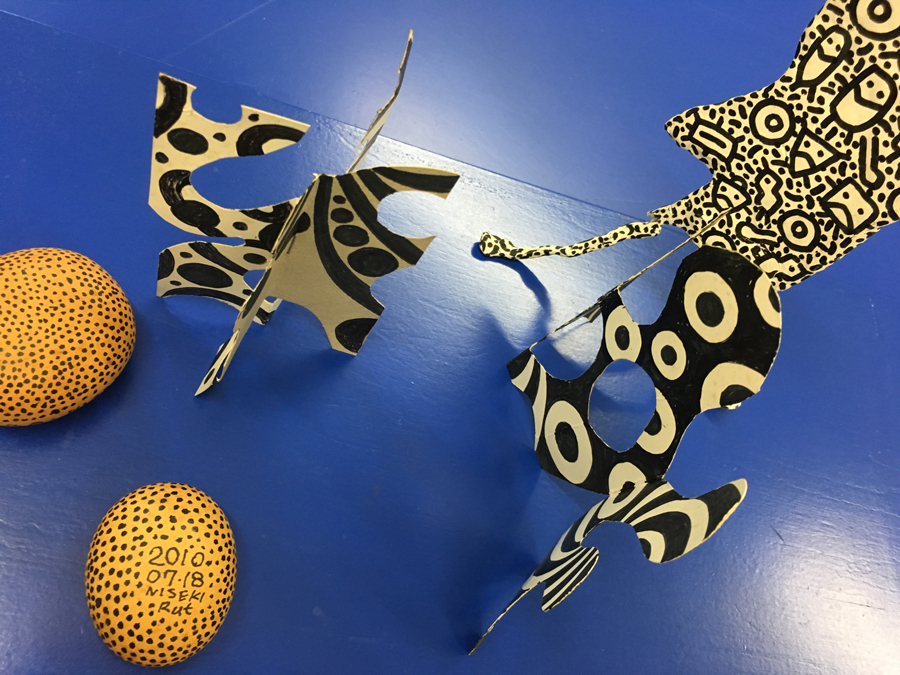 Modern objects made of paper that Aoba was working on Saturday and Sunday.
― I feel that this paper object has something in common with Aoba's design.
Maeda This paper object is about the size of three cardboard boxes. In any case, I think that the creative activities in Hayama were an irreplaceable time for my father.
Mrs. Aoba He continued to create art even in the hospital room where he was hospitalized for his illness. The many dots on this wooden object, which now hangs on the Buddhist altar, are the dots that he made each time a drop of medicine from the intravenous drip fell. I remember that he kept his will without dwelling on it during his hospitalization.
Hope for the Archive
― Finally, I would like to ask you about the future of your design archive.
Maeda First of all, we have things to do as a family, so we can't think about the future. But I think there are many people like us who are in trouble. Ideally, it would be best to have a museum or an archival research institution take care of the storage and management, but I have no idea who or where exactly. However, homes and ordinary warehouses are inadequate for storage, and the works will only deteriorate. If there is a dedicated rental space, I would like to leave them there for now.
― We are also interviewing the museums and universities that take care of the artworks, and it seems that they also have difficulties in terms of human resources, budget, and storage space.
Maeda I think so. In graphic design, there are organisations and universities that collect posters because they are easy to preserve and have a strong message. Posters of my father's work are also collected by many institutions.
― In your case, the sketches and notepads you showed us earlier, as well as the objects you created as a form of self-expression, are valuable archives.
Maeda They may be valuable as archives, but do they have any value for the future, or should they be preserved? Even my family is troubled by this, so it's hard to ask to keep them.
― Speaking of archives, workplaces that have been left unchanged are also valuable.
Maeda Really. The building was designed by Shigeru Uchida, and the furniture was designed by Shiro Kuramata.
― What? Which one is Kuramata's design?
Maeda The light box, work desk, and shelves were designed by Kuramata, and we brought them from the Ginza office.
― Mr. Kuramata is known for designing furniture and commercial spaces, but you have also designed many of your friends' and acquaintances' offices and homes. This is truly another Kuramata design.
Maeda  We also want to make use of this space. It's close to Daikanyama Tsutaya, and my mother and I are thinking that it would be nice to have a small gallery here. If we organise my father's things, we can use the basement.
― When you say "gallery", do you mean that you will exhibit Aoba's works?
Maeda No, I don't have any concrete plans yet. ...... If that happens, my father might be happy to have such an exhibition.
― Please do so. I think such activities are also an important element of the Design Archive. Thank you very much for your time today.