Interview
I want a counselor who gives me advice from a bird's-eye view of the whole
Current status of the archive
― Today, I would like to ask Mr. Takako, his wife, and Mr. Maeda, his daughter, to talk about Masuteru Aoba's design archive. First of all, please tell us about the current situation.
Maeda My father was a person who never throws things away, so a huge amount of works and materials are kept here (home and office) almost untouched. Specifically, works centered on posters, block copy and proof paper, photographs including negatives and positives, personally produced objects, notepads and sketchbooks, and samples for design reference. , Tools, etc.
In fact, last year, I had you hold "7th year Masuteru Aoba exhibition" at Mitsumura Graphic Gallery to coincide with my father's 7th anniversary. To prepare for that, the posters were roughly organized with the help of the former staff, but I was able to grasp the whole picture, but I have not been able to list them. I have a feeling that I have to sort out other things, but I'm just wondering where to start, and the time has passed.
― Where is it stored in this building?
Maeda I asked interior designer Shigeru Uchida to design this place, and I used to use the first floor and the basement as an office and the second floor and above as my home. Currently, the basement is used as a storage, and the works are so tightly packed that there is no foothold. The office is left almost as it is on the first floor.
― What is the state of the huge number of works and materials? For example, each project is in a box or is filed.
Maeda No, it wasn't sorted by project in chronological order, and I was left with the feeling that I would keep all the work I did. After my father's death, every time I hear about the exhibition, I find what I need and manage to make it in time. However, for the poster, I decided to pick up the series that my father was working on as a life work and the masterpieces that won international awards and store at least 10 sets, and the data conversion has been completed. In addition, it is stored in major facilities in Japan that have poster collections such as Musashino Art University Museum, Dai Nippon Printing's CCGA Contemporary Graphic Art Center, and Toyama Prefectural Museum of Art.
― Mr. Aoba has won many awards at overseas biennales, so does it fit in overseas museums?
Maeda Yes, it is in the collection of the Museum of Modern Art in New York and the Warsaw Poster Museum.
― Yes, it is in the collection of the Museum of Modern Art in New York and the Warsaw Poster Museum....
Maeda That's right. I think I know my father's important works, but I'm annoyed because it's difficult to make a calm judgment because I'm a relative. I think it is important to have an objective and impartial perspective in order to proceed with such work, so I think it would be helpful if there was a counselor who could give advice from a bird's-eye view of the whole.
― It is just like you said. If it was Mr. Aoba, wouldn't Mr. Shuzo Osako of JAGDA be the right person? I was close to Mr. Aoba during his lifetime and has a wealth of knowledge about graphic design.
Maeda Yes, Mr. Osako has consulted with me several times, but I think it's hard to say, "Is it okay to dispose of this?" In that sense, we must make the final decision and make a choice. By the way, when my dad was fine, I remember jokingly saying, "If I die, you guys will throw it all away." If you say that, you can't throw it away.
― Didn't Mr. Aoba himself show his hopes and directions for the archive?
Maeda Anyway, he wanted to keep everything ... When I got sick, I didn't think so much.
Aoba I wonder how easy it would be if I entrusted it to someone. I think it's actually difficult.
Maeda I have no choice but to do it if there are some unavoidable circumstances such as moving, but now it is an excuse that I can manage to fit in the basement. However, I am worried because the "things" are deteriorating and the storage conditions are not perfect.
Aoba I can't leave everything behind, so I think he only needs the environment and peace posters that were his lifework. Advertising works are unique to that era, and they are designed by request.
― As I mentioned earlier, it seems that there are a large number of block copy, sketches, photographs and collections.
Maeda The walls of the staircase, which runs from the 1st basement floor to the 3rd floor, are all bookshelves, but as you can see, the walls of the 4 floors are filled with books. I moved what was in the Ginza office as it was, but there was this much. It's easy to dispose of it, but it may contain valuable books on art and design, and I wish I could give it to someone who understands its value or donate it to a library or museum. A large number of photographs such as positive and negative sheets and paper baking are on the shelves on the first floor, and I remember seeing block copy and proof paper in the basement.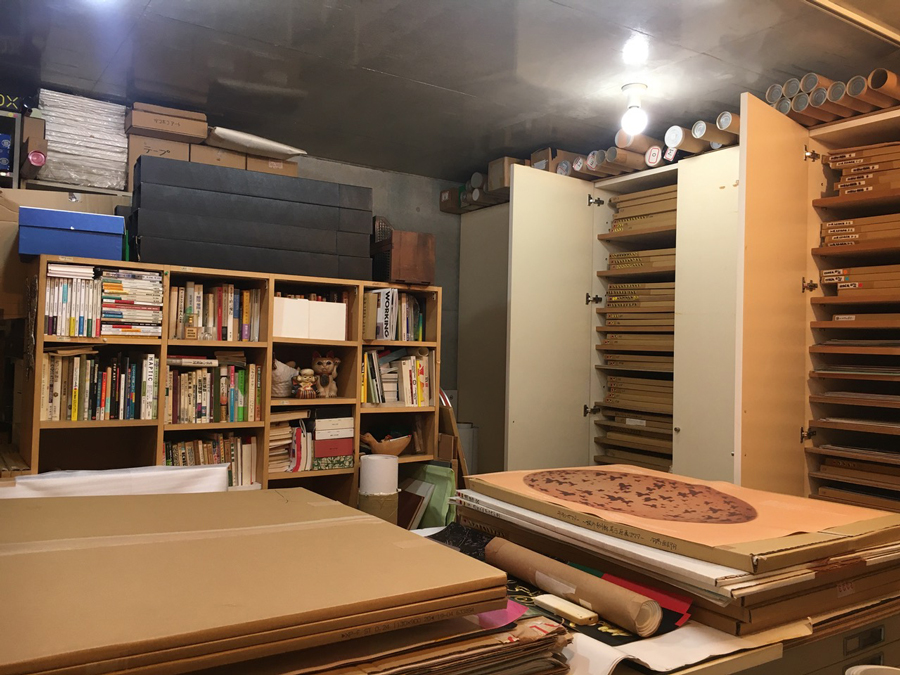 Aoba's works and materials that fill the basement
― The posters are easy to organize as an archive, as you said.
Maeda Actually, when I heard about this interview, I only imagined posters, and I didn't think that sketches and collections were archives. When it comes to things other than posters, I'm at a loss as to where to really start.
― The other day, I asked about Ryohei Kojima's design archive, and every time he moved, his wife and son Ryota gradually organized it. Finally, it was selected, reduced, and classified at the discretion of graphic designer Ryota, and now it is stored in several places according to categories such as posters, other works, sketches and photographs, collections, tools, etc. It seems that it has been done.
What was inherited from designer Masuteru Aoba
― Now, I would like to ask about graphic designer Masuteru Aoba. Please tell us about Mr. Aoba's work as far as you know. The office was in Ginza before here, right?
Maeda That's right. During the Ginza era, I think I had a busy life with four or five staff members. I was involved in CI and brand design for logos for clients such as Tokai Bank, Tokyo, and Kose, and also designed editorials and packages. After that, I found a land in Daikanyama and asked Shigeru Uchida to design it, and moved to this building. At that time, I think the number of staff was one or two.
― What does Maeda know about Aoba's work?
Maeda My dad didn't like having an agency in the middle and being controlled, and he seemed to choose a job where he could talk directly with the person who had the right to make design decisions. You probably thought that such communication would lead to a convincing job. On the other hand, I think that the staff rarely took an unreasonable attitude, and it seems that they tried not to delay their work so much. However, he was drinking in Ginza almost every day after work, and he came home in the morning ...
― Did you use a computer?
Maeda I think I used it for design in my later years, but I asked my assistant to do the work. But I think I was interested in things like digital possibilities.
― When you think of Mr. Aoba, the work of the Nagano Olympics comes to mind.
Maeda That was definitely decided in the competition. However, according to my mother, "The poster of Yusaku Kamekura of the Tokyo Olympics is so wonderful that it is difficult to surpass it." He had a serious personality, so I think he faced with that kind of tension.
― Mr. Maeda is in the same business as Mr. Aoba, but how do you see your father as a designer?
Maeda Before the work, I respect my father's approach to work. I always carried my notebook with me and wrote down something, especially the MUJI notebook, which I liked and did what I came up with. I made a note so that I wouldn't miss anything and I wouldn't forget it, but I think it was good that I was enthusiastic about studying until my later years.
When you open the notebook now, you've written down dozens of patterns of all design ideas, such as logo marks and poster concepts. Unlike the present age, where you can create as many variations as you like by operating a computer, the process of handwriting each one and squeezing it out of your head is described as it is. When I was able to show off this process, I think it was an era when I couldn't think of copying or stealing ideas.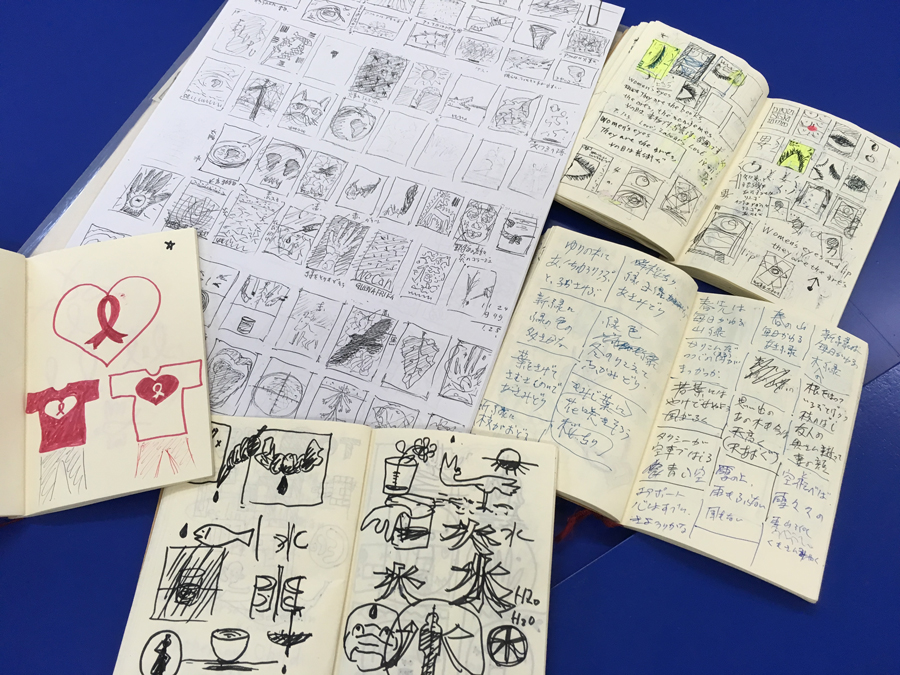 Numerous idea sketches in the memo
― Is Maeda's becoming a designer influenced by Aoba?
Maeda When I was a kid, I didn't really understand my father's work, and I didn't like art classes at school. However, since I was in the so-called "Olive" generation of magazines, I was interested in making things look nice and cute, so I collaged my favorite photos and illustrations between the transparent underlays used at school, and used the cover of my notebook. I used to make notepapers myself. When my dad saw it, he said, "That's the job of a graphic designer," so he took me to exhibitions and events of my dad's friends every weekend. I was curious. When I was in college, he took me to New York and went to museums and galleries such as MoMA. I am very grateful that I have had an irreplaceable experience now.
― What happened after graduation?
Maeda Both parents and children did not have the option of entering my father's office. When I was a student, it was the end of the bubble, and the advertising industry was interesting, and graphic designers such as Makoto Saito and Tsuguya Inoue were active, and I longed for designers of that generation. In particular, I joined SUN-AD because I wanted to get a closer look at the work of Kaoru Kasai, who I have respected since I was a student. SUN-AD did not recruit designers every year, so I joined the company after working as a ronin.
― How was Aoba-san's reaction when she saw such a daughter?
Maeda It seemed complicated when I was talking only about the designers and works of that generation. I didn't express it in my attitude, but I wonder if I was disappointed somewhere. However, by joining SUN-AD, I realized how good my father was. My dad is not a designer with a sense, but a designer who thoroughly expresses what he wants to convey, and that is important in everything. I think I learned a lot from that sincere attitude.
― What kind of part is it a little more specific?
Maeda It means that he continued his life to devise ideas in a straightforward manner and aim for clear expressions so that they could be conveyed to children who cannot read letters and people overseas.
― Mr. Aoba has published many works on the theme of environment and peace. What made you decide to work on a work with a strong social message?
Aoba Immediately after graduating from Kuwasawa Design School, Aoba worked for an advertising production company called Orikomi at the recommendation of Mr. Ikko Tanaka. Around that time, preparations for the Tokyo Olympics were progressing at a rapid pace, and there was a campaign in Tokyo to "clean up Tokyo," and Orikomi decided to design it. The 1960s were in the midst of a period of high economic miracle, when the advertising industry had a lot of energetic, bright and glamorous work. At that time, Aoba took the initiative in taking on the "garbage problem" that no one wanted to do. Thanks to this, I think I became interested in social themes such as garbage and the environment behind the remarkable development.
Maeda I think it was my father's point of continuous work and it became a lifelong theme.
― Did Aoba join Orikomi directly after graduating from Kuwasawa without studying under anyone?
Aoba That's right. However, I respected Mr. Ikko Tanaka, who was teaching at Kuwasawa at that time, and asked him to be a lifelong teacher, and I heard that he joined Orikomi at the recommendation of Mr. Tanaka.
― Did Maeda talk to Aoba about the design?
Maeda I don't remember discussing the design itself, such as color and shape, but he told me the importance of creating my own work outside of university issues, such as applying for competitions and participating in group exhibitions. I think my father himself applied for poster competitions around the world, sent a message, and realized the importance of getting a lot of people to see it. Other than that, I was told to listen to a lot of excellent people from various occupations, and to be willing to see not only graphics but also good things such as architecture, stage, and art. I went to an advertising school.
― Mr. Aoba has held positions such as JAGDA and Japan Institute of Design Promotion, and with Katsumi Asaba and Keisuke Nagatomo, "

"exhibitions, enlivening the design world, and nurturing younger generations. I have the impression that he is fair, neutral, has his own axis, and is easy to consult with.
Maeda The people of my father's generation had the giant stars Yusaku Kamekura and Ikko Tanaka shining on them, and I really respected them. Both Mr. Asaba and Mr. Aoba were generations taught by Mr. Ikko Tanaka at the Kuwasawa Design School, and I think they had a strong awareness that the achievements and history of their predecessors must be passed on to future generations.
Aoba When Ikko Tanaka called me, I was standing upright and bowing. I respected that much. I also think there was a sense of mission to nurture young people.
― In addition to Aoba, the Kuwasawa Design School at that time produced many great designers such as Katsumi Asaba, Toru Endo, Shiro Kuramata, and Shigeru Uchida, but I would like them to work on their design archives. Right.
―― Well, there are a lot of unique objects on the shelves, what are they?
Maeda It is an object that my father created other than work. When I was a college student, my dad owned a small house in Hayama other than his home, and spent the weekends drawing pictures and making objects.
Aoba You said it was image training. When I think about it now, I think that I was refreshed by releasing my daily stress through free creative activities without being obsessed with anything.
Maeda The style has changed steadily, and at the beginning I was making a muddy and unpleasant object (laughs), and even if Katsumi Asaba who saw it said "I feel uncomfortable", I continue to make it without being disappointed. It was. They were very different from my father's design style, and it felt like our family had a glimpse of a side that my father didn't know. After that, the style changed little by little, and it became a geometric modern object using paper.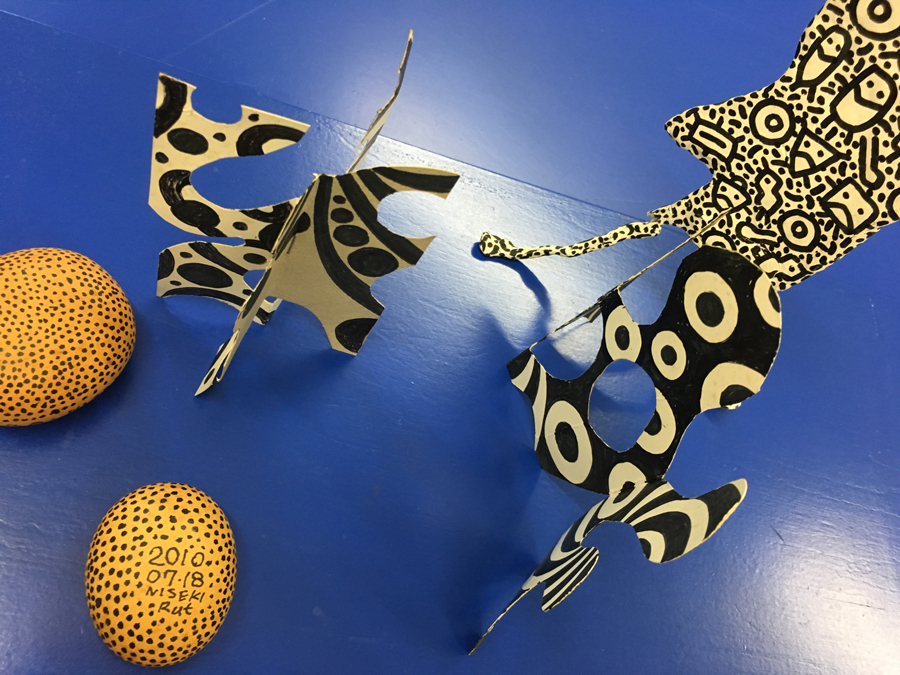 A modern paper object that was produced on Saturdays and Sundays
― I feel that this paper object is similar to Mr. Aoba's design.
Maeda There are about 3 cardboard boxes of this paper object. In any case, I think that the creative activity in Hayama was an irreplaceable time for my father.
Aoba You continued to create even in the hospital room where you were hospitalized due to illness. The many dots on this wooden object that is now displayed on the altar are the ones that the person himself made every time the drip medicine dropped. I remember staying motivated while I was in the hospital.
Hope for archiving
― Lastly, I would like to ask you about the future of Mr. Aoba's design archive, but what do you think about the future after it has been organized?
Maeda First of all, there is something to be done as a family, so I can't think about the future. But I think there are many people like us who are in trouble. Ideally, it is best to store and manage it at a research institute in a museum or archive, but I can't really think of who should do it. However, homes and general warehouses are not enough storage places, and the works only deteriorate. If there is a dedicated rental space, I would like to leave it for the time being.
― We also conduct hearings at museums and universities that store their works, but they also seem to have difficulty in terms of human resources, budget, storage location, etc.
Maeda I think so. In graphic design, there are organizations and universities that collect posters because of their ease of storage and high message quality. My father's works and posters are collected in many places.
― In the case of Mr. Aoba, I think the sketches and notepads I showed you earlier, and the objects I made as self-expression are valuable archives.
Maeda It may be valuable as an archive, but is it valuable for the future or should it be preserved? Even my family is worried, so it's hard to say that I want them to be kept.
― Speaking of archives, the workplace that is left as it was before life is also valuable.
Maeda Really. The building is designed by Shigeru Uchida, and the furniture is designed by Shiro Kuramata.
― Well, which is Kuramata design?
Maeda The light box, work desk, shelves, etc. were designed by Mr. Kuramata and brought from the Ginza office.
― Mr. Kuramata is known for designing furniture and commercial spaces, but you also design a lot of furniture for your friends' offices and homes. It is exactly another Kuramata design.
Maeda We also want to make use of this space. It's close to Daikanyama Tsutaya, and I'm talking to my mother that it would be nice to have a small gallery. If you organize your father's things, you can use the basement.
― When you think of a gallery, do you exhibit Aoba's works?
Maeda No, I haven't planned anything concrete yet ... If that happens, my dad might be happy to have such an exhibition.
―― Please. I think that such activities are also an important element of the design archive. Thank you for today.