interview
Extensive archives existing in GK
Seki SakaeHisaan's is passed away, it has passed since eight months a year.As a pioneer of industrial design, we have had tremendous achievements, so I think that it is not a common task to archive the achievements, but what is the current situation like?
Onodera Of course, it was unexpected, so I did not know what was good first, the first year was almost untouched, leaving as it was.Rather, it may be rather that I did so.So, since we are just about to think about how to organize and keep it in the future, I think that we can still only talk about the previous stage.
Because you will Seki SakaeHisaan's from the launch of the "GK Industrial Design Office" in more than 60 years, but it is a huge amount when saying what was worked on in the meantime.Specifically, what kind of things are left?
Onodera At first, as I walked through the footprints after the death of Eikakuan, I feel that the accumulation and weight that we have created over the past 60 years since the creation of GK is astounding.Every year, as always, I think that it was a half century in which a new trial of design based on the idea of Eikyuan was created.In 1952, GK Industrial Design Laboratory was founded, and various records ranging from the time when he was appointed director to the present, are still kept in various forms.Since its founding, he was awarded many awards at the design competition, so independent autonomy of the "instrument theory" that won the international design award from the competition's material of the time, the "Edgar · J · Kaufman Foundation Fund" in the United States Detailed information on the research, the record of the drawing and the time when I was studying abroad at the Art Center College of Design in the US.Also, I belong to an International Group of Design (ICSID), and since I was chairman of ICSID, I attended all meetings for many years, especially at international conferences, etc., which kept overseas design activities, and gave lectures a lot of times as well So we have a lot of materials and lecture notes such as photographs used for them as well as domestic ones.In addition, since the exhibition based on the concept of Eikyu also was held many times since 1980, those posters and record materials, as well as the books and sketches that Eguchi himself drew with the brush, also kept the autographed manuscripts There.
Especially since about 10 years before his death, he was also from Buddhist monks, so we began to realize the magnificent plan of "Building the Temple Tool Village".This has opened numerous designs that I have been working for over many years, a culmination of ideas from making things, and exhibitions have become more meaningful. "It was a process that also included the lotus pavilion underground "and so on.Unfortunately, my dreams did not come true before my own life, but I hope the day will come when GK members can realize by succeeding the will of Eikyuan someday.
Also, if it is a work of design, we will exhibit GK's representative products in the gallery on the first floor.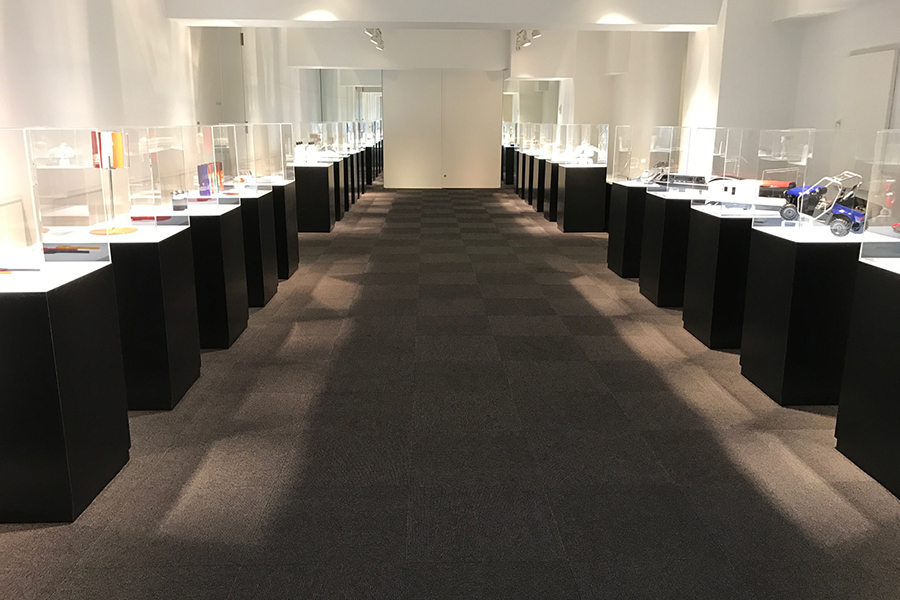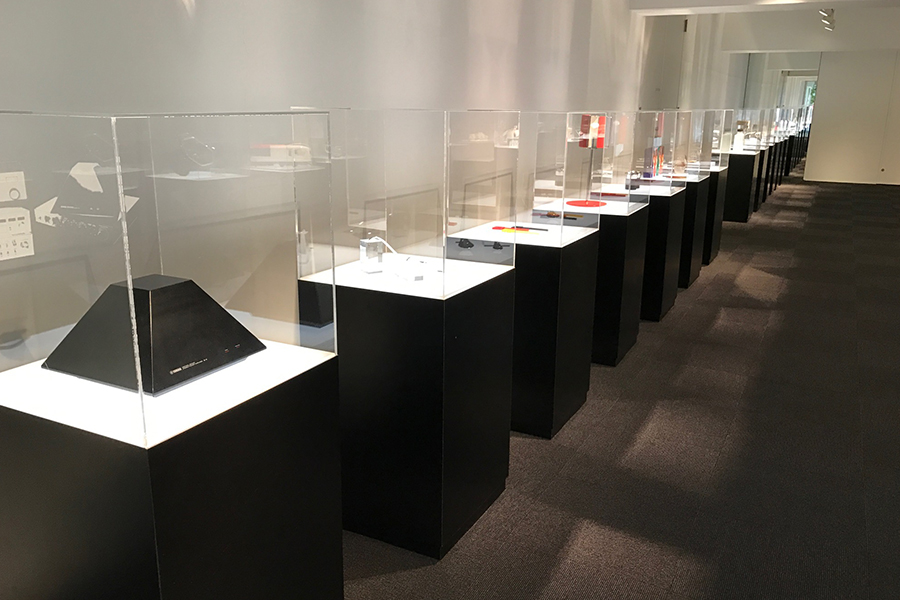 ■ Gallery in 1F of GK Gallery / GK Design Organization 
There are also a lot of related publications, and I have done a lot of exhibitions, so it is a tough amount of materials alone.Everything is precious, but how are you going to be organized?
Onodera Just came into a time when I had to think about how to organize and keep them from now on.For reference, GK has "article overview".It is a summary of the records of the activities of the GK members as a whole, centered on Euguan, from the 1950's when GK was founded to around 1987 when GK became a spin-off.This is a record of all the magazines posted on the media at that time concerning introduction of products designed up to that time and its development background.Initially, it started with recording and collection of design related magazines such as "crafts news", "design", etc., and copies and clippings of articles such as newspapers.And, as time goes on, "Volume for each year" gathers up and it is one of valuable materials that you can see the society of the time and background of the era.I am wondering if it will be useful a little in Japanese design history.Therefore, because Egyuan's publication magazines and others are tremendous amounts, we have started making work gradually by setting up data storage and keeping policy.
Also, internally we have released an institution magazine "GKNEWS" from 1972, and Eiyuan, who was the chairman, each time talked about a legendary story in the beginning letter and articles about various activities of the group GK at the time , Members who have been in charge have continued to write.Each issue has a "special theme" for each, and the way to catch that era and new design suggestions born from that era are drawn brilliantly.It has been renewed to the current "GK Report" since 1989 and has been continuing for more than 45 years to this day.Because it is left as a record so far with this kind of thing, I am seeking that there are methods that can be solved with various digital tools at the same time while referring to these methods.
In the "article overview", there are articles that are posted on "Crafts News", as well as stories from Mr. Iwataro Koike and Mr. Noboru Kawazoe, which are now legendary.I think this is very valuable.
Onodera Thank you.At that time, at the heyday of design, products that were designed more and more appeared to the world, and it was a societal era when there were many topics in the period of high growth.At the time, Egyuan also overlapped the time when incorporating the word "tool" into the design.In 1968, I published the "tool thinking" from the Kashima publishing circle.It is the first book that opened the "instrument theory" that he has been advocating since the establishment of GK.While recognizing that "the world of people" and "tool world" share the same world, Egyuan consistently gave this argument to us, although we developed our own ideas Thanks to that, we became the thought of GK and have succeeded to the next generation firmly.Because the original landscape of Hiroshima's atomic bomb, "Miserable Nothing" is the basis of Ekuan 's desire for a designer, the original landscape of Hiroshima' s atomic bomb is the foundation, so to recall, rather than just recording the designed product, It may be good to digitally make a record like the idea of the book and the modern version of "article overview".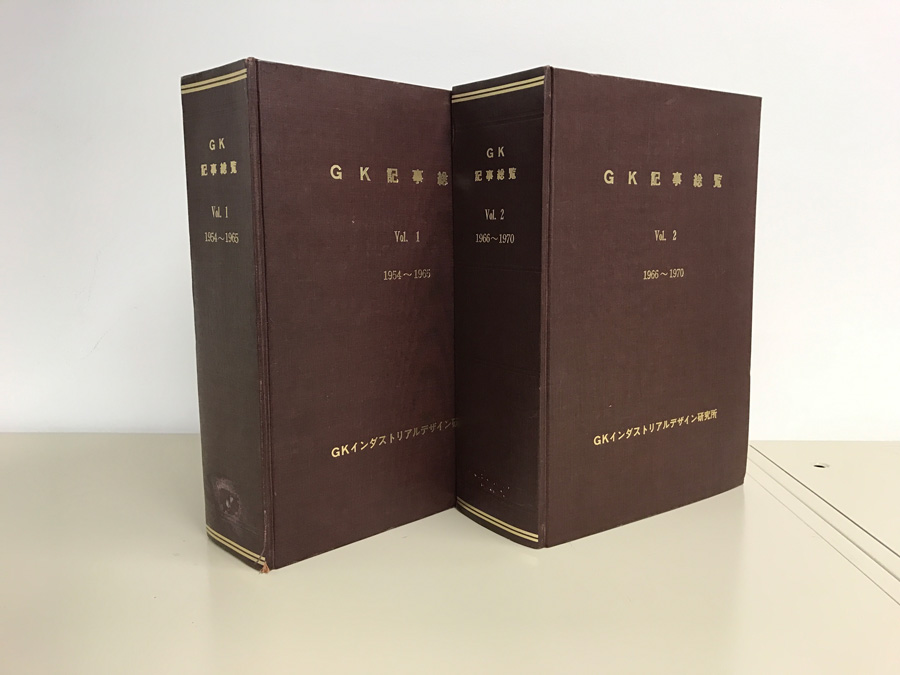 ■ "article overview" in which the activity of GK was written from the 1950s to around 1987
To organize what was bereaved Seki, Do you have a story that will Yakudateyo to something in the future.
To arrange onodera is for us all to look through everything again and it is certain that there are lots of things to learn in that process.We believe that it is our responsibility to continue to leave it in the next generation. At the moment we are only thinking about organizing and keeping it at first, but thought has not yet been reached, but first of all it is well organized as an archive in GK, not only GK, but also general people, I'm finally starting to talk.Therefore, I think that you have to do it again after receiving the story of this interview.Thank you for having a nice stimulation.
Seki It is appreciated if you say it.Even so, if there is such a long history, is not it possible that museums can be created only by GK?
Onodera Certainly, GK has a history of more than 60 years in the Japanese design world, I think that there is a certain presence in the sense that it can continue to this day, thankfully, for over 60 years We think that it is thanks to a number of other companies, including several companies that have come across over the years.Since GK basically team design is fundamental, I have been doing with the consciousness "anonymous" for a long time.So even if it is archived, it may not have been conscious of trying to show it especially.Especially since Ekuan has always been a leader in forward and forward, he has moved mainly on manufacturing based on a new idea, so there are more people who created it, keeping it as material keeps up as speed Perhaps it was hard work.
Eliminating the mainstay of Seki SakaeHisaan's, I think that the timing of now as the GK restructuring.
Onodera That's right.It is just that time right?Of course, I think that each group company divided by area will continue to operate in the same way as before, but the design philosophy of GK that Eikyu left behind, an important way of thinking and company that is unique to GK cultivated as a tradition I believe that cultures should be continued reliably, and that transformation should be necessary so that they can adapt to changes in the new era.To that end, we need to create new direction and vision as how we move as a group called GK.We are examining it exactly every day, centering on executives who follow us.
Wakui In such a meaning, the work of creating an archive seems to be a good opportunity to recognize Eikuan's design philosophy again.
Onodera I think that it is true.In the process of unraveling and rereading the materials one by one, there seems to be many things that we could understand again what we did not realize at that time.The fact that we thought that we knew like air like that we used to live before Eikaku, because there was no longer existed, will again understand each word of Eikaku while understanding I think that process is important.I also thank you very much for leaving valuable assets not found elsewhere.In the future, I believe that archiving is the most important thing to connect to the next generation.
Significance to convey not only the shape but also the background and thought
Seki There is a move to make a design museum mainly in Mr. Issei Miyake even in Japan, but what do you think about that?
Onodera I thought that there was no design museum in Japan, so I thought it was strange, so I think that what Mr. Miyake is thinking as the center is really wonderful.Even if it is owned by an individual, it is necessary to have a place and a hand to store it, so I'm glad if you can create a proper public institution and facilities in the country as well.In recent years, the variety of design awards has been increasing, and it would be a good idea to have a place where each award winning work etc can be displayed together.By doing so, I think that it will become a place where Japanese general people can understand the work of new designs.I am worried that the wonderful Japanese design products will leak out overseas, it is a waste.Even though we can not be seen by anyone as long as GK's work remains in the company, I think that if you are in a public museum you may be able to see people around the world permanently, and more than anything else Even if Tokyo's design museum is realized, there is nothing better than that.I felt strongly that the viewpoints of manufacturing in Japan from overseas will differ in a good way.
Seki problem, but it is how will be exhibited.Mr. Masayuki Kurokawa mentioned in this series of interviews, but since products and industrial design are closely related to daily life rather than appreciate things, it is important to show the background and the story properly, collect things Just saying that it should not be placed.Especially in overseas, I think that it is a difficult place to become an exhibition that draws on the cultural and social backgrounds of Japan.
Onodera I think that it is true that there is no point if you do not understand the background and the narrative.After all industrial design is a product product which we use as usual every day, so I think that it is important to have people understand that they have deep meaning to human beings as a tool.To put things in mind, as in the "instrument theory" of Eikakuan, it was to create a form of things, and after the modern era, he also stated that the function responsible for this creation is design.Even in that sense, there may be exhibits from the viewpoint of the relationship between humans and tools.By doing so, you can understand the beauty of Japanese manufacturing by technology and design against the background of Japanese tradition and culture.Even in that sense, I think it is important to have a design museum in Japan.
Seki There was a room that Mr. Eguchi used to use near this building.Will you be left there?
Onodera Well, it's on the ninth floor of an apartment in a quiet residential area of the Mejiro, but it is also a place where precious meetings were historically held.When it was decided to hold an international conference of ICSID (International Industrial Design Organization Council) in Kyoto in 1973, Kenzo Tange, Mr. Sakyo Komatsu, Mr. Taro Okamoto, Mr. Noboru Kawazoe, etc. who passed away, etc. It is also the place where we gathered together, made a meeting and history.It is also a place of commemoration that many guests from overseas visited, so we are also giving advice that we should make a foundation.Eiyuan himself was a person with great social influence and I think that it is worth making a foundation as it has been appreciated internationally.
Wakai It may be good to create a foundation to remain permanently.
Onodera Thank you.In that place, there is work room of Eikyuan, reception room for visitors, and space for conference.Eikyuan's study still managed as it is now is a Buddhist altar designed by himself, a Buddhist image, a harrhuna fishing rod which was a hobby, a mandala hanging axis, a brush or a brush of a book, a nap under the desk There are tatami mats and lacquer-made furniture etc stored.In the drawing room, a lot of things to be memorable are gathered, including unusual works designed by Ekuan, gifts from customers and friends from around the world, and things I liked and bought abroad.Since all things you got were thrown away without being thrown away, everything you could not decorate was stored in a box and it was kept altogether.
 About five years in the later years, it was practiced to give birthday gifts from GK group companies on the birthday of Echigoan on September 11 every year.Each company is trying hard on each and preparing a creative gift that will make the chairman happy, but each feature of each company appears and it was very pleased to receive it.Everything including those is decorated.There are also things that are ordered on glass shelves, not just putting them, but Ejikan is intentionally arranged.Occasionally, the position of the animal's ornament has changed.Also, animal figurines and the like "I seem to be lonely", I always bought two or more by saying that it would be a form by arranging two.Such a consideration was also a place to feel the kindness of Ejukuan against things.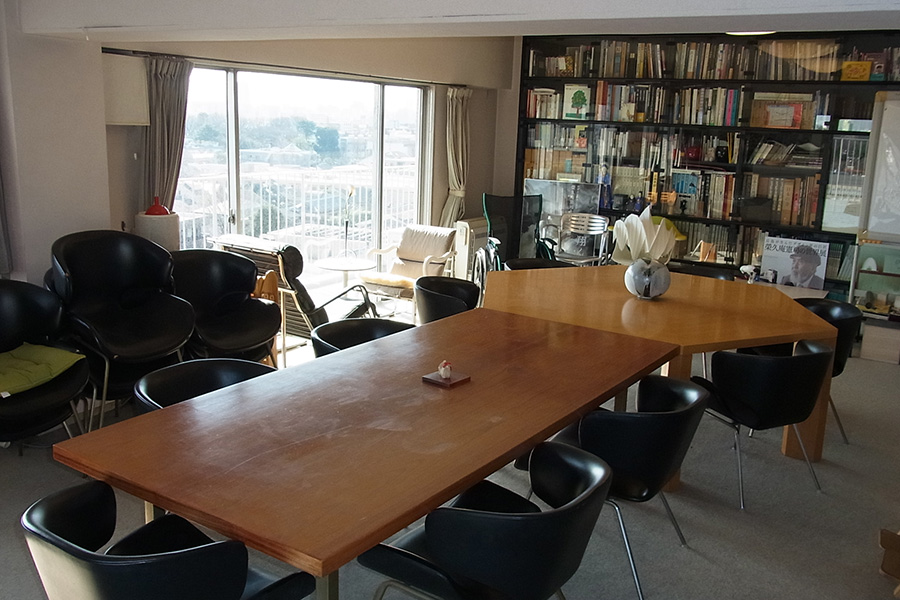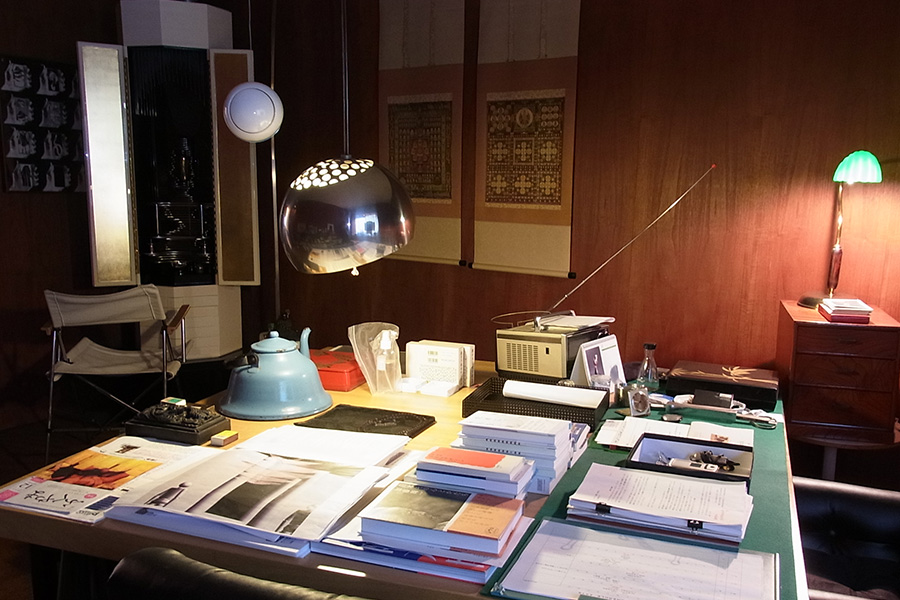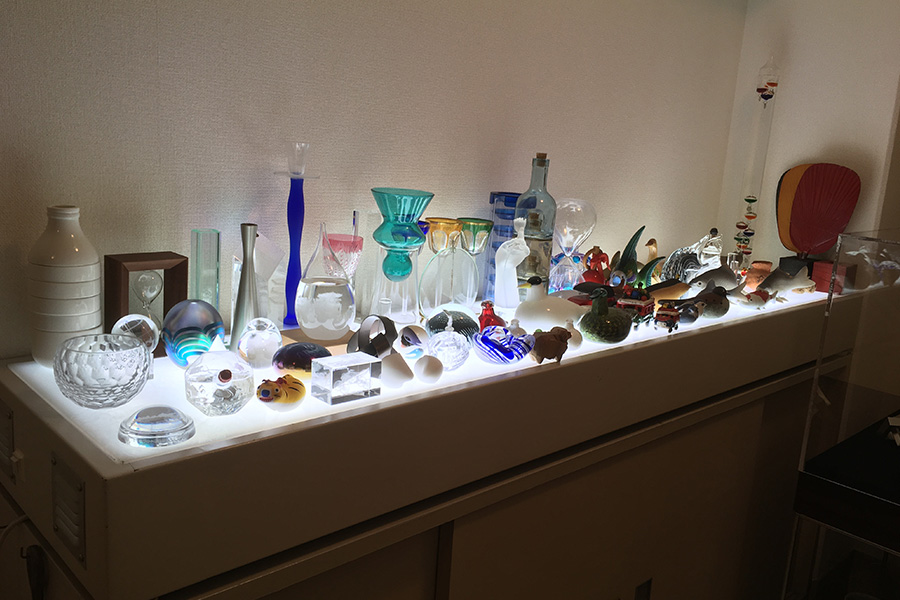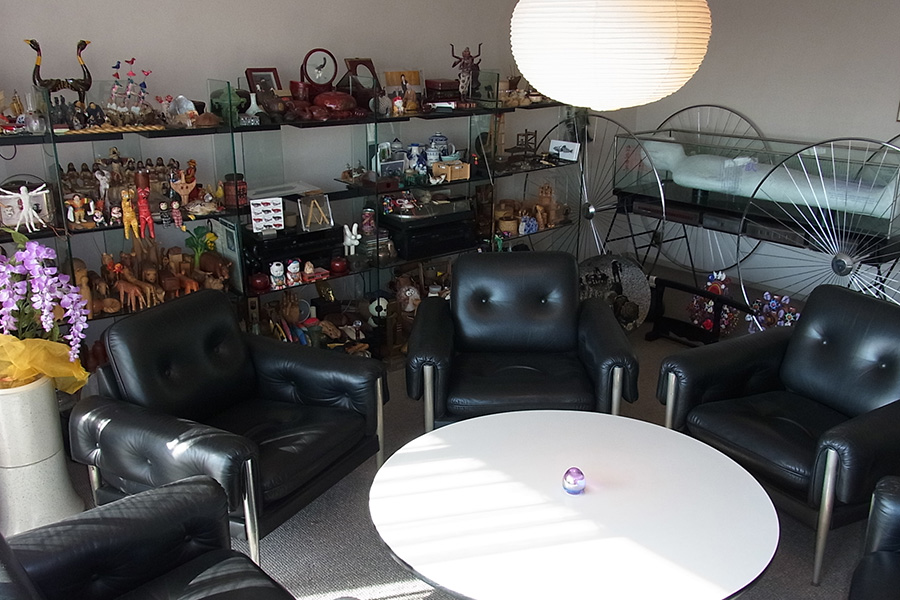 ■ Mr. Ekuan's room / Atelier of Mr. Eikaku in Mejiro
I saw the room of Wakui, but it was a space full of philosophy of Mr. Eyukyu whose design was life itself.I think that it will be more impressed if the designer sees it.
Onodera Indeed, I think that the life of Eikyuan was the design philosophy itself.There is also a part that I gathered in my later years prepared for employees so that it becomes a hint of manufacturing rather than for myself.At the root of continuing to keep every single thing, each has its own background and meaning. "I think that it was a belief that to always distribute our mind to the relationship with human beings ".That is why I think that it was his later life as a culmination of "Imperial Temple Tool Village Concept" to realize the magnificent vision.Particularly in the mountain area of Shakohama in Wakayama in 2006, the weekend 's mountain basket training was designed originally for the room of the study, the chair, the desk, the lighting and the bedroom to spend during the day.Only the work clothes that I wore at this time is what Miyake designed by Professor.It was a wonderful work on which all the tools were interwoven on the back.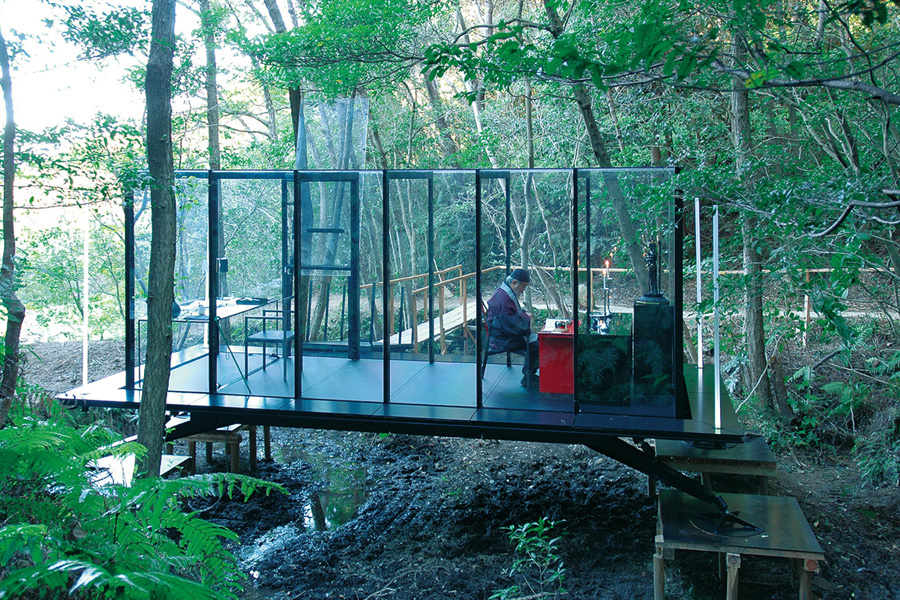 Mr. Eikuan who conducts mountain campus training  
Wakui At PLAT, I am planning to do a workshop on design archives next fiscal year.For designers, the workplaces of other designers will be a very good stimulus, so I believe that we can discuss the significance and possibilities of the design archive with such a place.I would appreciate it if you could use the room of Megumu that Mr. Ezuo's world view was embodied at the venue.
Onodera Of course, I am very happy if you could use it on such occasions.Surely the same creative people may have something that you can feel just by having them come.
Seki Thank you.I would like to ask you again about the future progress of the archive and so on, thank you in that case.Thank you for today.
Writer: Yukiko Wakui
The location of the archive of Kenji Ekuan
Contact address
GK Design Organization, Inc. http://www.gk-design.co.jp