Interview: July 8, 2020 13: 30-15: 00
Location: Kojima Design Office
Interviewee: Ryota Kojima
Interviewer: Hiroko Kubota Yasuko Seki
Writing: Yasuko Seki
Difficult to entrust design archive decisions to the next generation
Select based on the "strength" of the design
― The other day, I heard from my mother (Mr. Yoshiko) about Ryohei Kojima's archive, but I would appreciate it if you could ask Mr. Ryota for details.
Ryota Kojima There were many posters in the work, and I think there were about 300 types in total. At least one is left, and about 10 masterpieces and works that I have a feeling for are basically left, and most of them are donated to the CCGA Contemporary Graphic Art Center of Dai Nippon Printing and the archive of Musashino Art University. did. I don't leave a list, but CCGA tends to have silk works, and Musashino Art University tends to have offset works. Many of the silk works are self-produced with a social message that was announced at exhibitions, and many of the offsets are commercials requested by clients.
― How about something other than a poster?
Kojima Since the packages and bags are bulky, I have left them in the photo instead of the actual ones. However, there are only a few things related to "Uogashi Meisha". For editorials, "High Fashion" and "SPACE MODULATOR" are the actual products, and the others are scrapped and stored as files. I had a large collection of books, but when I moved, I organized them based on what I wanted to keep and kept them in the warehouse and office.
― I heard that all the works were digitally photographed.
Kojima I asked the photographer not only for posters, but also for packages, bags, proofs, block copy, sketches, etc., and took about 3 months to shoot, and the total was about 4000 cuts.
― Are they listed and converted into data?
Kojima I haven't done anything in particular. If you have the catalog of the office that my mother gave me, I can get an idea.
― Did the staff of Kojima Design Office make a list of Mr. Kojima's work and works at that time?
Kojima Every year, I remember compiling a list for applying for ADC and JAGDA yearbooks, so if you look for it, it may be partially left. Kojima Design Office had a "work bag" in which everything such as sketches and prints was stored. When organizing them, I especially picked up hand-drawn sketches, sorted them as far as I could understand, and left them in a clear file.
― You can follow Mr. Kojima's design process from the hand-drawn sketches.
Kojima Many things are remembered from the sketch. When designing a poster, Kojima sometimes draws a freehand Atari line directly on full-scale Kent paper, or projects a photo or pattern of the material with a projector and adjusts the size while penciling on Kent paper stretched on the wall. The outline is copied in, and the appearance is impressive. The logotype and logo mark were drawn using a Rotring and a French curve. I was impressed with his concentration and daring.
― Ryota-san was working with him. That's why you might have a feeling for it, and wasn't it a difficult task to organize your work?
Kojima I agree. I have tried to keep it as much as possible, but due to storage space restrictions, it was a good time, so I narrowed it down to a certain extent.
― After all the hard work you have done so far, do you encourage the museum to donate?
Kojima I will not ask you from here. Even now, posters are requested to be exhibited in exhibitions, so I keep the main works in preparation for that time. Of course, I would like to donate all of them if I receive a consultation from somewhere. However, even if I can keep it in my generation, it is difficult to leave the judgment to the next generation.
― But I think Mr. Kojima's work is organized by his son, who is a designer.
Kojima Thank you very much. However, I think that the targets that will remain publicly as a design archive are those of a limited number of people, such as Yusaku Kamekura and Ikko Tanaka. As it stands, it will be difficult for many designers' works to be archived.
― I heard that it is currently stored in several places.
Kojima I keep poster works and parts of my collection, sketches, collections, photographs, etc. in two places, and the others in my office.
― It is stored in 3 places, isn't it? In fact, it's really hard to save the actual thing. After all, is it the only way to take a digital picture and leave it as a photo?
Kojima I think the photos are simply good records. However, the real thing is pen pressure, rewriting, etc., and the designer's head remains as a trace, so it is fun to imagine various things from there. Kojima was just making an original sketchbook, so he was very particular about writing ideas and memos. There are pieces of tracing paper ideas everywhere in the sketchbook, and I am inspired by the sketches that understand the design process rather than the work, and I feel the value of leaving them. It would be nice if there was a place where such things were collected in one place and saved as an archive.
― When you look at the actual product, you can feel the pressure of Mr. Kojima. Also, the thumbnail size is as small as 5 cm square.
Kojima The sketch was written in 2B of Pencil Uni. For sketches, I just write down what I came up with and what I twisted. Anyway, I drew the amount, tried and errored, examined whether there was a similar design, and when it was solidified to a certain extent, I made a clean copy on a PC ... and completed the design by repeating the process.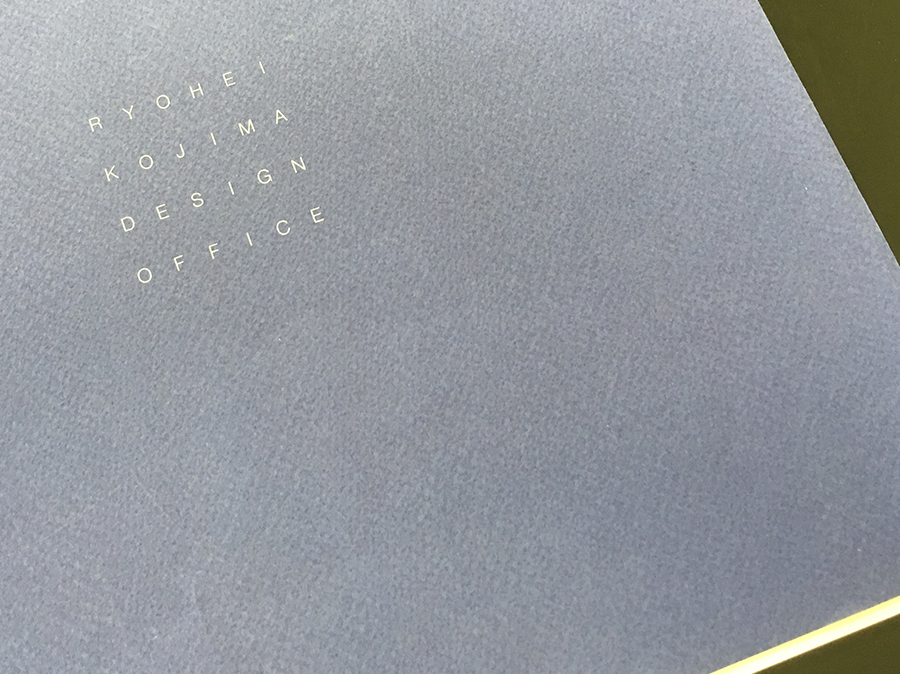 Original sketchbook cover
What I learned from the designer's father
― Ryota himself is a graphic designer, and what do you think about the work and work of his father, Ryohei Kojima?
Kojima Kojima's commitment to design is first about how people who see the design can feel the "meaning", and then whether the thoughts put into the design have "strength". Was important. I was finally able to hear this story just before he died, but when asked, "What do you think most important when designing?", "Strength" ... It is by no means superficial and self-centered, but I take it as the meaning of the "strength" of the content of the design, which is explored from discussions with the other party and formed together through the design process.
― Was that also the standard for organizing?
Kojima In the organizing work, I took a bird's-eye view of all of Kojima's works, and left behind what I felt the "strength" of. I worked with Kojima Design Office for about eight years, but I didn't discuss these essential things until just before my death. I had only one staff member at the office, so I didn't have a chance to ask.
― How was Ryota's childhood?
Kojima My dad seems to have been drinking around Roppongi's Balcon until midnight after work, and I have little memory of playing with him. Even when I went out together once in a while, I was playing soccer and tennis with my friends, and I was playing alone. However, I remember having fun skiing together.
― Why did you decide to become a designer?
Kojima When I was in elementary school, when I went to the office during the summer vacation, I used to draw lines on Kent paper with Rotring. Then my dad came and showed me the design process, and after being interesting, I think I was naturally attracted to the work of graphic design. However, my mother thought that my father was enough for the family, and it seemed that I was against going this way.
― Wasn't it difficult for parents and children to work in the same office?
Kojima I never thought so. The division of work was clear. Because when I entered this world, computers were already the mainstream, but Kojima couldn't be used, so I proceeded with the process of importing handwritten sketches into the computer and finishing it in cooperation with other staff. Was there.
― How did Ryota see Kojima as a designer?
Kojima I respected him as a designer. He valued communication with clients, was always thinking about ways to communicate with others in an easy-to-understand manner, and was a person who spared no effort, such as reading books of various genres and gaining knowledge. I always try to stand on the side of the client, for example, stand on the other person's field with just one word and replace it with something that the other person can easily understand.
― What did you learn from such a father?
Kojima I think that "designing" is the work of accurately grasping the wishes and desires of the other party, cultivating them within yourself, and expressing them as forms. Tell me that the process and way of thinking are the essence of design. I feel like I got it.
― What about the designs that Mr. Kojima was influenced by?
Kojima In 1965, Kojima's work "MONTHLY REPORT Body Science", which won the special prize of Nisshinmi, was fascinated by Harvard buyer's "World Geo-graphic Atlas" from Bauhaus, and was designed based on it. I heard that. The subsequent "Encyclopedia of Home Books" is also a work under the influence of buyers, and if you compare them, you can clearly see that they have learned a lot from the buyer's composition and color scheme. Kojima used to cover and cherish this book as the starting point of his design, but it is a great stimulus for me to know these facts through the organizing work.
― I've been curious about this, what is this sketchbook?
Kojima Perhaps he was freed from everyday life and was interested in it. Kojima always brought a sketchbook with him on his trip and had the most food, but what he saw and what he was interested in, such as Alva Aart. I sketched the architecture, my favorite interior, and pasted museum tickets, shop cards, and pressed flowers of plants. Looking at this, I can see that the fact that it is a sketch rather than a photograph is like a father, and that he is a person whose hands can move freely. There are about 20 such travel diaries, and I also refer to them when I go abroad.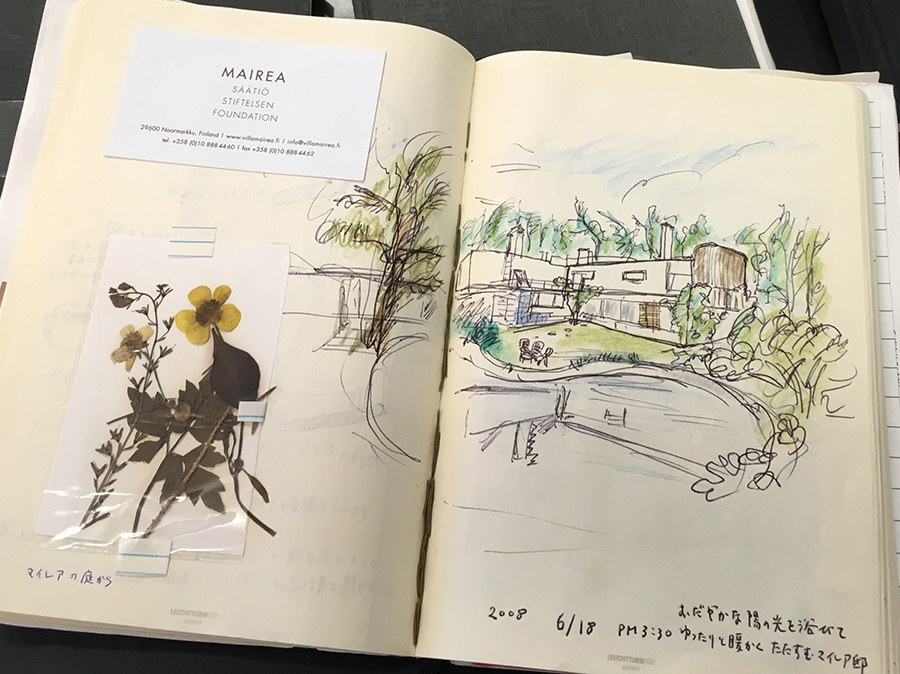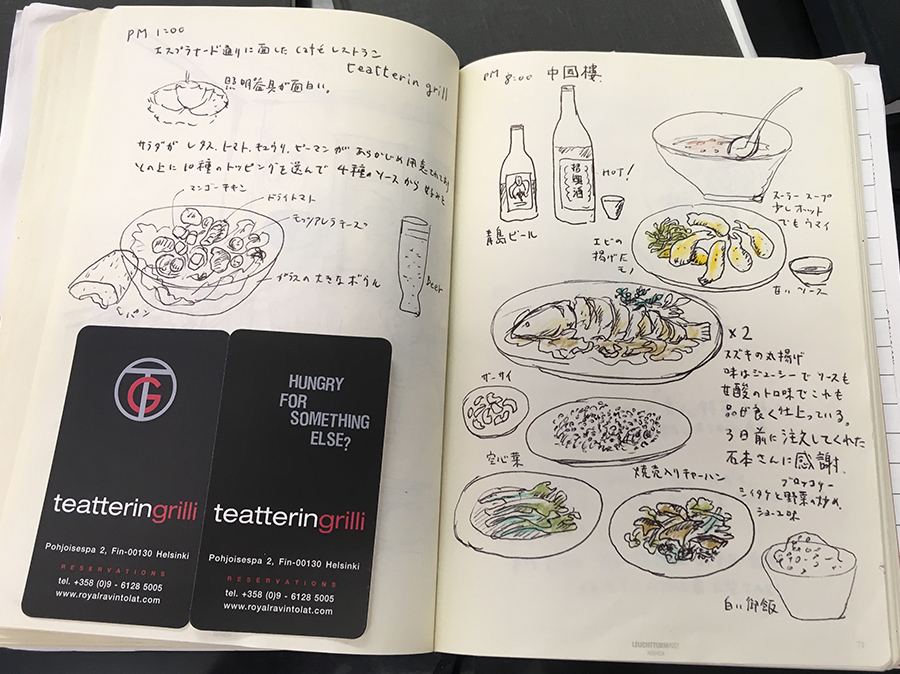 A sketchbook that notes various scenes of the trip and things that were
― Speaking of Mr. Kojima, the poster of the "Wild Bird Society of Japan" that was produced by volunteers is impressive, but I feel that the number of designers doing such activities has decreased recently.
Kojima Behind this, I think there are various requirements such as the aging of craftsmen involved in printing, the situation where production costs cannot be paid, the number of places for presentations such as exhibitions to decrease, and the development of digital technologies such as inkjet.
― The 70's and 80's when Mr. Kojima was active was also a time when there was still a lot of Japanese design nobishiro.
Kojima At that time, it was natural to stay up all night and I was very busy, but I feel that I was able to spend enough time designing from idea generation to presentation compared to the present. I think it was difficult to work because most of them are hand-painted rather than digital, but I had the time and mental leeway to come up with many ideas and consider them. Nowadays, the time it takes to design is shortened because it can be done in a short time with a computer. There is less time to think and elaborate, and the world has become less valuable at such times. We also have to work harder to communicate with the other person.
― Finally, I heard that Mr. Kuramata's furniture is still being taken over.
Kojima Kojima seems to have been close to Mr. Kuramata. I've only met a few times. At my home where I used to live, Mr. Kuramata designed the furniture, and I still use those furniture carefully. I still use the furniture from Kojima Design Office designed by Mr. Kuramata. I will continue to use Mr. Kuramata's furniture carefully.
― Thank you for your time today. I was able to touch on the origin of Kojima design and hear a valuable story.
Ryohei Kojima's archive
Contact
Kojima Design office@kojimadesign.com