interview
Even in the field of Japanese interior, more archives
I think that it is necessary to move the remaining.
Think about furniture deeply in depth
- As a furniture designer, Mr. Ohashi worked with architects such as Toyo Ito, Mr. Sakamoto Issei and Mr. Hideko Hasegawa in the 60 's and 80' s. In the midst of his success in the future, Unfortunately I suddenly passed away in 1992.When did Mr. Fujimori work for Mr. Ohashi's office, how long have you been working?
Fujimori I was enrolled in the office for the last about a year until Mr. Ohashi died.There was another seniors when I entered, but that person was quit soon, so only the last staff was me.
- What was the reason that Mr. Fujimori first entered Ohashi 's office?
It was a student of Kurokawa Tokyo Zokei University.I was shocked by the fact that there are people who deeply dug down the furniture deeply so far.Also, I learned that various things can be represented by furniture, I became more interested, I got interested in sometimes during my studies at the atelier, after graduation, I hit the gate with a feeling like a long-time discipleship.
- Mr. Ohashi suddenly passed away in 1992 as young as 52 years old, I think that the office suddenly became disconnected.At that time, did Mr. Fujimori focus on taking over the project and organizing the materials?
Fujimori staff was only me, I naturally thought that I should do it.It was a time when there was no project that happened to be working with the architect at that time, so there was nothing to worry about that.First of all I have organized drawings and materials in the office. "As a special issue of memorial dr. Ohashi's memorial comes out in the magazine of SD (Space design) (Kashima publishing association), I also summarized the materials to be posted there.Those drawings and materials were given to Professor Hiroki Shirasawa of the same laboratory as Dr. Ohashi of Tokyo Zokei University.Professor Shirasawa was later elected president, but now he is retired and will not be present at the university.
- Is the drawing an actual size figure?
Fujimori There was also an original size drawing of A0 or more, A1 and A2 size, and a hand-drawn sketch.
- Mr. Ohashi was aiming for an architect at the beginning, and two houses were designed.Does that drawing also remain?
Fujimori I think that it probably remains, but unfortunately I do not know the details.At the time I was in the office, I did not feel like I could listen to Mr. Ohashi from me so much, so there are many things I do not understand now.
- Was it a tough person?
Fujimori I have never been angry or shouted yelled, but I also had respect and I was always nervous.Although it may not be quite like that human relationship now.
- Who is managed about the rights relationship of Mr. Ohashi's works and materials?
Fujimori's daughter.Actually the drawing has been raised from the university and now it is in this office.Next year, it will be donated to the Museum "M +" in Hong Kong which is scheduled to be opened.The university and the family negotiated and decided.We are preparing to prepare for it now.
- What is donated to M + in addition to drawings?
Fujimori I think that works will probably be donated, but I am not familiar with details about it in detail.Works are private, although others are at university.I also have two legs of steel pipe series chairs, "Board · Furniture" which I received from Mr. Yuko Hasegawa.The collaborating architects and Professor Koji Tagi seemed to have some Ohashi's furniture at home.I think that there was "board · furniture" in the lobby of Tokyo Zokei University.Then I had dyeing and weaving studio in Kagurazaka and I think that some texts of the early days still existed in textile designer Okishima Koiko who was in charge of Mr. Ohashi's furniture fabric .Perhaps you think that you purchased it at that time.
- Is there somebody who has 20 legs or 30 legs in one place?
Fujimori I think that there is not.
- Is there any pictures left?
Fujimori I think that it was included in the compiled material probably.I think that those photographers who were photographed remain in the place of the photographer.Among them, the photographs of the furniture are photographed and stored a lot of Mitsuomi Fujitsuka.
- Mr. Ohashi traced furniture of designers of Denmark such as Wegner, Mogensen, Careholm, etc. It was also made to duplicate the furniture of the shaker, but the research papers and drawings for copying remain Is not it?
Fujimori Shaker 's research was done long before the entrance to me, so I do not know where the material is.I also feel that the shaker's stool remained in the office.I think there was something like a paper on research on chairs.Today, I am collecting materials such as drawings that were kept at Tokyo Zokei University in my office once and then arranging them again.Regarding research on masterpiece chair, I think that we will refer to literature and drawings usually, but Mr. Ohashi was studied while actually measuring or making it in 1/1.
- I heard that Ohashi-san's own actual measurement method was taught at Tokyo Zokei University's class.
Fujimori student became a group of three, spreading imitation paper on the desk, and putting a masterpiece on it and measuring it.The curves of the seating surface and the arm used a "downward swing" with a weight to be used for surveying, and the curves were taken one by one.The teacher said that the expression of the shape of the object is "gesture".It is said that the chair contains something like the susceptibility of that age and can measure the thought of the person who designed it by measuring it.For example, what kind of idea was made, why such a form was made, why you think that you like it.I can not explain it well with words, but as I actually measure it, I know it physically and sensually.
- The aim of the research is that in addition to leaving the history of furniture and technical things in the record properly, there seemed to be a thought that it would make a hint of something for your own design, too.Then I told you that the chair was "like a table" and I was thinking that what the chair itself is like was also pursued, but did such research continue in the later years as well?
Fujimori I'm pretty busy saying, but as the world began to calm down a little after the bubble period which had been celebrating, as the world calmed down a bit, Dr. Ohashi 's design is also good "good" I think that I was going to shift to a new area. "After the Hannan Chair ", it faced the design fictionality, captured the furniture as a" game of culture "and kept the imagination fully released.In a sense, it might have been beyond the area of furniture design.In the later years I think that I was more conscious of how to superimpose my own thinking through the above game method into the real space.It seems like turning again and looking forward.
Things that tend to overlook actually become the basis of living
- In the architectural world, there is a phrase "Professor · Architect" that creates works while doing a university teacher, but was Mr. Ohashi standing like a professor / interior designer?
Fujimori That's right.Perhaps it is better to say that you were designing from a research standpoint.When I entered, I was told to write a report by picking up anything that I am interested in every day, not a work to draw designs and drawings suddenly.I wrote about television, air conditioner, toilet etc. because I am influencing somewhere in my normal life.Although it is a childish thing to think from now, the teacher said "He is very simple but good".I remember it.While discussing based on that report, I thought about what is a tool to live.It is doubtful that not only the color, form and function of things, but also the fact that things that have become commonplace in everyday life actually become the basis of living or overlooked I learned to see with eyes.
- You had been trained to explore the root of things.Always asked disciples how did you tell me that kind of thing?
Fujimori How about you?I do not know the previous thing, I think that there was something like a trend of thought at that time among the teachers.For example, it seems that in the 1970s, it was influenced by the thought of "Wild Thought" (1976 · Misuzu Shobo), and when being designed "Hannan · Chair" of the 1980s, being inclined to Asian culture , It seems that at this time, I was shedding a song of Gamelan all day at the office.When I was enrolled in the office, I felt that I was going to work when I received a request, because time was mainly for research, probably I was thinking to try new things again think.
- By the way, I heard that Mr. Ohashi was in the laboratory of Mr. Shinohara of Tokyo Institute of Technology, I feel a little unexpected, but have you heard about the reason, background, purpose What?
Fujimori Probably Shinohara sensei had come to teach to Kuwawa so I think that I was influenced there.Mr. Ohashi was a person who draws drawings very precisely.In the classroom of Shinohara school, I heard that the drawing of "White House" drawn by Dr. Ohashi was decorated and Professor Shinohara mentioned to the students "to draw this in a sample".
Even at Shinohara School, it seemed like a kind of discipline of thinking, which would determine the essence of things while fighting debate.Besides Mr. Ohashi's work, was there any exchange with Ito and Sakamoto who are closely related to that Shinohara school?
Fujimori Of course I think that there was an exchange.I do not understand only what I told you about that period, so I think that it is better to ask two people sharing the same era.
Akiro Ohashi and Shiro Kuramata who made a solemnise in the 1980s
- It seems that Mr. Shiro Kuramata has also been exposed to Shinohara School.In the 1980 's, I think that he was twinning as a designer who was active at the same time as Mr. Ohashi and was making original furniture.Style and thinking is different, I think that there was background of the times, but I think that the flow of the work is similar.In the 1960s, boxes were made, in the 1970s rational designs were developed using materials such as steel and in the 1980s suddenly created works that were surprisingly surprising.Mr. Kuramata announced "Miss · Branch" which contained rose artificial flowers in acrylic, Mr. Ohashi announced "Hannan · Chair".What was continued to stick to the criticism spirit of society and the standing position as one's own artist, and that he was leaving the world young in the middle of searching for further design afterwards I feel that there are many overlapping points.Because it was also from the same Kuwawa, was there also exchange with Kuramata?
Fujimori I heard this to seniors, but I think that they were conscious of each other, even though they would not meet directly.In the design world, it seems that Mr. Kuramata is said to be the sun, Professor Ohashi was said to be the moon.Dr. Ohashi may not be able to design gorgeous commercial facilities, restaurants etc like Mr. Kuramata.He was the one who did not drink, and I had an introspective impression that I always thought of something.I think that they were on good terms with Mr. K. Tagi.In the catalog of the exhibition ('Touchstone Oohashi's furniture' 2006 · TOTO publication), the text of Mr. Tagi, "Thinking about Mr. Ohashi" is posted but it was wonderful.I was surprised to analyze an artist so far and disassemble it so far.Besides, Mr. Ohashi's strong feelings are overflowing.
- Architects and designers at the time asked from various people that he was very conscious of how Mr. Tatsuki could be seen.Mr. Takagata seems to have been suffering for a long time by Mr. Tatsuki's writing about himself like a spell, but then led to meet Ettre Sottsass and released, which led to the creation of a new style It is said that.
Fujimori Now, people who can critically review such things are not particularly in the design world.
- Interior and design magazines as a place where work and criticism can be announced are few.Kuramata has a disciple of the past from the early days and is said to be a "Kurakamata School" and everyone has been active even afterwards, but those who are Mr. Ohashi's disciple and are still active as designers Are you coming?
Fujimori It is to the last as far as I know, but I think that few people continue furniture design.There seems to be a lot of people who have been moved to other design fields, or have advanced to a completely different way such as dancers.
- Why is not it?
Fujimori I do not know. "Is it because existence was overwhelming in the field of furniture?Because I had a short time in the office, I had to think one by one on my own without knowing anything.Perhaps, it may be because it is there that is continued now.
- Why did Mr. Fujimori go to Hasegawa's office after Mr. Ohashi passed away?
Fujimori When I was depressed, Mr. Shirasawa, Shinohara school such as Ito, Mr. Sakamoto, Mr. Hasegawa gathered together, thinking of my future.Just invited me because Mr. Hasegawa was thinking about talent in the interior department of the office.I still thank Hasegawa very much.Mr. Ohashi learned a lot about the way of thinking and attitude towards design, and Mr. Hasegawa a lot about the practical experience of public facilities such as what furniture should be in the building.I was enrolled for about seven years from 1992 to 1999, but when I was working on a large number of large public facilities.When I finished my work at "Niigata Citizen's Arts and Culture Center", I became independent in 1999.
Holding an exhibition triggered the organization of the archive
But it will return to the story of over archive, I think only two books are being published? I think that it may be a little more as a record, such as the one summarizing Mr. Ohashi's furniture transition and research, and the work collaborating with the architect.
It is only Fujimori's book "Fringe as thought" (1993 · Library Publishing Bureau of Housing) and catalog of exhibition "Touchstone furniture Towa Toru Ohashi" (2006 · TOTO Publication).I have some magazines with feature collections. "SD "two books," JAPAN INTERIOR DESIGN "(Japan interior).I think there are many other articles posted in the magazine though.
- Memorial exhibition "Touchstone Ohashi Teruaki's furniture" held between Tokyo and Nogizaka's TOTO Gallery · was not one of the reasons for organizing the archive?Mr. Ito, Ms. Sakamoto, Ms. Fujimori also came to the committee members, but how did you decide to hold the exhibition with the opportunity?
Fujimori When Mr. Tagi was spoken and said that designers had to tell the world properly, Mr. Ito and Mr. Sakamoto started to make a committee.
- How was the work being exhibited collected?
Fujimori I have washed out things that are not there and there are things that I have reproducted about things I do not have. "Hannan · Chair "was exhibited to Mr. Ojima who collaborated with textiles to change fabric.Most other things borrowed from individuals are mostly postponed after the end of the exhibition and I think that some donated to Tokyo Zokei University.
- Who else came to the committee members?
Mr. Fujimori Shirasawa and Mr. Ohashi were taught after the death of Kenji Oki and Mr. Fumio Enomoto who was taught in modeling style, Mr. Oshika Isaji, architect, Mr. Ojima and Takafumi Inoue mentioned above.Ms. Inoue is a representative of Inoue Industries who had been producing frames such as Professor Ohashi 's "board · furniture" and "Hannan · chair" frames. "A box shop such as a wooden box and a car box was produced by Qingdao shop where Kuramata's drawer furniture was also made.
- Does Tokyo Zokei University have no collection activities like Musashino Art University?
Although there is Fujimori Art Museum, I think that I do not have a collection.At the university of architecture there is a movement to leave the archive, but in the field of interior, I think that such thought is scarce so that it can not be managed anyhow.I think that it is good to do donation at M +, so I think that it is a good thing to donate, but it is a bit disappointing that Mr. Ohashi's works and materials donated will not be seen in Japan.
In addition to the design drawing left an isometric drawing as well
- Are you sure to show me the drawing?
Fujimori There are original size drawings, drawing and sketch etc together in these three large cylinders.
- It is drawn in great detail.Of course it is hand-painted at the time, right?
Professor Fujimori Ohashi was even given small screws.Numbers of dimensions such as R and depth are pushed by rubber stamp one by one instead of hand-drawn.
- Mr. Fujimori is drawing a drawing with a computer right now is not it?
Fujimori Yes, That's right.When I was in Hasegawa's office, I was almost hand-painted, drawing with a parallel ruler.I drew a sketch diagram well.I started using CAD independently beforehand, I think that our generation is incredible to experience hand-painted and computer both in practice.
- Is there any difference between drawing on a computer and drawing one-third of a drawing in your hand like this in this way?
Fujimori As you know now, you can start painting quickly with a computer, but in the case of hand-drawn drawings you should not soil the paper, first wash your hands and draw the whole nerve as you have to redraw it if you make a mistake It was.Even now, even if I draw on a computer, I will launch it in 1/1 and check the actual size feeling without fail, I will always adjust the details based on that.I will also make a model of 1/1 and study.
- What is this sketch like a stipple?
Mr. Fujimori Ohashi was left drawing drawing like such an advice apart from the drawing.When I entered the office, there was something recent stuff drew by other staff in recent years, but I decided to draw because there were no old box objects or furniture of steel pipe It was.I drawn it using the Rotling.
- Although it looks like it was drawn on a computer, it is hand-drawn.It takes a lot of time to finish a single sheet, do not you?What was the reason for making this?
Fujimori I did not hear.I am planning to copy these drawings and drawing before donating.But it costs a lot of money, so I'm thinking how to do it and I'm looking for where I will copy such large formats.
- Is that so?It is serious.
Fujimori Because I think that it is my mission.
- It is also the fate that became the last staff member.Well then, as the last question, what kind of things do you think Mr. Fujimori himself has learned from Mr. Ohashi?
Fujimori The biggest thing is the attitude of how to tackle designs.Right now, I tell my students the teaching of Professor Ohashi.When designing a chair, there are many people who just draw shapes, but for whom the chair is used, in what kind of space, what changes according to the chair, what goes through that chair I think that there is no point in designing if it is not underlying what to say.
Thank you for over valuable talk.From now on, I definitely would like to talk to Mr. Shirasawa and Mr. Ojima.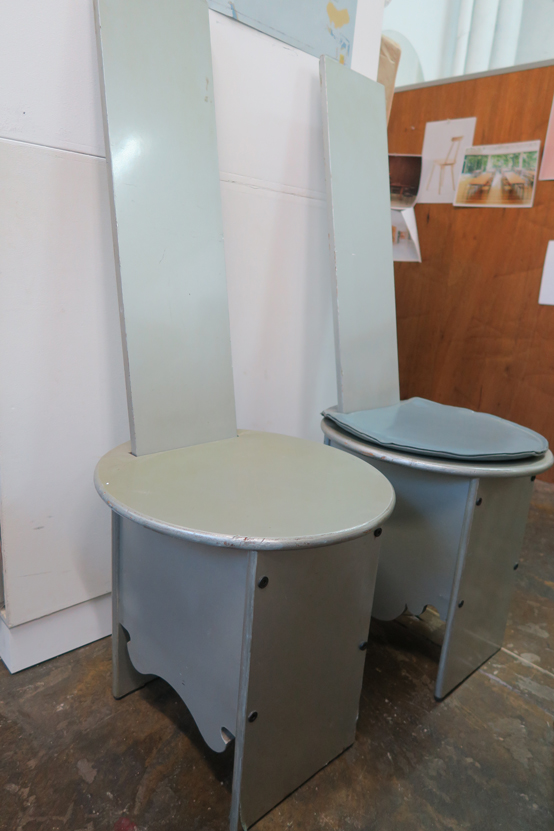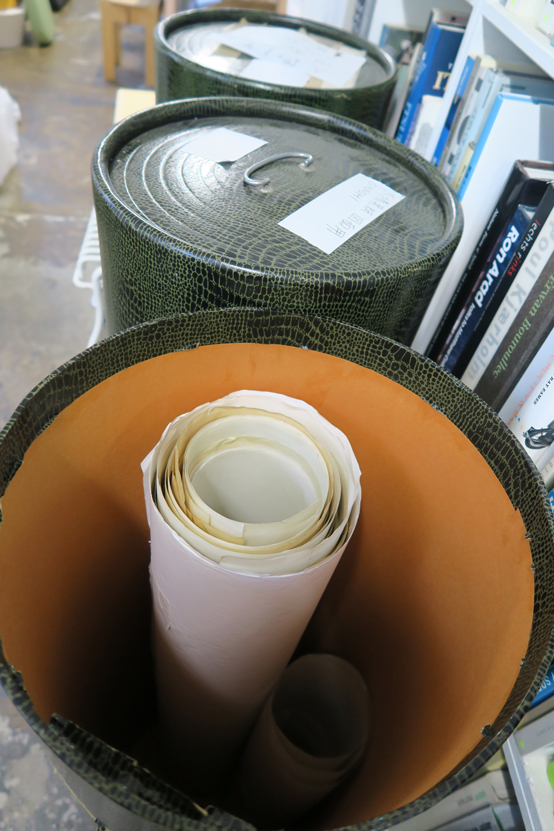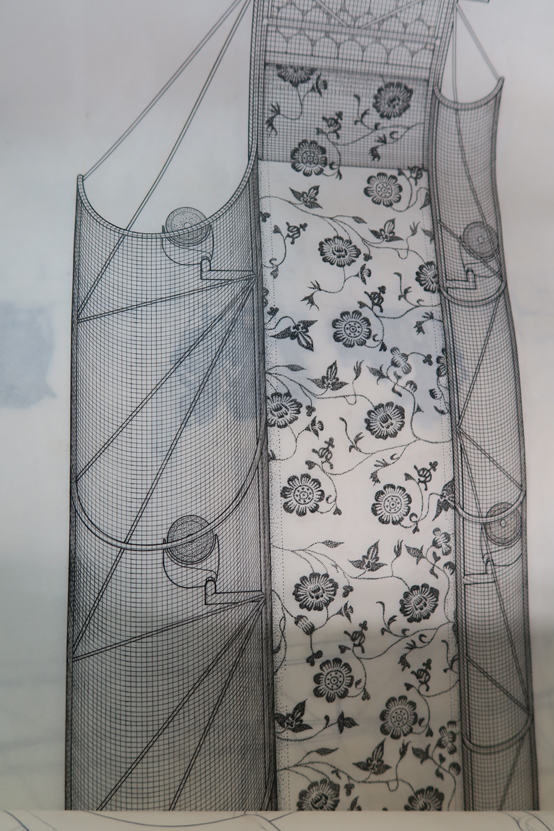 Left / board / furniture center owned by Mr. Fujimori / Tube Right with drawing included / Aksome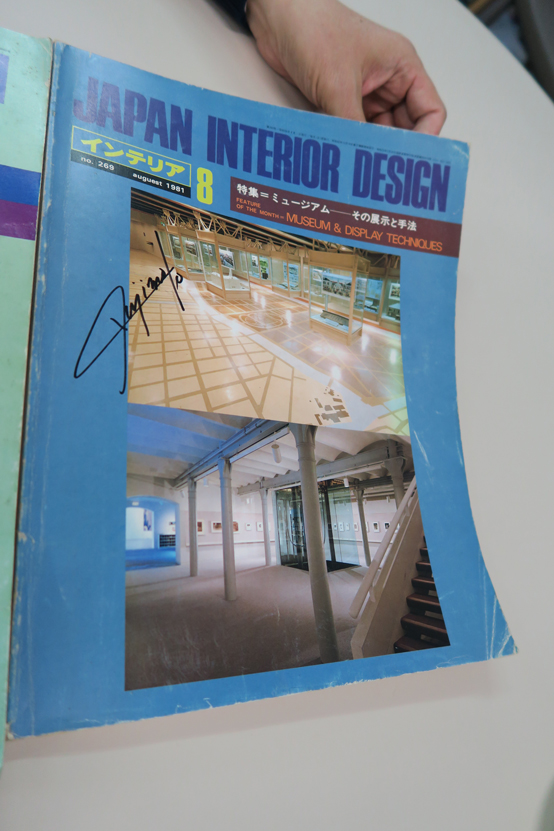 Left / Right drawing / Publication magazine
The archive of Mr. Akira Ohashi
Contact address
Yasushi Fujimori atelier http://www.taiji-fujimori.com/