Interview
I suppose Uchida thought it worthwhile to leave institute to us after his own death.
After the archive as a thing.
― First of all, I would like to ask you about the archive as an object: what has been the state of affairs since the death of Mr. Uchida?
Hasebe Initially we wanted to donate them in bulk to any university or public institution that would be willing to store them semi-permanently. However, it was difficult to find a place for it in Japan, and when M+ in Hong Kong asked us to take over part of it, we decided to give it to them. Previously, everything was stored in a warehouse in Hachioji, but we have now moved to a warehouse with logistics services in Saitama. At that time, we disposed of damaged prototypes and other items, so what we have now is a complete collection, tearooms and old documents.
―  What kind of work has been taken over by M+?
Hasebe The focus is on furniture, including some of his most famous works and drawings, such as the black pipe series of chairs from the 1970s, like "SEPTEMBER".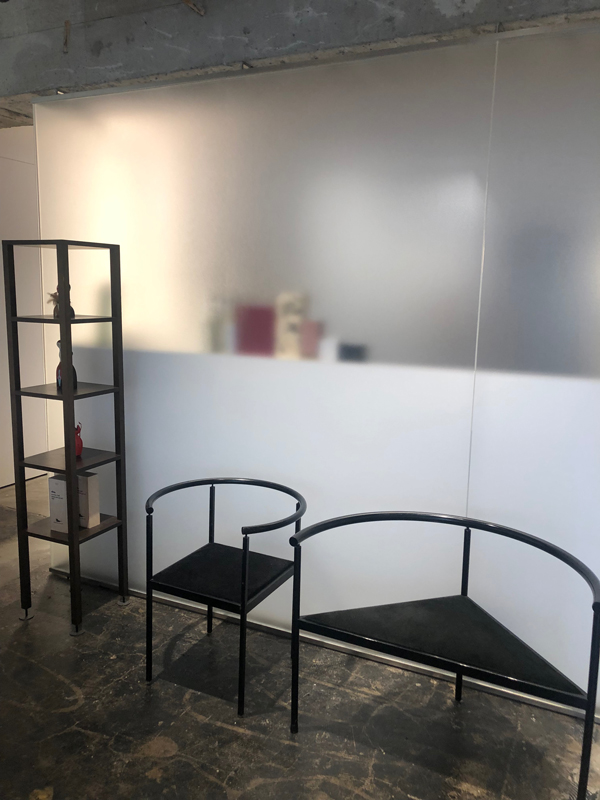 In the corner of Uchida Design Inc, you will find chairs and other objects designed by Uchida. "SEPTEMBER" on the right and "OCTOBER" on the left.
―  Mr. Uchida has also designed tearooms, so he must have a lot of tea utensils.
Hasebe The wall storage in the meeting room contains tea utensils. Some are designed by Uchida and others by contemporary artists collected from all over the world. After Uchida's death, we moved to a new building, and we renovated the existing space and designed the storage space with the amount of tea utensils in mind. In fact, Uchida had about 5,000 books in his library, which he thought he couldn't bring, but ModuleX, a lighting company in Ebisu, took them all. Before his death, Uchida was very close to the former president, Mr. Nobuhiko Terumichi, and the current president, Mr. Goro Terumichi, often came to visit the institute from his childhood. Mr. Terumichi also loves books, and in 2016 he created a library in the corner of his head office, which was designed and renovated by Mr. Kengo Kuma. The books have been selected by Mr. Seigo Matsuoka. We also had a section for Uchida and Ikuyo Mitsuhashi. I also created a directory, which I visited several times and sorted by genre, such as what Uchida read when he was young, philosophy books, architecture and design. We usually borrow a few books from their library that we use frequently at work and keep them in the institute. I am relieved to say that we did not have to discard any of the books. The library is open to the public and can be borrowed.
―  What is left now is mainly products like furniture. As for the archives related to space, do you have drawings, photographs or sketches?
Hasebe  In addition to drawings, photographs and sketches, there are also a few models. There were some models of tearooms, but most of them have disappeared. In the world of architecture, it is common sense to keep models, for example by holding exhibitions of only models, but in the case of interiors, this idea is not so well established. All the photos are still there. Some of the film has been digitised, but there is still some positive film from the 1970s, which has yellowed considerably. The drawings are not 100% complete, but they are almost there. A retired member of the Institute once volunteered to organise it for us. There are more than 100 Yohji Yamamoto shops alone, and they put together drawings and documents for each project. However, we have only sorted out what was in pieces and have not yet archived it.
In the last 15 years of his life, Uchida began to make works that moved and changed with time, such as "Dancing Water", which he recorded on video. There was a man in Berlin who specialized in filming, and he was saving his films, but he passed away this year. We have DVDs and Blu-ray discs that have been edited for each exhibition or work, but I think the original data is still there in Berlin.
Uchida also thought the approach from the entrance to the back of the building was very important when designing the space, and we have recorded some of this in the video.
―  At that time, did Mr. Uchida have a desire to leave his work as a record, an archive, for posterity?
Hasebe Perhaps he felt that a moving work could only be expressed in moving images, and that unless he documented it there, it would remain only in his mind and he would never be able to take it back. As for the photos, when Uchida made his debut, Mr. Shiro Kuramata told him that the shop would be gone in no time, so he should at least take some photos. Since then, Uchida has also started to take photographs. So we have all the photos. After that, I think his relationship with the photographer became closer and closer. I think that this is how photographers working in this genre have become established.
― In graphic design, there are institutions like Dai Nippon Printing, and in architecture, there are institutions like the National Archives of Modern Architecture. They don't exist now, but if you were to create something like that for interior design, what would be your ideal?
Hasebe As I mentioned in last interview, there are few institutions that will accept three-dimensional objects as they take up a lot of space and are not easy to manage, so we end up having to store them privately. Every designer who makes furniture or products has the same problem. As for the receptacles, they still need a lot of space, which is difficult to achieve unless they come with something like a warehouse.
21_21 DESIGN SIGHT does not currently have a collection of archives, but Mr. Issey Miyake had been calling for the need for a design archive even before this was created. I think that if there is more recognition of the social value of archives, public bodies and companies will start to think about them. I feel that one of the challenges is that it is not easy to organize design exhibitions in Japanese museums. Recently there are more and more people like nendo and we+ who are working in the area between art and design, and I think this kind of work is more accessible to people who usually look at art. Nowadays, the border between art and design is disappearing worldwide, and the value and view of design is starting to change little by little. If we move further in that direction in the future, there may be more momentum in Japan to do something about archiving. I think that the activities of NPOs such as yours, which are researching and documenting design archives and raising awareness, are also helping.
To inherit the institute.
―  Our activity is now in its fourth year, and recently I have been thinking that no matter how much an object remains, if the designer who designed it is forgotten, it becomes a dead object. For art creators and painters, exhibitions and books are organised in the year of their death to remind us of their existence. In the case of design, a private practice can cease to exist when the person dies, and if someone wants to borrow a piece of work for an exhibition, or wants to talk to someone about it, they may not know who to contact. At Uchida Design Inc., Mr. Hasebe and your team have successfully taken over the project and inherited the spirit and mind of Mr. Uchida, which I think is a very rare case. How did you come to do this, and have you been preparing for this for years?
Hasebe While presenting his work as an individual design activity, Uchida was always thinking about the public interest: what kind of reputation and value the designs we work on will have in society, what kind of generation we will nurture, and how we will contribute to the world. He was somewhat of a big-brother type, so he felt he had to step up and do it. I think he had a sense of urgency and a sense of duty to help the industry as a whole to improve bottom-up, including incubation and education. The same goes for Uchida's desire to create a magazine, as he said in our last interview. He wanted to create a forum where people from all walks of life could come together to discuss and improve the dimension of design itself.
Because of this way of thinking, the name of the office was first "Uchida Design Office", but later Uchida, Mitsuhashi and I had many discussions and the name "Japan Institute of Design Culture" was chosen as a candidate. However, we felt that this was a little too grandiose and that it would be better if the designer's face could be seen, so we added Uchida's name and changed the name to "Uchida Design Inc." in 2002, as we thought it would be better to use "institute" rather than "office". When we think of institute, we think of voluntary prototyping for something of public interest, and this is exactly what we have done, reflecting our commitment to public interest and social activities other than the expression of our own work.
So, in view of this, I think that Uchida considered it worthwhile to leave the Institute to him after his death. As for taking over the institute, Uchida once asked me what I thought about it, but I didn't answer him properly. After Uchida's death, I had a lot of problems because I had so much to carry. I thought about dissolving the company, but I was afraid that things would get lost, and I thought that it would be important if everyone who is here now could continue to work together, and in the end none of the staff left, so I felt that I was pushed back.
― After Mr. Uchida's death, when you started the new institute, you had the option of taking his name from it, but why did you leave it?
Hasebe I think that Uchida's designs, for example, end after a generation of personal expression in the form of superficial shapes and habits. However, as the institute was originally founded by Uchida, and as he set the direction in which we are now heading, I thought it was only right to retain the name. At the end of the day, there is no one left to judge whether this is the right thing to do, but we are thinking about what Uchida wanted to say to society, and we aim to develop it into the next generation based on that. Apart from the two newcomers, all the other staff have worked with Uchida before. He used to go out for a drink with staff and talk about his ideas about design, and communicate with them a lot, so I think his spirit and mind has been passed on to them.
― Mr. Sori Yanagi's office is also not an organised business, but a foundation. I felt that we had one thing in common: design is not a personal expression, but a public one.
Hasebe I have never met Mr. Yanagi, but I think he felt the same way. As I mentioned earlier, Uchida was active in correcting the industry as a whole while pursuing his own personal expression, and since 2000 he has also been passionate about education. He was very keen to give something to young people, and worked as director of the Kuwasawa Design School and professor at Tokyo Zokei University. Whenever he gave a lecture, he would gather a lot of material on his own and study hard beforehand. Some of his handwritten texts and documents, which he speaks at that time, are still available.
He has also published a number of books on design. "Sengo Nihon dezainshi" (Misuzu Shobo, 2011) was published in China in 2018, and a Korean edition will be released this year. The choice of this book among his many other publications is probably due to the interest in the history of Japanese design in both China and Korea.
― That book feels realistic and convincing because, unlike those written by researchers and academics with an objective point of view, it is written by Mr. Uchida, a designer, based on his own experience. On a different note, when I visited Mr. Shin Matsunaga's office for this design archive, he told me that the space was designed by Ms. Ikuyo Mitsuhashi, Mr. Uchida's wife. What is the state of her archive?
Hasebe Mitsuhashi didn't make many products, so there are very few left. She retired in the nineties, partly because she was only active for a short time. All that's left is a photo of her old work. She was just so detailed and meticulous. She would arrange the pencils in the drawers in short order and spend three days cleaning at the end of the year. In the past, designers used to create elaborate designs for New Year's cards, which she filed away and collected. There are a lot of things that she received through these exchanges with other designers, and we keep them in a warehouse in Saitama with Uchida's things. Some of the New Year's cards and other items were brought back by relatives.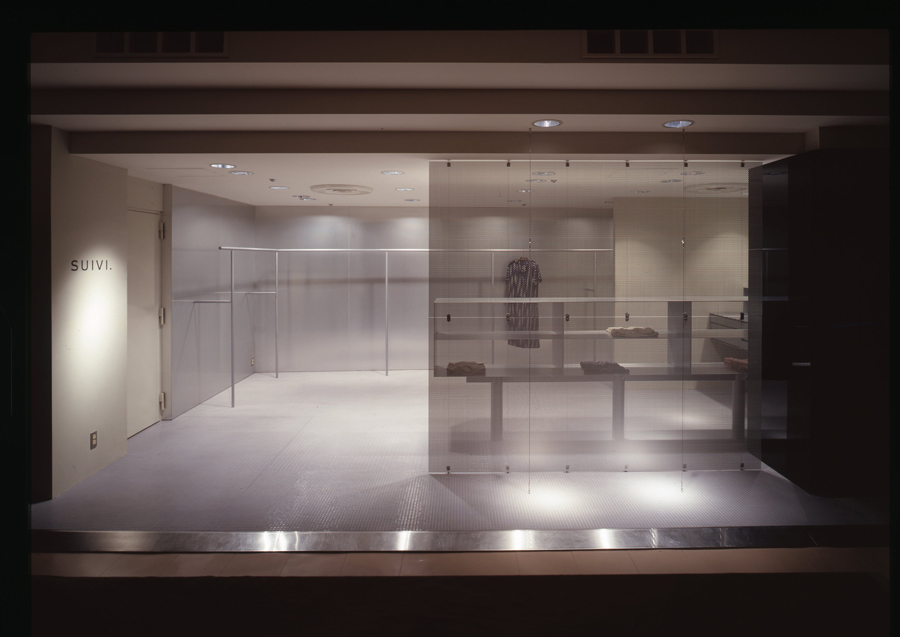 "SUIVI MATSUYA GINZA" (1986)
Design by Ikuyo Mitsuhashi
Photo by Nacása & Partners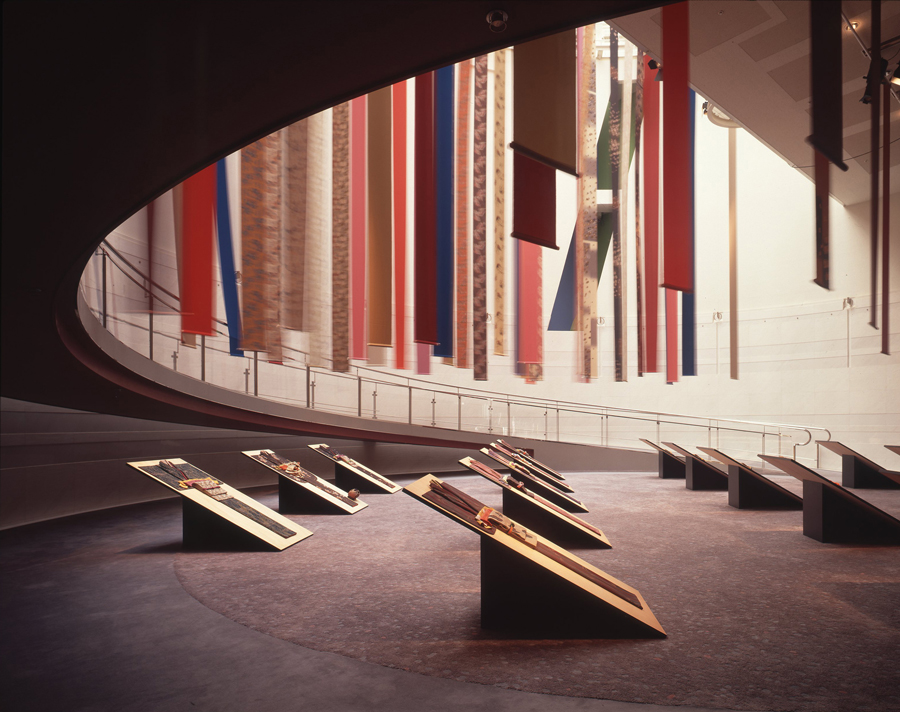 "BUSHOAN An Achievement of a Decade" (1987)
Design by Ikuyo Mitsuhashi
Photo by Nacása & Partners
Interior design changes with the times.
― Mr. Uchida used to work under the name Studio 80 before Uchida Design Inc.
Hasebe Studio 80 was originally set up by interior designer Mr. Toru Nishioka and Uchida. In the seventies they each had their own private office. In those days, private clients and designers would talk to each other about their dreams, aiming to create new and interesting shops and ideal houses. The client would say, "I'm going to build a bar", and the designer would say, "I'd like you to let me do it", and if they didn't have the money, "I'll get it from somewhere else". However, from the late seventies onwards, companies began to focus on the value of design and began to commission work on a corporate basis. So Mr. Nishioka and Uchida decided that designers needed to organise themselves and take a proper position in society, so they created Studio 80. About two years later, Mitsuhashi joined the team. Later, when the bubble economy burst and the turn of the century came, Uchida saw that the organisation had fulfilled its role and decided to return to its roots, leaving Studio 80 and moving into private practice. Studio 80 is still there, but not with us.
― Nowadays, the majority of interior design work is carried out by large organised companies, and the same applies to architecture, which is increasingly being handled by large general contractors and house builders. I was talking to a young designer recently and we were talking about how construction deadlines now take priority and they don't have the freedom to express themselves.
Hasebe In the seventies, individual clients and designers worked together on what they thought was interesting work, but in the eighties, due to the bubble economy, work on commercial facilities increased rapidly. Uchida was a little uncomfortable with the idea of a design that would disappear in a few years and be consumed. He criticised the interior design industry for being immersed in the cycle of commerce, and often said that it was "pathetic" to look at the trendy, fashion-conscious, and pretentious designs in the magazines of the time. I think he was trying to say that we should design things that will be loved for a long time, and that we should work in a more face-to-face relationship. Nowadays, design work is embedded in the on-the-business way things are done. The idea of cost-effectiveness and return on investment is important, but the numbers involved are difficult to include, so it is difficult to see the impact and meaningfulness of the wider unseen web of relationships. In other words, the value in the long run. In a situation where budgets and schedules are tight, young people who want to express themselves freely are now making their own products and holding their own exhibitions.
― On the other hand, the eighties were a time of great change in the world of interior design in Japan. Until the generation of Mr. Isamu Kenmochi and others, interior design was a part of architecture, like the design of a lobby inside a building, but I think it finally became independent in the generation of Mr. Uchida and Mr. Kuramata.
Hasebe I met Mr. Kuramata a few years before his death in his later years. His title was designer, but Uchida preferred to call himself an interior designer. I'm sure each of them had their own thoughts on why Mr. Kuramata chose the title designer and why Uchida called himself an interior designer. The word "designer" has a broad meaning, both in terms of the term and the area of work it encompasses, from art to design, with a wide range of possibilities. Uchida also worked in architecture, furniture, interior design and art, but his focus was on the idea of looking at things from the perspective of an interior designer and creating products.
― Nowadays, the number of designers who are featured in the media is increasing, not as a firm with a personal name, but as a firm that has created a brand, doing everything from interior design to architecture to products, and a wide range of genres.
Hasebe Today's young people come from a wide variety of backgrounds: if they are architects, they are coming into the interior design field because there are not as many jobs in architecture as they would like, or people who studied fashion are designing interiors. Even when someone other than an interior designer designs a space, the construction techniques in Japan are so advanced that even a rough sketch can be turned into a proper drawing and completed. I think it's partly because we're not good enough, but also because what the client wants is a new image, and it doesn't matter if you're not an interior designer or not, if you can come up with it.
In a way, it's a necessity of the times, and I don't think it's a bad thing. As people's interest in today's world expands from ornaments and clothes to furniture and space, it is not necessarily the case that only certain specialists are able to express themselves and work. If there is a problem there, is it the philosophy of manufacturing? It means that the experts have a specialised background.
The problem now is also how to produce the most efficient and effective products quickly and cheaply. You mentioned earlier that the construction period is prioritised, but it is assumed that the first step is to think about the number of years of return on investment, and this has become the norm. There is a lot of confusion about the tourism industry these days because it is being promoted so rapidly. This is why I think it is important for designers to be able to make proposals with a proper philosophy and not just follow trends.
― It is true that long, narrow, pencil-thin hotels are being built all over the back streets of Roppongi and Ginza, but I fear that they will turn into a wilderness when the fashion dies out. I get the impression that everyone is trying to make money.
Hasebe I think that the structure of the industry has to be based on tourism and culture, but at the moment culture is like a decoration to be consumed, and making money is the first priority. Perhaps we are divided into two groups: those who live in a world that could disappear tomorrow, and those who want to leave something behind through design. The book "Sengo Nihon dezainshi" is also linked to the major works of the period, and shows what values were valued and what messages were being sent out at that time. If a book of this kind is published again in 50 years' time, and I wonder whether our work will be worthy of being included in that book from 2010 to 2060, then we will know what we need to do.
―  The main problem is that when you look back over the decades, things have gone from then on. It would be difficult to leave everything behind, so it is important to pass on at least the epochs to future generations. There are many firms that have continued to operate after the person's death, such as SAKAKURA ASSOCIATES architects and engineer and MAYEKAWA ASSOCIATES, ARCHITECTS & ENGINEERS in the case of architecture, and perhaps as many as ten in the case of products and interiors, including Kenmochi Design Associates and Yanagi Design Institute. In this context, Uchida Design Inc. is now under the leadership of Mr. Hasebe, but there is also the question of how Mr. Uchida's work and the products of Uchida Design Inc. will be bequeathed to future generations 30 or 50 years from now.
Hasebe  I think of it as a kind of experiment. If we experiment and find it's not right, we may stop there, or we may expand further. At this stage, I don't know.
We are currently working on a hotel project in Kyoto called "ENSO ANGO" (Renamed as "THE GENERAL KYOTO" in 2020), which was given to us a few months after Uchida's death, and this year we will be completing a couple more projects outside Kyoto. We are having an exhibition in Switzerland at the moment, and we are hoping to do more exhibitions in the future. Although we have not yet reached our full potential, we hope to continue to combine our design work with public interest and cultural activities.
―  The exhibition at the Gallery le bain in Nishi-Azabu, which Mr. Uchida created in 2004, was a real public service and cultural activity.
Hasebe Gallery le bain was one of the ways in which we created a hub for people to come together. Now, again, in this digital age, I feel that it is very important to bring people together. I think it's important to have a place to meet new people, to communicate and to present your designs. Nowadays, there are more and more mini-galleries and shops, just like in the 70s. It's a world of eclectic tastes, and in a way it's an extension of subcultures, but in the old days, Otaku Culture were called "sukisha" or "monozuki". It's a place where people from all walks of life come together and interact, and a new world seems to be unfolding.
―  I think that if you have a lot of these small pieces scattered like a mosaic, they can become one big force. Thank you for your time today.
Exhibition at Gallery le bain.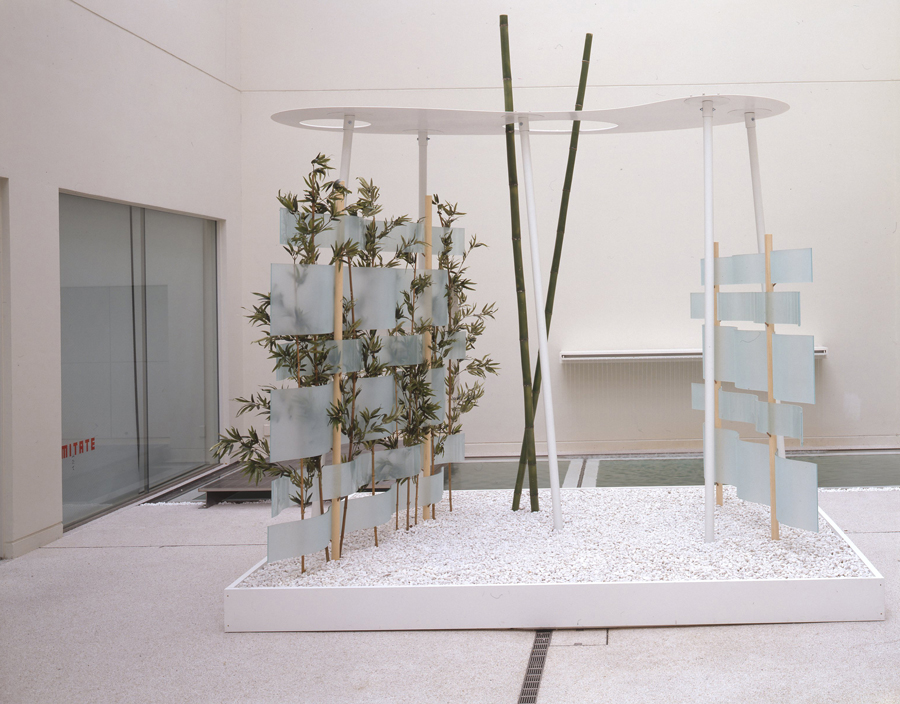 "Andrea Branzi×Shigeru Uchida MODERNITA DEBOLE Seeking for the Design of Weakness" (2005)
Photo by Satoshi Asakawa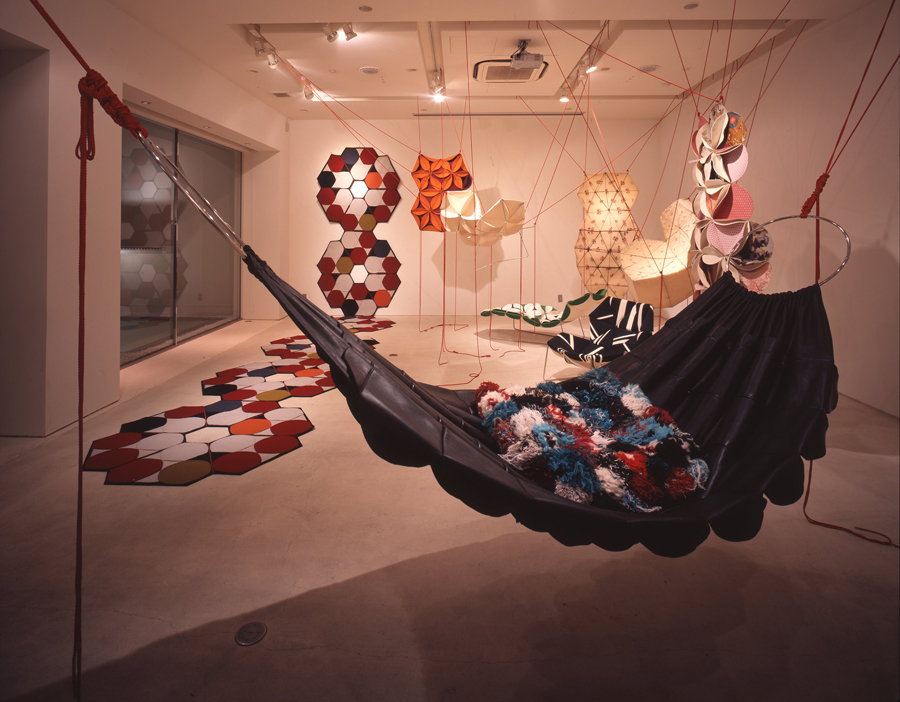 Exhibition "Johanna Grawunder+Patricia Urquiola" (2006)
Photo by Satoshi Asakawa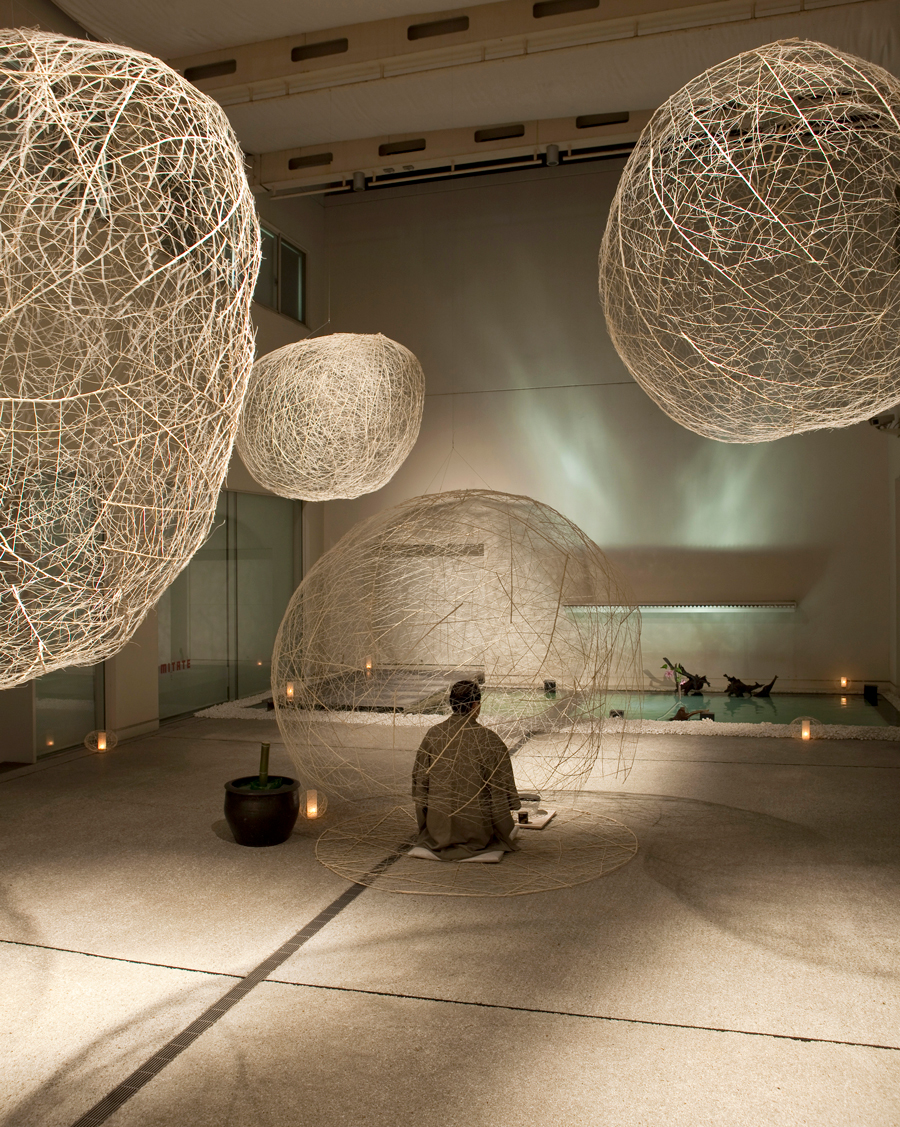 Kosen Yamada, Solo Exhibition "Kuu " (2010)
Photo by Kozo Sekiya
Enquiry:
Uchida Design Inc.
http://www.uchida-design.jp