interview
I think Uchida considered it worthwhile to keep the Institute even after his death
After the archive as a thing
― First, I would like to ask about the archive as a thing. What has happened since Mr. Uchida passed away?
Hasebe Initially, we wanted to donate a batch of semi-permanent storage at universities and public institutions. However, in Japan we couldn't find a place to accept it, so we just received a request from M + in Hong Kong, so we decided to give it away. Until then, they were all stored in Hachioji's warehouse, but now they have been moved to a warehouse with logistics services in Saitama Prefecture. At that time, we destroyed the prototypes that were damaged, so now we have complete items, tea rooms, old documents, etc.
― What kind of work was accepted for M +?
Hasebe It is mainly furniture, and also includes some masterpieces and drawings such as black pipe series chairs such as "SEPTEMBER" of the 70's.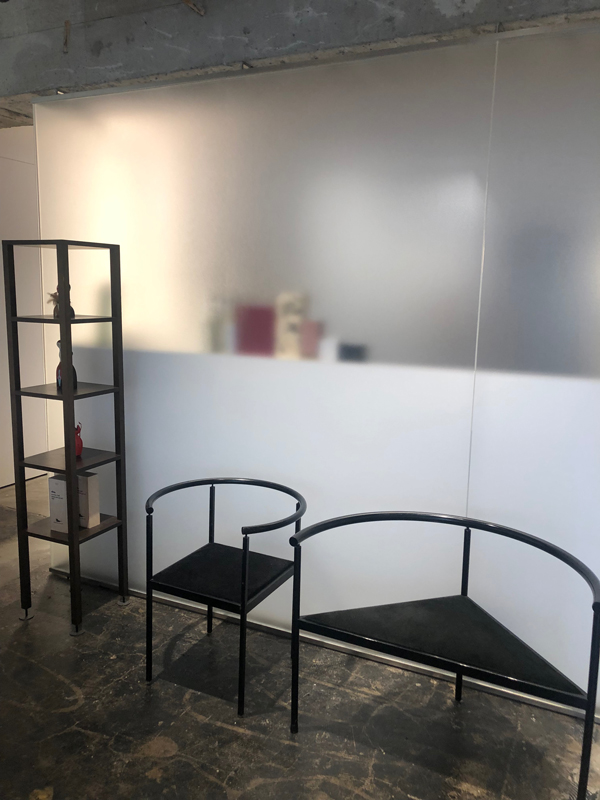 In one corner of the Uchida Design Institute, there are chairs designed by Uchida.
The right is "SEPTEMBER" and the left is "OCTOBER".
― Mr. Uchida also designed a tea ceremony room, but you probably have many tea tools.
Hasebe Tea tools are contained in the wall storage of the meeting room. Some of them are designed by myself, while others are collected by modern writers from all over the world. After Uchida passed away, he relocated the institute, but we renovated the space in the existing building and designed the storage space in consideration of the amount of tea utensils.
In fact, there were about 5,000 books in Uchida's collection, and I thought that it couldn't be brought, but the lighting company Modurex in Ebisu took over everything. Uchida had a friendly relationship with former president Nobuhiko Terumichi, and the current president, Goro, often came to the institute since childhood. Goro also likes books, and in 2016, a library was created in one of the renovated headquarters offices that Kengo Kuma designed and remodeled. The book was selected by Masatake Matsuoka. I asked him to make a corner for Uchida and Ikuyo Mitsuhashi, and I went there several times to sort by genre, such as books, philosophy books, architecture, design, etc. that I read when I was young, and created a directory. Was. I usually borrow a few books that I often use at work and borrow them from the library and put them in the laboratory. I am relieved because we have received the entire book without discarding it. This library is open to the public and seems to be renting out.
― I think that what remains now will be mainly products such as furniture, but if it is an archive about space, will it be drawings, photos, sketches?
Hasebe In addition to drawings, photos and sketches, there are a few models. There were some models of the tea room, but they almost disappeared. In the architectural world, it is common sense to keep models, such as holding an exhibition of only models, but in the case of interiors, such ideas are not very common.
All photos remain. Some have been digitized, but there are still positive films from the 70's and they are quite yellow. The drawings are not 100%, but they are almost there. In the past, the OB of the Institute has volunteered to organize. There are more than 100 Yohji Yamamoto shops alone, but they have combined drawings and materials for each project. However, it has not been archived just by organizing what had been broken up.
Over the last 15 years, Uchida began to create works like "Dancing Water" and works that changed with time, which were recorded in video. There was one specializing in film in Berlin who was taking pictures, but he died this year. We have DVDs and Blu-ray discs edited for each exhibition and work, but I think Berlin has its original data.
Also, when designing the space, Uchida thought very carefully about approaching from the entrance to the back, so we have recorded some of that in video.
― At that time, did Mr. Uchida have any idea of keeping his own work as a record and keeping it as an archive for posterity?
Hasebe You may think that moving works can only be expressed with videos, and unless you record them, they will only remain in your head, making them irretrievable.
When it came to Uchida's debut, Shiro Kuramata told me, "Since the store will be gone quickly, it's better to take photos only." It seems to have become. So we have all the photos. Since then, I think the relationship with photographers has become more and more close. I think photographers who are active in this genre have become established.
― In graphic design, there are saucers like Dai Nippon Printing and in architecture, like architectural museums, but they don't exist now, but what kind of ideal would you like to make in an interior?
Hasebe As I mentioned in my previous interview, three-dimensional objects take up space and management is not easy, so there are few institutions that accept them, and after all, I have to keep it privately. The designers who make furniture and products all have the same problem. As a saucer, you still need a lot of space, so I think it would be difficult if something like a warehouse was not included.
21_21 DESIGN SIGHT does not currently have an archive collection, but Kazuo Miyake has been calling for the need for a design archive before it was created. I think that if the motivation for recognizing the social value of the archive increases, public organizations and companies will begin to think.
One of the issues is that design exhibitions are not easily held in Japanese art museums. Recently, the number of people who are active in the area between art and design, such as nendo or we +, is increasing, but I think that such works are usually easier for people who see art. Now that the border between art and design has disappeared worldwide, the value and perspective of design are starting to change gradually. If we move in that direction in the future, we may be more motivated to do something about archiving in Japan. I think that it is also helpful that you have been conducting an enlightenment activity while keeping a record of investigating the design archive with an NPO activity like you.
To inherit the office
― Our activity is in its fourth year this year, but recently I think that no matter how much remains, if the designer who designed it is forgotten, it will become a dead item . For art writers and painters, exhibitions and book publishing are planned during the milestone years after their death, giving them the opportunity to relive their existence. In the case of design, a private office may lose its office if the person dies, making it difficult to know who to contact if you want to borrow or listen to a work for an exhibition May be lost. At Uchida Design Laboratory, Mr. Hasebe has succeeded mainly, and has inherited Uchida's spirit and mind, but I think this is a very rare case. Have you been preparing for many years with the background that led to it, or with the future in mind?
Hasebe While presenting his work as a personal design activity, Uchida discusses what kind of reputation and value socially finds in his design, how to nurture generations, and how to contribute to the world. I think you always considered a public interest perspective. Since there was somewhere with my boss skin, if I had to take my skin off myself, I would work with both a sense of crisis and a sense of duty in order for the entire industry to bottom up including such incubation and enlightenment I feel like I was out. The same is true of Uchida's desire to create a magazine in his last interview. It means that they wanted to create a forum where a variety of people gather, discuss together, and raise the dimension of design itself.
Because of this idea, the name of the office was "Uchida Design Office" at first, but after that, Uchida, Mitsuhashi and I discussed various things, and the name "Japan Design Culture Research Institute" was a candidate. Was listed in However, because it is a little too large and it is better to see the face of the designer, I put Uchida's name, and also that the `` laboratory '' is better than the `` office '', The name was changed to "Uchida Design Laboratory" in 2002. When it comes to research, there is an image of making a prototype on a voluntary basis for something with public interest, but it reflects the attitude of doing something with public interest and social activities other than the expression of their work.
So, with that in mind, I think Uchida considered it worthwhile to keep the Institute even after his death. I have heard from Uchida about what you think about taking over the research institute before, but I didn't answer properly. After Uchida passed away, I was worried about the things I carry, which were very large. I thought about disbanding, but I was worried that things would be scattered, and if everyone here is thinking that it would be important if I could continue with my heart, the staff would not leave one person and push my back There was also a feeling.

― I think there was an option to take Uchida's name from the name of the research institute when Uchida passed away and start a new one, but why was it left?
Hasebe In Uchida's design, for example, personal expressions such as superficial shapes and habits will end in a generation. However, it was originally a research institute established by Uchida, and the current direction was established by Uchida, so I thought it was natural to leave the name. At the end of the day, there is no judge for this, but considering what Uchida wanted to convey to society, we aim to develop it in the next era based on that. The staff who are now, except for the two newcomers, are all people who have worked with Uchida. Uchida went to drink with the staff, talked about his own design, and communicated well, so I think that the spirit and mind of Uchida are also inherited by them.
― Sori Yanagi's office is not an organization, but a foundation. I felt that the common design was not personal expression but public.
Hasebe I have never met Mr. Yanagi, but I think he had the same thoughts. As I mentioned earlier, Uchida has been active in correcting the industry as a whole while expressing himself as an individual, and has been passionate about education since 2000. did. The desire to convey something to young people was so great that I was the director of Kuwasawa Design School and a professor at Tokyo Zokei University. When I gave a lecture, I collected a lot of materials myself and studied hard. There are also handwritten sentences and materials spoken at that time.
He has published many books on design. Postwar Japanese Design History (Misuzu Shobo, 2011) was published in China in 2018, and a Korean version will be released this year. I guess this book was chosen among many other publications, probably because China and Korea are interested in the history of Japanese design.
― Unlike books written by researchers and scholars from an objective perspective, the book is written by designer Uchida based on real-life experiences, giving a sense of reality and persuasiveness. The story changes, but when I visited the office of Makoto Matsunaga for coverage of this design archive, I heard that the space was designed by Mr. Uchida's wife, Ikuyo Mitsuhashi. What is Mitsuhashi's archive like?
Hasebe Mitsuhashi did not make much of the product, so little remains. He retired in the 1990s, and his activities have been short. What remains is a photograph of an old work? Mitsuhashi was just fine and meticulous. Pencils were arranged in the drawer in short order, and cleaning at night was done over three days. In the past, designers created elaborately designed New Year's cards, which were then filed and collected. There are a lot of things other than myself that I got through exchanges with such other designers, and I keep them in the warehouse in Saitama together with those of Uchida. Some of the New Year's cards etc. were brought by relatives.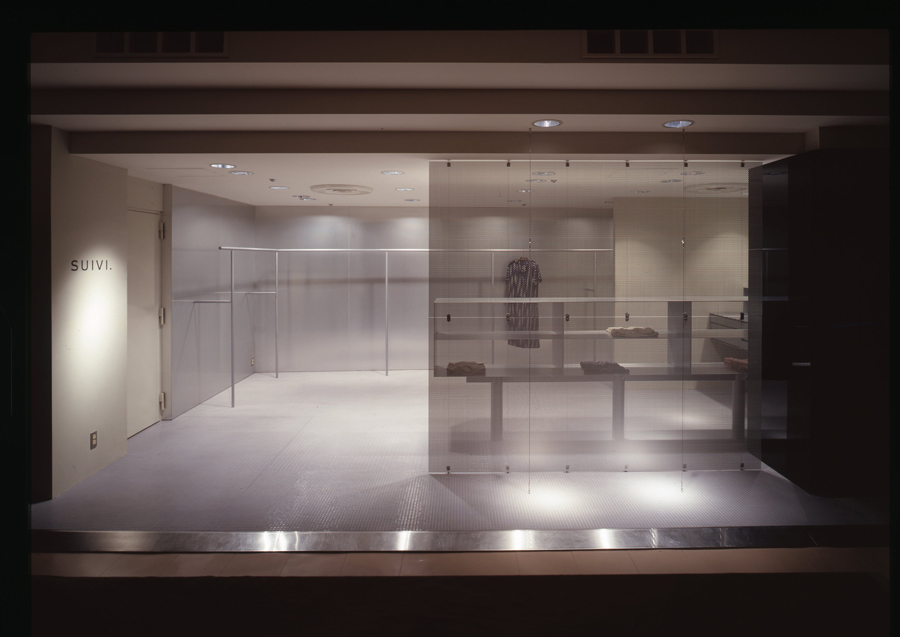 "SUIVI Ginza Matsuya" (1986)
Design: Ikuyo Mitsuhashi
Photo by Nacása & Partners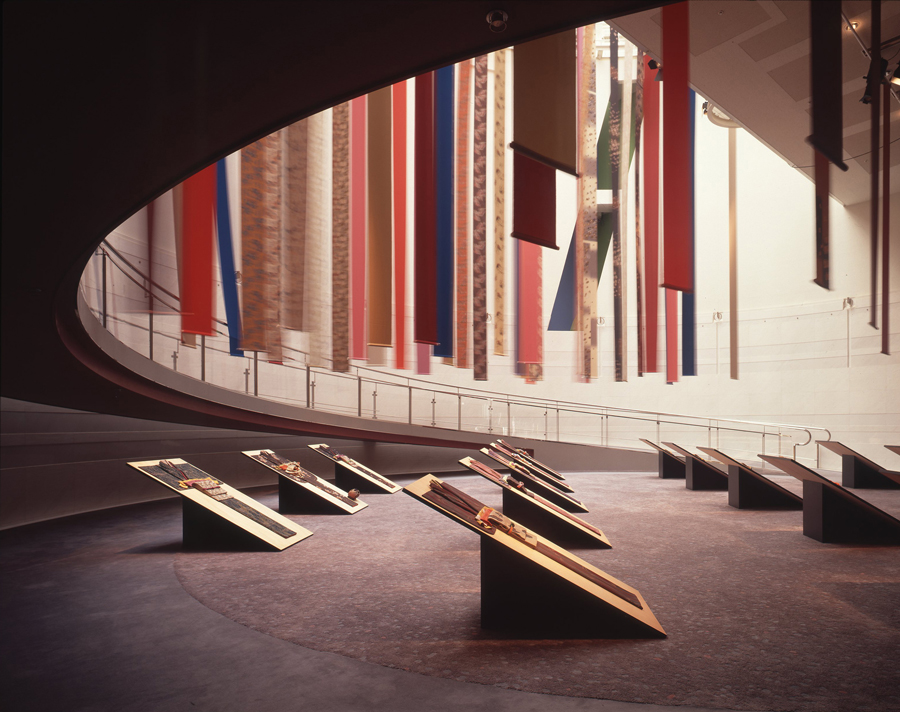 "Fushou-an, Ten Years Proof Exhibition" (1987)
Design: Ikuyo Mitsuhashi
Photo by Nacása & Partners

Interior design changing with the times
― Mr. Uchida was working under the office name "Studio 80" before the Uchida Design Institute.
Hasebe Studio 80 was originally created by interior designers Toru Nishioka and Uchida. Both had a private office in the 70's. At that time, individual clients and designers were talking about their dreams while creating new and interesting shops and ideal homes. The client said, "I'm going to make a bar this time," and the designer said, "I want me to do the store." That's right. However, companies began to focus on the value of design around the late 70's and began to work on a corporate basis. Therefore, Nishioka and Uchida created Studio 80, thinking that it was necessary to organize the designers and take a socially sound position. About two years later, Mitsuhashi joined. Later, at the turn of the century when the bubble burst and the century changed, Uchida saw that the organization had fulfilled a certain role and left Studio 80 to return to the starting point and moved to a private office. "Studio 80" still exists separately from us.
― At present, the majority of interior design work is done by large organizational companies, and architecture is being handled by major general contractors and house makers as well. Recently, when I was talking with a young designer, it was said that the deadline for construction was prioritized and that there was no freedom of expression.
Hasebe In the 1970s, individual clients and designers worked together to make the job interesting, but in the 1980s, due to the bubble economy, work at commercial facilities increased at a stretch. Uchida felt a bit reluctant to consume designs that would last several years. Criticizing that the interior design industry was immersed in the cycle of commerce, he saw the gorgeous design of Karisame, saying that it is better to follow the trend published in the magazine at the time, They often said, "I'm sorry." Perhaps you wanted to say that you should design something that is loved for a long time, and that you wanted to work in a more visible relationship. Now, as things go on-the-business, design work is being incorporated. Though the concept of cost-effectiveness and return on investment is important, it is difficult to include the figures in question, so it is difficult to see the effects and the meaningful ones in the wider and invisible knitted stitches. It will be that it has become. In other words, its value in the long run. I think that young people who want to freely express themselves in a situation where the budget and schedule are tight are now holding their own exhibitions by creating their own products.
― On the other hand, the 80's was a time when the world of interior design in Japan changed dramatically. Until generations such as Isamu Kenmochi, the interior was a part of the architecture, such as the design of the lobby inside the building, but it became an independent form only as the generation of Mr. Uchida and Shiro Kuramata. think.
Hasebe I met Kuramata a few years before my late life, when I was a designer, but Uchida was an interior designer. I guess why Kuramata-san had a position as a designer, and why Uchida called him an interior designer. When it comes to designers, in terms of both language and territory, I think they have a broad meaning, and I think that the possibilities are wide, including everything from art to design. Uchida also worked on things similar to architecture, furniture, interiors, and art, but he had the idea of creating products from the standpoint of an interior designer, and put his emphasis on that.
― Nowadays, people who are featured in the media are not offices with individual names, but are creating and branding farms. .
Hasebe Assuming that young people are architects today, there is no work as expected in the field of architecture, so they have flowed into the field of interior design, and people who have studied fashion design interiors, etc. Is. Even if people other than interiors design the space, Japan has a very high level of construction technology, so I think that rough sketches can be made into neat drawings and completed. I think it is our lack of power, but the owner wants a new image, so if you can think of it, you don't have to be an interior designer to be a person of any genre.
In some ways it's timely inevitable, and I think it's not bad. As the interest of people living in the present era spreads from ornaments and clothes to furniture and space, not only specific specialists do not necessarily express or work, but what the image and quality they have If it suits, I think that it can be established regardless of specialty. If there is a problem, is it the manufacturing philosophy? Professionals have a professional background.
Also, the issue now is how to efficiently and cheaply produce products that achieve the maximum effect. Earlier, it was mentioned that the construction period was prioritized, but it was presumed that we would first consider the years of payback, which is becoming commonplace. The tourism industry in recent years is in a state of turmoil as it is progressing too rapidly. That's why it's important that designers can make proposals with the right philosophy without getting into fashion.
― Certainly, many hotels like long and narrow pencils are being built on the back streets of Roppongi and Ginza, but I fear that if the trend goes away, it will become a wilderness. Everyone feels like running on a money-making principle.
Hasebe I think it must be a structure where industry can be built on tourism culture, but now it is like a decoration that consumes culture, and making money first is considered. Perhaps there are two people: those who live in a world where it's okay to lose tomorrow, and those who want to leave something behind by design. The book on Post-war Japanese Design History is also linked to the masterpieces of the era, and also describes what values were valued and what messages were issued during that era. If this kind of book was republished 50 years later, then from 2010 to 2060, when I thought about what I was doing, it was obvious what I needed to do. I think it will come.
― The biggest problem is that when I look back decades later, things at that time are gone. I think it's difficult to keep everything, so I think it's important to connect at least epochs to future generations. Although there are many offices that continue even after the death of the person, such as Sakakura Architectural Institute and Maekawa Architects, there are 10 offices in the product and interior, including Kenmochi Design Institute and Yanagi Industrial Design Study Group. Are there any? Among them, Uchida Design Research Institute now has Mr. Hasebe, but how Uchida's works and those of Uchida Design Research Institute will survive in future generations 30 and 50 years later. There are times.
Hasebe I think it is a kind of experiment. I've experimented, but if I think it's not the case, I may stop there, or it may become even wider. I don't know at this stage. We are currently working on a project for a hotel in Kyoto called ENSO ANGO, which took place a few months after Uchida passed away. This year, we plan to complete a few more projects outside Kyoto. We have an exhibition in Switzerland right now, and we want to continue doing it in the future. We haven't gotten much of an edge yet, but we want to continue to combine design work with public and cultural activities.
― The exhibition held at the gallery "Le Bain", where Uchida was created in Nishiazabu in 2004, was a very public and cultural activity.
Hasebe "Le Bain" was one of the bases where people gathered. I feel that gathering people is very important in this digital age. I think it is important that new encounters and communication are born and that there is a place for presentations for design. Recently, the number of places like a mini gallery and shop like in the 70's has increased. In a biased world, in a sense, it may be an extension of subculture, but in the past, geeks were a few squatters. Too much. It seems that a variety of people gather and exchanges are born, and a new world is being developed.
― If such small lumps are scattered like a mosaic, I think that it will be one big power. Thank you for today.
Exhibition of Le Bain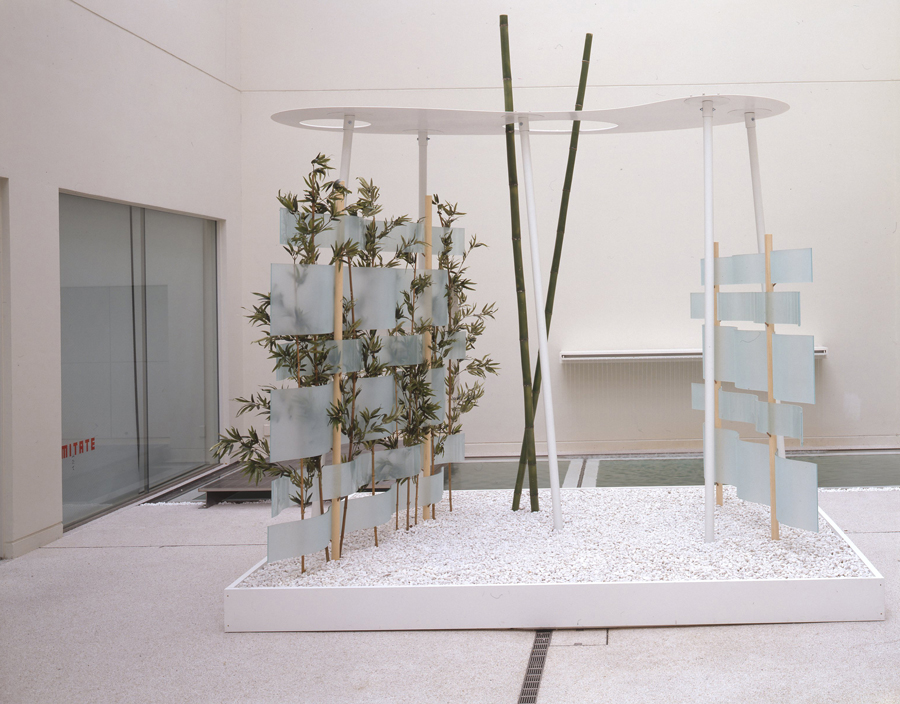 "Andrea Brandi x Shigeru Uchida MODERNITA DEBOLE: In Search of Weak Design" (2005)
Photo by Satoshi Asakawa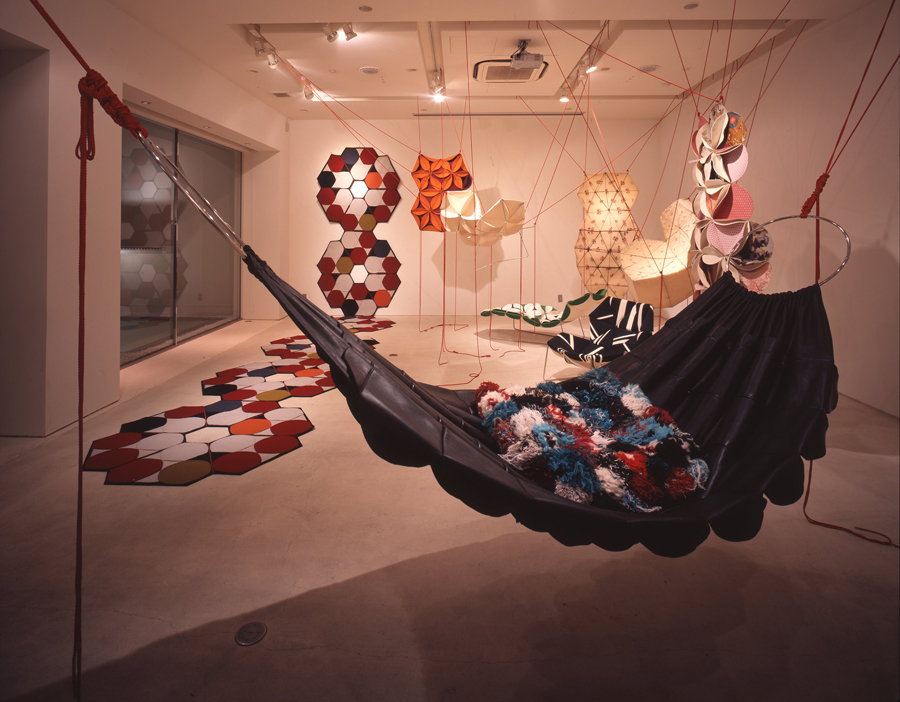 "Joanna Grounder + Patricia Urquiola" Exhibition (2006)
Photo by Satoshi Asakawa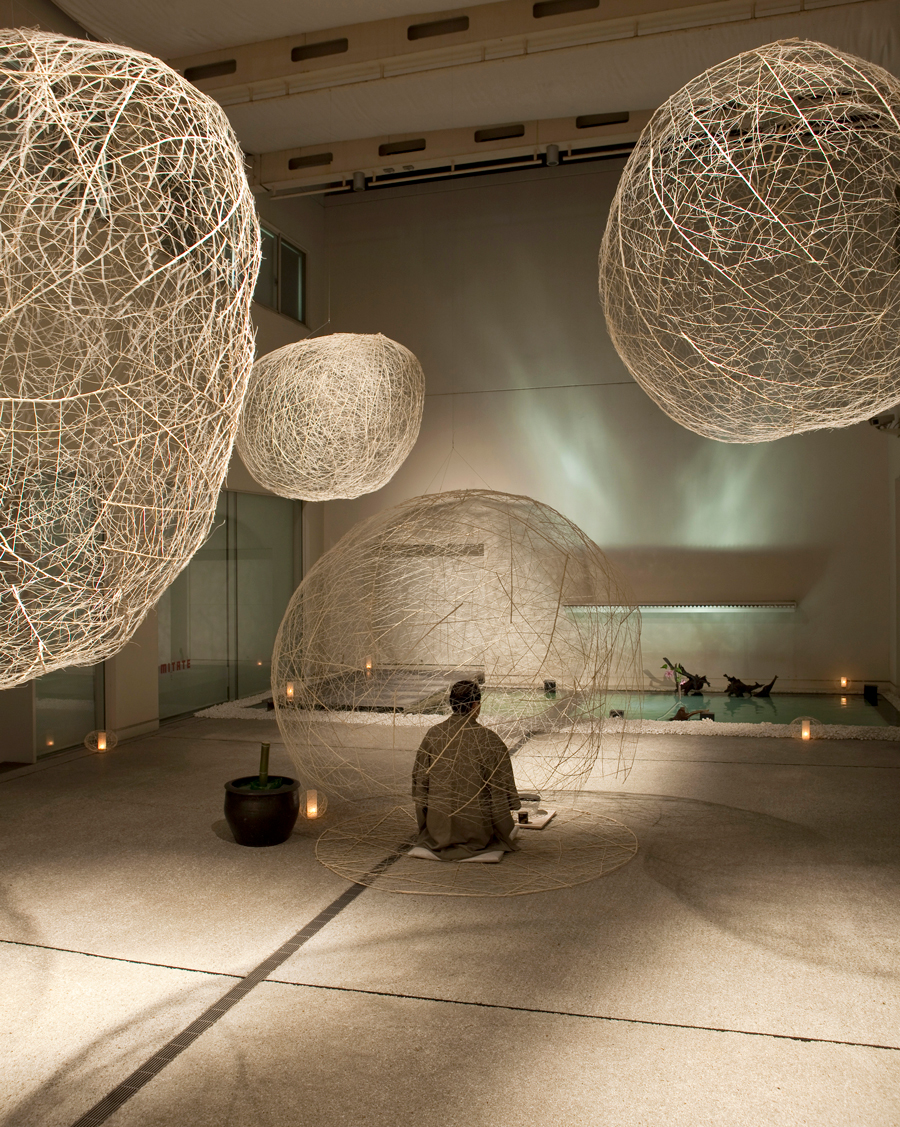 Koizumi Yamada solo exhibition "Kuu" (2010)
Photo by Kozo Sekiya
The location of Shigeru Uchida's archive
Contact information 
Uchida Design Institute http://www.uchida-design.jp