Interview 01: 6 May 2021, 14:00 - 15:30
Place: Miyagi's home
Interviewee: Mrs. Nobuko Miyagi
Interviewer: Yasuko Seki
Writing: Yasuko Seki
Interview 01 : Mrs.Nobuko Miyagi
What is the point of preserving "things" in turbulent times?
Designer Sotaro Miyagi
― We were very surprised to learn of Sotaro Miyagi's sudden death at the young age of 60. Your office must have been overwhelmed by the situation.
Miyagi When we found out that he was ill, there was nothing we could do. It wasn't a sudden loss of energy and we gradually worked our way through. Some clients told him that the best medicine was to keep working and offered him new work, and I was grateful that the companies he consulted with did not terminate his work.
― Mr. Miyagi worked on a wide range of projects including product planning, product design, CI and branding. He also had a staff, how did you cope with the activities and structure of the office?
Miyagi The office was effectively a one-man operation, just Miyagi and Akira Hirano, a long-time part-timer. Mr.Hirano was an aspiring artist, not a designer, but he could also design, and he kept a good distance from Miyagi. When I closed the office, he stayed with us until the end.
―  Judging by the amount of work Miyagi did, I thought there would be four or five staff in the office. How did he actually manage to do such a wide range of work?
Miyagi Well, he've worked for big companies on everything from products to brands and business plans, so it's not surprising that people think that. But basically he was a one-man office, working with the right people in the right places, depending on the nature and scale of the work. The teamwork approach may have been something he learnt at Hamaken, where he worked for many years. Even after he set up his own business, he kept in close contact with former Hamaken members and worked with them.
― When Mr. Miyagi was here, Hamaken was a diverse group of talents, led by Yasuhiro Hamano and Takao Kitayama, who produced cultural and commercial facilities such as Tokyu Hands, FROM-1st (Aoyama) and Axis (Roppongi), branded companies and products, developed businesses and products, and planned publications and exhibitions.
Miyagi At Hamaken, Miyagi was involved in a variety of creations, mainly product and spatial design. He gained a lot of things, but especially treasured relationships, which I still have today. Our current house was built in collaboration with the architect Tadao Takaichi, whom we have known since Hamaken , with his office on the lower floor and us on the upper floor. Mr. and Mrs. Takaichi were close to us during Miyagi's illness, which was mentally reassuring.
― My impression of Mr. Miyagi was that he had a charm that attracted people to him.
Miyagi That's right. Miyagi was surrounded by talented people from all walks of life and of all ages, who supported him both in public and private life. I think that's why he has been able to do so much work almost single-handedly in the 23 short years since he started his own business, while also being a "G-Mark" judge and teaching at universities.
― You say that the way of his work has been influenced by Hamaken, but what else?
Miyagi  I think it's the idea of lifestyle. We have moved several times, but in 1998, even though we still had debts from our home in Tokyo (Setagaya), we stumbled upon a plot of land we liked in Karuizawa and built a second house. To be honest, I was apprehensive. However, at that time, with the spread of mobile phones and the internet, it was becoming possible to work from anywhere at any time, and Miyagi spent the summer months and every weekend in Karuizawa, practicing a lifestyle of moving back and forth between Tokyo and Karuizawa. His special feeling of lifestyle was influenced by Hamaken.
― Yes, it was. Yasuhiro Hamano, the president of Hamaken, was the embodiment of the new lifestyle. In an interview with Mr. Miyagi in the catalogue of the exhibition " Traces of Post-war Japanese Design 1953-2005: The Challenge from Chiba" (2006), he said: "At Hamaken, the basis was how we should live our lives, not marketing. There was a concept. The idea that design alone was no good without a concept was very helpful to me afterwards." "We needed to change the mindset of the sellers that selling in large quantities was good and that rapid growth was good. It was not a one-size-fits-all approach, and it was okay to think differently. What we also wanted to do was to show people that these products were not good."
Miyagi Thank you.
― What was your most his memorable work?
Miyagi He worked for Sanyo Denki Japan, a manufacturer of cooling fans and other components, with whom I had the longest relationship, from the foundation of the firm until Miyagi's death, doing a wide range of design and development work, including IC, product and interior design. Then
Miyagi For 365 days, he was a man who devoted everything to design. He had a notepad everywhere, both in the office and at home, and would often jot down things that came to mind or that he had to reply to. It was said that he was a quick returner, and his communication was usually immediate.
Works and materials left behind
― After your sudden death and the closure of your office, what did you do with your works, documents and drawings?
Miyagi To be honest, I thought it would be better to keep only the actual products and to destroy the materials. However, thanks to the advice of Hitoshi Mori, I did not throw them away. Mr. Mori worked for many years as a curator at the Matsudo-City Board of Education, and later taught at Kanazawa College of Art, where he was also the director of the Yanagi Sori Design Memorial. The exhibition "Traces of Post-war Japanese Design 1953-2005" was organised by Mori when he was a curator at Matsudo City. The exhibition looked at post-war Japanese design through the activities of graduates of the Chiba University Design Department, which has produced many outstanding designers, and featured around 400 works ranging from cosmetics packaging to automobile and urban design. A catalogue of the exhibition was also compiled, featuring Miyagi's work and interviews.
Mr. Hayashi said, "Although I never had a chance to talk to Mr. Miyagi before his death," but after he passed away, he came to visit us and said, "Don't throw them away. He said, "Don't throw them away, you have to keep them", and he helped us to find a place to transfer the works and materials. He also tried Chiba University, my alma mater, but they didn't take them, so now I have 70 cardboard boxes and panels at home.
― What's in them?
Miyagi The actual products, sketches and drawings. Normally we should have checked the contents while packing, but there was too little time between the time we found out about the illness and the closure of the office. Mr.Hirano put together the paper-based materials and my friends packed the actual products in cardboard boxes. Anyway, it was all I could do to get the things in the office back to my house.
― It must have been very difficult. What else was left behind?
Miyagi He had a collection of books, but I gave them away, so there is very little left now. There were also some files that Miyagi himself had been sorting through little by little since around 2009. These include a huge number of photographs of architecture, interiors and townscapes taken on his travels. Whenever Miyagi returned from abroad, he would hold a slide show in his office and organize a lively party with many friends and colleagues, which we called "bar MIYAGI". Those friends helped me to organize the materials.
― That was the virtue of Mr. Miyagi. Now you are opening the boxes and sorting out the materials, what exactly are you doing?
Miyagi After some time has passed and things have settled down, various people have come together and volunteered to open the boxes at home one by one, check the contents and continue to produce data. Mr. Mori sorted out the handwritten drawings and other documents with the staff of the Matsudo-City Board of Education. In parallel, a group of volunteers led by Ms. Mirei Takahashi has been taking photos of the commercialised objects in the boxes, as well as drawings and documents related to them by their smart phones, using, and numbering them, and then using Excel to create data on the product names, ages and sizes. Ms.Takahashi wrote texts on design and design-related topics, after graduating from the Domus Academy in Italy . And after returning to Japan, she was introduced to Miyagi through an acquaintance and has collaborated with him on several projects. She has been working with us on several projects, interrupted by the Corona disaster. Ms. Takahashi will tell you more about this project.
―  I also heard that you have an exhibition coming up.
Miyagi Yes. The exhibition will be held at the Setagaya Art Museum in autumn 2022 and I are currently working with the curator.
― Do you and Ms.Takahashi decide on the direction of his archives?
Miyagi  I was in charge of accounting and other chores in his office, but I wasn't involved in design, so without Mori's advice I would have thrown away all the materials except for the products. So, I owe a lot to Mr.Mori and Ms.Takahashi.
― This year, 2021, will be the 10th anniversary of Mr. Miyagi's death.
Miyagi When we closed the office, we had a farewell party with everyone. At that time, Jun Nakamichi, a photographer from Nakasa & Partners, volunteered to take some beautiful photos. We are thinking of editing the photos and the interviews that the volunteers did in Miyagi during his illness, and making a small booklet to distribute to the people who helped us.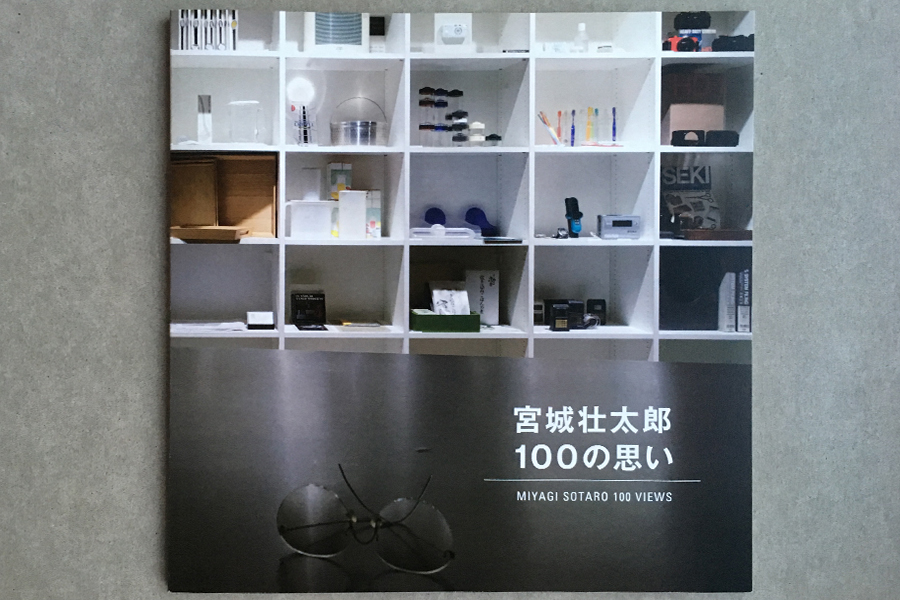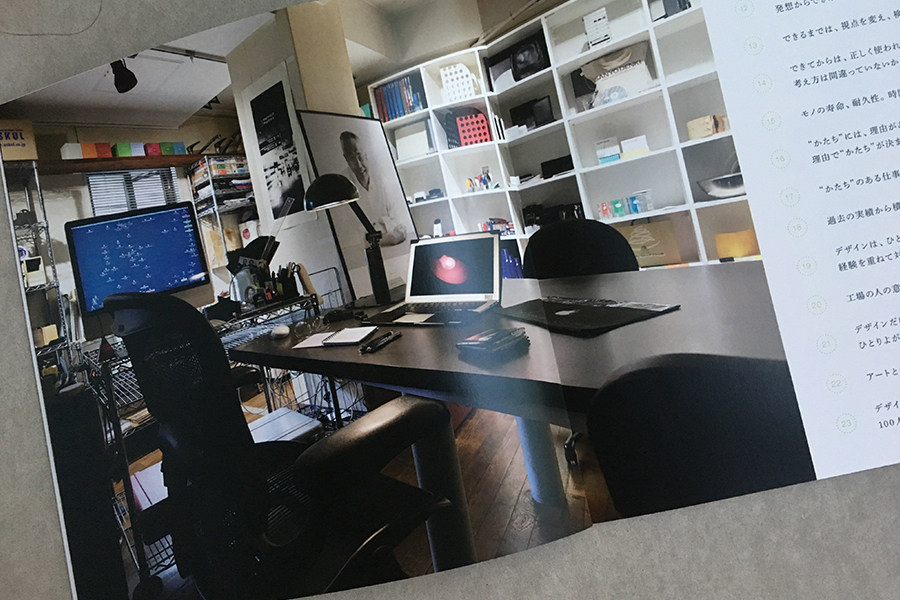 Booklet completed in autumn 2021.
― That sounds like a wonderful idea. Ten years after his death, what do you feel about the storage and organisation of your work and materials?
Miyagi I don't think Miyagi was very particular about his archives, he was a very clean person.
― But you were organising your work, weren't you?
Miyagi He was only 60, and I think he intended to continue working. I think he started organising because his office had become too small and he felt he needed to clear it out to mark his 60th birthday.
In the last ten years, with the help of many people, we have been gradually organising our things and converting them into data, but we don't have any children, so to be honest, I am worried about what will happen to them after I die. It is difficult to leave everything behind, especially as things are so bulky, and it would be reassuring to know that the manufacturer is keeping it for us. Either way, we want to decide where these things go and hope that we can pass on at least the actual product and its documentation. In product design in particular, Miyagi was concerned not only with beauty, but also with having a reason for "the way it is", and we hope to be able to preserve these ideas and workmanship.
― It's really hard for all the designers and their families to keep their work at home. I think they manage to keep their wives and children, but they don't want to impose on their grandchildren.
Miyagi Besides, things deteriorate over time. The Fujica HD-1, a camera he designed when he was at Hamaken, has rubber parts in the shutter that have deteriorated but are now irreplaceable. Product storage has its own problems, doesn't it? In fact, society and technology are changing a lot, for example, the demand for cameras is decreasing due to the spread of smartphones, and cameras themselves may disappear. It makes me seriously wonder if there is any point in leaving "things" behind in times like these. But if it should be preserved, it should be in a meaningful way.
―  Thank you very much.