We believe that this archive is the very essence of Masahiro Mori's design life, the legacy of a man.
The origins of MORI MASAHIRO DESIGN STUDIO, LLC.
ー We have long wondered what happens to the materials and prototypes of designers when they age, pass away or close their offices. With the help of a number of people, we at PLAT have been conducting a survey of the design archives in the hope of finding out what happened to them and documenting their work.
Today we would like to talk to you, the people who know Mr. Mori directly, about the state of his works and documents, as well as his thoughts on design and his personality. First of all, could you tell us how your company, MORI MASAHIRO DESIGN STUDIO, LLC., came to be established?
Tsutsui After Mr. Mori passed away in 2005, his wife Ms. Misao fell ill and they had no children, so Mr. Shigehiro Mori, Ms. Misao's younger brother, became the adult guardian of Mr. Mori's home and workplace in Ureshino, Saga. However, he felt that the maintenance and survival of these items was in danger and decided to establish a limited liability company to protect Mr. Masahiro Mori's designs on a semi-permanent basis, which was set up in 2007 by a group of us volunteers. Unfortunately, Ms. Misao and Mr. Shigehiro passed away in 2010.
ー Who are the members of the MORI MASAHIRO DESIGN STUDIO, LLC.?
Tsutsui We are all people who have been around Mr. Mori and have had a personal relationship with him. I am the president of the MORI MASAHIRO DESIGN STUDIO, LLC., but I was originally the editor of a magazine called "Taiyo", published by Heibonsha. I first interviewed Mr. Mori when I was in my twenties, and since we are both from Saga Prefecture, we have been close friends since I returned to my hometown in 1985.
Mr. Yoshihisa Mukai, who is being interviewed today, lived near Mr. Mori's house and atelier, and helped him with his personal accounting work, and after his death he was also the guardian of Ms. Misao. Mr. Seijiro Ide had known Mr. Mori since he was a young man and was a teacher at his alma mater, Saga Prefectural Arita Technical Senior High School. Mr. Shinji Furuya used to work for a major porcelain company in Arita and helped Mr. Mori in various ways. Each of us had a personal connection with Mr. Mori, and those of us who cared about him got together and decided to manage and organise his materials and prototypes so that they would not be scattered, and that is how the MORI MASAHIRO DESIGN STUDIO, LLC. was established.
Mukai Mr. Motohiro Sunouchi, who is being interviewed with us today, gave us advice on how to create a digital archive when we were considering it. I would like to ask Mr. Sunouchi to tell us more about this.
Building a system for digital archiving from scratch
ー Mr. Sunouchi, you are an archival advisor to the MORI MASAHIRO DESIGN STUDIO, LLC., how did you become involved with Mr. Mori's archive?
Sunouchi I graduated from university with a degree in architecture and studied media environment at graduate school. I set up a design company with my university classmates and we worked on projects, while my computer skills and interest in media naturally led me to become involved in archive work. I've helped with digital archive projects in a variety of fields, including Mr. Sori Yanagi, a discontinued architecture magazine, and a collection of art brut works by disabled people in Kyoto.
It was around 2007 that I started working on the idea of a digital archive for Mr. Mori. I became involved through a connection with a member of the MORI MASAHIRO DESIGN STUDIO, LLC., who is no longer with us. At that time, there were not many models for digital archives, so we had a lot of careful discussions with the members. Mr. Mori's archive can be seen on the website of the MORI MASAHIRO DESIGN STUDIO, LLC. So anyone from all over the world can see it. Here you will find items that contain the source of ideas that Mr. Mori collected, writings about him by people with whom he was in contact during his lifetime, records and photographs of his visits around the world to investigate kilns and pottery, a timeline, and a list of his books and catalogues.
As for the photographs, when the MORI MASAHIRO DESIGN STUDIO, LLC. held a major retrospective exhibition "All the Work of Masahiro Mori" at the kyushu ceramic museum in 2009 and produced a catalogue, we asked a photographer to take photographs of representative works by Mr. Mori. We have taken those photographs and published them in this database as an official one, and made them available for anyone to use under a Creative Commons license. When we receive a request to use a photo, we ask about the purpose and use of the photo, and after internal discussion, we provide the original data. There is also an area, accessible only to insiders with an account, which contains materials in which Mr. Mori himself explains his work, media-related items such as scraps of newspaper clippings, and 352 sketchbooks. All of this data, which now totals 102,324 items, is organised by type and can be searched.
ー Did you refer to any other database when you created the framework of the archive?
Sunouchi Initially, we were thinking of a database that was open source, well maintained, and could be used on a continuous basis, on the assumption that it would be easy to work on the digital archive without spending a lot of money. In the end, however, it was difficult to find something that would fit our needs, so we had to build it from scratch.
Just around that time, Mr. Norio Togiya's book " dejitalu akaibu ni okeru siryoukiban tougouka moderu no kenkyu " (Benseisha Publishing, 2009) was published, and the basic form of metadata was presented at the Tokyo National Museum. So, I referred to those books for the basic idea of how to create the structure of data and how to operate the digital archive.
The goal of the digital archiving system was to create a reliable archive that could be easily accessed by anyone in Japan, using equipment and systems that are generally available at electronics shops and mail-order shops. Mr. Furuya, one of the members of the group, worked on the project, but I gave him a minimum of support by setting up an environment for photographing and scanning in the atelier of Mr. Mori in Ureshino, and by making a simple manual so that he could work on his own. After that, Mr. Furuya worked hard in Mr. Mori's atelier in Ureshino to photograph and scan a huge amount of material.
Mukai Unfortunately, Mr. Furuya passed away three years ago. This is one of the reasons why we have not been able to work on the practical aspects of the project.
About 100,000 actual items are at work
ー Where are the actual materials in the database stored?
Tsutsui All the actual materials are located in Ureshino, Saga Prefecture. This is the home of Mr. Mori, and there are several buildings on the site, including a showroom, a warehouse, and the atelier and semi-basement design room where he used to work.
Mukai In the design room, there are also blueprints and moulds. As for the moulds, there are prototypes in progress, from the ones that Mr. Mori hasn't yet said OK to the ones that are just before he said OK. We had hoped that there would be many moulds left, but there were not so many.
ー Is it possible for the general public to visit and see the work place in Ureshino?。
Mukai We have had visitors who wanted to see his work place, but as it is in a very inconvenient location, only a few people have visited us so far.
ー The home and studio of Mr. and Mrs. Eames in the USA can be visited for a fee. There is also a hot spring in Ureshino and it would be good if the atelier could become a tourist attraction with the function of a small museum. Sketches and moulds are displayed, tableware is laid out on the table, the scene of the dining table that Mr. Mori had imagined is spread out, and you can drink tea there. However, I think it would be difficult to do this in the form of a limited liability company.
Mukai As you say, at first we tried to include the atelier as part of a tourist course, or to use it as a training facility, and we even asked the city for advice. In the end, however, it was difficult to come up with a good idea because of the problem of who would manage it and how. We also considered how to introduce them to the public and preserve them for future generations, but we didn't want them to deteriorate in the meantime and by the time we realised it was too late, so we decided to give priority to organising and preserving what we had.
His whole life was work
ー You all had a long personal relationship with Mr. Mori. What was he like? Could you tell us about him one by one?
Tsutsui Mr. Mori was a man whose whole life was about work. He thought not only about his own work, but also about the pottery industry and traditional industries. He travelled all over the world to study pottery and kilns, and his curiosity and inquisitiveness were immeasurable. Although he was an ceramic designer of modern crafts, he also had a deep knowledge of traditional crafts. In the Kyushu Ceramic Museum, there is a collection called "Mr. and Mrs. Shibata Collection", which is a large collection of Arita porcelain from the early Edo period to the end of the Edo period, donated by the couple several times. When the first exhibition was held based on this collection, I happened to be with Mr. Mori at the exhibition. He explained everything to me one by one and we spent about three hours together. It was as if I had been given a private lesson by Mr. Mori.
Mukai I had the impression that Mr. Mori was a very straightforward and strict teacher. There were people who left because they could not stand his direct words, but there were also many people who were grateful for his words and looked up to him as if he were God. His words were harsh, but his heart was kind and he took good care of people. He would follow up with people who made mistakes in the middle of their work without informing them, to the surprise of those around him.
As Mr. Tsutsui said, Mr. Mori was thinking not only about his own design but also about the ceramic industry as a whole. He had a sense of crisis about the current state of the traditional industry and felt that we had to protect this industry and pass it on to future generations, and that we had to play our own part in this. For example, we felt that it was our mission as designers to set up a system that would allow us to continue our business and sales at each stage of the production process, including glazing, and to spread the good designs that are easy to use and cheap.
I think it was because he was convinced that he would be able to realise his vision that he took on his last project, the "White Porcelain Series" for MUJI, which is still popular today. When he was hospitalised in his later years, and even after his health had deteriorated considerably, he continued to work on the prototypes in hospital, arguing with the MUJI's staff about the design, and I think that this was a project that he put his heart and soul into.
ー Mr. Mori spent his youth in the post-war period, when there were no goods and Japan was badly devastated. With this background, I think he felt the need to revitalise the ceramics industry, but at the same time he was thinking about the revival of Japanese life. Food is a major part of our daily lives, and I think that Mr.Mori must have had a strong desire to support people's lives through tableware.
Tsutsui As you say, I think that the experience of losing the war was the starting point for Mr. Mori. I think he started his work with the basic idea of everyday use and living, which coincided with the new design movement in Japan. The JAPAN DESIGN COMMITTEE was established in 1955, and this was a time when design for the whole of life was beginning to be emphasized. In this context, Mr. Mori took on the field of pottery and continued to do so throughout his life.
Mukai Mr. Mori was involved in the design of tableware that would support the daily family meals that everyone could enjoy in peace and affluence. Even after it became common for people to enjoy meals at home, I think that Mr. Mori always kept in mind the idea that meals should be enjoyed together as a family.
Tsutsui I think that the "Shallow Ricebowl", which became one of his representative works in his later years, was also designed as a rice bowl to make mealtime enjoyable and rich. The diameter of the bowl is wider than that of a normal rice bowl, so that the pattern inside the bowl can be seen, and the rice looks delicious as it is filled with rice. I remember Mr. Mori saying many times, "After all, rice is the best thing for Japanese people".
Workplaces that are still intact
ー Mr. Sunouchi, you have not met Mr. Mori, but how did you perceive him when you were talking to him through objects and sketches in the process of digital archiving?
Sunouchi I have never met Mr. Mori, because I heard a lot about his relationship from the members of MORI MASAHIRO DESIGN STUDIO, LLC. and the people who were around him, but I have a strange feeling that I feel his presence very much.
As we worked, I sensed Mr. Mori's personality not so much in his work itself, but in the way he kept things in his atelier, the way he organised them, the hundreds of sketchbooks he kept in order and carefully stored. The design room is semi-basement, so it is very quiet and has a different atmosphere from the atelier above ground. There are blueprints on the desk, a potter's wheel, and other objects that look as if they had been worked on just yesterday, making me think that Mr. Mori must have spent his entire life thinking about pottery.
Adjacent to his atelier is the house where he and his wife lived, and there is a barometer by the kitchen. I don't think it's necessary for pottery making, but there was a note on the wall next to it, showing the date and pressure of the typhoon as it approached and moved away. I don't know what the purpose was, but I know something about it because I have a similar habit of doing research and keeping records of things that interest me, even if they are not in my field. Surprisingly, it can also lead to my work somewhere else. I imagine that he was very curious and went straight for what he was interested in, which is probably how he approached his work.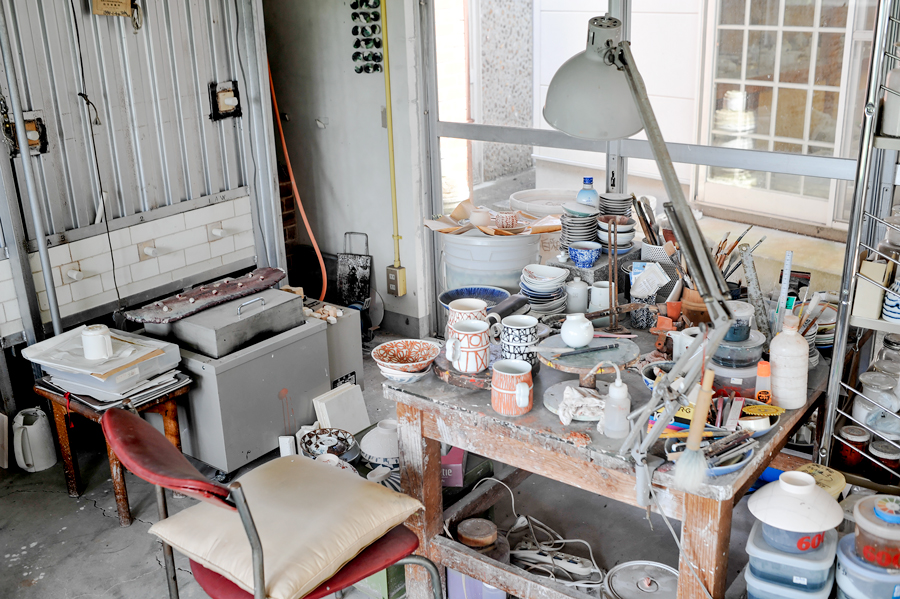 Masahiro Mori's desk in his workspace, equipped with an experimental kiln.
Mukai The atmosphere at work and in life is such that you can really feel that this is how Mr. Mori lived his life. Before we launched MORI MASAHIRO DESIGN STUDIO, LLC., we had a gathering there of people who were related to us and people who were involved with us, and everyone said, "Mr. Mori's power is coming down", or "I can feel his thoughts and the footprints he has lived by". It's a place where you can imagine him sitting on this chair and making prototypes, or in the glaze kiln, where he would have tried different things through trial and error.
ー The sketchbooks were neatly arranged and stored in his atelier. Did he have a desire to preserve his prototypes and documents for posterity?
Tsutsui I don't know if he had any desire to preserve them in the form of an archive, but he was a very diligent person and we were surprised to see how neatly everything was kept.
ー Did he have any staff, like apprentices, at the Mori Masahiro Industrial Design Institute, which he founded himself after leaving the ceramics manufacturer?
Mukai The people who supported Mr. Mori's work were mainly employees of ceramic manufacturers. In addition, Mr. Furuya, who was very knowledgeable about clay and glazes, and other people who admired Mr. Mori were around to help him. Mr. Mori was always open and welcoming, but he did not employ people to work for him, he worked alone on the designs and consulted them when he needed advice on materials and techniques.
Tsutsui He didn't have any apprentices, but I think it was his wife Ms. Misao who was his main assistant and adviser. She took care of everything in his life, including food and nutrition.
Mukai Ms. Misao accompanied him on his travels around the world to study pottery and kilns. They share the same sensibility and taste, and she is his assistant, so they are always together, like a three-legged race. When it came to design, Ms. Misao had a lot of input. Mr. Mori would show Ms. Misao a prototype and ask her, "What do you think of this? She said, "No, it's not good ", and some of them never made it to the market. Ms. Misao is a graduate of Tama Art University and her examiner was actually Mr. Mori. In the last years of his life, his kidneys were failing and he needed alimentary therapy, which Ms. Misao helped him with. There are many cookery books and menu books written by Ms. Misao which may have been used as references.
What they hope to achieve now
ー Finally, can you tell us about your hopes and suggestions for the future based on your experience so far, such as if the government or universities would support you in your archiving work in the future?
Sunouchi I have been involved in digital archiving projects in a variety of fields, and where the management has the budget and funds to continue, there is no problem, but where they don't, there is a lot of thinking about what to do in the future. In the case of Mr. Mori's archive, if we want to make it something that can be used permanently by future generations, I think it would be too much for a single individual or a small organisation.
On the other hand, in the past it was only possible in museums and art galleries, but now it is possible to create digital archives and transmit them to the world by the hands of people who have the desire and the need to preserve them. If we really want to make use of these digital archives for the development of Japanese culture and to pass them on to future generations, we need some kind of infrastructure. For example, I feel that it will soon be necessary for the national government to cover books with ISBN in the National Diet Library with such precision that they will be permanently stored in the library. Local university libraries around Japan could function using a generic format, and digitised cultural assets from each area could be returned to the local community, with the national government providing the funds to do so.
If this can be done within the framework of a library, then of course that is fine, but if society is going to continue to deal with this digital environment, then the function of libraries will have to change. As the digital age progresses, the number of creators of archival data is expected to increase, including the general public, and it will be difficult to preserve everything. I think we will need a difficult design that allows us to choose what to store.
ー It's not only the custodians who will have to adapt to digitalisation, but also the custodians who will have to create new methods and storage spaces. It's a big thing, but I also think that we really need to do that. What do you think, Mr. Tsutsui and Mr. Mukai?
Tsutsui For us, we are looking for a place that can take on not only a digital archive, but also a set of actual objects such as sketchbooks, photographs, documents, works, moulds, etc., and consider how to service, maintain and use them for their users. I think there is a good trend towards digitalisation in the world at the moment, so it would be great if there was an organisation that could take care of this kind of heritage.
Mukai I also think that this archive is a legacy of Mr. Masahiro Mori's design life itself, of a person. It would be a shame if they were to disappear. Moreover, there is no guarantee that we will be able to remain in the same state forever. We feel that it would be best if some corporation, university or national organisation would take over the project.
We were delighted to be approached by PLAT, whose aim is to pass on a valuable heritage to future generations, something that we share. We hope that many people will be aware that there is a danger that what we perceive as our heritage, and what society values as its heritage, may now disappear.
ー At the moment we're just talking to people and writing about it on our website. I feel that you are all united in your thoughts, and I strongly hope that we can take these thoughts one step further and make something happen. Thank you very much for taking time out of your busy schedules to talk to us today.
Enquiry:
MORI MASAHIRO DESIGN STUDIO, LLC. https://www.morimasahiro-ds.org