Interview
Texture, feel, and texture are important in Shiseido's designs. To inherit them, there are many things that should be left as actual objects
Collection of approximately 200,000 items, including interim materials
―  In Japan, I have heard that there are very few museums and art galleries that have archivists who are experts in archiving. In such a situation, I heard that there is an archivist named Ms. Chisako Koizumi at the Shiseido Corporate Museum. I would like to ask you about how to collect and utilize Shiseido's design archives, as well as your opinions as an expert about issues specific to corporate archives and archives in general. I would like to hear your opinions as an expert on issues specific to corporate archives and archives in general.
Koizumi First of all, what I am going to talk about today is the design archives within the corporate archives, so I will be talking about design in a much broader sense than in general museums and art galleries. In contrast to the archives of museums and art galleries, which have their own materials related to individual artworks, Shiseido's design materials are positioned as one of a variety of corporate materials. The difference is that these materials exist simultaneously in a flat structure.

This museum was established in 1992 to commemorate the 120th anniversary of Shiseido. Prior to this, some materials, including advertisements, had been stored at the Shiseido Art House (opened in 1978), which is located on the same site as this museum. The Museum was established to strengthen and reorganise its archival functions with the aim of preventing the approximately 20,000 materials collected for the compilation of the 100-year history from being lost. Currently, the museum houses approximately 200,000 items. The collection includes corporate materials collected continuously from each department in accordance with collection guidelines, materials donated by former employees and materials acquired from retiring employees, as well as materials related to Ginza and makeup culture collected as part of the thematic collection. The design area is part of this collection.
― When you say "design area", what does it include?
Koizumi Most of the design materials are products and advertisements, but the mission of the Museum is to archive the materials as management resources, so we have to include the reasons why the materials were created, and under what kind of historical background they were used. So, from the planning stage to the product stage. Therefore, we also collect intermediate materials from the planning stage to the product stage. In addition to advertising, in-house designers design everything from space and point-of-purchase design to corporate envelopes and letters, so these are also included in the scope of design materials. I think there are many differences from general design archives in that many of the materials are a combination of both organizational archives and design materials.
Worked with the design department to develop collection guidelines
― If you try to preserve all of them, it is difficult to secure space for storage, to manage them, and to create digital data.
Koizumi You are right. Each division manages its own brand and rights, and the way of managing the organisation is not uniform even if we compare overseas offices with those in Japan. There is a limit to how much archival material can be managed and controlled in a single building, so we are trying to create a networked archive in which archival materials are managed in different locations, but we still need physical space. I have the impression that there are a lot of things that need to be preserved as actual materials in order to pass them on to future generations, especially since Shiseido's design is characterised by its emphasis on texture, feel, and feel.

In addition, during interviews with designers, we heard the idea that test products, such as product material trials, should also be preserved. In doing so, we narrowed down the list by checking how much of the materials that should be preserved could be used as innovation and management resources for the next generation, as well as space and cost issues. It is scary for archives that some materials may be lost in the future due to arbitrary factors, but in reality it is impossible to preserve everything. How we perceived the value at that time is also part of the archive, so we have no choice but to filter out the best choice at that time.
― Is there a control somewhere so that you can share that information?
Koizumi The Corporate Archives has put together a set of guidelines, which we inform our employees about. The collection criteria listed in the guidelines are based on our research into the materials of each division, whether they should be collected by the Museum or kept by the division, and how the databases should be segregated. Although we do not have a perfect system for every division, we have decided on the materials that we should collect as an archive and are continuing to collect them. The Museum is both an archive and a museum, but it is also a division of the business, so there are many parts that are organically intertwined with other divisions. It can be said that it is also difficult to determine the classification of public access standards. This is a big difference from ordinary museums and galleries.
Digitalization Project Interrupted by COVID-19 Disaster - What exactly is digital data in this context?
― What exactly do you mean by digital data here?
Koizumi Everything from digitised collection materials to born-digital materials. The corporate archive covers a wide range of materials, including products, advertisements, documents, and video/audio materials. In addition to the products and advertisements that have been digitised since the Museum opened, we continue to digitise more materials as the budget allows, so we have a considerable amount of material. Over time, formats and needs have changed, and some materials have had to be re-photographed. Most recently, there was a group of materials that we were intensively digitising under a three-year plan, but that plan was interrupted by the COVID-19 disaster, so we are currently reviewing the plan.
― With such a large area, you have to be selective about what you store in digital data.
Koizumi That's right. Because of the overwhelming volume of cosmetics, if we don't give up on some of them, digitisation will not progress at all, so we cannot photograph each item carefully. In the management ledger that is linked to the original materials, we would like to create a single record for each material in order to preserve condition information, but there are many items that do not go that far. However, there are some old products that we can't imagine how they were used, so we take photos of them to preserve their functions as much as possible in addition to their shapes and colours. In addition, we take separate photos of each part of the product and combine them later, so that we can digitise a large amount of material.
― Do you keep the contents of the cosmetics as well?
Koizumi Many of them remain. Because of the effects of package deterioration, we throw away the contents if they can be thrown away, but this process is also very time-consuming. In the past, another person in charge tried to establish a route for collecting empty containers from the production line, but it did not work out well.
It is important to leave things behind to pass on the Shiseido style.
― How do you utilise the archive in your business?
Koizumi In the area of design, in addition to helping designers learn about Shiseido's design style, it is also used as a reference when formulating new design ideas, and is often referred to during new product development and brand rebranding. When we look back at the development process, including the planning documents and other written materials, we can see the important essence of the brand, such as what thoughts were put into the design and why this colour and shape were chosen. This allows us to create new designs while maintaining the "character" of the brand in the next design.
It is used by both in-house and external designers. It is used not only by in-house designers but also by designers invited from outside the Company. Shiseido's design style has been handed down over the years by designers with a strong will. As times change and people change, what had been handed down as tacit knowledge is accumulated in the archives as formal knowledge, and by utilising this knowledge, a new culture is born, which is then accumulated again.
― In order to do that, it's hard to communicate without things.
Koizumi That's right. In both products and graphics, there are things that can only be felt with the naked eye, such as the texture and feel of the actual object, which cannot be replaced by digital technology. If you don't include these things in your work, you won't get the message. I once heard a designer say, "Since we are delivering products that touch the skin of customers, we design products that include the weight when you hold them and the feeling when you open them to see if you feel their elegance".

The only way to experience this is with objects, and it's hard to replace them with anything else. In particular, with digital technology, detailed descriptions are lost, so there are many cases where the expression cannot be conveyed without adding processing. For example, the famous poster "Let's be loved by the sun" by Bibari Maeda, the power of seeing the original is completely different from seeing it digitally. I think it is necessary to have an archive where both material and digital can coexist well and where each can be freely referenced.
― In the past, Yoshiharu Fukuhara used the word "meme "* to convey the idea that design is an important management resource, and this idea spread throughout the design world, creating a meme boom. It is a pity that we don't hear much about this kind of thing these days, but I was reminded once again that it has been properly inherited at Shiseido.
Koizumi It seems that there was a great deal of enthusiasm for design from the early days, as is evident in the phrases "making art out of products" and "let the product speak for itself. As these words have been handed down to the present, I feel that the designers themselves have a strong desire to leave something behind for the next generation. In the past, I was entrusted with design materials in a duralumin case from a retiring designer. One of the materials included a brand logo for one of Shiseido's products drawn in Shiseido's calligraphic style, and I could sense that the designer was determined to carry on the Shiseido style. I believe that many materials have been preserved in the Shiseido archives, supported by such passionate thoughts.
― I once heard an episode from a designer from Shiseido who said that he was forced to draw the Shiseido calligraphy hundreds of times in order to learn it physically.
Koizumi In fact, this is still going on today, and new designers are given lessons on how to draw the Shiseido typeface by hand by senior members of the department for one year after joining the company. You can see how to draw the typeface on YouTube, so please take a look!(https://www.youtube.com/watch?v=32d91e9UN6A)
Design Identity as Seen in Interim Documents
― Are you also collecting oral histories?
Koizumi If it is not limited to design, the group in charge of compiling the 150-year history is currently working on it. In the past, the Museum also compiled and published a research bulletin called "Oidarumin", which contains records of interviews with people involved in the company and manuscripts written by them.
― I often heard that people who were involved in the project had passed away, and that the information they wanted to record for the archive was no longer available, or that it was too late.
Koizumi For me, that would be Makoto Nakamura. I had heard about him from a printing director who had worked with Makoto Nakamura before I joined Shiseido, but he passed away shortly after I joined the company, so I was unable to hear about him directly in time. Fortunately, I was in charge of curating a retrospective exhibition called " Makoto Nakamura's Shiseido — Creating Beauties," and I was able to see a variety of materials from his son Seiichi Nakamura, who is a photographer. Looking at them, I realized that Makoto Nakamura was confronted with design based on the proposition of how to visualise corporate identity. Many of his speeches have been recorded, and in digging up the materials, I was able to trace Makoto Nakamura's thoughts and feelings, and feel as if I had a dialogue with him.
― Mr. Makoto Nakamura was known as "Mr. Shiseido" in the design world, wasn't he? Have the materials from that time been collected in this museum?
Koizumi Yes. He kindly donated some of them to us. Like the other designers at that time, Makoto Nakamura did a lot of printing experiments, and I could see how he repeatedly tested the layering of colours in the proofing process. For example, he used a filtered reticulation, and even the parts that were not visible in the finished product were still there. To be honest, it is very difficult to retain that level of data, so we can't do it for all of the materials, but we do keep them because they provide a record of the history of the development of printing technology.
― That is wonderful. I often hear that the bereaved families of deceased designers are troubled because they do not have a place to receive their remaining materials.
Koizumi We do not have the capacity to hold all of the materials in our collection, due to the fact that they are donated rather than deposited, and due to space constraints and other conditions. However, we value the design materials related to our company as part of our corporate history. We would be delighted to consider any materials that can be passed on to the next generation or used as a resource for future creativity.
Problems specific to design materials and challenges of digitization
― While you deal with archives in various fields, what do you think are the difficulties and problems of design-specific archives?
Koizumi One point is that, unlike works of art and ancient documents, mass-produced cosmetics and advertisements are not suitable for long-term preservation because they are very fragile and lack stability from the viewpoint of conservation science. It takes a lot of money and effort to preserve them in good condition. I think that is another factor that makes it difficult to preserve them. Therefore, I think that all museums that deal with products are doing it through trial and error.
― In that sense, digital archives are a new field, and if they break down, everything could be lost in an instant. So there is the question of how to maintain them and how much it costs.
Koizumi Digital archives and data have to be migrated to other media for preservation. However, it is difficult to see the direct contribution of such work and preservation procedures themselves to the business, and I feel that it is difficult to secure the costs for them.
While the archival field looks at things from a long-term perspective, the most important aspect of business is what should be provided to customers now, and it is easy for a difference in sense of time to occur. In this respect, I think Shiseido is very fortunate to have a corporate culture in which employees place great importance on history, but there are still times when I feel difficulties.
― How many people do you have working on the archive?
Koizumi At the moment, there are three managers and eight persons in charge of collection arrangement at the Corporate Archives. In addition to cataloguing and other collection-related work, we are also busy with research and lending to both internal and external customers.
How to Realize the Design Museum Concept
― There are a lot of people who want to see a public design museum established in Japan. As an archivist, what do you think should be done now to make this a reality?
Koizumi That is a difficult question. First of all, it may be necessary to expand the recognition that design has a very large role to play in current social and life history. Because design is so familiar to us, it is difficult for us to realize what kind of ingenuity there is in it, the impact it has, and the importance of it. First of all, we need to deepen our knowledge in museums, archives, and academic fields, and at the same time, we need to continue to share and disseminate it. I think that by doing these two things in parallel, we will be able to raise awareness and momentum in society as a whole.
―  It's true that everything around us is designed, so many of us go through our daily lives without noticing the weight of a bottle or the feel of a lid being opened.
Koizumi I think it's important to uncover that awareness. In addition to the finished product, showing a little of the context behind the design can change the way you look at things. Corporate archives also emphasises the importance of preserving materials with context. Our aim is to create awareness and intellectual stimulation that will lead to the next generation of management resources.
― In the future, I hope that the Shiseido model will be established in the world of archives. Although we are still in a difficult situation due to the COVID-19 disaster, I would like to ask for your continued support in the future. Thank you very much for your time today.
*meme: A virtual gene that carries cultural information and is transmitted and multiplied from human brain to brain through imitation. A gene without substance. Named by British biologist Dr. Richard Dawkins, it is a compound word of "gene" and "mimeme," which means "imitation" in Greek (from "imidas Dictionary of Contemporary Katakana Words" (https:// imidas.jp/katakana.html)).
Mini Interview
Talking about Shiseido's Archives from a Designer's Perspective
At Shiseido, the Shiseido Style has long been passed down as tacit knowledge among designers. So how has it been passed on? We asked Ikuo Amano, who had been active in the Shiseido Advertising Department for a long time since the 1960s, to tell us about those days.
Profile
Ikuo Amano is an art director and graphic designer. Graduated from the Tokyo National University of Fine Arts and Music, and joined the Shiseido Advertising Department in 1966. Served as General Manager of the Advertising Production Department and Advisor to the Advertising Department. In addition to seasonal campaigns, he has been involved in the art direction and design of major brands such as Bénéfique, Inui, and Global Eudermine. He is currently the president of Ikuo Amano Creative Studio Inc.
ー How did you come up with the attitude of trying to preserve design materials?
Shinzo Fukuhara, the first president of the company, was a man well versed in the arts, having spent time in Paris studying Art Nouveau and designing the Hanatsubaki logo. He left behind the words, "Everything must be rich," "Let the product speak for itself," and "A brand must be accepted worldwide". And Yoshiharu Fukuhara positioned culture as a management resource, using the terms "cultural gene" and "meme" to pass on to the next generation the "beauty" and "knowledge" that Shiseido had cultivated. That is why I believe that such a philosophy was inherited and thoroughly enforced from the time Shinzo Fukuhara founded the Design Department, the predecessor of the Advertising Department, in 1916.

The inheritance of the philosophy is not limited to the Advertising Department. On the occasion of the 125th anniversary of Shiseido's founding, Yoshiharu Fukuhara, who was then president of Shiseido, compiled all the important information about how Shiseido had been built up to the present day in a booklet titled "Tradition and Culture School: SHISEIDO 125 Years of Editing" and distributed it to all employees. The booklet also explains that looking back on history is important for the future, quoting former British Prime Minister Churchill, who said, "Those who can see into the infinitely distant past can see into the infinitely distant future". It is this kind of accumulation that has spread awareness of the need to preserve history as an archive.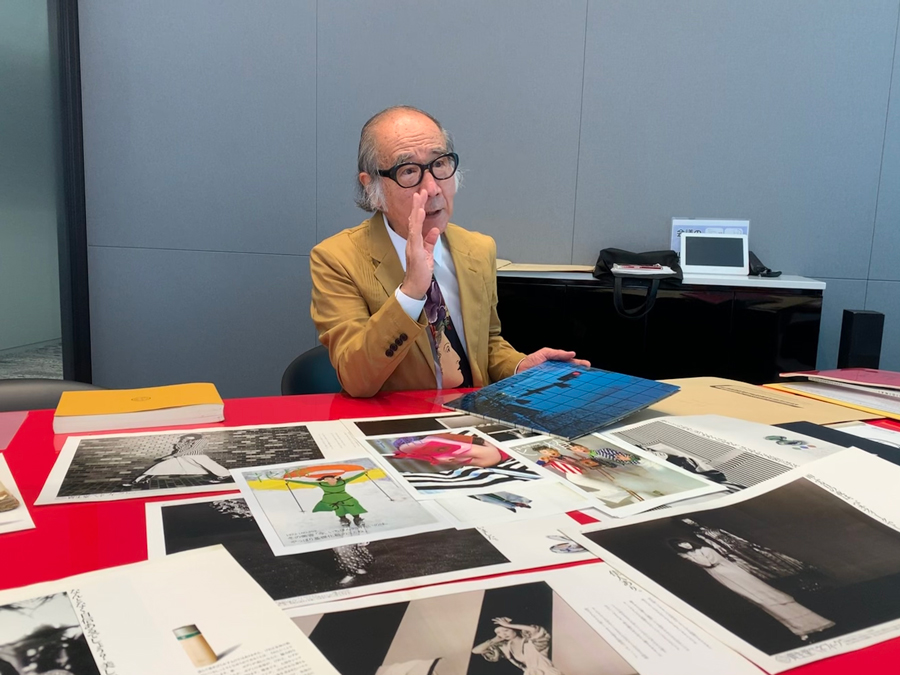 ー Why is the Shiseido typeface handed down by hand?
When I joined Shiseido in 1966, that was the year that the summer campaign poster featuring Ms. Bibari Maeda was released. At the time, advertising was in a period of rapid growth, and many of our predecessors had already left us many works. The "Shiseido typeface" was essential for carrying on these designs. This original typeface was created by Ayao Yamana to express the beauty of Shiseido, based on the company logo conceived by the Japanese painter Settai Komura* in the 1920s. Since then, it has been handed down within the company for about 100 years.
The Shiseido typeface is not a faithful reproduction of a model, but rather is drawn freely by the artist to a certain extent while adhering to certain rules. By practicing this by hand every day, we can learn what kind of aesthetic sense and genes have been handed down at Shiseido, and we can create a new Shiseido style of our own.
That is why, in the past and even today, new employees assigned to the Design Department practice hand-drawn typefaces every day for a year. Nowadays, there are many new fonts available, so it is not necessarily necessary to use the Shiseido typeface for catch copy. However, even if you use a different font, by learning the Shiseido typeface, you will be able to convey a sense of the Shiseido style throughout. In addition to practicing hand-drawing, a designer named Yutaka Kobayashi, who retired several years ago, was responsible for passing on the Shiseido typeface to younger people throughout his tenure. He had a strong belief in the Shiseido typeface, and compiled a book of various Shiseido typefaces drawn by young designers, as well as creating calendars with words in the Shiseido typeface on pictures by Settai Komura.
Settai Komura.
From 1918 to 1923, he was a member of the Shiseido Design Department (now the Creative Division), where he laid the foundations for the Shiseido typeface.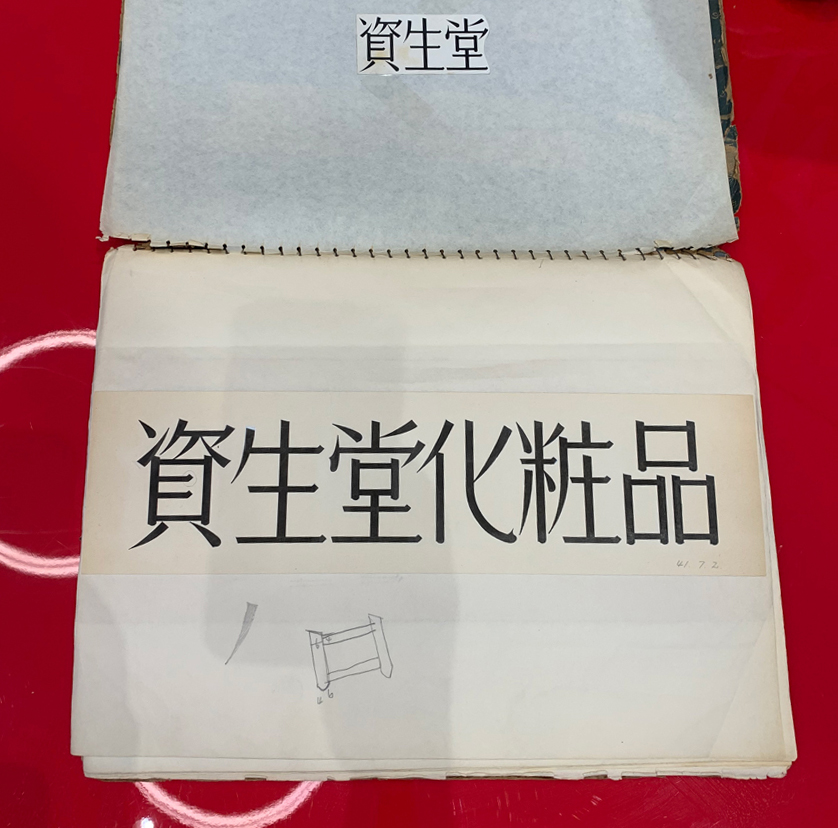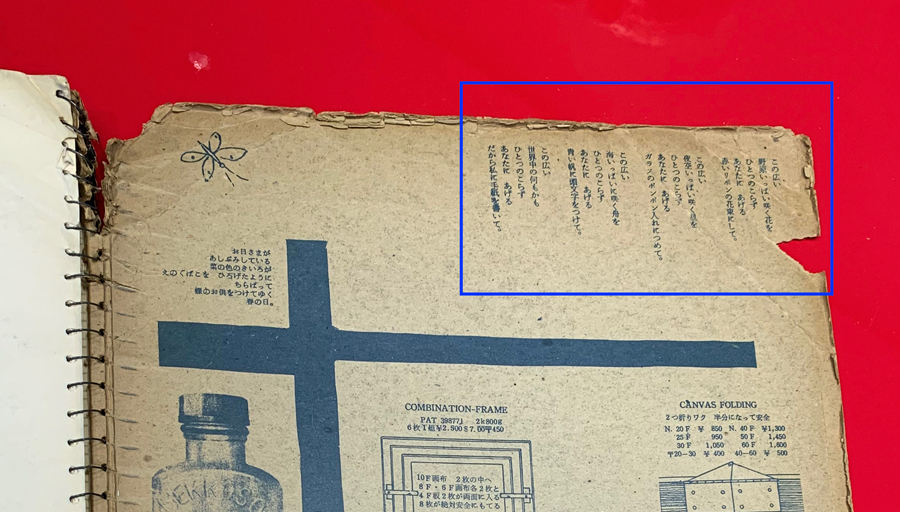 The Shiseido typeface that Mr. Amano practiced when he joined the company. The original sketchbook (1967) from the Ginza art supply store Gekkoso, which was used for the scrapbook, contains a poem by Keiko Ozonoe, which was used in the lyrics of the song "This whole wide open field", which later became a hit song for Ryoko Moriyama, and is itself a valuable document.
ー How did you use the materials in the Corporate Museum?
In those days, the Advertising Department held a monthly meeting to report on its main activities to the executives. The reports made at these meetings were automatically sent to the Corporate Archives. At that time, it was not an era of diversity like today, but rather an era in which if you hit on one campaign, people would flock to it, everyone would use it, and it would lead to mass production and mass consumption. At the Advertising Conference, we focused on campaign advertising and included brand advertising around it. One meeting that left a particularly strong impression on me was when Shiseido appointed French creator Serge Lutens when the company expanded into Europe in 1980. At that time, Americanized advertisements were pouring into Japan, and there was an abundance of advertisements that focused on reality. In such a situation, it was necessary to have all the executives understand Serge's worldview, which was far from reality. However, Yoshiharu Fukuhara was well versed in the world of advertising and beauty, and he knew Serge's talent very well. So we talked about how I, as art director, could make the most of Serge's talents to create a new kind of beauty that had never existed at Shiseido before, and I was able to convince everyone else.
ー How did you use the materials in the Corporate Museum?
This is a poster for Shiseido Eudermine* designed by Tadanori Yokoo in 1997. Eudermine was the first cosmetic product manufactured and sold by Shiseido in 1897, and this poster recreates a product from 100 years ago to commemorate the 100th anniversary. This poster was commissioned by Mr. Yokoo to be made for his own exhibition. It all started when Mr. Yokoo approached me and said, "For this exhibition, I'm planning to exhibit posters that I'm asked to create, rather than work commissioned by clients, so I'd like Shiseido's cooperation as the first step". At that time, Mr. Yokoo wanted to see materials from that time, such as images of women in the Taisho era after the birth of Eudermine, so we went together to the Shiseido Corporate Museum to look for motifs. That's when I found the nishiki-e used in the poster. The original picture had something else in its hand, but I was surprised to find that they had replaced it with Eudermine. The characters are based on the Shiseido calligraphy. The photo of the woman below is of a geisha who was active as a cutting-edge model at the time, and was also found at the museum. 1997 was also the 125th anniversary of Shiseido's founding, so the top photo is of the faces of the company's presidents, and the bottom photo is of the founder's family name, Fukuhara. At the bottom, there is a picture of "Otafuku", a Japanese word meaning "good fortune". Only Mr. Yokoo could have come up with such an idea, and only Mr. Yokoo could have entrusted us with the photos of the past presidents. Today, it is a valuable archive for Shiseido.
*Oidermine / coined from the Greek words "EU = good" and "DERMA = skin" to represent "good skin".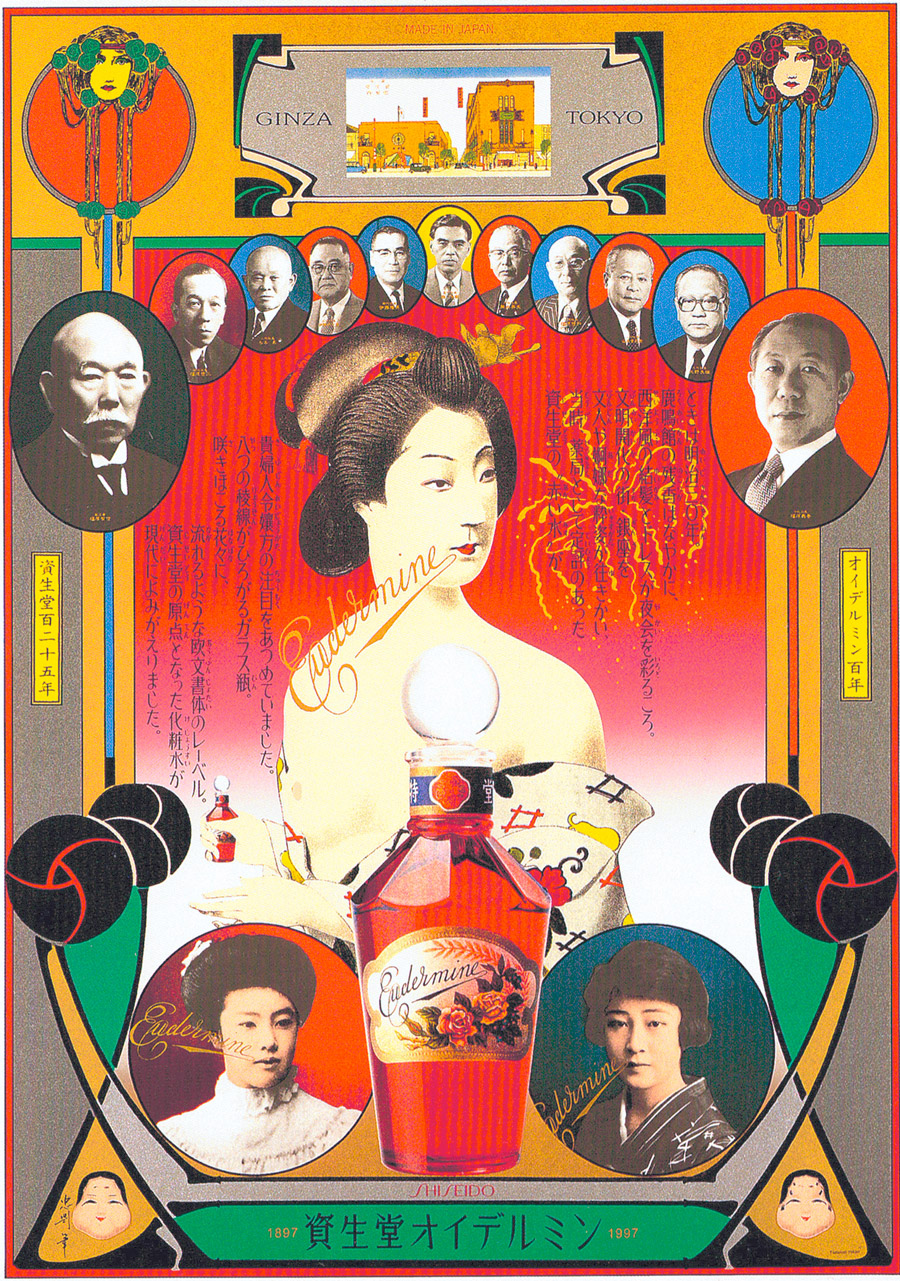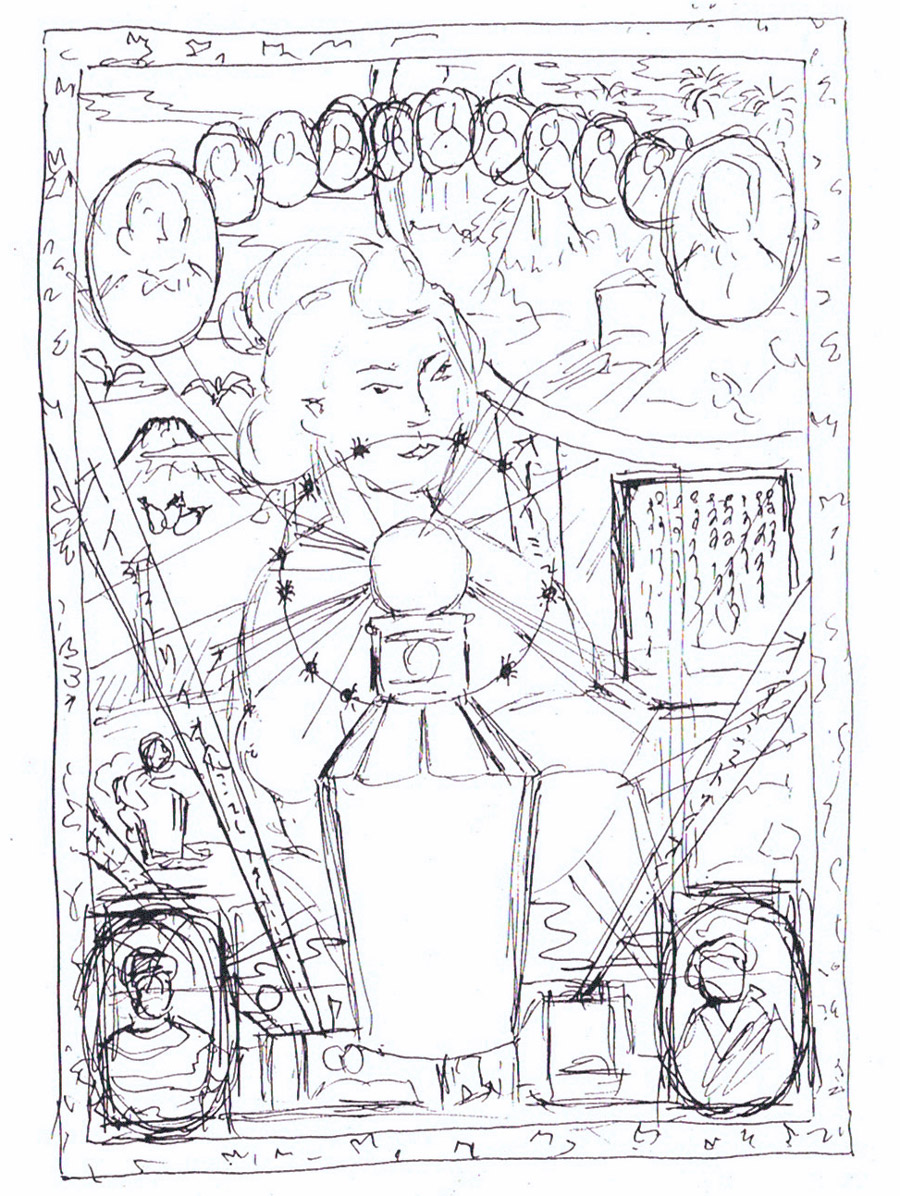 Shiseido Eudermine (1997), a poster created by Tadanori Yokoo for his own solo exhibition. The rough sketch (right, private collection) shows how meticulous his calculations were. Quoted from Tadanori Yokoo's book "Tadanori Yokoo Posta Art", Jitsugyo no Nihonsha (2000), pp. 132-133.
ー Please tell us about the exhibition using the Design Archive.
As creative director, I was involved in the "Memes of Beauty and Knowledge: Shiseido Exhibition" held at Oribe Hall in Roppongi in 1998, an exhibition that brought together the designs that had been cultivated since the company's founding. This exhibition was positioned as a triumphant return to the "PARIS-TOKYO-PARIS SHISEIDO 1897-1997 LA BEAUTE" exhibition held at the Musée des Arts Décoratifs in Paris in 1997 as one of the official events of the "1997 - 1998 Japan Year in France. The theme of the exhibition is "Memes (Cultural Genes) of Beauty (Art) and Knowledge (Science)".
The exhibition included a recreation of founder Arinobu Fukuhara's visit to the Paris World's Fair and the Art Nouveau period, as well as a look at the evolution of the Shiseido typeface and Hanatsubaki mark, and changes in products, advertisements, and packaging, covering the 126 years from 1872, when Shiseido was founded in Ginza as Japan's first private Western-style pharmacy, to 1998. to 1998.
The book is not just a collection of old designs, but also shows how, for example, advertising began with newspaper advertisements, followed by posters, and how these posters changed from the era of illustrations to the era of photographs. As women entered the workforce, cosmetics were no longer just placed on a mirror stand, and the design of products changed to make them easier to carry. In other words, the exhibition is a valuable source of information on the history of Japanese society, advertising and fashion. For the exhibition, lighting designer Harumi Fujimoto has used optical fibres to create a wonderful light effect on the black painted walls. The design of the exhibition space was a perfect complement to the archival material. Products, posters and packaging change from one day to the next, they are consumed, so to speak, but I think that exhibitions like this help us to understand the importance of archives and to protect them.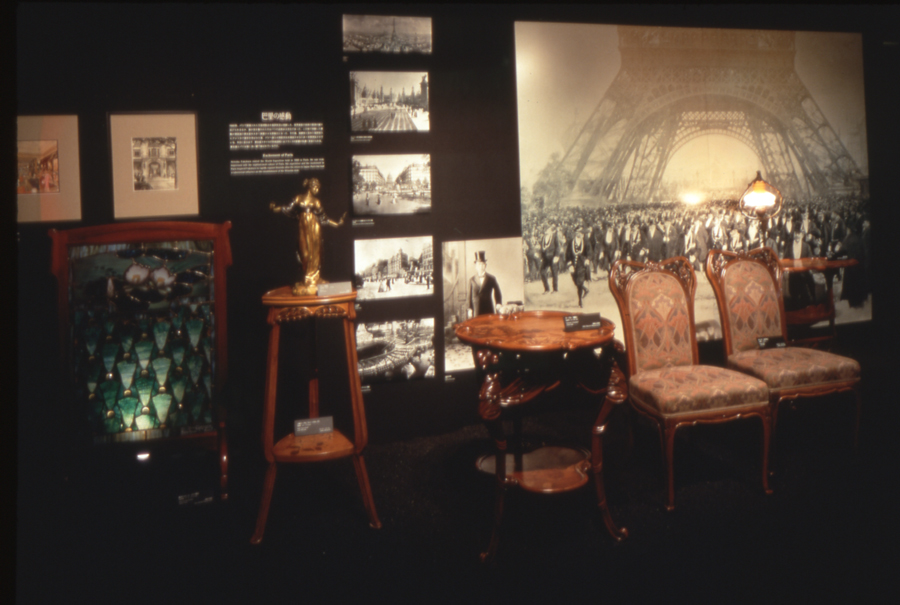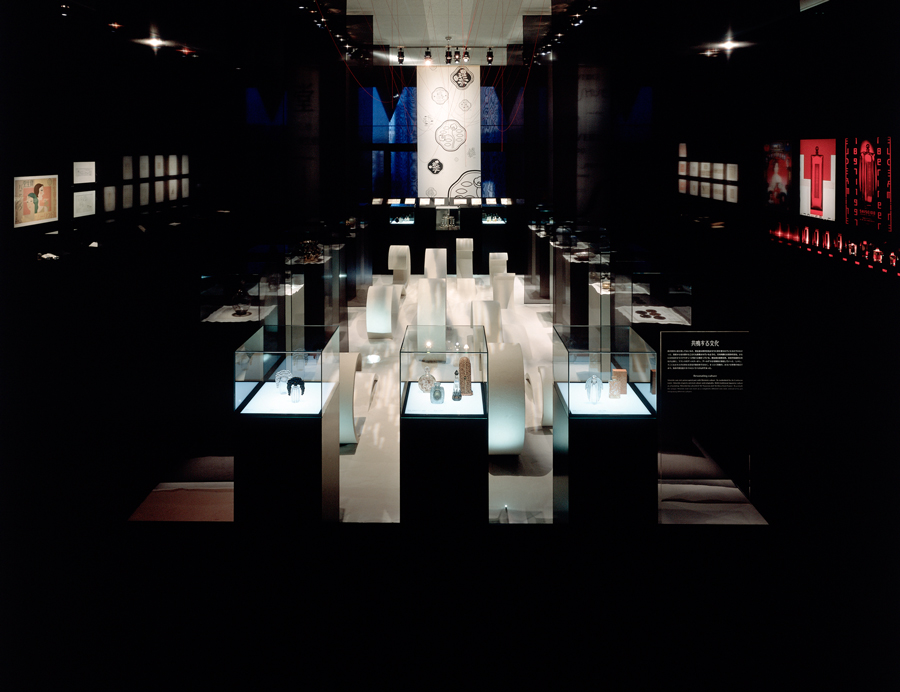 "Exhibition view of the "Memes of Beauty and Knowledge, Shiseido Exhibition. Harumi Fujimoto's light direction beautifully accentuates the archival materials.
Interviews :
August 27, 2020 13:30 ~ 15:30 (Shiseido Shiodome Office Conference Room)
September 30, 2020 13:30 ~ 15:00 (SHISEIDO THE TABLES)
Interviewee: Mr. Ikuo Amano / Observer: Ms. Chisako Koizumi
Interviewers: Yasuko Seki, Akiko Wakui
Author:Akiko Wakui
Shiseido Corporate Museum
751-1 Shimomata, Kakegawa City, Shizuoka Prefecture, 436-0025, Japan
Tel: 0537-23-6122 Fax: 0537-23-6640