My goal is a museum collection.
If it's in a museum, it will be there long after I'm gone.
Most of the works and drawings are in the M+
ー First of all, let me ask you about your archive. Most of your works and drawings are now housed at M+ in Hong Kong. Can you tell us about the date, the number of works and the contents of the collection?
Nanae The time was 2015 and a total of 174 pieces were purchased. The contents include prototypes, products, sketches, drawings, models, magazine articles, product brochures, and even a telegram from my father when he won the Braun Prize.
ー How did you decide to have M+ buy the product?
Nanae In the autumn of 2014, someone from Uchida Design Inc. contacted us to say that the curators at M+ were looking for my father's work and wanted to get in touch with us. A few days later I met the curator with my father and asked him about the idea of M+, and he told me that they see the flow of art across Asia as a big river, and that their archive includes fine art, photography, design, and architecture, each with its own curator and multinational members. It's a multinational organisation with curators in each of these fields. My father was interested in the Chinese continental scale of the archive, and also in its multinational membership. He said, "We would like to see your work", and my father and I readily agreed, and he collected as many things as he could in our house and showed them to us.
Umeda I was amazed at that time. However, the model of the mobile system unit "MOBILE SUPPLY SYSTEM", which won the Brown Prize, was so tattered during the two years it was on tour that we couldn't repair it, so we got rid of it and didn't have any left.
Nanae When I told the curator about this, he said "I would like to have that as an archive too, so can you make a new model? ". So we made a new model and bought that too. M+ now has archived data on its website and has also started an oral history archive. Last year, my father was interviewed about his design 'TAWARAYA' in Memphis. We were supposed to talk for two hours, but in the end my father talked to him for three or four hours.
By the way, I visited the website of PLAT's design archive, and in the article about Mr. Teruaki Ohashi, it was written that his daughter donated some drawings to M+. My father was very good friends with Mr. Ohashi.
Umeda We were classmates at Kuwasawa Design School. At Kuwasawa, we learned about architecture from Mr. Kazuo Shinohara. We met for the first time in several years at the KAGU Tokyo Designers Week '88 exhibition in 1988, and we said "Let's do something together sometime", but unfortunately he passed away first.
Nanae My father was delighted that his work was included in the same M+ collection as Mr. Ohashi. It was not possible when he was alive, but I hope that one day my father and Mr. Ohashi's work will be exhibited together at M+ in some way.
ー I still remember very well the KAGU exhibition that was held when I (Seki) was working at AXIS. Mr. Umeda's "GETSUEN" and Kuramata's "Miss Blanche" were exhibited together in the AXIS Gallery Annex, and there was a completely different atmosphere in that space. Did you have a chance to talk to Mr. Kuramata at that exhibition?
Umeda I didn't see him at the exhibition, so I didn't talk to him. I was very shocked when Mr. Kuramata passed away. I think that if he were still working, we would both have been stimulated and our fields would have expanded further. Stimulation is important for us. Each of their works is unique, and when I saw Mr. Ohashi's work or Mr. Kuramata's work, it inspired me. I wanted to do the same. It is a pity that both Mr. Ohashi and Mr. Kuramata have passed away.
Under Castiglioni and Sottsass
ー You first worked in Castiglioni's office, what were some of the things that inspired you there?
Umeda The Castiglioni brothers, Mr. Pier Giacomo was the formative one, and his brother Mr. Achille was the idea man. I was more like Mr. Achille, and Mr. Pier Giacomo taught me a lot of things. Mr. Pier Giacomo was teaching at the Politecnico di Milano at the time, so it was like having a teacher in the office every day.
In terms of stimulation and influence, I think I got that from Mr. Achille too. You can see the green castors on the back of "GETSUEN". That's for skateboarding. Mr. Achille likes that kind of thing. He used to buy things from the grocery store and use them as a design source.
ー What was your inspiration from Mr. Ettore Sottsass, who was your chief advisor at the time?
Umeda The language, the concept. Mr. Sottsass didn't give us any instructions, just words. I was in charge of office furniture, especially chairs, at Olivetti, and one day Mr. Sottsass said to me, "Umeda, we've been asked to design a chair for a typist, but it's going to be used by a woman, so let's make a beautiful, pretty chair". At that time, even in Italy, office chairs were grey in colour for both men and women. The idea of making a beautiful and pretty chair was amazing.
ー After a long period of industrial design, including Braun systems in the 60s and Olivetti office chairs in the 70s, you suddenly launched "TAWARAYA" in Memphis in 1981. It's such an amazing leap that I wonder what happened to you during that time.
Umeda At the time, people said they didn't understand my sudden change. I think it was probably due to the influence of an art collector I met after I joined Olivetti. He was one of the world's leading collectors, and one of his patrons was Christo. He was throwing a party at his house and he asked Christo to wrap four trees by the pool and do the artwork. Christo would wrap things, like the Pont Neuf in Paris. I didn't know Christo at the time, so I was like, "What's wrong with this tree? Did it get sick?" I asked him. I learned a lot about modern art from this art collector, and I became strangely interested in art.
ー I heard that your wife had a lot to do with the creation of the series of flower chairs, such as "GETSUEN".
Umeda That's right. My wife loves flowers. We used to live in a house where we planted a lot of flowers in the garden, and among them there was a bellflower(Kikyo). One summer night, I was coming home after a night of drinking, and I saw the moonlight shining on the bellflowers in the dark, and I thought, "Wow, that's amazing, that's beautiful! I thought. As I stared at it, the image of the flower chair came to me. If I hadn't seen that flower, I don't think "GETSUEN" would have been born.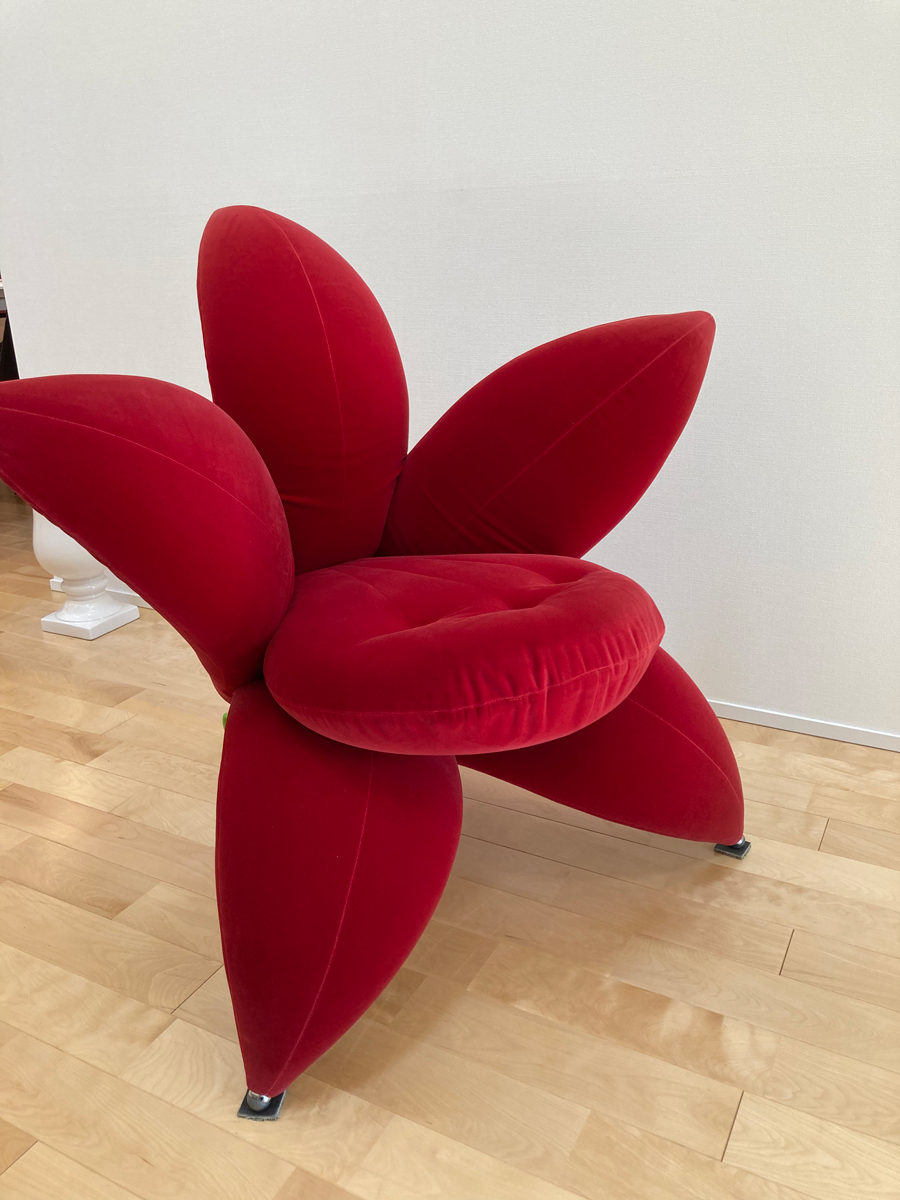 "GETSUEN" by Edra, which is placed in the Umeda Design Studio.
ー When you saw the flower, did you immediately think of the design of the chair?
Umeda Yes, it came to me instantly. I'm a visual person, so once I see something I don't forget it, and the idea always comes to me in a flash. But I don't know if it's good or not. Even if I get an idea, I don't do it immediately, I leave it for years. Then, when the time is right, I'll pull it out.
ー When you get an idea, do you draw a sketch?
Umeda Yes, I do. I draw a small sketch with a coloured pencil on a piece of paper the size of a business card. Actually, in the beginning I used to draw on the back of business cards that people gave me. I thought the paper was nice and hard, and it was small enough that people wouldn't notice if I was drawing on it in a meeting or something. Now I use drawings on Kent paper that I no longer need, cut to the size of a business card.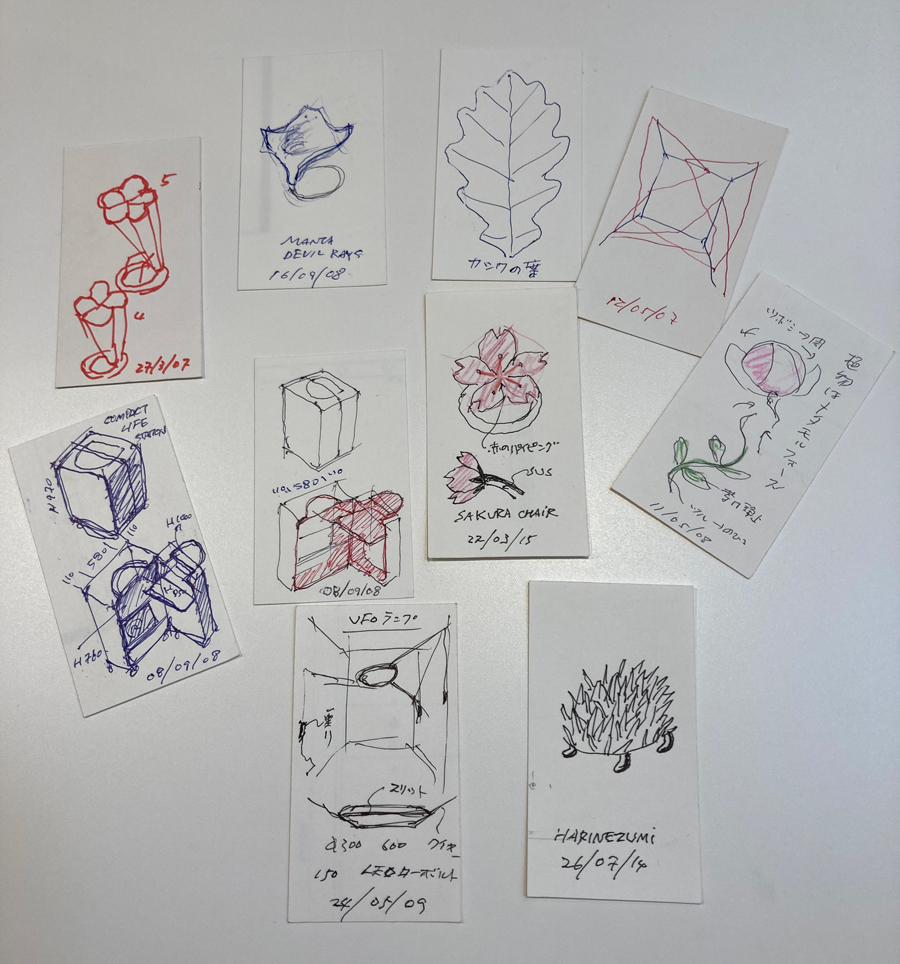 A sketch on a piece of paper the size of a business card.
ー I heard that you are currently working on a new series of flower chairs with furniture modeller Mr. Shigeki Miyamoto.
Umeda It's a peony, but it's very difficult to make. We finally found the fabric and we will release it next year.
Designer Masanori Umeda from Nanae's point of view
ー Ms. Nanae, you worked at the Mr. Sottsass's office in Italy from 1993 to 2000 and you were a designer yourself, so I would like to ask you, what do you think about Mr. Umeda as a designer from your point of view?
Nanae When the president of Edra made a comment about "GETSUEN", he said that "Mr. Umeda is a serious designer". I wondered what he meant by that, and I thought about it a lot in my own way. Especially in Japan, I think he was criticised more often than not. But when I actually sat on the "GETSUEN", it was very comfortable and easy to sit on, and the "MUTSUGORO" cup fits my hand and is very easy to hold.
Looking at these things, I thought that the term "serious designer" came from the fact that I am committed to the most important point of product design, which is the functionality of ease of use and handling. In addition, "GETSUEN" has been sold for 30 years and "TAWARAYA" for 40 years, so I think that they are also decent in terms of product design. That's probably the part that not many people know about.
Then there are the Braun Prize-winning mobile systems for kitchen, bath and audio, all of which are also furniture. "TAWARAYA" is both a space and a piece of furniture, and the series of flower chairs is both a piece of furniture and an art object. I think that my father has consistently worked on the theme of transcending some domain, such as category or use. That's why when he created it, it was often not understood. Japan is a society that likes to be fragmented and vertically divided, and I think it was hard for people to understand that it could be something from both domains. In recent years, through social networking sites, I've learned that there are many young people overseas who are fans of my father's work. Maybe it's because the boundaries between genres are becoming blurred and the times are catching up, or maybe it's because young people can see his work without preconceptions, or maybe it's because my father's work is a bit humorous and punkish, and people find that interesting. Most of my father's work has gone abroad, but I hope that after 50 or 100 years, like ukiyo-e, people in Japan will realise how interesting it is, and that one day his work will be able to return to Japan.
ー When "TAWARAYA" and "GETSUEN" were first announced, they were very shocking and controversial. In the book "Pioneers in the globalization of design", I found it very interesting to read your thoughts on each of the works. You haven't written any books, have you? I thought that your shocking and punk image has preceded you, and that your thoughts have not been conveyed to everyone. Is there any reason why you haven't published any books?
Umeda I'm not really interested, I'm not a good speaker. I don't have many years left in my life, so I don't have the time. I draw three-sided drawings every day on A3 Kent paper, and I've accumulated about 300 of them. For me, these drawings are the archive.
ー You often use natural objects as your motifs, where does this idea of nature come from?
Umeda I'm interested in the Rimpa school. I'm very influenced by them. I like Ogata Korin, Ogata Kenzan and Sakai Hoitsu for their views on nature and the richness of their colours, as well as the ukiyo-e of Hokusai Katsushika, Utagawa Hiroshige and Utamaro Kitagawa.
ー Your new work "UTAMARO" is very much like the world of a brothel.
Nanae This was announced by Memphis on their website in April 2021, and presented at the exhibition in September of the same year, along with new colours such as "STAR TRAY". The production was done entirely online, and for the first time in a long time I was impressed by the high level of skill of the Italian craftsmen. The fabric is not printed, but woven, by a man who has worked for a long time on textiles for the fashion brand Marni. "TAWAYAWA" has been exhibited in Yves Saint Laurent's Miami and Paris boutiques, in a British gallery called MK, the "UTAMARO" series made its debut in Paris, and in 2021 we will be exhibited seven times in different countries. Now, for some reason, we are getting more requests.
ー By the way, how did you get involved in Memphis?
Umeda At the beginning of the year, after the Memphis Group was formed at the end of 1980, I received an A3 size sealed letter from Mr. Sottsass. The letter from Mr. Sottsass said: "We have formed a group called Memphis. We are presenting furniture in the 'international style' and would like you to join us". I had worked for Mr. Sottsass for many years, so I designed what I thought Mr. Sottsass would expect and sent it back, as if it was an order from an ex-boss. I don't know where the documents and letters went. I thought that since the theme was international, what could I do that only I could do, and that was "TAWARAYA".
Later, when I saw a photo of Memphis members inside the "TAWARAYA" in a German magazine, I knew for the first time that my work had been chosen. The furniture in Memphis is named after the most famous hotels in the world, but the name "TAWARAYA" was given by the Italians. I think it was at the Salone del Mobile. Milan the following year that I saw the actual product. The concept of "TAWARAYA" is to use a module of tatami (1.824 square meters), which is not used in the West, as both a space and a piece of furniture. The space can be a place to sleep, a place for a banquet or a place of study. The ring has the meaning of "a place of intellectual struggle", as Italians like to debate. They must have liked the idea, because I was still happy when I saw the photo with the members in it.
In recent years "TAWARAYA" has been exhibited in many places. I don't know why, but the fact that it appears in photographs but has never been seen in the flesh before due to its size and various other reasons makes it a rare item in Memphis' collection, and perhaps it is attracting the interest of young people and those in the fashion industry.
The goal is a museum collection
ー Going back to your archive, many of the people we interview have their daughters organising their archives, is Ms. Nanae also organising Mr. Umeda's archive?
Nanae Yes, I did. I knew I would have to do it at some point, but I have done all the data conversion for the works that I sold to M+. As for the other things, I started little by little because of M+. My father is not often interviewed, but he usually tells me interesting stories about his work and the past, so I have been recording them and saving them.
ー Where have you kept all your work and drawings?
Nanae It was stored in a rented warehouse. It was in a very rough state. Many of the items have been discarded because of storage space problems. Apart from the ones bought by M+, we still have some products ("MUTSUGORO", "KAZAGURUMA", "UMEDA STAND", "GEMINI") and some three-dimensional drawings and business card sketches of recent works. We also have photos of my father's work taken by famous photographers, such as Mr. Mitsumasa Fujitsuka and, although they are old from the 70s, Ms. Maria Mulas, the wife of Mr. Ugo Mulas. I'm wondering what to do with the archive of these photos, which is the task at hand.
By the way, I also showed the M+ curator the drawings and documents of my father's interior projects, but they were not included in the purchase, so they are still here.
Umeda I think so. I didn't want to work in interior design. What I'm good at, and what I enjoy doing, is products, especially furniture. It's more like art. But I couldn't make a living doing just products, I had to do it to eat. The best way to keep an office is to work in interior design. With the money I made from that, I asked Mr. Shigeki Miyamoto to make a prototype of a chair, and that was my goal.
ー It's surprising that you did your interior design work for food. Why did you find interior design work so uninteresting?
Umeda There are many good interior designers like Mr. Kuramata and Mr. Shigeru Uchida, so I felt that there was no point in me doing it now. Besides, when you work with clients, if you express yourself freely, it's no good at all. So when I was on my own, I was able to be as free as I wanted to be.
ー By the way, the number of permanent collections in museums is amazing. Europe, Canada, America, Korea, Portugal, and so on.
Umeda Most of them are furniture, but we also have ceramics called "MUTSUGORO", lighting "UMEDA STAND" by YAMAGIWA, and aluminum "STAR TRAY". It is now in the permanent collections of more than a dozen museums.
My goal is a museum collection. I would like to have my work in various museums. I have been to see my work in the collection of the Museum of Applied Arts, Vienna and it is very exciting to see it in a museum. It's very exciting to be exhibited in a museum, because if it's in a museum, it's going to be there for a long time, maybe even after I'm dead.
ー Did you approach the museum from your side?
Nanae We didn't do anything on our own, it was all offered by the museum. Next to M+, the Denver Art Museum in the US has the largest collection of my father's work. The curator at the time was a frequent visitor to Mr. Sottsass in the 80s, and he came to our studio and bought several of our works. It was in the early 80's that we started to be contacted by museums.
Umeda We don't really know why. Most of my designs don't sell in Japan, and they are all out of production. So I think they are not suitable for the Japanese market.
Nanae I sometimes think that maybe some famous people like Mr. Karl Lagerfeld or Mr. David Bowie had my father's work and that's how they knew him, but I'm not sure. Recently, we have also been contacted by buyers from Christie's and other international auctions, but I think they are more interested in the art market than the design market.
ー It's true that all of your work is in museums. Maybe it's not so much about industrial design, but more about art objects that are produced in one piece. Mr. Umeda, what do you think about preserving archives for future generations?
Umeda I'm not really interested in it. All museums are interested in prototypes or first productions that are close to the final idea, and they don't ask for drawings or sketches, so if you think about it, I think that being collected by a museum and an archive are two different things. At M+ they bought us mainly drawings, sketches and prototypes, so maybe they want to show us their design process.
ー When they don't ask for drawings and sketches, does that mean they don't want the process in progress?
Umeda I think so. In fact, when I launch a product, it just disappears from my mind. I'm already thinking about the next thing. I don't think it's important to think about what's going on in the middle of the process, because once the final product is finished, that's it.
But I don't know about the "result" of a product, because I think that after 10 or 20 years, people will evaluate it and if it's good, it will become my masterpiece. In my case, I have only three masterpieces: "MOBILE SUPPLY SYSTEM" which won the Brown Prize in 1968, "TAWARAYA" in 1981 and "GETSUEN" in 1991. I haven't had a masterpiece since then.
ー However, when we think of Mr.Kuramata, we immediately think of "Miss Blanche", Mr. Ohashi with his "Hannan Chair" and Mr. Umeda with his "GETSUEN", but there are some designers who have made many works but have no such epochal works. In this sense, I think that you are a happy designer.
In today's design world, even if a product is a hit, the cycle of metabolism is very fast, so it's hard to say whether the person who creates a hit product will be able to leave something behind that can be stored in a design museum 50 or 100 years from now. I think that a person like you, who leaves behind two or three pieces of work that he or she has carefully created based on his or her own beliefs, might be more likely to survive in a museum. The axis of a museum can be industry or economy, but if you see your work as art, then I think there is a way of life for you, that is to say, to collect it as a work of art in a museum.
The Possibility of a Design Museum
Nanae Speaking of design museums, my father once told me that one of the reasons why there are still no such museums in Japan is that the GOOD DESIGN AWARD is under the jurisdiction of the Ministry of International Trade and Industry (MITI), while national museums are under the jurisdiction of the Agency for Cultural Affairs.
Umeda In Japan it's the Agency for Cultural Affairs, but overseas it's the Ministry of Culture. Even within the Agency for Cultural Affairs, design is included in the field of craft, and it is difficult for a work to be collected by a museum unless it is craft-oriented. Design is a very half-baked field. No matter how hard you try, you will always end up with a museum that is one way or the other, and you will never be able to create something that is cultural. If that's the case, maybe it would be better to work with companies to create small museums, divided into different sections such as graphics, products and interiors, and develop them in a small way. I think it would be better to create a small museum and develop it in a small scale.
ー As you say, I think it would be more feasible to have a network of smaller museums, and then to have a network of smaller museums.
Umeda The problem is the director. Is there someone in the field of design who is like a curator specialising in museums? I've been talking to a lot of people and they say that we need a curator who has international knowledge. I think the British are the best people for this. They have a global perspective, so they have a wide range of information and knowledge. It would be nice if there was a Japanese person who could do it.
ー It's important to know who is going to put it together. That's what we heard from many of the people we interviewed for this archive survey. Thank you very much for your valuable opinion. I am looking forward to seeing the new chairs.
Enquiry:
Umeda Design Studio